NCF Nation:

Nate Williams
September, 1, 2010
9/01/10
11:16
AM ET
Jake Locker
, Jake Locker, Jake Locker. This isn't an article about him.
It's about something that has been doing a perhaps surprisingly good job making Locker's life difficult the past few weeks: The Washington defense.
[+] Enlarge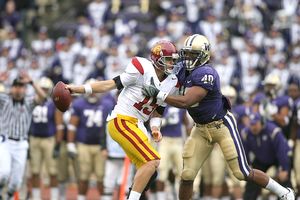 Tom Hauck/Getty ImagesMason Foster thinks the defense will be just as good as the team's highly-touted offense.
"We are actually holding the offense and making stops," linebacker Mason Foster said. "We've had pretty good battles throughout camp."
I know. No way. The Huskies lost their two best defensive players -- linebacker Donald Butler and end Daniel Te'o-Nesheim -- to the NFL from a unit that ranked eighth in the Pac-10 in total defense (389.5 yards per game) and ninth in scoring defense (26.7 ppg).
But the Huskies defense has consistently hinted during fall camp that it's not going to be the weakling counterpart to what should be an explosive offense.
"They've caused us some problems on offense," said coach Steve Sarkisian, who calls the offensive plays. "They've caused turnovers. They've gotten after the quarterback."
Foster, a senior and all-conference candidate, said the young guys who were forced into action last year are in far better physical condition. Along those lines, Sarkisian noted that junior noseguard Alameda Ta'amu is no longer just a massive mound of inert space filler -- who at his best is merely hard to move. After dropping 30 pounds to 330, he's a guy who can get into the backfield and make plays.
The secondary also appears significantly improved with corners Desmond Trufant and Quinton Richardson and safeties Nate Fellner, Nate Williams and Will Shamburger. The apparent successful return of end Everrette Thompson from a torn Achilles should bolster the pass rush.
But it's not just about maturing physically, getting healthy and conditioning better. A year ago, coordinator Nick Holt was only that slightly menacing guy who was always barking at them about not understanding what it takes to play great defense. Now the defensive guys and Holt are playing the same tune, one that probably sounds a bit like Rage Against the Machine.
"They've got a real mentality right now," Sarkisian said. "What I like most about it is they've really adopted Nick's personality. They are aggressive. They are tough. They are smart."
Of course, this also merely could be preseason optimism (or maybe the Huskies offense won't be all that potent). The unit certainly will be tested at BYU on Saturday. Sure, the Cougars only have 11 starters back and are replacing quarterback Max Hall. But they have won 43 games over the past four seasons: They are fairly close to the proverbial "reload not rebuild" category.
While there may be some sentiment about the trip for Sarkisian -- he was BYU's quarterback in 1995-96 -- the Huskies players probably don't look too fondly at the Cougars. In their 2008 game in Seattle, Locker scored what appeared to be a game-tying touchdown in the waning moments -- pending the PAT -- but he was flagged for a celebration penalty after flicking the ball into the air.
Just about everyone thought the penalty ridiculous, at least outside of Provo. Of course, barely anyone would remember the call if the Huskies hadn't blown the extra point and subsequently lost 28-27.
That was about as close to respectability as the Huskies would come during an 0-12 season that ended the Tyrone Willingham Era and brought in Sarkisian.
Moreover, one of BYU's quarterbacks -- it appears two will play versus the Huskies -- is true freshman Jake Heaps, a product of Washington State powerhouse Skyline High School. He picked BYU over Washington last winter, and there are just a few whispers that some of the Huskies might be eager to make him feel like he made a mistake.
"I didn't even really know he was from around here until a couple weeks ago," Foster said. "That's going to make it a little more exciting -- a big-time recruit from the state of Washington that went to another school and will play as a true freshman. It's going to be fun to get a couple of hits on him."
The Huskies -- suddenly -- have high expectations. Only two years removed from an 0-12 season, they are thinking about more than just earning their first bowl berth since 2002.
"It's a total turnaround," Foster said. "No more losing every game. The mindset is different. We're really looking forward to coming out in competing at the top of the conference this year."
A total turnaround likely would make Locker a leading Heisman Trophy candidate.
But that's not going to happen if the defense can't make stops.
August, 30, 2010
8/30/10
3:47
PM ET
Welcome to National Depth Chart Day. No day on the college football calendar inspires more curiosity about depth charts than the Monday before the season, when most teams release their Week 1 two-deeps.
(And then there's Purdue, which didn't include a depth chart in its game notes for Notre Dame. Ugh.)
I've had the chance to review depth charts from those programs that released them today -- two-deeps from Illinois, Michigan State and Minnesota are coming soon -- and I checked in on several coaches' news conferences.
Here's what stood out:

INDIANA
Even though Indiana will shift to a 3-4 defensive alignment this year, the depth chart lists a 4-3 with Darius Johnson and Fred Jones as the starting ends and Chad Sherer and Tyler Replogle flanking junior college transfer Jeff Thomas at linebacker.
Interesting to see several veteran offensive linemen like Justin Pagan and Cody Faulkner listed as backups rather than starters. Junior Andrew McDonald steps into some big shoes at left tackle as Rodger Saffold departs to the NFL.
The backup quarterback job remains open, as Dusty Kiel and Edward Wright-Baker are both listed as No. 2 behind Ben Chappell.
Indiana expects big things from redshirt freshman Duwyce Wilson, listed as a starter at wide receiver, kick returner and punt returner.

IOWA
Sophomores Micah Hyde and Greg Castillo are listed as the starting cornerbacks. Shaun Prater doesn't appear on the depth chart after dealing with a leg injury in camp. Prater hasn't been officially ruled out for the Eastern Illinois game, but I wouldn't expect to see much of him on Saturday.
James Ferentz is listed as the starting center, a spot where Iowa might be a little thin following Josh Koeppel's motorcycle accident Monday morning.
Starting defensive end Broderick Binns is suspended for the opener, so Christian Ballard is listed as a possible starter at both end and tackle. Mike Daniels and Lebron Daniel are the next options behind Ballard.

MICHIGAN
Sophomores Denard Robinson and Tate Forcier and freshman Devin Gardner are listed as co-starters at quarterback. Head coach Rich Rodriguez reiterated Monday that Gardner won't redshirt this fall.
Vincent Smith and Michael Shaw are listed as co-starters at running back, with Michael Cox behind them.
True freshman Carvin Johnson is listed as the starter at the spur position (safety/linebacker). Pretty big surprise here, and a testament to Johnson's work in camp.
Senior James Rogers steps into Troy Woolfolk's starting cornerback spot opposite J.T. Floyd.
Receivers Martavious Odoms and Kelvin Grady clearly showed enough in camp to be listed as starters or possible starters against Connecticut.

NORTHWESTERN
Sophomore running back Arby Fields returned to practice Monday and wore a no-contact jersey after being sidelined with a shoulder problem. He's listed as a co-starter at running back with Jacob Schmidt and Stephen Simmons. Northwestern wanted a clear No. 1 running back to emerge in camp, but Fields' injury changed the plan.
Junior Bryce McNaul is listed as the third top linebacker alongside returning starters Quentin Davie and Nate Williams. McNaul won the job in camp.
Venric Mark is the only true freshman listed on the depth chart, both as a backup wide receiver and a co-starter at punt returner. I'll go out on a huge limb (sarcasm) and predict Mark will be the man on returns for the Wildcats very shortly.

OHIO STATE
Junior defensive end Nathan Williams, a projected starter, will miss the Marshall game with a knee injury. He should be back shortly thereafter. Solomon Thomas will start in Williams' spot Thursday night.
Starting cornerback Chimdi Chekwa (hamstring) is questionable for the Marshall game, but corner Devon Torrence (hamstring) should be fine.
Sophomore C.J. Barnett's strong performance in camp lifted him ahead of Orhian Johnson on the Week 1 depth chart. Johnson missed a chunk of camp with an injury.
Start salivating, Buckeyes fans, because running backs Jordan Hall and Jaamal Berry likely will handle kickoff returns against Marshall.

PENN STATE
Sophomores Kevin Newsome and Matt McGloin and freshman Robert Bolden are listed as co-starters at quarterback for the Youngstown State game.
Sophomore Devon Smith's strong camp landed him a starting spot at both receiver and kick returner, and a backup role on punt returns.
Redshirt freshman Garry Gilliam is listed as the starting tight end, as Andrew Szczerba likely will miss the opener with a back injury. Penn State obviously is thin here after losing Andrew Quarless and Mickey Shuler.
Veterans Nate Stupar, Chris Colasanti and Bani Gbadyu are listed as the starting linebackers, with promising younger players like Michael Mauti and Gerald Hodges right behind them.

WISCONSIN
After a very impressive camp, freshman running back James White appears at No. 3 on the depth chart behind both John Clay and Montee Ball. White also is the No. 2 punt returner behind David Gilreath. His emergence likely will result in veteran Zach Brown redshirting the season.
Senior Blake Sorensen likely will start at outside linebacker, as Mike Taylor continues to rehab after undergoing a second procedure on his knee in camp. Culmer St. Jean and Chris Borland are listed as the other starting linebackers.
The starting cornerback spots remain open, as Niles Brinkley, Antonio Fenelus and Devin Smith will compete in practice this week.
August, 17, 2010
8/17/10
1:34
PM ET
It's time to take a look at the top five linebacker units in the Big Ten this fall.
1. Ohio State:
The Buckeyes boast two of the Big Ten's top 10 linebackers in Ross Homan and Brian Rolle, and they also have good depth. Homan might have been the league's most underrated defender in 2009 after tying for fourth in the league in interceptions (five) and finishing eighth in tackles (8.3 per game). Rolle makes up for his lack of size with speed and explosiveness. Ohio State's supporting cast includes Etienne Sabino, Andrew Sweat, Dorian Bell and others.
2. Michigan State:
Back-to-back Big Ten preseason Defensive Player of the Year Greg Jones enters the season as the frontrunner to win the Butkus Award. But he's not alone on what should be a loaded linebacking corps. All-Big Ten candidate Eric Gordon has played a ton of football alongside Jones, and the coaches were pleased with Chris Norman this spring. Hopes are extremely high for true freshmen William Gholston, the Big Ten's top-rated recruit, and Max Bullough. It's clear to see why the Spartans are moving closer to the 3-4.
3. Wisconsin:
Health remains a concern, as
Mike Taylor's knee problems will linger
and Chris Borland comes off of shoulder surgery, but Wisconsin has plenty of talent here. Borland is a rare, do-everything player who won Big Ten Freshman of the Year honors in 2009. Taylor likely would have contended for the same award if not for a torn ACL against Iowa. The Badgers also bring back Culmer St. Jean and Blake Sorensen.
4. Northwestern:
As a College Football Hall of Fame linebacker, Northwestern head coach Pat Fitzgerald loves the look of this group. Senior Quentin Davie is a bona fide NFL prospect who has consistently reached the offensive backfield throughout his career. Middle linebacker Nate Williams enters his third year as the starter, and the coaches have solid options in Bryce McNaul, Ben Johnson and David Nwabuisi. Fitzgerald says this is the most linebacker depth Northwestern has had in his tenure.
5 (tie). Iowa and Penn State:
These teams combine to lose five All-Big Ten 'backers from 2009, including first-team selections Pat Angerer (Iowa) and Navorro Bowman (Penn State). But both have historically reloaded at linebacker, and this year should be no different. Iowa's Jeremiha Hunter returns for his third year as a starter, and Jeff Tarpinian and Tyler Nielsen are primed for bigger roles. Troy Johnson and Bruce Davis are two other names to watch, and hopes are high for freshman James Morris. Penn State loses all three starters, but Nate Stupar and Bani Gbadyu have played a lot of football. Michael Mauti's return from an ACL injury and Penn State's strong recruiting at linebacker also elevate hope for the group.
Next up:
Secondary
More rankings ...
February, 3, 2010
2/03/10
11:46
AM ET
Washington started six different players at safety last year, so even with five of those six guys back in 2010,
Sean Parker
should be in the mix to see significant action -- or even start.
While no Huskies safety earned even honorable mention All-Pac-10 honors, senior Nate Williams was fairly steady at strong safety, ranking third on the team with 62 tackles, with five coming for a loss.
But as far as having an elite, ball-hawking athlete in centerfield at free safety? No.
So this from his recruiting profile should make Washington fans feel pretty good: "Parker is an exceptional athlete that can play a multiple number of positions. He is especially impressive as a safety and return specialist. Even though he lacks ideal size, he is extremely active and is a big play maker both sides of the football and on special teams. A very aggressive safety that reads and reacts very well and isn't afraid of contact."
April, 15, 2009
4/15/09
10:00
AM ET
Posted by ESPN.com's Ted Miller
Nick Holt left the seven-time defending Pac-10 champions, USC -- and sunny Southern California -- to follow Steve Sarkisian to Washington, which has won 11 games over the previous four seasons, including a 0-12 finish in 2008.
Hmm.
| | |
| --- | --- |
| | |
| | Jeff Golden/Getty Images |
| | Nick Holt knows he has his work cut out for him at Washington. |
He left the Trojans' defense -- the nation's best unit -- to oversee the Huskies defense, which ranked 116th in the nation in 2008 after giving up 38.6 points per game.
The good news is things can only get better under Holt and Sarkisian. The question for long-suffering Huskies fans: How long is it going to take?
Washington is heading into the home stretch of spring practices, so it seemed like a good time to check in with the man charged with restoring a once-proud program's defensive tradition.
So, how are you adjusting to a beautiful Seattle spring?
Nick Holt: [Laugh] I'm adjusting. I have to get used to all the wetness. Heck, when it's sunny, it's really beautiful. You've just got to get used to wearing rain gear sometimes.
How hard was it to leave USC? You guys kind of had a nice thing going down there, particularly on defense?
NH: It's always hard to leave a really, really good place. But you look for opportunities, and you look to keep motivated and keep stimulated and to keep moving up the professional ladder. You keep on changing. That makes the world go around. It was a good opportunity and I think the world of Steve Sarkisian. I think he's a tremendous football coach and I wanted to be part of the program.
When you were at USC, what did the Trojan coaching staff think of Washington? Was it hard to get guys motivated to play the Huskies?
NH: In 2006, they played us tough [26-20 final]. It came down to the wire and we won on the last series of the football game. They were driving and time ran out. And in 2007, it came down to the last part of the fourth quarter [27-24 final]. We barely got out of Seattle. They always played us really competitively. Down at USC, we always respected the University of Washington. When we first got into the conference in 2001, during our early years at USC, Washington was one of the better teams in the Pac-10. It just so happens this past year they had a disappointing season. But whenever they had Jake Locker in the football game, we always had to be ready because he's such a good athlete. We were fortunate we didn't have to play him last year [58-0 final]. He was hurt. That kind of hurt their season. So, to answer your question, we've always respected the University of Washington. We've always thought it was a tough place to play because Husky Stadium is so loud and they have such great fans.
After you were hired at Washington, what did you do to evaluate the talent presently on the roster?
NH: The first thing we always do is look at film and make evaluations through cut-ups. Obviously, when we first got here we were recruiting, so we were multi-tasking. We're doing a bunch of things all at once. But we had our graduate assistants on the job right away, getting them to make evaluations cut-ups of all the returning players and all of the freshmen. The kids that didn't have game film, we went through practice films. We got about 20 to 25 plays on each player who was coming back. That was one of the first things we did after signing day -- we started evaluating what we have coming back and how they are going to fit into our package. And obviously during winter conditioning we got to see kids do agility drills and conditioning drills and you get further evaluations and information on these kids.
October, 21, 2008
10/21/08
12:30
PM ET
Posted by ESPN.com's Adam Rittenberg
While I listen to Big Ten coaches yak about their teams, you should check out what's happening around the league.
Michigan has beaten in-state rival Michigan State six consecutive times, but the struggling Wolverines will be the more desperate team Saturday, Drew Sharp writes in the Detroit Free Press.
Who deserves to be called Linebacker U? Both Penn State and Ohio State stake their claim to the nickname, Cory Giger writes in The Altoona Mirror.
"They talk about these linebackers from USC and Ohio State,'' former Penn State linebacker LaVar Arrington said Monday. ''Let's be realistic here. Ohio State got whupped by USC, which shows how inferior they are. Oregon State whupped on USC and showed how inferior USC's linebackers are. And you know what? Penn State whupped on Oregon State, and they're going to whup on Ohio State."
Wisconsin's losing streak has brought down sales of cardinal windbreakers in Madison -- and coach Bret Bielema's approval rating, Tom Mulhern writes in the Wisconsin State Journal.

Someone told Bielema about comments complaining about the zipped-up windbreaker he wears for every game.

"I thought back to my freshman [first] year [at UW] when I was told by the merchandising people [that] they couldn't keep enough windbreakers in stock," Bielema said. "It goes to show, when you're winning, everybody agrees with what you're doing. When you're losing, everybody's got all the answers, because the right answer isn't out there. So, I appreciate that and thank God we have fans that care."
Coach Mark Dantonio's post-Michigan rant and Brandon Graham's claim that Michigan will never lose to Michigan State fuels the rivalry, which resumes Saturday in Ann Arbor, Joe Rexrode writes in the Lansing State Journal.
Northwestern middle linebacker Nate Williams used to collect money from his dad for each hustle play. The Wildcats now need Williams to make dividends as a starter after the season-ending loss of Malcolm Arrington, Shannon Ryan writes in the Chicago Tribune.
Iowa quarterback Jake Christensen has handled his demotion with class this fall, Pat Harty writes in the Iowa City Press-Citizen.