NCF Nation:

ND 2012 roster breakdown
March, 30, 2012
3/30/12
9:00
AM ET
The third and final part of our breakdown of Notre Dame's 2012 roster wraps up today with the special teams.
SPECIAL TEAMS
The (key) players
:
Kyle Brindza
,
Ben Turk
,
Jordan Cowart
,
Theo Riddick
,
John Goodman
,
George Atkinson III
,
Amir Carlisle
,
Austin Collinsworth
,
Chris Salvi
,
Nick Tausch
The incoming:
Scott Daly
The breakdown:
New tight ends coach Scott Booker is now in charge of special teams, though the entire staff will take a more hands-on approach following a 2011 campaign in which the Irish averaged 0.3 yards per punt return before the bowl game. In addition to kickoffs, Brindza will likely be the Irish's field goal kicker as well following the loss of
David Ruffer
. Turk improved as the season went on last season and figures to be the starting punter again. Atkinson returned a pair of kickoffs for touchdowns last season and may see more action in the backfield this season, so it remains to be seen if his duties could be extended to the punt return game as well. Same goes for Collinsworth, who was solid on both the kick-return and kick-coverage teams but will likely see extended time at safety following the graduation of
Harrison Smith
. Carlisle is out for the spring with a broken ankle, but he returned kicks for USC at times last season and could possibly be a factor on either return team.
Riddick's struggles returning punts last season are well-documented, but the staff likely isn't ready to give up on the big-play potential of which he is capable. Goodman had the sure hands and was basically back there last season as a safety net to prevent anything bad from happening, and the Irish hope that won't be needed again this year. (Goodman is in line to play a bigger role offensively, too.) Salvi earned a scholarship for being such a force on both kickoff teams, and Daly is the second scholarship long-snapper in school history, likely backing up Cowart this season before taking over the reins in 2013.
March, 29, 2012
3/29/12
9:00
AM ET
Our breakdown of Notre Dame's 2012 roster continues today with the defensive side of the ball.
DEFENSIVE LINE
The players:
Aaron Lynch
,
Louis Nix
,
Stephon Tuitt
,
Kapron Lewis-Moore
,
Tony Springmann
,
Chase Hounshell
, Sheldon Day,
Tyler Stockton
,
Kona Schwenke
The incoming:
Jarron Jones
,
Romeo Okwara
[+] Enlarge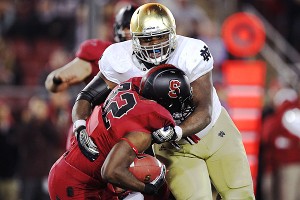 Ezra Shaw/Getty ImagesTackle Louis Nix is a key cog in what should be a strong, experienced defensive line for Notre Dame.
The breakdown:
Injuries forced all three current starters — Lynch, Nix and Tuitt — to play much more than expected last season, and none disappointed. They are all second-year players now, and their pass-rushing ability should have opposing offensive lines and quarterbacks on their heels. Lewis-Moore has been cleared for spring following a season-ending knee injury in 2011 but might not start, though he will likely see plenty of playing time as the line rotates. Hounshell (shoulder surgery) is not cleared yet, but he will likely see significant time this fall after playing as a true freshman last year as well.
LINEBACKERS
The players:
Danny Spond
,
Manti Te'o
,
Dan Fox
,
Prince Shembo
,
Kendall Moore
,
Ishaq Williams
,
Anthony Rabasa
,
Carlo Calabrese
,
Jarrett Grace
, Justin Utopo,
Connor Little
,
Ben Councell
,
Joe Schmidt
The incoming:
None
The breakdown:
As we said with
Tyler Eifert
yesterday, everyone knows what Te'o is capable of, as he likely would have been a first-round NFL draft pick had he left school following his junior year. Fox and Calabrese shared the other inside role last year, and their experience should prove valuable. Shembo has been working at the cat spot this spring, and up-and-coming talents like Williams and Spond figure to see extensive playing time.
SECONDARY
The players:
Bennett Jackson
,
Jamoris Slaughter
,
Zeke Motta
,
Lo Wood
,
Josh Atkinson
,
Austin Collinsworth
,
Dan McCarthy
,
Jalen Brown
,
Cam McDaniel
,
Eilar Hardy
,
Chris Salvi
,
Joe Romano
, Will Salvi,
Connor Cavalaris
,
Matthias Farley
,
Blake Breslau
The incoming:
Elijah Shumate
,
Nicky Baratti
,
C.J. Prosise
,
John Turner
The breakdown:
The loss of
Tee Shepard
really stings this group, which is down to four scholarship corners with a combined zero career starts. Jackson and Wood are in position to take over as the new starters, and playing time last season should help with the transition. At safety, Slaughter and Motta saw plenty of time the last two seasons, and Slaughter in particular has shown a nose for the ball and the capability of providing a leadership force that
Harrison Smith
is leaving behind. Collinsworth will likely also see plenty of snaps after playing last year.
March, 28, 2012
3/28/12
9:00
AM ET
With Notre Dame a week into spring practice, the fifth-year players officially returning and the 2012 recruiting class finalized (we think), let's break down the Irish's complete roster, position-by-position, as it gears up for Year 3 under Brian Kelly.
We'll start with the offense today and delve into the defense tomorrow, with special teams coming Friday.
QUARTERBACK
The players:
Tommy Rees
,
Andrew Hendrix
,
Everett Golson
, Gunner Kiel
The incoming:
None
The breakdown:
Experience is the only real way to rank these guys, as Rees has 16 starts, Hendrix has played in five games, Golson has sat a year learning the offense and Kiel arrived on campus just two months ago. Nonetheless, that likely won't matter as Kelly goes to a square-one approach, opening the playbook from the beginning to allow for a fair chance for everyone. The decision -- which will likely be up in the air deep into the summer -- may prove to be Kelly's biggest so far with the Irish.
RUNNING BACK
[+] Enlarge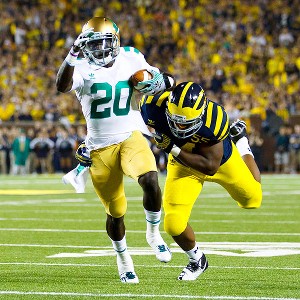 Rick Osentoski/US PresswireCierre Wood is still the clear favorite in Notre Dame's backfield, but the Irish have other running backs ready to vie for playing time.
The players:
Cierre Wood
,
Theo Riddick
,
George Atkinson
,
Amir Carlisle
, Cam Roberson,
Tyler Plantz
The Incoming:
Will Mahone, KeiVarae Russell
The breakdown:
Wood is the clear No. 1, as he was heading into last season as well. Riddick broke off a pair of huge runs toward the end of Saturday's scrimmage, and Kelly wanted both him and Atkinson to see more time back there as Wood rested with a minor quad injury. (Kelly said Wood did go in the rodeo drill earlier.) Both Riddick and Atkinson are capable of playing in the slot, and may end up seeing more time catching balls this season than taking handoffs, though Tony Alford will coach both regardless.
Carlisle, the USC transfer, is eligible to play in 2012 but out for the spring with a broken ankle. Where he fits in will be interesting, as carries may be hard to come by if Atkinson really progresses this spring in the backfield. The 5-foot-10, 185-pound Carlisle was featured on kickoffs last season with the Trojans, and there, or on the punt return team, may prove to be the fastest way on the field for him.
WIDE RECEIVER
The players:
John Goodman
,
T.J. Jones
,
Robby Toma
,
DaVaris Daniels
,
Daniel Smith
,
Luke Massa
,
Eric Lee
,
Nick Fitzpatrick
,
Ryan Liebscher
The incoming:
Justin Ferguson, Davonte Neal
The breakdown:
Goodman has talked about making the most of this last chance, and the coaching staff would not have invited him back for a fifth year had it not believed in him. Whether he can be a top target is up in the air, but he should bring some stability and leadership to a group loaded with youth. Jones has been solid through two years and Kelly has said he is on the cusp of breaking out. Toma has done everything asked of him and then some in the slot when replacing the oft-injured Riddick, and he may have the position to himself this year.
Daniels has the complete package physically, but he has yet to take a snap after redshirting last season. He was seen running with the 2s to start spring, but that could easily change with a strong showing. Smith, too, ran with 2s to open spring, but he must stay healthy first. Ferguson has the tools to compete for playing time upon arrival, but that could likely depend on how the incumbents step up in front of him. Neal is pegged as an athlete, but Kelly said there are no plans right now to play him at corner upon his arrival. He could possibly be a playmaker at receiver or on special teams.
TIGHT END
The players:
Tyler Eifert
,
Troy Niklas
,
Alex Welch
,
Ben Koyack
,
Jake Golic
,
Arturo Martinez
The incoming:
None
The breakdown:
We all know what Eifert can do, which is why he almost entered the draft this year. Niklas is the big question mark. And by big, we mean it literally. A switch from linebacker -- where he started one game last fall as a freshman -- to tight end for the 6-7, 252-pounder has many excited to see what the offense can do with a potential two tight end set. Everyone saw what the
New England Patriots
did last year with
Rob Gronkowski
and
Aaron Hernandez
.
It would be foolish to expect that much so soon -- both without
Tom Brady
as the Irish's quarterback and without Niklas having played the position since high school. How quick Niklas can master the playbook and blocking could go a long way in seeing some of these sets come to fruition. The move does leave some to wonder what this means for Welch and Koyack, but the duo is young and, according to tight ends coach Scott Booker, up for the challenge.
OFFENSIVE LINE
The players:
Zack Martin
,
Chris Watt
,
Braxston Cave
, Mike Golic,
Tate Nichols
,
Christian Lombard
,
Bruce Heggie
,
Jordan Prestwood
,
Matt Hegarty
,
Conor Hanratty
,
Nick Martin
,
Brad Carrico
,
Matt Tansey
,
Dennis Mahoney
The incoming:
Mark Harrell, Ronnie Stanley
The breakdown:
Cave will not be playing much, if at all, this spring as he recovers after injuring his foot last season. Golic, who started in his place, is the center with Cave out, but it would not be surprising to see Golic move to right guard upon Cave's return. Right now Lombard is manning the right guard spot, with Nichols at right tackle. How the second unit gets shuffled upon Cave's return to the starting unit remains to be seen, but to open spring, it consisted of Heggie, Prestwood, Hegarty, Hanratty and Martin.