October, 29, 2014
Oct 29
2:00
PM ET
Patience is a virtue Kentucky quarterback
Patrick Towles
is quite familiar with.
It's not easy for college quarterbacks to have these days, as the trend of winner-starts-loser-transfers seems to grow across the country. Since only one can play the position at a time, waiting your turn can be difficult, especially if you were a highly-regarded recruit out of high school.
[+] Enlarge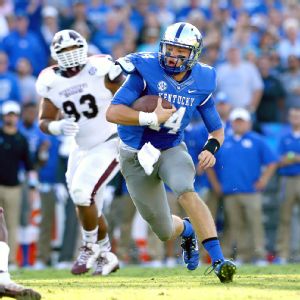 Andy Lyons/Getty ImagesPatrick Towles has thrown for more than 2,000 yards and rushed for 204 in Kentucky's eight games.
Towles, however, bleeds Kentucky blue and he's now reaping the rewards of his patience as one of the feel-good stories of this SEC season and a catalyst in Kentucky's marked on-field improvement in 2014. Being able to start -- and star -- for the school he grew up loving in his home state is a joy for the redshirt sophomore signal-caller.
"My entire life I wanted to play quarterback here," Towles said. "I've worked my entire life to get to this point where I am now. I've had a lot of breaks, a lot of balls fall my way, I guess you could say. It's great to just finally start to see the fruits of your labor."
Much labor led to Towles' 2014 success, where he is directing one of the most improved teams in the conference this season and recently went toe-to-toe with the No. 1 team in the nation, as he did Saturday in the
Wildcats' loss to Mississippi State
.
A class of 2012 recruit, Towles had the type of credentials coaches look for in their quarterback of the future. A four-star prospect, Towles was the No. 1-ranked player in the state of Kentucky, a high school All-American, Gatorade Player of the Year and the state's "Mr. Football" who led Highlands High School to three consecutive state championships while compiling a 44-1 record as a starter.
Upon signing with the Wildcats under then-head coach Joker Phillips, Towles played in five games as a true freshman but was behind
Maxwell Smith
and
Jalen Whitlow
on the depth chart.
When Mark Stoops and his new coaching staff arrived in 2013, Towles was again buried on the depth chart and ended up redshirting the season. He could have transferred but decided to stay the course and work on improving enough to win the starting quarterback job.
"I did not [think about transferring]," Towles said. "If I would have felt like I was getting a raw deal or maybe I deserved the job and didn't get it, then maybe I would have started to think about that. But I was treated fairly from the jump, since I've gotten here. A lot of quarterbacks they don't win the job or they're told they're not going to play, they get up and leave and go somewhere else. I want to be here, I wanted to be here and I plan on being here for a little bit."
So Towles continued to work with Kentucky offensive coordinator Neal Brown and when away from school, Towles hired a private quarterback coach to continue development. By the time spring football arrived this year, Towles' progress was evident. Meanwhile, Whitlow transferred out of the program in April and Smith missed spring practice because of shoulder surgery.
Plenty of competition still awaited Towles, though. The arrival of true freshman
Drew Barker
, an ESPN 300 prospect and the No. 1 player in the state of Kentucky in the 2014 class, was much anticipated.
Reese Phillips
, who redshirted in 2013 like Towles, was in the mix, too. And by preseason training camp this August, Smith returned to practice. Still, Towles did enough to win the starting job.
Brown said Towles' fundamentals, among other things, greatly improved.
"He changed his release, he made it much shorter," Brown said. "His preparation is at a much higher level. He did all those things and really competed hard and won the job and once we got into the game action he's really stepped up and done a nice job, not only with his arm but with his legs."
His hard work shows on Saturdays. Against the No. 1 Bulldogs he threw for a career-high 390 yards and ran for a career-high 76 yards with two rushing touchdowns and two passing touchdowns. He kept the Wildcats in the game until the final minutes when Mississippi State returned an onside kick attempt for a touchdown.
He is third in the SEC in passing yards (2,077) and has a solid 12-to-4 touchdown-to-interception ratio. He is fifth among SEC quarterbacks in rushing yards (204) and has four rushing scores also.
Most importantly, having good quarterback play has gone a long way in the Wildcats being 5-3 after winning only two total in 2013.
"I think it's very big," Stoops said. "I think you have very little chance with the teams we're competing against without a player there, without a quarterback."
Teammates cite Towles as a leader.
"A lot of guys can learn from him," running back
Jojo Kemp
said. "He doesn't hang his head. He's very positive all the time on and off the field. He's going to do whatever it takes to win."
He isn't alone -- Kentucky's increased talent level thanks to some veterans, as well as recruiting success under Stoops, has given him quality weapons to work with. A backfield of Kemp,
Braylon Heard
and
Stanley "Boom" Williams
complemented by receivers such as
Ryan Timmons
,
Demarco Robinson
,
Javess Blue
,
Garrett Johnson
and
Blake Bone
have made Towles' job easier. Working with a creative coach like Brown, who has Air Raid roots but has no problems trying different things like the Wildcat formation which has had success for Kentucky this season, has also been huge for Towles.
There's still much left to do, but Towles & Co. have things looking up in Lexington.
"We're not done yet," Towles said. "We just got started."
October, 16, 2014
Oct 16
2:00
PM ET
Kentucky offensive coordinator Neal Brown is an Air Raid guy, through and through.
He played for Hal Mumme, considered the godfather of the offense that had a reverberating impact on college football, at Kentucky in the late 1990s. Brown has run the system throughout his seven-year career as an offensive coordinator. Like most Air Raid disciples, he has put his own spin on the attack and it continues to evolve in his second season as Kentucky's offensive coordinator.
So it was only natural that, when Kentucky scored a landmark win over South Carolina on Oct. 4, it did so thanks in large part to … the Wildcat formation?
Huh?
Mumme, now the head coach at NAIA school Belhaven, noticed.
"It's funny," Brown said. "He texted me after the South Carolina game and it was a good text. He was basically saying, 'The No. 1 thing is to win.' He wants to throw the football, no question. But he wants to win and he likes being different. And the Wildcat deal is a non-traditional way, so I think he can relate to that."
[+] Enlarge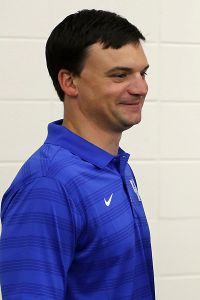 AP Photo/James CrispNeal Brown has his own take on the Air Raid offense that includes the Wildcat formation, which worked well against South Carolina.
Yes, the Wildcat formation has given Kentucky an edge recently, particularly in the 45-38 victory over the Gamecocks. Brown is all about doing whatever it takes to win. If that means doing something different from what his core principles dictate, that's fine.
With Kentucky (5-1) serving as one of the best stories in the SEC and a game away from bowl eligibility, who are we to argue? The Wildcats are averaging 36.5 points per game and have scored more than 40 in their last two. Solid quarterback play from sophomore
Patrick Towles
and depth at running back and receiver, thanks in part to an influx of talent from Mark Stoops' recruiting classes, have made a night-and-day difference for Kentucky's offense compared to where it was at this time last season.
Brown's standard offensive principles remain intact. The Wildcat is simply something different to throw at teams and something he has used since his first year as an offensive coordinator at Troy. But against South Carolina, it was particularly successful.
That night, sophomore running back
Jojo Kemp
put together a career-best performance, much of it running the Wildcat. Initially planning to only use it a handful of plays, Kentucky leaned on the formation, particularly in crunch time, and continued to use it as they had success. Kemp wound up with career-highs in carries (17), rushing yards (131) and rushing touchdowns (three) in the emotional victory.
"Jojo is great; he played awesome," Towles said. "Without him, I don't know if we win that football game."
Brown, who said he likes to use the Wildcat formation occasionally, figured it wasn't broke so there was no sense in fixing it.
"Going in, I thought we'd use it between six and eight snaps a game," he said. "We used it in short yardage and to get Jojo Kemp some touches. And then we got there in the fourth quarter [vs. South Carolina] and we hit it on a short-yardage play for a 10-plus yard gain. Then on first down, I stayed in it, and we hit it for another big gain, and from there it just became, 'Hey, they aren't stopping it; let's keep doing it and make them stop it.' Fortunately for us, they didn't that night."
Kemp's season-high workload was well above his usual carry total (he hasn't had more than nine carries in any other game this season) but he answered the bell every time, and
produced results like this
.
"I got tired a lot of times," Kemp said. "But I had to suck it up and go out there and be a man."
The formation also yielded a perfectly-executed trick play in which Towles, who usually motions out to line up as a receiver in the formation,
took a handoff on a reverse and threw a 48-yard touchdown pass
to a wide-open
Ryan Timmons
. The play gave Kentucky a lead early in the second half and provided a spark.
"We worked on that play about 25 times in practice that week, it was good every time, we executed it every time," Towles said. "[Brown] called the play, I told our offensive line what we were going to run and we had done it so many times that it was kind of second nature."
The formation has only been one element of a successful offense that was in the bottom four in the SEC in most statistical categories a year ago but has climbed to the middle of the pack in the league so far this season. Kentucky has been solid defensively this season and the Wildcats are developing an offensive identity to match.
As they head into a crucial game at LSU on Saturday night, the Wildcats are looking to build on their surprise first half of the season. They're not satisfied, though. They want more.
"We're excited, but we're focused," Towles said. "Nobody came into the season wanting to win five games. We want to win every game we play."
February, 3, 2012
2/03/12
9:00
AM ET
DALLAS -- Scanning the list of the nation's top-25 recruiting classes unearths few surprises. The list is mostly national powers like Texas, Alabama, Notre Dame, LSU or USC. That, or growing programs at the height of recent success, like Stanford.
Every single team, though, won enough games to qualify for a bowl game, save sleeping giant Tennessee trying to rebuild under Derek Dooley.
One team sticks out.
Despite a 5-7 season, Texas Tech still signed the nation's No. 20 class, a second consecutive top-20 recruiting class over a span that's featured just 13 wins.
[+] Enlarge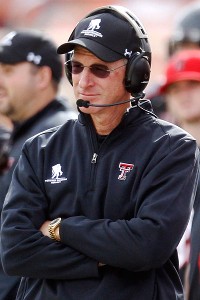 Sue Ogrocki/AP Photo"You don't recruit these guys for 3-4 months," Tommy Tuberville said."You recruit these guys for two years."
"You don't recruit these guys for 3-4 months," coach Tommy Tuberville told ESPN.com on Thursday. "You recruit these guys for two years."
Texas Tech's top three signees, receivers
Dominique Wheeler
and
Reginald Davis
, as well as offensive tackle
Michael Starts
were all committed to the Red Raiders by June 2011, months before the season began.
Tech athletic director Kirby Hocutt called the season "disappointing" and "unacceptable," but reiterated his vote of confidence in Tuberville on Thursday.
The difficult part was keeping players already committed while the Red Raiders suffered through seven losses in the final eight games of the season.
"You just show 'em the truth. You don't make excuses, because we're in a results-driven business," offensive coordinator Neal Brown said. "But you show 'em. Obviously, we were good enough to beat the No. 1 team in the country at their place and snap that home winning streak, and we were close."
There's no erasing the 5-7 record, the first losing season at Texas Tech in almost two decades. And as easy as it is to focus on embarrassing 34-, 32- and 60-point losses to teams that finished in the Top 25 late in the season, the Red Raiders were competitive early in the season in close losses to Texas A&M and Kansas State. A four-point November loss to Missouri, which would have given the Red Raiders a bowl berth, came on a tipped ball in the final minute inside Mizzou's 5-yard line.
So, "showing 'em" means filling them in on injuries. Offensively, the impact of running back
Eric Stephens
' dislocated knee in the fifth game was enormous. Brown noted that Stephens was the team's second-leading receiver at the time, and called him the best pass-blocking back he'd been around. It also forced the Red Raiders to rely on freshmen.
Defensively, injuries forced the Red Raiders to play even inexperienced players. In the season finale against Baylor, Texas Tech traveled with 52 players, compared to almost 100 for the Bears. Now, 15 players are expected to miss spring practice.
"We just kind of hit rock bottom," Tuberville said. "We lost the base of what we had, any kind of leadership on defense. When we lost the running back, that put tremendous pressure on the defense. That just devastated us."
Added Tuberville: "It's pretty unusual to go into the Oklahoma State game and have to put a receiver (
Cornelius Douglas
) on (Biletnikoff Award winner Justin) Blackmon."
So for top recruits, the sell is simple.
"Sell what you have," Tuberville said. "There's a lot of these guys that look at us and say, "Hey, I can go a lot of places, but I can go to Tech and play right now.' And they can. That's a big selling point because of the situation we're in. That's helped. It helped get certain players."
Tech signed nine juco players in its 2012 class, including seven defenders, in hopes of finding a quick fix for a defense in need of a lot more than a quick tune-up.
The talent has arrived for the Red Raiders. The wins haven't. When will they? The focus for now is clear. Tech has had two of the best recruiting classes in the Big 12 in successive seasons. It's also fielded two of the worst defenses.
"We've gotta balance this team up. There's no way you can go out there and put the kind of pressure on the offense that we did last year," Tuberville said. "'We're going to give up 50, so y'all gotta score 50.' It's just not going to happen. You're definitely not going to win championships doing that."
February, 28, 2011
2/28/11
11:00
AM ET
Texas Tech coaches acknowledged that junior
Seth Doege
(DAY-gui) was the clubhouse leader in the quarterback race to begin spring practice, and he kept his distance from the competition in the first scrimmage of the spring.
The Red Raiders took to the field on Saturday and Doege impressed his coaches.
The junior completed 17 of 26 passes for 246 yards and three touchdowns with an interception.
"He threw the ball pretty well and made good decisions," coach Tommy Tuberville told reporters. "We're expecting a lot from him. I think a lot of people are. You've got to remember he hasn't played in a long time, as consistent as what he'll play."
Doege missed his final two seasons of high school football with injuries and has one start in three seasons at Texas Tech.
"I intentionally put him against the wind just to see how he would handle it," Tuberville said, "and he did well."
The coaches may be touting Doege as the leader with what they're saying, but they're proving it on the field, too. The division of reps in scrimmages like these can give anyone a good feel for how the quarterback race is shaking out.
Doege threw 26 passes and sophomore
Jacob Karam
threw just 17, completing eight for 116 and two touchdowns with a pair of fumbles.
Quarterbacks
Scotty Young
and Michael Brewer threw just 11 and seven passes, respectively.
Doege has a chance to grab a pretty good hold on the job by spring's end and spend the summer emerging as one of the team's leaders on and off the field in offseason voluntary workouts. He could be well on his way to doing exactly that if he continues playing like this on the most important days of spring practice.
February, 3, 2011
2/03/11
9:00
AM ET

Texas Tech Red Raiders
The class
Signees:
27 (four from junior college)
Top prospects:
Kenny Williams
and
Bradley Marquez
both ranked among the nation's top 30 running backs and
Jace Amaro
is one of the nation's top tight ends. Incoming quarterback
Michael Brewer
was the nation's No. 27 quarterback and could be a factor in the Red Raiders spring quarterback competition.
Needs met:
Texas Tech has a lot of depth at running back, but Marquez and Williams could end up being two of the Red Raiders' best backs eventually. The Red Raiders are moving on without running back and longtime starter
Baron Batch
and also must replace departed receivers
Detron Lewis
and
Lyle Leong
.
Derek Edwards
and LaDarrin Roberts could fill that void in depth behind rising underclassmen, and junior college transfer
Marcus Kennard
could contribute quickly. Defensive end
Cooper Washington
switched to the Red Raiders from Oklahoma on signing day and could help provide some elite talent up front to instill the SEC-type defense Tommy Tuberville hopes to bring to Lubbock.
Analysis:
Texas Tech is ecstatic with this class, and for good reason. It's one of the best in the Big 12 behind top-tier classes Texas and Oklahoma, and it's one of the best-ranked classes in school history. ESPN ranks it just outside the national top 25, and we could see some elite skill position players emerge from this unit. The big-time defensive signees will be coming in 2012, but for now, offensive coordinator Neal Brown has plenty more young players to help further establish his offense.
ESPN recruiting grade:
B-minus
March, 30, 2010
3/30/10
3:35
PM ET
LUBBOCK, Texas -- Under Mike Leach, Texas Tech became synonymous with the spread offense. When the search for his replacement began, few wanted that to change.
Importing offensive coordinator Neal Brown into Lubbock assured the wide-open offense would remain.
[+] Enlarge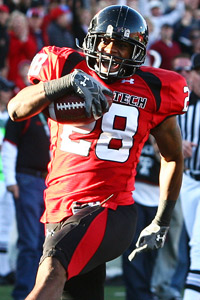 Karl Anderson/Icon SMIDefensive back LaRon Moore is excited about the Red Raiders' more aggressive scheme.
But with a defensive scheme shakeup taking place in the Red Raiders' spring practices, the Texas Tech defense wants to earn a reputation of its own.
"Right before Coach [Ruffin McNeill] left, he kept on saying, change the identity of the defense here," said defensive back LaRon Moore. "And I still text him and he still tells me make people change the way they think about the way we play."
Moore points to his 10 teammates on defense who helped rack up 27 sacks in eight conference games, four more than any team in the Big 12. Moore's math: Take the proven playmakers on defense, add a more disciplined but aggressive scheme and it could equal a change in how the rest of the country sees Texas Tech football.
"[The new coaches] are coming in and they're changing to exactly what we wanted," Moore said. "I'm excited that we're going to be forcing the action. If we're going to be a defense that holds people under 15 points a game, then we're going to be a force to reckon with."
The Red Raiders defense gave up 22.5 points last season, good for sixth in the Big 12. And while the offense would surely welcome a drop in that number, it's seen plenty of its own progress already this spring. Texas Tech becoming synonymous with stingy defense won't happen overnight, but the offense could help it get there in a conference loaded with spread offenses.
"We're playing with greater tempo," Brown said. "The defense has a hard time getting lined up, and the D-line can get tired, and we kind of turned the corner [in Saturday's scrimmage] a little bit."
And that's to be expected. But it doesn't mean the defense can't or won't catch up. Moore wants that change just like McNeill did. Just don't count on seeing it this spring. Moore doesn't.
"It's going to take time," Moore said. "This program and the offense that was built started 10 years ago. With defense, you can't just do it in one game, you can't do it one play or one quarter. It has to be consistency, and that's what we're going for right now."
March, 30, 2010
3/30/10
8:38
AM ET
LUBBOCK, Texas -- Texas Tech has a problem, but it's one offensive coordinator Neal Brown welcomes.
"There's a lot of people that would like to have one guy," he said. "We've got two guys."
Brown's two guys are quarterbacks
Steven Sheffield
and
Taylor Potts
, a pair of seniors competing to run Brown's offense in the fall -- a job that, if won, won't be lost easily.
"Once we make that decision, there's not going to be a whole lot of flip-flopping," Brown said. "We're going to give that guy some rope where he's not peeking over his shoulder all the time, we're going to hand him the reins and he's going to go out to play."
[+] Enlarge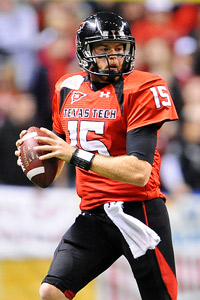 John Albright /Icon SMITaylor Potts threw for 3,440 yards and 22 touchdowns last season.
But that decision likely won't be made until fall camp, and for now, the task in front of both is learning Brown's offense, one similar to former coach Mike Leach's.
"The tempo they want us to play at is a little higher, so you've got to think quicker," Potts said.
Both quarterbacks are receiving equal reps this spring, though in Saturday's scrimmage, Sheffield outplayed his counterpart, completing 18 of his 25 passes for 222 yards and two touchdowns. He also ran for a score.
Potts completed 13 of 25 passes for 141 yards and a touchdown.
"It's been like any other spring or summer or whatever it is, there's always competition," Potts said. "Competition's good."
And both quarterbacks have no plans to chart the other's incompletions.
"One thing I changed since I was younger is to stop worrying about that and just worry about me. That's all I can really control," Sheffield said. "It's just kind of a waste of time and wasted effort if I were to be worrying about somebody else."
The worry for both is eliminating what kept them from permanently starting as juniors, when injuries and inconsistencies sent both quarterbacks on and off the field constantly.
Brown says the focus for Sheffield is limiting the frustrating plays that his penchant for big plays sometimes led into.
"He's not the most orthodox guy you're going to see, but he's got a great feel for the game. He's got an energy about him that's contagious," Brown said. "He kind of flies by the seat of his pants sometimes, and sometimes that turns into negative plays."
For Potts, it's utilizing the arm strength Brown called "incredible."
"Potts' deal is he throws off his back foot a lot," Brown said. "When he steps into his throws, he's got as good of arm strength as you're going to find."
Combine that with showing his coaches he won't exceed the 13 interceptions he threw last season could put Potts behind center this fall.
"I feel good about playing a game with either one of them," Brown said. "We can win games with both of them. We just have to figure out who gives us the best chance to win."
January, 11, 2010
1/11/10
4:22
PM ET
The
Dothan Eagle is reporting
that Troy offensive coordinator Neal Brown is talking with Texas Tech about becoming the Red Raiders' new offensive coordinator.
Brown is scheduled to meet with new Texas Tech coach Tommy Tuberville at the American Football Coaches Association convention in Orlando today.
Brown, who is the youngest FBS coordinator at age 29, has spent the past four seasons with the Trojans. Troy ranked third nationally in total offense and quarterback
Levi Brown
ranked second in the nation in total offense.
The irony of this situation is that Tuberville has been down this road before.
He hired former Troy offensive coordinator Tony Franklin to be his offensive coordinator at Auburn in 2007. That relationship lasted less than a season as Franklin was fired midway through 2008.
Since then, Franklin, who completed a successful first season as the offensive coordinator at Middle Tennessee, has been outspoken about Tuberville, his coaching practices and his interactions with the Auburn staff.
Brown played for Franklin at Kentucky and Franklin brought Brown with him to Troy. Brown replaced Franklin when he left for Auburn and the two still talk regularly.
It will be interesting to see if Franklin's experience will play into Brown's decision should he be offered the Texas Tech job.
If Brown decides to return to Troy, he has a wealth of talent waiting for him. Quarterback
Jamie Hampton
, who was the starter in 2008, but missed the 2009 season while recovering from a knee injury, returns. Eight other offensive starters will also be back, including star receiver
Jerrel Jernigan
and the running back duo of
DuJuan Harris
and
Shawn Southward
.
August, 5, 2009
8/05/09
4:40
PM ET
Posted by ESPN.com's Graham Watson
Troy coach Larry Blakeney and offensive coordinator Neal Brown had a plan if one of their two top quarterbacks suffered an injury.
However, they probably didn't think they'd need to put it into action just three days into camp.
Backup quarterback Tanner Jones suffered an unknown injury to his left knee and is out indefinitely, leaving Jamie Hampton as the team's backup quarterback to starter Levi Brown.
"I think he escaped the pocket and stepped wrong," Neal Brown told the Dothan Eagle. "He was sore [Monday] and didn't practice. We don't know how long he'll be out, maybe for a week."
Troy has every intention of redshirting Hampton, who started the first five games of the season before suffering a torn ACL, MCL and meniscus damage after taking a hit while scrambling against Florida Atlantic on Oct. 7.
Levi Brown assumed the starting role two weeks later and has been the starter ever since. But both Blakeney and Neal Brown said that if anything happened Levi Brown, Hampton would be next in line.
But that's not a preferred option since the coaches would like to give Hampton time to fully recover from his injury. Now that Jones is out, Hampton is getting increased reps.