September, 24, 2010
9/24/10
6:41
PM ET
One of the biggest talking points about Boise State is its weak of strength of schedule and why the Broncos are not doing anything about it. Athletic director Gene Bleymaier has talked many times about the difficulty of getting top-tier opponents on their schedule, because most do not want to play in Boise.
Some headlines were made a few weeks ago when Nebraska came out and said a two-for-one deal to play Boise State fizzled because the Broncos wanted $1 million to play in Lincoln. Now there are more headlines today.
Alabama athletic director Mal Moore told The Tuscaloosa News that he has
never been contacted by Boise State to schedule a game.
Reached Friday for a response, Bleymaier said it was because he wants a home and home, not a one and done on the road.
"We'll play anybody in the country home and home," Bleymaier told ESPN. Although Boise State's 2011 schedule isn't yet finalized, Bleymaier said the Broncos do have a Southeastern Conference opponent -- Ole Miss. That is not a home-and-home, and Boise State is being paid $900,000 for the one-time trip.
So is this going to become a standard story, where all the athletic directors at the elite programs around the country are asked whether they have heard from Boise State? If not, then shame on Boise State?
The Broncos have every right to want a home-and-home agreement here. If Alabama wanted a piece of Boise State, then why not call up Bleymaier and schedule a home-and-home? Right, because Alabama has nothing to prove, and there is no reason for the Tide do that when they already play in the ultra competitive SEC. Well, if that was the case, then why is Alabama playing one marquee non-conference game a year?
Boise State has much more to prove and should make every attempt to strengthen its schedule. But it needs enough home gates, too.
September, 24, 2010
9/24/10
3:00
PM ET
Yay! Lots more mail in the
mailbag this week
, so thanks to those sending in a contribution. Now let us see what Sports Nation has to say:
Josh in N.C. writes:
There was an article in the Omaha paper that stated a source that said Nebraska offered Boise St. a series where NU would travel to Boise twice and Boise to Lincoln once, but it fizzled out because Boise still wanted a million dollars on top of that! Does this quash all the people who say don't blame Boise for their schedule because no one wants to play them, isn't Boise just scared?
Andrea Adelson:
Actually it was a two-for-one, where Boise would play in Lincoln twice and Nebraska in Boise once. But that probably hardly matters to the folks who blame Boise State for this one. Let us try to remember that Boise State plays in a non-AQ conference, where the dollars are far less than what Nebraska gets in the Big 12, and what it will get in the Big Ten. Most, if not all, non-AQ teams rely on these big non-conference paydays to help keep the athletic department running. Do you also take issue with Arkansas State getting $1 million to come to Auburn? Or ULM getting $1 million to play Auburn? How about Texas paying FAU $900,000 last season? Or are these paydays just fine because the schools are getting "cupcakes" they can easily beat?
Also one little reminder for ya: Nebraska paid $800,000 to Western Michigan and San Jose State and $825,000 to New Mexico State to come to Memorial Stadium in 2008. But Virginia Tech got only $300,000. Double standard?
---
Ben Eckenroed in Salt Lake City writes:
How come Virginia Tech losing to James Madison causes Boise State so much grief? They beat a top-10 team when they played them. Does that mean if Pitt were to lose out and be 2-10 at season's end Utah's victory over a ranked team wouldn't mean anything? It seems a victory over a ranked team is still a victory over a ranked team. On that note, if Boise State dominates Wyoming and Oregon State by a larger margin that Texas/TCU did respectively, does that restore some of their clout?
Andrea Adelson:
Yes, if Pittsburgh continues to stink up the joint, it will diminish that quality win for Utah. Unfortunately, that is the way the system works. When teams start off the season ranked, nobody really knows how good they are. The rankings are all projections, based on expectations and what a team did the prior season. That is why a lot of folks want rankings to start in October. But the point is, the computers take into account the strength of schedule and how your opponent does, so that loss will continue to hurt Boise. I don't think anybody has compared Boise's win against Wyoming to Texas' closer win. In fact, I am not sure what Boise State can do to restore clout. Did the Broncos even have any of that to start?
---
Jason in Salt Lake City writes:
Do you think it hurts Utah having most of its tough games bunched at the end of the year? I worry that they may overlook some of their upcoming opponents who may be perceived as (or actually are) weaker. Even if they win those games, the team may not stay as sharp as they otherwise would. This could also really come back to bite them at the end of the year when the schedule seemingly gets a lot more difficult.
Andrea Adelson:
Jason, boy, is that Utah schedule back-loaded! For those unfamiliar with the Utes, beginning Oct. they play at Air Force, then host TCU, at Notre Dame, at San Diego State and home to BYU. I don't think Utah has underestimated its opponents just yet, and that is a credit to the coaching staff. So is the way
Terrance Cain
has stepped in with
Jordan Wynn
hurt. It's as if Utah hasn't missed a beat. I think getting this many wins early helps build confidence, and playing weaker opponents also helps develop depth, which is going to be so crucial heading into that stretch run. I think playing at Iowa State on Oct. 9 is going to be a big test, too. What we've seen from Utah has certainly been good, but will it be good enough come the end of October? We'll have to wait and see.
---
Jeff in Ithaca, N.Y., writes:
Andrea what would look better for the Big Ten; to have Nebraska lose the national championship to a current Big Ten team and another current team winning another BCS bowl. Or for Nebraska to win a BCS bowl, as well as having current Big Ten members win the national championship and another BCS bowl?
Andrea Adelson:
Jeff, I had to re-read your question three times. What if Nebraska wins the national championship over a Big Ten team, and another Big Ten team wins a BCS game? That would be pretty good, too, right? I think in any case the Big Ten is helped if it wins a national championship and Nebraska either makes it there or wins another BCS game. Ohio State and Iowa did wonders for perception, but it's going to have to show sustained success.
September, 17, 2010
9/17/10
11:30
AM ET
Monster Saturday may have turned into a dud, but there are plenty of intriguing national storylines to watch in Week 3.
Here is a little sampling:
1. How does the ACC rebound?
To call the ACC's performance last week abysmal would be giving the word abysmal a bad name. Virginia Tech loses to James Madison. Miami and Florida State lay eggs in their big non-conference showdowns. Kansas beats Georgia Tech. N.C. State got the league off to a good start Thursday night with a win over Cincinnati, but that is not really saying much considering the Bearcats hardly look like their 2009 selves. Florida State-BYU, Maryland-West Virginia, East Carolina-Virginia Tech and Clemson-Auburn highlight Saturday. Here's hoping the league doesn't embarrass itself again.
2. What will we see out of Boise State?
The Broncos had the week off last week, but you wouldn't have known it for all the chatter about them once Virginia Tech lost. They finally return to the field Saturday against Wyoming to play in Game 2 after what feels like a very long layoff. The Cowboys have played Boise State tough in recent meetings. The game will be sold out, and the crowd fired up. Key to watch: Will the Wyoming spread offense be able to take advantage of a Boise State secondary that looked shaky at times in the opener?
[+] Enlarge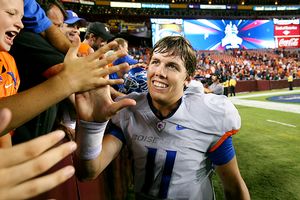 AP Photo/Joe Jaszewski/Idaho StatesmanThe last time we saw Kellen Moore and Boise State they were celebrating a win over Virginia Tech.
3. Jake Locker vs. Nebraska.
It may be unfair to pit one player against an entire team, but that is what this one is going to come down to on Saturday. Locker essentially had his Heisman campaign parked in a season-opening loss to BYU, a team that it turns out may not be as good as advertised. How will he do against a defense that continually brings pressure and is considered to be one of the best in the country? That will go a long way toward determining how people view Locker the rest of the way.
4. Can Georgia keep itself in the SEC East race?
It may be a stretch to say the Bulldogs are reeling, but Saturday's game against Arkansas has got to be considered a must-win. Georgia struggled in a 17-6 loss to South Carolina last week, with shoddy tackling headlining the defensive performance. While
Marcus Lattimore
and run-oriented South Carolina punished them last week, a different type of offense meets them this week behind pass-happy
Ryan Mallett
. Georgia is expected to open up more of its playbook for redshirt freshman
Aaron Murray
, but the onus is going to fall on the Georgia defense to stop Mallett and the Razorbacks.
5. Nick Foles vs. Adrian Clayborn.
Arizona faces its biggest test of the season against the No. 9 Hawkeyes, and this one is going to come down to the way quarterback Nick Foles is able to handle the pressure the Iowa defensive line is sure to bring. And by that we mean Clayborn, who is still waiting on his first sack of the season after notching 11 in 2009. Of course, there is this from ESPN Stats & Information: Since 1990, Pac-10 teams are 25-6-1 at home against Big Ten teams.
6. What does Denard Robinson do for an encore?
Surely the Michigan quarterback can't keep up his torrid pace, what with 885 yards of total offense in the first two games. He may not have to do as much Saturday against Massachusetts, though FCS teams have proven to be problematic for several teams this season. Still, Robinson has inspired awe throughout the country, and now word is out that high school players are leaving their shoelaces untied in order to be just like him.
7. Does Notre Dame rebound against Michigan State?
Surely a heartbreaking loss to Michigan won't be easy to get over, but the bigger question is whether
Dayne Crist
is 100 percent after he admitted he played against the Wolverines with blurred vision before being pulled from the game. If you thought the series against Michigan was a nail biter, check this out from ESPN Stats & Information: Over the past 10 meetings, the Notre Dame-Michigan State game has been decided by seven points or less eight times, with the game-winning score coming late in the fourth quarter or overtime in seven of the 10 meetings.
8. Any FCS upsets this weekend?
Already this year, five FCS schools have beaten their upper division opponents, headlined of course by James Madison over Virginia Tech. Last year there were only four. There isn't an overload of FCS-FBS games this week, but these are the teams on alert: Oregon, South Carolina, Michigan, Syracuse and San Jose State.
9. What do we see out of Alabama running back Mark Ingram?
The Heisman Trophy winner is getting his first action of the season after missing the first two games while recovering from knee surgery. Does Alabama need him to beat Duke? No. But they will need him for its run through the SEC, which begins next weekend with a huge game at Arkansas. Better get him game ready before then.
10. Any last-second heroics between Texas and Texas Tech?
We all remember the last time Texas visited Lubbock -- Graham Harrell to Michael Crabtree ruined the No. 1 Longhorns' shot at the BCS national championship. Point to remember from ESPN Stats & Information: Texas Tech has upset a top-10 Texas team twice in the Longhorns' previous four visits (2002 and 2008).
September, 9, 2010
9/09/10
2:30
PM ET
A winning season has done little to make people believe in Idaho, outside those who live in Moscow.
There is little reason to have faith, after all. The Vandals have not posted consecutive winning seasons since 1998-99, and have only been to two bowl games in the program's history.
That second bowl appearance, of course, came last season, when Idaho became one of the biggest surprise teams in the country. The Vandals finished the season 8-5 after a win over Bowling Green in a thrilling Humanitarian Bowl.
[+] Enlarge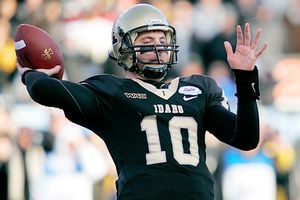 Steve Conner/Icon SMINathan Enderle threw for 311 yards and a pair of TDs in last Thursday's win over North Dakota.
Now they understand they have to prove they can win consistently. A big test looms Saturday on the road at No. 6 Nebraska. Coach Robb Akey has already stressed to his team that it must play loose and not get uptight in such a hostile environment.
"If we go into it feeling that way, it's like a golfer trying to putt with his hands around his throat," Akey said. "I broke the news to the guys -- I don't want to hurt anybody's feelings but nobody's going to pick us to win this game this week. So there's no way we can go in there and screw it up.
"What we need to do is take the next step forward. Let's pay attention to us. If we go in there and play as fast as we can, as hard as we can, if we execute things better, if we give ourselves an opportunity, we'll see what the score [is] at the end of the ball game."
The score has not read particularly well for Idaho in road nonconference games against teams from automatic qualifying conferences. Last year, the Vandals lost at Washington 42-23. In 2008, they lost 70-0 in the opener at Arizona. When asked what he could learn from those two games, Akey said he had erased the game against the Wildcats from his memory. He added the Washington game helped his team "because we felt like we missed out on an opportunity."
One of the biggest reasons Idaho improved last season was the play of 6-foot-5, 227-pound quarterback
Nathan Enderle
. In his first two seasons at Idaho, he threw a total of 30 touchdowns, 35 interceptions and completed less than half of his passes. But last season, he threw for 2,906 yards, 22 touchdowns and nine interceptions. Completion percentage -- 62 percent.
His improvement has him rated as one of Mel Kiper's top senior quarterback prospects for the NFL draft.
"I'm the type of player, I have to understand the game in and out and understand the defense," said Enderle, going into his fourth year as the starter. "I was so much more comfortable last season. Playing this long, I've seen a lot of defenses. It allows me to really understand what's going on, and helped me play quicker."
The Nebraska game has special meaning for Enderle, who grew up in North Platte, Neb., as a Cornhuskers fan. Nebraska didn't recruit him, so he ended up going to Idaho. He will have family and friends in the stands, and tried to downplay the significance of the game. It wasn't lost on Akey, who said to him earlier in the week, "I don't have to worry about you wigging out on this game, do I?"
One of the biggest keys to watch is how the Idaho offensive line protects Enderle. With four new starters, they gave up four sacks in the opener against North Dakota. It's safe to say the offensive line will be going against a slightly better defensive front in Nebraska.
The development of the line will continue to be a story to watch as the season goes on and Idaho tries prove it can win consistently.
"We didn't have any success my first years here and it was really easy to get down in the dumps," Enderle said. "For the guys who've been here for so long and dealt with three different coaching staffs and all the hardships, to have that many wins, it was really good for everybody on the team.
"I know a lot of people thought last year we might be a flash in the pan, and they don't really expect us to have the same type of success. But as a team, learning that type of winning mentality, we have higher expectations for ourselves."
September, 3, 2010
9/03/10
11:30
AM ET
Our esteemed conference bloggers gave us their top 10 storylines to watch yesterday. Today, we present the top 10 storylines to watch across the country.
1. How does North Carolina recover emotionally from losing so many players?
We know North Carolina is going to be depleted on the field against LSU on Saturday.
Twelve players have been declared ineligible
, including six starters. Of those six, five are on what is supposed to be one of the best defenses in the country. Players are going to have to step up, yes, but you have to wonder what type of toll this is going to take on the team from a mental standpoint. North Carolina is going into one of the biggest national games in the country with one arm tied behind its back. Surely the players know this. Surely coach Butch Davis knows this. He is going to have to do one heck of a coaching job to get his players to focus on the actual game and not all the outside distractions.
2. Big debut for Notre Dame coach Brian Kelly:
Opinions are mixed on just how well Kelly will do in his first season as Irish coach. There are some who believe a 10-win season is possible. Others think seven wins is more likely. We will have to see how
Dayne Crist
does in the new spread offense, but more importantly -- how much better is the defense going to be this season? This is a team that returns nine starters from a defense that ranked 86th in the country last season. Yes, there is another new defensive scheme in place, but it should get a big test from Purdue and pass-happy quarterback
Robert Marve
.
3. How much of a home-field advantage will Virginia Tech have against Boise State?
We have gone over some of the matchups, most notably the Hokies running backs vs. the Boise State defense. But intangibles are going to play a role here. How does Boise State handle traveling across the country and going into what should be a hostile environment? It has practiced for the heat and humidity, but it is hard to simulate actual game conditions with 90,000 fans -- most of whom are against you. Boise State has played in front of hostile crowds before, but this should be especially loud.
4. How does Year 3 of the Rich Rodriguez era start?
Rodriguez could have the hottest seat of any coach in the country right now, what with NCAA sanctions looming and two straight losing seasons on his resume. Michigan fans want to win yesterday, let alone now. There is still uncertainty at quarterback, where up to three players could play against Connecticut. Every game Michigan plays these days feels like a must-win, but especially this one because of all the distractions outside the program.
5. No Tim Tebow, now what?
The
Florida Gators
are ranked so high in the preseason polls this year largely because of the expectations on new quarterback
John Brantley
. He has a different style to be sure, more of a drop-back passer with a much stronger arm, but many expect him to step in and keep the Gators offense rolling along. He will have to do it without two of the team's top receivers, Riley Cooper and Aaron Hernandez. Who is going to step up to be the leader of that receiving group? Will the Gators have an effective way to run the ball with Tebow gone? After all, Tebow led the team in rushing the past three seasons.
6. How does Alabama handle playing without Mark Ingram and defensive end Marcell Dareus?
Yes, the Tide is only playing San Jose State, but a big game against Penn State looms and the Tide could potentially be without both players in that one. Alabama has a capable back in
Trent Richardson
, and Damion Square is expected to play in Dareus' place. Both are going to need to get comfy out there before Sept. 11.
7. Does Nebraska have an offense to match its defense?
The Cornhuskers are getting much love based on the way their defense played last season, and their near-upset of Texas. But their offense was atrocious, ranking 99th in the entire country. Once again, there is quarterback uncertainty, so that does not exactly project the confidence that this unit is going to magically be better. In its four losses last season, Nebraska averaged 11 points.
8. Can Oregon State put enough pressure on TCU quarterback Andy Dalton?
Much of the focus on this game has centered around the Rodgers brothers and their return to Texas.
Jacquizz Rodgers
vs. the always strong TCU defense is a great matchup to watch. But another one is how Oregon State defends Andy Dalton. The last time we saw Dalton, he was frazzled into throwing three interceptions, including one that was returned for a touchdown in the Fiesta Bowl against Boise State. He threw only five in the regular season.
9. Georgia breaks in a new quarterback and new defense:
How are the Bulldogs going to look with a redshirt freshman in
Aaron Murray
leading the offense, and a new defense playing the 3-4? Georgia is going to need answers fast with a road game at South Carolina looming. The Gamecocks looked pretty good Thursday night.
10. Charlie Strong vs. Joker Phillips:
It's great to see two African-American head coaches making their debut in such a huge rivalry game. Their rise has helped increase the number of minority head coaches to 13 going into the 2010 season, up from nine in 2009.
September, 1, 2010
9/01/10
9:00
AM ET
An early theme has emerged as we speed toward kickoff -- two quarterbacks are better than one it seems.
At least 12 programs plan on playing two quarterbacks in their season openers this weekend. From Penn State to South Carolina to Nebraska to BYU, coaches are either keeping mum about their starters, trying to fire up incumbents with the threat of job loss, or truly undecided about what to do.
Two-quarterback systems have met with little success in the past. They disrupt rhythm and fail to foster team chemistry, so it is a wonder why so many programs are going that route. Here are a few examples:
At Penn State, coach Joe Paterno says
he could play
Kevin Newsome
,
Matthew McGloin
or
Robert Bolden
in the opener Saturday against Youngstown State. "At this stage, I couldn't tell you which one is going to come to the front as
the
guy to lead the team or whether we have one who can handle the kinds of situations that the quarterbacks are going to have to handle as this season goes on," he said. One of them, or perhaps two, is going to have to grow up fast with a game at Alabama looming on Sept. 11.
[+] Enlarge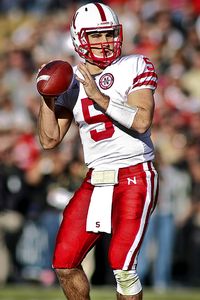 Marc Piscotty/Icon SMIZac Lee threw for 2,143 yards and 14 touchdowns last season.
At Nebraska, coach Bo Pelini has
yet to name a starter
. Fans will most likely have to wait until the opener against Western Kentucky on Saturday night.
Zac Lee
,
Cody Green
and
Taylor Martinez
have all been in a heated competition for the starting job. You can almost bet on more than one guy playing.
At BYU,
Riley Nelson
and Jake Heaps will both play Saturday against Washington. Coach Bronco Mendenhall says he could play both for the entire season, realizing the risks involved. "It hasn't worked at many places and there's a reason teams name a starting quarterback," Mendenhall said. "You have a much better chance of establishing an identity, you have a much better chance of establishing chemistry, you have a much better chance of working on a single system in practice and getting execution at a higher level because of repetitions. …
"It wouldn't be my choice to play two in other situations. The possibility of why it might work -- I think the nature of our team, the type of maturity our players have, and the genuine support both these guys seem to have toward each other has made it easier for me to feel this is the right thing to do."
At South Carolina, coach Steve Spurrier has said
Connor Shaw will play Thursday night against Southern Miss
, along with
Stephen Garcia
. Spurrier has tried to light a fire under Garcia, who has underachieved in his time as a starter for the ol' ball coach. Now that Spurrier is calling the plays, you know Garcia will be on an even shorter leash. Spurrier has plenty of experience playing multiple quarterbacks. It was his rotation of Doug Johnson and Noah Brindise in 1997 that helped the Gators upset No. 1 Florida State. But in later years, his quarterback derby never worked successfully.
At Michigan, coach Rich Rodriguez will once again
play two quarterbacks
.
Denard Robinson
and
Tate Forcier
are expected to get into the game against Connecticut. Rodriguez has yet to name a starter. "We don't have a set plan by this series or this series, this certain plays or those certain plays in our mind right now," he said. "We just want to try to get them as good as we can and get them ready to play against a very talented defense."
Other programs expected to play two quarterbacks this weekend:
Arizona State --
Steven Threet
and
Brock Osweiler
(note: Threet has been declared the No. 1 quarterback).
Eastern Michigan --
Devontae Payne
and
Alex Gillett
Mississippi State --
Chris Relf
and
Tyler Russell
Ohio --
Phil Bates
and
Boo Jackson
Rice --
Nick Fanuzzi
, Taylor Cook or
Taylor McHargue
Troy --
Jamie Hampton
and
Corey Robinson
UCF --
Rob Calabrese
and Jeffrey Godfrey