February, 2, 2010
2/02/10
3:30
PM ET
You would think that with how well the ACC has fared in recruiting the past four years, it would have eventually made a bigger push on the national landscape during the season. Miami has had three top-10 classes, and Florida State has had two. Overall, the trend in the ACC has been that Florida State, Clemson, Miami, Virginia Tech and North Carolina have led the conference on the recruiting front. Three of those teams have appeared in ESPN.com's final Top 25 ranking in each of the past four years (UNC has been there three of the past four.) Only the Hokies, though, have had it translate into postseason success -- so far. There was a common thread, though, amongst the other programs -- a coaching change or, in Florida State's case, coaching questions.
[+] Enlarge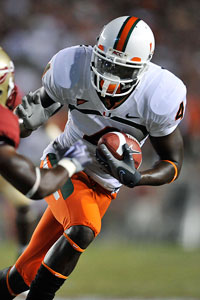 Paul Abell/US PresswireAldarius Johnson was one of 12 ESPNU 150 players in Miami's No. 1-rated 2008 class.
It was impossible to predict, though, that players like former Miami quarterback
Robert Marve
would transfer, or that former FSU linebacker Marcus Ball would have off-field troubles and ask for his release.
Here's a reminder at how highly ranked several teams in the ACC have repeatedly finished since 2006, according to ESPN.com's Scouts Inc. rankings. You can click on the year to go to the full ranking. I mentioned a few of the top players in each class who were facing high expectations at the time, or players who weren't facing many expectations and have since proved otherwise (see: Virginia Tech).
2006
No. 6 FSU (Myron Rolle)
No. 13 Clemson (
C.J. Spiller
, Jamie Cumbie, Ricky Sapp)
No. 17 Miami (Kylan Robinson)
No. 23 Maryland (Pha'Terrell Washington, Drew Gloster)
No. 24 Virginia Tech (Rashad Carmichael, Nekos Brown, Kam Chancellor)
No. 25 UNC (Aleric Mullins, Johnny White)
2007
No. 9 Miami (Robert Marve, Allen Bailey)
No. 11 UNC (Quan Sturdivant, Marvin Austin)
No. 14 Georgia Tech (
Jonathan Dwyer
, Derrick Morgan,
Josh Nesbitt
)
No. 15 Virginia Tech (
Tyrod Taylor
, Blake DeChristopher, Barquell Rivers)
No. 18 Clemson (
Willy Korn
, Scotty Cooper, Marcus Gilchrist)
No. 25 Florida State (Brandon Paul, Markish Jones)
2008
No. 1 Miami (Sean Spence,
Jacory Harris
,
Aldarius Johnson
)
No. 2 Clemson (DaQuan Bowers,
Kyle Parker
,
Jamie Harper
)
No. 12 FSU (Zebrie Sanders,
E.J. Manuel
, Nigel Carr)
No. 15 Virginia Tech (
Ryan Williams
)
No. 20 NC State (
Mike Glennon
,
Brandon Barnes
)
2009
No. 7 Miami (Ray Ray Armstrong,
Mike James
)
No. 8 FSU (Greg Reid, Jacobbi McDaniel)
No. 13 UNC (
Bryn Renner
, Donavan Tate,
Jheranie Boyd
)
No. 18 Virginia Tech (Jayron Hosley,
David Wilson
,
Logan Thomas
)
No. 19 Clemson (
Tajh Boyd
,
Bryce McNeal
)
January, 12, 2009
1/12/09
12:31
PM ET
Posted by ESPN.com's Heather Dinich
Now that that national championship game is over, ESPN.com is officially putting a cap on the 2008 season. We're kicking it off today with a bowl edition of helmet stickers. The ACC won four of its 10 bowl games, with Virginia Tech, Florida State, Maryland and Wake Forest earning postseason victories.

Here are the ACC's top performers during the bowls:
Virginia Tech's backups: Offensive guard Jaymes Brooks, linebacker Barquell Rivers and defensive end Nekos Brown filled in for Tech's missing starters and the Hokies didn't miss a beat. Brooks played all 78 snaps as the Hokies put up nearly 400 yards of total offense. Brown and Rivers helped limit the high-powered Cincinnati offense to just one touchdown and Rivers had a key stop on fourth-and-goal at the 1 to help seal the game.
Virginia Tech tailback Darren Evans: Evans ran for 153 yards and a score, earning FedEx Orange Bowl MVP honors in the Hokies' 20-7 win over Cincinnati.
Virginia Tech's defense: The Hokies grabbed four interceptions, held Cincinnati to 71 yards rushing and 310 yards of offense. They didn't allow any touchdowns after the first drive.
UNC wide receiver Hakeem Nicks: In what became the final game of his career, Nicks caught eight receptions for 217 yards and three touchdowns, including ESPN's No. 1 bowl play of the season -- a behind-the-back catch. It was a standout performance in a losing effort, as the Tar Heels fell, 31-30, to West Virginia in the Meineke Car Care Bowl.
Florida State kicker Graham Gano: He averaged 48.2 yards on five punts and had three downed inside Wisconsin's 5-yard line to earn MVP honors. Gano placed three first-quarter punts inside the 4-yard line, including two at the 1.
Florida State quarterback Christian Ponder: He threw for 199 yards, two touchdowns and no interceptions in the 42-13 romp over Wisconsin in the Champs Sports Bowl. It was a dramatic improvement from the last 10 games of the regular season during which he threw six touchdowns and 13 interceptions.
Maryland running back Da'Rel Scott: After being benched for 2 1/2 quarters for a curfew violation, Scott came in and ran 14 times for 174 yards and two fourth-quarter touchdowns in the Terps' 42-35 win over Nevada. His 49-yard touchdown run with 12:21 left put Maryland ahead 35-28, and Scott became the seventh back in Maryland history to top 1,000 yards.
Wake Forest offensive lineman Jeff Griffin: After starting 11 games at right tackle, Griffin moved to right guard and graded out at 94 percent (65 offensive plays, 61 plays graded positive), led the team with 18.5 knockdown blocks and didn't have one missed assignment. Wake Forest rushed for a season-high 239 yards and outrushed Navy 239-221 in the 29-19 win over Navy in the EagleBank Bowl. Griffin paved the way for Kevin Harris to rush for 136 yards, the most by a Demon Deacon this season. Wake Forest did not allow a sack.
Wake Forest quarterback Riley Skinner: He completed all 11 pass attempts against Navy for 166 yards and one touchdown. He also rushed seven times for 29 yards. Trailing Navy 19-14 with 12:30 to play in the game, Skinner drove the Deacons 80 yards in nine plays and finished it off with an 8-yard touchdown pass to tight Ben Wooster. Skinner was named the game's MVP.
Clemson defensive end Da'Quan Bowers: Bowers had three tackles for loss, the most ever by a Clemson freshman in a bowl game. He finished with five total tackles and three quarterback pressures in the Tigers' 26-21 loss to Nebraska. He was named Clemson's MVP of the Konica Minolta Gator Bowl by the media attending the game.
December, 31, 2008
12/31/08
3:48
PM ET
Posted by ESPN.com's Heather Dinich
Here are a few things to keep an eye on in the ACC's New Year's Day bowls:
1. The Replacements. Junior Nekos Brown will fill in for defensive end Jason Worilds, redshirt freshman Barquell Rivers replaces linebacker Brett Warren, and Jaymes Brooks, who has played four career snaps, will fill in for starting right guard Nick Marshman, who is academically ineligible.
2. Clemson's secondary vs. Nebraska quarterback Joe Ganz. Michael Hamlin and the rest of the Tigers' secondary will be without former assistant coach Vic Koenning for the first time, and how they respond will be important. Ganz is 13th nationally in total offense with 299 yards per game and 14th nationally in passing efficiency, but the Tigers are ninth in the nation in pass efficiency defense by holding opposing quarterbacks to a 100.03 rating.
3. Brian Kelly vs. Frank Beamer. This is a matchup between a veteran and a talented up-and-coming coach. Kelly is 22-5 in his second season at Cincinnati and has the Bearcats in their first BCS game. Beamer is 176-89-2 in his 22nd season at Virginia Tech, but is 0-2 in the Orange Bowl.
4. Virginia Tech quarterback Tyrod Taylor. He has rushed for 100 yards or more three times this season, and will need his feet to escape a Cincinnati defense that thrives on pressuring quarterbacks.
5. Clemson's record-breakers. Running back James Davis needs just 112 rushing yards on Thursday (his birthday) to become Clemson's all-time leading rusher. He already has 49 career touchdowns, also second in school history and just one short of Travis Zachery's record. Clemson receiver Aaron Kelly needs just 23 receiving yards to become the school's career leader and he already has the ACC career record for touchdowns.
6. Virginia Tech's field position. In close games, field position is critical, and Cincinnati punter Kevin Huber gives the Bearcats the edge. Cincinnati is No. 1 in the country in net punting with 41.51 yards per game. Huber averages 44.89 yards per punt to rank seventh in the nation.
7. Clemson's new and improved offensive line. This had been the root of the Tigers' problems for three quarters of the regular season, but now that they're healthy and have found the right combination, it has freed the top playmakers to make plays. Clemson is 4-0 when it starts an offensive line composed of Thomas Austin and Mason Cloy at guard, Landon Walker and Chris Hairston at tackle, and Bobby Hutchinson at center. That is slated to be Clemson's starting lineup on the of¬fensive line in the Gator Bowl.
December, 31, 2008
12/31/08
1:14
PM ET
Posted by ESPN.com's Brian Bennett
FORT LAUDERDALE, Fla. -- Virginia Tech must be doing something right. The Hokies are one of just three programs (Florida and Florida State are the others) who will be participating in a bowl game this year for the 16th straight season.
But when it comes to bowl results, Frank Beamer figured that Virginia Tech must be doing something wrong. The Hokies have lost their last two postseason games despite being favored over Kansas in the 2008 FedEx Orange Bowl and Georgia in the Chick-fil-A Bowl two years ago. They've dropped four of their last five bowl contests and their last four BCS appearances.
"We've been to, I guess, 16 straight, and we've really kind of had the same procedure for a long, long time, and we've won some bowl games," Beamer said at Wednesday's coaches' news conference. "But in the last couple years we didn't win. So, after the game last year, we went back as a football staff and said, 'If we can get back to a bowl game, what do we need to do differently?'"
The Hokies (9-4) have changed things up in Miami this week. The players have had a midnight curfew every night, whereas in the past they've been allowed to stay out later in the days leading up to the game. For the first time during a bowl week, Beamer is moving his team out of the designated team hotel the night before the game. Virginia Tech left its cushy digs at the Westin Diplomat and headed away to a quieter, undisclosed location Wednesday night for more of a regular game feel.
Beamer said the team did more full-speed drill work and scrimmages in Blacksburg before coming to Miami, unlike in the past when he gave the upperclassmen some time off.
In the end, Beamer said, winning bowl games often comes down to the team being in the right mindset. Last year's squad may have relaxed a bit after beating Boston College in the ACC title game to get here, he said. This year, he senses more of a focus on beating Cincinnati.
"Hopefully our minds are right, and I do believe this is an important ballgame to this football team," he said.
Virginia Tech will have some challenges to overcome in this game. Two defensive starters -- end Jason Worilds, the team's sacks leader, and linebacker Brett Warren, the Hokies' second-leading tackler -- are out with injuries. Freshman Barquell Rivers will replace Worilds, while junior Nekos Browns will step in for Warren.
Of even bigger concern is the loss of starting offensive guard Nick Marshman to academics. Freshman Jaymes Brooks, who has played only four snaps all season, will take his place against an athletic and aggressive Cincinnati defensive front.
"He's done OK," Beamer said when asked how Brooks has practiced. "He's going to be a good, good player. He's very athletic, with good size, good pop. He just hasn't played very much."
This may or may not be the year the Hokies get back on the bowl winning track. But Beamer said that shouldn't take away from the accomplishment of reaching this stage yet again. He said he was thinking about that while watching past Orange Bowl highlights at Tuesday's luncheon for the teams. This is a young Virginia Tech squad that was 6-4 at one point this season and didn't expect to get here.
"When it's all said and done, it's important to this football program, to our players, to our coaches, to our fans that you're successful in that last ballgame, and it's not every day you get a chance to be successful in an Orange Bowl," Beamer said. "Sometimes I think we take these bowl games a little bit for granted, but I'll tell you, going through this year and not being sure that you could win enough to get to a bowl game, I don't think we ever need to take these things for granted. "