NCF Nation:

Neyland Stadium
September, 13, 2010
9/13/10
2:31
PM ET
An undefeated weekend. Unless you're UCLA.
Team of the week
: Oregon actually in some ways looks better because it came back from a 13-3 deficit at Tennessee with a 45-zip run. If the Ducks had rolled from the get-go, it would have been a case of "that's what we expected." But by bouncing back from adversity -- nothing went right in the first quarter on either side of the ball -- Oregon showed notable resilience and grace under pressure. And, let's face it, it was kind of fun that the early going spawned some SEC trash talk -- "We play defense in the SEC!" -- that was notably muted by game's end.
Best game
: So Washington State nearly went down to Montana State? Think Virginia Tech, Kansas and Minnesota would prefer a "nearly" for themselves? The Cougars showed some heart by rallying from 15 points down in the fourth quarter to win 23-22.
[+] Enlarge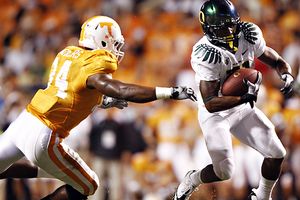 AP Photo/Wade PayneStopping LaMichael James in space is one of Stanford's biggest challenges.
Biggest play
:
LaMichael James
' all-on-his-own 72-yard TD run was a thing of beauty. Just spectacular. And when he made the Tennessee defense look silly -- there was a palpable wince in Neyland Stadium -- you could sort of sense that the Ducks were about to deliver a beatdown. And they did.
Offensive standout
: Washington receiver
Jermaine Kearse
bounced back from an inconsistent performance at BYU to dominate Syracuse's secondary. He hauled in nine receptions for 179 yards with three TDs. Kearse ranks third in the nation with 143.5 receiving yards per game.
Defensive standout (s)
: Two strong performances from Bay Area teams. California linebacker Mohamed led the Bears defensive effort against Colorado with 14 tackles and an interception for a TD, while Stanford safety Michael Thomas had five tackles -- one for a loss -- and forced two fumbles in the shutout win against UCLA. The second forced fumble he returned 21 yards for a TD.
Special teams standout
:
Kenjon Barner
returned a punt 80 yards for a TD, giving the Ducks three punt returns for scores in two games after Cliff Harris had two against New Mexico in the opener.
Smiley face
: The Stanford defense, which recorded its first road shutout since 1974, a 35-zip blanking of UCLA. Also, the Pac-10, a week after going 6-4 in nonconference games, went 7-0 against nonconference foes, including wins against the Big 12 (Colorado), the SEC (Tennessee), the Big East (Syracuse) and the ACC (Virginia).
Frowny face
: UCLA. The Bruins rank 115th in the nation in scoring, 115th in passing and 111th in total offense. The defense? It ranks 116th vs. the run and 102nd in scoring. And Arizona State's rushing offense, which only produced 56 yards on 29 carries against Northern Arizona. That's 1.9 yards per rush vs. an FCS team.
Sloppy
: Look at the
bottom of this list
. Arizona State and USC rank 118th and 119th in penalty yards per game (112 and 120, respectively). Both have committed 24 penalties in their first two games. Yeech.
Quote of the week
: "That's the most miserable 2-0 locker room I've ever been in," USC coach Lane Kiffin said after his Trojans beat Virginia.
Quote of the week II
: "Tonight was an offensive disaster," UCLA coach Rick Neuheisel said after his Bruins were blanked.
Thought of the week
: Here's are the top games (Oregon vs. Portland State is not included).
Iowa at Arizona
Arizona State at Wisconsin
Nebraska at Washington
Cal at Nevada (Friday)
Wake Forest at Stanford
Houston at UCLA
USC at Minnesota
Washington State at SMU
Louisville at Oregon State
The win-loss record on Saturday night will play a huge role in how the Pac-10 is perceived this season. And, Oregon fans, if you are starting to entertain national-title dreams, you should root hard for the conference to do well. And, yes, that includes the Huskies and Beavers. Saturday's results will resonate in both the national and computer polls -- and later the BCS standings.
September, 12, 2010
9/12/10
10:05
AM ET
What did we learn this week?
[+] Enlarge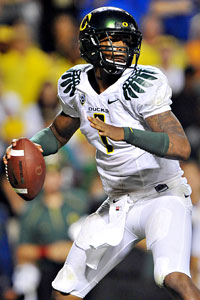 Kirby Lee/US PresswireDarron Thomas completed 17 of 32 passes for 202 yards and two scores in his first road start.
1.
Oregon is this close to looking like a national title contender
: Steve Spurrier relished pounding Tennessee in the 1990s, but he never scored 48 points in Neyland Stadium like Oregon did on Saturday. In fact, the Ducks' 48 points -- 45 of which went unanswered -- is the most allowed in Neyland since Washington State scored 52 in 1988 (Notice a common theme there?). But forget all the fancy-pants offense. While the final stats say Tennessee gained 333 yards, only 89 of that came in the second half. That's a great number against any team in any venue, but against an SEC team in its own house, well, that demands respect. And expect the Ducks to get even more respect in the national polls.
2.
Stanford is more than the Andrew Luck show
: Stanford dominated UCLA 35-0 with Luck making more plays with his feet than with his golden arm. That bodes well for the Cardinal. There were times in 2009 that it seemed folks saw the Cardinal as the Stanford Toby Gerharts. The big question heading into the season was defense, and Stanford just pitched a shutout on the road without two of its best players (LB Shayne Skov and WR
Chris Owusu
). Stanford has made an early stake as the top potential foil for Oregon in the conference race.
3.
Rumors of California's irrelevancy may have been exaggerated
: Colorado may not be very good, but watching California dismantle the Buffaloes 52-7 suggest that the Bears might be. The Bears dominated on both sides of the ball in the blowout. The new attacking defense dominated the line of scrimmage and was all over QB
Tyler Hansen
. The offense was balanced and efficient.
4.
The jury remains out on USC, Arizona State and Washington, but probably not on Washington State and UCLA
: USC nipped Virginia 17-14 and coach Lane Kiffin was unhappy. Arizona State allowed Northern Arizona, its second consecutive FCS opponent, to hang around. Washington looked bad at BYU but came home and outclassed Syracuse. It doesn't seem like we have a good measure of any of these three. As for Washington State, which needed a big comeback to nip Montana State, and UCLA, which got bricked at home against Stanford, it seems we know where things stand: Both are going to finish in the bottom third of the conference.
5.
There's momentum heading into Measure Stick Saturday
: The Pac-10 went undefeated Saturday (other than UCLA vs. Stanford), including a 4-0 mark against four different BCS conferences. That's good after a relatively bad opening week. But Saturday is big for the conference. Consider this list: Iowa at Arizona, Arizona State at Wisconsin, Nebraska at Washington, Cal at Nevada, Wake Forest at Stanford, Houston at UCLA, USC at Minnesota, Washington State at SMU and Louisville at Oregon State. Winning six or so next weekend would do wonders for the Pac-10's national image.
September, 9, 2010
9/09/10
10:23
AM ET
Ten issues to consider heading into the second week of games.
1.
UCLA's run defense needs to bounce back
: UCLA surrendered 313 yards rushing at Kansas State, including 234 yards on 28 carries to
Daniel Thomas
. Thomas is a quality back, but that's pretty freaking porous. While Stanford visits the Rose Bowl on Saturday without Toby Gerhart, the Cardinal offensive line is more talented than the Kansas State crew. If the Bruins front seven doesn't buck up, Stanford will use a its new backfield-by-committee to run over them. While
Andrew Luck
is the star, Jim Harbaugh would be perfectly content to run it 40 times. And, of course, if the Bruins can't stop the run, their obsession with it will provide plenty of big downfield opportunities for Luck.
2.
Jake Locker and the Washington offense need to play better at home
: Washington scored just 17 points and got shut out in the second half at BYU. Twice in the second half, drives deep in Cougars territory ended after failed fourth-down conversion attempts. Locker's numbers weren't bad, but no player shoulders more responsibility for his team's success as he does. The fifth-year senior who spent much of the summer being touted as a Heisman Trophy candidate when pundits weren't talking about his NFL prospects. Syracuse won't be a push-over on defense -- 10 starters are back from 2009. But Washington plays better in Husky Stadium, and the guess here is Locker and his supporting cast on offense will be far sharper.
[+] Enlarge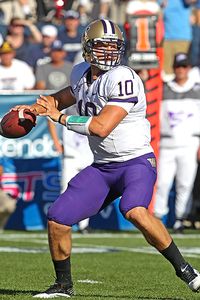 AP Photo/George FreyExpect Jake Locker and the Washington offense to be more sharp against Syracuse than it was against BYU.
3.
Does Oregon QB Darron Thomas start fast or get rattled
? Thomas' first career road start will be in Tennessee's Neyland Stadium, which means there will be 105,000 or so orange-clad fans riding his case. There's no way to know how a young man will react to that. He might come out smooth and poised and lead a dominant offensive effort by distributing the ball to all of his weapons. Or he might make an early mistake or two and get rattled and down on himself. Just as Autzen Stadium gives the Ducks a big advantage, so does Neyland do the same for the Volunteers.
4.
Did USC's defense just have a bad day at Hawaii
? It's possible that USC just had a bad night at Hawaii, that the poor tackling and flat effort weren't indicative of the capabilities of a seemingly talented crew. It's possible that Monte Kiffin and Ed Orgeron will correct mental and physical mistakes, make a few personnel decisions, and USC will show Virginia that it's back to its stingy ways. But there's also enough available evidence now -- see terrible performances vs. Oregon and Stanford in 2009 -- to support the notion that the Trojans' defense has lost its swagger and isn't actually as talented as its recruiting rankings suggest. Virginia shouldn't be able to keep up with USC on Saturday. But if the same defense from Hawaii shows up, the Cavaliers will do just that.
5.
Cal's Kevin Riley completes 60 percent of his passes
: Riley owns a career 54 percent completion rate. Accuracy has long been his bugaboo. Of course, he also hasn't benefited from great receivers during his tenure. Last weekend, he completed 70 percent -- 14 of 20 -- of his throws, though it's worth noting that UC Davis is an FCS team. What was most notable, however, were the impressive performances by his receivers, particularly true freshman
Keenan Allen
. There was a reasonable theory in the preseason that Riley would breakthrough as a senior, because that's when the light goes on for many QBs. It will be a lot easier with a dangerous group of playmakers at receiver, guys who can go and get the ball -- even when it's not perfectly thrown -- and boost a completion percentage. Colorado is strong at cornerback, so it will offer a good test as to whether Riley and his receivers are truly in sync and ready for Pac-10 play.
6.
Washington State buries Montana State from the get-go
: It's fairly simple. Washington State needs to go out and whip Montana State. It needs to start quickly, establish dominance and allow its fans to feel good about the program. The Bobcats are a quality FCS team, but the Cougars should have restocked their talent enough in year three with coach Paul Wulff to take them to the woodshed. Jumping to a big lead will boost the confidence in the locker room. Struggling and playing a tight game into the fourth quarter won't. Losing? Let's not even go there.
7.
Arizona's rebuilt defense posts another dominant performance
: The Wildcats defense was surprisingly stout at Toledo, a team that piled up big numbers on offense in 2009. Things should be even easier on Saturday against The Citadel in front of the home crowd. Still, another game of experience is another game of experience, no matter the quality of the opponent, and smoothing out any wrinkles will be valuable leading into the Sept. 18 visit from Iowa. Arizona needs to jump on The Citadel hard and then get its starters to the bench early in the third quarter.
8.
Arizona State QB Steven Threet is cool, efficient vs. Northern Arizona
: Threet played well in the opener vs. Portland State, and the Sun Devils offense as a whole looks substantially more skilled than the anemic unit from 2009. Threet and his mates need to duplicate that performance in another "preseason" game vs. an FCS program. The idea is to be as confident as possible before heading to Wisconsin on Sept. 18. It also would be nice to get all the starters on the bench as soon as possible so they will be rested and healthy.
9.
Andrew Luck vs. Rahim Moore
: If UCLA's run defense proves stout, that means Stanford will have to throw. And that means a showdown between these two All-American talents. Luck has uncanny downfield accuracy. That's one of the big reasons NFL scouts love him. Moore led the nation with 10 interceptions a year ago, so his ball skills qualify as uncanny, too. Will Luck be able to beat Moore and the Bruins over the top? Or will Moore bait Luck into an ill-advised throw that could be a game-changer?
10.
Will Tennessee be able to run against Oregon
? If the Vols can't run vs. Oregon, the Ducks are going to deliver a butt-kicking. No way Matt Sims, a junior JC transfer, will be able to pass them to victory. But Tennessee rolled up 332 yards rushing in its opener -- albeit vs. Tennessee-Martin -- and its got a strong stable of running backs, topped by
Tauren Poole
, and a big, talented, if inexperienced, offensive line. The Ducks defense is as fast as they come, but it also is undersized. If the Vols power-running game is consistently effective, then Oregon will be in for a highly competitive test.
September, 9, 2010
9/09/10
9:11
AM ET
Went an extremely
unsatisfying 7-3 last week
. The seven games I picked correctly were basically sure-things, and my read on how the Washington State-Oklahoma State game would go was completely wrong, even if the pick was correct.
As a
great man once said
: "D'oh."
Must have forgotten to take my vitamins. Or maybe my screwy gloating about my 2009 record infused my karma with stupid.
Well, here goes nothing.
Arizona 45, The Citadel 10
: The key for the Wildcats: Assert yourself, get the starters to the bench. Start thinking about Iowa.
Arizona State 38, Northern Arizona 9
: The key for the Sun Devils: Assert yourself, get the starters to the bench. Start thinking about Wisconsin.
California 30, Colorado 21
: Colorado looks like a much improved team from 2009, but the Bears should be able to prevail at home. Wonder how Act II of Cal wide receiver
Keenan Allen
's freshman year will go?
Oregon 35, Tennessee 20
: The Volunteers won't make things easy. The crowd at Neyland Stadium will be juiced. But the Ducks' myriad offensive weapons will break through with difference-making big plays. Interested to see how quarterback
Darron Thomas
looks in the early going.
Stanford 33, UCLA 24
:
Andrew Luck
will make a couple of plays downfield, and then the Cardinal offensive line will take over. The big questions are Bruins quarterback
Kevin Prince
and Stanford's new 3-4 defense. Which looks good?
USC 45, Virginia 17
: Here's a guess that
Matt Barkley
and the offense again roll, but the defense also will join the fun in front of a home Coliseum crowd hungry to talk about football and, if for just three hours, forget about a horrible offseason.
Washington 31, Syracuse 22
:
Jake Locker
and the Huskies offense will be much better at home after a poor-to-middling outing at BYU. The Orange won't be a pushover, though.
Washington State 35, Montana State 21
: An absolute must-win for coach Paul Wulff and the Cougars. If they lose to an FCS foe and start 0-2, it's not hard to imagine a winless season. On the other hand, if they play well, a bit of confidence might seep into the locker room.
August, 30, 2010
8/30/10
10:36
AM ET
Here are 10 "fearless" predictions in advance of the 2010 season.
1.
No team will go undefeated in conference play
: You may have heard this: The Pac-10 is deep with good teams but appears to lack a dominant team. It would be a fairly substantial surprise if the Pac-10 champion goes 9-0 in conference play. It's more likely the champ will win a tiebreaker with a couple of other two-loss teams.
[+] Enlarge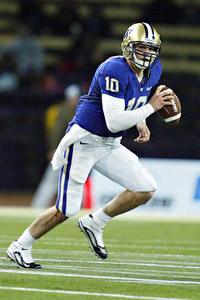 Jesse Beals/Icon SMIJake Locker could be one of several Pac-10 players with a shot at the Heisman Trophy.
2.
A Pac-10 player will go to New York for the Heisman Trophy ceremony
: No conference boasts as many obvious Heisman Trophy candidates: Oregon State RB
Jacquizz Rodgers
, Washington QB
Jake Locker
, Stanford QB
Andrew Luck
, Oregon RB
LaMichael James
, etc. One of them will emerge from the "pac" and get invited to New York for the ceremony. Who? What are we: Nostradamus?
3.
The Pac-10 will go 23-8 in nonconference games
: UCLA is not going to beat Texas. Arizona State's chances at Wisconsin aren't good. Arizona and Washington will be underdogs at home vs. Iowa and Nebraska, respectively. Oregon should handle Tennessee. Oregon State is going to beat either TCU or Boise State. I feel pretty good about California's chances against UC Davis. USC won't lose a nonconference game because no team outside of the Pac-10 can beat USC (it hasn't happened in the regular season since 2002). I'm not going to write a phrase about 31 games, but you can feel free to do so below.
4.
Chip Kelly will provide a brief answer to many, many questions
: Chip, are you worried about your QB making his second career start in front of 105,000 at Neyland Stadium? "No." Coach, tell us about your recruiting philosophy? "Speed." What are your feelings on LaMichael James' 229 yards rushing? "Good." Coach, I bet my sister I could get you to say two words. "Lose." Coach, you just won Pac-10 coach of the year for the second time in two years as Oregon's coach? "Thanks."
5.
Arizona DEs Ricky Elmore and Brooks Reed will combine for 18 sacks
: The qualifier is both staying healthy all season, but this is the best pair of defensive ends in the Pac-10. When you scan the offensive lines in the conference, there aren't a whole lot of teams that will match them with equally capable tackles.
6.
Lane Kiffin will order a turkey sandwich; controversy will ensue
: Who does he think he is ordering a turkey sandwich in this economy?
Turkey?
He's not qualified to eat turkey!
The Pilgrims ate turkey for golly-gosh sakes, and Kiffin is no Pilgrim.
Isn't ordering a turkey sandwich a secondary NCAA rules violation?
He hasn't earned that turkey sandwich!
He didn't order a turkey sandwich: He called the counter guy a turkey and starting ordering him around.
What actually happened: He got a recruiting hostess to order the turkey sandwich for him, which sounds corrupt even if it isn't.
Oh, sure, Lane: That's your dream turkey sandwich, right! We have just as good turkey back here in Knoxville, I'll have you know.
Did you hear: He falsely accused the turkey of being ham!
7.
Arizona State's offense will be better -- and its defense worse -- than most folks think
: The Sun Devils have better talent at the skill positions than many think and the offensive line -- if it can stay healthy and jell -- will be at least adequate, as will QB
Steven Threet
. This unit could average 25-26 or so points a game. Meanwhile, the defensive line depth has taken
a couple of hits of late
and, despite talent at all three levels, the fact remains that seven starters from last year's strong crew are gone.
8.
Five teams will end up ranked in the final AP poll
: Or at least they will deserve to be. The question will be will a 9-4 team in the Pac-10 get the respect it will deserve? As for who those teams will be, here's one: Oregon. Got to move on to No. 9 now.
9.
No coach will be fired at season's end
: Many pundits have dumped Arizona State's Dennis Erickson and Washington State's Paul Wulff onto the hot seat. I think both return for the 2011 season for a couple of reasons. 1. Their teams will improve enough that boosters and administrators will sense an upward trajectory; 2. In this economy, buying out a contract, even if it's not huge, is not advisable, unless your athletic department is awash in cash. Neither ASU nor WSU are.
10.
The Pac-10 blog will be wrong about something
: No, really. At some point this season, I will type a prediction and it will wrong. Of course, I'm being serious. Look it's happened before. Four times.
April, 14, 2010
4/14/10
11:47
AM ET
EUGENE, Ore. -- Opportunity doesn't always arrive on a golden chariot. Often it appears amid the smoldering debris of a train wreck.
[+] Enlarge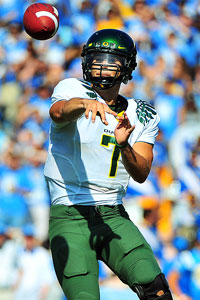 Dustin Snipes/Icon SMIAs a backup last season, Nate Costa completed 20 of 33 passes with one touchdown and one INT.
Such is the Oregon quarterback situation.
Heisman Trophy candidate
Jeremiah Masoli
gets suspended for the season after a burglary conviction? That means either senior
Nate Costa
or sophomore
Darron Thomas
will inherit an offense loaded with skill and possibility. If they play well, the Ducks figure to become a top-10 team and the Pac-10 favorite. If not, who knows how things go?
Both Costa and Thomas understand that a cloud hangs over their competition. Thomas calls Masoli his "best friend on the team." They room together before games. But neither is apologizing for embracing the unexpected opportunity.
"Obviously, the circumstances that started this competition are not ideal," Costa said. "Just having the opportunity my senior year is huge, though. It means a lot to me."
Many fans are intrigued by Thomas. His long, lean, 6-foot-3, 205-pound frame suggests Dennis Dixon. Only Thomas is hardly skinny, considering he's pound-for-pound one of the strongest players on the team. He's got a good arm and runs well.
And, of course, he's already produced 15 tantalizing minutes of fame.
In 2008, with the four quarterbacks who began the season ahead of him on the depth chart hurt, Thomas came off the bench as a true freshman against Boise State and nearly led the Ducks back from a 24-point deficit. He passed for 210 yards and three touchdowns and left everyone pondering his tremendous upside.
"You can see him getting better every day," coach Chip Kelly said. "Things are starting to slow down for him a little bit. He's a really, really smart kid."
Thomas was able to redshirt last year, but the Boise State experience whet his appetite. He doesn't seem overwhelmed by the sudden turn of events that could have him leading the Ducks in front of 100,000-plus fans at Tennessee's Neyland Stadium on Sept. 11.
"This whole time, I've been ready to play," he said. "I haven't been slacking because I'm not on the field."
While Kelly won't say who's ahead, more than a few observers who've watched spring practices tap Costa.
Recall that before the 2008 season, Costa was widely viewed as the prototypical leader of Kelly's spread-option attack. He could run and throw -- Kelly's a big fan of his compact motion -- and his ball work on the option plays was said to be nearly as artful as Dixon's.
Then he blew out his knee during the preseason and underwent surgery for a third time. Most wrote him off and just thought it was admirable he fought to come back as a reserve. When he started last year at UCLA, filling in for an injured Masoli, he acted mostly as a caretaker for the offense, completing just 9 of 17 passes for 82 yards with a touchdown and an interception. He looked tentative as a runner.
But Kelly has seen a more confident, athletic Costa this spring.
"Nate's smart. Nate's heady. He moves better than people give him credit for," Kelly said. "He's got a great command of our offense. He's a great leader. He's really throwing the ball well. He's really starting to pick it up."
Then the most important part: "He's kind of like that kid two years ago."
Kelly said he's not going to keep his final decision a secret until the week of the season opener against New Mexico. He'll make a call when a winner emerges. He said he's willing to play two guys but that's not his preference.
And he grows animated when asked if things are close in the competition, the tie goes to the younger player who will be around another three years.
"The future for us is right now," he said. "We are the defending Pac-10 champs and we are going to be good again next year. How good really depends on how well our quarterback plays. We're not building for, 'Let's play the younger guy because two years down the road we're going to be good.'"
That's the rub. If the Ducks get quality play at quarterback, this squad could be headed back to the Rose Bowl.
The train wreck that led to this opportunity for a backup quarterback, however, doesn't seem to be obsessing the Ducks as much as their fans. They seem confident that whoever takes the snaps will do fine, as will the 21 other starters.
"A lot people thought there would be a lot of turmoil -- angst -- over the quarterback position, but guys on our team know that Nate Costa has command [of] our offense as well as DT," linebacker Spencer Paysinger said. "We have two able quarterbacks. There wasn't really a cause for concern. We took a blow. Now we just need to recover."
March, 12, 2010
3/12/10
10:44
AM ET
Oregon running back
LaMichael James
' will face sentencing this morning after making a plea deal on domestic violence charges, and Duck quarterback
Jeremiah Masoli
will face a burglary charge in court later this afternoon.

Masoli

James
And coach Chip Kelly is expected to announce discipline decisions on these two second-team All-Pac-10 performers who were big reasons the Ducks were likely going to be a preseason top-10 team and the Pac-10 favorites heading into 2010.
It's a big day for Ducks football.
So, in purely football terms, the worst case is Kelly either kicks both off the team or suspends them for the entire season. That's highly unlikely, particularly with James, but let's entertain the notion.
First, the Ducks won't tumble into the slag heap, though picking a Pac-10 favorite will become much more difficult.
The Ducks spread-option offense will take a step back if Masoli isn't running the show. He's a two-year starter who's masterful at disguising where the ball is on option runs. He's also a physical runner with a nose for the end zone who's a solid, if at times inconsistent, passer.
Senior backup
Nate Costa
has seen only limited action in games, starting once last year when Masoli was hurt, leading the Ducks to a win over UCLA. He completed 20 of 33 passes for 197 yards with a touchdown and an interception.
Recall that knee injuries derailed a promising future for Costa. He was Dennis Dixon's heir apparent in 2008, and Kelly was very high on his prospects. The biggest question with him is whether he can stay healthy.
The future, however, is
Darron Thomas
, who took a redshirt in 2009, his second season with the program. Thomas, at 6-foot-3 and 205 pounds, is best remembered for his poised performance as a true freshman coming off the bench against Boise State in 2008, when he nearly led the Ducks back from a huge deficit. He threw for 215 yards and three touchdowns.
Thomas is a good athlete with tremendous upside as a passer. Would starting his second game in front of 100,000-plus at Tennessee be a shock to his system? Probably. But UCLA won there last year with redshirt freshman
Kevin Prince
, so success in Neyland Stadium with a green QB is hardly unprecedented.
At running back,
Kenjon Barner
, a 5-11, 190-pound sophomore, is James' capable backup. The former cornerback rushed for 366 yards last year and averaged 7.5 yards per carry. He had seven carries for 64 yards in the Rose Bowl.
The Ducks also have senior Remene Alston, who rushed for 136 yards and two touchdowns, but Barner's top backups might be one or two of the touted freshmen in the
2010 recruiting class
: Lache Seastrunk, rated the nation's No. 6 running back by Scouts. Inc., Dontae Williams and Josh Huff.
Is potentially losing Masoli and James ideal? Absolutely not. Is it catastrophic for the 2010 season? Probably not.
Now some links:
September, 10, 2009
9/10/09
9:01
AM ET

Posted by ESPN.com's Ted Miller
Went 7-1 last week -- any idea which game I missed?
Things get a little more interesting this week with three marquee nonconference road games and a must-win for Washington State.
USC 27, Ohio State 20
: The Buckeyes will show a lot of pride at home, but the Trojans just have too many horses on both sides of the ball.
Tennessee 28, UCLA 17
: The difference is the home field -- Neyland Stadium is a heck of a place for a redshirt freshman quarterback and a young offensive line to try to figure things out.
Stanford 30, Wake Forest 27
: Win or lose, Stanford looks good enough to earn bowl eligibility this year. But win this game, and the Cardinal might be on to something special.
Oregon 38, Purdue 20
: Ducks show up, roll -- welcome back
Jeremiah Masoli
! -- wish they could get a do-over at Boise State. In more ways than one.
Oregon State 35, UNLV 27
: The Rebels receivers will challenge the Beavers' secondary, but there will be too many Rodgerses on the field in Vegas.
Washington 40, Idaho 17
: Huskies win! Huskies win! They end their embarrassing 15-game losing streak.
Washington State 31, Hawaii 28
: Another step forward for the Cougars, who put up a nice fight against Stanford.
California 50, Eastern Washington 10
: The Bears get an easy win a week before heading across the country to Minnesota.
Arizona 38, Northern Arizona 3
: The key here for the Wildcats is gaining some confidence on offense, particularly for quarterback
Matt Scott
-- and maybe
Nick Foles
, too. Iowa awaits the next weekend as a true test.
TOP 25 SCOREBOARD
Saturday, 12/21
Monday, 12/23
Tuesday, 12/24
Thursday, 12/26
Friday, 12/27
Saturday, 12/28
Monday, 12/30
Tuesday, 12/31
Wednesday, 1/1
Thursday, 1/2
Friday, 1/3
Saturday, 1/4
Sunday, 1/5
Monday, 1/6
TOP PERFORMERS