November, 7, 2011
11/07/11
3:55
PM ET
Here are the non-AQ players of the week, as selected by each conference.
C-USA
Offense:
Nick Fanuzzi
, QB, Rice. Fanuzzi had career highs with 405 yards passing, 30 completions and 439 yards of total offense, while throwing three touchdowns and leading Rice to a 41-37 win over UTEP. Fanuzzi helped lead the Owls to the third-highest offensive output in school history with 671 yards.
Defense:
Curnelius Arnick, LB, Tulsa. Arnick had a career-best 19 tackles, including 12 solos and one tackle for loss, as well as one pass breakup in a 24-17 road victory over UCF.
Special teams:
Tracey Lampley, PR, Southern Miss. Lampley returned a punt 60 yards for a touchdown in a win at East Carolina. It was his first punt return for a touchdown since his freshman year in 2009.
MAC
East Division
Offense:
Donte' Harden
, RB, Ohio. Harden had a school-record 322 all-purpose yards (184 rushing, 75 receiving and 63 return yards) and scored a pair of touchdowns in a 35-31 win over Temple.
Defense:
Jerrell Wedge, LB, Miami (Ohio). Wedge had nine tackles and a fumble recovery in a 35-3 victory over Akron.
Special teams:
Rob Hollomon, KR, Kent State. Hollomon averaged 35.7 yards on three kick returns in a 24-21 win over Central Michigan.
West Division
Offense:
Chandler Harnish
, QB, Northern Illinois. Harnish threw six touchdown passes, the second-most in MAC history, to lead Northern Illinois to a 63-60 shootout victory at Toledo. Harnish also rushed 16 times for 133 yards to account for 398 yards of total offense.
Defense:
Dan Molls, LB, Toledo. Molls had 17 tackles and one tackle for loss in a 63-60 loss to Northern Illinois
Special teams:
Tommylee Lewis
, KR, Northern Illinois. Lewis became only the 13th player in NCAA FBS history to return two kickoffs for touchdowns in the same game when he scored on back-to-back kickoff returns for Northern Illinois in a 63-60 win at Toledo. Lewis brought the opening kickoff back 100 yards. After Toledo scored, he returned the ensuing kickoff 95 yards for the score.
Mountain West
Offense:
Waymon James
, RB, TCU. Rushed for a career-high 181 yards on 12 carries in a 31-20 win at Wyoming. James, who had a career-long 74-yard run on the first play of the fourth quarter, had 117 yards on five carries in the final period.
Defense:
Jon Davis, DB, Air Force. Davis tied a career-high with 12 tackles as Air Force captured the Commander-In-Chief Trophy for the second consecutive year with a 24-14 victory over Army.
Special teams:
Parker Herrington, PK, Air Force. Kicked a career-high three field goals in a 24-14 win over Army. Herrington improved to 10-of-10 on the season inside 40 yards.
Sun Belt
Offense:
Ryan Aplin
, QB, Arkansas State. Aplin accounted for five touchdowns in leading Arkansas State to a 39-21 victory at FAU. Aplin rushed for 49 yards and four touchdowns and completed 24 of 37 passes for 244 yards and another score.
Defense:
Devon Lewis-Buchanan, LB, ULL. Lewis-Buchanan had a career-high 12 tackles, including 11 solo, in a 36-35 win over Louisiana-Monroe. He also had three tackles for loss and a pass breakup in the win.
Special teams:
Brett Baer, K, ULL. Baer perfectly executed an onside kick late in the game against ULM, allowing
Ladarius Green
to recover the kick at the ULM 39 to set up the game-winning score.
WAC
Offense:
Colby Cameron
, QB, Louisiana Tech. Cameron completed 19 of 33 passes for 376 yards and four touchdowns with no interceptions in Louisiana Tech's 41-21 win at Fresno State.
Defense:
Travis Johnson, DE, San Jose State. Johnson tied a school record with four sacks in a loss to Idaho. One of his sacks resulted in San Jose State's first safety in seven years. He had a total of 10 tackles and a fumble recovery.
Special teams:
Stanley Morrison
, WR, Utah State. Executed two successful fake punts in a 35-31 comeback win at Hawaii. In the second quarter, he rushed for 8 yards on fourth-and 4 and then in the second half, he threw a 23-yard pass on fourth-and-5 to
Joe Hill
for a first down.
November, 7, 2011
11/07/11
1:00
PM ET
Let's take a look back at Week 10 in the non-AQs.
Records fall.
As expected,
Kellen Moore
and
Case Keenum
set major NCAA records in victories this weekend. Moore helped the Broncos beat UNLV 48-21 for his 46th career win, breaking the record set by Colt McCoy for most career wins. Meanwhile, Keenum threw for 407 yards in a 56-13 win against UAB to become the most prolific passer in NCAA history. Keenum passed the mark held by Timmy Chang and now has 17,212 career passing yards. He is averaging 402.9 yards a game, putting him on pace to potentially get another 2,000 yards this season should the Cougars play in the Conference USA championship game.
[+] Enlarge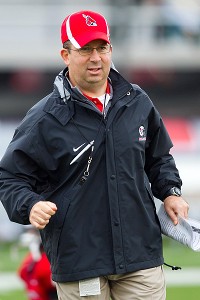 Michael Hickey/US PresswireCoach Pete Lembo has Ball State eligible for a bowl for the first time since 2008.
Bowl eligibility.
Ohio, Northern Illinois, Tulsa, SMU and Ball State all became bowl eligible this weekend. It has been a nice turnaround season for Ball State under first-year coach Pete Lembo, getting the Cardinals to bowl eligibility for the first time since 2008. Teams that have a chance to become bowl eligible this week:
FIU (5-4) vs. FAU
Western Kentucky (5-4) at LSU
Louisiana Tech (5-4) at Ole Miss
Nevada (5-3) vs. Hawaii
Game of the week.
Louisiana-Lafayette 36, Louisiana-Monroe 35. The Ragin' Cajuns overcame an 11-point deficit with 3:08 left, scoring two touchdowns in the span of two minutes to complete the incredible comeback.
Blaine Gautier
threw a 16-yard touchdown pass to
Darryl Surgent
with 2:05 left to close the gap to 35-30. They failed to make the 2-point conversion but did recover the onside kick.
Alonzo Harris
scored on a run from 3 yards with 1:06 remaining.
Greatest turnarounds.
Speaking of the Sun Belt, Louisiana-Lafayette has the best turnaround in the country from last season, winning five more games than 2010. That league has three teams with some of the best turnarounds among the non-AQs.
2010, 2011
ULL 3-9, 8-2
Houston 9-0, 5-7
Ark. St 4-8, 7-2
WKU 2-10, 5-4
E. Mich 2-10, 5-4
Conference race update. Let us check in with all the non-AQ conferences to see who is leading in the race for a championship.
C-USA.
Southern Miss is in control of the East Division after a convincing 48-28 win against East Carolina. The Golden Eagles host defending East Division champs Central Florida on Saturday. They have a one-game lead over the Pirates and Marshall, though their only loss this season came to the Thundering Herd. In the West, Houston and Tulsa are undefeated in league play at 5-0, setting up a huge showdown in the season finale Nov. 25 at Tulsa. Houston has Tulane and SMU before then; Tulsa has Marshall and UTEP. Both teams will be favored to be 7-0 in league play headed into their game.
MAC.
Ohio dealt a huge blow to Temple's chances of winning the East with a 35-31 win in Week 2. The Bobcats and defending East champ Miami (Ohio) are 3-2 in league play. They end the season against each other Nov. 22 at Ohio. In the West, Northern Illinois and Toledo each are 4-1 but the Huskies have a huge head-to-head win against Toledo, 63-60 in a wild game in Week 10. If they both win out, Northern Illinois goes to get another MAC title game.
Mountain West.
As expected, TCU and Boise State are undefeated in league play headed into their huge game Saturday in Boise. The winner will be in the driver's seat to win the conference. Remember, this game was initially set for Forth Worth, but moved to Boise after TCU announced it was leaving the conference.
Sun Belt.
Louisiana-Lafayette (8-2, 6-1) has a huge game at Arkansas State (7-2, 5-0). If Louisiana-Lafayette wins, it would create a three-way tie with Western Kentucky (5-4, 5-1) atop the Sun Belt standings. If all three then win out, they would each be considered co-champs. If Arkansas State wins, then the Red Wolves would remain undefeated in the Sun Belt and control their destiny.
WAC.
Nevada is the only undefeated team in league play at 3-0 and controls its hopes for a second straight league title. Louisiana Tech at 4-1 is in second place. The teams play in Reno on Nov. 19.
Helmet stickers
Ryan Aplin, QB, Arkansas State.
Aplin had five touchdowns in a 39-21 victory at FAU, rushing for 49 yards and four touchdowns and completing 24-of-37 passes for 244 yards and another score. His four rushing touchdowns are the most for any player in the Sun Belt this season, and his five overall touchdowns are tied for the most.
Kama Bailey, RB, Idaho.
Bailey ran for a career-high 163 yards on 19 carries and had two scores as Idaho came back to beat San Jose State 32-29.
Jon Davis, DB, Air Force.
Davis had a game-high 12 tackles and recorded one interception as Air Force retained the Commander-In-Chief's trophy with a 24-21 win against Army. Davis also forced and recovered a fumble.
Nick Fanuzzi, QB, Rice.
Fanuzzi completed 30-of-43 for 405 yards with three touchdowns and no interceptions in a 41-37 win against UTEP. It was his first start of the season, and he is just the third player in school history to pass for more than 400 yards.
Donte Harden, RB, Ohio.
Harden finished with a school-record 322 all-purpose yards (184 rushing, 75 receiving and 63 return yards) and scored a pair of touchdowns in a 35-31 win against Temple.
September, 25, 2010
9/25/10
10:21
PM ET
The Big 12 already had
one lightning delay in Manhattan, Kan.,
earlier Saturday. Baylor's game against Rice in Houston provided a second.
Both delays lasted over an hour, but Baylor and Rice are back at it. The Bears lead 14-3 in the second quarter.
Robert Griffin
hit
Jerod Monk
for a 6-yard touchdown pass in Baylor's first scoring play.
The defense hasn't given up a play longer than 12 yards, but Rice quarterback
Nick Fanuzzi
has completed 11 of his first 13 passes. TCU embarrassed the Baylor defense last week, but we may not have a great idea of how good the Bears defense is until conference play. Baylor didn't give up a touchdown in its first two wins over Buffalo and Sam Houston State.
Kendall Wright
looks like he's back on track, too. He's already caught four passes for 75 yards after being limited to just 10 yards on two catches against the Horned Frogs last week.
Wright's last reception was a 40-yard score to get the Bears on track and up 14.
September, 14, 2010
9/14/10
4:53
PM ET
Injuries to quarterbacks at several non-AQ schools have started to mount. Here is a primer:
Houston
Injured:
Case Keenum
has mild concussion symptoms after getting hurt following an interception he threw against UTEP last week. His status is day-to-day.
Who's in: If Keenum can't play against UCLA on Saturday,
Cotton Turner
would get the nod. Turner went 9-of-10 for 69 yards with a touchdown in relief of Keenum against UTEP. "Our players, when he hit the field, there's a confidence level in him and Friday night can only help everybody's confidence level in him," coach Kevin Sumlin said.
Memphis
Who's injured:
Cannon Smith
sustained a concussion against East Carolina and is out for this week's game against Middle Tennessee.
Who's in:
Ryan Williams
, a true freshman, played well in relief of Smith last week, going 18-of-25 for 293 yards and three TDs. Williams has played in both games this season.

Middle Tennessee
Who's injured: The Blue Raiders are actually down to their third quarterback, following the suspension of starter
Dwight Dasher
.
Logan Kilgore
, who replaced him, missed last week's game against Austin Peay with a toe injury and is still in a walking boot.
Who's in:
Jeff Murphy
started last week and went 23-of-36 for 301 yards with no touchdowns and an interception. Both he and Kilgore are junior college transfers playing their first season at Middle Tennessee.
North Texas
Who's injured:
Nathan Tune
dislocated his hip in a loss to Rice, and is expected to miss the rest of the season.
Who's in:
Derek Thompson
. He has played sporadically and doesn't have much experience, but there isn't much depth here.
Riley Dodge
, the starter last season, moved to receiver because of elbow troubles but will go back to quarterback to help with depth.
Rice
Who's injured:
Taylor McHargue
sustained a mild shoulder separation against North Texas last week and is out for Saturday's game against Northwestern.
Who's in:
Nick Fanuzzi
, who started last season but lost his job to McHargue in the fall. Fanuzzi came in against the Mean Green and led the game-winning drive in the fourth quarter and finished 12-for-23 for 189 yards and a touchdown.
Utah
Injured:
Jordan Wynn
sprained the thumb on his throwing hand in the season opener against Pittsburgh and is listed as day to day. He missed last week's game against UNLV and his status is unclear for Saturday's game at New Mexico.
Who's in:
Terrance Cain
. He is a capable player, having started eight games last season. Against UNLV, Cain went 13-of-20 for 207 yards with two touchdown passes. "We're fortunate to have Terrance Cain as our backup," coach Kyle Whittingham said. "We had no panic, no concern because we knew Terrance was going to step in and get the job done."
September, 14, 2010
9/14/10
12:41
PM ET
February, 22, 2010
2/22/10
10:00
AM ET
Here's a breakdown of three issues facing each program heading into the spring:

Central Florida Knights
Spring practice starts:
March 19
Spring game:
April 17
What to watch:
The Knights will need to develop offensive line talent after allowing 2.54 sacks per game and failing to block for a rushing offense that ranked 82nd in the country. The Knights return all but two offensive linemen and have one coming in the spring.
The quarterback battle will heat up with early enrollee Jeffrey Godfrey, who already has impressed coach George O'Leary. Godfrey will compete against Rob Calabrese for the starting role.
The Knights will have to find replacements for three key members of the defensive line -- DE Jarvis Geathers, RT Torrell Troup, LT Travis Timmons. The defense was the main reason the Knights finished 8-5 and won their final five games.

East Carolina Pirates
Spring practice starts:
March 22
Spring game:
April 17
What to watch:
With a new coach, a new system, and a crop of new starters, East Carolina will have its work cut out for it this spring. New head coach Ruffin McNeill needs to replace 15 players with starting experience, which won't be easy with just a month to work.
The most underrated positions the Pirates have to fill are punter and kicker. All-American Matt Dodge is gone as is kicker Ben Hartman, who set the school record for career scoring. Finding replacements for those two is a top priority.
New offensive coordinator Lincoln Riley will be implement Texas Tech's offensive system with just two scholarship quarterbacks and a team that relied on its running game. Riley is confident he can install all of his spread offense this fall, but there's no telling how quickly the Pirates will pick it up.

Houston Cougars
Spring practice starts:
March 27
Spring game:
April 24
What to watch:
The one thing that really kept Houston from an undefeated season was its defense. Brian Stewart, who was named the defensive coordinator in January, inherits a young team with a lot of talent, but he has some work to do to catch the defense up to the offense by September.
Quarterback Case Keenum returns for his senior season, but his center, Carl Barnett, does not. Barnett started 39 games, so Keenum will have to establish a good rapport with his new center this spring. Blake Sargent, who was the backup last year, appears to be the front-runner.
Even though the Cougars did not lose many starters on offense, coach Kevin Sumlin will look for more athletic players to rotate into the mix. Last season, 19 players had at least one catch and 12 had double-digit catches.
September, 10, 2009
9/10/09
9:03
AM ET

Posted by ESPN.com's Tim Griffin
Here are my Big 12 picks for this weekend.
Colorado 21, Toledo 20:
This might be the biggest game of Dan Hawkins' career after his team's opening-game debacle against Colorado State. The Buffaloes need to get a ground game going -- remember that guy on the bench is
Darrell Scott
-- and do a better job of limiting big plays on defense. Toledo quarterback
Aaron Opelt
threw 67 passes in last week's loss at Purdue, but will find it much tougher this week against the Buffaloes' underrated secondary keyed by cornerback Jimmy Smith. I'm looking for the Buffaloes to do just enough to escape the Glass Bowl with a victory-- but it's not going to be easy or pretty.
Iowa 21, Iowa State 17:
The Cyclones have had much recent success against the Hawkeyes at Jack Trice Stadium, where they have won four of the last five in the series since 1999. The Hawkeyes struggled last week against Northern Iowa and were lucky to escape with a victory only after blocking field goals on the last two plays of the game. I look for replacement running back
Adam Robinson
to run with a little more confidence this week for the Hawkeyes. Don't be surprised if wily Iowa coordinator Norm Parker cooks up a defensive scheme that will handcuff the Cyclones' emerging no-huddle offense. But it wouldn't surprise me if the Cyclones were able to make this one close and maybe even eke out an upset victory.
Nebraska 41, Arkansas State 14:
The Cornhuskers ran off a 49-3 victory over FAU and Bo Pelini wasn't happy about his team's defensive efforts. They'll be facing another challenger from the Sun Belt in Arkansas State, who shouldn't pose too many problems. I'll be interested to see the continued development of future Cornhuskers like
Rex Burkhead
and
Cody Green
and see how the defense reacts after the scalding criticism of their coach. If Pelini gets mad after giving up three points, what's he going to do if they give up seven or 10 or 14 points this week?
Oklahoma State 45, Houston 34:
Oklahoma State had a strong opening performance, including a salty defensive showing that stopped Georgia cold after the Bulldogs scored a touchdown on their opening possession. It will be interesting to see if that huge victory left the Cowboys with a hangover. It's something they can't afford, considering Houston's high-powered offense keyed by
Case Keenum
. The Cougars had Oklahoma State on the ropes last season before the Cowboys blew the game open in the second half. I wouldn't be surprised to see a similar kind of game on Saturday.
Texas 45, Wyoming 7:
The Longhorns' toughest nonconference road game shouldn't pose too many problems, even with injuries on the offensive line and other personnel losses in the secondary. I'll be interested to see how alternating Wyoming quarterbacks
Robert Benjamin
and
Austyn Carta-Samuels
attack a Texas defense that allowed more points in an opening game last week in 10 years. It will also be noteworthy to watch Texas' running backs and see if
Vondrell McGee
still is the featured back after his fumble problems last week. Despite playing at high elevation, the Longhorns should have no worries.
Kansas 44, UTEP 35:
Kansas ran the ball strongly last week against Northern Colorado and should be able to do the same against the Miners. But it wouldn't surprise me if UTEP quarterback
Trevor Vittatoe
and some underrated offensive weapons make the Jayhawks sweat their way through their visit to the Sun Bowl. In the end,
Dezmon Briscoe
will make enough plays as a receiver and maybe as a kick returner to extend the Miners' 16-game losing streak against Big 12 teams.
Missouri 34, Bowling Green 14:
What can
Blaine Gabbert
do for an encore? His auspicious start has been the talk of the "Show-Me" State this week after a breakthrough performance against Illinois. I was just as impressed by the Tigers' "Scorpion" defensive front which made Illinois quarterback
Juice Williams
miserable. The Missouri defense will be tested by Bowling Green's talented pass-and-catch duo of
Tyler Sheehan
and
Freddie Barnes
. The Falcons beat Missouri in each of Gary Pinkel's first two seasons at Missouri, including his first game there in 2001. But that's a long time ago.
Oklahoma 34, Idaho State 0:
Landry Jones
gets his first start at quarterback as he replaces
Sam Bradford
. I look for Bob Stoops to have a conservative approach this week designed to build confidence for Jones over the next several games. There won't be anything fancy as the Sooners will lean on a running game that needs to help restore assurance in an offensive line that struggled last week. Idaho State dropped a 50-3 outing at Arizona State last week in a game where Bengal quarterbacks threw four interceptions. It might be more of the same as the Sooners' defense will be charged to pick up its performance with all of the lingering questions on offense.
Texas Tech 41, Rice 17:
Taylor Potts
didn't have the best of college career starts, throwing three interceptions last week against North Dakota. I look for improvement from him and the Tech running attack as they meet rebuilding Rice. Owls coach David Bailiff is still struggling to find a quarterback and I expect both
John Shepherd
and
Nick Fanuzzi
to get an opportunity to play. But it won't nearly be enough as the Red Raiders should cruise into the Texas game with a better performance than their first game.
Kansas State 31, Louisiana-Lafayette 24:
Carson Coffman
should have a better performance in his second game and the Kansas State special teams will be improved in a tougher-than-expected battle at Cajun Field. The Ragin' Cajuns have a couple of nice offensive weapons in quarterback
Chris Masson
and running back
Undrea Sails
. If they get rolling, it could be a long night in the bayou for the Wildcats. I'm also a little concerned about how Kansas State's lack of depth affects them at both offensive line and defensive line during what should be a hot, humid night. But in the end, Kansas State running backs
Daniel Thomas
and
Keithen Valentine
will provide enough offense for the Wildcats to escape Louisiana with a tough victory.
Last week:
10-2 (83.3 percent)
Season:
10-2 (83.3 percent)
September, 7, 2009
9/07/09
6:55
PM ET

Posted by ESPN.com's Graham Watson
Rice used two quarterbacks in Saturday's 44-24 loss to UAB and coach David Bailiff said he doesn't plan to change that.
Bailiff announced during his Monday press conference that sophomore
Nick Fanuzzi
would start this week's game at Texas Tech, but that both he and senior
John Thomas Shepherd
would play in the game. Shepherd started against UAB but both quarterbacks played.
"We're going to start Nick this week, and if he leads us down the field and scores on the first couple possessions, we'll probably leave him in, but I think for the good of this football team, we're going to continue to use two quarterbacks right now," Bailiff said. "The easy thing is to look at the stat sheet and see that Nick threw for 154 yards, but when you watch the film and grade their decision-making, we know that John Thomas did a lot of good things too."
Fanuzzi completed 12-of-20 passes for 154 yards and a touchdown and rushed for seven yards and a score. Shepherd completed 10-of-22 passes for 81 yards and an interception, but led the team in rushing with 48 yards.
Bailiff said he was pleased with Fanuzzi's play in the passing game, but that he needed to work on some things in the running game. He had the opposite praise and criticism for Shepherd.
Rice, which was coming off a 10-3 campaign last year, is still looking to replace the majority of its offense which either graduated or left early for the NFL. The team had hoped to get more production out of the running back position, but its top two statistical running backs,
Tyler Smith
and
Charles Ross
, had 37 yards apiece and no touchdowns.
Bailiff has maintained all along that if one quarterback separates himself, he'll be the team's starter for the foreseeable future.
"Nick did look off some defenders and came back to receivers, which is something he had not done in practice," Bailiff said. "But for him to be the total package quarterback, we've got to work on the running game with him."
August, 16, 2009
8/16/09
7:12
PM ET
Posted by ESPN.com's Graham Watson
HOUSTON -- The first thing Ed Zaunbrecher told his quarterbacks when he took over as Rice's offensive coordinator in January was that each of them had a clean slate.
And since Zaunbrecher was inheriting a team that lost quarterback Chase Clement, receiver Jarett Dillard and tight end James Casey, players who accounted for almost all of the team's offense, he was essentially starting with a clean slate, too.
Zaunbrecher didn't come in with radical changes to the offense (the terminology is the same). But Zaunbrecher said there would be minor tweaks to it to fit the starting quarterback -- a quarterback that has yet to be named.
Zaunbrecher has three quarterbacking choices and has spent the spring and the past week charting everything from completions to decision making in an effort to find the right quarterback to keep the Rice offense rolling after a 10-3 season.
Senior John Thomas Shepherd is the team's best rushing threat. Alabama transfer Nick Fanuzzi has the best arm. And redshirt freshman Ryan Lewis has the ability to do both. Zaunbrecher said he plans on sorting out the quarterbacking situation this week. And while he'd like to have a true starter, he's not opposed to playing two guys if they both provide needs for the offense.
"You can't say you've got three quarterbacks and you're going to play all three guys," Zaunbrecher said. "If you play two, you're not really alternating them. One guy plays and the other guy plays some. That's the way I've done it before and it's worked out well."
Zaunbrecher is quick to point out that none of the three players in contention is as versatile as Clement. None can consistently run and pass at a high level. But, he said, the Owls' running backs are playing a bigger role in the offense, which might alleviate some of the pressure of trying to find a dual-threat quarterback.
For Shepherd, who was recruited by Ken Hatfield to be an option quarterback, this is his last chance. During his four previous seasons, Shepherd, who has played for four different position coaches, has spent most of his career as Clement's backup. He's the only quarterback with game experience and had Zaunbrecher not opened the quarterback position up, he would have been the frontrunner.
"That was kind of tough just because of the fact that I've had some experience and played some games and [former offensive coordinator] Coach [Tom] Herman has seen what I can do," Shepherd said.
Fanuzzi spent his first year at Alabama, but wasn't sure it was an offense in which he would excel. He liked the competition of the SEC and the coaching of Nick Saban, but he thought he'd have a better chance of playing at Rice, which was near to his hometown of San Antonio.
And Lewis is the dark horse. He's also a baseball player. Last season, he hit .289 in 22 games while playing outfield or designated hitter.
Zaunbrecher stressed that while it would be nice to find the next Clement, it's unrealistic to ask any of the three players to fill those shoes. Clement finished his career as the school record holder in passing yards, touchdown passes, completions and attempts.
So, as Zaunbrecher looks to narrow the quarterbacking field this week, each player is going to play to his strengths.
"You never know," Zaunbrecher said. "All three of them could end up playing if someone gets banged up or we want to change the pace or something. And even when we [choose a starter] they'll have to understand that doesn't mean they're cast out forever. It's just right now, someone else is ahead of them."