July, 26, 2013
7/26/13
8:30
PM ET
CULVER CITY, Calif. -- Hitting.
Apparently it happens quite a bit in the game of football. And Pac-12 commissioner Larry Scott, who announced plans last month for a new contact policy in practice, unveiled the details at Friday's Pac-12 media day.
The policy still has to be certified by the institution's athletic directors, but the ADs, presidents, chancellors and coaches have all agreed to establish certain practice parameters that go beyond the current limitations set forth by the NCAA. The plan is expected to be in place for the start of the 2013 preseason camps.
Here are some elements of the new policy (paraphrased). You can see the official language
here
:
The Pac-12 defines "Full contact" sessions as any live tackling where players are taken to the ground. Full contact does not include "thud" sessions or "wrapping up" drills where players don't go to the ground.

Pac-12 institutions will have two full-contact practices per week during the regular season.

For days in which Pac-12 institutions schedule a two-a-day practice, full contact is only allowed in one of the two two-a-day sessions during preseason camp.

During spring ball, there will be eight permissible full-contact practices, but only two per week.
[+] Enlarge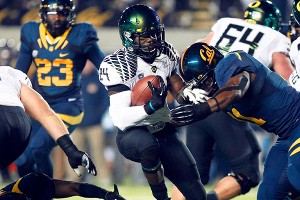 Kelley L Cox/US PresswireCal linebacker Nick Forbes said that the "best tackles are made with good form."
These rules aren't anything drastic. In fact, most institutions have adopted similar policies. The Pac-12 is just the first conference to make it official and put it in writing.
"I think our league and about every coach in the country has went to those guidelines anyway, if not even less contact than that," Arizona coach Rich Rodriguez said. "Because as a coach, you have to be concerned about the welfare of your team and you know your team and you know how beat up you are and what you have to do and how hard you have to work on hitting and what you have to do.
"So I think everybody has worked hard on it and I think most of the coaches in our league and most throughout the country are already kind of doing that anyway."
In coming to a consensus on the new policy, the league talked with medical practitioners, conference athletic directors and Pac-12 athletes.
"Our coaches support the new parameters, and their feedback helped us strike an important balance that limits contact across all seasons, but allows for our teams to be sharp and compete at the highest level," Scott said.
Speaking of hitting ...
Besides the contact policy, the new national "targeting" rule that could lead to player ejections was also a hot topic among some of the league's premier defensive players. Here's a sampling of what some of the players had to say, which ranged from delicate to defiant:
Stanford linebacker Shayne Skov
: "We've been trained to hit properly. Football is an aggressive sport and I'm going to keep playing the way I play, and it's part of the nature of the game … we're going to play aggressive and do it the right way and if you do that we won't have any problems with head trauma collisions and I don't foresee any in the future."
California linebacker Nick Forbes
: "As a defender, the automatic ejection is scary. You don't want to put yourself or your team in that situation. But fortunately, we were fortunate to have great coaching staffs that teach us the proper technique … the best tackles are made with good form."
UCLA linebacker Anthony Barr
: "I understand the rule, but as a defensive player it's going to be difficult to fully adjust my game … So as I play, I'm going to play within the rules that I've always played and play like I've always played, full speed and attacking. And if I get penalized because of it, then so be it. But I'm going play the way I play football."
Washington State safety Deone Bucannon
: "It's a rule that's going to be hard to abide by, going full speed, but at the same time, whatever helps player safety. So if that's what the rule is, then I'm going try as a player to, to the best of my ability, abide by those and to be as safe as possible for the other player and myself. I'm going to be more aware on the field and proper adjustments like I should."
June, 6, 2013
6/06/13
5:30
PM ET
We've looked at offensive three-headed monsters --
elite combinations of quarterback, running back and receiver
-- so now let's look at the defensive version.
That would be elite combinations of
top tacklers
, top
sack men
and top
interceptors
, as tackles, sacks and interceptions make defensive coordinators happy.
The combinations here might be stronger even than the offensive troikas. Stanford, for example, welcomes back an elite, All-America sort of player for each category. It seems to us all 12 teams have at least one player to be excited about heading into the fall.
Just two teams -- Arizona State and Utah -- only hit on one category. Arizona, Colorado and Washington join Stanford hitting all three, though Colorado's interception numbers from 2012 are so meager -- 3! -- that it's not terribly relevant. And USC's just missing was a matter of 0.4 tackles per game.
So here's how we see things stacking up.
And, again, you should feel free to be outraged by our lunkheaded bias against your team, which obviously should be ranked much higher.

1. Stanford

LB
Shayne Skov
, OLB
Trent Murphy
, S
Ed Reynolds
The skinny
: Three potential All-Americans. There is no finer troika in the nation. Not sure if anyone else is even close.

2. USC

LB
Hayes Pullard
, OLB
Morgan Breslin
, S
Dion Bailey
The skinny
: Pullard was seventh in the conference with 8.2 tackles per game, just behind safety T.J. McDonald. Breslin is transitioning from defensive end to outside linebacker, which actually seems like a better fit. And Bailey, who led the Trojans with four interceptions, is moving back to safety from linebacker.

3. UCLA

LB
Eric Kendricks
, OLB
Anthony Barr
, S
Randall Goforth
The skinny
: UCLA gets here on the power of the first two, an elite combination, with Barr a likely top-10 NFL draft pick next spring. That balances out the questions in the secondary. Goforth, a promising player, just seemed like as good a choice as any.

4. Oregon State

LB
Michael Doctor
, DE Scott Cricthon, CB
Rashaad Reynolds
The skinny
: Doctor took a big step forward last year, even if
D.J. Alexander
is a flashier player. Crichton, first-team All-Pac-12 in 2012, is trying to lead the Beavers in sacks for a third consecutive year. Reynolds had three picks last year and now becomes the Beavers' lead cornerback with Jordan Poyer off to the NFL.

5. Oregon

LB
Derrick Malone
, DE
Taylor Hart
, S
Erick Dargan
The skinny
: Malone was just thrown in there because the Ducks' linebacker situation is cloudy. Hart is a budding all-conference guy who should get his due this fall. Dargan led the Ducks with five picks, but there's an acknowledgement here also of cornerback Ekpre-Olomu, a preseason All-American, who had four.

6. Arizona State

LB
Chris Young
, DT
Will Sutton
, S
Alden Darby
The skinny
: Sutton is the big fish here, obviously. Linebacker is a question for the Sun Devils, who lost their top two tacklers. Young and Darby are returning starters, though, with Young ranking third in tackles and Darby second in interceptions in 2012.

7. Washington

LB
John Timu
, OLB
Josh Shirley
, CB
Marcus Peters
The skinny
: This is a solid but unspectacular trio, as none of the three were all-conference. But the Huskies defense, which was greatly improved in 2012, has a lot of production back. It's worth noting that defensive end
Andrew Hudson
tied Shirely for the team lead with 6.5 sacks, and linebacker
Shaq Thompson
also had three picks, like Peters.

8. Arizona

LB
Jake Fischer
, LB
Marquis Flowers
, CB
Jonathan McKnight
The skinny
: All three leaders are back, but they get marked down for the overall defensive numbers in 2012. Flowers, an underrated player, had 5.5 sacks and was tied with McKnight with three interceptions.

9. California

LB
Nick Forbes
, DE
Chris McCain
, S
Michael Lowe
The skinny
: Forbes averaged 7.1 tackles per game last year. McCain tied for the team lead in sacks with 3.5, but don't be surprised if
Todd Barr
or
Brennan Scarlett
lead the pass rush. Lowe had three picks last year to tie for the team lead, but he's listed behind
Alex Logan
on the post-spring depth chart.

10. Washington State

S
Deone Bucannon
, OLB
Logan Mayes
, LB
Cyrus Coen
The skinny
: Bucannon is an A-list guy, earning second-team All-Pac-12 honors in 2012. He led the Cougars in tackles and interceptions, so we included Coen, who was second with three picks. The gigantic void is the pass rush, which lost four-year sack leader
Travis Long
.

11. Utah

LB/S
Brian Blechen
, DE
Trevor Reilly
, S
Eric Rowe
The skinny
: These are three solid players, but there's a lot of uncertainty on the Utes defense. The Utes lost their top two sack men and their top three cornerbacks. Blechen has bounced back and forth between linebacker and safety, and neither Reilly nor Rowe were able to top the depth chart at his position this spring without an "Or" beside him.

12. Colorado

LB
Derrick Webb
, DE
Chidera Uzo-Diribe
, CB
Kenneth Crawley
The skinny
: All three leaders are back, but we're listing the promising Crawley instead of the two guys who had a single pick last year. Uzo-Diribe is legit. He has 12.5 sacks over the past two seasons, including seven last year. Big issue here, however, is how terrible the Buffs defense was last year.
March, 6, 2013
3/06/13
1:00
PM ET
So much of the excitement around the Sonny Dykes hire at California was that he was going to bring an exciting, up-tempo offense to Berkeley that would, presumably, fit in nicely in the Pac-12.
After all, Dykes' former team, Louisiana Tech, led the nation in total offense last season. Then again, in a statistical anomaly, they were also dead last in total defense nationally.

Enter Andy Buh, formerly of Wisconsin, Nevada, Stanford and Cal among others, and the 4-3 defense. With all the chatter about the exciting new offense, it's easy to forget that the Bears are also transitioning from the 3-4 under previous defensive coordinator Clancy Pendergast. And for as much as the offense and quarterback battle are in the spotlight, Cal's defense could use a good re-tooling as well after the Bears allowed 33.1 points per game in 2012 -- ninth in the Pac-12.
However, it's the new offense that is actually going to make the defense better -- at least in theory. Well into spring ball, some of Cal's defenders are already noticing the up-tempo offense is pushing them to be better defensive players.
"It's a good offense, a really great offense," said linebacker
Nick Forbes
. "I tell people all the time, boys play offense, men play defense. The boys are out there having a lot of fun running around. But as a defense, we're doing a good job of stopping it and playing it really well. We're testing them and they need a good test to work out the kinks.
"The other thing it will do is make us really athletic on defense. As a linebacker when you're isolated on the slot, that's a worst-case scenario for some defenses. For us, we're doing it every practice so it's preparing us really well to face the talent we see in the Pac-12."
Buh's roots are in the 4-3. In a recent interview with Jeff Faraudo of the "San Jose Mercury News," he explained why in an era of 3-4 teams,
he prefers the even front
.
First of all, it's what I know -- that's probably the most significant reason. Any time you coordinate a defense, you want to be a master of it.

It can defend all the different types of offenses we're going to face. I believe in the way football has become where the quarterback is such a threat, both run and pass, that four defensive linemen are almost critical in terms of keeping linemen off the linebackers, having good pass-rush lanes, squeezing and constricting gaps and not making it such a space game. Those are all the principles of the 4-3. We'll sit more on our technique and our fundamentals than our scheme.
Obviously, the transition is a work in progress as ends and linebackers learn their new roles.
"It's still early," defensive lineman
Deandre Coleman
said. "We've only had four practices, but I feel like everyone is getting the hang of it and everybody is learning. I feel like we're moving fast."
Buh is already receiving rave reviews from his players -- particularly for his teaching style.
"We're starting off really simple to really learn the fundamentals and how it works and why we're calling some of the calls," said Forbes, who notched 85 tackles (45 solo) last season. "We're going to be a very smart defense and understand why we're doing what we're doing."
November, 3, 2012
11/03/12
1:01
AM ET
There's ugly. And there's whatever
that
was Friday night in Berkeley, Calif.
But when all the turnovers had been recovered and all the yellow laundry had been cleared from the field (on one play, there were four separate penalties), the
Washington Huskies
emerged with a
21-13 victory
over California. It was Washington's first road win of the season and snapped a six-game road losing streak for the Huskies. The win moves Washington (5-4, 3-3 Pac-12) one step closer to bowl eligibility.


Cal (3-7, 2-5) is officially eliminated from postseason contention for the second time in three seasons -- and questions surrounding the future of coach Jeff Tedford are sure to heat up with this latest loss.
The teams combined for eight turnovers (four apiece) and 19 penalties for a total of 168 yards (12 for 108 from Washington).
But amid the sloppiness, there were bright spots. Washington tight end
Austin Seferian-Jenkins
-- playing on a bum ankle -- turned in a gritty performance with eight catches for 151 yards and a score.
Bishop Sankey
had a season-high 189 yards on the ground for Washington to go with a pair of scores.
However, it's hard to overlook a stretch in the fourth quarter in which four consecutive drives ended in turnovers -- including four turnovers over a span of 11 snaps.
The Huskies jumped out to a 7-0 lead in the first quarter when they turned an
Isi Sofele
fumble into an 11-play, 79-yard drive that ended with a 4-yard Sankey touchdown run.
The Bears battled back to match the score in the second quarter when
Chris Harper
scored on a 14-yard end-around. Cal then took a six-point lead in the third following a pair of
Vincenzo D'Amato
field goals.
But Seferian-Jenkins -- who came out of the locker room at halftime limping badly -- made his presence known late in the third quarter. He made a leaping 43-yard reception that later helped set up his jumping 29-yard touchdown from
Keith Price
that gave Washington a 14-13 edge at the end of the third quarter.
Price completed 16 of 29 passes for 237 yards with a touchdown and an interception. His Cal counterpart,
Zach Maynard
, was 15-of-29 for 175 yards with no touchdowns and a pick.
C.J. Anderson
led Cal on the ground with 160 yards on 22 carries.
The loss also puts a damper on an outstanding game from Cal linebacker
Nick Forbes
, who tallied 10 tackles with an interception and two fumble recoveries.
It was a Maynard interception in the fourth that set up Sankey's second touchdown run of the game and gave Washington the final margin.
Making matters worse for Cal, Maynard was sidelined near the end of the game with what appeared to be a knee injury. He was helped off the field and then carted to the locker room.
Allan Bridgford
relieved Maynard on Cal's final drive but was unable to get the Bears into the end zone.