May, 23, 2013
May 23
9:45
AM ET
Kansas' coaches know they need as much help as possible to fix an ailing passing game, and the Jayhawks are hoping they got a big, immediate boost Wednesday.

From the Associated Press
:
Wide receiver Nick Harwell is transferring to Kansas after spending three seasons at Miami of Ohio, where he set the school record with 219 yards receiving in a game as a freshman.

Kansas coach Charlie Weis announced Harwell's decision in a statement Wednesday.

Harwell missed three games last season with a knee injury but still led the Mid-American Conference [in receiving yards per game] with 68 catches for 870 yards and eight touchdowns. He was the nation's second-leading receiver in 2011, when he caught 97 passes for 1,425 yards and nine touchdowns.
Oklahoma transfer
Justin McCay
has earned a bit of preseason hype, but he's still unproven at the collegiate level. The Jayhawks are still waiting to see if Harwell has graduated and will be officially eligible for 2013, but he'll be a big talent upgrade whenever he's able to take the field.
Harwell was suspended at Miami after an arrest earlier this offseason, but sources told the Lawrence Journal-World that he was facing no legal trouble.
From the
Journal-World report
:
In early April, Harwell was arrested and charged with criminal damaging, theft and unauthorized use of a vehicle/vehicle trespass after an early-morning incident at an off-campus apartment. Harwell was suspended from all football-related activities by Miami coach Don Treadwell.
That's definitely something of a red flag, but if Weis did his homework and felt comfortable bringing Harwell aboard, he's responsible for how Harwell's time in Lawrence plays out. If he stays out of trouble, this is a decision that could pay off in a big way for a KU offense in need of major help in the passing game.
January, 5, 2011
1/05/11
11:00
AM ET
You saw the preview and prediction. Now here are three keys each for Middle Tennessee and Miami (Ohio) headed into the GoDaddy.com Bowl on Thursday night in Mobile, Ala.

Middle Tennessee (6-6)
1. Get Dwight Dasher going.
That has been easier said than done this season. Dasher has had an inconsistent season after being suspended the first four games for violating NCAA rules. He did play well in the finale against FIU, so the Blue Raiders are hoping he can pick up where he left off. But he did show signs of rust when he returned after his four weeks off, so it will be interesting to see whether the same rust returns with such a long layoff between games. One of the big keys will be to break contain and make plays with his legs, something that he has not done as much this season as he did in 2010.
2. Contain Miami running back Thomas Merriweather.
The RedHawks have relied more on their run game with
Zac Dysert
out, and Merriweather has responded with three of his best games of the season. Still, with a redshirt freshman quarterback in
Austin Boucher
starting once again for Miami, you can bet the Blue Raiders will want to shut down Merriweather and make Boucher beat them with his arm. To be successful, not only will Miami have to put pressure on Boucher with Jamari Lattimore, they will have to account for Miami receivers
Nick Harwell
and
Armand Robinson
, one of the finest duos in the MAC. The two combined for 1,766 yards and 11 touchdowns this season.
3. Limit the mistakes.
Middle Tennessee has been a turnover machine this season, ranking last in the FBS in turnover margin. The Blue Raiders have given the ball away 33 times and taken it away only 17, a large reason why they had a .500 season this year. Miami, meanwhile, is at plus-8 on the season in turnover margin, so it is even more imperative in this game for the Blue Raiders to hold onto the ball.

Miami (Ohio) (9-4)
1. Make life easy for Boucher.
There is no question that Boucher has filled in well as the starter since Dysert went down with a rib injury in November. Boucher has started three games and won all three, thanks in part to an increased reliance on the run game and Merriweather -- who has posted two 100-yard games with Boucher as the starter. It will be important to get Merriweather going early, to help open up passing lanes for Boucher and keep the Middle Tennessee defense honest. Balance is a must for Miami to be successful in this game.
2. Block defensive end Jamari Lattimore.
That is no easy task. Lattimore was named Sun Belt Defensive Player of the Year after leading the league with 11.5 sacks and 14 tackles for loss. He also ranks third on the team in tackles with 64. Lattimore has good speed, and should be able to take advantage of that against an offensive line that has given up 34 sacks this season, one of the worst in the country. Left tackle Matt Kennedy is on the hot seat.
3. Intangibles.
There are a couple of questions for Miami headed into the game that have nothing to do with what will happen on the field. First, how will the team do with interim coach Lance Guidry on the sideline guiding the team? Mike Haywood is the coach who led this squad to the biggest turnaround in the NCAA this season, going from 1-11 to 9-4. But he resigned to coach at Pittsburgh and has since been fired following being arrested on a domestic violence charge. Northern Illinois responded with an interim coach at the helm in its win over Fresno State, so the same could happen here. Also, none of these players have been in a bowl game before, so it will be important for them to keep their poise early on this game.
December, 7, 2010
12/07/10
10:00
AM ET
Nobody pegged Miami to do much of anything this season, not after a 1-11 record in 2009 made them one of the worst teams in college football. But as the old cliché goes, that is why they play the games. From the season opener against Florida, you knew something special could happen this season. Miami challenged the Gators hard, and though the RedHawks lost 34-12, they came away with the sense that they could play with anyone. It helped that nearly the entire starting offense and defense returned, because those players had another opportunity to get better.
Zac Dysert
showed flashes as a freshman last season, and he put together a nice season before lacerating his spleen late and making way for redshirt freshman
Austin Boucher
.
Armand Robinson
had another good year at receiver, but
Nick Harwell
also emerged to give the RedHawks a powerful duo -- the two combined for over 1,700 yards and 11 touchdowns. But perhaps the biggest improvement came on defense, where Miami ranked No. 5 in the MAC. Defensive tackle Austin Brown emerged as a force, and Miami was able to put itself in position to make the MAC championship game with a win over Temple late in the season. After Ohio lost in the last regular-season game of the year, Miami went into the MAC title game as heavy underdogs but beat Northern Illinois 26-21 with 33 seconds to go. The win completed the best turnaround in the country this season as the RedHawks finished 9-4, making MAC Coach of the Year Mike Haywood one of this season's best stories.

Offensive MVP: WR Armand Robinson.
Tough one here, because Dysert, Harwell and RB
Thomas Merriweather
all deserve recognition. Robinson had 90 catches for 981 yards -- both career highs -- along with six touchdowns en route to second-team All-MAC honors.
Defensive MVP: DT Austin Brown.
A co-captain, Brown anchored the defensive line and had 10 tackles for loss and three sacks, and also was an All-MAC second-team selection. LB Evan Harris also deserves recognition for leading the team in tackles.
Turning point:
34-13 loss to Ohio on Oct. 23. Miami had the chance to get itself in the driver's seat in the East but lost. Instead of going in the tank, the RedHawks reeled off five straight wins, including a crucial 23-3 win over Temple in the season finale that helped get them into the MAC title game.
What's next:
Miami plays Middle Tennessee in the GoDaddy.com Bowl on Jan. 6 and will have plenty of returning players for next season. About 45 freshmen, redshirt freshmen and sophomores traveled to the MAC title game.
November, 17, 2010
11/17/10
2:31
PM ET
Being one of the nation's most improved teams is gratifying for Miami (Ohio) coach Mike Haywood. Being bowl eligible is even better.
But the RedHawks know they have to keep winning to improve their chances of making it to the postseason for the first time since 2004.
Miami (6-4, 5-1) enters its game against Akron (0-10, 0-6) tonight hoping to pad its bowl résumé and keep its MAC East hopes alive. The RedHawks are tied atop the division with Ohio, but the Bobcats hold the head-to-head tiebreaker. Miami has to win out and hope Ohio loses next week to Kent State to play in the MAC championship game.
If that does not happen, a bowl berth is in sight, but nothing is guaranteed. Non-AQ teams with winning records will no longer be given preference over .500 teams from the major conferences for an at-large berth. The MAC only has three guaranteed bowl slots, and those most likely will go to Northern Illinois, Ohio and Temple.
"We have a bowl banner that sits in the end zone, and I was looking out there and I realized we hadn't been to a bowl game since 2004. So it's really important for our program if we want to get back to the tradition of Miami football to get back to a bowl game," Haywood said. "But we can't take anything for granted. We have to go out there and get a win to solidify our bowl status."
So Haywood knows what's at stake. Unfortunately for the RedHawks, they are going to have to do it without starting quarterback
Zac Dysert
, who is out four to six weeks with a lacerated spleen.
Redshirt freshman
Austin Boucher
, who has thrown 14 career passes, will get the start. Dysert was hurt last week in a win over Bowling Green, but Haywood initially said it was a rib injury. Either way, losing Dysert is a big blow, considering he had a good chemistry going with
Armand Robinson
and freshman
Nick Harwell
.
Still, the fact that Miami made it to this point is impressive. The RedHawks went 1-11 last season, Haywood's first, and are tied with Maryland for biggest turnaround in the win column at plus-five.
It has taken a lot of hard work to get to this point off the field. Haywood said the top priority was to change the culture around the program, putting down strict rules for his players to follow.
"After the second week we were here on the job, I sat in my office and I told Bill Elias, my assistant head coach and recruiting coordinator, I said, 'Wow, I can't believe this place is as bad as it is,'" Haywood said. "We're in the process of changing the culture of the daily lives in which these players live, the way they dress, the way they attend classes, the way they handle themselves as men, making sure they're living a quality life and it's starting to carry over in football. We still have a long ways to go."
When asked to elaborate on just how bad the situation was, Haywood said, "The first day that students got back, we had our meeting to implement rules and regulations. We had nine violations on the first day. On the first weekend, several people had altercations uptown. This went on for two or three weeks. We had to lead with an iron fist."
Haywood estimates he lost between 25 and 30 players from the team that first year. But now, he is trying to lead a little differently because his players know what to expect.
"We're trying to loosen up the reigns a little bit to let them develop into men," Haywood said. "I'm 46 years old, and sometimes my dad doesn't allow me to grow up. If there was anything I could change about my father that would be it. We're in the process of giving them more freedom."
And getting them back to respectability.
November, 15, 2010
11/15/10
4:51
PM ET
Here are your non-AQ players of the week, as announced by each conference:
Conference USA
Offense:
Tulsa QB
G.J. Kinne
. Had 344 yards of total offense and three touchdowns in a 28-25 win over Houston. He had the fourth-highest rushing game in Conference USA this year and the third-highest total ever by a quarterback with 190 yards and one touchdown on 31 carries. Kinne also completed 65 percent of his passes for 154 yards and two scores.
Defense:
Tulsa DB Marco Nelson. Starting his ninth game as a true freshman, Nelson had seven tackles and tied single-game school and conference records with three interceptions at Houston.
Special teams:
Rice KR
Charles Ross
. Broke the school record with 261 yards on seven kickoff returns against Tulane. His effort sparked the Owls to a conference record total of 344 yards on 10 kickoff returns, bettering the mark of 303 set by East Carolina earlier this year.
MAC
East Division
Offense:
Miami WR
Nick Harwell
. Caught 10 passes for 125 yards and one touchdown in a 24-21 win over Bowling Green. He has 43 receptions for 600 yards over the last five games, after making just two catches (15 yards) in his first five games.
Defense:
Bowling Green LB Dwayne Woods. Had 13 tackles in a loss to Miami. The 13 tackle effort marked his fifth double digit tackle performance this season.
Special teams:
Miami K Trevor Cook. Came back from a knee injury to kick the 33-yard game-winning field goal at Bowling Green.
West Division
Offense:
Northern Illinois QB
Chandler Harnish
. Had 311 yards of total offense in a 65-30 victory over Toledo. Harnish completed 11 of 16 passes for 162 yards and one touchdown, and ran for 149 yards on 13 carries with a rushing touchdown.
Defense:
Ball State S Sean Baker. Intercepted two passes and returned a fumble 26 yards for a touchdown in Ball State's 20-3 win at Buffalo.Baker is now the school's career interceptions leader with 16.
Special teams:
Ball State K Ian McGarvey. Became the school's all-time leading scorer at Buffalo with 284 points. McGarvey made field goals of 40 and 32 yards and made two extra point attempts.
Mountain West
Co-Offense:
BYU WR
Luke Ashworth
, UNLV RB
Tim Cornett
. Ashworth had four receptions for a career-high 113 receiving yards and four touchdowns in BYU's 49-10 win at Colorado State. All four scores came in the first half, making Ashworth the first player in BYU history to tally four touchdowns in the first 30 minutes of action. Cornett had 82 all-purpose yards and four touchdowns in a a 42-16 victory over Wyoming. He was him the first Rebel to score four touchdowns in a game since 1994.
Defense:
BYU S Andrew Rich. Had a team-high nine tackles (three solo stops), an interception and a forced fumble in the win over Colorado State.
Special teams:
BYU K Mitch Payne. Made all seven of his point-after attempts, tying his season high.
Sun Belt
Offense:
North Texas RB
Lance Dunbar
. Had the best rushing performance in the nation this week, with 226 yards on 36 carries with one touchdown in a 23-17 win at Middle Tennessee. Dunbar had a total of 272 all-purpose yards. He went over the 1,000-yard rushing mark, making him the second back in school history to have back-to-back 1,000-yard rushing seasons.
Defense:
FIU DB Anthony Gaitor. Limited top Sun Belt all-purpose player
Jerrel Jernigan
to 32 receiving yards in a win over Troy. Also had eight tackles.
Special teams:
North Texas K Zach Olen. Went 3-for-3 on field goal attempts and 2-for-2 on PAT attempts for a total of 11 points in the victory.
WAC
Offense:
Nevada quarterback
Colin Kaepernick
. Had 324 yards and two touchdowns in a 35-34 win at Fresno State. Kaepernick completed 16-of-26 passes for 171 yards and rushed for 153 yards and two touchdowns on 16 carries.
Defense:
Louisiana Tech safety Javontay Crowe. Had a team-high nine tackles, including six solo, and his first career interception in a win at New Mexico State.
Special teams:
Boise State punt returner
Chris Potter
. Returned a punt 76 yards for a touchdown within the first minutes of the game at Idaho. He ended the night with four punt returns for a total of 106 yards.
November, 15, 2010
11/15/10
2:00
PM ET
Let's take a look at the good and the bad for the non-AQs in Week 11.
[+] Enlarge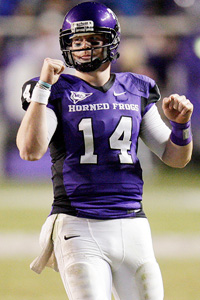 AP Photo/Mike FuentesQuarterback Andy Dalton and TCU slipped in the polls after a 40-35 win against San Diego State.
The good:
TCU and Boise State are still in the national championship conversation, though the debate is about their credentials more than anything else. The Broncos beat Idaho 52-14, and have now baten their WAC opponents by an average score of 50-8. For those who wonder why TCU dropped in the human polls after a 40-35 win against San Diego State, the Broncos beat a Hawaii team with the same record as San Diego State 42-7 at home. … Tulsa has won four straight games and is now in the hunt for the Conference USA West title. The Golden Hurricane are tied atop the West with SMU. But since the Mustangs hold the head-to-head win, Tulsa needs to win out and hope for SMU to slip in one of its final two games. … Northern Illinois has won seven straight for the first time since 2003. … FIU is in the driver's seat for the Sun Belt after beating Troy for the first time in school history. … BYU has won three straight, including its past two games 104-17. … FAU (4-5) has won three straight, and got its third one-point win of the season, 24-21 against Louisiana. ... North Texas has gone over 400 yards of total offense in all three games under interim head coach Mike Canales after only eclipsing that mark three times in the first seven games this season before he took over.
The bad:
This has been a tough season for Wyoming. The Cowboys went to a bowl game last season for the first time since 2004, and beat Fresno State 35-28 in a double-overtime thriller. But nothing has gone right this season. Wyoming (2-9) is winless in Mountain West play, and has lost six straight, including back-to-back losses to New Mexico and UNLV. That would make the Cowboys the worst team in the league. They have won just one game against FBS competition this year, at Toledo, and close out the season Saturday against Colorado State. Wyoming ranks near the bottom of the nation in passing offense, rushing offense, points scored and points allowed, and is No. 119 in total offense and No. 105 in total defense. The team has also had to overcome the death of Ruben Narcisse, killed in a car accident in September.
The heartache:
Central Michigan found itself down 38-24 with seven minutes to play against Navy, but the Chippewas never gave up, scoring with 4 seconds left to make it 38-37. Coach Dan Enos elected to go for two, because he thought his team had momentum and would have a hard time stopping Navy in overtime. But the 2-point conversion pass from
Ryan Radcliff
to
Kito Poblah
went over his head. Of their eight losses this season, five have been by a touchdown or less. "The entire team supported the decision to go for two," Enos said. …
Arkansas State was 4-5 heading into its game against Western Kentucky, with bowl hopes on the line. The Red Wolves erased a 21-7 halftime deficit and led 28-21 with 54 seconds left. But a bad snap in punt formation gave Western Kentucky the ball deep inside Arkansas State territory.
Willie McNeal
caught a 7-yard touchdown pass from
Kawaun Jakes
with no time left to send the game into overtime. Western Kentucky won it 36-35 when defensive back Derrius Brooks scored on a 2-point conversion on a reverse. Arkansas State coach Steve Roberts had no explanation for the botched snap. Arkansas State finishes up at Navy and FIU.
A few more helmet stickers:
UNLV running back
Tim Cornett
scored four touchdowns in a win against Wyoming, making him the first Rebel to score four touchdowns in a game since 1994. … Ball State safety Sean Baker intercepted two passes and returned a fumble 26 yards for a touchdown in a 20-3 win at Buffalo. … Miami (Ohio) freshman receiver
Nick Harwell
had 125 yards and a touchdown in a 24-21 win against Bowling Green. He now has 43 receptions for 600 yards over the past five games, after making just two catches for 15 yards in his first five games.
A few injury items to note:
Boise State suffered a big blow with the news that middle linebacker Byron Hout is out for the season with a broken foot. It's unclear whether he will be ready for a bowl game. … Ohio quarterback
Boo Jackson
is doubtful for Tuesday's game at Temple after getting injured in a bar fight a few weeks ago.
Phil Bates
has been hobbled by injury, but is expected to start. … Miami (Ohio) quarterback
Zac Dysert
(ribs) is a game-time decision for Wednesday's contest at Akron. … Buffalo quarterback
Alex Zordich
(ribs) is out for the season, and
Jerry Davis
is expected to start against Eastern Michigan.
Week 12 look ahead:
A few big games coming up: MAC East Division matchup between Ohio and Temple on Tuesday night. Both teams have one loss in conference. Fresno State is at No. 4 Boise State on Friday night. No. 23 Utah is at San Diego State, while Army and Notre Dame play in the first game at Yankee Stadium.
November, 11, 2010
11/11/10
9:11
AM ET
Miami (Ohio) has made one of the best turnarounds in college football this season, and it continued on a foggy Wednesday night in Bowling Green.
The RedHawks became bowl eligible for the first time since 2005 after winning the game on the final play. Kicker Trevor Cook returned from a knee injury to boot a 33-yard field goal with no time left, lifting
Miami to the 24-21 victory
. Miami is in a three-way tie atop the MAC East with Temple and Ohio. Those two teams play next Tuesday. Miami (6-4, 5-1) already lost to Ohio, but plays Temple to close out the season on Nov. 23.
[+] Enlarge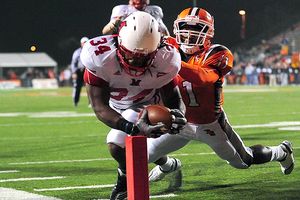 Andrew Weber/US PresswireThomas Merriweather rushed for 88 yards and a touchdown.
Miami went 1-11 last season and was picked to finish fifth in the MAC preseason poll. The RedHawks have not played in a bowl game since 2003. Going into the game, they were tied with Maryland for the most improved team in the country. Both had a four-game improvement over last season. Maryland was 2-10 in 2009.
After jumping out to a 21-7 lead against Bowling Green, Miami saw the Falcons tie the game. The RedHawks set up their final scoring drive when
D.J. Brown
got his first interception. Cook had missed the last two games with a knee injury, and missed a 41-yard field goal on the first play of the fourth quarter. But he
redeemed himself in a big way with the final kick
.
As for the other Miami playmakers, receiver
Nick Harwell
has come on strong in the last few games. He had 10 catches for 125 yards against Bowling Green and now has 43 catches for 600 yards in the last five games. In his first five games, he had just two grabs for 15 yards.
As for Bowling Green (2-8, 1-5), this has been a season to forget. A year removed from going to the Humanitarian Bowl, the Falcons have struggled through youth and inexperience. They have lost four games this season on the final play of the game.
November, 1, 2010
11/01/10
4:49
PM ET
Here are the non-AQ players of the week, as selected by each conference:
Conference USA
Offense:
UAB running back
Pat Shed
, UCF running back
Ronnie Weaver
. Shed ran for a career-best 176 yards and a pair of touchdowns in a
50-49
double overtime win against Southern Miss. He finished with 235 all-purpose yards as the Blazers posted their first win in Roberts Stadium. Weaver ran for a career-high 180 yards on 30 carries with two touchdowns in a
49-35
win against East Carolina.
Defense:
Tulsa linebacker Shawn Jackson. His interception with 37 second left in the first half gave Tulsa the momentum in its
28-27
win against Notre Dame. He also had six tackles, a sack and two quarterback hurries.
Special teams:
Tulsa punt returner
Damaris Johnson
. Had a 59-yard punt return for a touchdown, the second of his career in the win. He is 25 yards shy of tying the Conference USA all-time kickoff return record.
MAC
East Division
Offense:
Miami receiver
Nick Harwell
. Had eight receptions for 97 yards and two touchdowns in a
21-9
win at Buffalo.
Defense:
Bowling Green defensive tackle Chris Jones. Had six tackles, five tackles for loss, three and a half sacks and recovered a fumble in a
17-14
win at Central Michigan.
Special Teams:
Kent State punter Matt Rinehart. Averaged 52 yards on four punts as the Flashes posted a 43-yard net in a
33-14
win against Ball State.
West Division
Offense:
Western Michigan receiver
Jordan White
. Had a career-high 14 receptions for a career-high 180 yards and one touchdown in a
28-21
loss to Northern Illinois.
Defense:
Northern Illinois defensive end Jake Coffman. He had four tackles and the game-saving interception on Western Michigan's final offensive play to seal the win.
Special Teams:
Toledo punter Vince Penza. Averaged 40.6 yards on five punts in the Rockets'
42-7
win at Eastern Michigan.
Mountain West
Offense:
San Diego State receiver
DeMarco Sampson
. Had seven receptions for 175 yards and two touchdowns in a
48-38
win against Wyoming. He has three straight 100-yard games.
Defense:
Utah safety Brian Blechen. Had a career-high nine tackles, an interception and a fumble recovery in a
28-23
win at Air Force.
Special teams:
San Diego State punter Brian Stahovich. Kicked the longest punt in San Diego State history at 89 yards in the second half against Wyoming. It was his only punt of the day.
Sun Belt
Offense:
North Texas running back
Lance Dunbar
. Ran for a season-high 215 yards and three touchdowns in a
33-6
win at Western Kentucky. The 215 yards was the most by any player in the Sun Belt this season and the third-highest rushing total in the nation this week.
Defense:
ULM Darius Prelow. Had six tackles and an interception in a
28-14
upset win against Troy. The defense held Troy to its lowest point total in a Sun Belt game since 2006.
Co-Special Teams:
Louisiana kicker Brett Baer, North Texas kicker Zach Olen. Baer made a field goal and four extra-point attempts, and had two perfectly placed onside kicks in a loss at Ohio. Olen made two field goals, including a 48-yarder, the longest by a North Texas kicker since 2005.
WAC
Offense:
Hawaii quarterback
Bryant Moniz
. Went 27-of-38 for 326 yards and three touchdowns in a
45-10
win against Idaho. He also rushed seven times for 43 yards and another score. Moniz is the first quarterback in the nation to reach 3,000 yards this season (3,247).
Defense:
Hawaii S Mana Silva. Had nine tackles (six solo), including one for a loss of 13 yards, and intercepted a pass in the win against Idaho.
Special teams:
New Mexico State kicker Tyler Stampler. Went 3-for-3 on field goal attempts in a
29-27
win against San Jose State. He made a 42-yard field goal as time expired in the first half and then added a 25- and a career-long 43-yarder in the fourth quarter of a tight game.