November, 23, 2011
11/23/11
11:00
AM ET
Virginia coach Mike London knows the facts: Virginia Tech has won 11 of the past 12 games in the series, and each of the past seven.
This team, though, is different, London said.
You'd better believe it is.
[+] Enlarge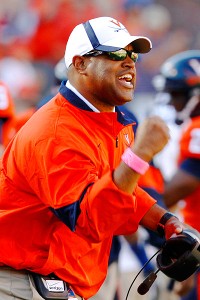 AP Photo/Steve HelberMike London took over a team that went 3-9 in 2009 and has them one victory away from winning the Coastal Division.
For three straight seasons prior to this one, Virginia had a losing record. Now, in only London's second season, the Cavaliers are heading to a bowl game and playing on Saturday for the Coastal Division title for the first time since 2007. The turnaround is ahead of schedule and has far exceeded expectations for a team that was picked by the media to finish fifth in the Coastal Division standings this year.
So how'd he do it? What, exactly, is different?
London will tell you at length about the off-field process, the effort to get the players more involved in the classroom and in community service, to make them winners off the field before they walked on it. He has done that, and weeded out some players who couldn't cut it academically or socially. He has changed the culture, and he has changed the mentality on the field, but there are also some big differences on the field that have helped lead to the Cavaliers' immediate success.
You can point to the defense, which is another year older and wiser and more comfortable in the second year under coordinator Jim Reid. You can point to the quarterback,
Michael Rocco
, who has been a steady factor over the four-game winning streak, completing 61.2 percent of his passes for seven touchdowns and one interception. You can point to the work of offensive coordinator Bill Lazor, who has dramatically improved the Cavaliers' offensive numbers. The staff has a good blend of promising young talent it recruited and veteran players who remained from the previous staff. It's important to remember that Al Groh did not leave the cupboard bare, especially on defense. The staff also has had the same five starters on the offensive line for the past 11 games.
"They're a good football team," Virginia Tech coach Frank Beamer said. "They're for real. They're good, and they're playing really well and playing with a lot of confidence, as they should. They've done a good job up there."
UVa has amassed more than 400 yards of total offense in 11-of-23 games since Lazor brought his pro-style philosophy to Charlottesville. The Oct. 22 game against NC State (249 yards) and UVa's 2010 season finale (291 yards) are the only games during London's tenure when the Cavaliers failed to reach at least 300 yards of total offense. UVa enters Saturday's game against the Hokies ranked No. 3 in the ACC and No. 42 in the nation with an average of 411.0 total yards per game.
Defensively, Virginia has forced a turnover in every game this season and is tied for No. 5 in the nation and No. 1 in the ACC in red zone defense. Virginia's front seven has been a strength, and it should be with the veteran leadership of senior defensive tackles Matt Conrath and Nick Jenkins, and senior defensive end Cam Johnson.
While Virginia has overachieved in the big picture, the expectations from the start were that this was going to be a good defense. All of it, though, has added up to an ACC contender quicker than most expected.
The question now is whether London can finish what he has started. It's an accomplishment in itself, though, to be in a position to try.
"It's great to know that in November we're still talking about Virginia football being relevant," London said. "It's great to know that there's a lot at stake here. It's an opportunity to play in the last game of the year that decides whether you have a chance to play for goals that you've set coming into this season. They've been on this side of the ledger for a long time. This is new, unchartered territory for us.
"There doesn't have to be any fake hype or fake talk, anything like that. We don't need any Twitter account stuff, Facebook stuff, going back and forth. We're in-state rivals, and it would be characterized to say that's how they feel about us and we feel about them.
"You know and you respect the men that you're going against, but you also understand that you're the in-state rival. You want to beat the in-state rival in everything that you do. Right now, they've had a number of years of success in that regard. We stand here and get ready to play and want to be able to challenge them in recruiting. We want to be able to challenge them on the football field. And that's what you do. I can't put it any other way."
April, 4, 2011
4/04/11
9:00
AM ET
The focus at Virginia this spring has been on the quarterbacks, as coach Mike London needs to name a new starter, and
Michael Rocco
led the group on Saturday in the Cavaliers' spring game at Scott Stadium.

Rocco completed 10 of 22 passes for 95 yards for the Blue team and seven of 10 throws for 57 yards for the Orange team.
Ross Metheny
, who also played for both teams, combined to complete 3 of 6 passes for 60 yards. True freshman David Watford completed 1 of 5 passes for 6 yards with both teams.
Michael Strauss
completed 6 of 14 attempts for 85 yards.
The teams played four 10-minute quarters in a standard game format that included special-teams play. The Blue team featured the majority of the Cavaliers' returning starters on offense while the Orange team included the returning starters on defense. The Blue team won 17-7. Veteran receivers
Kris Burd
,
Matt Snyder
,
Tim Smith
and
Bobby Smith
did not play because of injuries. Snyder, Jones, strong safety Rodney McLeod and defensive tackle Nick Jenkins were named team captains for the 2011 season.
Offensive highlights:
Perry Jones scored on a 15-yard reception from Rocco and had a game-high five receptions for 35 yards and 7 yards on 11 carries.
Rocco threw a 3-yard touchdown pass to Brendan Morgan.
Robert Randolph made a 40-yard field goal.
Jones Khalek Shepherd had 15 yards on 10 attempts.
Defensive highlights:
No player had a run longer than 8 yards.
Steve Greer led all defenders with nine tackles, a pair of sacks and one pass breakup. The two teams combined for 19 sacks since quarterbacks were whistled down when touched by a defensive player. Billy Schautz accounted for three solo sacks.
Mike Ahunamba and Henry Coley both had five tackles to lead the Blue team.
Chase Minnifield intercepted Rocco on the opening drive when the receiver slipped while running his route.
Dom Joseph intercepted Strauss and returned it 65 yards for a score.