August, 21, 2014
Aug 21
9:00
AM ET
Today, ESPN.com released its preseason All-American team. Before Big 12 media days, we released our
individual
preseason All-Big 12 ballots. But to pair with the All-American team, we debated, argued and eventually settled on one Big 12 blog, consensus preseason All-Big 12 team.
Here we go:
Offense
QB: Bryce Petty, Baylor
Easy choice. Petty is the reigning Big 12 Offensive Player of the Year after he threw for 4,200 yards and 32 touchdowns with just three picks. He should be even better in Year 2 as a starter.
RB: Johnathan Gray, Texas
Malcolm Brown
finished strong in place of Gray the past season, but there's a reason Gray was Texas' No. 1 back before he suffered an Achilles injury. Gray is healthy again, which gives Texas the best one-two punch at running back in the league.
RB: Shock Linwood, Baylor
Despite being Baylor's third-string running back the past season, Linwood still finished sixth in the Big 12 in rushing. He's the featured back now and could wind up the league's top rusher.
WR: Tyler Lockett, Kansas State
Lockett was literally uncoverable at times last year. Just ask Texas, Oklahoma and Michigan, which surrendered a combined 631 receiving yards and six touchdowns to Lockett. With
Jake Waters
settled in at quarterback, Lockett could put up even bigger numbers in 2014.
WR: Antwan Goodley, Baylor
Goodley might have been the most improved player in the league the past season. He was also one of the most dominant, with 1,339 receiving yards and a national-best five catches of 60 yards or more.
TE: E.J. Bibbs, Iowa State
With
Jace Amaro
gone, Bibbs takes over as the top receiving tight end threat in the league. Only Amaro had more catches and yards than Bibbs among Big 12 tight ends the past season.
OT: Spencer Drango, Baylor
With Drango in the lineup, Petty was sacked only eight times through the Bears' first nine games last year. After Drango was sidelined with a back injury, Petty was sacked nine times in Baylor's last four games. Suffice it to say, Petty is glad to have Drango back protecting his blindside.
OG: Le'Raven Clark, Texas Tech
The Red Raiders previously had plans to move Clark inside to guard, but they still have him manning left tackle this season. Whether he stays at the bookend or slides to guard, Clark is one of the most dominating offensive linemen in the league.
C: BJ Finney, Kansas State
Finney owns a Big 12-best 39 starts over the past three years. The former walk-on is also a two-time first-team All-Big 12 selection and will be the favorite to garner such recognition again as the linchpin of the K-State offensive line.
OG: Cody Whitehair, Kansas State
Whitehair is capable of manning either guard or tackle, but the Wildcats will be showing their trust in him by asking him to protect Waters' blindside this season.
OT: Daryl Williams, Oklahoma
Williams is the best piece on the league's best offensive line, which returns four starters and plenty of capable backups.
AP: Jakeem Grant, Texas Tech
Grant finished sixth in the league in receiving yards per game, despite being the third option in Tech's passing attack the past season. Grant is now the first option in the passing game, as well as an electric playmaker on special teams.
K: Michael Hunnicutt, Oklahoma
The Sooners have never had an All-American kicker before, but they have a strong candidate in Hunnicutt, who converted 24 of 27 field goals the past season.
Defense
DE: Ryan Mueller, Kansas State
In 2013, Mueller finished with 11.5 sacks and 18.5 tackles for loss, which were second in the league only to Big 12 Defensive Player of the Year
Jackson Jeffcoat
. Mueller, who also forced four fumbles, has one of the conference's best noses for finding the ball.
DT: Chucky Hunter, TCU
The Horned Frogs still had a formidable front the past season, even without
Devonte Fields
, due in large part to Hunter. TCU won't have Fields again. But Hunter is back to anchor a defensive line loaded with quality players.
DT: Malcom Brown, Texas
This former blue-chipper broke out the past season with 68 tackles, including 12 for loss. He and
Cedric Reed
team up to form the best inside-outside defensive line combination in the league.
DE: Cedric Reed, Texas
Reed was third in the Big 12 in 2013 with 10 sacks, fourth with 19 tackles for loss and tied for first with five forced fumbles. He gives the Longhorns a chance to feature the Big 12 Defensive Player of the Year for the second straight season.
LB: Eric Striker, Oklahoma
When it comes to rushing the passer, there's no one better in the league. Striker has spent this offseason refining other parts of his game to become a more complete player. But his pass rushing alone makes him one of the top players in the league.
LB: Ben Heeney, Kansas
Heeney was a tackling machine last year for a defense that performed valiantly despite getting little help from its offense. Heeney will get plenty of help from his defense, though, which returns eight other starters.
LB: Bryce Hager, Baylor
Hager has notched 195 tackles over the past two seasons, while twice earning second-team All-Big 12 honors. With
Ahmad Dixon
and Eddie Lackey gone, he takes over as the leader of a defense angling to prove it can be as good as the past year's.
CB: Quandre Diggs, Texas
Diggs, who has never been afraid to speak his mind, is the heart and soul of the Longhorns. If the rest of the team takes on his mentality, Texas could have one feisty team in Charlie Strong's first season.
CB: Daryl Worley, West Virginia
Despite being just a second-year player, Worley has already taken over as one of the vocal leaders of the West Virginia defense. He's also already one of the best cover corners in the league.
SS: Sam Carter, TCU
Carter has nine interceptions the past two years, the most of any returning Big 12 player. He leads arguably the best secondary in the league, too.
FS: Karl Joseph, West Virginia
Joseph has started all 25 games for the Mountaineers since he stepped foot in Morgantown. No other returning Big 12 defensive back has more career tackles than Joseph's 170.
P: Nick O'Toole, West Virginia
The "Boomstache" ranked 15
th
nationally last year, with an average of 44.1 yards per punt. He also has the best mustache in the league, which has to count for something.
August, 13, 2014
Aug 13
1:00
PM ET
In addition to being one of the conference's top punters,
Nick O'Toole
also manages to find time to have a great mustache. We sat down with the West Virginia great at Big 12 media days to learn all about his facial hair and his "Boomstache" reputation.
Can you tell me about the maintenance required for the mustache?
Nick O'Toole:
The maintenance is I just let it flow and I have to shave everything else. Other than that, it's not too bad. Other than dates and events like this, I usually just let it go. It kind of has its own curl.
Do you wax and twirl it around a pencil? I hear that's one method.
[+] Enlarge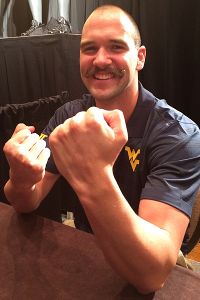 Max Olson/ESPN.comWest Virginia punter Nick "Boomstache" O'Toole shows off his crowd-pleasing facial hair.
O'Toole:
It's definitely some wax. I took some wax and get it all and get behind it and curl it up.
When did this become a passion and commitment of yours?
O'Toole:
It definitely became a commitment after the
roster picture
my first year here at WVU. I had a great game and Pat McAfee, everyone referred to him as "Boomstick" because of his powerful leg. After I averaged like 50 yards against William & Mary, everyone started calling me "Boomstache." I just thought it was a funny thing and kept it. The mullet and the 'stache was a huge hit with the West Virginia fans.
So once you've branded yourself like that, you're stuck, right?
O'Toole:
Definitely. I've told a couple people here that if I shave it now, I'll probably get some hate mail from some fans.
Do you appreciate the fan-favorite status you have now?
O'Toole:
I enjoy having people laugh, and if I can make them laugh, I love that. We were at Baylor and our kicker,
Michael Molinari
, he gets mad at me because I came off the field and the fans were chanting 'Olé, Olé, Olé,' but it was 'O'Toole, O'Toole, O'Toole.' He comes off and says, 'I hate you man!' I asked why. He said, 'Even at away games, you're the fan favorite.' I just started laughing.
Were you impressed by the Oregon State kicker who shaved his chest last year?
O'Toole:
Yeah,
Trevor Romaine
. He's from Centennial High School, I actually kick with him on weekends when I'm back home in California. He's a goofy guy, too. I saw that picture with the big beard and the glasses and thought it was brilliant. Trevor is a great guy.
You're wearing USA socks today. What were your other options
?
O'Toole:
I had to go USA. I have a couple pairs, I think nine. I have Jesus on one. I have Sugar Daddy socks. Beach balls. Anchors. Captains. Some floral socks. I don't have any argyles. We've elevated to a new level.
I notice you have a scar on the top of your head. What's the story there?
O'Toole:
I had surgery when I was two months old. My soft spot closed, and so at four months, they had to cut me open and cut a strip of skull out. That's been a scar I've had my whole life. My parents were worried how I would respond to it when I was growing up. I just used to tell people it was a shark bite and they'd laugh and think it was awesome. It doesn't bother me too much.
How would you sum up your career at West Virginia thus far?
O'Toole:
It's been a wild ride. It's awesome. Coming in and having that first game against Williams & Mary and doing as well as I did in my first Division I game, it was awesome for me and my confidence. It's like, 'OK, I'm here and this is why I'm here.' All I can do is keep getting better and I strive for that every day.
Do you enjoy the long, long trips to Big 12 road games? What's your perspective on that?
O'Toole:
I love it. I've always loved away games. At home games, you have the advantage and all that. But away games give such a different feeling. You're going to some place new, you see new sights. I was telling my dad, this is the most I've ever traveled. I've been to more states in the past year than I have in my entire life.
Are you a guy who dresses up for road trips to complement the 'stache?
O'Toole:
I definitely try to dress up as much as I can. I love putting on some slacks and nice shoes. With a mustache this classy, you have to look classy.