February, 9, 2012
2/09/12
4:00
PM ET
It is time to evaluate the receiver position in the Big East. For the postseason rankings, I am going to include tight ends as well. Before the season started, I did them separately, but it makes more sense to do them together.
This is a position group that has a clear-cut 1-2. To me, the rest are pretty interchangeable, as no other group really stood out to me this season.
1. West Virginia.
Slam dunk to have the Mountaineers on top, given the way
Tavon Austin
and
Stedman Bailey
performed this season. Each had 1,000-yard seasons -- the first time in school history two players hit that mark. Bailey led the Big East with 12 receiving touchdowns, and was No. 1 in receiving yards per game. Austin was third in receiving yards per game and second in receptions per game. Add in
Ivan McCartney
, also ranked among the top-10 receivers in the Big East and that says it all.
Preseason ranking: No. 2.
[+] Enlarge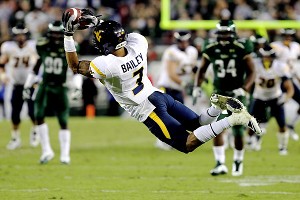 Kim Klement/US PRESSWIREWest Virginia's Stedman Bailey led the Big East in touchdowns and yards receiving per game.
2. Rutgers.
Mohamed Sanu
had an unbelievable season for Rutgers with a school and Big East record 115 receptions. He dominated at receiver, leading the league in receptions per game and finishing second in receiving yards per game. That domination meant his teammates did not get as many opportunities --
Brandon Coleman
only had 17 receptions;
Mark Harrison
14,
Quron Pratt
had 32. But when you have an unstoppable force like Sanu, you keep going to him.
Preseason ranking: No. 1.
3. Syracuse.
When you think of the Orange, you don't necessarily think of high-profile receivers. But
Alec Lemon
and
Nick Provo
teamed to have outstanding seasons this year. Both posted career years, Provo made the Big East first team and Lemon made the second team. The two combined for 119 catches and 13 touchdowns. Depth wasn't great, but the performance of Lemon and Provo make up for that and vaults Syracuse here.
Preseason ranking: No. 5.
4. Cincinnati.
I thought the Bearcats receivers had a down year.
D.J. Woods
didn't really live up to his potential, and
Anthony McClung
led the team with 683 yards. That is the fewest yards for the team's leading receiver since 2006. What really sticks out: when
Zach Collaros
got hurt, the receivers as a whole never really stepped up the way they should have to help
Munchie Legaux
.
Preseason ranking: No. 3.
5. Louisville.
The Cardinals did get much better play out of their receivers, and were helped with the impact freshman
DeVante Parker
and
Eli Rogers
made. They didn't have anybody with eye-popping numbers, but they did have consistent enough performances out of this group.
Preseason ranking: 7.
6. USF.
The Bulls were really hurt by injuries at this position, and never really had a go-to guy emerge.
Sterling Griffin
was en route to a good season before he got hurt;
A.J. Love
got hurt as well. That left the position in the hands of many young, inexperienced guys. I thought
Deonte Welch
really had a nice second half. He was their best receiver when Griffin was out.
Preseason ranking: 6.
7. UConn.
Considering the way the Huskies struggled in the pass game,
Kashif Moore
,
Isiah Moore
and
Ryan Griffin
all put together solid seasons for UConn. Both Moores ranked in the top 10 in the Big East in receiving, and Griffin was the second-best tight end behind
Nick Provo
. Depth was lacking at the position -- as only five players caught double-digit passes, and only three are true wide receivers.
Preseason ranking: 8
.
8. Pitt.
The Panthers got their tight ends and running backs involved heavily in the pass game, probably because there was depth lacking at the actual receiver position.
Devin Street
put together a solid season, with 754 yards receiving, and
Mike Shanahan
was decent. But otherwise, big plays were lacking. Passing game woes obviously had an impact.
Preseason ranking: 4.
January, 31, 2012
1/31/12
9:00
AM ET
With one day to go before signing day, it is worth taking a look back at how the players on the Big East first-team fared when they were coming out of high school.
You will see, once again, that recruiting rankings generally have nothing to do with the way a player will do in college. So anybody freaking out about what your school does or does not have in the way of commitments for 2012, just take a deep breath. And look at how some of the most unheralded players out of high school become some of the best in the Big East.
I used ESPN recruiting rankings. Note only one player honored on the first team was ranked as an ESPNU150 player. Many on defense came in as either athletes, receivers or quarterbacks.
Offense
[+] Enlarge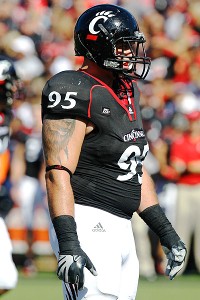 AP Photo/Al BehrmanCincinnati defensive tackle Derek Wolfe -- the 2011 co-Big East Defensive Player of the Year -- was unranked coming out of high school.
WR Mohamed Sanu, Rutgers.
Sanu was ranked the No. 18 safety in the nation coming out of high school in 2009, with a scout grade of 80.
WR/RS Tavon Austin, West Virginia.
Austin was rated the No. 41 running back in the nation coming out of high school in 2009 -- three spots behind De'Antwan Williams (Rutgers) and one spot behind Jason Douglas (Pitt). Know who else was ranked ahead --
Victor Marc
and
Bradley Battles
of USF.
OT Justin Pugh, Syracuse.
Unranked at his position for the class of 2009, Pugh got a scout grade of 40. Talk about making the most of somebody who was "undervalued."
OT Don Barclay, West Virginia.
Ranked No. 65 at his position in the class of 2007. One other West Virginia player was ranked athead of him, at No. 55 --
Gino Gradkowski
, who transferred to Delaware.
OG Randy Martinez, Cincinnati.
Rated the No. 161 defensive end in the class of 2007.
OG Art Forst, Rutgers.
Forst was ranked the No. 25 offensive tackle in the class of 2008 -- the second-highest Big East player on the list behind
Lucas Nix
of Pitt.
OG Andrew Tiller, Syracuse.
Tiller was unranked and did not even get a scouts grade when he was being evaluated in 2009 out of Nassau Community College.
C Moe Petrus, Connecticut.
The best center in the Big East was unranked and had no scouts grade when he signed with UConn in 2007.
TE Nick Provo, Syracuse.
Provo was ranked No. 86 at his position in the class of 2007
QB Geno Smith, West Virginia.
Smith has lived up to his billing -- ranking No. 97 on the ESPNU150 in the class of 2009. He was the No. 8 player at his position and No. 15 in the state of Florida.
RB Isaiah Pead, Cincinnati.
The No. 152 ranked running back in the class of 2008, Pead got a scout grade of 71. He just won MVP Honors on the Senior Bowl.
RB Ray Graham, Pittsburgh.
Rated the No. 66 running back in the class of 2009, Graham was rated behind West Virginia's Daquan Hargrett (left program) and USF's
Adaris Bellamy
(academics).
RB Antwon Bailey, Syracuse.
Ranked the No. 128 running back in the class of 2008 -- well behind fellow signee Averin Collier (No. 42). Collier was considered the gem of the class, but academics derailed his career.
K Dave Teggart, Connecticut.
Teggart was ranked the No. 25 kicker in the class of 2007.
Defense
DL Derek Wolfe, Cincinnati.
Wolfe was unranked at his position in the class of 2008 and got a scout grade of 40. Four years later, he was the co-Big East Defensive Player of the Year.
DL Kendall Reyes, Connecticut.
Reyes also was unranked in his position in the class of 2007 with a scout grade of 40. Believe it or not, he came into UConn at 220 pounds (he's now around 300) and now has a shot to be a mid-round draft pick.
DL Chandler Jones, Syracuse.
Jones came to Syracuse as a 230-pound tight end, unranked and giving a scout grade of 40. Now he is headed to the NFL draft as a projected second-to-third round pick.
DL Bruce Irvin, West Virginia.
Irvin took an
incredible journey to West Virginia
through Mt. SAC junior college after dropping out of high school.
LB JK Schaffer, Cincinnati.
Schaffer was ranked the No. 93 outside linebacker in the class of 2008, behind such players as
Tyler Urban
,
Marvin Booker
(Rutgers), Quavon Taylor (USF) and Marcus Witherspoon (Rutgers).
LB Khaseem Greene, Rutgers.
No ranking or scout grade for Greene, who went to prep school before arriving at Rutgers.
LB Najee Goode, West Virginia.
Goode was a quarterback and linebacker in high school who was not ranked.
CB Adrian Bushell, Louisville.
Bushell was ranked the No. 21 cornerback in the class of 2008 and originally signed with Florida. After playing at junior college, he made an immediate impact with the Cardinals.
CB Keith Tandy, West Virginia.
Tandy was ranked the No. 207 quarterback in the nation in the class of 2007. The same group that featured Jimmy Clausen and Ryan Mallett.
S Drew Frey, Cincinnati.
Frey was a receiver coming out of high school and unranked, with a scout grade of 40.
S Hakeem Smith, Louisville.
Smith was ranked the No. 93 receiver in the class of 2009, but his athleticism allowed him to switch to defense and emerge as one of the best safeties in the league.
S Jarred Holley, Pittsburgh.
Also a receiver in the class of 2008, Holley was ranked No. 230 at that position with a scout grade of 65.
S Duron Harmon, Rutgers.
The No. 49 athlete in the class of 2009, he was ranked below teammate
Jamal Merrell
,
Todd Thomas
of Pitt and
Kayvon Webster
of USF.
P Pat O'Donnell, Cincinnati.
O'Donnell was unranked with a scout grade of 40, but he has emerged as one of the most impressive iron men in the league.
January, 3, 2012
1/03/12
3:00
PM ET
FORT LAUDERDALE, Fla. -- The inevitable question was asked to West Virginia coach Dana Holgorsen: Any lessons learned from what
Nick Provo
did to the defense back in October that can be applied to Clemson tight end
Dwayne Allen
?
"You had to bring up the Syracuse game," Holgorsen said.
[+] Enlarge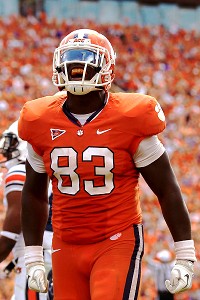 Streeter Lecka/Getty ImagesContaining tight end Dwayne Allen will be a big challenge for the West Virginia defense.
Well, yes. We had to bring up the Syracuse game. Provo had his best game of the season against the Mountaineers, catching six passes for 61 yards and three touchdowns. The way Syracuse continued to run the same play to Provo certainly was vexing for fans as they watched the game, as it seemed West Virginia could not get a handle on Provo.
Now comes Allen, the Mackey Award winner as the best tight end in the country and one of the highest-rated prospects heading into the 2012 NFL draft. West Virginia has not played anybody as good as Provo since the Syracuse game, so this will be a gigantic challenge for the defense.
"If anything we can look back at that, and if he's an eligible receiver you probably ought to cover him, and I think we've got a lot of good work on that," Holgorsen said.
Allen, at 6-foot-4 and 255 pounds, is a major matchup problem for any team. Want to know what he does well?
Everything.
"He runs like a wideout," Clemson coach Dabo Swinney said. "He blocks like a tackle and has really improved in other parts of his game as far as running with the ball after the catch, his flexibility, and he's got great ball skills, and he's got a high football IQ. So you put those things together, you're going to get a very, very good football player. He's tough and aggressive, likes to play. The moment is never too big for him. And he practices hard, studies and prepares.
"You put all that with just the physical gifts he's got. He's a great player. It's hard for people to match up with a guy like that. I mean, what do you do? Do you play nickel the whole game? Match up a little guy on him? Put a linebacker on him? He's just a tough guy for defensive people to deal with, and you'd better know where he is."
During his media availability earlier in the week, Allen knew exactly who Provo was, and said he had studied that game tape. But he also said he didn't think it was fair to judge West Virginia on that one game because it happened so long ago.
"That can be a
bit misleading
," he said. "[Provo] created mismatches, but that was in a loss. Teams look at that, correct their mistakes."
November, 7, 2011
11/07/11
1:00
PM ET
Let us take one final look back at Week 10 before moving on to Week 11.
[+] Enlarge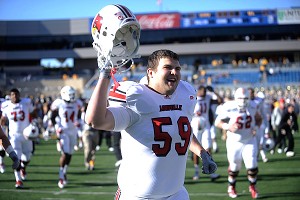 AP Photo/Jeff GentnerZach Perkins and Louisville had plenty to celebrate after beating West Virginia on Saturday afternoon.
The good:
Cincinnati moved to 3-0, but this is a team living on the edge right now. The Bearcats have faced second-half deficits of nine against Louisville, 10 against USF and 10 against Pitt in their three Big East games, but have been able to come back to win all three. I am sure coach Butch Jones would like to not have to sweat a game out, but the Bearcats are going to be in for another huge test Saturday when they play West Virginia. Both teams have high-powered offenses to be sure, but against Pitt, Cincinnati did not have a passing touchdown for the first time this season. ... Meanwhile, Louisville is on a roll, having won three straight league games for the first time since 2006. The Cardinals have been bolstered with excellent first quarters, outscoring their past five opponents 41-7 in that period. The win was particularly stunning because West Virginia has owned the series. It was the first win for Louisville since a 44-34 win at home in 2006.
Teddy Bridgewater
continued his improvement, throwing for a career-high 246 yards. He has completed more than 70 percent of his passes in back-to-back wins against Syracuse and West Virginia. ... UConn got a much-needed win against Syracuse, and relied on its ground game to get it. The Huskies had a season-high 198 yards on the ground against an FBS opponent.
Lyle McCombs
had a career-high 152 yards rushing and UConn got three rushing touchdowns after getting just one in its first seven games against FBS teams. ... Rutgers is bowl eligible for the sixth time in seven seasons after a comeback win against USF. It was the second time this season the Scarlet Knights erased a double-digit fourth-quarter deficit. They won both those games in overtime. Receiver
Mohamed Sanu
has 81 receptions for 844 yards on the season, and needs 12 catches to break Larry Fitzgerald's single-season league record of 92. ... Syracuse safety Phillip Thomas leads the Big East with six interceptions after getting two against UConn. It was his second multi-interception game of the season.
The bad:
The Bulls have lost their past four games with every breakdown imaginable. The defense faltered in losses to Pitt and Cincinnati; the offense faltered in a loss at UConn; special teams hurt bigtime in a loss to Rutgers. They have now lost four straight games for the first time in program history. Incredibly, USF has scored first in all eight of its games this season. The Bulls just cannot hang onto wins. They have had second-half leads in their past three games, but have lost all three. ... Meanwhile, West Virginia has dropped two conference games for the sixth straight season after a disappointing loss to Louisville. The Mountaineers have not finished better than 5-2 in league play since going 7-0 in 2005. It was just the third time they lost a game when scoring at least 30 points since 2000. They are now 73-3 since 2000 when scoring 30 or more points. They had a blocked field goal returned for a touchdown, the first such score against West Virginia since Virginia Tech did it in 2004. ... Syracuse forced a season-high five turnovers against Connecticut, which should be good. Except the Orange failed to turn any of them into points and lost their second straight game. It actually is the second time this season a Big East team forced five turnovers and lost (Rutgers against North Carolina). ... Pitt has had tough luck in close games, but the Panthers have themselves to blame. In four of their losses this season, they have held second-half leads. Against Iowa, Notre Dame and Cincinnati, those leads were lost in the third or fourth quarters.
Notable
Stedman Bailey
, WR, West Virginia, had a career-high eight receptions for 118 yards, his sixth 100-yard game of the season.
Justin Francis, DT, Rutgers, had a career-high 11 tackles with four tackles for loss and two sacks against USF.
Khaseem Greene, LB, Rutgers, had a career-high 17 tackles against USF.
Kevin Harper, K, Pitt, made a career-long 52-yard field goal against Cincinnati, marking the longest field goal by a collegiate player in Heinz Field history.
DeDe Lattimore, LB, USF, had a career-high 2.5 sacks against Rutgers.
Alec Lemon
, WR, Syracuse, had a career-high 157 yards receiving on nine catches against UConn, becoming the ninth player in school history with 100 career receptions.
Nick Provo
, TE, Syracuse, has 39 receptions this season, setting a single-season record for a Syracuse tight end.
Geno Smith
, QB, West Virginia, threw for 410 yards and moved into second place on the school's career passing chart with 6,197 yards. He had his third 400-yard game of the season.
Devin Street
, WR, Pitt, had a career-high eight receptions for 118 yards against Cincinnati.
Week 11
USF at Syracuse, 8 p.m., Friday, ESPN2
Pitt at Louisville, noon, Saturday, Big East Network
West Virginia at Cincinnati, noon, Saturday, ABC
Rutgers at Army, 3:30 p.m., CBS Sports Network
October, 22, 2011
10/22/11
5:50
PM ET
How about a few helmet stickers for a job well done:

Zach Collaros, QB, Cincinnati.
Collaros had a subpar first half against USF, throwing two interceptions. But he rebounded in a big way, with four second-half touchdowns -- including the game-winner with 12 seconds left -- to lift the Bearcats to
a 37-34 win
. Collaros had two touchdown runs and three touchdown passes, and threw for 389 yards for his first 300-yard game this season. He also added 21 yards on the ground. Twice, he led his team from deficits in the fourth quarter to win.
Chandler Jones, DE, Syracuse.
Jones made his return to the field after getting hurt in the season opener and made a huge statement in
a 49-23 upset win
over No. 15 West Virginia on Friday night. He finished with six tackles and a career-high two sacks to key a defensive effort that pushed around and stymied West Virginia quarterback
Geno Smith
.
Ryan Nassib, QB, Syracuse.
Nassib was the best quarterback on the field against West Virginia, going 24-of-32 for 229 yards with four touchdown passes. He also added a touchdown run in his best game of the season.
Nick Provo, TE, Syracuse.
Provo had six receptions for 61 yards in the win over the Mountaineers. Three of those receptions went for touchdowns, the most touchdown catches for any Big East player in a game this season and the second-most ever in one game by an Orange tight end (Tony Gabriel had four against Miami in 1970).
Jeremy Wright, RB, Louisville.
Wright ran for 108 yards on 11 carries in
a 16-14 win over Rutgers
on Friday night, becoming the first Cardinals player to get over 100 yards this season. Only three Louisville players since 1987 have run for 100 yards in a game on fewer carries: Henry Miller in 2001, Eric Shelton in 2004 and George Stripling in 2005.
October, 21, 2011
10/21/11
11:52
PM ET
The nightmare scenario unfolded for the Big East on Friday night.
Syracuse shredded the only ranked league team, taking down No. 15 West Virginia
49-23
with a game plan that worked to perfection. The Orange (5-2, 1-1 Big East) dominated the line of scrimmage, mercilessly harassed
Geno Smith
into one mistake after another and utilized their tight end the way an old-school football team would.


The result surely sapped even more respect from a league that is in desperate need of it, especially as its automatic-qualifier spot hangs in the balance. The Big East could ill afford to have its marquee team lose, let alone lose the way it did. Consider that the Mountaineers (5-2, 1-1) lost by the same margin to No. 1 LSU (47-21). Except Syracuse had won its games by an average of five points going into Friday.
Coupled with Rutgers' loss to Louisville, Cincinnati (5-1, 1-0) is the only team undefeated in league play headed into its game against USF on Saturday.
The Orange should be applauded for their performance Friday night. They completely dominated and used essentially the same game plan they executed in a stunning victory over West Virginia last season. Defensive end Chandler Jones made his return to the starting lineup and was an absolute beast, completely running roughshod over the West Virginia offensive line. Smith was sacked and completely harassed, and threw two interceptions -- including one in the end zone.
Ryan Nassib
was the best quarterback on the field, going 24-of-32 for 230 yards with four touchdown passes. What really killed West Virginia was tight end
Nick Provo
-- three of his six receptions went for touchdowns. What was an improving West Virginia defense simply could not get off the field. The Orange went 12-of-17 on third downs.
And once again, special teams really hurt West Virginia. The Mountaineers were one of the worst teams in the nation on kickoff coverage, and allowed
Dorian Graham
to return a kickoff 98 yards for a touchdown.
This was as complete an effort as you could ask for from Syracuse. Now everybody is left to wonder about a West Virginia team that has beaten just one team with a winning record (Norfolk State).
October, 10, 2011
10/10/11
3:00
PM ET
Let's take one final look back at Week 6 before moving on to Week 7.
[+] Enlarge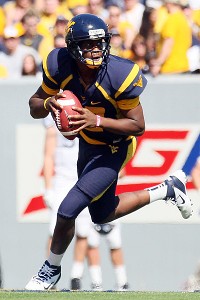 AP Photo/Chris JacksonWest Virginia's Geno Smith has the Mountaineers' offense humming.
The good:
Geno Smith
and the West Virginia offense keep rolling along, topping 40 points for the third time this season in a 43-16 win against UConn. West Virginia has now scored 20 or more points in a quarter three times this season.
Stedman Bailey
has quietly gotten himself four straight 100-yard games and has been the most consistent receiver for the Mountaineers. He now leads the league in receiving yards per game at 105.7. The defense has held its opponents to under 300 total yards in back-to-back weeks. ... Louisville might not have much to brag about on offense, but the defense should be commended for its game in a 14-7 loss to North Carolina. The Cardinals have not allowed more than 24 points in a game all season, and the team had eight tackles for loss and four sacks against the Tar Heels. They rank No. 1 in the Big East in total defense, and No. 2 in scoring defense. ... Rutgers is 2-0 in league play for the first time since 2006 and already has 22 takeaways, more than any other team in the nation. The Scarlet Knights held Pitt to a season-low 10 points in a win last week, and already have tied their win total from all of last season. ... Syracuse running back
Antwon Bailey
has rushed for 100 yards in three straight games after getting 111 yards in a win against Tulane. Quarterback
Ryan Nassib
threw two touchdown passes in the game, moving him past Troy Nunes into fourth on the school's career chart with 33.
The bad:
Now we go to the Louisville offense, which has been one of the worst in the country. The Cardinals have not scored more than 24 points all season; they have scored 24 combined points in five games this year; and they rank No. 112 in the nation in scoring offense (16.4 ppg), No. 94 in total offense (342.4 ypg) and No. 95 in the nation in rushing offense (116.60 ypg). In fact, rushing offense has not been pretty for the Big East as a whole this season. Five of the eight teams in the league rank No. 86 or worse in the country in that category. ... Pitt came into the season with high expectations for a high-octane offense. But right now, the Panthers rank No. 85 in the nation in pass offense (205.5 ypg), No. 70 in scoring offense (27.2 ppg) and No. 76 in total offense (379.2 ypg). Where else have the Panthers struggled -- turnover margin, pass efficiency and sacks allowed. Pitt is last in the nation in the latter, having given up 27. ... UConn failed to score an offensive touchdown in its loss to West Virginia, and the Huskies have now lost their Big East opener for the third straight season.
Milestone watch
UConn kicker David Teggart needs three points to reach 300 in his career.

Pitt running back Ray Graham needs just 101 yards rushing against Utah to hit the 1,000-yard mark for the season.

Syracuse tight end Nick Provo has caught at least one pass in 19 consecutive games.
Week 7 lineup
Louisville at Cincinnati, noon, Big East Network

Utah at Pittsburgh, noon, ESPNU

Navy at Rutgers, 2 p.m, ESPN3

USF at Connecticut, 3:30 p.m., Big East Network
September, 19, 2011
9/19/11
1:00
PM ET
Let us take a look at the good and the bad from Week 3, with a quick peek ahead to Week 4.
[+] Enlarge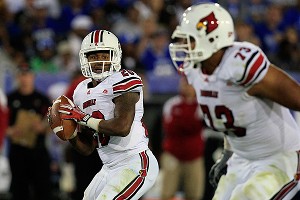 AP Photo/Ed ReinkeLouisville and RB Victor Anderson are coming off a big victory against rival Kentucky.
The good:
Big East teams went 4-3 in Week 3 and still have two undefeated teams ranked in the Top 25. West Virginia moved up to No. 16 after beating Maryland 37-31, and USF moved up to No. 18 with a 70-17 win over Florida A&M. College GameDay will be in Morgantown this weekend as the Mountaineers host No. 2 LSU in a critical game, not only for the Big East, but for West Virginia as well. Keep this in mind: West Virginia is 70-2 since 2000 when scoring 30 or more points. ... Meanwhile, Louisville pulled off the upset of the week with a 24-17 win against Kentucky, breaking a four-game losing streak against their in-state rival. Louisville has held each of its first three opponents to fewer than 300 yards of offense. ... Though Syracuse lost to USC, quarterback
Ryan Nassib
had a streak of 22 consecutive completed passes spanning the games against Rhode Island and USC. Nassib finished four shy of the NCAA record of 26, held by California's Aaron Rogers.
The bad:
You already know the bad. The games were an afterthought this weekend after news broke that Syracuse and Pitt were ready to hightail it out to the ACC. Gamedays are supposed to be sacred. But when it comes to expansion, nothing is sacred anymore.
As for on-the-field action, UConn and Pitt each blew fourth-quarter leads and lost. The Huskies had their nine-game home winning streak stopped against Iowa State. But there was nothing worse than seeing Pitt blow a 24-3 lead and fall to Iowa 31-27. Iowa scored three touchdowns in seven minutes in the fourth quarter to cap the greatest comeback in school history. The fourth quarter has been a problem for Pitt all season. The Panthers have given up 41 points in the final period in three games. They allowed teams like Buffalo and Maine to get closer than they should have been, and obviously ended up losing to Iowa because of those late-game breakdowns. Chas Alecxih told reporters after the game:
"[The team leaders],
we have to step up.
This is our team and we're up, what was it, 24-3 at the end of the third and lose?
That is a joke, that is not going to happen again, I will tell you that."
Career days:
B.J. Daniels, QB, USF.
Threw for a career-high 382 yards and four touchdowns.
Isiah Moore, WR, UConn.
Had career highs of eight catches and 143 receiving yards in a loss to Iowa State.
Nick Provo, TE, Syracuse.
Had career highs of eight receptions and 85 receiving yards against USC.
Geno Smith, QB, West Virginia.
Had career highs in completions (36), attempts (49) and passing yards (388) in a win against Maryland.
Darrell Scott, RB, USF.
Ran for a career-high 146 yards and three touchdowns.
Devin Street, WR, Pitt.
Had seven receptions for a career-high 138 yards and a touchdown against Iowa.
WR
Tavon Austin
(11 receptions, 122 yards), WR
Stedman Bailey
(8 receptions, 113 yards) and WR
Ivan McCartney
(8 receptions, 101 yards) gave West Virginia three 100-yard receivers for the first time in school history. All three are career highs.
Week 4 schedule
NC State at Cincinnati, 8 pm, Thursday, ESPN
Notre Dame at Pittsburgh, noon, Saturday, ABC
Toldeo at Syracuse, noon, Saturday, Big East Network
Ohio at Rutgers, 2 pm, Saturday, ESPN3
Connecticut at Buffalo, 3:30 p.m., Saturday, Big East Network
UTEP at USF, 7 pm, Saturday, ESPN3
LSU at West Virginia, 8 pm, Saturday, ABC
July, 20, 2011
7/20/11
11:00
AM ET
Time to rank the tight ends. This could end up being a position of strength in the league -- four of the eight teams have a player on the Mackey Award watch list, given annually to the best tight end in the nation.
[+] Enlarge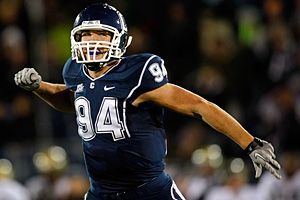 David Butler II/US PresswireRyan Griffin caught 31 passes for 245 yards and one touchdown last season.
1. Ryan Griffin, Connecticut.
No question he is athletically gifted and had a good season in 2010, catching 13 passes for 246 yards and a touchdown. But new offensive coordinator George DeLeone wants him to be pushed harder, to reach his full potential. Perhaps that is why
John Delahunt
also was listed atop the post-spring depth chart.
2. Nick Provo, Syracuse.
Provo has made himself quite valuable in the passing game, having caught 33 passes for 365 yards last season. Can he stay healthy all year?
3. Josh Chichester, Louisville.
Potential is a word that is thrown around a lot in these rankings. Going to use it again here with the 6-foot-8, 240-pound Chichester. It would not surprise me if he ended the season as the top tight end in the league. No question he is going to have a huge role in the Cardinals' offense, especially with questions in the receiving corps.
4. D.C. Jefferson, Rutgers.
Another player with mounds of potential, it is time for Jefferson to show why many believe he could be the best tight end in the league. Perhaps a new position coach in Brian Angelichio will help him live up to expectations.
5. Andreas Shields, USF.
Shields sits atop the post-spring depth chart following the loss of
Kevin Gidrey
. He did play in all 13 games last season and started the bowl game. He caught five passes for 74 yards and could be a bigger threat in the pass game this season.
6. Adrien Robinson, Cincinnati.
Robinson is not listed atop the Bearcats' post-spring depth chart, but I think he has the potential to win the job over
Travis Kelce
and
Blake Annen
(listed as No. 1 now). He is big, strong and athletic and needs to step up with
Ben Guidugli
gone.
7. Hubie Graham, Pitt.
Another player with potential after transferring from Illinois, Graham will play more of an H-back/tight end position and should have more of a role in the passing game than
Brock DeCicco
. Todd Graham likes them both.
8. John Delahunt, UConn.
There is a reason he is pushing Griffin for the starting job. Delahunt caught five passes for 76 yards, has good hands and is a good blocker. No question the Huskies have the best depth in the league.
Previous rankings:
April, 12, 2011
4/12/11
8:56
PM ET
SYRACUSE, N.Y. -- Some observations after attending Syracuse's 13th practice of the spring on Tuesday (if there are any typos, it's because I spilled Dinosaur Bar-B-Que sauce on my keyboard):


With the spring game on tap Saturday, the Orange did quite a bit of scrimmage work in a somewhat-abbreviated practice. The defense had the upper hand at last weekend's scrimmage and kept that going on Tuesday. The offense did well in some short-yardage work, but the defense dominated in goal-line and two-minute drills. That's notable, given that the offense returns far more starters than its relatively young counterparts on the other side of the ball. Doug Marrone said the offense had "some lingering bad taste" from Saturday's performance.
Of course, the offense might have had a better day if Marcus Sales had caught a ball that deflected off his hands on fourth-and-10 from about midfield in the two-minute work. Sales said afterward that he would have caught that in a game. And the best news, at least for the offense, is that he was able to get behind the defense in such an obvious passing situation.
Sales looked good the rest of the practice and seems to be carrying over his big Pinstripe Bowl performance. The receivers have a little more depth with him, Alec Lemon and Van Chew, who isn't fully healthy yet. Jarrod West looks like he can be a solid possession receiver. Dorian Graham is fast but still has trouble catching the ball.
You don't hear much anymore about a quarterback competition. Ryan Nassib is the obvious starter and showed some nice skill in a couple of play-action bootleg passes to tight end Nick Provo. Nassib probably isn't going to wow you, but he's solid and there's no one really pushing him for playing time right now. Charley Loeb wold be the backup if the season started today.
Antwon Bailey showed some nice moves as Syracuse really focused on running the ball during most of the scrimmage portions. He got around the corner a couple of times and flashed good shiftiness between the tackles. I have questioned whether or not the 5-foot-8 Bailey could hold up as an every-down back, but hey, Noel Devine and Dion Lewis have done it in this league. Prince-Tyson Gulley is also coming on. He had maybe the play of the day by the offense when he juked Jeremi Wilkes out of his shoes on a pitch play.
True freshman Dyshawn Davis is currently running first-string at linebacker. Coach Dan Conley spent time giving Davis a lot of extra instruction. Syracuse could be awfully young at linebacker with Davis and true sophomore Marquis Spruill in the middle. Senior Dan Vaughan is trying to hold on to a starting job at the other spot and would give the Orange some experience.
The other big question mark on defense is at the interior line spots. Cory Boatman (256 pounds) and Jay Bromley (273) were manning that position with the first unit on Tuesday. While they had success against a veteran line, they are still undersized for those spots. Marrone said the defensive tackle position probably would be filled by committee this season.
Overall thoughts: The Orange are well-stocked on the offensive line, at defensive end and at safety and will have a veteran quarterback and some potential playmakers at running back. They will need the young guys at linebacker and defensive tackle to really come on, and for the passing game to improve over last year. But it's not unrealistic to consider them a Big East contender in 2011.
October, 30, 2010
10/30/10
1:38
PM ET
CINCINNATI -- Quick halftime review from Nippert Stadium, where Syracuse leads Cincinnati
17-7
:
Turning point:
Two Cincinnati fumbles led to 10 Syracuse points. The Bearcats fumbled in their backfield near their own 20, resulting in an Orange touchdown run. One snap from scrimmage later, and Cincinnati's
D.J. Woods
lost the ball after catching a screen pass. Syracuse turned that into a field goal and a 17-0 lead. The Bearcats have the worst turnover margin in the Big East, and it continues to hurt them.
Stat of the half:
Cincinnati, the Big East's most powerful offense, has just 106 total yards at halftime, and 62 of those yards came on the lone touchdown drive after the Orange went up 17-0. The Bearcats aren't the same team without injured quarterback
Zach Collaros
, and Syracuse's defense is once again doing a great job of disguising coverages and applying pressure.
Best player in the half:
Syracuse quarterback
Ryan Nassib
is 13-of-18 for 107 yards and a touchdown. Not dazzling, but Nassib has made some key throws on third down to keep drives alive.
Best call:
Syracuse went for it on 4th-and-3 early in the second quarter, and Nassib connected with
Nick Provo
for a 19-yard gain inside the Cincinnati 20. That led to the game's first score. Conversely, the Bearcats chose not to go for it on 4th-and-2 from midfield in the final two minutes after they had started to build some momentum.