NCF Nation:

Nick Stephens
April, 26, 2010
4/26/10
5:33
PM ET
April, 13, 2010
4/13/10
5:34
PM ET
KNOXVILLE, Tenn. --
Matt Simms
might have come to Tennessee four months ago as somewhat of an insurance policy, but he exits the spring as the front-runner to be Tennessee's starting quarterback next season.
It's all been one giant whirlwind since Simms signed in December.
First, there was the departure of Lane Kiffin and most of his staff in January to Southern California. Less than a week later, Derek Dooley was the Vols' new coach.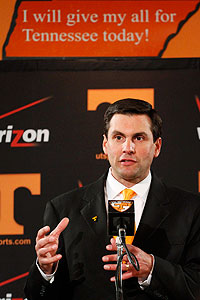 AP Photo/Lisa Norman-HudsonFirst-year Tennessee coach Derek Dooley may ask quarterback Matt Simms to lead the Vols his fall.
And most recently, senior quarterback
Nick Stephens
decided to leave the program after being told that his reps during spring practice would decrease.
Just like that, it was Simms' job to lose.
"It's definitely gone by fast, trying to learn everything all at once and put it all together at once," Simms said. "But the leaning curve is good right now, and I feel good about the direction we're headed."
Simms is the younger brother of NFL quarterback Chris Simms, who just recently signed with the Tennessee Titans. It was almost a decade ago that the elder Simms committed to Tennessee publicly, only to change his mind and sign with Texas instead.
Matt Simms jokes that at least one member of the family "got it right."
He's also pumped about having his older brother so close by this next season.
He's even more pumped about proving to everybody that he and the rest of his offensive mates can get it done in the SEC despite their inexperience.
"We have to understand there is going to be bumps in the road, but the thing that has to happen is that we need to become a good unit and learn to work together," said Simms, who played last season at El Camino College in Torrance, Calif. "Even though we're all young and don't have a lot of experience, the guys on this team have a lot of heart. That's one thing every team needs."
With the Vols closing spring practice this Saturday with their annual Orange and White Game, Simms' goal is to have his most consistent week yet, and for he and the entire offense to go into the offseason with some momentum.
In the scrimmage last weekend, he was just 8-of-25 for 110 yards, a touchdown and an interception. He admits he was overly anxious, especially in light of Stephens' decision to leave the team a few days earlier.
"My decision-making has been pretty good these past few weeks," Simms said. "Now, it's putting it all together and proving to everyone that I can be the guy. In the scrimmage, I made some good decisions, but wasn't on top of everything the way I should be. That's what I'm looking forward to this week, cleaning that up."
Simms still has to beat out true freshman
Tyler Bray
, and first-year Tennessee coach Derek Dooley isn't ready to say which way he's leaning.
The emphasis this spring has been identifying their strengths and weaknesses so that the staff can structure preseason camp to fit what they do best.
"We have every play in football," Dooley said. "We've got some great coaches with great ideas, but taking that system and fitting it to our players and putting them in a position where they can play fast and perform as best they can and grow into the job … that's going to be the real challenge for us as coaches."
Dooley said it's too early to tell if both Simms and Bray will play next season.
"I don't know," he said. "I think both of them have very good ability for us to go out there and win football games, so I feel good about their talent level. I feel good about their knowledge of football. I feel good about their command, their willingness to be the guy. But only time will tell who's going to end our season as quarterback."
September, 21, 2009
9/21/09
3:01
PM ET

Posted by ESPN.com's Chris Low
When is a loss really a win?
See Tennessee's 23-13 setback at No. 1-ranked Florida on Saturday.
The Vols weren't supposed to just lose the game. They were supposed to lose their manhood, their pride, any sense of belonging as a legitimate threat in the SEC this season.
| | |
| --- | --- |
| | |
| | Sam Greenwood/Getty Images |
| | Lane Kiffin and the Vols hope to build off their performance against Florida. |
Well, none of the above happened, and it's a new day on Rocky Top.
Now the hard part begins: Can Tennessee build on the biggest moral victory this program has seen since maybe 1979, John Majors' third season as coach.
The outmanned Vols were 20-point underdogs that day and faced a No. 1-ranked Alabama team that would go on to win its second straight national championship.
Tennessee took the fight to Alabama and jumped out to a 17-0 lead at Legion Field, but Alabama came charging back to win a hard-fought 27-17 game.
Not that the Big Orange Nation needs to be reminded, but Tennessee lost at home two weeks later to Rutgers on homecoming.
It's just that kind of dip that Lane Kiffin's club wants to avoid, especially with Ohio coming to town this weekend.
Build off what you did at the Swamp. Don't live off it.
On the field, this Tennessee team still has plenty to prove. The Vols are 1-2, and their only win came over a Western Kentucky team that lost 28-7 at home last week to Central Arkansas.
So nobody should be making BCS bowl plans just yet … or any bowl plans, for that matter.
But the Vols' defense is certainly good enough to keep this team in every game it plays. The running game, namely
Montario Hardesty
, showed some spark against the Gators, and the young talent on the roster is impressive.
The biggest hurdle remains a passing game that's non-existent at this point, and that's not all on senior quarterback
Jonathan Crompton
, either. Yes, he has seven interceptions in three games. And, yes, he hasn't proven he can get it done against a legitimate defense.
But pass protection and receivers being where they're supposed to be, running the proper routes and making plays all factor into the equation.
Kiffin's greatest dilemma may be when and if he's going to give backup quarterback
Nick Stephens
a chance. There's no reason to believe that Stephens would be a huge upgrade. Otherwise, he'd already be playing.
But when a player struggles the way Crompton has, the head coach owes it to the rest of the team to at least look at his options. In the past, Stephens has fared better in games than he has in practice.
The Vols have three straight home games upcoming that will shape their season one way or the other. After Ohio's visit this weekend, Auburn and Georgia come to town.
This is a team that's capable of getting hot and being the kind of team nobody wants to face in a bowl game. The Vols proved that at the Swamp.
It's also a team that's capable of being average at best and not much of a threat to anybody that counts, as the Vols showed at home two weeks ago in their 19-15 loss to UCLA.
Stay tuned to find out which team comes to the forefront at season's end.
Of course, the first order of business is making sure there's not a repeat of that Rutgers debacle 30 years ago.
April, 23, 2009
4/23/09
1:01
PM ET
Posted by ESPN.com's Chris Low
A quick check of the SEC headlines:
October, 29, 2008
10/29/08
12:00
PM ET
Posted by ESPN.com's Chris Low
We take our weekly "Internal Affairs" look at the SEC. And by the way, judging by the performances from Florida and Georgia last week, I guess the Big 12 Conference isn't the only one capable of putting up big offensive numbers. The Gators and Bulldogs combined for 115 points and 889 yards of total offense in their blowout wins:

Less is more: LSU quarterback Jarrett Lee hasn't been as bad as some of the criticism the last week would suggest. It's just that four of his bad throws have turned into touchdowns for the other team. The Tigers aren't going to kick him to the curb, but they are going to give him less responsibility and will condense the playbook the rest of the season. The idea is to put less on his shoulders and give him fewer things to think about. Lee has been sharing snaps this season with Andrew Hatch, but Hatch is nursing an injury to his left leg. LSU coach Les Miles said true freshman Jordan Jefferson has continued to get increased snaps in practice and could play Saturday against Tulane.



Throwing to Demps: It's a given that freshman Jeffery Demps has changed the way defenses are playing Florida. You've got to account for his speed on every play. He's a touchdown waiting to happen. The newest wrinkle with Demps is using him more out of the backfield as a receiver. He catches the ball well and is a nightmarish matchup for any linebacker or safety trying to cover him. The other thing that having Demps in the backfield does is that it allows the Gators to keep Percy Harvin at receiver or in the slot, and they can move him to the backfield when they want to and not necessarily because they have to.

Catching Clark: Get ready for a heavier dose of true freshman Arceto Clark at Mississippi State. Last week in the win over Middle Tennessee, Mississippi State coach Sylvester Croom decided to take the redshirt off of Clark, and he only ran one time for 2 yards. Look for that role to greatly expand this week. He's a receiver the Bulldogs can do some different things with and will also likely get some chances returning kicks. Clark was recruited as a cornerback, but Croom talked him into moving to offense this summer. He has the kind of speed the Bulldogs have been lacking on the offensive side of the ball.

Pressing the Vols: Nobody has respected Tennessee's passing game this season, which is why the Vols have routinely seen eight men in the box. Look for South Carolina to load the box even more this Saturday. The Gamecocks have a lot of faith in their cornerbacks to cover in man coverage and will take their chances in going after Tennessee quarterback Nick Stephens, who's hit a few big-gainers to Denarius Moore, but hasn't consistently been able to make teams pay by completing passes down the field. He'll get every chance against the Gamecocks, who will dare the Vols to beat them deep.

Bosley back at center: It looks like senior Jason Bosley is back at his original position of center to stay. With Auburn going back to more of its power sets, the Tigers want one of their most physical blockers in the middle of things. Bosley and Ryan Pugh, who is now back at right tackle, had switched positions earlier in the season. When the Tigers moved Bosley initially, he was playing with an injured shoulder and having trouble snapping the ball, which was of particular concern when they were operating almost exclusively out of the shotgun. Auburn is looking for anything to jump-start an offense ranked 109th in total offense and 102nd in scoring offense.
October, 17, 2008
10/17/08
11:04
AM ET
Posted by ESPN.com's Chris Low
By this time next week (actually Sunday), we'll have our first look at the BCS standings, meaning Alabama will almost certainly be perched near the top if the No. 2-ranked Crimson Tide can take care of business Saturday at home against Ole Miss. Taking a page out of Nick Saban's lesson plan, what's it really mean if the Tide are holding down one of the top two spots with so much football left to be played? Well, South Carolina debuted at No. 6 in the BCS standings a year ago and never won again in losing five straight and not even making it to a bowl game. Nobody is suggesting that kind of collapse is looming for Alabama. Nick Saban has this team dialed in. But it is a reminder that a lot can happen in these next seven weeks. Here's a rundown of what to watch this week in the SEC:
1. Eroding support for Fulmer?: Still looking for his first SEC win of the season, embattled Tennessee coach Phillip Fulmer said confidently Thursday night while taking a break from making recruiting calls, "We're not close to being dead yet." Somebody might want to tell that to his athletic director, Mike Hamilton, who during an extensive interview with the Knoxville News-Sentinel this week discussed hypothetically how a change might be made before the season was over and even confirmed that some boosters had already discussed Fulmer's replacement with him. Hamilton later denied that he was trying to publicly lay the groundwork to fire Fulmer, although the timing of his comments was certainly odd. The bottom line: Fulmer and the Vols (2-4, 0-3 SEC) desperately need a win Saturday at home against Mississippi State.
2. The Saban influence: Coming off an open date, not only is Alabama as healthy as it's been, but Saban's had an extra week to ensure that his unbeaten Crimson Tide don't get ahead of themselves. "Coach Saban's constantly talking to us about that, and this team has bought in," Alabama junior offensive tackle Andre Smith said. "As long as you're a true competitor, there's always room for improvement. You can win the U.S. Open one weekend. But the following weekend, the field is back there wanting to eat you up. That's the way we're looking at it."
3. Searching for Greg Hardy: Ole Miss coach Houston Nutt would like to know where Hardy disappeared to last week against South Carolina. Hardy simply can't shake his "play when he wants to" persona. When he's on, he's one of the best pass-rushers in the SEC. The Rebels need him to be on Saturday, similar to the way he was a year ago against the Crimson Tide when he had 13 total tackles, including five for loss and three sacks. Hardy's at his best coming off the left edge, which means he won't be matched much against Alabama star left tackle Andre Smith. But the Rebels are moving him around more than they did a year ago.
4. Opportunity knocks for Mr. Garcia: His time is finally here. Stephen Garcia was the savior off the bench last week when he led South Carolina to a come-from-behind victory over Kentucky on the road. Now, it's his show. The redshirt freshman quarterback gets his first start against defending national champion LSU, which hasn't been as salty on defense as the Tigers' talent suggested they would be at the beginning of the season. Garcia is already a household name among South Carolina fans (thanks in part to his off-the-field escapades). If he wins this game, go ahead and erect his own wing in the school's football hall of fame.
5. The Bulldog Shuffle: This changing up the offensive line is becoming a weekly drill for Georgia, which plans to go with its fourth different left tackle of the season Saturday against Vanderbilt. Vince Vance went down with a season-ending knee injury last week, meaning sophomore Clint Boling will slide over from right guard. The Bulldogs opened the preseason with Trinton Sturdivant as their left tackle, but he blew out his knee in a scrimmage. They then moved Kiante Tripp from right tackle to left tackle, moved him to tight end and now back to left tackle this week for depth. Vance had moved over to left tackle from left guard. Whatever Georgia offensive line coach Stacy Searels is making, it's not enough.
6. LSU's secondary is on the clock: Les Miles sounds like he's getting a little antsy, a little restless. He's seen far too many mistakes and busts in the LSU secondary this season for his liking. It's not all young players, either. The Tigers gave up the 70-yard touchdown pass to Percy Harvin last week on a ball that was batted by Danny McCray. Senior free safety Curtis Taylor was supposed to be helping on coverage deep and was instead covering a shorter route. Miles has said he won't be hesitant to try different personnel. The last thing LSU can afford against South Carolina is to give up big plays, and you know the Head Ball Coach has already found a few ways to attack that secondary.
7. Don't bury the Commodores yet: Those were Bobby Johnson's words following Vanderbilt's loss last week to Mississippi State. It was a bad loss, maybe the kind of loss that would have sent the Commodores reeling in past years. But Johnson likes the resiliency of this club and its willingness to prepare the same every week. Plus, Vanderbilt goes into the Georgia game knowing this is a team it's fared well against the last few years. The Commodores won on their last trip to Sanford Stadium in 2006 and were driving for the winning score last season before fumbling inside the 10, opening the door for the Bulldogs to drive the field in the final minutes and kick the winning field goal as time expired. With Mackenzi Adams stepping in at quarterback, the Commodores think they will be able to keep the Georgia defense from loading up as much because of his ability to throw the ball from the pocket.
8. Offensive nirvana?: Honestly, it might just be downright offensive watching the Mississippi State and Tennessee offenses on Saturday. The Bulldogs are ranked 103rd nationally in total offense and the Vols 104th. In scoring offense, the Vols are tied for 108th and the Bulldogs tied for 113th. On third down, Mississippi State is converting just 36.3 percent of the time and Tennessee 32.9 percent of the time. Both teams, though, are on their second quarterback, which has helped some in recent weeks. Tyson Lee replaced Wesley Carroll for the Bulldogs, while Nick Stephens supplanted Jonathan Crompton for the Vols. Do we see another 3-2 game in the ninth?
9. Fresh off the Cobb: If ever Kentucky could use an infusion of offensive energy, it's now. Freshman Randall Cobb will take over the marquee role at receiver that was occupied by senior Dicky Lyons Jr., who was lost last week with a season-ending injury. Cobb should be back pretty close to 100 percent after suffering a high ankle injury earlier in the seas
on. The Wildcats are going to need all the offense they can get down the stretch, and he's their most explosive threat. Look for them to go to him often Saturday against Arkansas, and he's also going to continue to get a few touches at quarterback. The best way to get a stagnant offense going is hit a few big plays, and Cobb has that ability. He's going to return punts this week, too.
10. Petrino returns to the Bluegrass State: There won't be any welcome back parties for Arkansas coach Bobby Petrino ... from Kentucky fans or Louisville fans. But the Wildcats are looking forward to getting a shot at Petrino. Many of the players on Kentucky's team were involved with Petrino one way or the other during the recruiting process when he was at Louisville. They also remember what Petrino did to them on the field. He was 4-0 against the Wildcats, and his teams never trailed in any of those games. This is a chance for Petrino's Hogs to build on the momentum of their 25-22 road win last week at Auburn. It's a chance for Rich Brooks' Wildcats to repay a few old debts. "I would love to tell you -- off the record -- what I think of Coach Petrino. He's a great football coach. Let's leave it at that," Kentucky defensive tackle Corey Peters (a Louisville high school product) told the Louisville Courier-Journal.
October, 15, 2008
10/15/08
12:15
PM ET
Posted by ESPN.com's Chris Low
We go inside as we do every week at this time with our "Internal Affairs" look at the conference. And, no, I'm not going to break down the rationale that different people use in voting in the polls:

1. Garcia on the move: Don't look for Stephen Garcia in the direct-snap Wildcat Formation or anything, but South Carolina is going to do its best to move him around and not allow the LSU defense to zero in on him in the pocket Saturday night in Columbia. Garcia, a redshirt freshman, is making his first collegiate start. He's pretty fearless running the ball, and Steve Spurrier likes his ability to make throws and make things happen on the run. Plus, you know the Tigers are going to be gunning for him.

2. Going five wide: That may be overstating it a bit, but Tennessee is going to try and open it up a little more and play to quarterback Nick Stephens' strengths. Throwing the deep ball is one of the best things he does, and sophomore receiver Denarius Moore has emerged as the Vols' best deep threat. Look for the Vols to get more of those guys on the field in spots to see if they can do a better job of spreading defenses out and backing safeties off the line of scrimmage. Whatever it is, Tennessee's got to find a way to keep defenses honest and run the ball better.

3. Adams takes over: With Chris Nickson nursing a bum throwing shoulder, Vanderbilt's passing game has been non-existent the last few weeks. Enter Mackenzi Adams, who's more comfortable in the pocket and pretty patient when it comes to allowing things to develop. The Commodores will play to Adams' strength, and although he won't run as much as Nickson, they will call some designed running plays for him. The biggest difference is that he's healthy and capable of making Georgia pay this weekend if the Bulldogs don't respect his ability to throw the ball.

4. Dueling quarterbacks at Auburn: The Tigers have a little extra time to figure it all out, but the main thing is that Kodi Burns is in and Chris Todd is out. Auburn doesn't play again until next Thursday (Oct. 23) at West Virginia, but Tommy Tuberville is finally committing to Burns. The Tigers completed just 10 passes in last week's loss to Arkansas. There's also a chance that true freshman Barrett Trotter may play for the first time and not redshirt if the Tigers think he's going to play significant minutes the rest of the way.

5. Turning Dixon loose: Anthony Dixon is healthy again, which means he's going to get the ball as much as he can take it the rest of the season, starting Saturday against Tennessee. Plagued by a painful groin injury, Dixon had been unable to practice much and lost some of his sharpness. But he came back last week against Vanderbilt after an open date and carried the ball 27 times for 107 yards. The most he'd carried the ball previously this season in a game was 18 times. Mississippi State coach Sylvester Croom is ready to ride Dixon the rest of the way.
October, 10, 2008
10/10/08
11:05
AM ET
Posted by ESPN.com's Chris Low
It's a battle of the last two BCS national champions on Saturday night in the Swamp. And if you're into trends, the Gators should be in good shape. The home team is 7-0-1 when the last two national champions meet. The last time it happened was 18 years ago when Notre Dame (the 1988 champ) beat Miami (the 1989 champ) 29-20 in South Bend. LSU's 28-24 win over Florida last season was one of the more exciting, hard-hitting games in the league. But, then, what LSU game a year ago wasn't heart-pounding? The winner of this game can make a pretty convincing statement in its divisional race that it's the team to beat. And especially if Florida wins, there's a decent chance the two teams could meet in a rematch in the SEC championship game. Here's a look at what to watch for in Week 7 in the SEC:
1. The Mad Hatter: Yes, LSU coach Les Miles is a bit unorthodox in how he goes about answering the simplest of questions in such a way that leaves you more confused than you were before you asked the question. And, yes, the way he wears his hat squarely on top of his head is a bit comical. But Miles could wear a lampshade on his head if he keeps winning the way he has. He's 8-3 against top 10 teams at LSU and has won six in a row. He's 4-2 on the road against top-10 competition. In his last 16 games against SEC opponents, the only two games he lost were in triple-overtime. It's high time the Mad Hatter gets his due. The guy can coach.
2. Auburn's offense: What's it going to look like now that Tony Franklin is gone? Steve Ensminger will call the plays, and Tommy Tuberville insists that the Tigers aren't going away from the no-huddle, spread offense that Franklin implemented. That may be, but surely Auburn is going to make more of an effort to run the ball Saturday against an Arkansas defense that hasn't stopped anybody on the ground this season.
3. Tuberville crossing over: Tommy Tuberville has a distinguished background as a top defensive coordinator and linebackers coach when he was at Miami and then Texas A&M for a year before getting the Ole Miss top job. But calling offensive plays? It will be interesting to see how involved he really is the rest of the way in coordinating Auburn's offense and making the play calls on game day. Tuberville says it will be a team effort and that he will be a big part of that team.
4. Spikes vs. Scott: Florida's Brandon Spikes is one of the best middle linebackers in the country. He's fast, physical and always around the ball. He dares you to run at him. But that's what LSU likes to do with bruising 233-pound tailback Charles Scott, who's rushed for 100 or more yards in each of his four games this season. There's not a whole lot fancy about Scott other than his penchant for running over people. That first collision between Spikes and Scott ought to be one to remember.
5. The beast within: Brandon Spikes has already warned everybody that talking trash to Tim Tebow before a big game is akin to making the beast that much angrier. Look for Tebow to be a beast in this game and not hold back. It's obvious he hasn't looked to run quite as much this season. That all changes Saturday night in the Swamp. Not only will he look to run, but he'll look to run over somebody early to set the tone. The Tim Tebow that won the 2007 Heisman Trophy isn't a pocket passer. He's a modern-day, 240-pound single-wing tailback.
6. Solving Spurrier: Rich Brooks has yet to beat South Carolina since taking the Kentucky job in 2003. South Carolina's Steve Spurrier has never lost to Kentucky. He's 15-0 all-time against the Wildcats, who have lost eight straight to the Gamecocks. In short, something has to give if the Wildcats are going to break through and have a big season. They get the Gamecocks at home in a game that should provide the most definitive answer yet as to whether Kentucky is a contender or a pretender.
7. Adams on call: It sounds like Vanderbilt quarterback Chris Nickson's right throwing shoulder is healthy enough for him to start Saturday against Mississippi State. Of course, Nickson has failed to finish the last two games after taking hits on that shoulder. The comforting thing for the Commodores is that they don't miss a beat when backup quarterback Mackenzi Adams is in the game. In fact, they really didn't start moving the ball consistently against Auburn until he entered the game in the second quarter.
8. Southerland's impact: Rumor has it that Georgia fullback Brannan Southerland, who missed the first five games after recovering from foot surgery, will arrive at Sanford Stadium on Saturday in a limousine provided by sophomore tailback Knowshon Moreno. Nobody has missed Southerland's crushing lead blocks more than Moreno, who was a nonfactor in the Alabama loss two weeks ago. Southerland's leadership and all-around toughness will also be key for the Bulldogs as they enter the teeth of their schedule beginning this weekend against Tennessee.
9. Getting to Smelley: The problem South Carolina had earlier this season was protecting the quarterback. But Chris Smelley has had more time to throw these last few games. He faces a Kentucky front four that ranks up there with the best in the league. The Wildcats sacked Alabama quarterback John Parker Wilson three times last week, and the Crimson Tide offensive line was whistled twice for holding on pass plays. Rich Brooks says it's easily the best pass rush he's had at Kentucky, and the numbers back him up. The Wildcats are second nationally in pass efficiency defense.
10. Stephens' SEC debut: Not only does Tennessee have to go on the road Saturday against a Georgia team eager to get revenge for last season's shellacking in Knoxville, but the Vols do so with a quarterback (Nick Stephens) who's never taken a snap in an SEC game. Stephens was serviceable last week in the narrow win over Northern Illinois, but you know the Vols have to be kicking themselves now for not giving him a chance against Auburn or Florida earlier this season and for not giving him a chance to at least compete with Jonathan Crompton for the starting job back in the spring and preseason.
October, 3, 2008
10/03/08
11:24
AM ET
Posted by ESPN.com's Chris Low
The calendar has flipped to October, and the place to be this weekend is Vanderbilt Stadium. No, Garth Brooks isn't playing an impromptu concert in Nashville. The Vanderbilt football team is hosting the SEC's marquee game. When's the last time you could say that this late in the season? When's the last time you could say that at any point in the season? Vanderbilt has a chance to go to 5-0 for the first time since World War II if it can knock off Auburn. The Tigers have other ideas. They can't afford any more losses if they're going to stay afloat in the Western Division race. We'll also find out how legitimate Kentucky is after starting 4-0. The Wildcats travel to Tuscaloosa to face Alabama in a battle of unbeatens. Everybody had Kentucky and Vanderbilt a combined 8-0 at this point, right? Here's a look at what to watch for around the SEC in Week 6:
1. BCS positioning: The first official BCS standings have yet to be released, but ESPN's BCS guru Brad Edwards has some mock standings out, and it looks pretty good for the SEC. Oklahoma would be No. 1 and Alabama No. 2 in the current standings. LSU would be No. 3 and Georgia No. 7. In other words, there are still a bunch of SEC teams in prime position depending on what happens the rest of the year. Edwards says that Alabama would be the clear-cut No.1 team in the computers component of the BCS standings.
2. Wide-eyed Commodores: Are they ready for this kind of stage? Auburn is a tough, physical football team that's accustomed to playing in these type of games. This is all new ground for the Commodores, who all of a sudden are media darlings and receiving all sorts of attention. Do they get caught up in that glare or remember what got them here? Vanderbilt coach Bobby Johnson is as grounded as they come. He'll have his football team ready.
3. Bama's quick starts: The statistic that continues to define Alabama this season is the fact that the Crimson Tide have outscored their opponents 74-0 in the first quarter. What is that? That's preparation. That's discipline. That's intensity. That's understanding how important it is to set the tone in the SEC. It's also the last thing Kentucky can let happen if the Wildcats are going to win Saturday at Bryant-Denny Stadium.
4. Vandy's short fields: Vanderbilt is last in the SEC in total offense and total defense, which probably causes a few people to scratch their heads. But the Commodores have been so opportunistic, which will again be critical if they're going to take down Auburn. They will need some short fields to work with thanks to big plays from their defense or special teams. In both SEC games this season, Vanderbilt has either scored on defense or set up a touchdown with a special-teams play.
5. Crompton's fate: Tennessee coach Phillip Fulmer will announce at the Vols' walk-through Friday afternoon who his starting quarterback will be Saturday against Northern Illinois. Even if Jonathan Crompton gets the start, the Vols have no choice but to play backup Nick Stephens some in the game. They've got to try something new simply because Crompton has been so ineffective. And if Stephens plays well, you wonder what that means for Crompton the rest of the way.
6. Auburn's offense: By now, we know that Auburn isn't running Tony Franklin's version of the spread offense. Tommy Tuberville said this week it's Auburn offense with some elements of the spread. Whatever it is, it's not very good. The Tigers have scored just three touchdowns in three SEC games and are killing themselves with bad plays. They've had 46 plays go for minus yardage, which is 117th nationally out of 119 teams.
7. Motivated Tebow: Tim Tebow's one of those guys who when he says something, you can usually take it to the bank. So when he says he's going to play as hard and as passionately as he ever has the rest of the season and push his teammates to play the same way, that has big game for Florida written all over it. That's great for the Gators and bad news for Arkansas, which really doesn't need anymore bad news after the last two weeks.
8. Watching Wilson: We've heard so much this season about Alabama's dominant offensive line, how suffocating the defense has been and even the contributions of the freshmen. But where would this team be right now without senior quarterback John Parker Wilson? He's been that "X" factor in the Tide's success and has played his role splendidly. He's managed the game, been a leader, taken care of the ball, made plays when he's had to and been a steadying influence for the entire offense.
9. Blocking Hardy: Ole Miss' Greg Hardy served notice that he was back last week with 1.5 sacks against Florida and constant pressure on Tim Tebow. Protecting the passer has been one of South Carolina's weaknesses this season. The Gamecocks are tied for last in the league with 17 sacks allowed. One of the reasons Steve Spurrier isn't starting Stephen Garcia in this game is that he holds the ball too long. That's a sack waiting to happen against Hardy and his mates.
10. Arkansas' woes: Bobby Petrino knew this could be a long season. He knew it was going to take time. He knew the Razorbacks were going to have to lean on a lot of young players this season. But getting decimated 49-14 and 52-10 in back-to-back weeks has a way of beating on you, especially with someone as competitive as Petrino. The key for him is keeping all of his younger players mentally strong and making sure they can see some improvement as the season goes on.
October, 1, 2008
10/01/08
11:31
AM ET
Posted by ESPN.com's Chris Low
Week 6 in the SEC awaits, and everybody figured at this point that Kentucky and Vanderbilt would be two of the four unbeatens in the league, right? For that matter, did anyone outside the state of Alabama have the Crimson Tide 5-0 five games into the season? The unpredictability in this league never gets old. Let's take a look inside in our weekly "Internal Affairs" feature:

Old-school Tebow: With Emmanuel Moody not expected to play with a high ankle sprain, it could be the old-school Tim Tebow that you see this Saturday against Arkansas. The Gators simply don't have any true running backs to hand the ball off to now, which means Tebow may have to rev up the jets in the running game. Through four games, he's rushed for 125 yards and two touchdowns on 49 carries. That's an average of 2.6 yards per carry. Look for the Gators to turn him loose a little more the rest of the way.

Who's the quarterback?: You don't have to listen real hard to tell that Auburn offensive coordinator Tony Franklin isn't about to give up on Chris Todd as the Tigers' starting quarterback. Franklin was also quick to divulge that the reason they started Kodi Burns in the second half against Tennessee was because Tommy Tuberville wanted to. The reality is that Auburn doesn't have a quarterback right now, at least one the entire team can look to with confidence and know he's the leader. Todd will start against Vanderbilt. The better question: Who will be at the helm if the game's on the line in the fourth quarter?

Stephens ready for duty: As the Vols try to figure out who to start at quarterback this weekend against Northern Illinois, backup Nick Stephens made it clear that he's ready. Stephens wasn't allowed to compete for the starting job in the preseason, and that didn't sit well with him. It's been such a struggle for Jonathan Crompton that the Tennessee coaches would have been in danger of losing the team had they not tried something new. If Stephens plays well, then look for more and more of him once the Vols jump back into SEC play.

Vanderbilt's coming: That's "coming" as in coming after the Auburn quarterbacks. The Commodores are tied for second in the SEC with 11 sacks. They also are tied for the lead nationally with 10 interceptions. They've made it a point to be aggressive all season, and with the way the Vanderbilt secondary is playing, why not? Bobby Johnson and his staff have enough faith in D.J. Moore, Reshard Langford, Ryan Hamilton and crew to take some chances up front.

Lee the man: LSU has found its quarterback. Redshirt freshman Jarrett Lee has taken the job and run with it the last couple of weeks. Andrew Hatch, who opened the season as the starter, was injured last week. Hatch may still play some, but Lee is the guy the LSU coaches see as their No. 1 trigger man heading into the teeth of the schedule. The Tigers are off this week, but then play Florida and South Carolina on the road in back-to-back weeks before coming back home to face Georgia.
September, 30, 2008
9/30/08
12:36
PM ET