October, 26, 2012
10/26/12
3:00
PM ET
Shane Wynn
is one of the smallest players in the Big Ten, but you'd never know it by his production. The Indiana sophomore is listed as just 5-foot-7 and 157 pounds but is tied for third in the league with 38 catches. Only Penn State's
Allen Robinson
has more than Wynn's five touchdown grabs, and Wynn is also a dangerous kick returner.
I recently caught up with the Cleveland native while he and the Hoosiers were preparing for this week's game at Illinois for our Friday Q&A segment:
You guys have lost five straight games, all of them close. How's the attitude of the team?
Shane Wynn:
The general attitude is the same. We've got to keep working. We're starting to play together as a team now. We've just got to put the pieces together and finish the game. A lot of times we come out and start fast but just don't finish. So we have to keep working on finishing games now and finishing second halves. The team is doing a lot of emphasis on that as practice goes, the first half and the second half, stuff like that.
[+] Enlarge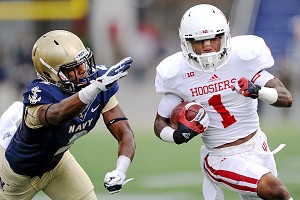 AP Photo/Cal Sport MediaShane Wynn and the Hoosiers are looking for their first Big Ten win this season.
Is there any one thing you can put your finger on for the inability to finish games?
SW:
Not really. We have a lot of three and outs. Our defense will get a stop and we give them nothing back and put them right back on the field. We can help with that, but at the same time, we need to keep working together as a team.
Where have you improved the most this year?
SW:
I've definitely improved on reading coverages and watching a lot more film. Knowing the opponent and what they like to do, what they do best and what their weakness is. I've also learned how to use my hands a lot more in the offseason and run a lot more sharper routes.
You're listed at 157. What do you weigh now?
SW:
I'm 160 now, but I've just got to keep holding it and maintaining it.
Is it tough playing at that size and taking hits?
SW:
I took a couple of shots this year. Like I say a lot, you can measure height, you can measure weight, but you can't measure heart. I just take the hit and get right back up. Knowing I'm little and I play slot, I know I've got to take some hits if I want to go to the next level. So I'm mentally tough when it comes to hits.
Do you find that defenses relish the chance to hit you?
SW:
Most of them realize I'm a little slot guy, so whenever they get a chance to hit me, trust me, they try to hit me. But if they don't, I'm going to try my best to run past them. They can't hit what they can't catch.
Who else recruited you out of high school?
SW:
West Virginia, Clemson, Oregon. I got a lot of mail from Tennessee, USC, teams like those.
Did Ohio State show serious interest?
SW:
Yes, they did. But I just felt like Indiana was home for me.
Why Indiana and not a team with more recent tradition, like Oregon?
SW:
I wanted to be part of something turning around. I didn't want to be a part of something that's already turned around. I would just be a another name in an Oregon uniform or a West Virginia uniform. But me,
Tre Roberson
,
Kofi Hughes
,
Cody Latimer
,
Nick Stoner
,
Stephen Houston
, people like those, we can change things around. We're trying to make this a football school even though we're known as a basketball school.
How much did Kevin Wilson's offense influence your decision?
SW:
Yeah, that was a big issue, especially when I learned that he coached Ryan Broyles [at Oklahoma]. I watch a lot of film on him. He's the same size as me, so I basically watch everything he does. I learned a lot from him and Wes Welker and De'Sean Jackson.
You were a track standout in high school. Any plans to continue that at Indiana?
SW:
I'd like to try, but at the same time I've been losing a lot of weight and I'm trying to maintain weight. I come in early for extra work, and do extra speed work because I know I can't run track. It hurts, but no pain, no gain.
Are you on an enhanced-calorie diet?
SW:
Oh, man, they try to make me eat whole houses. I'll be like come on, man. My little stomach! I can't eat all that! [Team nutritionist Amy Freel], [strength] coach [Mark] Hill and [assistant strength coach Will] Peoples look out for me. They sit at the table and eat with me, and I can't go anywhere until I eat something. I could be there all day.
You played for Ted Ginn Sr. in high school. How well do you know Ted Ginn Jr.?
SW:
I'm real close to Ted Ginn Jr. I didn't play with him, but I did a lot of track workouts with him.
What's the hardest part of returning kicks that people don't realize?
SW:
It's a full-out blitz for kickoffs. That's what people don't know. You can talk about all the speed that we've got at returner, but at the same time, it's a full-out blitz for the kickoff team. So basically, you just read one one hole and you've got to hit it full speed. You can't dance or try to do too many juke moves, because that's when you end up fumbling, or that's when you see people getting hit hard. I just try to find one crease and hit it.
Finally, the Indiana offense is much improved this year, especially in the passing game. Why is that?
SW:
Nobody missed a summer workout this year. Nobody missed weight lifting or workouts, and the receivers and quarterbacks were in the indoor facility at night time and in the mornings running routes. We just trust each other more as a team and we actually play as a team now. Once we do that for 60 minutes, we're going to be tough to stop.
October, 15, 2012
10/15/12
10:13
AM ET
Upon further review ...
Team of the week:
Iowa. Well, look at who's tied atop the Legends Division standings. Many people had written off the Hawkeyes after they lost at home to Central Michigan (a team which has followed up that upset in Iowa City by losing to Northern Illinois, Toledo and Navy, all by double digits). But give credit to the resiliency of Kirk Ferentz's team. On Saturday, Iowa outslugged Michigan State on the road and won in double-overtime 19-16. It wasn't a pretty game, but the Hawkeyes showed toughness and grit. Don't count them out of the Big Ten race just yet.
Best game:
Hope you stayed up late to catch Ohio State's 52-49 win over Indiana, the Big Ten's version of Big 12 football. There were blocked punts, onside kicks, a 15-point Indiana rally in the final minutes, 1,059 total yards and way more tension than we usually associate with Buckeyes-Hoosiers matchups. You might have liked Iowa-Michigan State more if you enjoy, you know, actual tackling. But this kind of game is fun every once in a while, too.
[+] Enlarge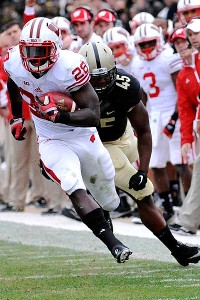 Sandra Dukes/US PresswireBadgers RB Montee Ball had one of his best games of the season on Saturday against Purdue.
Biggest play:
Let's go back to East Lansing and the second overtime period, when defensive lineman
Louis Trinca-Pasat
deflected a pass from Michigan State quarterback
Andrew Maxwell
, causing the ball to sail through receiver
Keith Mumphery
's hands and into the waiting embrace of an Iowa cornerback. That was a fitting end to a game that was all about defense.
Best play:
The play of the day in the Big Ten happened around midnight, when Indiana's
Nick Stoner
leaped out of bounds to grab an onside kick and toss it back into the field of play. Stoner showed off the athleticism that allows him to star on Indiana's track team.
D'Angelo Roberts
recovered, and the Hoosiers went in for a score and two-point conversion for the game's final margin. Indiana's final onside kick was also brilliantly executed and conceived, but Ohio State's
Corey Brown
made a game-saving catch as he was all alone on his side of the field.
Big Man on Campus (Offense):
Wisconsin's
Montee Ball
has had quite a career, so when he sets a career high, that's saying something. His 247 yards (on 29 carries) versus Purdue were a personal best. His three touchdowns also gave him 72 for his career, moving him past Ron Dayne as the Big Ten's all-time leading touchdown maker. He needs seven more to break the NCAA record. If he keeps playing like he did Saturday, he'll smash it.
Big Man on Campus (Defense):
Michigan's
Jake Ryan
collected 11 tackles, including 3.5 for loss and a sack, and forced a fumble in the Wolverines' 45-0 annihilation of Illinois. We'd say he's playing like his hair is on fire, but his golden locks are so long it might take him a while to feel any follicular conflagration.
Big Man on Campus (Special teams):
Iowa's
Mike Meyer
was 4-for-4 on field goals, including two in overtime and the 42-yard game winner against Michigan State. Meyer has made 14 out of 15 this year and has connected on his past 13 attempts. For a team that struggles to score, Meyer has been extra valuable.
Worst hangover:
Michigan State. Adam and I are frantically going back through all our offseason blog posts and erasing the word "State" every time we picked Michigan State to win the Big Ten in 2012. At this point, the Spartans are not even guaranteed of making a bowl game, sitting at 4-3 with tough games left against Michigan, Wisconsin, Nebraska and Northwestern, plus a trip to Minnesota. How'd we miss so bad on the Spartans? Neither of us thought their offense would be this dreadful. And while their defense has been very good, it has had to be heroic to carry the entire team, and that's asking too much every week. Michigan State has somehow lost three home games this year after it had won 15 in a row at Spartan Stadium. The Notre Dame and Ohio State losses were forgivable to a degree. Losing to an Iowa team that had only 257 total yards and one touchdown? Not so much.
Strangest moment:
There are helmet-to-helmet hits, and then there are, apparently, shoulder-to-decal hits. That's what happened in Saturday's Northwestern-Minnesota game. Wildcats safety
Ibraheim Campbell
collided with Gophers tailback
Donnell Kirkwood
so solidly that most of the gold "M" on one side of Kirkwood's helmet
came off on the play
. Campbell got the worst of that hit, but Northwestern got the 21-13 road win.
August, 28, 2012
8/28/12
4:00
PM ET
It's time for the second half of our Big Ten personnel roundup entering season-opening weekend. In case you missed Part I, which featured most of the Week 1 depth charts, be sure and
check it out
.
Michigan State released its depth chart, so we'll start there. Minnesota and Nebraska will release theirs later this week.

MICHIGAN STATE
Depth chart
There are two unsettled positions on defense as Michigan State lists co-starters at defensive tackle (Micajah Reynolds and Tyler Hoover) and at free safety (Jairus Jones and Kurtis Drummond). Head coach Mark Dantonio called the Reynolds-Hoover competition "a flip of the coin" and praised Reynolds' progress during fall camp. Reynolds has a 33-inch vertical leap and bench-presses more than 400 pounds. Hoover, a converted defensive end, missed all but one game last season with a fractured rib.
Linebacker Darien Harris and defensive end Lawrence Thomas both don't appear on the depth chart because of injuries but will be contributors this season. Harris could see the field early Friday night against Boise State. Sophomore Skyler Burkland is listed as the backup left tackle but likely won't play because of a hand injury.
Junior Bennie Fowler and sophomores Keith Mumphery and Tony Lippett are listed as Michigan State's top receivers. Tennessee transfer DeAnthony Arnett, who had 24 receptions last season for the Vols, appears as Fowler's backup.
Here are some other personnel notes from around the league ...

IOWA
Running back is the big question mark for the Hawkeyes after another summer of attrition. Iowa enters Saturday's opener with three primary backs --
Damon Bullock
,
Greg Garmon
and Michael Malloy -- as well as two fullbacks in
Brad Rogers
and
Mark Weisman
.
Bullock, who had 10 carries for 20 yards, likely will get the start against Northern Illinois, although Garmon, a heralded true freshman, should get plenty of work as well. Rogers is a familiar name, and coach Kirk Ferentz praised Weisman's progress during camp.
"You play the cards that are dealt," Ferentz said. "The running back position is one where we've had a lot of players playing. The good news is they've performed pretty well."
Sophomore
Jordan Canzeri
, who
suffered a torn ACL in spring practice
, has returned to practice, but Ferentz said it's "weeks or months before we talk about him entering contact or anything live at all." Iowa has been cautious about live tackling involving its running backs in practice, particularly those who have game experience.

PURDUE
Boilers coach Danny Hope didn't sound too concerned about playing without top middle linebacker Dwayne Beckford, indefinitely suspended Monday following his latest arrest. Purdue practiced without Beckford during spring ball -- he was working his way back from another legal issue -- and rotated several players at middle linebacker. Senior
Antwon Higgs
appears to be the next man in, and converted quarterback
Sean Robinson
is behind him.
Sophomore
Joe Gilliam
, who recorded seven tackles last year and made one start, should be a bigger part of the plan as well.
"I thought in the recruiting process he was one of the top players in our state," Hope said of Gilliam. "I thought Joe was probably the next guy in line [behind the starters]."

INDIANA
Not surprisingly, Tre Roberson has emerged as Indiana's starting quarterback after taking over the top spot as a true freshman in 2011. Roberson beat out junior college arrival Cam Coffman and freshman Nate Sudfeld for the job. Coffman will serve as Roberson's backup. Although Roberson struggled in Tuesday's morning workout, coach Kevin Wilson has been pleased with the sophomore. "He's embraced the challenge," Wilson said. "He definitely can make some plays as a bit of a dual-threat guy. He's embraced the competition. He has been by far our most consistent quarterback."
Roberson will be passing the ball more in 2012, and he'll have a deeper group of wide receivers at his disposal. How deep? Wilson said that veterans Kofi Hughes and Duwyce Wilson enter the season as the team's No. 5 and No. 6 receivers (Hughes is suspended for the opener against Indiana State). Kevin Wilson had high praise for sophomore Cody Latimer, limited by a sports hernia injury last season. Speedster Nick Stoner also should be a bigger part of the mix at receiver. "It's not because they've [Hughes and Duwyce Wilson] fallen off but because we've got some good players," the coach said. "We've got some competition, we've got some depth, we've got some young speed and I just think we're close to having a more complete unit there. We're not great at receiver, but we do have more playmakers."

ILLINOIS
Illinois' secondary isn't anywhere near full strength as it prepares to face Western Michigan and talented quarterback Alex Carder. The team's top two safeties, Steve Hull and Supo Sanni, both are nursing injuries and didn't appear on Monday's depth chart. Also, top cornerback Terry Hawthorne has a sprained ankle that will limit him only to defense for the first few games. Illinois wanted to use the athletic Hawthorne as another option at receiver, a position with little proven depth. The bigger question is how much the ankle will limit the senior with his primary cornerback responsibilities.
Although the Illini will rotate plenty at running back, receiver and tight end on Saturday, they won't employ a two-quarterback system, which had been rumored during camp. Co-offensive coordinator Chris Beatty said Tuesday that he's not a big believer in rotating quarterbacks, so junior Nathan Scheelhaase will take most or all of the snaps.

OHIO STATE
Urban Meyer expects "six seconds of great effort" from Ohio State's freshmen in Saturday's opener against Miami (Ohio). Asked which freshman he was most curious to see, Meyer identified defensive back Devan Bogard as well as freshman linebacker David Perkins, who "really exploded the last couple of days."
Meyer said freshman Bri'onte Dunn and sophomore Rod Smith are "very close" for the No. 2 running back spot behind Carlos Hyde. Dunn has been a bit more consistent in camp and has a slight edge.
Meyer said Storm Klein's role going forward is yet to be determined and that recently reinstated linebacker is still "making up a bunch of stuff" after missing almost all of fall camp. Meyer based his decision to reinstate Klein on a domestic violence charge being dismissed against the senior, who pleaded guilty to misdemeanor disorderly conduct.

NORTHWESTERN
Coach Pat Fitzgerald acknowledged that it has been easier to go through the preseason this year as opposed to 2011, when talk of quarterback Dan Persa's health dominated fall camp. Although Northwestern knew all along that Persa wouldn't play in the first few games and
Kain Colter
would start, it has been easier for Colter this time around.
"Unfortunately, Danny had to go through that tough offseason," Fitzgerald said. "That was not fun. Kain handled the opportunity really well a year ago. ... You could definitely tell it was his first start in college football Now he's settled down, he's settled into the role."
November, 28, 2011
11/28/11
1:00
PM ET
For the final time in the 2011 regular season, let's press the rewind button:
[+] Enlarge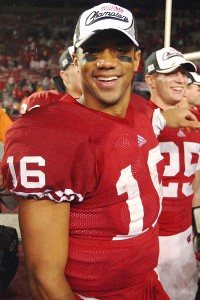 Mary Langenfeld/US PresswireRussell Wilson's one season at Wisconsin was surely something to smile about.
Team of the week:
Wisconsin. The Badgers had an uphill climb after losing back-to-back games against Michigan State and Ohio State to end October. But they battled back to win their final four games in impressive fashion, including Saturday's
45-7 blowout
of Penn State in Madison. Now they're just one win away from their second straight Rose Bowl appearance.
Game of the week:
Michigan 40, Ohio State 34. Five lead changes, more than 800 yards of offense, a duel between two super-athletic quarterbacks and a game that came down to the final two minutes in a huge rivalry. Yep, this one was a no-doubter this week. Best edition of The Game since 2006.
Biggest play:
Josh Johnson's interception of Indiana quarterback
Tre Roberson
late in the fourth quarter. The Hoosiers had moved the ball well all day and only trailed Purdue by eight points as they started their final drive. Johnson and receiver Nick Stoner caught Roberson's pass simultaneously, but Johnson ripped the ball away when they hit the turf. That allowed the Boilermakers to run out the clock, get back the Old Oaken Bucket, clinch bowl eligibility and quite possibly save Danny Hope's job. Good thing for them the play was not reviewable by rule.
Best call:
Nebraska's decision to let
Rex Burkhead
break the school record for carries with a kneel down for No. 38 against Iowa. Burkhead, who hadn't played for several minutes after scoring a touchdown on his 37th carry, was typically humble when asked to go in for the record, telling his teammates he didn't want to get it that way. But offensive lineman Marcel Jones convinced him to do it for the seniors. Burkhead wasn't anywhere near 100 percent for last week's game but has been one of the biggest warriors in the Big Ten all season. He deserves as many places in the Nebraska record book as he can get.
Big Men on Campus (Offense):
Michigan's
Denard Robinson
and Wisconsin's
Montee Ball
. These two share the award for a second straight week, and with good cause. Robinson accounted for five touchdowns and more than 330 yards of total offense, becoming just the fourth player in NCAA history to gain 2,000 yards passing and 1,000 yards rushing in a season twice in his career. He ran for 170 yards in the 40-34 win over Ohio State. Ball just keeps on piling up the touchdowns, adding four more in the win over Penn State. He ran for 156 yards on 25 carries and set the NCAA record with multiple touchdowns in 12 straight games. He has 34 touchdowns on the season, second-most of any FBS player in history and just five short of Barry Sanders' record of 39.
Big Men on Campus (Defense):
Minnesota's Kim Royston and Nebraska's Lavonte David. Royston had 13 tackles against Illinois, the eighth time this season he finished a game with 10 or more stops. He also had his first sack of the season and a pass breakup while finishing the season with 123 tackles, the most by a Gopher since 2001. David capped his spectacular regular season with eight tackles and a sack, along with two pass break-ups, a forced fumble and a fumble recovery, as the Huskers nearly shut out Iowa.
Big Man on Campus (Special teams):
Purdue's Carson Wiggs. He made four field goals -- from 48, 43, 29 and 22 yards -- in the Boilers' bowl-clinching 33-25 win over Indiana.
Best moment:
It wasn't quite "Rudy," but it was close at Camp Randall on Saturday.
Wisconsin senior defensive end Greg Russo served two tours in Iraq before walking on to the Badgers last spring. For almost the entire season, he'd been waiting for the NCAA to clear him to appear in a game.
He finally got on the field for the first time with about a minute left in the win over Penn State. He didn't record a tackle like Rudy, but he didn't care.
"We stand on the field every day for practice," Russo told the Wisconsin State Journal. "But tonight, standing in the middle of the field and looking around and seeing the fans there and knowing I was a part of something that big, a part of being the Leaders Division champs, it was a totally different feeling, like I was on a completely different field and I was in a completely different place."
February, 2, 2011
2/02/11
12:43
PM ET
Indiana is the first Big Ten team to announce its
complete 2011 recruiting class
.

New Hoosiers coach Kevin Wilson signed 21 players, including seven from within the state and seven from Ohio. Indiana added 12 defensive players and nine offensive players.
Here's the position breakdown:
DL:
4
LB:
3
CB:
3
S:
2
OL:
4
WR:
3
QB:
1
RB:
1
"There is good balance on both sides of the ball in this class," Wilson said in a prepared statement. "We got a good mix of guys up front and skill guys. Our staff did a great job getting in on some guys late in the game. There is great athleticism and potential in this group. We brought in help in the secondary and up front across the board, and we are excited to get to work with these guys."
A few notes from the release:
Quarterback Tre Roberson earned the 2010 Indiana Mr. Football award. He is the fourth Mr. Football to attend IU since the award's inception in 1992, and the first since Earl Haniford in 1995.
Linebacker Mike Replogle's brother, Adam, is a junior defensive tackle with the Hoosiers. His brother, Tyler, played linebacker at IU from 2007-10.
Safety Mark Murphy's father, Mark, played safety for the Green Bay Packers (1980-91) and was inducted into the Packers Hall of Fame in 1998.
Linebacker Kyle Kennedy (2008, 2010), cornerback Kenny Mullen (2007, 2008, 2010) and cornerback Nick Stoner (2008) each played on state championship teams.