September, 25, 2013
9/25/13
1:00
PM ET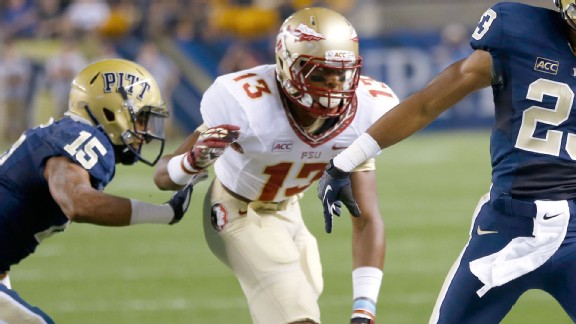 AP Photo/Keith SrakocicFreshman cornerback Jalen Ramsey jumped right in to a starting spot, beating out veterans Nick Waisome and Ronald Darby in the process.
TALLAHASSEE, Fla. -- Throughout the 68-yard dash,
Telvin Smith
never looked back. Seconds earlier, he'd stepped in front of a pass from Bethune-Cookman quarterback
Quentin Williams
, and a path cleared ahead of him as he charged to the end zone.
It was only after Smith crossed the goal line that he realized he wasn't alone. Two steps behind him was fellow linebacker
Matthew Thomas
, who'd kept pace with Smith step for step throughout the return.
"I turned around and he's standing right next to me," Smith said. "That's what the coaches and myself love about him."
That was hardly the only highlight of the game for Thomas, who dropped Bethune's quarterback in the backfield twice in a span of five plays in the third quarter. In a game in which Jimbo Fisher criticized his defense for ceding too much ground to an overmatched opponent, Thomas stood out.
That's been a theme of the early season for Florida State's defense. It's a unit in transition, having lost a bevy of veterans to the NFL draft and its coordinator to Kentucky. Changes have come at nearly every turn, and the youngest Seminoles are taking advantage.
"They're stepping up," Smith said. "The best man is going to play, and right now, they're proving themselves to be the best man. The young guys are coming. They're on our toes."
It's not just Thomas making an impact.
Jalen Ramsey
become the first FSU cornerback to start as a true freshman since Deion Sanders, then delivered the Seminoles' first interception of the season against Pittsburgh. He's sixth on the team so far with 12 tackles, including one sack.
Demarcus Walker got a start in the opener, too, and he's seen consistent work on the defensive line ever since.
Chris Casher
, a redshirt freshman, racked up 10 tackles -- including two for a loss -- against Bethune-Cookman and was named FSU's defensive player of the week. Second-year players
P.J. Williams
and
Mario Edwards Jr
. are now established starters, and a handful of other youngsters are getting regular reps on defense, too.
Fisher was so pleased with the work of his young defensive backs that he felt comfortable flipping veteran
Karlos Williams
from safety to tailback. Casher, Thomas and sophomore
Eddie Goldman
have helped pick up the slack for FSU's pass rush after its top three defensive ends all left for the NFL. Overall, nearly half of Florida State's tackles this season have come from defenders with zero previous starting experience.
"The platform is even because new [defensive coordinator], new philosophy, and you have to learn it," cornerback
Lamarcus Joyner
said. "Experience on the football field, those young guys haven't had it, but with their talent level and where they're coming in, it's good to see them playing and be able to play fast."
Of course, it's easy enough to chalk up the early success for the freshmen and sophomores to the lack of quality competition on the field, but Fisher said this isn't a passing fad. Florida State's schedule gets markedly tougher in October, and rather than shuffling the young defenders to the sidelines for the big games, he wants to ensure they're ready to play when it counts.
"Ability is never the issue," Fisher said. "It's about technique and assignments and getting playing time to be able to relax on the field and do what you do, taking it from the practice field to the game field. You see that more and more, you feel more comfortable. We're going to keep developing all those guys."
Ramsey already appears to have a starting job locked up moving forward, beating out junior
Nick Waisome
, who started all 14 games last season, and
Ronald Darby
, a freshman All-American in 2012. Fisher raved about Ramsey's combination of speed and physicality, but said it's the freshman's football acumen that has set him apart.
Thomas is a bit more of a work in progress. He's flashed potential, but he's spent much of his first few months on campus simply soaking in all he can about how to do his job.
"He's observing a lot of stuff," Smith said. "He's taking it in, and he's going to erupt when he gets the chance."
Fisher sees it coming, too.
Since arriving on campus in June, Thomas has already packed on nearly 25 pounds to his frame, but it hasn't slowed him down.
"He's gotten faster," Fisher gushed.
Walker and Casher are following a similar path, too, though they've had longer to learn the ropes.
Casher has been sidelined for the better part of the past two years -- first because of an eligibility issue his senior year in high school, then because of a knee injury that cost him nearly all of 2012. Walker arrived this spring to get a jump start on his college career, but an issue with the NCAA Clearinghouse meant he didn't practice with the team at all.
The down time might have been a blessing, however, as both were eager to learn.
"They came in with their eyes open and their notepad ready, listening to the older guys," Smith said.
That's been a trademark of the Class of 2013 in particular. When Joyner arrived in 2010, Florida State was in the midst of a culture change in the locker room that took a while to take hold. The latest batch of freshmen, however, look right at home from Day 1.
"Those guys are coming in here with the same talent level that guys took two to three years to develop," Joyner said.
That's exactly what Fisher wants to see. He doesn't promise playing time to his recruits, he said, but he offers opportunity. This latest crop of Seminoles was prepared when that opportunity arrived.
"When you get here, you get an opportunity, and if you're the best player, you're going to play," Fisher said. "A play don't care who makes it, and there isn't an age limit on being a good player."
August, 29, 2013
8/29/13
10:20
AM ET
The moment is finally here. The season kicks off tonight, as two ACC teams take the gridiron and mark the return of college football. Here is what to keep an eye on this entire weekend as all 14 teams get back in action.
1. Battle in the trenches in Columbia, S.C.
North Carolina will have three new starters on its offensive line Thursday night against No. 6 South Carolina, including two redshirt freshmen. And the Tar Heels will be going up against preseason Heisman contender
Jadeveon Clowney
and the Gamecocks' lethal defensive line. Don't overlook fellow end
Chaz Sutton
, either.
2. Conference debuts.
Pitt and Syracuse play their first games as ACC schools after exiting the former Big East, which the Orange won a four-way share of in 2012. Both schools have the chance to make big opening statements, as the Panthers host defending conference champion Florida State on Labor Day and Syracuse faces a Penn State squad looking to build off Bill O'Brien's successful first year with the program.
[+] Enlarge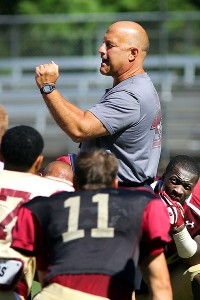 John Tlumacki/The Boston Globe/Getty ImagesBoston College's Steve Addazio is one of the conference's new coaches this season.
3. Trio of first-year coaches.
New BC coach Steve Addazio hosts Villanova, a familiar opponent from his Temple days. Dave Doeren and NC State host Louisiana Tech, which breaks in a new coach of its own in Skip Holtz after Sonny Dykes left for Cal following a 9-3 season. And Syracuse coach Scott Shafer debuts against Penn State in East Rutherford, N.J.
4. QB choices in Jersey and Raleigh.
Two of those new coaches also will be unveiling their starting quarterback choices for the first time, as Shafer sends out either
Terrel Hunt
or
Drew Allen
and Doeren picks
Pete Thomas
or
Brandon Mitchell
. The Orange will be facing a Penn State team that carries the same surprise in its quarterback race between
Christian Hackenberg
and
Tyler Ferguson
.
5. ... Speaking of new starting QBs.
Virginia's
David Watford
will make his first career start against BYU, Duke's
Anthony Boone
takes over the job from Sean Renfree against NC Central, and Florida State and Pitt will both start new signal-callers when they square off on Labor Day, with
Jameis Winston
running the Seminoles' offense and
Tom Savage
handling duties for the Panthers.
6. Pitt's running backs.
Ray Graham is gone. Rushel Shell transferred to West Virginia. And
Isaac Bennett
and
James Conner
have dealt with injuries in camp. Coach Paul Chryst isn't sure how things will shake out Monday, but we likely will see
Rachid Ibrahim
and
Malcolm Crockett
get at least some action given the backfield situation.
7. FSU's defensive backs.
Are too many bodies a good thing?
Nick Waisome
and
Terrence Brooks
started all 14 games last season for the nation's No. 1 pass defense. The crowd also includes preseason All-American
Lamarcus Joyner
, reigning ACC defensive rookie of the year
Ronald Darby
, former five-star prospect
Karlos Williams
and several other strong athletes. New defensive coordinator Jeremy Pruitt has his work cut out for him, although probably not as much as new Pitt quarterback Tom Savage does.
8. Virginia Tech's backfield.
Coach Frank Beamer wasn't kidding when he said the Hokies went from having too many running backs to not enough. Michael Holmes was kicked off the team in July,
Joel Caleb
was suspended this month for the opener against Alabama,
Tony Gregory
suffered a career-ending ACL tear and
J.C. Coleman
's status for Saturday is up in the air because of two ankle sprains. Redshirt freshmen
Trey Edmunds
and
Chris Mangus
are the Hokies' next options after Coleman.
9. "Smoke."
Taquan Mizzell
has earned that nickname despite having never taken the college field. ESPN's No. 9 running back prospect from the class of 2013 has drawn plenty of buzz in Virginia's camp, and he will get a stiff first test against BYU's defense.
10. ACC vs. SEC.
What, you really thought we'd forget this one? Three ACC teams face off against squads from the big, bad SEC, perhaps none with as steep a challenge as Virginia Tech's against Alabama. UNC kicks things off Thursday at South Carolina, and No. 8 Clemson hosts No. 5 Georgia on Saturday night in the headliner of Week 1. The ACC went 1-1 against the SEC in last year's weekend openers, with NC State falling to Tennessee in the Chick-fil-A Kickoff the night before Clemson topped Auburn in the Georgia Dome.
September, 22, 2012
9/22/12
11:59
PM ET
TALLAHASSEE, Fla. -- Here's a quick look back at Florida State's
49-37
win over Clemson in Doak Campbell Stadium:


It was over when:
Clemson quarterback
Tajh Boyd
threw an interception to cornerback
Nick Waisome
with 8:41 left to play. Waisome, who entered the game with three tackles and a pass breakup this season, returned the interception 19 yards to the Clemson 27-yard line.
Chris Thompson
ran it in for a touchdown and a 49-31 lead on the next play.
Game ball goes to:
Florida State quarterback
EJ Manuel
. He had a statement game that should put him in the Heisman conversation, completing 27 of 35 passes for a career-high 380 yards and two touchdowns, and he also ran for 102 yards on 12 carries. It was a breakout game for him.
Stat of the game:
Both teams combined for 1,093 yards of total offense. Clemson gained 168 yards of total offense in the first quarter. FSU had allowed an average of 103 yards per game before tonight.
What it means:
The Seminoles are in the drivers' seat in the Atlantic Division race, and they're the team to beat in the ACC. FSU improved to 2-0 in the ACC for the just the third time in the past nine seasons, and the second time under coach Jimbo Fisher. Florida State should maintain its position as a top-10 team, if not improve upon it if some voters decide to drop LSU for its unconvincing performance against Auburn.
September, 20, 2012
9/20/12
1:00
PM ET
The term "replacement player" in football conjures up images of bumbling and stumbling guys that are poor imitations of the real thing.
[+] Enlarge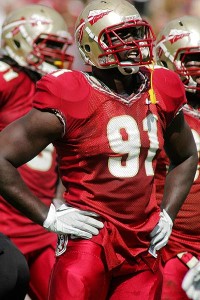 Phil Sears/AP PhotoDE Cornellius "Tank" Carradine is adjusting to the Seminoles' starting lineup quite well.
But at Florida State, replacement players for two standouts -- defensive end
Brandon Jenkins
, lost to injury, and cornerback/kick returner Greg Reid, dismissed from the team -- have more than proven their worth. Through the first three games of the season, the Noles have used three players to plug those holes -- defensive end
Tank Carradine
, cornerback
Nick Waisome
and punt returner
Rashad Greene
-- and gotten fantastic results.
Nobody is quite saying Brandon Jenkins who? Or Greg Reid who? But these three players have made what appears to be a seamless transition into their starting roles. Of course, the biggest test comes Saturday when No. 4 Florida State hosts No. 10 Clemson. Carradine and Waisome have never started a game against an offense filled with this many playmakers.
But at least they have notched the first starts of their careers going into this one, something that Carradine says has been hugely important for him. Carradine played behind
Bjoern Werner
last season but going into 2012, coach Jimbo Fisher labeled Werner, Jenkins and Carradine his 1A, 1B and 1C defensive ends, respectively. When Jenkins was lost for the season with a foot injury sustained in the season opener, it was time for Carradine to move into the starting lineup.
Not exactly the easiest transition, but Carradine says he is now fully acclimated to his new role.
"Being a starter and coming off the bench is totally different," Carradine said in a phone interview this week. "When you're a starter, the team expects more out of you and you come across plays you wouldn't come across if you weren't a starter. You come across certain situations by having more playing time. It's much better starting because you get to see the first snaps of the ball, what keys this person is going to take, and feeling of this person you are up against right off the bat."
Carradine was one of the ACC players of the week following his performance against Wake Forest, in which he had a career-high 2 1/2 sacks. He and Werner are the top two sack leaders in the ACC -- Werner has 6.5 total sacks, Carradine has 3.5. Carradine also ranks No. 3 in the league in tackles for loss, with 4.5. And he also leads the FSU defense with 12 total tackles.
His play has even drawn an "
I told you so
," from Werner, who has repeatedly said the Noles would be fine without Jenkins.
"I'm feeling very comfortable," Carradine said. "I think it was a shock to me at first because I wasn't expecting it, but I feel comfortable now that I'm out there playing, having a chance to start a game and be out there, I have the feeling of being a starter. Playing last year a lot, it also helped me prepare as well."
Waisome mostly played on special teams as a true freshman in 2011, and ended the year with one tackle. But he got his opportunity to start after Reid was kicked off the team this summer. Waisome won a summer competition with true freshman
Ronald Darby
and has done a nice job in the secondary.
With only three career starts under his belt, the 5-foot-10, 170-pound Waisome now
faces the biggest challenge
of his young career, in trying to defend
Sammy Watkins
,
DeAndre Hopkins
and all the other talented Clemson receivers.
What has he learned in his three starts that will help him going into this game?
"Probably just staying with the play, finishing the play all the way to the end," Waisome said. "When you get to the end of the route, when you figure out the receiver is done with the route, you can ease off a little bit sometimes. I feel like you have to stay on them because sometimes those quarterbacks scramble out -- with
Tajh Boyd
being such a great quarterback, we've got to stay on our receivers and play the play out."
As for Greene, he took over punt return duties from Reid and is leading the ACC with a 19.6-yard punt return average and two punt returns for touchdowns.
Marcus Murphy
of Missouri is the only other player in the nation with two punt returns for touchdowns so far in the season.
Fisher was quick to point out that he is really pleased with the way his team has responded, and believes they are much more confident this year than they were going into their game against Clemson a year ago.
"I think I've got some young guys that have really developed, some older guys that have really changed who they are and what they've done and really grown, like you want guys to grow and mature as they do in college," Fisher said.
We'll know more about them after Saturday.
September, 4, 2012
9/04/12
3:00
PM ET
If Florida State is going to live up to its preseason hype this year, it is going to have to do it now without its top two defensive players from a year ago.

The Seminoles are going to be without preseason All-America defensive end
Brandon Jenkins
for the rest of the season,
a difficult enough proposition on its own. But couple that with the loss of cornerback/returner
Greg Reid
-- kicked off the team this summer -- and the Noles are sitting with a major talent deficit.
What helps is that Florida State has
depth at defensive end
, and young players with potential in the secondary. Senior
Cornellius Carradine
will step into the starting job for Jenkins. He has experience, and he played well against Murray State on Saturday after Jenkins got hurt, making nine tackles. The Noles also have redshirt freshman
Giorgio Newberry
and senior
Toshmon Stevens
and could consider pulling the redshirt from highly touted
Mario Edwards Jr.
, the No. 1 player on the ESPN 150 for the class of 2012.
But no matter the depth, it is going to hurt when you lose a player who has had 22.5 sacks and made 28 starts since 2010 -- a player many believed to be the most outstanding defensive end in the entire nation. Yes,
Bjoern Werner
mans the other side of the line, and he had four sacks in Week 1. But where Florida State had the best defensive end duo in the nation at this time last week, there are now more questions than answers.
Couple that with some inexperience in the secondary with Reid gone. Sophomore
Nick Waisome
made his first start Saturday; true freshman
Ronald Darby
is behind him. When it comes to crunch time, how will FSU fare with only seven of its returning starters from a year ago, instead of nine?
The truth is there is not much to glean from the first two weeks of the season against FCS opponents. Savannah State, which just lost to Oklahoma State 84-0, awaits Saturday. We should know much more when ACC play opens against Wake Forest on Sept. 15. An even bigger test awaits the following week against Clemson.
Florida State may end up moving on without missing a beat. Or these two key losses could have a major impact. We just have to stay tuned.