NCF Nation:

Nigel Bradham
January, 13, 2012
1/13/12
11:00
AM ET
It's time to wrap up the 2011 season with the top performers from the bowl games. No, they're not all from Florida State and NC State. Although they could be …
Offense:
QB:
Mike Glennon
, NC State:
He was named the MVP of the Belk Bowl after throwing for 264 yards and three touchdowns to lead NC State past Louisville 31-24.
RB:
Preston Lyons
, Georgia Tech:
The senior fullback started in place of injured
David Sims
and rushed for 138 yards in the overtime loss to Utah. Before this, Lyons had never rushed for more than 50 yards in a game.
[+] Enlarge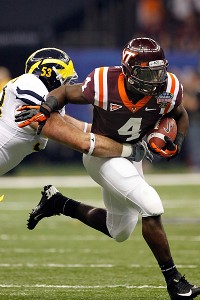 AP Photo/Dave MartinVirginia Tech running back David Wilson finished the season with 1,709 rushing yards.
RB:
David Wilson
, Virginia Tech:
He broke the school's single-season rushing record in the Allstate Sugar Bowl against Michigan with 82 yards on 24 carries. He finished the season with 1,709 yards. His 11-yard run on his second carry of the third quarter enabled him to surpass Ryan Williams' mark of 1,655 yards set in 2009.
WR:
Rashad Greene
, Florida State:
He had five catches for 99 yards and a touchdown in the 18-14 win against Notre Dame and was named the MVP of the Champs Sports Bowl. His 15-yard touchdown catch with just over 13 minutes to play gave the Noles a 15-14 lead.
WR:
T.J. Graham
, NC State:
He finished with seven catches for 116 yards and two touchdowns in the win against Louisville. He also had three kick returns for 63 yards and one punt return for two yards.
WR:
Kris Burd
, Virginia:
He had six catches, 103 yards, two touchdowns and a broken collarbone. He became only the third player in school history to score two receiving touchdowns in a bowl game.
OT:
Zebrie Sanders
, Florida State:
He was the lone senior on an offensive line that started four freshmen. He posted a career-high grade of 94 percent in his final game at left tackle.
OT:
Rob Crisp
, NC State:
Hey, no other lineman in the ACC had a reception in a bowl game. Granted, his teammates keep ribbing him for rumbling and fumbling, but Crisp played a good game, paving the way for the offense from the right tackle spot.
G:
Josue Matias
, Florida State:
As one of four true freshman starters on the Noles' line, Matias posted a grade of 82 percent from the left guard position in his first career start.
G:
Shaq Mason
, Georgia Tech:
Even with guard
Omoregie Uzzi
sitting out with an injury and suspended tackle
Phil Smith
on a bus back to Atlanta, Tech rolled up 311 rushing yards and 448 total yards against a Utah defense that was ranked among the nation's best entering the Hyundai Sun Bowl.
C:
Dalton Freeman
, Clemson:
Freeman had an 84 percent grade and four knockdowns in helping Clemson to 443 yards and 33 points against West Virginia.
Defense:
DE:
Brandon Jenkins
, Florida State:
He finished with two tackles (both solo), including one sack for minus-10 yards. His sack in the third quarter took Notre Dame out of field goal range.
DT:
Nikita Whitlock
, Wake Forest:
He finished with six tackles, 0.5 sacks, 1.5 tackles for loss and one fumble recovery in the loss to Mississippi State.
[+] Enlarge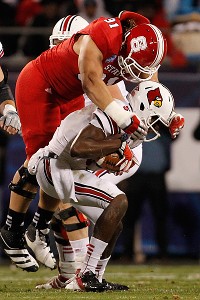 AP Photo/Bob LeveroneThe Wolfpack's Markus Kuhn lands on Louisville's Teddy Bridgewater for a sack during the Belk Bowl.
DT:
Markus Kuhn
, NC State:
He finished with three tackles, including 1.5 for a loss of seven yards. He also had one sack for a loss of six yards in the win against Louisville.
DE:
J.R. Collins
, Virginia Tech:
He finished second on the team with seven tackles and had one tackle for loss in the loss to Michigan in the Allstate Sugar Bowl.
LB:
Nigel Bradham
, Florida State:
He closed out his career with a team-high nine tackles (eight solo) against Notre Dame, finishing the season with a team-leading 86. He was the first FSU player to lead the team in tackles for three consecutive years since All-American Marvin Jones (1990-92). Bradham also added his third career interception in the win.
LB:
Tariq Edwards
, Virginia Tech:
He finished with a team-high eight tackles, one sack for a loss of seven yards and two tackles for a loss of eight yards in the loss to Michigan.
LB:
Audie Cole
, NC State:
The senior ended his career with a team-high 10 tackles, including a pair of sacks and four tackles for loss.
DB:
David Amerson
, NC State:
He had two interceptions and returned one of them 65 yards for a touchdown in the Belk Bowl win against Louisville. He became the ACC's leader in interceptions in a single season with 13. It was one shy of the Football Bowl Subdivision record set by Al Worley of Washington in 1968.
DB:
Kyle Fuller
, Virginia Tech:
He intercepted a pass by Michigan quarterback
Denard Robinson
in the first quarter. The interception marked his second of the season and the second of his career.
DB:
Merrill Noel
, Wake Forest:
He had a team-leading seven tackles and one interception for 18 yards in the 23-17 loss to Mississippi State.
DB:
Lamarcus Joyner
, Florida State:
With Notre Dame inside the 5-yard line, Joyner intercepted his team-best fourth pass of the season. His 77-yard kickoff return after Notre Dame went up 14-0 was the longest kickoff return by a Seminole this year. It was also the third-longest in FSU bowl and Champs Sports Bowl history.
Special teams:
P:
Shawn Powell
, Florida State: He punted 8 times for 378 yards and a 47.2-yard average. He had three punts of more than 50 yards and landed two inside the 20-yard line. His performance sealed his title as the nation's leader in punting.
P/K:
Justin Myer
, Virginia Tech:
Myer entered the game 0-for-2 on the season but made field goals in the Allstate Sugar Bowl of 37, 43, 36 and 25 yards, recording a field goal in every quarter and tying Georgia's Billy Bennett (2003) for the BCS bowl record. The four field goals tied for second-most in Sugar Bowl history. Myer missed on his fifth try, a 37-yard attempt in overtime. The field goals were the first in Myer's collegiate career. The Hokies made six field goals of 30 or more yards all season entering the game.
A/P:
Sammy Watkins
, Clemson:
Despite the loss, Watkins broke two school records in the Discover Orange Bowl and finished with 205 all-purpose yards, giving him 2,282 for the season -- second-most in ACC history. He had seven kick returns for 143 yards, and he had five catches for 66 yards and a touchdown.
December, 30, 2011
12/30/11
2:30
PM ET
ORLANDO, Fla. --
Michael Floyd
's 100th catch of his history-making season ended up being his last in a Notre Dame uniform. But despite not being able to finish the final quarter of his college career, the senior receiver managed to exit in style.
[+] Enlarge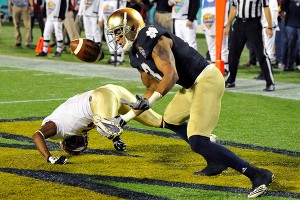 Brad Barr/US PresswireMichael Floyd's final catch for Notre Dame accounted for the Irish's only offensive touchdown of the night.
That last catch may be the one replayed the most (it reached No. 3 on SportsCenter's top plays segment Thursday night), as it accounted for the Irish's only offensive touchdown on the night and their last of the season. Floyd made a circus 5-yard grab from
Tommy Rees
, ripping the ball out of the hands of Florida State cornerback Greg Reid and then bobbling the ball five times before securing it and absorbing a hit from Nigel Bradham.
Reid (concussion) and Floyd (upper-body injury) both left the game afterward.
"He's such a good player," Rees said of Floyd. "His concentration to find it and secure it was unbelievable."
Floyd finished the night with five catches for 41 yards. He also returned the game's first punt 41 yards, a huge jolt to an Irish punt return unit that averaged 0.3 yards per return during the regular season.
"Just an incredible competitor," coach Brian Kelly said of Floyd. "This is my 22nd year and I've had great players, guys that have gone on to great careers in the NFL, are doctors and lawyers. And you remember the guys that overcome, the guys that compete in battle, and he did that today."
Floyd finished the season with 1,147 receiving yards and nine touchdown catches. His 100 receptions this year are a Notre Dame single-season record.
Notre Dame's 10th two-time MVP, Floyd sits atop the school list for career receptions (271), touchdown receptions (37) and receiving yards (3,686), though he was less than pleased with how it ended.
"It's very frustrating," he said of the 18-14 loss. "To end the season you always want to get a 'W.' Unfortunately we didn't get the job done tonight. But you leave a lot of positive things and the underclassmen going back to school, making sure they do the little things right, stay disciplined and show some leadership."
That leadership mantle was taken away from Floyd after he was arrested for drunken driving in March, his third alcohol-related brush with the law since 2009. An offseason suspension followed, and his role as a season captain was stripped. Floyd's probation status from school prohibited him from being a game captain during the regular season.
Having graduated this month, Floyd was named a game captain for the Champs Sports Bowl, joining season captain Harrison Smith for the pregame coin toss.
"That's something that he's deserved," Smith said. "He's done everything that people have asked of him, whether it's on the field, off the field, in the classroom. And he's earned it. He's worked his way to this point and he definitely deserved it, and it was an honor being a captain alongside him."
December, 29, 2011
12/29/11
11:30
PM ET
ORLANDO, Fla. -- One team surrendered five sacks, averaged 1.4 yards per rush and gave up a defensive touchdown.
This was the other coach after the game:
"We turn the ball over. And we cannot win football games at the highest level if we continue to turn the ball over. The coach has got to get better. The players got to get better and we have to solve this issue if we're going to be an elite football team."
That was Brian Kelly, because his Notre Dame team gave up four sacks, gave the ball away three times -- including two end-zone interceptions -- and was actually outgained by 10 yards in a Champs Sports Bowl that was anything but an offensive clinic.
Florida State emerged on the winning end of
an 18-14 contest
Thursday, bouncing back from an atrocious first half and a two-touchdown deficit to rattle off 15 points in the final quarter and finish 9-4 on the season.
Thirty minutes before the final horn, it looked like the Seminoles would have trouble even getting on the board.
Four sacks, two false-start penalties and a fumble that Irish safety Zeke Motta returned 29 yards for the half's lone score highlighted a less-than-inspiring offensive performance. Much of the third quarter played out in similar fashion, though Dustin Hopkins did manage a 42-yard field goal to get Florida State on the board -- after a 77-yard kickoff return was followed by a four-play, minus-3 yard drive.
But
EJ Manuel
scraped together the game's most impressive drive just as the third quarter was winding down, taking the Seminoles 84 yards in 10 plays, the last of which -- an 18-yard touchdown pass to
Bert Reed
-- kicked off a fourth quarter that the Irish will want back.
The second half of Notre Dame's two-quarterback system,
Andrew Hendrix
, threw an interception to Nigel Bradham three plays later, and Manuel capitalized two plays after that by connecting with game MVP
Rashad Greene
for a 15-yard score to make it 15-14. Greene finished with 99 yards on five catches.
[+] Enlarge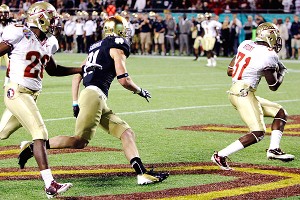 AP Photo/John RaouxThis interception by Terrence Brooks, right, ended Notre Dame's chances at a late comeback.
Field position, poor punting and a facemask penalty allowed Notre Dame to begin its second-to-last drive at Florida State's 28, but the Irish's chance went out the door when
Tommy Rees
' pass for the double-covered
John Goodman
was picked off in the end zone by Terrence Brooks.
Rees took the Irish to the Florida State 4 on the their first drive of the game, but was picked off in the end zone that time by Lamarcus Joyner.
Notre Dame entered with the plan to play both sophomore quarterbacks, and Rees saw most of the action. He completed 16 of 27 passes for 163 yards and a highlight-reel worthy touchdown, which
Michael Floyd
hauled in from five yards out after ripping the ball away from Greg Reid, bobbling it five times and hanging on for good while absorbing a hit from Bradham. Both Floyd (upper-body injury) and Reid (concussion) were hurt on the play and did not return.
Hendrix, who was used sparingly throughout the season, finished 3 of 8 for 24 yards.
"It's all those things -- frustrating, disappointing," Rees said. "It's not something you can hang your head on, though. As a quarterback and a leader you got to keep your head up regardless of the situation and be there for your teammates. The worst part is sending your seniors off with a loss, and a game that we had an opportunity to win makes it that much worse."
Kelly laughed at the notion that he started at Notre Dame in 2010 as an offensive guy -- "Well, I guess I'm not an offensive guy" -- and said earlier that the unit has some catching up to do after the performance his defense put forth.
"It's nice to be able to talk about a Notre Dame football team that plays championship defense, because they did that today," Kelly said. "Now we've got to get our offense obviously to play that level as well, and that will be the next step for our football program, is getting our offense to play at the same level that our defense is evolving to."
Coming off an 8-5 campaign, Notre Dame entered 2011 with BCS-bowl hopes and a quarterback controversy. On its first drive of the season, a goal-line fumble portended a two-week opening stretch that saw two close losses, 10 total turnovers and postseason goals all but go up in flames.
More than 16 weeks later, the campaign ended in a turnover-plagued slugfest that saw Notre Dame's final chance get picked off in the end zone.
"We see it as we could've run the table this year," Floyd said, "but with our mistakes and not being disciplined at certain times, we fell short."
December, 29, 2011
12/29/11
9:06
PM ET
ORLANDO, Fla. — Florida State scored 15 points in the final frame to storm back and
beat Notre Dame 18-14
to win the Champs Sports Bowl. Here's how it went down:


Turning point
: In a less-than-two-minute span to start the fourth quarter, Florida State made up for the first three.
EJ Manuel
hit
Bert Reed
for an 18-yard score, Nigel Bradham picked off
Andrew Hendrix
on the ensuing drive and Manuel then hit
Rashad Greene
for a 15-yard score to make it 15-14 with 13:18 left. Twelve quick points after just three through the first 45 minutes were enough for the Seminoles.
Stat of the game
: Pick your poison: Ten combined penalties or four combined turnovers? This game was sloppy on both ends for three quarters, and Florida State was able to capitalize on the miscues at the end and come out victorious.
Player of the game
: Greene proved a tough man to stop in the second half. He finished the game with five catches for 99 yards and a touchdown, including an outstanding 42-yard grab that he bobbled and hung onto near the sideline on a third-and-6 in the fourth quarter. (It was challenged and upheld.)
Second guessing
:
Tommy Rees
threw two interceptions in the end zone and might have had a third if not for a spectacular touchdown grab by
Michael Floyd
. In a game that was dominated by both defenses, Notre Dame simply could not afford to give away its precious few opportunities.
What it means
: Florida State got its ninth victory and will likely finish the season ranked. Notre Dame falls to 8-5, its same record as last season, and questions will continue to mount about the quarterback position, which has nearly as many questions to end the season as it did to begin.
Record performance
: Jamoris Slaughter's two sacks were two more than he had his entire career and were a Champs Sports Bowl record. The 68,305 in attendance made up the bowl's biggest crowd since it moved to Orlando.
December, 29, 2011
12/29/11
7:46
PM ET
ORLANDO, Fla. — Bowl season has found its best play of 2011.
Michael Floyd
's 5-yard touchdown grab was anything but simple, as
Tommy Rees
' fade pass was underthrown and nearly picked off by Greg Reid. Floyd managed to pry it loose from Reid before engaging in a juggling act — all the while absorbing a hit from Nigel Bradham just as he secured the ball.
Touchdown, Irish.
Floyd's 100th catch of the season made it 14-0 Notre Dame, which is anything but your conventional two-score lead in a game that has lacked for offensive fire power.
The Seminoles appeared to be on the verge of closing the gap after Lamarcus Joyner's 77-yard kickoff return, but the offense followed with a three-and-out that was punctuated by a — you guessed it — sack of
EJ Manuel
, this time by Aaron Lynch for a loss of 15.
Dustin Hopkins kicked a 42-yard field goal to get FSU on the board and cut the
lead to 14-3
.
The Irish offense, meanwhile, went with both quarterbacks on its first drive of the half, putting
Andrew Hendrix
in at the 23 yard line. He carried it three times for 18 yards before Rees entered at first-and-goal from the 5, setting up the touchdown play.
George Atkinson deserves credit for setting the Irish up so well with a 37-yard kickoff return to open the half, as well as stopping Joyner from going all the way on the ensuing kickoff.
November, 13, 2011
11/13/11
10:00
AM ET
Half of the equation has been solved in the 2011 ACC race. There are always answers each week, but we got an important one in Week 11:
[+] Enlarge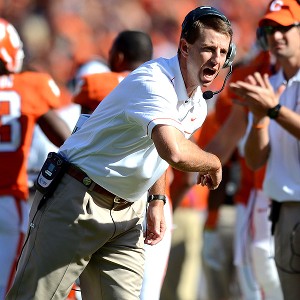 AP Photo/ Richard ShiroDabo Swinney and the Tigers capped a perfect home season with a win on Saturday.
Clemson won the Atlantic Division.
It wasn't easy, and the Tigers lost their top playmaker and one of the country's best receivers in the process, as
Sammy Watkins
sprained an AC joint in his shoulder during the 31-28 win over Wake Forest. Though the injury isn't said to be serious, Watkins' status for Saturday's game at NC State is uncertain. Clemson's status, though, has been solidified as the best in the Atlantic Division. The Tigers finished the season with a perfect 7-0 record at home, the first undefeated home season since 1990. It was the third time this season that Clemson had overcome a deficit of 14 or more points (Auburn and Maryland). Clemson is heading to Charlotte.
Rivals Virginia Tech and Virginia are the last two standing.
The Commonwealth owns the Coastal Division this year. With Virginia Tech's Thursday night win over Georgia Tech, the Hokies eliminated the Yellow Jackets and Miami from the ACC race. With Virginia's win over Duke on Saturday, the Hoos remain in contention and can win the division if they win their final two games against Florida State and Virginia Tech. If UVa beats FSU and Virginia Tech loses to North Carolina, the regular-season finale could determine this year's division winner. Bottom line: UVa needs to win out and the Hokies remain the team to beat.
NC State is at least consistently inconsistent.
A win at Virginia. An implosion at Florida State. A fifth straight win over rival North Carolina. And then 10 points against a Boston College team in the midst of its worst season since 1998. Next up? How about an upset of Atlantic Division champ Clemson? The odds are against them, but with the way this season has gone for NC State, the Wolfpack are impossible to predict. The one thing we do know after the loss in Chestnut Hill is that NC State now needs to beat Clemson and Maryland in order to get to a bowl game.
Some ACC officials are confused, but let me double check that.
No doubt, there's indisputable video evidence, starting with five video replays in the first half of the FSU-Miami game, including a double reversal in which an initial decision to overturn a call was -- you guessed it -- overturned. And as for the Nigel Bradham hit? It was scary. It was chilling. But there was no helmet-to-helmet contact. Was he ejected for launching himself into the upper body of a receiver deemed defenseless? Don't worry, it will be reviewed again. And probably one more time, just to make sure.
FSU and Miami are right where they're supposed to be this year -- unranked.
You can talk about what this rivalry means to the players, what it means to recruiting within the state, and the balance of power among the big three. But you can't talk about Saturday night's game as if it were another instant classic. It wasn't. Turnovers, penalties, sloppy play -- all of it added up to a ho-hum game that did little more than bump FSU ahead of Wake Forest in the ACC standings and leave Miami one win shy of bowl eligibility. Again. A 7-3 team beat a 5-5 team at home.
November, 12, 2011
11/12/11
10:21
PM ET
Florida State's sports information office released the following information from the ACC director of football officials, Doug Rhoads, regarding potential further penalty following Nigel Bradham's fourth-quarter ejection:
All targeting and helmet contact fouls must be reviewed by conference office per NCAA rules whether there's a disqualification or not. ACC Associate Commissioner Michael Kelly and Director of Football Officials Doug Rhoads will review the play in question and determine if further penalty is necessary. No further penalty is required, but it must be reviewed. This must be done before Monday's practice.
The only definitive suspension for the following game is when a player is ejected for fighting.
November, 5, 2011
11/05/11
11:29
PM ET
Here's a look at your top five performers for Week 10:

Virginia S Rodney McLeod:
His three interceptions in the
31-13 win
over Maryland tied a school record for a game. He became first player since Anthony Poindexter in 1996 against NC State to have three picks in a game and the seventh player overall. He also had a team-high seven tackles. Two of his interceptions were on fourth down in the fourth quarter. His first set up Virginia's second touchdown drive of the third quarter, increasing the Hoos' lead to 15 points, 28-13.
NC State's defense:
The Wolfpack held North Carolina to just 3 yards rushing and finished with four sacks in the
13-0 shutout
of their rival. NC State held UNC to just 165 total yards in the first shutout of the Tar Heels since 1960. UNC was held to just 32 yards in the first half, and had three turnovers.
NC State coach Tom O'Brien:
Five times. With the
13-0 win
over rival North Carolina, NC State won five in a row in the series for the first time since 1988-92. O'Brien kept his team on track following an embarrassing 34-0 loss at Florida State, and in a game that some said would define the direction of his career in Raleigh, O'Brien came out on top.
Miami running back Lamar Miller:
He ran for 147 yards and two touchdowns in the Canes'
49-14 win
over Duke, becoming the first 1,000-yard rusher at Miami since Willis McGahee in 2002. Miller now has 1,016 yards this season. Miller surpassed the 1,000-yard mark with a 22-yard touchdown run with 8:56 left in the game. He also had a 3-yard touchdown run in the third quarter for the 35-14 lead.
Florida State's defense
: The Noles had four takeaways and held BC to just 94 yards rushing and 5-of-15 third-down conversion attempts in a
38-7 win
on Thursday. Telvin Smith had a fumble recovery and an interception, and linebacker Nigel Bradham had 2.5 tackles for loss in the first half and led the team with seven tackles.
September, 15, 2011
9/15/11
11:00
AM ET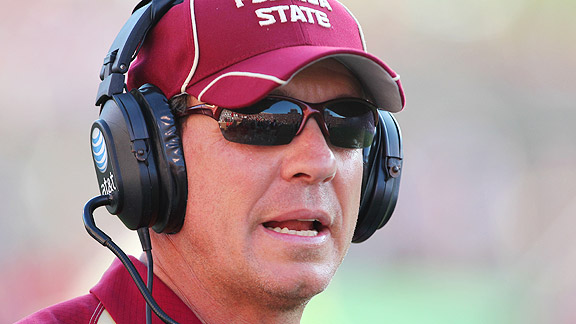 Matthew Emmons/US PresswireJimbo Fisher's Seminoles lost to Oklahoma 47-17 last season. "Hopefully, we'll be better this year."
Florida State linebacker Nigel Bradham has not watched the film of last year's 47-17 loss to Oklahoma since the Monday following that game last season.
"I haven't watched that film since," he said, "and I don't
want
to watch it."
You can't blame him.
Landry Jones
threw for 380 yards and four touchdowns that day, shredding the Seminoles' defense, which was often caught off-guard and out of position.
That was then, this is now, and those within Florida State's program are convinced this year's team is good enough to beat the No. 1 team in the nation. As the season progressed last year, so did Florida State, so much so that the Seminoles won the Atlantic Division and earned themselves a spot in the ACC championship game. Now, in only the second season under coach Jimbo Fisher, an upset of the No. 1-ranked Sooners on Saturday could have Florida State in the hunt for a national title. Fisher said the biggest difference between his team today and the last time it lined up against the Oklahoma is the maturity level and familiarity.
"You know more of your team," he said. "Last year, being the second game we played, it was still -- an interesting thing -- going on the road, big game on road. I think we know our players better and they know us better. They know our scheme better and we know what they can do in our scheme better. We'll be able to coach them better. Hopefully we got better as a football team and throughout that time, which I think we did as the year went on. Hopefully, we'll be better this year."
[+] Enlarge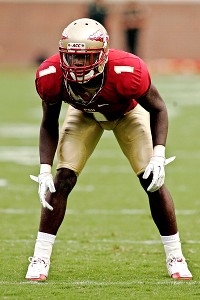 Phil Sears/US PRESSWIREMike Harris and the Florida State defense have collected 15 interceptions and allowed just 14 touchdowns in the 14 games since Oklahoma.
The numbers indicate more progress than hope.
In last year's game against Oklahoma, FSU allowed 44 points in three quarters. They also allowed 487 yards and 394 passing yards. According to ESPN's research department, the 47 points and 487 yards were the most allowed by Florida State last season. In the 14 games since, the Seminoles have held 11 opponents under 20 points, and only one opponent has thrown for more than 280 yards. Opponents have 14 touchdown passes and 15 interceptions during that span.
Part of that improvement stems from the natural progression that comes with being in the second season of the same system. The players have said they have a much better comfort level with defensive coordinator Mark Stoops and his philosophy.
"We've got a great chemistry with coach Stoops now," Bradham said. "We have more of an understanding of what he wants to do with the game plan, and understand his scheme more. That helps us a lot more. The connection with him as a person and a coach. Knowing what he likes to do in certain situations, and knowing what calls he likes to go to in certain situations has helped us out on the whole defense."
Offensively, it's a new story with a new quarterback. Former Florida State quarterback Christian Ponder's Heisman hopes were dashed in this game before they even really began. This year, there's more of a humble approach, as first-year starter
EJ Manuel
calmly readies himself for one of the biggest games of his career to date. Manuel said he is not the only one who has improved since last year.
"I think our team has really grown up from last year," Manuel said. "A lot of guys who played key positions and key roles for our team are juniors and seniors and sophomores. That experience is very good for us."
The Seminoles have scored 96 points in their first two games -- 34-0 against Louisiana-Monroe, and 62-10 against Charleston Southern -- but the offensive line hasn't quite come together yet, and the running game has yet to reach the level of consistency Fisher would like to see. The strength of this team, at least early, has clearly been the defense.
Through two games, FSU's defense has allowed 10 points, 275 total yards, and 15 first downs. Opponents have converted only 7-of-29 third-down attempts.
Those numbers, though, have come against inferior opponents.
Only Saturday's game against Oklahoma will truly reveal just how far Florida State has come since the last time it lined up against the Sooners.
"This is a different team," said receiver
Rodney Smith
. "Saturday will prove it all."
June, 29, 2011
6/29/11
5:00
PM ET
You are going to argue about this. How do I know? Because I'm still arguing with myself over it ...
[+] Enlarge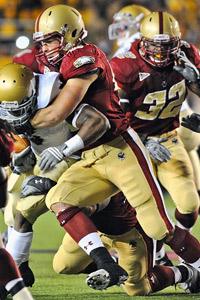 Michael Tureski/Icon SMILuke Kuechly leads a deep group of Boston College linebackers.
1. Boston College:
Luke Kuechly is one of the best in the country, but he's not alone. The Eagles also have Kevin Pierre-Louis, who ranked second nationally among all freshmen in tackles per game last season with 7.15 -- ninth in the ACC. It won't be easy to replace Mark Herzlich, on or off the field, but Steele Divitto played in 11 games last season, and Nick Clancy and Will Thompson both saw time on the second team.
2. Florida State:
The Noles had to replace two starters, including Kendall Smith, the team's second-leading tackler, last season, and Mister Alexander, but the upcoming talent could be even better. Nigel Bradham led the team with 98 tackles and five pass breakups last season, and Christian Jones, Jeff Luc, Telvin Smith and Vince Williams will also be competing for playing time.
3. Miami:
Sean Spence, who has 30 career starts, should be one of the best in the country, and Ramon Buchanon, another senior, also returns. The Canes have five other linebackers with experience in Kelvin Cain, who started seven games, Jordan Futch, who had a great spring and will see the field, Tyrone Cornelius, Shayon Green and C.J. Holton.
4. North Carolina:
Kevin Reddick, who led the Tar Heels with 74 tackles last season, returns for his third season as starter. Zach Brown is also a returning starter with game-changing capabilities, and there is plenty of depth with Dion Guy, Darius Lipford, Ebele Okakpu and Herman Davidson. Junior college transfer Fabby Desir could also have an impact.
5. NC State:
Audie Cole and Terrell Manning have combined for 39 career starts, and Cole fared well this spring moving to the middle to replace Nate Irving. With the return of Sterling Lucas, Dwayne Maddox and Colby Jackson, there is plenty of experience, but not quite as much depth as some other programs.
6. Georgia Tech:
The Jackets return both starters in Steven Sylvester and Julian Burnett. There is no shortage of depth with Jeremy Attaochu, Quayshawn Nealey, Brandon Watts, Albert Rocker, Malcolm Munroe and Daniel Drummond.
7. Clemson:
This group has a lot of potential, especially if true freshmen Tony Steward and Stephone Anthony make an immediate impact. There's no question they'll be given a chance, but the Tigers already have a good group with Corico Hawkins, Quandon Christian and Jonathan Willard.
8. Virginia Tech:
It seems like this rotation has been in flux for a while now. The Hokies' leading tackler returns in Bruce Taylor, Barquell Rivers had 96 tackles as a starter in 2009 but was injured last season, and there are several young players adding to the competition. Chase Williams, Tariq Edwards, Telvion Clark and Jack Tyler are only a few. Whip linebacker Jeron Gouveia-Winslow will have to earn his spot back over Alonzo Tweedy, Dominique Patterson and Nick Dew.
9. Maryland:
The Terps were hit hard here with the losses of Alex Wujciak (381 career tackles) and Adrian Moten (14.5 career sacks). Demetrius Hartsfield returns with 20 career starts, and there are four lettermen returning including Darin Drakeford, Isaiah Ross, David Mackall and Bradley Johnson.
10. Wake Forest:
Kyle Wilber's move to outside linebacker will give this position a boost, as he led the Deacs with 14.5 tackles for loss and six sacks last season. His backup is Gelo Orange (22 tackles). The Deacs also have Tristan Dorty, Joey Ehrmann, Mike Olsen, Scott Betros, Riley Haynes and Justin Jackson.
11. Virginia:
Starters LaRoy Reynolds and Ausar Walcott both return, but neither has started more than 11 career games. Junior Steve Greer has prior starting experience but played mainly as a reserve last season. Adam Taliaferro, Conner McCartin, Tucker Windle and LoVante Battle are also in the mix for playing time.
12. Duke
: Kelby Brown is the lone returning starter, but he's a promising young player who led the nation last season as a freshman in fumbles recovered. He missed spring ball while recovering from a knee injury, but is expected to start with Tyree Glover or Kevin Rojas.
February, 15, 2011
2/15/11
9:00
AM ET
It's that time of year, ACC fans. Duke kicks off the ACC's spring football schedule with practice tomorrow, so it's time to take a look at three storylines to watch for each program. We'll start with the Atlantic Division:

BOSTON COLLEGE
Spring practice starts:
March 15
Spring game:
April 16
What to watch:

CLEMSON
Spring practice starts:
March 7
Spring game:
April 9
What to watch:

FLORIDA STATE
Spring practice starts:
March 21
Spring game:
April 16
What to watch:

MARYLAND
Spring practice starts:
March 29
Spring game:
April 30
What to watch:

NC STATE
Spring practice starts:
March 17
Spring game:
April 16
What to watch:

WAKE FOREST
Spring practice starts:
March 15
Spring game:
April 16
What to watch:
July, 18, 2008
7/18/08
6:46
PM ET
Posted by ESPN.com's Heather Dinich
1. Virginia: Senior captain Clint Sintim started all 37 games in his career and was third on the team with 77 tackles last season. His nine sacks last year were the most of any linebacker in the nation. Inside linebacker Jon Copper is UVA's active leader in tackles with 200, and Antonio Appleby is third on that list with 155.
2. Wake Forest: All three returning starters are back, including strongside linebacker Aaron Curry, a two-time defensive player of the week who had three interception returns for touchdowns and led the nation in interception return yards with 256. He also led the team with 13.5 tackles for a loss. Middle linebacker Stanley Arnoux also returns, along with weakside linebacker Chantz McClinic, who had 42 tackles.
| | |
| --- | --- |
| | |
| | Ned Dishman/Getty Images |
| | Senior linebacker Brian Toal, who has 180 career tackles despite missing last season, is healthy again for Boston College. |
3. Boston College: The Eagles lost two key starters, but senior Brian Toal's shoulder is healed and he has 180 career tackles despite missing last season with a medical redshirt. His primary competition at weakside linebacker will come from senior Robert Francois, who finished last season with 39 total tackles. Junior Mark Herzlich, who started all 14 games last year and finished second in total tackles with 97 should anchor this unit. Junior Mike McLaughlin started three games at middle linebacker last season when Jo-Lonn Dunbar was injured and is the heir apparent there.
4. Maryland: This could be one of the Terps' deeper positions, even with the loss of Erin Henderson to the NFL. Seniors Dave Philistin and Moise Fokou each started all 13 games last season, and Adrian Moten, who played all three positions as a freshman, tied for the team lead in sacks (5.5) and had 50 tackles even though he didn't start a game. Philistin ranked fourth in the ACC with 9.5 tackles per game.
5. Florida State: These guys have talent, it's just a matter of when it will all come together. Geno Hayes is gone, and so is Marcus Ball, who was expected to fill in for Hayes but was booted off the team. Still, the Seminoles' leading tackler is back. Underrated middle linebacker Derek Nicholson made 99 stops last year and was the only linebacker to start all 13 games. Strongside linebacker Dekoda Watson started every game but the bowl game because of the academic scandal and will miss the first three, leaving the job to sophomore Kendall Smith. The 'Noles are also excited about freshman Nigel Bradham.
6. Miami: The Hurricanes lost their leading tackler in Tavares Gooden, a third-round NFL draft pick by the Ravens, but are still better off than the way they ended last season -- with three healthy linebackers. Senior Glenn Cook is back after missing last season with a foot injury, and the freshmen -- Arthur Brown and Sean Spence -- didn't waste any time impressing the staff while Coin McCarthy was out this spring. Darryl Sharpton and Spencer Adkins are possible starters in the middle.
7. Virginia Tech: The Hokies will obviously miss Vince Hall and Xavier Adibi, but middle linebacker Brett Warren played well last year when Hall got hurt and earned the confidence of defensive coordinator Bud Foster. Purnell Sturdivant is No. 1 heading into the fall, but should be challenged by veteran Jonas Houseright and redshirt freshman Hunter Ovens. Redshirt junior Cam Martin started 13 of 14 games last season at weakside after being moved from free safety and finished fifth on the team with 78 tackles and was third in sacks with 4.5.
8. Duke: Senior Michael Tauiliili is the top active player in the league in terms of career tackles, and finished last season with 108. He also had four sacks and three interceptions. Vincent Rey led the Blue Devils with 111 tackles. The third slot will be between Marcus Jones and Adam Banks. There's not a lot of depth here, but there's talent.
9. Clemson: This is the least experienced unit on the Tigers' defense. Josh Miller is the only senior in the group and is competing for the starting middle linebacker job. Tommy Bowden was impressed with freshman Stanley Hunter this spring, but Brandon Maye had the top spring among the newcomers and is listed as first team in the middle entering the fall. Junior Kavell Connor is the top option at weakside linebacker and had a career high 15 tackles in the Chick-fil-A Peach Bowl. He had 46 stops for the year, tops among linebackers on the spring depth chart. Sophomore Scotty Cooper also started the Chick-fil-A Bowl at strongside linebacker. He had 33 stops for the season in 183 plays on defense.
10. North Carolina: The Tar Heels have to replace leading tackler Durell Mapp, but return sophomore Bruce Carter and sophomore Quan Sturdivant. Carter played in all 12 games and started seven. He made 18 of his 25 tackles in the final five games. Sturdivant's experience is similar, having played in all 12 games, but started just five. He finished the season with 47 tackles, but also added an interception and a blocked punt. Senior Mark Paschal played in all 12 games and started four at middle linebacker, and Chase Rice was still recovering this spring from a torn tendon in his left ankle. He was the starter in 2007, but got hurt in the season opener and missed the rest of the season.
11. NC State: There's not a lot of experience, as the top candidates have combined for five starts and only four guys have played in a collegiate game. Nate Irving is the lead candidate at weakside linebacker, having started four games. Ray Michel started one game in the middle, and strongside should be wide open. Robbie Leonard, a converted walk-on defensive back, is the starter heading into summer camp. He played in eight games as a strong safety and has seen most of his action on special teams the past two seasons. Thomas Barnes got valuable experience as a backup middle linebacker last season, playing the last 10 games and scoring a touchdown on a fumble recovery in only his third career play from scrimmage.
12. Georgia Tech: Two of the three stars from last year -- Philip Wheeler and Gary Guyton -- are now on NFL rosters. Junior Shane Bowen started nine games last season, but sophomore Anthony Barnes has the most potential and started three. Two young rookies, sophomore Brad Jefferson and redshirt freshman Kyle Jackson, are good enough that Bowen may lose his starting job.