NCF Nation:

Nigel Nicholas
September, 27, 2012
9/27/12
3:00
PM ET
If you missed it earlier this week, Mike Gundy let ESPN's cameras get an inside look at his program for an all-access show this week. There was plenty of intriguing stuff. A few observations and thoughts:
If you didn't realize it already, recruiting is a year-round activity for coaches, and they love to take advantage of that on bye weeks, getting on the road and seeing future players play. That's evident in the early-morning meeting in the first scene of the show. After an update on Wes Lunt's health just days after suffering a knee injury, Gundy wants to go over the plan for recruiting on the following weekend. This was shot early last week. On Friday and Saturday, Gundy and his coaches were on the road, and a few coaches were even tweeting from the road.
Shows like these are always good for a program like Oklahoma State, which has just crazy facilities to showcase. If you think future recruits didn't watch that and have a few jaws drop, you're crazy. Texas is the only school in the league with nicer facilities than Oklahoma State.
Nigel Nicholas: tour guide extraordinaire. Going places he'd never been (the roof of Boone Pickens Stadium) and pointing out everyone he saw? I don't know why, but I couldn't stop laughing. It added some color to what could have been a dry segment, and showed off those facilities I was telling you about. I got a look at it this spring, but OSU's pretty proud of that Fiesta Bowl trophy so prominently placed in the trophy case, and rightfully so.
Somehow I missed that Boone Pickens has his own locker in the Cowboys' locker room. I guess that's what happens when you hand over a couple hundred million dollars. You could have one, too!
Nicholas' impression of Mike Gundy after dropping the inside info that Gundy stands on a chair to address the team before games? Classic. Later on once practice began, Gundy got some work at QB in receiver drills. Former Cowboys QB's still got an arm.
Gundy called his staff this year the best he's had in his eight years at Oklahoma State.
Practice footage doesn't do much for me. There's not much context and it's tough to learn a whole lot, but OSU infamously keeps its total practice time low. It's a policy that works. The actual practice activity is fairly similar for teams that have similar systems, but schedule, order and physicality varies pretty wildly, regardless of what teams do. OSU doesn't hit much in practice and never tackles. That's translated to a fresher team and hasn't brought about any toughness or serious tackling problems in games. Very interesting.
No shock here: Not much talk about the Lunt injury or how it affected the team, but a lot of talk about J.W. Walsh's development and his play in the wake of the injury. Well deserved. I'm excited to see how much it translates this weekend if Walsh gets the start, as I expect.
The Cowboys practice fast, fast, fast (Dana Holgorsen was part of instituting that), and if you were just watching practice, that didn't really translate on the screen. It's a constant emphasis when you see a complete practice in person, though. Baylor and Texas Tech are about as fast, but you play fast by practicing fast.
September, 6, 2012
9/06/12
10:15
AM ET
Here are 10 things I'm keeping an eye on in Week 2 across the Big 12.
1. Collin Klein's workload.
The big man only got 12 carries a week ago. Was it because Bill Snyder knew his team could handle FCS Missouri State, or can we expect more of a change out of Kansas State's offense? I'm betting on the former, but you never know what to expect from Bill Snyder. No coach in the league plays his cards closer to the vest.
2. Oklahoma's passing game.
It was a little bit of everything last week against UTEP. Receivers looked uncomfortable and didn't always get open. One long pass was called back because the receiver stepped out of bounds. The offensive line wasn't great in protection, but
Landry Jones
held on to the ball a little too long on plenty of occasions. The Sooners know they need to fix the problems. Playing against an FCS opponent is a good time to get some work in.
[+] Enlarge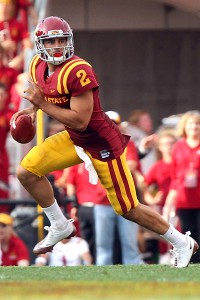 Reese Strickland/US PresswireIowa State's Steele Jantz completed over 70 percent of his passes against Tulsa.
3. Steele Jantz's decision-making.
Jantz was much more judicious with the ball in Week 1 against a decent Tulsa team than he was in the first few games of last season. Will that continue? His one interception last week was partly his fault (poor accuracy) and partly his receiver's fault (tipped pass). Iowa State can't afford turnovers against Iowa.
4. Wes Lunt under fire.
Mike Gundy liked what he saw from Lunt, but knows Lunt didn't face third-and-longs, blitzes or pressure of any kind. That'll change this week against former WVU defensive coordinator Jeff Casteel, now in Tucson. You have to assume Arizona's game plan centers around pressuring the freshman quarterback. You can't drop back and see if the backs can beat you -- they can. How does Lunt handle it? Oklahoma State's hopes hinge on it.
5. Kansas' defensive line.
The Jayhawks had just nine sacks a year ago, but defensive linemen got two against South Dakota State last week. But KU also gave up a 99-yard touchdown run. What does the unit most in need of a facelift from 2011 have in store for Week 2?
6. TCU's defense.
I don't think the Frogs can really prove anything, but I'm mostly curious about who's going to be where and how often for the Frogs. Gary Patterson shook up his defense during fall camp, and TCU has two freshmen starting on the defensive line. How do the new safeties look? Here's guessing that depth chart changes even more after Week 1.
7. Texas' defensive miscues.
Safety
Kenny Vaccaro
said players on defense played as if they'd read too many of their press clippings last week. The defense gave up an 82-yard touchdown to Wyoming and looked undeniably mortal for a unit that's supposed to be the Big 12's best. Will the Longhorns eliminate mistakes this week against New Mexico?
8. Texas Tech's first quarter.
The Red Raiders looked sluggish against FCS foe Northwestern State last week, leading just 7-3 early in the second quarter. This week, they have a road game against Texas State. I think Tech wins, but starting slow and falling behind to the Bobcats would energize the crowd and the team in a game it wants badly. Tech needs to open the game with its best. At halftime of last year's matchup, Texas Tech led this game in Lubbock 10-9.
9. Big 12's first loss of the season?
The Big 12 mostly cruised through Week 1, save for Iowa State's first quarter against Tulsa. The conference faces three major tests in Week 2, though: (1) Oklahoma State has to take care of business on the road against Arizona; (2) can Kansas State take the first step in validating last year's 10-win season against Miami? The most likely spot for a loss? and (3) A toss-up game at Iowa for Iowa State. Getting through two weeks of football at 17-0 is definitely possible for the Big 12, though.
10. Oklahoma State's renewed defense.
The Cowboys have the personnel to be solid this season, but are they as good as advertised on defense? Arizona's zone-read scheme is an interesting test -- mostly for the front seven. The Cowboys linebackers are solid, but can the defensive line prove itself? I'm looking at
Cooper Bassett
,
Nigel Nicholas
and
Calvin Barnett
on this one.
May, 22, 2009
5/22/09
6:38
PM ET
Posted by ESPN.com's Tim Griffin
Sometimes the spring provides a chance for personnel holes to be filled. Sometimes it doesn't.
Here are some of the notable positions around the Big 12 that picked up some assistance during the spring.
Baylor: The quick development of defensive tackle Phil Taylor, a heralded transfer from Penn State, should turn a traditional position of weakness for the Bears into a strength. Joining him at the position will be Jason Lamb, who showed some promise after moving over from defensive end before spring practice.
Colorado: The emergence of hulking 260-pound middle linebacker Marcus Burton and B.J. Beatty at outside linebacker have helped transform the Buffaloes' defense. Burton led the team in tackles and was a prime playmaker in the spring game with eight tackles, two sacks and a fumble recovery. He had eight tackles in 10 games last season.
Iowa State: Redshirt freshman quarterback Jerome Tiller outplayed starter Austen Arnaud in the spring game, passing for 210 yards and getting free for a 65-yard touchdown run. I'm not sure that Tiller will be starting come September, but he'll make Arnaud work harder to earn his job.
Kansas: The Jayhawks had questions in the defensive line before the spring, even with the return of all-Big 12 honorable mention selections Caleb Blakesley and Jake Laptad and late season starting defensive tackles Richard Johnson and Jamal Greene. The development of tackle Darius Parish and end Max Onyegbule should add to the depth. And that doesn't even account for the arrival of heralded junior college transfer Quintin Woods, who originally signed with Michigan out of high school before heading to Bakersfield (Cal.) Community College to get his grades in order.
Kansas State: The emergence of linebackers like Alex Hrebec, Ulla Pomele and John Houlik has helped turn the position into the strength of the defense, even as the Wildcats are transforming to a 4-2-5 alignment. Hrebec, a former walk-on, contributed 19 tackles in the spring game and Houlik is a huge hitter despite his 5-foot-11, 219-pound size.
Missouri: Redshirt freshman Aldon Smith has only added to the Tigers' depth at defensive end, which already featured Brian Coulter and Jacquies Smith in front of him. Smith was voted as the team's most improved player in the spring. Throw in converted offensive tackle Brad Madison and redshirt freshman Marcus Marlbrough and you'll see why Gary Pinkel considers it his best collection of defensive ends at Missouri.
Nebraska: The Cornhuskers had serious questions at quarterback, particularly after the departure of projected starting challenger Patrick Witt before spring practice and Kody Spano's knee injury. But the strong spring by Zac Lee and the surprising development of converted linebacker LaTravis Washington eased some of offensive coordinator Shawn Watson's concerns. Their strong spring work also should mean that heralded freshman Cody Green likely won't be thrown into action perhaps as quickly as Watson might have feared before the spring.
Oklahoma: After losing starters Nic Harris and Lendy Holmes, safety was the only position without returning starters for the Sooners on defense. Quinton Carter nailed down one starting position and Sam Proctor and Joseph Ibiloye are poised to fight for the other job beside him. Emmanuel Jones and Desmond Jackson also had strong spring efforts to challenge for playing time.
Oklahoma State: Defensive tackle was enough of a question that new coordinator Bill Young moved Derek Burton inside from defensive end to help bolster depth at the position. Burton and Swanson Miller appear to have won starting jobs with redshirt freshman Nigel Nicholas and junior Chris Donaldson providing strong depth. Their strong play helped the Cowboys rack up seven sacks in the spring game - more than half of their 2008 season total of 13.
Texas: The Longhorns were concerned about defensive end after the departure of NFL draft picks Brian Orakpo and Henry Melton from last season. Those fears appear to be assuaged after the seamless transition of Sergio Kindle to the position from linebacker and the quick assimilation by freshman Alex Okafor. Toss in Sam Acho and Russell Carter and the return injured pass-rushing threat Eddie Jones and the Longhorns appear stacked at the position.
Texas A&M: Safety was a question mark before spring camp after the loss of Devin Gregg and Alton Dixon and the move of 2008 starting free safety Jordan Peterson to cornerback. But the strong return to safety by converted cornerback Jordan Pugh and the noticeable development by Trent Hunter helped solidify the position during the spring. And the Aggies' depth at the position was improved after the move of wide receiver Chris Caflisch to the position along with strong play from DeMaurier Thompson.
Texas Tech: The departure of two-time Biletnikoff Award winner Michael Crabtree and underrated Eric Morris was supposed to cripple the Red Raiders' receiving corps. Mike Leach appears to have found several serviceable replacements after Tramain Swindall, Lyle Leong, Detron Lewis and walk-on flanker Adam Torres all emerged during the spring. And that doesn't include Edward Britton, who was in Leach's doghouse much of the spring after falling behind in the classroom but still is perhaps their most athletic force on the field.
March, 26, 2009
3/26/09
2:05
PM ET
Posted by ESPN.com's Tim Griffin
Ah. Sitting in a Kansas City airport with my trusty wireless stick as I rifle through Big 12 media sources looking for the best of today's conference information.
It couldn't get much better as I start my North Division swing.
Here a few stories to tide you over until the real stuff starts tomorrow.