NCF Nation:

Nolan Brewster
January, 19, 2012
1/19/12
4:15
PM ET
If you're one of our most faithful readers, you'll remember we took a look at the ESPNU 150 recruits from the past five years before Signing Day 2011.

You can take check those here:
That was before the 2011 season. Now, our recruitniks have taken it upon themselves to provide a new update for the 2008 class.
You'll need ESPN Insider to see the full updates for each player group, but here's how the Big 12 players have done:
Prospects ranked from 1-25

No. 6 Arthur Brown, LB, Kansas State (via Miami):
Brown committed to Miami (Fla.), where he struggled to see the field in 2008 and 2009. He transferred to Kansas State and was named Big 12 newcomer of the year in 2011 after recording 95 tackles, two sacks and an interception (of Heisman Trophy winner
Robert Griffin III
).
No. 7: Jermie Calhoun, RB, Oklahoma:
Calhoun's career never got off the ground at Oklahoma after he redshirted as a true freshman. He appeared in 16 games and rushed for 242 yards on 56 carries. He tore his ACL early in his sophomore season (2010) and decided to transfer to Football Championship Subdivision program Angelo State University.
No. 11: R.J. Washington, DE, Oklahoma:
Washington has appeared in 25 games (no starts) for the Sooners, and has 20 tackles and 3.5 sacks. His 13 tackles, three sacks and five pass breakups in 2011 are all career highs.
No. 13: Josh Jarboe, WR, Oklahoma:
Jarboe was arrested for bringing a weapon onto his high school campus before enrolling at Oklahoma. His career with the Sooners didn't last long, as he was kicked off the team after a YouTube video emerged with him rapping about guns and violence. Jarboe resurfaced at Troy but couldn't escape the negative headlines and was dismissed in 2009. After a year at Northeast Mississippi junior college, Jarboe returned to the Football Bowl Subdivision ranks at Arkansas State, and had 54 receptions for 730 yards and two touchdowns this season
No. 16: D.J. Grant, WR, Texas:
After redshirting in 2008, Grant suffered season-ending knee injuries in 2009 and 2010. He finally got on the field in 2011 and started six games, finishing the season with 16 receptions for 180 yards and three touchdowns.
No. 17: Dan Buckner, WR, Texas:
Buckner had 50 receptions for 526 yards and six touchdowns in two seasons with Texas. He was arrested on charges of criminal trespassing and resisting arrest in January 2010 and decided to transfer to Arizona. Buckner had 42 catches for 606 yards and two touchdowns this season for the Wildcats.
Prospects ranked 26-50

No. 38: Blaine Gabbert, QB, Missouri:
It was once thought that Gabbert would be redshirted as a freshman in 2008. Instead, he was the third-string quarterback for the Tigers. He is now a starting NFL quarterback, playing for the Jacksonville Jaguars. During his career at Missouri, Gabbert threw for more than 6,800 yards and 40 touchdowns. He left for the NFL after his junior season.
Prospects ranked 51-75

57. Cyrus Gray, RB, Texas A&M:
Gray closed out his junior season with seven consecutive 100-yard rushing performances, and he added two more to that streak to open his senior campaign. He missed the final two games of the Aggies' season, but he closed out his career with 312 yards and five scores in his final two games. He was named to the 2011 All-Big 12 second team, and ran for nearly 3,300 yards and 30 touchdowns in his career.
No. 72: Jameel Owens, WR, Oklahoma:
In two years with the Sooners, Owens caught four passes for 44 yards. He then transferred to Tulsa before the 2010 season, receiving a transfer waiver so he did not have to sit out a season. But he lasted only one season for the Hurricanes, as he was granted a leave of absence during spring drills in 2011 and never returned to the team.
Prospects ranked 76-100

No. 79: David Snow, OL, Texas:
Snow came right in and played as a true freshman. When it was all said and done, he appeared in 51 games, starting 31 at center and both guard positions. He received a Big 12 honorable mention this past season.
No. 84: Stephen Good, OL, Oklahoma:
Good has been an active member of the Sooners' offensive line since he arrived in 2008. He was in the two-deep since day one, playing both guard positions.
No. 91: Derrick Hall, ATH, Texas A&M:
Hall never made it to College Station because he failed to qualify academically. He went on to Navarro Junior College, where he rushed for more than 2,200 yards and 29 touchdowns in two seasons. Hall then signed with Tulsa, but the NCAA ruled him ineligible.
No. 92: Daniel Franklin, ILB, Oklahoma:
Franklin redshirted his freshman season, and has since been a career backup and special-teams player in Norman.
No. 95: DeSean Hales, WR, Texas:
Hales redshirted his freshman season in Austin. Through the next three years, he played in 31 games, catching 13 passes for 87 yards. He has one more season of eligibility.
No. 100: Emmanuel Acho, LB, Texas:
Acho started every game this past season for the Longhorns, leading the team in tackles with 131. He also recorded 19 tackles for loss and three sacks. Acho was named first-team All-Big 12 in 2011, and finished his career with 269 tackles, 40 tackles for loss and eight sacks.
Prospects ranked 101-125

No. 106: Jordan Fields, CB, Texas A&M:
Fields committed to Texas A&M but never signed with the Aggies. He enrolled at Blinn JC (Texas) following high school and has yet to sign with an FBS school.
No. 114: Nolan Brewster, OLB, Texas:
Brewster played in all 13 games as a true freshman, mainly on special teams, and had eight tackles. He had 24 tackles and an interception as a backup safety as a sophomore and then redshirted his junior year after undergoing shoulder surgery. As a senior, Brewster played in Texas' first four games but had to retire from football due to multiple concussions and post-traumatic migraine headaches.
No. 117: Kye Staley, RB, Oklahoma State:
Staley redshirted and then suffered a knee injury that wiped out his 2009 season. He quit the football team and didn't play in 2010 but rejoined the team the following year. He played in 13 games this past season, catching 10 passes for 81 yards and a touchdown.
No. 118: Kendall Wright, ATH, Baylor:
He made an immediate impact as a true freshman, leading the team in catches, yards and touchdowns. He earned second-team All-Big 12 honors his sophomore year, catching 66 balls for 740 yards and four touchdowns. Wright broke school records his junior season, catching 78 passes for 952 yards and seven touchdowns to again earn second team All-Big 12. As a senior, Wright earned several All-American honors after catching 108 passes for 1,663 yards and 14 touchdowns, all school records. He's rated as a potential first-round draft pick in April's NFL draft.
No. 122: Landry Jones, QB, Oklahoma:
Jones will likely shatter every Sooners passing mark after surprisingly deciding to come back for his senior year. He started 10 games his redshirt freshman season after starter Sam Bradford (St. Louis Rams) suffered a season-ending shoulder injury. He set a school freshman record, throwing for 3,198 yards and 26 touchdowns, including a school-record six in one game. He earned All-American honors as a sophomore after throwing for 4,718 yards and 38 touchdowns and led the Big 12 in total offense. Jones' numbers were down a bit his junior season, but he still threw for 4,463 yards and 29 touchdowns.
No. 125: Justin Johnson, RB, Oklahoma:
Johnson's Sooners career was short-lived as he transferred to Abilene Christian following his freshman year. He rushed for 103 yards and had a 100-yard kickoff return for a score as a sophomore but transferred following that season to McMurry, a Division III school. Johnson rushed for 771 yards and eight touchdowns to go with 40 catches for 352 yards and four more scores for the War Hawks as a junior last year.
Prospects ranked 126-150

No. 138: Dravannti Johnson, LB, Texas:
Johnson decided to transfer from Texas last month, having already graduated. The junior defensive end saw limited action, playing in only seven games and registering just four tackles, one for a loss. Johnson's most productive season came in 2010, when he started five games and recorded 23 tackles, two tackles for a loss, one sack and six quarterback pressures. He is expected to transfer to a smaller school for more playing time.
No. 143: Rodrick Davis, DT, Texas A&M:
After two uneventful seasons at Texas A&M, Davis transferred to Fort Scott (Kansas) Community College before transferring again to New Mexico following the 2011 season. Davis played in eight games last season for Fort Scott and recorded 28 tackles. He redshirted in 2008 so he has one year of eligibility remaining and can play this season.
June, 30, 2011
6/30/11
1:15
PM ET
We'll move on to the safeties today in our position rankings across the Big 12.
Here's what we've covered so far:
The group of safeties across the Big 12 isn't fantastic, without any truly elite groups, but it's decent. There aren't any teams that look really hopeless at the position in the immediate future.
I haven't given it real close examination so far on the positions we haven't covered yet, but this is by far the closest gap between 1-10 of any position so far.
Here's how I ranked them. (Remember, I lumped in nickel backs with linebackers, so Ahmad Dixon and Tony Jefferson won't be found anywhere in this post.)
[+] Enlarge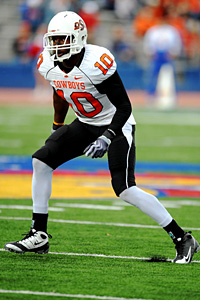 John Rieger/US PRESSWIREOklahoma State's Markelle Martin is the Big 12's best overall safety.
1. Oklahoma State
-- The Cowboys have Markelle Martin, the Big 12's best overall safety who's a big talent but a much better hitter than he is a cover man. Johnny Thomas is solid and both safeties got a lot better as the 2010 season progressed. OSU's depth lands them here, though. Daytawion Lowe could start for a few Big 12 teams and is slightly better than A&M and Texas' reserves, the other two teams with the deepest group of safeties.
2. Texas
-- Blake Gideon takes his share of criticism, a good deal of it fair, but there's a reason he's starting for Texas for a fourth season this fall. He knows what he's doing. Kenny Vaccaro will challenge OSU's Martin, among others, for the title of the Big 12's biggest hitter and Nolan Brewster and Christian Scott are strong reserves at the position. The Longhorns lose a lot at corner, but all the safeties are back from a defense that allowed just over 170 yards a game through the air in conference play last season.
3. Texas A&M
-- The Aggies' Steven Terrell and Trent Hunter are solid, and Hunter is a big playmaker who made 62 stops and picked off two passes last year. Toney Hurd Jr. is the backup and was one of the most impressive freshmen in fall camp last year, joined by Steven Campbell in the rotation.
4. Kansas State
-- Tysyn Hartman has loads of experience and is one of the Wildcats that Bill Snyder loves to rave about. Ty Zimmerman was one of the Big 12's best freshman last year, and picked off three passes. They should be solid again next year, and for as much criticism as K-State's defense faced last year, they were fifth in the Big 12 in pass defense. Logan Dold should be in the rotation, too.
5. Oklahoma
-- Reserve Sam Proctor has starting experience, but Javon Harris and Aaron Colvin enter fall camp as starters. That says plenty about how Bob Stoops and Brent Venables feel about them. In a word: confident. Colvin has the most potential in the group, but the two starters will have to learn on the go. Proctor, a senior, should be able to help. James Haynes will also be in the rotation.
6. Missouri
-- Jasper Simmons is gone, but Missouri's safeties might be a bit underrated in this spot. Kenji Jackson has loads of experience and should be solid, and Tavon Bolden and Matt White are a pair of promising sophomores who should compete at free safety. Kenronte Walker should be in the rotation, too.
7. Texas Tech
-- Injuries were a problem last year for the Tech secondary, but Cody Davis and D.J. Johnson will hold down the traditional safety spots away from the line of scrimmage in new coordinator Chad Glasgow's 4-2-5. The unit gave up lots of big plays in 2010 (151 over 10 yards, 46 over 20, and 25 over 30, all the most in the Big 12), but I'd expect that number to drop under Glasgow if the secondary stays healthy. Davis is the team's leading returning tackler, with 87 stops. Brett Dewhurst and Giorgio Durham should be in the rotation.
8. Kansas
-- Keeston Terry and Bradley McDougald give Kansas a lot of speed and athletic ability at the position, but both of the team's safeties from 2010 graduated and Terry and McDougald are short on experience. Lubbock Smith should add some solid depth to the position.
9. Iowa State
-- Iowa State loses their top playmaker at the position, David Sims, but returns starter Ter'Ran Benton. He'll be helped out by some combination of Jacques Washington, Earl Brooks and Deon Broomfield once the season starts. Iowa State's biggest weakness is on the defensive line, so it's hard to get a good read on how good the safeties really are with such a poor pass rush up front.
10. Baylor
-- This group might move up the list during the year under Phil Bennett, but the two best raw athletes (Ahmad Dixon, Prince Kent) at the position moved to nickel back and linebacker, respectively. The team's leading tackler, Byron Landor, graduated, and that left Mike Hicks as the other starter. He'll be helped out at safety by Sam Holl, Josh Wilson and K.J. Morton. Last year, the Bears ranked last in the Big 12 in pass defense in conference play, giving up over 300 yards a game. That'll have to change or Baylor won't get past seven wins.
April, 8, 2010
4/08/10
4:30
PM ET
AUSTIN, Texas -- Mack Brown knows what an NFL defensive back looks like. He's coached plenty. From Michael Huff and Cedric Griffin in 2006, to Michael Griffin and Aaron Ross in 2007 to Earl Thomas in 2009; the Longhorns' secondary has been home to a handful of early draft picks in just the last few years.
That hasn't kept Brown from heaping praise on his 2010 defensive backfield.
"We feel like we're as good at corner right now, potentially, as we've ever been," Brown said.
[+] Enlarge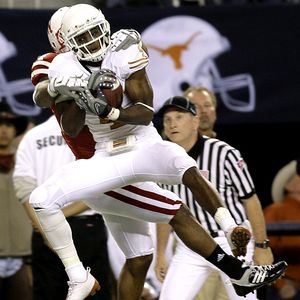 Brett Davis/US PresswireTexas cornerback Aaron Williams had three interceptions last season, including this one in the Big 12 title game.
His three reasons for smiling at the thought of that potential are Curtis and Chykie Brown, along with Aaron Williams.
"We're really fortunate right now," Brown said. "All three are potential NFL guys to me."
That means trouble for Big 12 quarterbacks. Though Texas loses Thomas, a safety and finalist for the Jim Thorpe Award as the nation's best defensive back, the Big 12's second-best pass defense a season ago plans to challenge for the top spot in 2010. If Brown's senses are correct, they should be able to do it, and improve on their NO. 19 national ranking at defending the pass.
"We're more comfortable with [defensive coordinator Will] Muschamp's scheme; I know I am," Williams said. "A lot of guys are returning guys who are coming back and are more knowledgeable about what he wants to do."
Blake Gideon returns at safety, and Kenny Vaccaro and Nolan Brewster will compete for Thomas' freed-up spot.
"We had high expectations last year, but we're probably going to have more expectations this year," Williams said. "Our goal right now is to be physical, we're trying to be one of the most physical DB corps in the nation."
In the Texas spring game to close practice on Sunday, Williams and Vaccaro took steps to establishing that identity. Williams broke up a deep pass early by going over the intended receiver to swat the ball away. Vaccaro unleashed the biggest hit of the exhibition on running back Tre Newton, driving through his teammate on a short pass in the flats.
"We don't want a team to be like 'Okay, well he's that one physical person.' We want a team to be like 'Whoa, we've got that team coming through,'" Williams said. "As a team, we want to be more physical."
But even in praising them, in the same breath, their coach can't help but think like a coach.
"We're really pleased with those corners, we just have to find the younger ones, because two of those are seniors and they'll be gone," Brown said.
Not to mention Williams, a junior who enters 2010 with a legitimate case as the Big 12's top defender and whose future could includes an early entry into the 2011 NFL draft. That would leave Brown without any of his three future pro corners. But he's already picked out a few successors, including A.J. White and Eryon Barnett.
"We've got to find somebody to step up," Brown said.
January, 9, 2010
1/09/10
11:01
AM ET
By
Tim Griffin
| ESPN.com
It's not really a surprise that Texas sophomore safety Earl Thomas declared Friday night for the NFL draft.
[+] Enlarge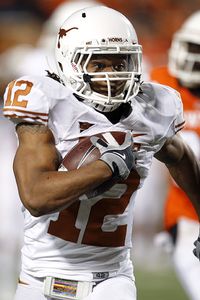 AP Photo/Sue OgrockiTexas' Earl Thomas set a team record with eight interceptions this season.
Thomas is coming off one of the best seasons for a Texas defensive back in school history in 2009. The redshirt sophomore had eight interceptions, which broke Noble Doss' mark of seven interceptions that was set in 1940. Thomas ran two of them back for touchdowns to set another record.
If there's such a thing as "The Natural" among defensive backs, it's Thomas. He isn't overly big or physical (5-foot-10, 197 pounds) but he has the uncanny instincts to stick with any receiver. His skills definitely will translate well to the next level.
Thomas isn't as physically gifted as either Eric Berry of Tennessee or USC's Taylor Mays. Both figure to be picked ahead of Thomas unless he has an off-the-charts workout for NFL scouts later this spring.
Thomas was a finalist for the Thorpe Award in 2009 and would have been the favorite for the award if he had remained for his junior season in 2010.
If he had stayed for another season and had another productive year, it's not out of the question that Thomas could have developed into the greatest defensive back in Texas football history.
As it is, he'll be in the conversation with players like Tarell Brown, Cedric and Michael Griffin, Michael Huff, Quentin Jammer, Aaron Ross and Nathan Vasher. All left Texas for a career as a starting defensive back in the NFL. Huff and Ross left with Thorpe awards in back-to-back seasons in 2005 and 2006.
With Thomas leaving, sophomore Nolan Brewster could move into the starting job when spring practice begins for the Longhorns late next month.
A more likely scenario might be to move Blake Gideon to the tight safety position to make room for game-breaking defensive back Christian Scott at Gideon's current position at free safety.
Scott was giving Gideon a serious challenge in fall camp this year before he was academically suspended. His ferocious hits would provide an intimidating presence to the secondary that was missing this year.
But whoever takes over Thomas' spot will be attempting to fill a sizable void that makes Texas' rebuilding job a little more daunting.
April, 7, 2009
4/07/09
10:05
AM ET
Posted by ESPN.com's Tim Griffin
AUSTIN, Texas -- Longhorns coaches have been adamant about what they've wanted at each practice from an emerging secondary this spring.
"The coaches are on us hard about getting turnovers after last year," Texas cornerback Chykie Brown said. "Every day in practice our goal is to get at least three turnovers. It's turned out pretty good."
| | |
| --- | --- |
| | |
| | Brian Bahr/Getty Images |
| | Defensive coordinator Will Muschamp is pleased with the development of the secondary this spring. |
And while the Texas secondary didn't exactly reach that goal in Sunday's Orange-White scrimmage with two turnovers, they can feel like they have accomplished something this spring as they get ready for the upcoming season.

If Texas defensive coordinator Will Muschamp has any doubts about his defensive backs, all he has to think about is where they were at the same time last year.
"Comparing then to now is light years," Muschamp said. "It was an adventure every day as far as installation of our defense from day to day. It's a lot of fun the second year teaching and installing and working more on fundamentals rather than teaching schemes all the time."
The Longhorns struggled making big plays last season, producing a Big 12-low six interceptions and ranking 104th nationally and worst in the Big 12 with only 16 forced turnovers.
"If we had made more turnovers last year, the sky would have been the limit for us," Muschamp said. "But it's all on us. Playing hard and playing relentlessly is the most important thing to me and I think we're getting more guys to buy into that."
This spring, the most important number for the Longhorns' secondary might be eight -- as in the quantity of talented defensive players with a chance to start. That depth will provide the Texas defensive coordinator with all kinds of weapons to tinker with as he attempts to counter the pass-happy offenses in the Big 12.
"It's good because it allows competition," Muschamp said about his secondary's depth. "These guys know if they don't perform, they're on the bench the next day. It allows for our guys to go out every day and play consistently well, and that's what makes guys compete and improve as football players. Your best motivator is competition."