NCF Nation:

North Dakota State Bison
August, 31, 2013
8/31/13
1:15
AM ET
North Dakota State did it again.
The FCS school
knocked off Kansas State, 24-21,
at Bill Snyder Family Stadium on Friday night in Manhattan, Kan. The Bison have defeated an FBS team each of the last four seasons as the Wildcats joined Kansas, Minnesota and Colorado State. NDSU scored 17 unanswered points to finish off the upset.
[+] Enlarge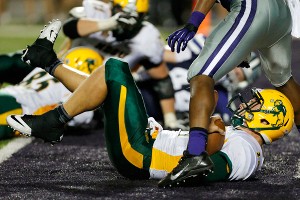 AP Photo/Orlin WagnerBrock Jensen's game-winning touchdown run with 28 seconds left put Kansas State on a rapidly growing list of North Dakota State FBS victims.
That's right, Kansas State paid NDSU $350,000 to come into its home stadium and give it a loss. In fact, NDSU, the two-time defending FCS champion, could pay the salary of coach Craig Bohl, who makes $206,000 per year, with the check it received for visiting the home of the defending Big 12 champion.
Bohl's team took its game to another level with the game on the line. The Bison went right at Kansas State, pounding the ball on the ground for an 18-play, 80-yard drive and taking 8:30 off the clock in the final quarter. NDSU quarterback
Brock Jensen
capped off the drive with a 1-yard plunge with 28 seconds remaining.
The inability to get off the field killed KSU's defense, as it allowed the Bison to convert 11 of 17 third down conversion attempts, including 4-for-4 on the final drive. If KSU's defense continues to struggle to get key defensive stops on third down, it could be a long season for the Wildcats, particularly against the explosive offenses of the Big 12.
The Wildcats' offense fell apart after taking a 21-7 lead on a
Daniel Sams
' 17-yard touchdown run with 9:58 left in the third quarter. KSU's running game was stuffed by the Bison, who held the Wildcats to 41 yards on 23 carries (1.7 yards per carry). KSU's lack of running game put the contest on the shoulders of quarterback
Jake Waters
, who finished 21-of-29 for 280 yards and two touchdowns but also threw two interceptions. Waters wasn't horrible in his first start after winning the job over Sams, but he couldn't come up with the critical plays when it mattered, as the Wildcats converted just two of 10 third-down conversion tries.
Clearly it's back to the drawing board for Kansas State. Making key plays in key moments is often the difference. And the Wildcats couldn't do that on Friday night. If that continues, a second straight Big 12 title could be out of reach for Bill Snyder and company.
June, 20, 2013
6/20/13
2:30
PM ET
When the
Big Ten in February decided to gradually eliminate all FCS games
from future schedules, I labeled it a victory for the league's fans.
Fans get only 6-8 chances per season to see their team play at home, and it's unfortunate when one of those games comes against a vastly overmatched foe from a lower division with fewer scholarship players. The elimination of FCS teams, part of a larger Big Ten initiative to beef up non-league schedules, benefits players, fans, television partners and the league's national perception.
But not everyone is thrilled about the Big Ten's FCS ban.
Iowa athletic director Gary Barta
and
Minnesota AD Norwood Teague
are somewhat reluctant about the league's new policy. And they have understandable reasons to be a bit resistant. They're called Northern Iowa and North Dakota State.
[+] Enlarge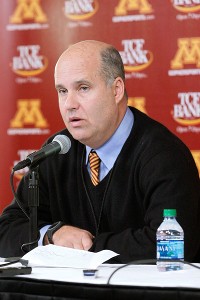 AP Photo/Paul BattagliaMinnesota AD Norwood Teague attributed the ban on playing FCS teams to having to appease the Big Ten's TV partners.
One problem with league-wide scheduling policies is that they can be countered with specific examples. Most FCS teams can't compete with Big Ten opponents, and the recent results back this up. But a handful of FCS teams, many located in or near the Big Ten's footprint, can hold their own. They provide early season challenges equal to or better than those from lower-level FBS opponents.
North Dakota State certainly qualifies. The Bison have won the past two FCS national championships. They have beaten an FBS team in each of the past three seasons, including Minnesota in 2011. They're 6-3 against the FBS since 2006.
Northern Iowa hasn't had as much FBS success -- just one win since 2001 -- but the Panthers gave Wisconsin all it could handle in the 2012 opener and nearly knocked off Iowa, the eventual Orange Bowl champion, in the 2009 opener. UNI has won 10 or more games in seven of the past eight seasons.
There are other examples like North Dakota State and Northern Iowa, including many in the Midwest. North Dakota State is
No. 1 in Lindy's magazine's preseason FCS poll
, while South Dakota State (No. 4), Northern Iowa (No. 13), Eastern Illinois (No. 18), Youngstown State (No. 19) and Illinois State (No. 22) also made the Top 25. These are good teams despite their FCS designation. Michigan fans still shudder when FCS Appalachian State is mentioned, but the Appy State team that upset Michigan in 2007 was much, much better than the FBS Toledo squad Michigan inexplicably lost to in 2008.
Minnesota's Teague recently told Chris Murphy of The Forum of Fargo-Moorhead that he would like to keep playing North Dakota State, but he has to be a good Big Ten soldier.
"It is primarily television pressuring and wanting the Big Ten to provide games that are [Football Bowl Subdivision] versus FBS teams," Teague said earlier this week in Moorhead, Minn. "That's understandable. They pay us a lot of money, and it's just the desire of television that they want us to do that. That was their message to the Big Ten."
He continues.
"We operate in a world now in college athletics where we have to balance a budget. [Big Ten Commissioner Jim Delany] needs to go out and redo our television contracts with ABC, ESPN, Big Ten Network, and we've got to be a very good partner with them or we aren't going to get the revenue we need to compete."
And here's more.
"I know it sounds money-oriented, but it is what it is," Teague said. "Balancing our budget is tough. We generate 95 percent of what we balance. We get very little from the university. We have to really fight and claw to do that. We are competing in a league that is very tough with competitors that are way ahead of us with facilities and things like that."
Yes, it's all about the money, and Teague's candor here is refreshing. I understand the FCS-TV argument from a macro level: more attractive matchups get better ratings, and most Big Ten-FCS matchups aren't very attractive. But when you look at specifics, is Minnesota-North Dakota State less appealing to TV than Minnesota-New Mexico State, an FBS vs. FBS game that takes place Sept. 7 at TCF Bank Stadium? Is Iowa-Northern Iowa less appealing to TV than Iowa-North Texas, a game scheduled to take place in 2015 at Kinnick Stadium? That's a hard argument to make.
I'd rather see a fun regional matchup, even if it's against an FCS team, than a snoozer like Minnesota-New Mexico State or Iowa-North Texas. And while Big Ten teams are adding more major-conference foes to their future schedules, which is great to see and long overdue, the guarantee games against lower-level FBS teams aren't going away. Couldn't a good FCS team be substituted for a really bad FBS one?
If there was a way to ensure Big Ten teams would only schedule top-level FCS opponents, I'd be in favor of lifting the ban. But there's no way to effectively regulate it, and as we know with future scheduling, seemingly good matchups can turn lousy by the time they actually take place. Big Ten teams would still find tomato cans, and we'd still see too many blowouts that don't benefit anyone.
It's unfortunate for the good FCS programs, especially from a financial standpoint, as they make great coin for visiting Big Ten stadiums. But if the FCS ban is necessary for the Big Ten's larger push to beef up scheduling, I'm for it.
March, 7, 2013
3/07/13
9:14
AM ET
1. From 2000 to 2012, a total of 13 seasons, 72 schools have won at least a share of an FBS conference title, and that is counting TCU, Cincinnati, Louisville and Boise State only once even though they won in multiple conferences. That's 72 schools, and none of them is named Nebraska. The Huskers are for oh-for-the-century, having last won in 1999 (Big 12). Big Red fans, take solace. Your streak is one year shorter than Tennessee's. The Vols won the inaugural BCS title and haven't won the SEC since.

2. On the ESPNU College Football Podcast Wednesday, Big Ten bloggers Adam Rittenberg and Brian Bennett said that coaches at cold-weather schools (Ohio State, Northwestern, Nebraska) in part use spring break as a way to break up the monotony of four weeks of practice. Perhaps, but it seems only logical that the almost ubiquitous rise of indoor practice facilities would be responsible as well. There's always good weather and good footing for practice.

3. At the behest of the new Fox Sports I Network, Kansas State and two-time defending FCS champion North Dakota State are moving their season opener game to Friday night, Aug. 30. This isn't the typical Bill Snyder pre-conference patsy. The Bison have beaten three FBS teams in the past three years. Fox appears to be trying to replicate the first game ever televised by the Big Ten Network, back in 2007. Appalachian State, the two-time defending FCS champion, shocked Michigan, 34-32.
August, 17, 2009
8/17/09
10:10
AM ET
Posted by ESPN.com's Tim Griffin
The Big 12 has more villains than can rightfully be included in one post, but so does college football in general.
Here are some my major perpetrators of ignominy.
Anybody else have some other suggestions about what in college football really raises their hackles?
College rulemakers -- Those soulless technocrats who attempted to make the game faster by instituting quick-play rules. Don't they know that the reason that college football is so much better than the NFL is the additional offense from more plays?
The Southeastern Conference -- The South shall rise again -- or at least it already has with its new megabuck television contract. Now, can the rest of the college football keep up?
Big Ten commissioner Jim Delany -- By placing all of his bowl teams on the East and West coasts, he's robbing us in the flyover parts of the country of watching how slow and unathletic his teams really are.
Coaches as unchecked poll voters -- Who is the American Football Coaches Association trying to fool? Giving coaches the chance to hide behind the mask of anonymity in their final votes prompts a chance for widespread poll abuse and makes a mockery of their poll.
Weak nonconference schedules -- Every team owes its fans at least one marquee nonconference opponent a season and a pledge of avoiding FCS schools. Is that really asking for that much, especially with the run of Big 12 pastry-trough games with "opponents" like North Dakota State, Northern Colorado and North Dakota scheduled in the first week alone by Big 12 teams?
July, 13, 2009
7/13/09
9:10
AM ET
Posted by ESPN.com's Tim Griffin
There are several obvious games that are already noticeable that should carry an extra bit of trepidation for Big 12 teams as they prepare for the upcoming season. Even with Big 12 teams likely to be solidly favored in these games, here are five games that should come with a warning label considering the opponent and the circumstances of the game.

North Dakota State at Iowa State, Sept. 5: Craig Bohl will have the Bison fired up for their game in Ames. And he knows a little bit about beating the Cyclones, considering his history as a defensive coordinator at Nebraska.
This game has all the marking of one to worry about for the Cyclones. It's Paul Rhoads' first game as a head coach. The Bison have been tough in other road games at FCS teams in recent seasons, losing by three points at Wyoming last season, beating Minnesota and Central Michigan on the road in 2007 and losing by one point at Minnesota and beating Ball State on the road in 2006. Even with the talent disparity, this game might be closer than expected.
Rhoads should ask Colorado coach Dan Hawkins how much losing to an FCS team in your first game at a Big 12 school can ruin your first season. That 2006 opening-game loss to Montana State was a particularly bad start for Hawkins' coaching tenure there.
Houston at Oklahoma State, Sept. 12: This game is coming at a tricky time for Oklahoma State, which will be coming back for a second game after a huge emotional opener against Georgia the week before. The Cougars will have 5,000-yard passer Case Keenum along with 1,000-yard rusher Bryce Beall and 1,000-yard receiver Tyron Carrier among a group of 15 returning starters.
And not only do the Cougars return a lot of experience, but they also have a modicum of confidence against OSU. Houston led the Cowboys last season, 16-7, late in the first half before the Cowboys' offense blitzed them for four touchdowns in a span of barely 7½ minutes. If Houston can do a better job defensively this season, it could make Mike Gundy sweat against the preseason Conference USA West Division's favorites.
Kansas at UTEP, Sept. 12: The trip to the Sun Bowl might be a little more harrowing than expected for the Jayhawks.
UTEP quarterback Trevor Vittatoe threw for 33 touchdown passes and 3,274 yards last season. The Miners also surround him with 14 other returning starters. If Vittatoe can stay protected, he might be able to singe the Jayhawks' questionable linebacking corps and perhaps win a shootout. Stranger things have happened -- particularly playing in front of what should be a sellout crowd at the Sun Bowl.

And here's a statistic to keep in mind before the game: The Jayhawks have lost their last three true nonconference road games and haven't claimed a nonconference road game since winning at Wyoming in 2003. Their trip to El Paso won't be a picnic.
Wyoming at Colorado, Sept. 19: On paper, this looks like a game the Buffaloes should easily win. But a couple of trends might prove to benefit new Wyoming coach Dave Christensen, who will be playing his first road game.
Christensen was the offensive coordinator of a Missouri team that beat Colorado by a combined margin of 113-10 over the past two seasons, including a 58-0 victory last season. He won't have Chase Daniel, Jeremy Maclin or Chase Coffman in this game, but he still has confidence of being successful against Colorado's defense.
The Cowboys won at Tennessee last season so they aren't intimidated by hostile road environments. They have 17 starters back, including eight defensive players who will be facing Colorado's defense with some confidence after strong play late last season.
Colorado has a history of struggling as a big favorite in previous nonconference home games, winning by seven against Eastern Washington last season and losing at home to Montana State in Hawkins' first game in 2006. The signs point to this being a game where the Buffaloes potentially could struggle.
Missouri at Nevada, Sept. 25: This Friday night game will set up nicely for veteran Nevada coach Chris Ault and the Wolf Pack, who will showcase their program on national television in this game.
Nevada has the explosive Pistol offense keyed by quarterback Colin Kaepernick, the returning Western Athletic Conference player of the year who will be looking to make a national name for himself with a big performance. Also back are 2008 WAC leading rusher Vai Taua and 2007 leading rusher Luke Lippincott, who sustained a season-ending knee injury in the second game last year. And they'll be facing a retooled Missouri defense.
The Wolf Pack still remember a gadget pass for a touchdown by Missouri wide receiver Tommy Saunders when they were behind 45-17 midway through the third quarter of a game they eventually lost 69-17 in Columbia last season. Could revenge spur a better effort at home? It will be interesting to see if the Wolf Pack can similarly make the Tigers sweat in a game played at high altitude at Reno.
June, 10, 2009
6/10/09
12:18
PM ET
Posted by ESPN.com's Tim Griffin
Big 12 teams should be seldom tested before conference play begins as most teams again are opting to compete with a pillow-soft slate of opponents.
Here's the toughest and weakest of the Big 12 nonconference schedules:
1. Oklahoma: BYU (at Arlington, Texas), Idaho State, Tulsa, at Miami
The Sooners deserve props for adding the BYU game late. The nationally televised game should showcase Oklahoma's defense as it thwarts Max Hall and Harvey Unga for the Cougars. Idaho State is a bad Division I-AA team that went 1-11 last season. Tulsa and Miami both went to bowl games last season. The Golden Hurricane will be breaking in a new quarterback and a new coordinator -- not a good recipe for success for a road team at Owen Field. And although the game against Miami brings back memories of Jimmy Johnson vs. Barry Switzer, the fact is that the Hurricanes could be worn out by the time Oklahoma visits. Miami starts the season with a meat-grinder schedule of Florida State, Georgia Tech and Virginia Tech before the Sooners visit.
2. Colorado: Colorado State, at Toledo, Wyoming, at West Virginia
Coach Dan Hawkins has this team pegged for good things in the conference. The Buffaloes will be tested by four FBS opponents, including two on the road. The rivalry game against Colorado State should be decided in the trenches and the Buffaloes' offensive line will be a load for the Rams. The Toledo game might be trickier than expected considering the Buffaloes will be playing this one only five days after the Colorado State game. But Colorado still should have the talent to prevail. Something tells me that Hawkins will remember that new Wyoming coach Dave Christensen's offense hung 113 points against his defense the last two seasons when he was at Missouri. And the West Virginia trip will be a challenge, although new Mountaineers quarterback Jarrett Brown is largely untested.
3. Missouri: Illinois (at St. Louis), Bowling Green, Furman, at Nevada
The Tigers' inexperienced defense will get a huge challenge in the opener against Illinois' pass-and-catch tandem of Juice Williams and Arrelious Benn. They'll be facing another experienced quarterback in three-year Bowling Green starter Tyler Sheehan, but the Falcons' defense will be breaking in two new cornerbacks. Furman has a talented quarterback in Jordan Sorrells, but the Paladin's defense shouldn't be able to match Missouri. The trip to Nevada might be a hornet's nest. The Wolf Pack have made four straight bowl trips, multi-purpose quarterback Colin Kaepernick and the Western Athletic Conference's last two leading rushers. And, oh, yeah, the Wolf Pack probably still remember that 69-17 beatdown to the Tigers last season in Columbia.
4. Nebraska: Florida Atlantic, Arkansas State, at Virginia Tech, Louisiana-Lafayette
No truth to the rumor that the Cornhuskers are gunning for the September version of the Sun Belt championship. Their road game at Virginia Tech is the toughest game that any Big 12 team will play this season. But Bo Pelini will have two games to get his defense ready for Tyrod Taylor and Co. Florida Atlantic coach Howard Schnellenberger made his career name by beating the Cornhuskers in the 1984 Orange Bowl while at Miami. He won't be nearly as successful this time around. Arkansas State stunned Texas A&M last season, but the Red Wolves will be utilizing a new offensive line this season. And Louisiana-Lafayette's offense is very young and the Cornhuskers will be catching them the week after they have met up with LSU.
5. Oklahoma State: Georgia, Houston, Rice, Grambling
Four home games make for an ideal schedule for the Cowboys to make some national noise. The Georgia game will be arguably the biggest home nonconference game in school history. But the Cowboys grab a break as the Bulldogs try to break in new quarterback Joe Cox. Houston will have Case Keenum and a high-powered offensive attack, but the Cowboys blistered the Cougars for 56 points last year and could score more this season. Rice won't be as good this season after losing most of its offensive firepower. And Grambling has a great football history and an even better band.
6. Baylor: at Wake Forest, Connecticut, Northwestern State, Kent State
The nonconference schedule could determine whether the Bears can snap that long bowl drought. And it won't be an easy one considering that Baylor is the only Big 12 team with two opponents from "Big Six" conferences. The Wake Forest opener will be a huge test, but Robert Griffin might be able to feast on a depleted Demon Deacon defense that lost four starters to the NFL draft. The Bears nearly beat Connecticut last season on the road and the Huskies lose their starting quarterback and top rusher from that team. New coach Bradley Dale Peveto will bring new ideas for Northwestern State, but the Bears have a big edge. And Kent State will be breaking in a new quarterback for a team that has won only 19 games in the last five seasons underDoug Martin.
7. Kansas: Northern Colorado, at UTEP, Duke, Southern Mississippi
The Jayhawks should be able to name their margin against Northern Colorado in the opener. The trip to the Sun Bowl against UTEP the following week might be a different matter. UTEP quarterback Trevor Vittatoe could be a challenge, although the Jayhawks should have enough firepower to outscore them. A Kansas-Duke game would be a made-for-national television delight in basketball. Football, however, is a different story. And Southern Mississippi might be poised to challenge for the Conference USA title and might be a chore with leading conference rusher Damion Fletcher and all of its starting secondary back to challenge Todd Reesing and Dezmon Briscoe.
8. Texas A&M: New Mexico, Utah State, UAB, Arkansas (at Arlington, Texas)
The Aggies desperately need to build confidence and collect a few victories before the South Division gauntlet begins. After last season's opening-game loss against Arkansas State, expect coach Mike Sherman to have the Aggies focused for all of the games. They catch new New Mexico coach Mike Locksley with an uncertain quarterback in the Lobos' opener. Utah State is universally picked to finish last in the Western Athletic Conference. UAB will be rebuilding its defense and likely won't pose many problems for Jerrod Johnson. But the game against Arkansas at
the new Dallas Cowboys' stadium will be a challenge for A&M's defense. The Razorbacks should be much improved in Bobby Petrino's second season. Fans are paying premium prices and expect big things from both teams. The Aggies may catch a break considering the Razorbacks will play SEC contenders Georgia and Alabama in their previous two weeks.
9. Texas Tech: North Dakota, Rice, at Houston, New Mexico
Mike Leach's nonconference schedule won't be as bad as last season's trip to the pastry wagon, but not by much. North Dakota is transitioning into FCS status this season after ranking 137th among the 148 Division II passing teams last season. Sounds like target practice for Taylor Potts, doesn't it? Rice won't be nearly as tough as last season without James Casey, Jarrett Dillard and Chase Clement gone. The trip to Houston will be Tech's biggest challenge and Case Keenum will test Tech's rebuilt secondary in the first battle between the old Southwest Conference rivals since 1995. And New Mexico will have had several weeks to work under Locksley's system, making them a tougher challenge for the Red Raiders in early October.
10. Texas: Louisiana-Monroe, at Wyoming, UTEP, Central Florida
The Longhorns had a couple of game against Utah and Arkansas fall through in their planning. But don't expect the Longhorns to get that much sympathy for a group of opponents that won't give them much BCS bounce. Louisiana-Monroe will be breaking in a retooled offense with a new quarterback. The road trip to Wyoming doesn't resonate like some the Longhorns have made to places like Ohio State and Arkansas in recent seasons. The Cowboys will be breaking in a new quarterback, too. UTEP could contend for the Conference USA West title, but the Miners are a different team on the road. And the Nov. 7 game against Central Florida will bring the nation's worst offensive team from last season into Austin.
11. Iowa State: North Dakota State, Iowa, at Kent State, Army
Paul Rhoads doesn't want any surprises early in his first season and his nonconference schedule. North Dakota State has posed problems to FBS teams like Minnesota in the past. Iowa doesn't have Shonn Greene back, but has almost everybody else back on a stout defense that will challenge the Cyclones. Mighty mite 5-foot-5, 170-pound tailback Eugene Jarvis will test ISU's defense and the trip to Kent State won't be a gimme. And new Army coach Rich Ellerson will bring 6-10, 283-pound wide receiver Ali Villanueva along with starting quarterback Chip Bowden from a team that won three games last season.
12. Kansas State: Massachusetts, at Louisiana-Lafayette, at UCLA, Tennessee Tech
The schedule doesn't provide as many gooey treats as some that Bill Snyder's teams have feasted on in the past, but it's still nothing to write home about. Massachusetts is a contender in the CAA, which is the toughest top-to-bottom FCS conference in the nation. Louisiana-Lafayette will have to replace a lot of offensive talent, but can be troublesome at Cajun Field. UCLA struggled offensively last year and will be breaking in a new quarterback with four new offensive linemen. KSU might be able to compete in that one better than most might think. And Tennessee Tech coach Watson Brown, older brother of Texas coach Mack Brown, returns a talented pass-and-catch combination of Lee Sweeney and Tim Benford. KSU still should roll, however.
May, 4, 2009
5/04/09
12:58
PM ET
Posted by ESPN.com's Tim Griffin
Spring practice is over across the Big 12. We now have a long wait of 122 days until the 2009 season kicks off with Iowa State and North Dakota State facing off in the Sept. 3 opener.
To get you through that long gap, here are some lunchtime links.
The Bryan Eagle's Robert Cessna has an easy way for Texas A&M to silence Texas Tech coach Mike Leach: start beating him on the field for a change.
Kansas City Star/Wichita Eagle beat writer Jeffrey Martin was impressed with Kansas State's first-string defense in the Wildcats' spring game.
Suspended Missouri quarterback Blaine Dalton told Bill Althaus of his hometown Blue Springs (Mo.) Examiner that he wasn't intoxicated or selling pills when he was arrested by the Columbia Police Department.
Missouri, Iowa State and Nebraska were among the teams that Columbus Dispatch columnist Bob Hunter mentions as potential targets for the Big Ten -- if the conference decides to heed Penn State coach Joe Paterno's wishes and expand.
Tom Osborne appears firmly entrenched in the Nebraska athletic director job for the next several years, Omaha World-Herald columnist Tom Shatel writes.
The Kansas City Star's Blair Kerkhoff and the Waco Tribune-Herald's John Werner provide spring wrap-ups from around the conference. And Kerkhoff also details how the Big 12's defenses should improve next season.
Bo Pelini honored his Youngstown, Ohio, roots by returning to speak in his hometown Sunday night, Greg Gulas of the Youngstown Vindicator reports.
Kelly Beaton of the Waterloo Courier provides a glossary to better understand Iowa State coach Paul Rhoads.
Colorado officials have placed a little bit of Nebraska at the school's Colorado National Golf Club. Gary Baines of the Boulder Daily Camera reports that range-ball picking vehicle is colored in red and white, with a Nebraska football helmet on the roof and an "N" emblazoned on the front.