NCF Nation:

Northern Ilinois Huskies
November, 7, 2011
11/07/11
3:55
PM ET
Here are the non-AQ players of the week, as selected by each conference.
C-USA
Offense:
Nick Fanuzzi
, QB, Rice. Fanuzzi had career highs with 405 yards passing, 30 completions and 439 yards of total offense, while throwing three touchdowns and leading Rice to a 41-37 win over UTEP. Fanuzzi helped lead the Owls to the third-highest offensive output in school history with 671 yards.
Defense:
Curnelius Arnick, LB, Tulsa. Arnick had a career-best 19 tackles, including 12 solos and one tackle for loss, as well as one pass breakup in a 24-17 road victory over UCF.
Special teams:
Tracey Lampley, PR, Southern Miss. Lampley returned a punt 60 yards for a touchdown in a win at East Carolina. It was his first punt return for a touchdown since his freshman year in 2009.
MAC
East Division
Offense:
Donte' Harden
, RB, Ohio. Harden had a school-record 322 all-purpose yards (184 rushing, 75 receiving and 63 return yards) and scored a pair of touchdowns in a 35-31 win over Temple.
Defense:
Jerrell Wedge, LB, Miami (Ohio). Wedge had nine tackles and a fumble recovery in a 35-3 victory over Akron.
Special teams:
Rob Hollomon, KR, Kent State. Hollomon averaged 35.7 yards on three kick returns in a 24-21 win over Central Michigan.
West Division
Offense:
Chandler Harnish
, QB, Northern Illinois. Harnish threw six touchdown passes, the second-most in MAC history, to lead Northern Illinois to a 63-60 shootout victory at Toledo. Harnish also rushed 16 times for 133 yards to account for 398 yards of total offense.
Defense:
Dan Molls, LB, Toledo. Molls had 17 tackles and one tackle for loss in a 63-60 loss to Northern Illinois
Special teams:
Tommylee Lewis
, KR, Northern Illinois. Lewis became only the 13th player in NCAA FBS history to return two kickoffs for touchdowns in the same game when he scored on back-to-back kickoff returns for Northern Illinois in a 63-60 win at Toledo. Lewis brought the opening kickoff back 100 yards. After Toledo scored, he returned the ensuing kickoff 95 yards for the score.
Mountain West
Offense:
Waymon James
, RB, TCU. Rushed for a career-high 181 yards on 12 carries in a 31-20 win at Wyoming. James, who had a career-long 74-yard run on the first play of the fourth quarter, had 117 yards on five carries in the final period.
Defense:
Jon Davis, DB, Air Force. Davis tied a career-high with 12 tackles as Air Force captured the Commander-In-Chief Trophy for the second consecutive year with a 24-14 victory over Army.
Special teams:
Parker Herrington, PK, Air Force. Kicked a career-high three field goals in a 24-14 win over Army. Herrington improved to 10-of-10 on the season inside 40 yards.
Sun Belt
Offense:
Ryan Aplin
, QB, Arkansas State. Aplin accounted for five touchdowns in leading Arkansas State to a 39-21 victory at FAU. Aplin rushed for 49 yards and four touchdowns and completed 24 of 37 passes for 244 yards and another score.
Defense:
Devon Lewis-Buchanan, LB, ULL. Lewis-Buchanan had a career-high 12 tackles, including 11 solo, in a 36-35 win over Louisiana-Monroe. He also had three tackles for loss and a pass breakup in the win.
Special teams:
Brett Baer, K, ULL. Baer perfectly executed an onside kick late in the game against ULM, allowing
Ladarius Green
to recover the kick at the ULM 39 to set up the game-winning score.
WAC
Offense:
Colby Cameron
, QB, Louisiana Tech. Cameron completed 19 of 33 passes for 376 yards and four touchdowns with no interceptions in Louisiana Tech's 41-21 win at Fresno State.
Defense:
Travis Johnson, DE, San Jose State. Johnson tied a school record with four sacks in a loss to Idaho. One of his sacks resulted in San Jose State's first safety in seven years. He had a total of 10 tackles and a fumble recovery.
Special teams:
Stanley Morrison
, WR, Utah State. Executed two successful fake punts in a 35-31 comeback win at Hawaii. In the second quarter, he rushed for 8 yards on fourth-and 4 and then in the second half, he threw a 23-yard pass on fourth-and-5 to
Joe Hill
for a first down.
November, 7, 2011
11/07/11
1:00
PM ET
Let's take a look back at Week 10 in the non-AQs.
Records fall.
As expected,
Kellen Moore
and
Case Keenum
set major NCAA records in victories this weekend. Moore helped the Broncos beat UNLV 48-21 for his 46th career win, breaking the record set by Colt McCoy for most career wins. Meanwhile, Keenum threw for 407 yards in a 56-13 win against UAB to become the most prolific passer in NCAA history. Keenum passed the mark held by Timmy Chang and now has 17,212 career passing yards. He is averaging 402.9 yards a game, putting him on pace to potentially get another 2,000 yards this season should the Cougars play in the Conference USA championship game.
[+] Enlarge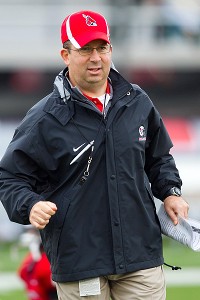 Michael Hickey/US PresswireCoach Pete Lembo has Ball State eligible for a bowl for the first time since 2008.
Bowl eligibility.
Ohio, Northern Illinois, Tulsa, SMU and Ball State all became bowl eligible this weekend. It has been a nice turnaround season for Ball State under first-year coach Pete Lembo, getting the Cardinals to bowl eligibility for the first time since 2008. Teams that have a chance to become bowl eligible this week:
FIU (5-4) vs. FAU
Western Kentucky (5-4) at LSU
Louisiana Tech (5-4) at Ole Miss
Nevada (5-3) vs. Hawaii
Game of the week.
Louisiana-Lafayette 36, Louisiana-Monroe 35. The Ragin' Cajuns overcame an 11-point deficit with 3:08 left, scoring two touchdowns in the span of two minutes to complete the incredible comeback.
Blaine Gautier
threw a 16-yard touchdown pass to
Darryl Surgent
with 2:05 left to close the gap to 35-30. They failed to make the 2-point conversion but did recover the onside kick.
Alonzo Harris
scored on a run from 3 yards with 1:06 remaining.
Greatest turnarounds.
Speaking of the Sun Belt, Louisiana-Lafayette has the best turnaround in the country from last season, winning five more games than 2010. That league has three teams with some of the best turnarounds among the non-AQs.
2010, 2011
ULL 3-9, 8-2
Houston 9-0, 5-7
Ark. St 4-8, 7-2
WKU 2-10, 5-4
E. Mich 2-10, 5-4
Conference race update. Let us check in with all the non-AQ conferences to see who is leading in the race for a championship.
C-USA.
Southern Miss is in control of the East Division after a convincing 48-28 win against East Carolina. The Golden Eagles host defending East Division champs Central Florida on Saturday. They have a one-game lead over the Pirates and Marshall, though their only loss this season came to the Thundering Herd. In the West, Houston and Tulsa are undefeated in league play at 5-0, setting up a huge showdown in the season finale Nov. 25 at Tulsa. Houston has Tulane and SMU before then; Tulsa has Marshall and UTEP. Both teams will be favored to be 7-0 in league play headed into their game.
MAC.
Ohio dealt a huge blow to Temple's chances of winning the East with a 35-31 win in Week 2. The Bobcats and defending East champ Miami (Ohio) are 3-2 in league play. They end the season against each other Nov. 22 at Ohio. In the West, Northern Illinois and Toledo each are 4-1 but the Huskies have a huge head-to-head win against Toledo, 63-60 in a wild game in Week 10. If they both win out, Northern Illinois goes to get another MAC title game.
Mountain West.
As expected, TCU and Boise State are undefeated in league play headed into their huge game Saturday in Boise. The winner will be in the driver's seat to win the conference. Remember, this game was initially set for Forth Worth, but moved to Boise after TCU announced it was leaving the conference.
Sun Belt.
Louisiana-Lafayette (8-2, 6-1) has a huge game at Arkansas State (7-2, 5-0). If Louisiana-Lafayette wins, it would create a three-way tie with Western Kentucky (5-4, 5-1) atop the Sun Belt standings. If all three then win out, they would each be considered co-champs. If Arkansas State wins, then the Red Wolves would remain undefeated in the Sun Belt and control their destiny.
WAC.
Nevada is the only undefeated team in league play at 3-0 and controls its hopes for a second straight league title. Louisiana Tech at 4-1 is in second place. The teams play in Reno on Nov. 19.
Helmet stickers
Ryan Aplin, QB, Arkansas State.
Aplin had five touchdowns in a 39-21 victory at FAU, rushing for 49 yards and four touchdowns and completing 24-of-37 passes for 244 yards and another score. His four rushing touchdowns are the most for any player in the Sun Belt this season, and his five overall touchdowns are tied for the most.
Kama Bailey, RB, Idaho.
Bailey ran for a career-high 163 yards on 19 carries and had two scores as Idaho came back to beat San Jose State 32-29.
Jon Davis, DB, Air Force.
Davis had a game-high 12 tackles and recorded one interception as Air Force retained the Commander-In-Chief's trophy with a 24-21 win against Army. Davis also forced and recovered a fumble.
Nick Fanuzzi, QB, Rice.
Fanuzzi completed 30-of-43 for 405 yards with three touchdowns and no interceptions in a 41-37 win against UTEP. It was his first start of the season, and he is just the third player in school history to pass for more than 400 yards.
Donte Harden, RB, Ohio.
Harden finished with a school-record 322 all-purpose yards (184 rushing, 75 receiving and 63 return yards) and scored a pair of touchdowns in a 35-31 win against Temple.