NCF Nation:

Northern Iowa Panthers
June, 20, 2013
6/20/13
2:30
PM ET
When the
Big Ten in February decided to gradually eliminate all FCS games
from future schedules, I labeled it a victory for the league's fans.
Fans get only 6-8 chances per season to see their team play at home, and it's unfortunate when one of those games comes against a vastly overmatched foe from a lower division with fewer scholarship players. The elimination of FCS teams, part of a larger Big Ten initiative to beef up non-league schedules, benefits players, fans, television partners and the league's national perception.
But not everyone is thrilled about the Big Ten's FCS ban.
Iowa athletic director Gary Barta
and
Minnesota AD Norwood Teague
are somewhat reluctant about the league's new policy. And they have understandable reasons to be a bit resistant. They're called Northern Iowa and North Dakota State.
[+] Enlarge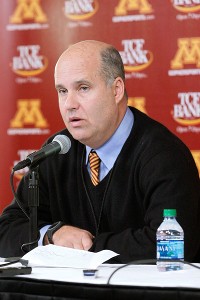 AP Photo/Paul BattagliaMinnesota AD Norwood Teague attributed the ban on playing FCS teams to having to appease the Big Ten's TV partners.
One problem with league-wide scheduling policies is that they can be countered with specific examples. Most FCS teams can't compete with Big Ten opponents, and the recent results back this up. But a handful of FCS teams, many located in or near the Big Ten's footprint, can hold their own. They provide early season challenges equal to or better than those from lower-level FBS opponents.
North Dakota State certainly qualifies. The Bison have won the past two FCS national championships. They have beaten an FBS team in each of the past three seasons, including Minnesota in 2011. They're 6-3 against the FBS since 2006.
Northern Iowa hasn't had as much FBS success -- just one win since 2001 -- but the Panthers gave Wisconsin all it could handle in the 2012 opener and nearly knocked off Iowa, the eventual Orange Bowl champion, in the 2009 opener. UNI has won 10 or more games in seven of the past eight seasons.
There are other examples like North Dakota State and Northern Iowa, including many in the Midwest. North Dakota State is
No. 1 in Lindy's magazine's preseason FCS poll
, while South Dakota State (No. 4), Northern Iowa (No. 13), Eastern Illinois (No. 18), Youngstown State (No. 19) and Illinois State (No. 22) also made the Top 25. These are good teams despite their FCS designation. Michigan fans still shudder when FCS Appalachian State is mentioned, but the Appy State team that upset Michigan in 2007 was much, much better than the FBS Toledo squad Michigan inexplicably lost to in 2008.
Minnesota's Teague recently told Chris Murphy of The Forum of Fargo-Moorhead that he would like to keep playing North Dakota State, but he has to be a good Big Ten soldier.
"It is primarily television pressuring and wanting the Big Ten to provide games that are [Football Bowl Subdivision] versus FBS teams," Teague said earlier this week in Moorhead, Minn. "That's understandable. They pay us a lot of money, and it's just the desire of television that they want us to do that. That was their message to the Big Ten."
He continues.
"We operate in a world now in college athletics where we have to balance a budget. [Big Ten Commissioner Jim Delany] needs to go out and redo our television contracts with ABC, ESPN, Big Ten Network, and we've got to be a very good partner with them or we aren't going to get the revenue we need to compete."
And here's more.
"I know it sounds money-oriented, but it is what it is," Teague said. "Balancing our budget is tough. We generate 95 percent of what we balance. We get very little from the university. We have to really fight and claw to do that. We are competing in a league that is very tough with competitors that are way ahead of us with facilities and things like that."
Yes, it's all about the money, and Teague's candor here is refreshing. I understand the FCS-TV argument from a macro level: more attractive matchups get better ratings, and most Big Ten-FCS matchups aren't very attractive. But when you look at specifics, is Minnesota-North Dakota State less appealing to TV than Minnesota-New Mexico State, an FBS vs. FBS game that takes place Sept. 7 at TCF Bank Stadium? Is Iowa-Northern Iowa less appealing to TV than Iowa-North Texas, a game scheduled to take place in 2015 at Kinnick Stadium? That's a hard argument to make.
I'd rather see a fun regional matchup, even if it's against an FCS team, than a snoozer like Minnesota-New Mexico State or Iowa-North Texas. And while Big Ten teams are adding more major-conference foes to their future schedules, which is great to see and long overdue, the guarantee games against lower-level FBS teams aren't going away. Couldn't a good FCS team be substituted for a really bad FBS one?
If there was a way to ensure Big Ten teams would only schedule top-level FCS opponents, I'd be in favor of lifting the ban. But there's no way to effectively regulate it, and as we know with future scheduling, seemingly good matchups can turn lousy by the time they actually take place. Big Ten teams would still find tomato cans, and we'd still see too many blowouts that don't benefit anyone.
It's unfortunate for the good FCS programs, especially from a financial standpoint, as they make great coin for visiting Big Ten stadiums. But if the FCS ban is necessary for the Big Ten's larger push to beef up scheduling, I'm for it.

Posted by ESPN.com's Adam Rittenberg
After several installments of power rankings during the offseason (when no games were actually being played), it's time to assess the league with a bit of concrete evidence.
First, a quick power rankings primer. These rankings are meant to be fluid. If a team loses or struggles in a game it should win, it pays the price. If a team looks impressive in victory or pulls an upset, it usually moves up. Try not to
throw a tantrum
if your team isn't where you think it should be. There are opportunities every week to move up. And move down.
Week 1 wasn't great for the Big Ten, as two ranked teams (Ohio State, Iowa) struggled and a potential sleeper team (Illinois) simply fell asleep. But there was good news in Ann Arbor, as Michigan looks to be respectable again. The top three look very solid to me. After that, it's a bit murky.
1. Penn State (1-0)
-- The Nittany Lions handled their business with no drama against Akron, surging to a 31-0 halftime lead.
Daryll Clark
showed why he's the Big Ten's best quarterback, and for now, Penn State is the league's top team. Joe Paterno wants to see better play from his offensive line, but the wide receivers looked impressive.
2. Ohio State (1-0)
-- Sure, Navy is a tricky team with a tricky offense. Tell me something I don't know. Bottom line: Ohio State was bigger and more talented at pretty much every position. The Buckeyes had a chance to put away the game early in the fourth quarter, but head coach Jim Tressel made
a poor decision
and his players had several breakdowns. It will take a much better performance across the board to simply keep pace with USC.
3. Michigan State (1-0)
-- The Spartans hold a firm grip on the No. 3 spot after a stress-free win against Montana State. Quarterbacks
Kirk Cousins
and
Keith Nichol
continue to pace one another in a good way, and linebacker
Greg Jones
picked up where he left off in 2008. Michigan State's line play still concerns me a bit, but I like the team's depth at most key positions.
4. Northwestern (1-0)
-- Iowa's near disaster allows Northwestern to move up a spot. Towson didn't present much of a challenge for the Wildcats, who could have easily put up 60 points in Saturday's game. They might not get a true test until Week 3 or 4, but they had to be pleased with quarterback
Mike Kafka
and wide receiver
Andrew Brewer
in the opener.
5. Iowa (1-0)
-- Hawkeye fans are already spreading the Northern Iowa gospel after their team was a 41-yard field goal away from a crushing defeat on Saturday. True, the Panthers are an excellent FCS program, but Iowa should feel free to take care of business and perform like a ranked team. It didn't happen, and the Hawkeyes' run game seems a bit shaky with
Jewel Hampton
lost for the season. There will be chances to move up, and Iowa needs to look like the team that ended last season on a great run.
6. Michigan (1-0)
-- No team in the Big Ten had a more impressive debut, especially considering the circumstances. Rich Rodriguez's team showed unity, toughness and, most important, better execution on both sides of the ball as it totally dismantled Western Michigan. Rodriguez finally has the right quarterbacks in place to run his offense (
Tate Forcier
,
Denard Robinson
), and the defense looked extremely well coached and energized as it ruined
Tim Hiller
's day. A chance to make a national statement and move up the rankings arrives Saturday against Notre Dame (ABC, 3:30 p.m. ET).
7. Wisconsin (1-0)
-- Finishing games will continue to be a theme in Madison after Wisconsin allowed two late touchdowns to Northern Illinois. But for the most part, the Badgers had a nice debut as
Scott Tolzien
performed well at quarterback and
Isaac Anderson
distinguished himself as a playmaker at wide receiver. Wisconsin will need a more complete performance against Fresno State to move up the rankings.
8. Minnesota (1-0)
-- A come-from-behind road win certainly means something, but Minnesota probably shouldn't have been in such a desperate position against Syracuse. The Gophers easily jumped ahead 14-3 but endured an offensive lull similar to the ones that cropped up late last season. Linebacker Lee Campbell led an admirable defensive performance. Air Force provides a good test this week as Minnesota opens TCF Bank Stadium.
9. Purdue (1-0)
-- Boilers fans have the right to be a bit ticked off with this placement, but I need to see a little more from Danny Hope's team before buying in. If Purdue heads to Eugene and pulls the upset -- or merely keeps pace with Oregon for the second straight year -- I'll be happy to move the Boilers up the rankings.
Ralph Bolden
's performance was extremely impressive, though the defense needs to be better against
Jeremiah Masoli
and the wounded Ducks.
10. Illinois (0-1)
-- Granted, Illinois played a tougher opponent (Missouri) than its Big Ten brethren in Week 1, but a complete collapse in St. Louis is simply unacceptable. The Illini were the deeper and more experienced team, but they looked flustered and lifeless at times, delivering the type of performance that kept them out of a bowl game last year. A 1-4 start isn't out of the question for Illinois, which needs to bounce back strong to avoid a trip to the basement.
11. Indiana (1-0)
-- A win's a win, but there won't be many more in Bloomington if Indiana doesn't pick up its play on both sides of the ball. The pistol formation was supposed to spark the rushing attack, but the Hoosiers gained just 73 yards on the ground against Eastern Kentucky, an FCS team. Indiana had three turnovers and endured several breakdowns in the secondary. Western Michigan and Hiller provide a bigger test this week, and Indiana needs to meet it.