May, 7, 2014
May 7
8:35
PM ET
PHOENIX -- The overriding message coming out of Pac-12 meetings is that major changes in college football governance are now inevitable, even if the details and long-term consequences of those changes remain unclear.

The Big Five conferences will meet in August and almost certainly obtain a new autonomy level within the NCAA structure. At that point, major rules changes, including those that significantly bolster the support and benefits provided to athletes, will start to be formulated. Pac-12 commissioner Larry Scott intimated that things could move fairly quickly thereafter, so his message to conference coaches and athletic directors was basically to buckle up.
"Quickly is a relative concept, but deadlines are good," Scott said. "I think if we get the autonomy that we've asked for, the commissioners will be setting out a very aggressive timetable to put proposals out ... I expect we'll have a very intensive process over the next four months -- September through December -- where practitioners from our campuses are working on different agendas, including those with a deadline of January, specific proposals that can be voted upon by the 65 schools [in the Big Five]."
So "quickly" might mean?
"The goal is to implement whatever changes we're going to implement for the 2015-16 year," Scott said.
Chief among those would be cost of attendance scholarships, which could vary significantly by team and conference. Scott, however, noted that doesn't create a massive change of direction and complication because the pure value of tuition scholarships also vary by team and conference.
What does need to be implemented to prevent any fudging is a clear formula that all 65 schools apply to calculate the new value of their cost of attendance scholarships.
"I don't think it will that big of a deal, but there will be issues to work through in terms of a common method of determining the full cost," Scott said.
There is a significant degree of consensus within the Big Five conferences for adopting the cost of attendance scholarships, and it appears there is unanimity within the Pac-12.
"These are a lot of things that are going to be costly for us but I think are necessary and in line with what I believe we should be doing for our student-athletes," said Washington State athletic director Bill Moos, echoing other conference ADs.
While Scott was unwilling to admit that the Northwestern football union challenge and Ed O'Bannon lawsuit against the NCAA were driving the oncoming changes, he did concede the legal challenges to the NCAA governance structure and the publicity surrounding them weren't too far from administrators' minds.
"Is it some of these external challenges driving it? I would say no. There's been a recognition for some time [about these issues]," Scott said. "But I'd say external pressures bring a helpful focus and helpful push to get these things done."
[+] Enlarge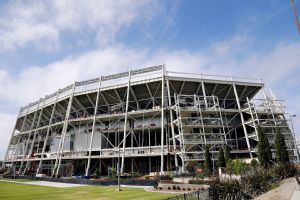 AP Photo/Marcio Jose SanchezLevi's Stadium, the new home of the San Francisco 49ers, could be the new home of the Pac-12 championship game as well.
As for the other major item on the Pac-12 agenda, it was more based on the West Coast: The location of the 2014 Pac-12 championship game. There were earnest discussions over the two days about changing it from a game hosted by the conference's top team to a neutral site, specifically the San Francisco 49ers' new home, Levi's Stadium, in Santa Clara, California.
While the potential move was an intriguing idea, it also isn't a done deal.
"I think there was a lot of positive feeling about it," Scott said. "Some objected. There are some pros and cons."
Said Moos: "Personally, I think [Levi's Stadium] is the way to go."
Said USC athletic director Pat Haden: "I think the current model has actually worked pretty well, the home host. I know the CEOs are debating that and discussing that. I don't think any decision has been made. Quite honestly, at USC, we don't mind the home-host model because we think we've got a chance of hosting."
Shrugged Washington's Scott Woodward: "I'm ambivalent. I trust the league and what they want to do. I have no problem one way or the other."
If the title game is going to be played in the new 49ers stadium on Dec. 5, a decision almost certainly would be announced in June, when the Pac-12 presidents meet.
"If we are going to make the move, it wouldn't be later than that," Scott said.
So it appears that the summer, once a quiet time for college football news, will be anything but that this year.
October, 6, 2012
10/06/12
3:45
PM ET
STATE COLLEGE, Pa. -- Northwestern has waited half a century to start a season with a 6-0 record.
The Nittany Lions made sure it will have to wait at least one more season.
Penn State quarterback
Matt McGloin
composed himself and led the
Lions to a 39-28 victory
after trailing by 11 points in the second half. McGloin dove in the end zone for the go-ahead touchdown late in the fourth quarter.
Penn State's defense answered by forcing a Northwestern three-and-out, and
Michael Zordich
added another touchdown. Penn State improves to 4-2 with the win, and Northwestern falls to 5-1.


It was over when
:
Mike Hull
deflected Northwestern's last chance at a comeback. On 4th-and-7 from the Wildcats' own 28,
Trevor Siemian
attempted a pass over the middle, but Hull got his hand on it right in front of the receiver. The sideline erupted after the stop.
Game ball goes to
: McGloin. Trailing 28-17, McGloin put the team on his shoulders and didn't make a mistake. He led Penn State to two scoring drives and rumbled for a 5-yard TD run to put his team up 32-28. He finished 35-of-51 for 282 yards and two touchdown passes.
Stat of the game
: 161. Rushing yards by Penn State. Northwestern came in with the nation's 13th-ranked run defense, and PSU entered with the No. 86 rushing offense. Still, somehow, PSU was able to have one of its best rushing games of the season.
Unsung hero
:
Zach Zwinak
. Against a tough run defense, the Penn State fullback-turned-tailback finished with 121 yards on 28 carries. He entered this season as the team's last option at tailback, but he has shown in the past three games that he might just be the best running back on the team.
What it means
: Penn State is a legitimate contender for the title in the Leaders Division. The Nittany Lions showed they can make a comeback, and it showed this offense is for real. For Northwestern, it showed it still has some defensive issues to fix -- but the offense is certainly dynamic.
September, 14, 2011
9/14/11
10:30
AM ET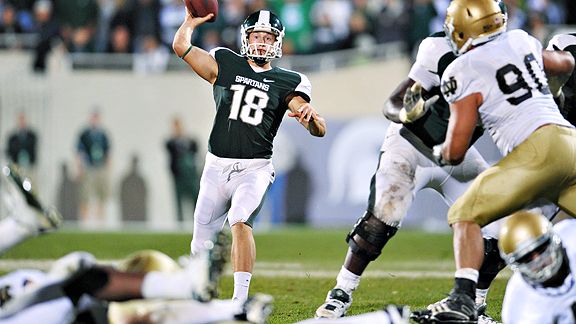 Matt Cashore/US PresswireNotre Dame hasn't forgotten how it lost last year's game to Michigan State.
SOUTH BEND, Ind. -- Trevor Robinson sees it over and over again and can't help but run through number of possible ways Notre Dame could have prevented it.
"You think all we had to do was this ..."
But ...
"But when I was sitting there watching the field goal, it took me until the play was over to realize they're in a fake, because I was zoned in on them missing the field goal. I was picturing that in my mind.
"It is what it is. It's a gutsy play call and it worked out for them."
For the Fighting Irish, a matchup with Michigan State this Saturday serves as a harsh reminder of the way the Spartans utilized a play out of a video game to record a home victory last season.
The situation: Overtime, down 31-28 and facing a fourth-and-14 and from the Irish 29, MSU trotted out its field goal unit, seemingly hoping to force a second overtime.
"I was getting ready, me and Armando [Allen] were sitting right next to each other,"
Jonas Gray
recalled, "and we were sitting and going over what we thought the defense was doing."
But not even the best-prepared unit could have predicted punter, holder and former high school quarterback Aaron Bates taking the snap, hopping to his feet and hitting tight end Charlie Gantt with a perfect throw for a game-winning touchdown, securing a 34-31 Spartans win and making the play call, "Little Giants," a smashing success.
"We were on the sideline just watching, and it was unbelievable," Braxston Cave said. "I couldn't believe it just happened. It did. It took some time. Even walking back into the tunnel I couldn't believe it just happened. I still can remember the feeling of walking off the field after that play."
Added head coach Brian Kelly: "I think the down and distance was a bit of a surprise. We know in that situation, regardless of it, we had to defend it better. But no, I thought it was a great call. It worked."
Offensive line coach and run-game coordinator Ed Warinner called the ending "devastating." Warinner coached the Spartans' linebackers and secondary from 1985-86, when he met his wife, Mary Beth.
She, of course, was working in the school's football office. And, of course, is from a family full of MSU graduates.
"I always go back there, there are so many people there that I still know that I worked with that are part of the shaping of my career and the support mechanisms," Warinner said. "Mark Dantonio and I coached together at the University of Akron, we actually lived together for six months, so we're very close and I know other guys on that staff very well as well.
"So it's one of those things."
Gray drew parallels to that loss and the one Notre Dame is currently rebounding from, a 35-31 loss to Michigan that saw three lead changes in the final 72 seconds.
But Kelly's 24-hour rule couldn't prevent Gray from running into the fake field goal while randomly turning on the television during the offseason.
"You pretty much take the reaction you had before," Gray said. "Still surprised, and realizing how close we were and just a guy here, there and they were able to get that play. You just realize how close you are and how you don't ever wanna be put in that position again."
Hours later, Dantonio, the Spartans' head coach, suffered a mild heart attack. He returned to coaching in the press box three weeks later at Michigan, then to the field two weeks after that at Northwestern.
The Spartans won that game thanks in large part to a fourth-quarter fake-punt call, appropriately titled "Mousetrap."
MSU finished the regular season 11-1 and in a three-way tie for the Big Ten title, and it now has the bull's-eye on its back against a 0-2 Irish squad all-too-familiar with last-second defeats.
"Very shocking," Cave said. "It was the last thing I expected, and it's disappointing. Definitely still got that bad taste in our mouth from that, and to see the highlight over and over when they show the top plays from last year, makes you sick to your stomach.
"And it's definitely something we haven't forgot about, and it's a little extra motivation going into this week."
September, 8, 2011
9/08/11
1:30
PM ET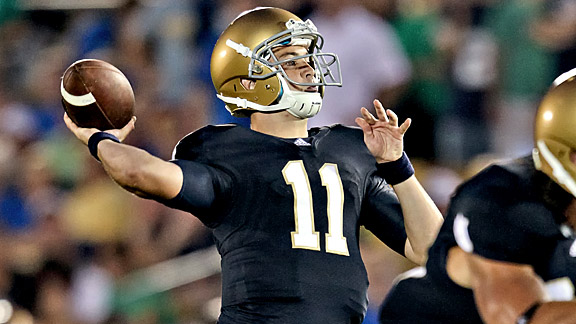 Robin Alam/Icon SMITommy Rees will start when the Irish take on Michigan in the first-ever night game at the Big House.
SOUTH BEND, Ind. -- Before he could lead a group of older teammates into Yankee Stadium, and before he could quarterback the first Notre Dame team to win at USC in a decade,
Tommy Rees
had to go 78 yards in 3 minutes, 26 seconds at Libertyville High School.
Only a high school sophomore at the time, Rees took his Lake Forest teammates 77 yards, enough to set up a game-tying field goal before his game-winning touchdown pass clinched a 23-20 overtime victory, knocking the hosts out of the playoffs.
"He put the team on his back," Lake Forest coach Chuck Spagnoli recalled. "That's probably my biggest memory of him."
The stage has gotten slightly bigger in the four years since, as Rees finds himself directing Notre Dame into a Michigan Stadium that is expected to host the biggest crowd in college football history Saturday night.
For a kid who grew up in a football family, the situation is hardly daunting.
Rees' father, Bill, spent 17 years as an assistant with Northwestern and UCLA before working for four NFL teams. His older brother Danny played at UCLA.
"This kid was at Rose Bowl games when he was young," Spagnoli said. "He's been around high levels of football as a youngster, so I don't know that stadiums really intimidate him. He was on the sidelines when he was 10 years old at NFL games, so he's probably got an advantage growing up in that environment."
That shows during preparation in the film room, where tight end
Tyler Eifert
says a lot of players don't initially know what exactly they're looking for.
That wasn't the case with Rees.
"I think a lot of the quarterbacks see film differently than other people," Eifert said. "He just sees the whole defense as a whole instead of just looking at one guy or end up watching the offense, actually, instead of watching the defense."
Offensive coordinator Charley Molnar said Rees broke down every play from the first half of the Fighting Irish's loss to South Florida flawlessly -- all the more striking since Rees didn't take a snap until the third quarter.
"I think he's got a real innate sense about the game of football," Molnar said. "He has some real football intelligence that other players just don't have, and that's just a product I think of him growing up in a football family, No. 1.
"No. 2 is he's a gym rat, as we say. He spends the time watching film, watching himself and really, really trying to be the best football player that he can be. He loves football, and that's obvious by the way he practices and the way he plays."
But it's less obvious by his stature. Spagnoli remembers the first time he met Rees, then an 11-year-old whose dad brought him to practice to watch Danny in his sophomore year under Spagnoli.
"Just a little guy with freckles," Spagnoli recalled. "I wasn't going, 'Oh my god, this is the future.' He was just a little kid at the time."
At a less-than-imposing 6-foot-2 and 193 pounds when he enrolled at Notre Dame in the spring of 2010, Rees hardly made a first impression on unsuspecting teammates.
Said Eifert: "He was the dork. I was the lanky, tall kid."
But the dork soon showed his heart,
Michael Floyd
said, taking hits in the pocket and instilling confidence in the offense with his unflappability.
"It's kind of weird," Floyd said. "Kind of different just knowing coming from high school and to playing elite college football. Kind of surprising that a freshman quarterback can do that."
Added Brian Kelly: "His FBI, his football intelligence, was really good early on. He had to physically develop. As I've said before, he looked like a high school student -- I guess he was, he was a high school student. He physically needed to develop, but mentally I thought he was well beyond his years."
Still, Rees' teammates never miss a chance to rag on his demeanor when the opportunity arises.
Take Tuesday, when
Cierre Wood
told reporters that Rees dresses like a bum, a line that made its way to teammates.
"They hit that dead-on," Braxston Cave said. "You always see him in like a raggedy sweatshirt and some shorts and just hanging out. That's just Tommy."
Rees was met with ridicule upon entering the locker room the next day.
"We were in the cold tub and someone was like, 'Man, you do look like a bum,'" Cave said. "So we were kind of giving him crap for that."
Cave said Rees off the field is one of the least serious people he's ever met. That thick skin will serve him well under the lights at the Big House as he gets another shot at the team that ruined his debut last season.
Replacing a woozy
Dayne Crist
in the first quarter of that contest, Rees had his first career pass intercepted in an eventual loss.
"A 'Welcome to College Football' moment," he said, adding: "Since that moment I haven't really looked back, so that probably has helped me in the long run."
A year, an initiation and a full-time job later, Rees is tasked with turning roughly 114,000 opposing fans and a prime-time audience into believers.
Even if he catches most of them off guard.
"He's unassuming, but at the same time you better be careful of what you can't see," Spagnoli said. "This guy -- I won't say he's a shark or anything like that -- he's pretty much what you see except one thing: He cares.
"He really has been around it a long enough time that he understands the implications of when he doesn't succeed as a quarterback."
August, 18, 2009
8/18/09
5:00
AM ET
Posted by ESPN.com's Ivan Maisel
1. Northwestern's All-Big Ten defensive end Corey Wootton tore his right ACL late in the Alamo Bowl only eight months ago. Yet he is working out with the Wildcats, resembling the guy who had 10 sacks in 2008. He wears braces on both knees in practice and is limited to one practice per day (No two-a-days. Darn.) Wootton will wear the right brace in games and, coach Pat Fitzgerald said in a text, "won't even notice a difference." Fitzgerald said this, too: "He is great. He will be ready for the opener!" In eight months? Amazing.
2. In his four seasons behind Pat White, West Virginia quarterback Jarrett Brown did plenty of watching, inlcuding a lot of video of Tom Brady and Peyton Manning to pick up "the little things they do: timing, sitting in the pocket, how to be a leader," Brown said. "Peyton and (wide receiver Marvin) Harrison, their relationship was so great. It's just so hard to defend. If you throw the ball before the guy gets out of his break, how is a defensive back going to make a play on it?"
3. Couldn't help but notice that in Pat Forde's dash of the 40 biggest villains in college football history that the Southeastern Conference led all leagues with 11, followed by the Big 12 with nine.. That makes sense. Villains engender hate, which is passion in its rawest form (clothed division). Nowhere are fans more passionate than in the SEC (ditto). The Pac-10, where football isn't quite as important, had three villains. Whatever, dude.