July, 20, 2010
7/20/10
5:45
PM ET
In June, the NCAA ruled running back Reggie Bush retroactively ineligible when he won the Heisman Trophy in 2005 because he was breaking rules by receiving extra benefits from would-be sports agents, so USC is
giving back the tainted trophy
as part of its plan to disassociate the university from Bush, now with the New Orleans Saints.
That plan of action was made public shortly after USC president-elect Max Nikias announced that Pat Haden would replace Mike Garrett as athletic director,
one of a number of other moves
intended to improve athletic department oversight.
Nikias also said USC would take down murals featuring Bush and former basketball player O.J. Mayo, who also broke rules when he received extra benefits, at the Galen Center, Heritage Hall and the Los Angeles Memorial Coliseum.
In other words, USC is cleaning house. And showing a bit of contrition.
Many might say this: About time.
June, 10, 2010
6/10/10
3:56
PM ET
Turns out the NCAA did give USC the
Alabama slammer
. And then some.
The NCAA hammered USC with sanctions on Thursday, as the Trojans were banned from postseason play for two seasons, lost 30 scholarships over the next three years and must vacate all wins from December 2004 -- the BCS title game included -- through the entirety of the 2005 season.
USC was cited for a lack of institutional control, impermissible inducements, extra benefits, exceeding coach staff limits and unethical conduct by a running backs coach Todd McNair. Because of violations in 2001, the program also was considered a "repeat violator."
The penalties, USC's sixth case of major infractions since 1957, exceed in severity sanctions Alabama received in 2002 and what Washington received in 1993 -- major violations cases you
can review here
.
USC can appeal the ruling, but then it runs the risk of simply delaying the penalties further into the future.
The first question: Why did the NCAA hit USC so hard with sanctions?
Answer: It didn't buy any of USC's defenses.
"The general campus environment surrounding the violations troubled the committee," the report said.
"The committee noted that the violations in this case strike at the heart of the NCAA amateurism principal, which states that intercollegiate athletics should be motivated primarily by education and its benefits," the report said.
The 67-page public report recounts a laundry list of extra benefits provided to Reggie Bush and his family, much of which has been widely reported. The committee also found that McNair not only knew about Bush's dealings with would-be agents and sports marketers, he lied about what he knew to NCAA investigators. McNair, whom new coach Lane Kiffin retained as the Trojans running backs coach, is banned from all recruiting activities for a year.
"The committee finds ample reason in the record to question the credibility of the assistant football coach [McNair]," the report said.
The only gesture of mercy: No television ban. Said the report, "The committee seriously contemplated imposing a television ban penalty in this case. However, after careful consideration, it ultimately decided that the penalties below adequately respond to the nature of violations and the level of institutional responsibility."
So what does it mean?
First, there's the embarrassment of the vacated wins, which could mean the BCS takes away the 2004 national title.
But the NCAA obviously wanted to make a strong statement, and the only way to do that is to hit a program where it hurts: The present and future.
Losing 10 scholarships from each of the next three recruiting classes is a significant blow. Losing potential bowl berths for the next two seasons also will be a blow to recruiting as well as school finances.
In other words, these penalties will send the program that has won seven of the past eight Pac-10 titles back to the pack. Will it crush the program? Probably not. But let's just say the Trojans probably won't win the Pac-10 when they are again eligible for the postseason in 2012.
The unfortunate thing is the folks who will suffer most under these penalties -- players who weren't around in 2004 and 2005 -- are not the ones to blame. Most of the principals have moved on to bigger and better things. Bush and O.J. Mayo are NFL and NBA millionaires. Bush's parents, stepfather Lamar Griffin and mother Denise Bush, used their son's fame for profit, breaking NCAA rules in the process, probably couldn't care less. Former coach Pete Carroll signed a five-year, $33 million contract with the Seahawks. Tim Floyd is the basketball coach at UTEP.
USC looked like a slight Pac-10 favorite entering the 2010 season. Now that they are only playing for pride, who knows what the product will look like on the field.
The door is open for another program, or two, to make its move. Further, in 2012, the Trojans will re-enter the race after Pac-10 expansion in a weakened state, which means the opportunity window figures to be open for a few more years.
The NCAA doesn't like to talk about sending a message, but the USC ruling should do just that.
You can run -- or run your program loosely -- but ultimately you can't hide. Even if it takes four years, the NCAA will eventually have its say.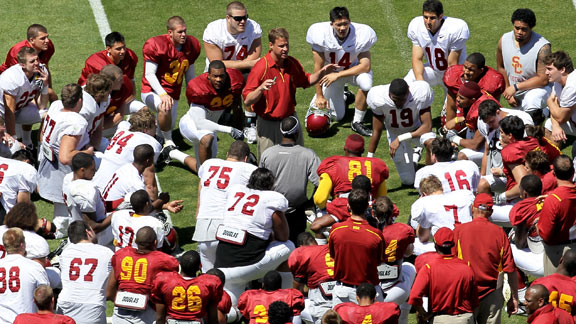 February, 20, 2010
2/20/10
10:02
PM ET
TEMPE, Ariz. -- And after three days, they rested. Their case.
USC's hearing before the NCAA infractions committee ended at 6:30 p.m., local time, Saturday, after nine hours of deliberation.
A hotel worker strained to roll away an overloaded cart of documents that included seven boxes and two massive bound folders that contained USC's responses to allegations of NCAA violations for the football and basketball programs.
To be accurate, USC was done -- football coach Lane Kiffin quickly said goodbye and raced to a town car so he could catch a flight back to L.A. -- but the infractions committee's work continued into the evening.
USC's ultimate fate still requires a verdict, which will require further deliberation for the infraction committee at another location. The ultimate ruling won't be made public until a final report is completed. That typically takes six to 10 weeks.
NCAA officials refused to comment afterwards, and USC officials weren't much more forthcoming.
"I can't even say no comment on no comment," USC president Steven Sample joked with reporters, then added. "It will come out. It will be great."
Said USC spokesperson James Grant, "We've been asked by the chairman of the committee not to discuss the proceedings. But we do want to thank the committee and NCAA staff and everyone involved for these proceedings and we are pleased we were able to present our side of the events and we look forward to an outcome and to moving on."
The first two days of the hearings focused on football, with Trojans running backs coach Todd McNair seemingly spending the most time being questioned. McNair reportedly was aware of a relationship between former running back Reggie Bush and a pair of aspiring agents who allegedly provided him with cash and gifts that would break NCAA rules against athletes receiving "extra benefits."
Basketball was the subject on Saturday, with former Trojans coach Tim Floyd appearing before the committee.
ESPN's "Outside the Lines" reported in May of 2008 that former basketball player O.J. Mayo accepted cash and gifts -- extra benefits -- from Rodney Guillory, who was connected to Bill Duffy Associates Sports Management. Moreover, Floyd was alleged to have provided a $1,000 cash payment to help steer Mayo to USC, according to a Yahoo! Sports report.
"We got the opportunity to present our side of the case," said one of Floyd's lawyers, Jim Darnell.
USC already admitted wrongdoing with the basketball program and
sanctioned itself
, including a ban on postseason participation, a reduction of scholarships and vacating all of its wins from 2007-08.
However USC chose to contest the allegation against the football program, its ultimate goal is to overcome the perception of a lack of institutional control, which could result in significant sanctions, including scholarship reductions, TV and postseason bans, recruiting restrictions and probation.
Moreover, if USC is found guilty of major violations, the NCAA also could rule that the Trojans are "
repeat violators
." Per NCAA rules, "An institution shall be considered a 'repeat' violator if the Committee on Infractions finds that a major violation has occurred within five years of the starting date of a major penalty."
The athletic program was last sanctioned in August of 2001, so if the Bush allegations are found to be major violations, they would fall within that time frame.
So a lot is at stake.
David Price, the NCAA's vice president of enforcement, wouldn't discuss any details of the case but he admitted the hearings were "the longest in my 11 years" as an NCAA enforcement officer.
USC athletic director Mike Garrett's only comment afterwards probably reflected sentiments shared by all participants on both sides of the conference room.
"I'm glad it's over," Garrett said.
Of course, it won't be over until the NCAA finally sings.
February, 20, 2010
2/20/10
6:54
PM ET
TEMPE, Ariz. -- After nearly eight hours in front of the NCAA infractions committee, former USC basketball coach Tim Floyd, carrying a folder overflowing with hastily gathered papers, walked out of a conference room at the Marriott "The Buttes" resort and shared a handshake and what appeared to be a warm exchange with new Trojans football coach Lane Kiffin.
Floyd hopes the hearing and the handshake afterwards aren't his last contact with college coaching, which is one of the reasons he attended the hearing.
[+] Enlarge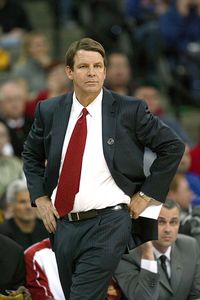 Jamie Squire/Getty ImagesFormer USC basketball coach Tim Floyd met with the NCAA infractions committee for nearly eight hours on Saturday.
The other?
"It's the right thing to do," he said.
Floyd, now an assistant coach for the New Orleans Hornets, was shortly hustled away by his lawyers, Jim Darnell and David Scheper, into a waiting elevator.
Floyd appeared before the committee because ESPN's "Outside the Lines" reported in May, 2008, that his former player, O.J. Mayo, accepted cash and gifts from Rodney Guillory, who was connected to Bill Duffy Associates Sports Management. Moreover, Floyd was alleged to have provided a $1,000 cash payment to help steer Mayo to USC, according to a Yahoo! Sports report.
His lawyers said their intention was to present their side of the case and clear Floyd's name. They said they felt the hearing was fair. While they wouldn't talk about what went on behind closed doors -- or whether things got contentious -- they admitted there were some unexpected twists.
"Over eight hours there are always surprises," Darnell said. "But nothing that big of a deal."
As far as their odds of success, Darnell said he didn't have "the slightest idea."
"I'll know that in two months," he said.
USC already admitted wrongdoing with the basketball program and
sanctioned itself
, including a ban on postseason participation, a reduction of scholarships and vacating all of its wins from 2007-08.
While the details aren't available -- USC's status as a private institutions allows it to keep NCAA allegations from public scrutiny -- it's fair to say USC's version of events and Floyd's version don't match.
In fact, in recent interviews with the
LA Times
and New Orleans Times-Picayune, Floyd talked about how he believed USC athletic director Mike Garrett made him the program's scapegoat.
"Mike's reputation took precedence over the truth," he told the newspapers.
Floyd and his lawyers left at 3:30 p.m., local time, but the hearings continued.
Former football coach Pete Carroll was interviewed on Thursday. Current running backs coach Todd McNair, who allegedly was aware of former running back Reggie Bush's dealings with a couple of would-be sports agents, was interviewed Thursday and all day Friday.
When the committee is finished with USC, it will reconvene -- at an "undisclosed location," NCAA spokesperson Stacey Osburn said -- to evaluate the testimony and reach a verdict.
That could last well into the evening, and it remains possible that the committee won't be able to finish its business.
But, when the elevator doors closed behind Floyd, the last of the star witnesses departed.
December, 24, 2009
12/24/09
1:32
PM ET
Some
good news
for USC?
Trojans running back
Joe McKnight
will resume practicing with his teammates today in San Francisco as they prepare for the Emerald Bowl against Boston College on Saturday.
McKnight, who arrived in San Francisco late Wednesday night, has not been cleared to play, but coach Pete Carroll called his return "a most favorable sign."
"Joe did everything he needed to do compliance-wise in L.A., so it was the right thing to get him up here right away," Carroll said in a statement.
McKnight practiced with the Trojans on Monday but remained in Southern California through Wednesday to be available for the university's investigation concerning his use of a 2006 Land Rover that allegedly was provided to his girlfriend by a Santa Monica businessman, a potential violation of NCAA rules.
"We'll just play it out and see what happens from here," Carroll said. "In the meantime, it's great to have Joe back with us."
One would assume USC, which already is under investigation for cases involving former football player Reggie Bush and basketball player O.J. Mayo, would be cautious about reinstating McKnight. Unless, that is, the school is certain that the NCAA and the Pac-10 will find no wrong-doing.
It's always good for any team to get its starting running back back, particularly one with McKnight's game-breaking talent. But the junior's return also would figure to boost morale around a program that's taken more than
a few shots
of late.
Still, it remains to be seen if McKnight suits up Saturday evening. Again, one would think USC would take no chances because of other NCAA issues.
July, 30, 2009
7/30/09
10:21
AM ET
Posted by ESPN.com's Ted Miller
USC used a former NFL coach in 2008 who wasn't on the official staff to help its special-teams play, and that arrangement may have violated NCAA rules about employing coaching consultants, the Los Angeles Times reported Thursday.
The Times reported:
The new issue involves the employment of Pete Rodriguez, who has coached for several professional franchises. In an interview with The Times, he acknowledged that he attended USC practices, monitored games and offered Carroll behind-the-scenes advice on matters ranging from the needs of individual players to avoiding penalties during punt returns.
This could become another part of the ongoing NCAA and Pac-10 investigations into USC's football and basketball programs that are rooted in accusations that improper benefits were provided to former running back Reggie Bush and guard O.J. Mayo.
April, 9, 2009
4/09/09
3:06
PM ET
Posted by ESPN.com's Ted Miller
The NCAA has combined its investigations of Reggie Bush and O.J. Mayo -- former football and basketball stars -- into a single probe of the Trojans' athletic program, the Los Angeles Times reported.
What does this mean?
If you're a bigger fan of USC football than basketball, it should feel worrisome.
The individuals who allegedly gave Bush cash and gifts and a rent-free home for his parents were anonymous outsiders, two men trying to become sports agents. Unless the NCAA is going to pull a rabbit out of its investigative hat, all reported connections or interactions with these men and the Trojans' football program were scant and tenuous.
In other words, it didn't completely strain credulity that the coaching staff claimed ignorance.
The Mayo case had a different feel. Basketball coach Tim Floyd and his staff knew Rodney Guillory, a Los Angeles events promoter who allegedly was receiving monthly payments from the Northern California sports agency Bill Duffy Associates. They knew of the close relationship between Guillory and Mayo. They knew Mayo was a risky player to bring into the program.
By connecting the two cases, the NCAA appears to be now reviewing these investigations as systemic problems within USC's athletic department.
Yes, we're talking about the dreaded "lack of institutional control."
Or as ESPN's Pat Forde wrote in May when "Outside the Lines" broke the Mayo story: "So you take the Bush allegations, add a side of Mayo and ask the question: Has there ever been a more textbook definition of 'lack of institutional control'?'"
Which means potential penalties could include scholarship cuts, postseason bans, victories erased from the record book, etc., -- all the big ones.
USC officials would be quick to point out -- if they would talk specifically about these investigations at this point, which, of course, they won't -- that these are not accusations of pay-for-play.
These agents, the USC argument would go, are rogues working against the interests of the athletic program. Not only that, it's a misdemeanor in the state for sports agents and their representatives to provide cash or gifts to student-athletes.
The athletic department will throw up its collective hands and say completely monitoring the private lives of its athletes in a big city like L.A. is nearly impossible.
And it may hope that the lesser violation of "failure to monitor" comes out when the NCAA finishes its investigation.