NCF Nation:

O'Brien to Penn State
January, 8, 2012
1/08/12
2:04
PM ET
Penn State's wait for a head coach finally ended Saturday as the school introduced Bill O'Brien as its new leader. O'Brien
came across well at his news conference
, and while I waited for him to get on the phone Sunday, I could hear fans wishing him well at Penn State's basketball game in the background. But there are challenges ahead, namely juggling his new job with his current one (New England Patriots offensive coordinator). He also has to try and salvage a recruiting class and form a staff that will include current Penn State defensive line coach Larry Johnson, who will lead the team's recruiting efforts for the time being, as well as
Charles London from the Tennessee Titans
.
Here's what O'Brien had to say during our conversation.
What has been the reception so far for you at Penn State?
Bill O'Brien:
It's been unbelievable. To arrive at this place and to drive onto campus from the airport, you realize what a special place it is. It's been a great experience so far, had a great reception at the women's basketball game [Saturday] and another great one today at the men's game versus Indiana. They've welcomed my family and I with open arms.
How much will you be reaching out to different sectors of the Penn State fan base in the next couple of days? Is there any damage control to be done?
[+] Enlarge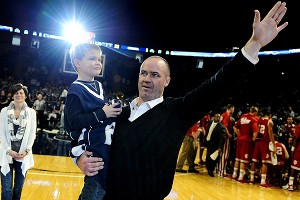 Patrick Smith/Getty ImagesNew football coach Bill O'Brien and his family made an appearance Sunday at the Penn State-Indiana men's basketball game.
O'Brien:
Any time you had a transition where there's been a coach [Joe Paterno] here for 60 years and now you're transitioning into a new coach, there's obviously going to be people who are going to be a little bit skeptical. I'm not naive to that. I've been coaching for 20 years so I understand that. I'm going to do the best I can to reach out to the Penn State community and the Penn State lettermen. I've already started that process with my press conference [Saturday] and different phone calls I've received and players I've spoken to already. Again, I'll reiterate what I said [Saturday]: I want everybody in the Penn State community to just give us a chance to allow us to earn their trust and respect. I promise you that we're going to work very hard to do that every day.
What are the biggest challenges you face at Penn State?
O'Brien:
Again, any time you're a new coach and there's a transition, it's getting the staff in place. It's securing the guys that are committed right now and getting guys on the road. We're fortunate that there's a little bit of a dead period here in recruiting, so we've got a couple days to get the staff in place, get them kind of settled in here in State College, and then hit the ground running when recruiting opens back up toward the end of the week. That's probably the biggest immediate challenge, and then from there we've got to evaluate everything that's here, and make decisions as we go along.
Where do things stand with your staff and how much will you lean on them the next few weeks as you have other responsibilities?
O'Brien:
I'm going to lean on them a lot. Right now, I really don't want to get into specific things, but we're still in the process of putting the staff in place. You'll see soon enough. By the middle of the week, you'll have a good understanding of who the staff is. It's a very, very strong staff, a mixture of college and NFL experience, a mixture of great recruiting experience, national championships won. It'll be a very, very strong staff.
How would you describe the offensive philosophy you want to bring to Penn State?
O'Brien:
It's a game-plan offense. The first thing we've got to do is evaluate our own personnel, see who we have, and then we've got to make sure we're putting our players in the best position to attack the defenses we see. We're not this offense, we're not that offense. We're a diverse offense, and we require our players to learn a lot of different things about defense and offense. We're going to have to have some smart, instinctive players here as we go forward, and I hear that we have some. I'm not going to get into specifics. You'll see what it is when the season starts next year.
You're meeting with the players later today. What are some of the most important things you want to get across to them about you and the direction of the program?
O'Brien:
I think the expectations I have for them, especially in the immediate future while I'm not around. I'm going back to the Patriots, so I'm not going to be right here on campus. Those expectations that I have, both off the field and on the field. That's the first thing I want to get across to them. And then there are some different things I really believe in. Anything other than that is going to be kept between myself and my team. They'll know that, too. That's going to be a very private conversation.
And as far as the coaches they'll be reporting to during the next few weeks, is it just Coach Johnson or whoever else you name?
O'Brien:
By Wednesday, there will be at the very least seven full-time coaches. You're allowed nine on staff, and seven of those guys will be in place by Wednesday in the building, in addition to a couple guys that are coming on board for different roles. So they'll know who their coaches are very soon here.
You've been a guy who said he has followed Penn State for a long time. What was your reaction to everything that happened back in November?
O'Brien:
I'm here now. I'm the head football coach now, and it's my job to put the best football team out on the field and off the field. That's my job. There are very many people here, special people that are in charge of that situation. I wasn't here, I'm here now, so just moving forward, that's all I'm going to say about publicly because again, I wasn't here. I'm just here to lead the football program, from my start date that was [Saturday] moving forward.
How much patience do you have?
O'Brien:
Oh, you know, it depends [laughs]. Some people would say I don't have a lot of patience. I don't have a lot of patience with mistakes that are made over and over again. I have patience with the first mistake, but once we learn from that mistake, you can't make the same mistake twice.
Are there guys you're planning to reach out to who were in similar situations, taking over a program? Coach [Charlie] Weis is one that comes to mind. Have you already done that or do you plan to in the future?
O'Brien:
There's no question. I don't know Coach Weis, so that specifically would be no because I don't know him, but there's a number of coaches, starting with Coach [Bill] Belichick, who's been very, very good to me during this whole process. There's a lot of guys -- George O'Leary, Ralph Friedgen -- guys who have already reached out to me, and I'm definitely going to be reaching back out to them when I get a chance to and talk to them about different advice that they would have for me going forward.
January, 7, 2012
1/07/12
1:31
PM ET
For the first time since Feb. 19, 1966, Penn State has
introduced a new head football coach
. Bill O'Brien is the new man in charge, and he conducted himself well during his first public appearance in the new job. He was energetic and confident and hit on most of the issues Penn State fans needed to hear.
O'Brien, 42, received a five-year contract that will pay him $950,000 annually plus a five percent annual increase and performance incentives not to exceed $200,000 per year. The deal includes $1 million annually from TV and radio, and $350,000 from Nike. Total compensation: $2.3 million.
Before getting to the notes, O'Brien finished his opening remarks with a letter he wrote addressed to the Penn State football community, portions of which had expressed outrage at his hiring and the search process.
[+] Enlarge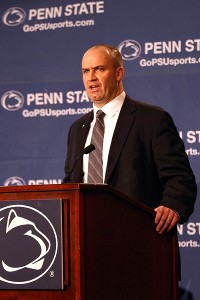 Rob Christy/US PresswireNew Lions coach Bill O'Brien said he has "a lot of confidence" in his ability to lead Penn State through "what some people would say is a tough time right now."
It reads:
"We respect the right to one's opinions, beliefs and contributions to Penn State. We admire one's loyalties to Penn State, Penn State football, its grand tradition, coach [Joe] Paterno and all of its football staffs, and present and former players. We respectfully request the opportunity to earn your trust through communication and field it through our abilities, ethics, beliefs, work ethic and commitment to Penn State. In time, you will find that we have more common interests and goals than not.

"We are now with you. You should be proud of Penn State's numerous accomplishments. You should be proud of Penn State's football program. You should love this school. You are why we love to be here. We want you to know that you will always be welcome and are part of our program because we are Penn State."
Here are some notes:
O'Brien plans to assemble a staff in the next 2-3 days, but he confirmed that current Lions defensive line coach Larry Johnson will be a part of it. Johnson, the team's top recruiter and an excellent position coach, served as co-defensive coordinator with Ron Vanderlinden after Tom Bradley took over the head-coaching duties in November. O'Brien will meet with the other current assistants during the next few days. Keeping Johnson is a good move.

It doesn't appear as though Bradley will remain on staff (no big surprise), and Bradley issued a statement Saturday saying Penn State has his full support going forward. Classy remarks from "Scrap."

O'Brien discussed Paterno in his opening remarks, saying he grew up following Penn State football. He loved the "helmets, the uniforms, the black cleats, no names on the back of the jerseys, and also because of the man on the sidelines." O'Brien added that there "will never be enough words to say what he did for this program." O'Brien looks forward to meeting Paterno as soon as possible.

O'Brien said he will take the NCAA exam today or Sunday that will then allow him to contact Penn State recruits. He emphasized the importance of securing Penn State's verbally committed recruits and making a push in Pennsylvania, Maryland, Ohio and the Washington D.C. area -- "our bloodlines."

While his assistants will be on the road, O'Brien himself will be splitting time between Penn State and the New England Patriots, much like Charlie Weis did with the Patriots and Notre Dame in 2005 during the Patriots' Super Bowl run. "There's no way I can stand up in front of our football team and our recruits and talk about loyalty and commitment and then leave the Patriots at the start of a playoff run," he said. "... I will also continue any break I have to make sure I am full-time as much as I can for Penn State." This will be tricky, but it's hard to fault O'Brien for finishing the job with the Pats. Johnson will lead Penn State's recruiting efforts during the next few weeks.

O'Brien didn't mention Jerry Sandusky or the sex-abuse scandal directly but acknowledged he has "a lot of confidence in my ability to lead us through what some people would say is a tough time right now." He said there were a lot of tough questions asked and answered from both sides during the interview process and praised acting AD Dave Joyner and president Rodney Erickson. Asked why he can lead Penn State through a tough time, O'Brien replied, "I believe in myself. I believe in Penn State. I believe in the academic diversity of Penn State. I obviously believe in the football traditions here and the past football successes. What is there not to sell about Penn State?"

O'Brien said Penn State will be multiple on defense and continue to reflect the program's tradition on that side of the ball. The offense will be game-plan-oriented. "The offensive philosophy will be to find out what our players do best ... and put them in position to take advantage of these strengths," he said. O'Brien says he'll call offensive plays, at least for the first year.

O'Brien wasn't part of a Friday night conference call with Lions players -- he spent the time preparing for the news conference -- but will meet with them Sunday at 5 p.m. ET. Classes start Monday. This meeting can't happen soon enough, in my view.

Joyner said he was receptive to the Letterman's Club members and others who wanted to give input on the coaching search. Former Penn State player Brandon Short told media outlets Friday that Joyner hadn't been receptive to the program's alums. As for the secrecy of the search, Joyner said, "We conducted this search very similar to normal academic searches for a dean for a chair of a department."

O'Brien on being a first-time head coach: "Everybody's got to start somewhere, and what better place to start than Penn State? I know there's many challenges ahead. I'm going to surround myself with really good people."

On current boss Bill Belichick: "He allows his coaches to coach, to be creative, to come up with their own play designs and their own game plans. He's the most challenging guy I've ever worked for, and I've learned so much from him."

On Patriots quarterback Tom Brady: "He's a special, special guy, and a special friend of mine, and he always will be. We have a unique relationship. It was like two brothers ... so there were times when things got heated, and most of that was probably my fault."
More to come on O'Brien's hiring ...
January, 6, 2012
1/06/12
11:10
PM ET
It's finally official: Bill O'Brien has been
hired as Penn State's 15th head football coach
, the school announced Friday night.
He will be introduced at a news conference scheduled for 11:30 a.m. ET Saturday in State College, Pa.
Here are statements on O'Brien's hiring:
O'Brien:
"I am thrilled to be the head coach of the Penn State football program. I cannot tell you how excited I am to get started, meet the team, meet the football alumni and meet all of the people that make this University so special. As head coach of this special football program, it is my responsibility to ensure that this program represents the highest level of character, respect and integrity in everything we do. That includes my coaching staff, our players and everyone involved in the football program. There is tremendous pride in Penn State football and will never, ever take that for granted."
Acting athletic director Dave Joyner:
"We have found the man to take Penn State football forward. Needless to say, we have been looking for someone with some very special qualities, beginning with a heart that beats to the values and vision of Penn State University and our Penn State football legacy and tradition. That was our starting point, and Coach O'Brien exemplifies those traits that Penn Staters hold so highly. In addition to his model characteristics as a man and a teacher, he's all about producing winners, and doing so the right way. He will embrace tradition, demand excellence and pursue Success with Honor in every phase of our program."
President Rodney Erickson:
"The Penn State football program has a great legacy and has contributed enormously to our University community. A program of this caliber requires a special kind of leader -- a leader who will embrace that legacy and maintain the University's commitment to excellence on the field and in the classroom. We have that leader in Coach O'Brien, and I look forward to working with him in his new role."
O'Brien succeeds Joe Paterno, who released a statement earlier Friday congratulating the new coach.
"I understand Bill O'Brien has been named head coach and I want to congratulate him on his appointment," Paterno's statement reads. "I don't know Bill, but I respect his coaching record, and I am particularly pleased we share a connection to my alma mater, Brown. ... Despite recent commentary to the contrary, Penn State football has always been about more than winning. I am hopeful this tradition will continue."
Tom Bradley was informed earlier Friday that he wouldn't receive the permanent head coaching position. Bradley and the other assistants remain on staff for the time being.
More to come on this story, and we'll have a full recap of O'Brien's news conference Saturday.
January, 6, 2012
1/06/12
5:44
PM ET
By
ESPN.com staff
| ESPN.com
Penn State's
reported hire of Bill O'Brien
-- a man with no ties to Penn State and no head coaching experience -- might be exactly what the Nittany Lions need. But he'll need a fair shot in State College to be successful.
January, 6, 2012
1/06/12
5:17
PM ET
If Penn State fans are disappointed with the list of candidates for the school's head-coaching vacancy, they should check out another list: the school's recent quarterbacks.
This exercise isn't meant to further depress Nittany Lions supporters. It actually should get them excited about the team's future
under new coach Bill O'Brien
.
Bear with me here.
[+] Enlarge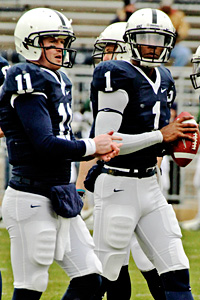 AP Photo/Gene J. PuskarMatt McGloin (11), Rob Bolden (1) and all quarterbacks who follow could be the biggest beneficiaries of new coach Bill O'Brien.
One of the biggest knocks on Penn State during the Joe Paterno era was the team's inability to produce viable NFL quarterbacks. Unless Kerry Collins returns to an NFL team in 2012, Penn State will have no former quarterbacks playing quarterback at the next level (Michael Robinson is a running back for the Seattle Seahawks). The San Francisco 49ers in 2006 drafted Robinson as a running back, meaning that Penn State hasn't had a quarterback selected in the NFL draft since 1997, when the Baltimore Ravens selected Wally Richardson in the seventh round.
That's a stunning drought for a program considered a traditional power. In the Big Ten, only Minnesota and Nebraska have gone longer without having a quarterback selected.
Penn State has had only two other quarterbacks drafted -- Collins, a first-round pick in 1995, and Tony Sacca, a second-round pick in 1992 -- since Todd Blackledge in 1983. Sacca played only two games in his pro career. Blackledge played six seasons with the Pittsburgh Steelers and Kansas City Chiefs, throwing 29 touchdowns and 38 interceptions in his career.
While Penn State has produced some solid college quarterbacks -- most recently Daryll Clark, the 2009 Big Ten Offensive Player of the Year -- the program has been lacking at the position.
O'Brien could provide a boost at quarterback and for an offense that ranked 93rd nationally this season and that has finished in the top 30 nationally just twice (2002, 2008) since the 2000 season. One of the common complaints I've heard from Penn State fans, particularly the past two seasons, is that the team's offense is stuck in the past.
O'Brien has worked with one of the best quarterbacks to ever play -- Tom Brady -- the past few years with the New England Patriots. While his track record as an offensive coordinator in college isn't overly impressive, he was part of a Maryland staff that produced the nation's No. 28 offense in 2003. Georgia Tech finished 15th nationally in total offense in 2000, while O'Brien served as the team's running backs coach and recruiting coordinator.
If nothing else, O'Brien has seen what good offense and good quarterback play looks like. The Patriots rank second in the NFL in both total offense (428 ypg) and pass offense (317.8), and third in scoring (32.1 ppg).
That doesn't mean O'Brien's arrival automatically makes Penn State one of the Big Ten's top offenses in 2012. But if he hires the right staff and can develop players effectively, things will be looking up for the Lions attack. Penn State needs much more out of the quarterback position than it received this year, as
Matthew McGloin
and
Rob Bolden
shared time and neither had much success.
Maybe O'Brien gets the most out of McGloin. Maybe O'Brien fosters the development not seen from Bolden. Maybe another quarterback emerges this fall under O'Brien's tutelage.
O'Brien clearly has more important things on his plate as he transitions into a job he's never held before.
But his presence in State College could be just what Penn State needs to upgrade the most important position on the field.
January, 6, 2012
1/06/12
4:30
PM ET
By
ESPN.com staff
| ESPN.com
Outside the Lines discusses
Penn State's decision to hire Bill O'Brien

and the challenge of replacing Joe Paterno as coach.
January, 6, 2012
1/06/12
4:10
PM ET
For at least the past decade, and some would say nearly a quarter century, one subject inevitably came up whenever a group of Penn State fans gathered: Who would eventually succeed Joe Paterno?
Over the years, all kinds of names have been tossed out, speculated on, wished for and even dismissed. The name Bill O'Brien likely never once passed through the lips of anyone having that conversation.
That's what is so stunning about the Nittany Lions hiring the former New England Patriots offensive coordinator. Not only does O'Brien have no ties to the school or Paterno, he wasn't on anybody's radar to land such a high-profile job. Even up until the news broke Thursday night that O'Brien was the choice, some Penn State fans held out hope that the reported candidates served as a mere smokescreen, and that the school had a big-name coach lined up for a surprise reveal.
[+] Enlarge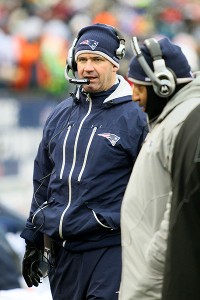 Jerome Davis/Icon SMIPenn State's choice to replace Joe Paterno, former Patriots offensive coordinator Bill O'Brien, has no prior head-coaching experience.
Instead, fans, alumni and former players mostly felt disappointed by Friday morning. Is this the best Penn State could do, they wondered. Well, maybe it is.
Clearly, succeeding Paterno became immeasurably less attractive for on-the-rise coaches following the Jerry Sandusky child sex-abuse scandal. The full damage from that controversy has yet to be calculated, and the image of the program will never be the same. Recruiting instantly turned into a challenge, and the new coach's job morphed into not just winning football games but repairing the psyche and reputation of an entire institution. Legal proceedings and civil lawsuits could continue for years, and the NCAA and Big Ten have threatened to levy penalties. Any new coach would also face uncertainty about who his boss would be, as Dave Joyner is serving only as interim athletic director right now.
Few high-profile coaches would want to take all of that on. Still, it's also fair to wonder if Joyner and the Penn State search committee fully delved into all the possible candidates among the college head-coaching ranks. The Nittany Lions reportedly tried wooing Boise State's Chris Petersen to State College on numerous occasions, but Petersen had shown no desire to leave the Broncos for previous major openings and had spent virtually all of his career west of the Rockies, except for one year with the Pittsburgh Steelers. The likelihood of Penn State reeling in Petersen always seemed remote and little more than a waste of time during a nearly 60-day search process.
Mississippi State's Dan Mullen, Miami's Al Golden and Rutgers' Greg Schiano were each mentioned at various degrees of interest. But it appeared that Penn State turned most of its focus, for as yet unexplained reasons, to the NFL. Tennessee Titans head coach Mike Munchak, a former Nittany Lion, made sense as a candidate but ultimately pulled out of the running. The search committee also reportedly targeted Green Bay Packers quarterbacks coach Tom Clements and San Francisco offensive coordinator Greg Roman before settling on O'Brien.
The big question here is, why did Penn State feel the need to go after mostly unknown pro assistants without head-coaching experience? For sure, some of the top coaches in the game took over big programs without previous tenure in the big chair. Bob Stoops comes immediately to mind, as do Mike Gundy and Dana Holgorsen, who each won BCS games this year. It's by no means a prerequisite for success.
But if ever a job screamed out for someone who's had experience leading a college program, it's Penn State right now. The actual X's and O's don't matter here nearly as much as unifying the Nittany Lions family. That means calming the anger of former players who felt left out of this hiring process. That means handling all the public relations aspects of the job with a pitch perfect tone. That means assuring parents of high school prospects that their sons will be safe at Penn State. That means bringing the boosters and prominent alumni who were disgusted by the Sandusky mess back into the fold.
Many first-time head coaches marvel at all of the noncoaching parts of the job they have to do when they make that transition. These particular circumstances would test even the most grizzled coaching veterans, much less someone unaccustomed to the public eye. It doesn't look like Joyner or the search committee made college head-coaching experience much of a priority, and that's a gamble.
O'Brien is walking into an unprecedented situation and a task many others shy away from. Give him credit for that. He deserves a chance to prove himself, and it will be fun to see a 21st century offense at long last come to Beaver Stadium. It's also true that his last college coaching job was as offensive coordinator at Duke, which is a long way away from the pressures of Penn State.
No one could have predicted that Joe Paterno's succession plan would have gone this way. Then again, very few things have gone according to plan at Penn State the past few months. That's why a relative unknown like Bill O'Brien is the Nittany Lions new head coach.
January, 6, 2012
1/06/12
4:01
PM ET
Penn State fans should give Bill O'Brien a chance.
Remember that he left a pretty good job, working with one of the most successful franchises in sports, to step into a potentially no-win situation in State College. He wanted you, even if you don't think you want him. While
we'll learn much more about O'Brien in the coming days and weeks
, it's clear the guy doesn't shy away from a challenge.
He deserves the benefit of the doubt, and I think a portion of Nittany Nation, especially those not blindly loyal to Joe Paterno, will give it to him. The more Penn Staters who
take the approach of former Lions star linebacker
Paul Posluszny, the better.
Much of the ire Thursday night and Friday has been directed at the school's administration, and for good reason. After a search that lasted nearly two months and inspired more confusion than confidence, the Penn State brass has a much steeper climb to win back the trust of alumni, former players and fans.
[+] Enlarge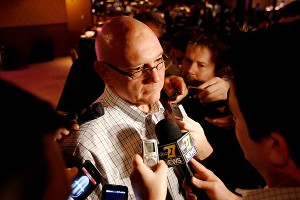 AP Photo/Brandon WadeActing Penn State Athletic Director Dave Joyner is facing questions about the length of his coaching search to replace Joe Paterno.
Penn State looked very much like a school that hadn't replaced a football coach since 1966 and had never conducted a football coaching search in the modern era. Most coaching searches take 10-14 days. They're structured and swift. The athletic director leads the way, and a search firm often is involved. Sometimes, information is actually confirmed. Imagine that.
Penn State, meanwhile, used an acting AD (Dave Joyner) and formed a search committee nearly three weeks after the school's trustees fired Paterno on Nov. 9. Ultimately, Joyner and his former Penn State wrestling teammate, Ira Lubert, a search committee member and a respected businessman, drove the search essentially by themselves. Joyner was tight-lipped during the protracted process.
"This is the first coach search, in football, that maybe we've ever done," Joyner told reporters last week in Dallas. "I'm not sure how things worked in 1950 and maybe 1966 but I imagine it was a lot different than what we're doing."
He's right. It might have been faster and more organized.
Yes, the circumstances were unique and incredibly difficult. Yes, former athletic director Tim Curley and former president Graham Spanier deserve blame for putting the school in a bind. Yes, the Penn State job isn't nearly as appealing as it was before the sex-abuse scandal broke and the school fired Paterno.
But Penn State still looked unprepared to replace its 85-year-old coach.
Joyner set deadlines that came and went. According to USA Today, Joyner had
little interest in getting input from former Penn State players
who wanted to be involved. The committee talked with internal candidates like interim coach Tom Bradley, Larry Johnson and Ron Vanderlinden, but these were courtesy interviews more than anything.
And that's OK. Penn State would have been skewered for promoting from within. But it could have gotten away with hiring a candidate who had some ties to the school.
Speaking of candidates, we heard plenty of names during the past six weeks. Some were legitimate, like Tennessee Titans coach Mike Munchak, and some were not, like Rutgers coach Greg Schiano. The school reportedly made several runs at Boise State's Chris Petersen, who seemed more likely to become the next BCS executive director than the next Penn State coach.
Remember when Mississippi State's Dan Mullen was the flavor of the day for Penn State?
All along, Penn State fans hoped that Joyner and Lubert had an ace in the hole, a name no one was talking about who would make anxiety about the interminable wait and the compromised recruiting class go away. Munchak might have been that guy, but it didn't happen.
Even the post-hiring process has been curious. It's not unusual for players and even assistant coaches to learn of hirings through the media. But more than 17 hours have passed since ESPN reported O'Brien's hiring, and the school hasn't said anything. Bradley hadn't been told as of late Friday morning. Keep in mind this is a guy who has devoted his career to Penn State and began recruiting for the team this week after returning from the TicketCity Bowl debacle.
O'Brien deserves a fair chance, and he might just be the right guy to lead Penn State football through its most difficult period.
Maybe the best thing he can do is make everyone forget how Penn State hired him.
January, 6, 2012
1/06/12
2:00
PM ET
Penn State has replaced the quintessential college coach, a man with more Division I wins than any coach in history, with a guy coming straight from the NFL. It's an interesting choice, to be sure, and one that has some mixed historical precedent.
The closest comparison for Bill O'Brien, of course, is Charlie Weis. Both were New England Patriots offensive coordinators with no college head coaching experience who landed jobs at historic programs. Weis' tenure at Notre Dame started off strongly, with back-to-back BCS appearances, but he eventually flamed out, going 16-21 his final three years to earn a pink slip.
Like O'Brien, Weis coached with the Patriots through the NFL playoffs before joining his new team, which presented its challenges. Even though Weis was a Notre Dame alumnus, he had far less college experience than O'Brien, who coached 12 years in the ACC before heading to the pros.
Straight-from-the-NFL hires have not always worked out in recent Big Ten history, either.
[+] Enlarge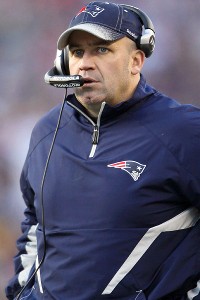 Elsa/Getty ImagesWill new Penn State coach Bill O'Brien be more like Charlie Weis or Kirk Ferentz?
The last NFL coordinator to get a college head coaching job in the league was Illinois' Ron Turner. He was the Chicago Bears' offensive coordinator before taking over the Illini, and he finished with a 35-57 record in eight years. The highlight was a 10-2, Sugar Bowl season in 2001 during which he was named Big Ten coach of the year. But Illinois had only two winning seasons under Turner, who went 9-26 his final three years in Champaign. Unlike O'Brien, Turner had previous head coaching experience, with one year leading San Jose State.
Nebraska, another storied program like Penn State, famously went outside its family with an NFL coach. Shortly after his dismissal as the Raiders' head coach, Bill Callahan was hired by the Huskers to replace Frank Solich. Callahan changed the option attack to a West Coast passing offense. Despite some big numbers offensively, Nebraska went just 27-22 in his four years, with a pair of losing seasons, before he was ushered out. Huskers fans complained that Callahan never "got" the Nebraska tradition and culture.
Minnesota hired Tim Brewster -- who like O'Brien, had no college head coaching experience -- to lead its program in 2007. The former NFL assistant went 15-30 before being fired midway through his fourth season with the Gophers.
A far more successful example is Iowa's Kirk Ferentz. He was the offensive line coach under Bill Belichick -- O'Brien's most recent boss -- for six seasons before taking over the Hawkeyes. He is a three-time Big Ten coach of the year who has led Iowa to two BCS appearances. Unlike O'Brien, however, Ferentz had ties to Iowa as a former longtime assistant under Hayden Fry, and he had been a head coach at Maine.
Do you think Penn State would be happy if O'Brien turned out to be the next Nick Saban? Saban was the Cleveland Browns defensive coordinator under Belichick the year before getting the Michigan State head coaching job in 1995. While the Spartans were mediocre his first four years, they went 9-2 in his fifth and final season. Saban later went straight from the Miami Dolphins to Alabama, though by then of course he had already won a national title at LSU. And he had been a head coach, at Toledo, before landing the Michigan State gig.
The Nittany Lions could also hope that O'Brien follows the path -- at least in some ways -- of current Arkansas coach Bobby Petrino. He, too, was a longtime college assistant and offensive guru who spend three years on an NFL staff (with the Jacksonville Jaguars). Petrino got his first head coaching job at Louisville at the same age (42) that O'Brien is now. Petrino went 41-9 with an Orange Bowl win at Louisville, though he became almost as well known for his flirtations with other jobs as he was for his coaching acumen.
Al Groh is another former Belichick assistant who went from the NFL to college. He resigned from the New York Jets after one season to take the Virginia job. Despite having several talented players who went on to get drafted, Groh went just 59-53 in nine seasons with the Cavaliers, posting four losing seasons and never winning an ACC division title.
Results from former Belichick assistants are a mixed bag. Pat Hill had a successful 15-year run at Fresno State after going there straight from the Baltimore Ravens. Hill was fired following the 2011 season but compiled a 112-80 record and several memorable upsets.
Belichick proteges Josh McDaniels and Eric Mangini did not fare well as NFL head coaches, while Romeo Crennel had only one good season with the Cleveland Browns. Jim Schwartz, who is leading the Detroit Lions into the playoffs, was once a personnel scout under Belichick in Cleveland.
Probably the most successful example of all-time of an NFL-turned-college coach is Pete Carroll. After getting fired from -- yes -- the New England Patriots, he was hired by USC in 2001 even though he hadn't coached in college in nearly 20 years. He won 83 games in nine years with the Trojans, including seven BCS game appearances and two national titles.
Texas A&M was probably hoping for a Carroll-like effect when it tapped then Houston Texas offensive coordinator Mike Sherman as its head coach in 2008. Sherman, who spent six years as the Green Bay Packers head coach, had one nine-win season with the Aggies but three non-winning ones. He was fired after the team went 6-6 this season.
And then there's Dave Wannstedt, who took over his alma mater at Pitt in 2005 after nearly 20 years in the NFL. Wannstedt was 42-21 with the Panthers, including a 10-3 mark in 2009. But it took him until his fourth season to post a winning season, and he was dumped after a 7-5 campaign in 2010.
Questions that face coaches who come from the NFL to campus often are whether or not they can recruit, whether or not they can motivate college-age players instead of building a more sterile pro environment and whether or not they can adapt their schemes to fit players with less talent. Some have fared better than others.
Will O'Brien be more like Carroll or Weis? Will he be a young Saban or the current Saban? A Ferentz or a Sherman?
Only time will tell, but history says the NFL-to-college route isn't always a smooth ride.
January, 6, 2012
1/06/12
2:00
PM ET
Like many people, former Penn State linebacker
Paul Posluszny
knows little about Bill O'Brien, beyond a well-publicized sideline spat.
"I don't know a whole lot about him, to be honest with you, except that fight he had with
Tom Brady
," Posluszny, a linebacker for the
Jacksonville Jaguars
, told ESPN.com earlier Friday.
[+] Enlarge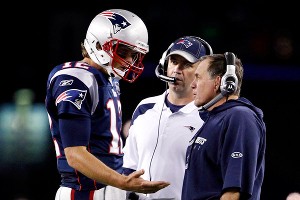 David Butler II/US PresswireBill O'Brien has worked with Tom Brady and Bill Belichick as a Patriots assistant. But will that translate into head coaching success at Penn State?
O'Brien's exchange with Brady during a
New England Patriots
game last month against Washington is all many non-Patriots fans know of the man
soon to be named Penn State's new head coach
. O'Brien has no known ties to Penn State and has never served as a head coach before. He spent 12 seasons as an FBS assistant in the ACC before moving on to the Patriots in 2007.
Although Posluszny isn't as outraged by the hiring as some other former Penn State players, he had wanted interim head coach Tom Bradley, who coached him at the school, to get the permanent job. And like everyone else, Posluszny has some questions about O'Brien.
"I'm a little mixed," Posluszny said. "Obviously I hope O'Brien does a great job for the success of Penn State, but I need to have a better understanding of who he is and what he's all about."
Posluszny is "very surprised" Penn State didn't hire a coach with some ties to the school, saying he and many other former players believed the team needed someone with a strong knowledge of the institution and the program. Asked if Penn State's decision not to hire someone with ties stemmed from concerns about a P.R. backlash following the sex-abuse scandal, Posluszny said: "If they were, I don't know if that would be appropriate. Let's be honest. All this started because of Jerry Sandusky, one man and his unspeakable actions."
"Just because you had a connection with Penn State, I don't think that should mean you are now tainted for an opening like that," he said.
Posluszny noted that O'Brien needs to spend time learning about Penn State's traditions and history, and he's confident the new coach will do so. It would be "beneficial," Posluszny said, for O'Brien to hire assistants and staff who have previously worked at Penn State.
Although the initial reaction to the hiring hasn't been positive, Posluszny thinks fans, alumni and former players will eventually give O'Brien a chance. If O'Brien reaches out, Posluszny is more than willing to help the new coach.
"That's what we have to do," he said. "I obviously wanted Tom Bradley to get the job, but if this is the decision that's been made, trust me, I want Penn State to be successful and continue on to regain some of the glory that's been lost because of everything surrounding the situation. I'm hoping that O'Brien has the abilities to do that."
How long will it take for Penn State to return to glory?
"I think it will take time," Posluszny said. "We first have to go through the legal trials and issues surrounding everything and get that determined, and then continue to move on.
"It's not going to be an easy thing by any means."
January, 6, 2012
1/06/12
9:55
AM ET
New England assistant Bill O'Brien hasn't officially been hired yet by Penn State, but some former Nittany Lions players are already voicing their displeasure with the choice and the process that led to it.
[+] Enlarge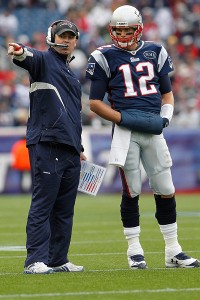 David Butler II/US PresswirePenn State hopes new coach Bill O'Brien's experience coaching with Tom Brady and the Patriots will be enticing for recruits.
Former Penn State linebacker Brandon Short told USA Today that he and two other prominent ex-players will meet with interim athletic director Dave Joyner today.
"There is a tangible standard at Penn State that this poor (O'Brien) guy knows nothing about,'' Short
told the paper
. "I feel badly for him (because) he is clueless and will not have the support of the majority of the Lettermen. This is a hornet's nest (for him).'
O'Brien, who was a longtime ACC assistant before joining the Patriots, has no ties to Penn State. Short also said Joyner's attitude during the search was a problem, describing him as "arrogant, nonchalant and egotistical attitude by anyone who approached him.''
"It shows he wasn't concerned about getting our point of view,'' Short said. "Dave Joyner is not qualified to be athletic director.''
Former star defensive player LaVar Arrington is also upset with the hire. Here's what he told
Blue White Illustrated
:
"I will put my Butkus (Award) in storage. I will put my Alamo Bowl MVP trophy in storage," Arrington said. "Jerseys, anything Penn State, in storage. Wherever Tom Bradley goes, that's the school I will start to put memorabilia up in my home. I'm done. I'm done with Penn State. If they're done with us, I'm done with them."
Arrington later tweeted: "Alums I will always love you and the Penn State I knew. But until there's a new board and new leadership they can have their corrupt/disgusting school that they've created."
Judging from the e-mails, comments and tweets I've seen, most Penn State fans are underwhelmed -- to say the least -- at the news of O'Brien's hire. That doesn't mean he won't turn out to be a great coach, but he and Penn State have some convincing to do.
His first challenge will be convincing recruits it's OK to come to State College. ESPN recruiting analyst Jared Shanker writes that O'Brien has a
lot of work ahead of him.
Several prospects have either decommitted or said they are keeping their options open, and others have ties to the former assistants.
Plus, with the Patriots poised for a long playoff run after clinching the top seed in the AFC and a first-round bye, O'Brien will have to juggle building a staff at Penn State, recruiting high school seniors and planning for whichever team the Patriots will face next weekend.

The best-case scenario for the Nittany Lions is O'Brien can turn his full attention to Penn State on Jan. 16, which gives him less than three full weeks before recruits can sign.
But Shanker writes that O'Brien's pedigree in the pros and relationship with Tom Brady could be attractive to recruits, whom he can sell on reaching their NFL potential. And at least Penn State finally has a permanent head coach, more than two months after Joe Paterno was fired.
Now all the school and new coach has to do is convince fans and former players that Bill O'Brien is the right guy.