December, 10, 2012
12/10/12
11:26
AM ET
Despite the abundance of hype surrounding the quarterback position heading into this season, there was one player who quickly distanced himself from the rest. Clemson's
Tajh Boyd
had a record-setting season and he was surrounded by several all-conference-caliber teammates. With five Tigers on the first-team offense, it's no wonder Clemson was No. 6 in the country in scoring offense at 42.33 points per game. There was no running back in the ACC more electrifying than UNC's
Giovani Bernard
, though, and to leave off his lead blockers in
James Hurst
and
Jonathan Cooper
would be unjust. Surprisingly, not one player from Florida State's two-deep made the cut for first-team offense. There's no question, though, the ACC champs dominated the defensive lineup with four first-team selections. Imagine a dream team made up of Clemson's offense and Florida State's defense.
Actually, the ACC's dream team would look more like this, your 2012 ESPN.com ACC All-Conference team:
Offense First Team
QB --
Tajh Boyd, Clemson
RB --
Giovani Bernard, North Carolina
RB --
Andre Ellington
, Clemson
WR --
DeAndre Hopkins
, Clemson
WR --
Conner Vernon
, Duke
TE --
Brandon Ford
, Clemson
T --
James Hurst, North Carolina
T --
Oday Aboushi
, Virginia
G --
Jonathan Cooper, North Carolina
G --
Omoregie Uzzi
, Georgia Tech
C --
Dalton Freeman
, Clemson
Defense first team
DE--
Cornellius Carradine
, Florida State
DE--
Bjoern Werner
, Florida State
DT--
Joe Vellano
, Maryland
DT--
Sylvester Williams
, North Carolina
LB--
Nick Clancy
, Boston College
LB--
Steve Greer
, Virginia
LB--
Kevin Reddick
, North Carolina
CB--
Ross Cockrell
, Duke
CB--
Xavier Rhodes
, Florida State
S--
Lamarcus Joyner
, Florida State
S--
Earl Wolff
, NC State
Specialists
PK
--
Dustin Hopkins
, Florida State
P--
Will Monday
, Duke
SP--
Giovani Bernard, North Carolina
December, 3, 2012
12/03/12
5:00
PM ET
This is getting ugly.

First Virginia coach Mike London
fired four of his assistants
, including defensive coordinator Jim Reid -- a man London likes very much. Quarterback
Michael Rocco
decided to transfer (can you blame him?), and now Rocco
has blasted London
for his use of a two-quarterback system (just like many ACC fans have all season long):
"It's an unhealthy environment for any quarterback at UVa," Rocco told Doug Doughty of the Roanoke Times. "It was hard on all the quarterbacks, not just me."
Ouch.
London's decision to fire Reid was as puzzling as his use of the quarterbacks this year, which leads me to believe it wasn't entirely his decision. If this was an administrative move forced upon London, it was the wrong one, and London is going to take some heat for it. Reid was tasked with coaching a group that had to replace seven starters and was very young. Virginia was No. 31 in the country in scoring defense and showed progress every week. Don't forget the offense in that two-quarterback mess was turning it over every other play and putting the defense back on the field again.
Arguably the biggest disappointment for Virginia was its inability to run the ball, not the defense. Virginia was supposed to have two of the ACC's top offensive tackles in
Morgan Moses
and
Oday Aboushi
. With
Kevin Parks
and
Perry Jones
in the backfield, along with talent up front, there's no reason Virginia should have ranked No. 96 in the country in rushing offense. That certainly doesn't fall on Reid.
London, just one year removed from being named the ACC's Coach of the Year, has a bit of a mess to clean up in Charlottesville, starting with hiring a defensive coordinator. Look for the Hoos to go in a different direction regarding style and philosophy, otherwise it
really
wouldn't make any sense. And
Phillip Sims
better be every bit as good as many seem to think he is. Otherwise, we'll have Sims and
David Watford
repeating the Sims and Rocco storyline, and there will only be one scapegoat left.
November, 26, 2012
11/26/12
3:30
PM ET
Clemson had the best offense in the ACC this season, so it comes as no surprise that the Tigers dominated the All-ACC first team released Monday.
Quarterback
Tajh Boyd
and five teammates won first-team honors on offense, the first time Clemson has ever place six players on the All-ACC first-team offense and the first time any team has done it since Florida State in 1995.
Florida State and North Carolina each placed five players on the all-conference team, determined by a vote of 46 members of the Atlantic Coast Sports Media Association.
Boyd is joined on the first team by running back
Andre Ellington
, receiver
DeAndre Hopkins
, tackle
Brandon Thomas
, center
Dalton Freeman
and tight end
Brandon Ford
. Boyd led the ACC with 34 touchdown passes while Hopkins had league-bests of 16 total touchdown catches and an average of 104 yards receiving.
Nine teams had at least one first-team selection. There were no unanimous picks to the first team, but North Carolina running back
Giovani Bernard
was chosen as a first-teamer on 45 ballots. Bernard, who had an ACC-leading 1,228 yards rushing and 12 rushing touchdowns, joins Boyd as repeat first-team selections.
Bernard, a punt returner who also was picked as the first-team specialist, was joined by guard
Jonathan Cooper
, linebacker
Kevin Reddick
and defensive tackle
Sylvester Williams
.
Four Florida State defensive players -- ends
Bjoern Werner
and
Tank Carradine
, cornerback
Xavier Rhodes
and safety
Lamarcus Joyner
-- join kicker
Dustin Hopkins
on the first team.
Boston College (receiver
Alex Amidon
and linebacker
Nick Clancy
), Virginia (offensive tackle
Oday Aboushi
and linebacker
Steve Greer
) and Duke (cornerback
Ross Cockrell
and punter
Will Monday
) were the only other schools with multiple first-team picks.
You also should note that Virginia Tech and Miami did not have a first-team selection for the first time since they joined the ACC in 2004. Defensive end
James Gayle
, linebacker
Jack Tyler
and cornerback
Antone Exum
made the second team for Virginia Tech; Miami's
Duke Johnson
made the second team as a running back and specialist.
The league coaches will announce their all-conference team next week.
FIRST-TEAM OFFENSE
QB-Tajh Boyd, Clemson
RB-Giovani Bernard, North Carolina
RB-Andre Ellington, Clemson
WR-DeAndre Hopkins, Clemson
WR-Alex Amidon, Boston College
OT-Oday Aboushi, Virginia
OT-Brandon Thomas, Clemson
OG-Jonathan Cooper, North Carolina
OG-Omoregie Uzzi, Georgia Tech
C-Dalton Freeman, Clemson
TE-Brandon Ford, Clemson
K-Dustin Hopkins, Florida State
Specialist- Giovani Bernard, North Carolina
FIRST-TEAM DEFENSE
DE-Bjoern Werner, Florida State
DE-Cornellius Carradine, Florida State
DT-Joe Vellano, Maryland
DT-Sylvester Williams, North Carolina
LB-Nick Clancy, Boston College
LB-Kevin Reddick, North Carolina
LB-Steve Greer, Virginia
CB-Xavier Rhodes, Florida State
CB-Ross Cockrell, Duke
S-Lamarcus Joyner, Florida State
S-Earl Wolff, NC State
P-Will Monday, Duke
For the second-team and honorable mention selections, you can
click here
.
August, 29, 2012
8/29/12
9:00
AM ET
ESPN.com is announcing its all-conference teams today. Offensively, there was only one difference from
what the media chose
in July at the ACC football kickoff in Greensboro, N.C., but it was a big difference -- at quarterback. Virginia Tech's
Logan Thomas
got the nod over Clemson's
Tajh Boyd
. Defensively, there also were a few tweaks, as Florida State swept the defensive end position and Georgia Tech's
Jeremiah Attaochu
earned his spot at linebacker. With the dismissal of former FSU cornerback
Greg Reid
, though, Clemson's
Sammy Watkins
was promoted to the top return man.
Here's a look at ESPN.com's preseason All-ACC team:

OFFENSE
WR
Conner Vernon
, Duke
WR Sammy Watkins, Clemson
TE
Matt Furstenburg
, Maryland
T
James Hurst
, North Carolina
T
Oday Aboushi
, Virginia
G
Omoregie Uzzi
, Georgia Tech
G
Jonathan Cooper
, North Carolina
C
Dalton Freeman
, Clemson
QB Logan Thomas, Virginia Tech
RB
Giovani Bernard
, North Carolina
RB
Andre Ellington
, Clemson
DEFENSE
DE
Brandon Jenkins
, Florida State
DE
Bjoern Werner
, Florida State
DT
Joe Vellano
, Maryland
DT
Nikita Whitlock
, Wake Forest
LB
Bruce Taylor
, Virginia Tech
LB
Kevin Reddick
, North Carolina
LB Jeremiah Attaochu, Georgia Tech
CB
David Amerson
, NC State
CB
Kyle Fuller
, Virginia Tech
S
Lamarcus Joyner
, Florida State
S
Earl Wolff
, NC State
SPECIALISTS
PK
Dustin Hopkins
, Florida State
P
Dalton Botts
, Miami
SP Sammy Watkins, Clemson
August, 27, 2012
8/27/12
11:00
AM ET
There was plenty of news in the ACC this summer, some of which has affected the order of the power ranking since it was last released post-spring. The biggest difference is at the bottom, where Maryland has sunk following the season-ending injury to starting quarterback
C.J. Brown
. The first five teams remained the same, but UNC got a small boost after positive reviews by the staff and players who were learning the new systems and terminology of first-year coach Larry Fedora.
This list will change with the season, but for now, here is the starting point for how the ACC teams stack up heading into Week 1:
1. Florida State:
There is no excuse for coach Jimbo Fisher and his staff not to take advantage of the ubertalented roster this year and run away with it. The biggest questions remaining are how the Noles will handle the loss of cornerback
Greg Reid
, and how much better the offensive line will look than it did a year ago.
2. Clemson:
The Tigers will be without suspended starting receiver
Sammy Watkins
for the opener against Auburn, but there are enough other options that Clemson's offense should still be productive. The depth on the offensive line remains a question, though, and the pressure is on first-year defensive coordinator Brent Venables to help Clemson fans forget the Orange Bowl.
3. Virginia Tech:
The Hokies are confident in the speed, talent and athleticism of their young running backs and receivers, but the lack of experience remains a concern. Bud Foster's defense should again be the strength of the team, particularly early, but with Georgia Tech on the schedule for Labor Day, there's no time for a tuneup.
4. NC State:
The Wolfpack kicks off the season against Tennessee in the Chick-fil-A Bowl trying to sustain the positive momentum with which it ended 2011. Coach Tom O'Brien has said this is the deepest, most talented team he has had since he was hired in Raleigh, but will it be good enough to beat Florida State and Clemson in the same season?
5. Georgia Tech:
The Jackets could sneak up on some teams this year, as they have one of the best offensive lines coach Paul Johnson has had since he was hired there. Expectations are higher for the defense in Year 3 under coordinator Al Groh, and the hire of assistant Dave Walkosky should help the special teams.
6. North Carolina:
The Tar Heels have the potential to play spoiler this year, or they could have a particularly bumpy ride given the complete overhaul in staff, schemes and philosophy. The players have bought in, though, and quarterback
Bryn Renner
adapted well to the spread offense this summer.
7. Wake Forest:
Coach Jim Grobe has some hidden gems on this team, as players like receiver
Michael Campanaro
, nose guard
Nikita Whitlock
and cornerback
Kevin Johnson
are all-conference candidates. Questions still remain, though, about the offensive line, and two league games in the first three weeks won't be easy.
8. Virginia:
Coach Mike London is expected to release a depth chart today naming his starting quarterback, but the bigger concern should be a secondary that has to replace three starters. The Hoos have two of the best offensive tackles in the country, though, in
Morgan Moses
and
Oday Aboushi
. They could pave the way for
Perry Jones
to have a 1,000-yard season.
9. Miami:
Quarterback
Stephen Morris
earned the starting job this summer, and his leadership will be critical to a young offense that must replace seven starters. The Canes will continue to play with the NCAA investigation hanging over their heads, but those within the program say it hasn't been a distraction.
10. Duke:
The Blue Devils have one of the most talented quarterbacks in the ACC in
Sean Renfree
, but they need to stay healthy and show improvement on the defensive line in order to have a chance at a bowl game. Duke has a legitimately tough task in getting past FIU in a game that will set the course for its season – and possibly postseason.
11. Boston College:
The Eagles couldn't seem to get a break this offseason, as injuries piled up and athletic director Gene DeFilippo announced his retirement. Coach Frank Spaziani enters this season with the hottest seat in the ACC. It's only Week 1, but the game against Miami is a must-win for the Eagles.
12. Maryland:
Barring something catastrophic, the season-ending injury to quarterback C.J. Brown was arguably the worst thing that could have happened to the Terps this offseason. The offense will be in the hands of true freshman
Perry Hills
, and Maryland will adjust to two new coordinators in its quest to turn around last season's 2-10 finish.
August, 21, 2012
8/21/12
2:00
PM ET
Virginia coach Mike London is biased (as he should be when it comes to his players) but he's also right – the Cavaliers might have one of the nation's best offensive tackle duos in
Morgan Moses
and
Oday Aboushi
.
[+] Enlarge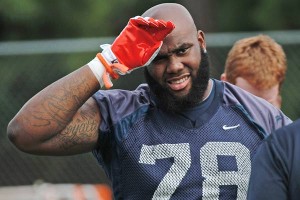 Steve Helber/AP PhotoVirginia's Morgan Moses, who started 13 games last season, is expected to shore up the line again.
Both are on the preseason watch lists for the Outland and Lombardi trophies. Both started all 13 games last year. And both can play either side, left or right, protect the quarterback's blind side or help off the edge. Individually, they're both talented, and Aboushi could be a first-round NFL draft pick. Together, though, they should be a major asset for the Cavaliers' quarterbacks.
"I think there's a level of experience there that we have," London said. "...From a recognition standpoint, from a physical skills standpoint, they've been in big games and have played on both sides so it has to be one of our strengths, to protect the edge, and hopefully they'll do a good job of doing that."
London said Moses dropped about 30 pounds this offseason and it has made him a better, faster player.
"When he lost weight before it was one of those liquid diets," London said. "He would put on a rubber suit and run around and say, 'Hey coach I lost it.' We have a sports nutritionist here who put a menu together for him and cut out certain meals, told him what time to eat. He stayed on schedule with that. He worked out, he was running, now he weighs 30 pounds less, did sprints the other day with the linemen, last year he was in the middle to back of the pack, today he was out in front. When a guy sees his conditioning level has improved, feels lighter, it's a mind-set that's been created or been revealed to him. If you take care of your body, it's going to take care of your performance on the field."
Moses was rated the No. 6 player at his position by ESPN.com in 2009, and Aboushi was No. 26. They're living up to the hype. Last year, Aboushi was twice named the ACC's offensive lineman of the week. He had 13 knockdown blocks in a road win at Indiana, and he had 11 knockdown blocks in a road win at Miami. He and Moses should again pave the way for UVa's offense.
"From what I've seen from them in games, when you have two guys who have played both positions, left and right ... the notoriety they've garnered is based on accomplishments on the field," London said. "Their skill level at the tackles those two guys have I think does make at least consideration for being one of the best pair (in the country)."
There's little doubt they'll be among the best in the ACC.
July, 25, 2012
7/25/12
3:05
PM ET
The ACC today
announced its preseason all-conference team
, which was chosen by media members this week at the ACC Football Kickoff on Sunday and Monday at the Grandover Resort in Greensboro, N.C. Florida State, Clemson and North Carolina led all schools with four players each.
Clemson wide receiver
Sammy Watkins
, who was named by the media as the ACC preseason Player of the Year on Monday, was the only unanimous selection on the team, being named on all 68 ballots.
November, 13, 2011
11/13/11
12:07
AM ET
Here are your top five performers for Week 11:

Virginia Tech quarterback Logan Thomas:
He played an outstanding game in the Hokies'
37-26
victory over Georgia Tech on Thursday night. Thomas threw for three touchdowns and ran for two more. He completed 7 of 13 passes for 209 yards and ran for another 70 yards. He also completed 75 percent of his third-down passes.
Florida State's special teams:
Greg Reid scored on an 83-yard punt return, and Dustin Hopkins kicked three field goals to help lift the Noles over rival Miami,
23-19
. Hopkins accounted for the only points in the third quarter with a 21-yard field goal, and his 38-yarder to start the fourth quarter put FSU up 23-7.
BC linebacker Luke Kuechly:
He finished with 18 tackles in the
14-10
win over NC State, extending his streak of double-digit tackles to 32 consecutive games, the longest such streak in FBS. In the third quarter, Kuechly became the fifth player in ACC history to record 500 or more career tackles. He now has 509, fourth-best on the conference record list.
Clemson kicker Chandler Catanzaro:
His game-winning, 43-yard field goal as time expired assured Clemson of a
31-28
win over Wake Forest and its second appearance in the ACC title game in three seasons. It was the first time since 2007 that Clemson had won on a last-second field goal. It was also the first time since 1948 -- when the stat started being tracked -- that Clemson won at home on a last-second field goal.
Virginia's offensive line:
The Cavaliers have now gone three consecutive games without giving up a sack and the line paved the way for
Kevin Parks
and
Perry Jones
in the
31-21
win over Duke. It was the tenth game in a row that the offensive line has had the same five starters -- guards Austin Pasztor and Luke Bowanko, tackles Oday Aboushi and Morgan Moses and center Anthony Mihot . The last time the same five players started an entire season on the offensive line at UVa was 2004.
June, 24, 2011
6/24/11
2:00
PM ET
Ranking offensive linemen is not easy. But hey, either is being an offensive lineman. Here are your best "big uglies."

1. North Carolina:
Three starters and one part-time starter return from last year's team, and this line could be the biggest and best since Butch Davis was hired. Guard Jonathan Cooper (22 starts), center Cam Holland (20) and tackle James Hurst (12) have combined for 54 career starts. Travis Bond has four starts and is the leading candidate to take over at the other guard position.

2. Miami:
The Canes return nine of their top 10 offensive linemen including four starters from last year, and Joel Figueroa was granted a sixth season of eligibility. Even with the coaching change, the Canes should be strong up front. Center Tyler Horn is a veteran, Brandon Washington is a difference-maker, and there's enough competition that Seantrel Henderson spent most of the spring as a backup.

3. Clemson:
First-year offensive line coach Robbie Caldwell has four returning starters to work with in Landon Walker, Antoine McClain, Dalton Freeman and David Smith. They also have top reserve Mason Cloy, who has 19 career starts and has played in 38 games. There is plenty of depth for a dependable rotation.

4. Virginia Tech:
All four returnees started every game last year, and there is enough depth that the Hokies should be able to rotate the most players up front they ever have. It's a veteran group led by Blake DeChristopher, Andrew Lanier, Jaymes Brooks and Greg Nosal.

5. Florida State:
Despite the losses of Rodney Hudson and Ryan McMahon, there's experience up front. This fall, the starting lineup will consist of tackle Andrew Datko, left guard Bryan Stork or David Spurlock, center Jacob Fahrenkrug, right guard Spurlock or Stork, right tackle Zebrie Sanders. Just how good they'll be remains to be seen as the majority of them were out with injuries this past spring.

6. NC State:
The Pack lost Jake Vermiglio and will be without injured left guard Andrew Wallace for about half of the season, but Zach Allen, Camden Wentz and R.J. Mattes are returning starters. There's also a lot of talent waiting to emerge with young players like Duran Christophe, Rob Crisp, Tyson Chandler, Torian Box and Andy Jomantas.

7. Virginia:
Four players return with a combined 64 career starts in Anthony Mihota, Austin Pasztor, Oday Aboushi and Morgan Moses, who started the final seven games of the season as a true freshman. Pasztor is in his fourth season as a starter and has 32 career starts.

8. Boston College:
Despite the losses of Anthony Castonzo, Thomas Claiborne and Rich Lapham, the Eagles are almost settled up front, it's the experience behind the starters that's reason for concern. The No. 2 offensive line is comprised entirely of redshirt freshmen. Mark Spinney returns at center, the projected starting guards are Nathan Richman and Ian White, who started three games as a freshman, and the tackles are Emmett Cleary and John Wetzel.

9. Maryland:
It's been an injury-prone group the past two seasons and that didn't change this past spring. Left tackle Justin Gilbert, one of the top linemen on the team, reinjured the same knee he had ACL surgery on and will be out until October. R.J. Dill was also injured this spring, though he played in the spring game, and Justin Lewis was rehabbing from offseason surgery. Pete White also missed practices, so the group needs to solidify the two-deep roster.

10. Georgia Tech:
The Jackets return three starters in guard Omoregie Uzzi, guard Will Jackson and tackle Phil Smith. Sophomore Jay Finch played extensively last season and Ray Beno and Nick McRae were key reserves. Redshirt freshmen Catlin Alford and Morgan Bailey could also work their way into the rotation. Uzzi will be the leader of the line, but they were outplayed by the defense this spring.

11. Wake Forest:
Four starters are back, but the Deacs will sorely miss the experience and leadership of former center Russell Nenon. Garrick Williams started the final three games of 2010 -- two at guard and one at center, but he struggled with the snaps towards the end of spring and isn't where the staff needs him to be yet.

12. Duke:
The Blue Devils should take another step forward this season under offensive line coach Matt Luke, and they need to -- Duke's running game was last in the ACC last year and 104th in the country. Brian Moore replaces a three-year starter at center, but given his experience at right guard the past two seasons, it should be a smooth transition. That will leave a hole, though, at the right guard position, where Laken Tomlinson and John Coleman are the top candidates.
January, 24, 2011
1/24/11
10:00
AM ET
This morning we looked at the main recruiting needs for the Atlantic Division. Here are the priorities for each team in the Coastal Division:
DUKE
Offensive line:
The Blue Devils will have to replace one starter in center Bryan Morgan, and it's still a relatively young group, but with several redshirt sophomores on the roster, the staff wants to load up two grades behind them to fully stock the position for the future.
Defensive line:
This has always been Duke's deficiency, which means it will always be a priority to catch up and build depth. The Blue Devils will have to replace two starters in Wesley Oglesby and Patrick Egboh. Noseguard Charlie Hatcher will be a redshirt senior.
Cornerback:
Duke only loses one starter, cornerback Chris Rwabukamba, but it's another position that has been weak and needs better athletes.
GEORGIA TECH
Offensive line
: The early departure of Nick Claytor to the NFL didn't help the depth, but there were still several young players who gained valuable experience and others who redshirted to help the depth. While no true freshman is likely to make an immediate impact, the staff is still looking to build the numbers up front.
Linebacker/defensive line:
The Jackets need to find more athletes who are suited for Al Groh's 3-4 scheme. Fast athletes who are versatile enough to play a hybrid role, with the ability to move in space, will be a priority in this class.
MIAMI
Quarterback:
With
Jacory Harris
being a senior, A.J. Highsmith moving to defense, and
Spencer Whipple
struggling in what little time he has played, the position needs a boost. It didn't help that Teddy Bridgewater reneged on his commitment.
Linebacker:
This is a position former coach Randy Shannon had put an emphasis on building, and there are young players and depth, but it was also a veteran group in the 2010 two-deep, with mainly juniors and seniors.
Wide receiver:
The upperclassmen did all of the work in 2010, with
Leonard Hankerson
leading the way.
Travis Benjamin
,
Aldarius Johnson
and Laron Byrd will all be seniors. An influx of young talent is needed.
Defensive end:
The staff is looking to improve the depth here, get stronger up front, and build upon the success from 2010. Marcus Robinson, Adewale Ojomo, and Micanor Regis will all be seniors.
NORTH CAROLINA
Tailback:
Injuries depleted this group in 2010, and
Anthony Elzy
,
Johnny White
and
Shaun Draughn
were both seniors.
Ryan Houston
was able to redshirt and will return as a fifth-year senior, but the Tar Heels need more dependable runners and a foundation for the future.
Defensive line:
The Tar Heels have to prepare for some departures, especially on the interior, where all four players on the two-deep roster in 2010 were juniors.
Secondary:
UNC will have to replace three starters in the secondary this spring, and three backups this year were juniors. Because of the NCAA investigation, this is a group in which backups had to develop quickly, so there are some experienced younger players, but the group still needs to reload.
Tight end:
The loss of Zach Pianalto and his backup,
Ed Barham
, leaves the position thin.
VIRGINIA
Offensive line:
With starting right guard B.J. Cabbell gone, starting center Anthony Mihota a senior, and starting left guard Austin Pasztor a senior, the staff has to prepare for some departures. Morgan Moses and Oday Aboushi are talented young players, but the rotation needs more of them.
Defensive line:
End Zane Parr's decision to leave early for the NFL draft hurt the position's depth, and the Cavs will also have to replace John-Kevin Dolce at tackle. Three other players in the two-deep will be rising seniors, and with Virginia switching back to a 4-3 defense under Mike London, the Cavs have to rebuild up front.
Secondary:
Cornerback is of particular concern, as Chase Minnifield will be a senior, and starter Mike Parker will graduate.
VIRGINIA TECH
Running back:
The early departures of
Ryan Williams
and
Darren Evans
to the NFL left
David Wilson
as the only tailback with any significant experience. Overall, the Hokies have four tailbacks on their current roster.
Defensive line:
The Hokies will have to replace redshirt senior starters Steven Friday and John Graves, and starting left end Chris Drager will be a redshirt senior this year.
Wide receiver/tight end:
Starters
Jarrett Boykin
and
Danny Coale
will be seniors, and tight end
Andre Smith
will graduate.
Secondary:
Half the players on the two-deep roster against Stanford were either juniors or seniors, and the Hokies will have to replace rover Davon Morgan and cornerback Rashad Carmichael.
April, 26, 2010
4/26/10
4:30
PM ET
Virginia's first spring practice of the Mike London era is in the books, and today the team issued its
post-spring depth chart
.
A few quick points:
Three positions on defense feature co-starters, including two of the three linebacker spots. Junior Aaron Taliaferro and Steve Greer are listed as co-starters at middle linebacker, while senior Jared Detrick and sophomore Ausar Walcott are the co-starters at weak side linebacker. Junior Chase Minnifield and sophomore Devin Wallace are listed as co-starters at one cornerback spot, opposite co-captain Ras-I Dowling.
As expected, senior Marc Verica tops the depth chart at quarterback, while Ross Metheny and Michael Strauss are listed as co-backups.
Offensive line will continue to be a position to monitor during preseason camp, but here are the starters coming out of spring ball: left tackle Landon Bradley, left guard Austin Pasztor, center Anthony Mihota, right guard B.J. Cabbell, right tackle Oday Aboushi.
Sophomore Perry Jones is listed as the top running back ahead of senior Keith Payne, who rejoined the team after a one-year leave of absence.
The depth chart doesn't include specialists, but the competition at kicker will spill into the fall after a poor showing at the spring game April 10.
April, 14, 2009
4/14/09
11:27
AM ET
Posted by ESPN.com's Heather Dinich
Five incoming ACC freshmen were selected to the USA Football American Junior National Team, which will compete against seven other countries this summer in the Junior World Championship from June 27-July 5 in Canton, Ohio. The teams are comprised of players ages 19 and under.
Tariq Edwards (Virginia Tech), David Wilson (Virginia Tech), A.J. Ferguson (NC State), Oday Aboushi (Virginia) and Corey Lillard (Virginia) were all selected.
National football teams from Canada, France, Germany, Japan, Mexico, New Zealand and Sweden have qualified to join the United States to pursue the sport's first world championship on the international junior level (19 and under).
A starter since his freshman year who played on both sides of the ball for Xaverian High School in New York, Aboushi is rated the No. 26 offensive tackle by ESPN. Defensively, he made 70 tackles, including seven sacks as a senior.
Lillard, a standout two-way player Liberty High School in Virginia, is ranked the No. 79 safety by ESPN. He was the team's second-leading rusher with 1,030 yards and 15 touchdowns last season, leading his team to its first regional championship. Lillard finished his junior season with 52 tackles and 600 rushing yards.
"Following each Olympiad, the participants often speak of what a powerful feeling it is to represent the United States," Virginia coach Al Groh said in a prepared statement. "Oday and Corey now have the wonderful opportunity to represent our country and our Virginia team. We are proud that they have been selected to USA Football's Junior National Team.
"Both young men are very achievement-focused and team-oriented players who will do all they can to make our team as strong as possible."
Edwards, of Cheraw, S.C., is listed as the No. 27 outside linebacker nationally by ESPN/Scouts, Inc. The incoming Hokie made 102 tackles and blocked two kicks as a senior.
Wilson rushed for 2,291 yards and 35 touchdowns -- both school records -- his senior season, including two games in which he ran for more than 300 yards. ESPN.com ranks him the No. 5 running back nationally and the No. 50 overall prospect in the country.
"I know that both Tariq (Edwards) and David (Wilson) are very excited about being a part of USA Football's Junior National Team, representing the United States," Virginia Tech coach Frank Beamer said in a prepared statement. "Both will be outstanding representatives of our country and our university."
A four-year starter at South Brunswick (N.C.) High School, as a senior, Ferguson recorded 90 tackles -- including 20 for a loss -- 10 sacks and three defensive touchdowns. An all-conference performer as a junior and senior, Ferguson also ran track in the 100- and 200-meter events.
"We are very proud to have A.J. represent NC State as a member of USA Football's Junior National Team," NC State coach Tom O'Brien said. "I know that it will be a great experience for him both as a football player and as a proud American.
"He is an extremely talented young player, and I'm happy that he will be able to showcase his abilities at the IFAF Junior World Championship before he begins his career with the Wolfpack."