NCF Nation:

Ohio State-Michigan 2009 game
November, 20, 2009
11/20/09
9:52
AM ET
Ohio State-Michigan doesn't matter.
That's the general sentiment around the country this week as college football's greatest rivalry gets ready to resume Saturday at Michigan Stadium (ABC, noon ET). One of my esteemed colleagues called this the "most uninspiring November weekend in recent memory." There are valid reasons for this belief, namely Michigan's 5-6 record, Ohio State's guaranteed BCS bowl berth and the likelihood that Wolverines head coach Rich Rodriguez will be safe no matter what takes place between the lines on Saturday.
I say let them thumb their noses at The Game. You and I know better. The Game always matters.
As I watched the end of the 1987 Ohio State-Michigan game (Earle Bruce's final triumph) and the start to the high-scoring 1988 contest on ESPN Classic during lunch Thursday, I started to get excited about Saturday's contest.
Here are some reasons why:
Throwback jerseys:
Ohio State will don helmets and uniforms honoring its 1954 national championship team, a decision that drew mixed reviews from Buckeye Nation. The helmets certainly give the players a different look. Ohio State just hopes there won't be a different result after dominating Michigan under head coach Jim Tressel.
Justin Boren:
Boren's departure from Michigan and his parting shot that the team's "family values have eroded" was in many ways the first of several public setbacks for Rodriguez. It didn't help when Boren transferred to archrival Ohio State. He now leads an improving Buckeyes offensive line into the Big House, where he figures to receive a rough reception from the crowd. I'm definitely excited to see Boren take on Michigan star defensive end Brandon Graham.
Last stand for Wolverines:
A Michigan loss ends the season for the Wolverines, who seemed destined for a decent bowl game after a 4-0 start. The sense of urgency in this one certainly rests with the Wolverines, who try to end a five-game slide against their archrivals in most unlikely fashion. A win doesn't wash away a miserable Big Ten season, but it certainly eases the pain and allows Michigan the right to celebrate.
Terrelle Pryor and the spread offense:
When Pryor sputtered midway through the season, people started buzzing about how the quarterback would have been better off in Rodriguez's offense at Michigan. Last year's Wolverines didn't have the trigger man to effectively run the spread, but freshman quarterback
Tate Forcier
fits the scheme. It will be interesting to watch how Pryor fares against Michigan's vulnerable defense and contrast that with how Forcier fares against Ohio Sate's D.
Ohio State vs. another young QB:
It's hard to explain, but Ohio State's defense has performed much better against experienced quarterbacks than young ones this fall. The Buckeyes shut down Penn State's
Daryll Clark
, Minnesota's
Adam Weber
and Illinois'
Juice Williams
, but they struggled at times against USC true freshman
Matt Barkley
and Iowa redshirt freshman
James Vandenberg
, who made his first career start last week. Forcier comes off of a solid effort against Wisconsin, but he needs to have his best performance of the season to give Michigan a shot.
Ohio State aims for outright title:
The Buckeyes already have clinched at least a share of the Big Ten title for the fifth consecutive season, but they want more. A victory Saturday clinches the Big Ten title outright for the third time in the past four seasons. An Ohio State loss means the Buckeyes might have to share the crown with as many as three other teams (Iowa, Penn State and Wisconsin).
November, 19, 2009
11/19/09
11:32
AM ET
As they do every season, Ohio State fans had plenty of burning questions about a Buckeyes running back this fall.
Jaamal Berry
.
[+] Enlarge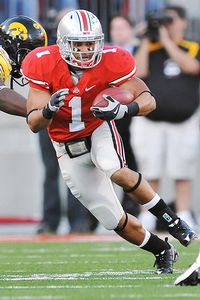 Jamie Sabau/Getty ImagesDaniel Herron had a heavy workload against Iowa, carrying the ball 32 times.
They wondered when Berry would see the field, how his injured hamstring was progressing and whether head coach Jim Tressel would end up redshirting the highly touted freshman from Miami. These questions peppered Tressel at his weekly news conference and filled up my inbox.
As the wait for Berry continued, it was clear that many Buckeye fans had seen enough of running backs
Brandon Saine
and
Dan Herron
. Chris "Beanie" Wells was sorely missed, and for the first time since 2004, when Lydell Ross and Antonio Pittman shared the carries load, Ohio State lacked a dominant runner.
Could the Buckeyes win the Big Ten without a bell cow in the backfield? The answer arrived last Saturday at Ohio Stadium.
Saine and Herron turned in their best performances of the season in the biggest game of the season. The two backs combined for 200 rush yards and three touchdowns against a stout Iowa defense as Ohio State rode a run-heavy offense to a 27-24 overtime victory.
"Those are two tough kids and the seniors mean a lot to those two," Tressel said after the game. "They were not going to let those seniors down."
Ohio State didn't hide its intentions on offense from the get-go. Tressel didn't want to throw downfield against an Iowa defense that ranks second nationally in interceptions (19).
So the Buckeyes ran the ball a season-high 51 times, with 43 attempts going to either Saine or Herron. Ohio State's offensive line, which, like Saine and Herron, has drawn plenty of criticism this season, imposed its will against the Iowa defensive front.
"Boom [Herron] and Brandon were running the ball," quarterback
Terrelle Pryor
told reporters. "We really didn't need to pass."
The two backs accounted for almost all of Ohio State's big plays on offense.
Saine gave the Buckeyes their first lead with a 22-yard scoring burst late in the second quarter. After Iowa tied the score at 10-10, Herron sprinted 11 yards to the end zone out of the Wildcat formation. Moments later, following a Ross Homan interception, Saine scooted down the sideline for a 49-yard score.
"We were really just having fun out there and stepping up and doing what we knew how to do," Saine said. "We weren't trying to overthink anything. We were trying to be in the moment the whole time."
It has been a mixed bag this year for both Saine and Herron. Both have had decent performances -- Saine against Indiana and Illinois, Herron against Illinois and New Mexico State -- and both have battled injuries (concussion for Saine, ankle for Herron).
But when Ohio State needed to lean on the run game, both backs stepped up.
"They both learned their way as they backed up Beanie over the years," Tressel said. "They waited their turn and kept trying to improve along the way, and they're playing good football."
November, 16, 2009
11/16/09
1:30
PM ET
Jim Tressel may go on to win another national championship at Ohio State.
He'll likely win more BCS bowl games and more Big Ten titles. When he's finished coaching, he might enter politics or open his own sweater vest manufacturing company.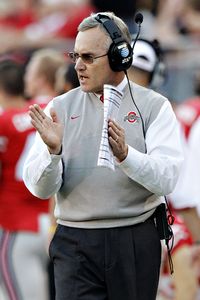 AP Photo/Jay LaPrete
Ohio State coach Jim Tressel is going for his sixth straight win against rival Michigan.
But when we look back on Tressel's place in college football history, he will always be remembered for this week. Michigan week.
No one does it better.
Head coaches of national powerhouses are judged primarily on their ability to win games in early January, and Tressel is no exception. But their records against archrivals aren't taken lightly, either. Tennessee's Phil Fulmer got the axe last year largely because of his struggles against rivals Florida, Georgia and Alabama. Florida's Urban Meyer wins national titles, but he also pleases fans by
beating rivals Georgia, Tennessee, Miami and Florida State
.
You can knock Tressel for his three-game losing streak in BCS bowls, his consecutive double-digit losses in the national title game, his management of quarterback
Terrelle Pryor
or his conservative play-calling. On those topics, swing away.
But when it comes to the Ohio State-Michigan game, Tressel is king. He boasts a 7-1 mark against Michigan, including wins in each of the last five games. He has beaten Michigan when Ohio State is the better team (2008, 2007, 2005, 2002) and even when Michigan might be the superior squad (2001, 2004). He beat Michigan in the most hyped regular-season game in recent years, the No. 1 vs. No. 2 matchup in 2006 at Ohio Stadium.
Tressel is one of the reasons Lloyd Carr no longer coaches the Wolverines. Carr went 1-6 against The Vest. In Rich Rodriguez's first game against Tressel, Ohio State spanked Michigan 42-7.
And it's not just the record. Tressel plays up this rivalry the right way. He makes it a big deal without inciting the opponent. He doesn't need unique circumstances -- like Justin Boren's transfer from Michigan or Pryor's flirtation with Rodriguez -- to get his players motivated.
"It's an exciting week," Tressel said last year at the start of Michigan week. "Our guys can feel the excitement on the campus and in the community. It's the reason many of them chose to go to Ohio State or to go to Michigan was so they could be a part of this game for four or five years and it's just a little bit different feeling. It's a hard one to explain unless you've been there."
You can feel it at Ohio State.
Seven months before The Game, you walk into the office of co-defensive coordinator Jim Heacock. On the wall, Heacock has a sign that reads, "No Ohio State team has defeated Michigan 5 times in a row."
The 5 is crossed out and replaced with a 6.
Tressel puts this game on a pedestal, and it trickles down throughout the rest of the program. Ohio State already has a Rose Bowl berth essentially locked up, but if you think the Buckeyes will come out with any less fire Saturday at Michigan Stadium (ABC, noon ET), remember who coaches them.
After Saturday's overtime win against Iowa, Tressel said his players could enjoy the win until midnight.
"When the clock strikes 12, we know what week it is," he said, "and that's exciting."