September, 24, 2010
9/24/10
11:30
AM ET
We've got big games from coast to coast in Week 4, so let's check out the top 10 storylines to watch heading into Saturday:
[+] Enlarge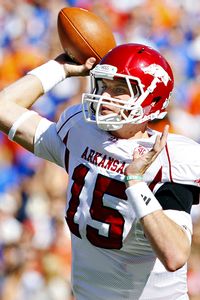 Kim Klement/US PresswireCan Arkansas quarterback Ryan Mallett lead his team to a win over the No. 1 team in the nation?
1. Does Arkansas have what it takes to beat Alabama?
Certainly the Razorbacks are much improved on defense, and
Ryan Mallett
has lived up to his Heisman Trophy billing. But does this team have a killer instinct? This is a team that had a 7-0 halftime lead over ULM, then blew a 24-10 fourth-quarter lead against Georgia last week before rallying for 31-24 the victory. Alabama will try to confuse Mallett the way it did last season. Offensively,
there are so many options for the Tide
, the Razorbacks are going to have to prove just how good they have become on defense.
2. Does Oregon State have a chance to beat Boise State?
Absolutely the Beavers have a chance. Is it going to happen? That is another question. Some keys to watch: Oregon State might not be able to run into the heart of that Boise State defensive line. Do the Beavers try to run sweeps to the outside with their speedy receivers to loosen them up? The Rodgers brothers, James and Jacquizz, are always a threat to take it the distance. The Boise State secondary has been vulnerable at times, so if
Ryan Katz
has time to throw, he could connect for some big plays.
3. Can Notre Dame close out a win?
So far 2010 has looked a lot like 2009 for the Fighting Irish, what with losing games in the closing seconds to Michigan and Michigan State. They could just as easily be 3-0 with a few more plays going their way. Instead, they are staring at the prospect of a 1-3 start, given the way Stanford has played going into the game. This could be a national statement game for Stanford quarterback
Andrew Luck
, who has 674 yards passing with 10 touchdowns and no interceptions.
4. Can the Big East represent in big nonconference games?
Pittsburgh, one of the popular preseason picks to win the Big East, fell flat on its face Thursday night in a 31-3 loss to Miami. That leaves Cincinnati and West Virginia this weekend in huge national profile games. Oklahoma visits the Bearcats, who have fallen on hard times just one season removed from an undefeated regular season. They hardly resemble the outfit that made it to the Sugar Bowl last season, having already lost to Fresno State and NC State. West Virginia, meanwhile, travels to LSU. The Mountaineers might be the best hope to win the Big East, but then again they nearly lost to Marshall.
5. How does Michigan State respond without coach Mark Dantonio?
Luckily, the Spartans play Northern Colorado, not exactly the toughest challenge. Dantonio suffered a heart attack in the hours after the Spartans' overtime win over Notre Dame, and offensive coordinator Don Treadwell will lead the team in his absence. A big game looms next week at home against Wisconsin. The bigger question is whether Dantonio will be back in time for that one.
6. Does South Carolina need to prove that it is for real even after beating Georgia?
Some believe the answer is yes. Well here it is, perhaps an even bigger test because the Gamecocks must play a better Auburn team on the road. Last week, Auburn struggled to stop Clemson running back
Andre Ellington
, who had 140 yards and a touchdown. This week, the Tigers face a bigger, more physical back in freshman stud
Marcus Lattimore
. The key for the Tigers: shutting him down to force
Stephen Garcia
into trying to win the game. South Carolina has the defense to be able to slow down Cam Newton.
7. How does Iowa respond after its heartbreaking loss to Arizona?
The Hawkeyes get an easier challenge this week against Ball State, but they are beginning life once again without
Jewel Hampton
, out for the season with a torn ACL. This game serves as an excellent tune-up headed into next Saturday's big game against Penn State. Iowa has to figure out how to get its offensive line going, perhaps the most glaring weakness on the team, which was completely exposed against the Wildcats.
8. How does Arizona respond after its big win over Iowa?
We can ask the question both ways. The Wildcats are up to No. 14 in the polls after that win, and now all of a sudden are a team everyone believes is right there in the mix for the Pac-10 title. They play a California team that lost to Nevada last week. What was striking in that game was the way Nevada dominated on both lines. That doesn't bode well going into this game, considering how strong Arizona looked on the offensive and defensive lines against the Hawkeyes.
9. Can Virginia Tech win at Boston College without Ryan Williams?
This is a crucial game for the Hokies, who could drop to 1-3 with a loss. Without Williams,
Darren Evans
and
David Wilson
will carry the load. But Evans has lost two fumbles in two weeks, and the Hokies traditionally struggle running the ball against the Eagles. That was until last season, when they had 235 yards on the ground. They are going to need another performance like that to win, but it's going to be much harder without their top runner.
10. Can Oregon keep up its scoring pace?
Hard to imagine the Ducks will be able to hang half a hundred on Arizona State, a team that came
thisclose
to beating Wisconsin on the road last week. Oregon has averaged over a point a minute in its three games this season, but the Sun Devils are no New Mexico and are certainly no Tennessee. Still, Arizona State has to be better in the red zone to have any shot at the upset.
September, 16, 2010
9/16/10
11:41
AM ET
There is nothing scarier in a football game than watching a player get knocked out, strapped to a stretcher and carted off the field.
Luckily for Air Force cornerback Reggie Rembert, he says what happened to him was not scary at all. Perhaps it was because he was knocked unconscious and totally unaware of the scene around him. Perhaps it was because he ended up with a mild concussion and no neck injury.
Rembert says the tackle that knocked him out in the season opener against Northwestern State was simply a freak accident.
"I'm sure my mom was having a heart attack, but with me, I wasn't really scared," he said.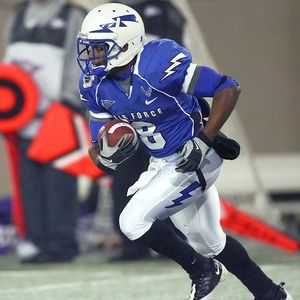 J. Neil Prather/Icon SMIReggie Rembert knows he'll need to be at the top of his game when Air Force meets Oklahoma on Saturday.
No, he wanted to go back into the game. That was never going to happen, of course, so he set his sights on getting cleared to play against BYU. He got medical clearance late in the week, a triumph for a player who wanted not only to play against a team he had never beaten before, but take the field on Sept. 11.
After taking a few hits in pregame, he was ready to return to the field, an incredible one-week turnaround for one of the best cornerbacks in the Mountain West.
When asked about the toughness Rembert showed in coming back so quickly, coach Troy Calhoun said, "Well, he's at the right school."
Rembert is going to be a big key this weekend against Oklahoma, a pass-happy team that is expected to try to take advantage of an undersized secondary.
For Rembert, it would be tough keeping him off the field no matter the injury. After he got carted off and put into the ambulance, he came to and started remembering what happened.
"In the ambulance, I said, 'You're going to get me back by halftime, right?'" he recalled.
Not exactly. But Rembert was determined not to let what happened to him keep him out for very long.
"I knew as long as they cleared me I would play pretty much until I pulled myself out, which would probably be never," he said.
Of course, his mother had a different opinion.
"She had strong feelings," he said. "She texted me [the] day of [the] game and was like, 'Your mom would like for you to wait one more week and not play this game,' but I didn't text her back."
Wouldn't you know it, Rembert ended up with five tackles and an interception in the big 35-14 win over the Cougars.
Air Force did a terrific job taking away the pass from the Cougars, allowing just 88 yards through the air. Rembert said it was a combination of the experienced secondary and pressure the defensive line put on quarterbacks
Jake Heaps
and
Riley Nelson
.
They are going to need that and more to slow down an Oklahoma offense that did most of its damage against Florida State last week through the air.
Landry Jones
had 380 yards and four touchdowns in the game.
"He does well with his reads, does well with his playmakers; they're going to be a great team and I can't wait to play them," Rembert said. "We still have to bring our A-plus game if we want to shock the world."
Air Force needs a shock-the-world type of game, after all. The Falcons have been trying to break into the Mountain West "Big 3" for several years now. Rembert says his team has the most confidence since he has been there, but it needs a big nonconference win to make a statement.
"It's going to be huge for our conference as well as our team if we come out and perform," he said. "It's going to say big things about Air Force football and the Mountain West Conference."
September, 16, 2010
9/16/10
9:00
AM ET
My picks in Week 2 were … slightly better than awful. With a 12-10 overall record, I need somebody to give me a pep talk. Is Frank Beamer available? Oh wait. He is probably busy giving his team one of those.
On to the picks!
Virginia Tech 35, East Carolina 27
. No way Virginia Tech loses a third straight, right? Well, the Hokies have a recent history of losing to the Pirates -- dropping the opener in 2008.
Dominique Davis
has played lights out for the Pirates, but the defense -- not so much. The Hokies are going to be fighting mad, and should be able to slow down the East Carolina offensive attack just enough to escape.
Oklahoma 24, Air Force 20
. The Falcons present a unique offense to defend, and Oklahoma has looked helter-skelter in its first two games. Air Force did a fantastic job slowing down the BYU offense, limiting the Cougars to 88 yards through the air. Oklahoma struggled against
Diondre Borel
. But give the Sooners the win here based on the play in the trenches.
Florida State 30, BYU 20
. Don't think the BYU quarterback problems are going to be solved against the Seminoles, who dismantled a far better Cougars team last year on the road. Unfortunately for BYU, the passing game is not in tip-top shape right now and that is where the Sooners did most of their damage last week.
TCU 24, Baylor 20
. The Bears are one of three teams that have yet to allow their opponent into the end zone this season, but they haven't played anybody as good as TCU. Don't think that streak will continue against veteran
Andy Dalton
and an experienced offense.
Houston 35, UCLA 17
. Are the Bruins that bad? I am calling this game for Houston, regardless of who starts at quarterback.
Case Keenum
(concussion) might be day to day, but his backup has proven capable and so has the running game through two games this season. UCLA, meanwhile, has been able to muster nothing on offense or defense.
Southern Miss 20, Kansas 17
. The Golden Eagles dropped a close one to the Jayhawks last season, and though they looked pretty unspectacular against South Carolina in the opener,
Austin Davis
and
DeAndre Brown
could be in line for big games. This is a huge test for a defense that has played inconsistently. But, hey, so has Kansas.
California 28, Nevada 17
. The Wolf Pack haven't had much success against AQ opponents, losing eight straight games. Though the defense has looked much better, and defensive coordinator Andy Buh spent the last three seasons as a Stanford assistant, California simply has too much talent on offense. The Bears will find a way to slow down
Colin Kaepernick
enough to win.
Hawaii 37, Colorado 30
. Going with the upset in this one. I know Hawaii has been away from home for a really long time, increasing its chances of losing this game, but
Bryant Moniz
and the offense have looked good in the first two games. The Buffaloes? Not so good, especially last week.
SMU 44, Washington State 10
. The Cougars nearly lost to FCS Montana State last week, so that should tell you how the rebuilding effort is going in Pullman. SMU has had some injuries to deal with, but as long as
Kyle Padron
is behind center, the Mustangs should easily win this one.
Missouri 33, San Diego State 27
. The Aztecs are vastly improved, thanks to a better run game and more experience from
Ryan Lindley
. But
Blaine Gabbert
is playing well for the Tigers, with a completion percentage over 70 percent. The Tigers defense also has six interceptions on the year and makes the difference in this one.
Miami (Ohio) 30, Colorado State 10
. The Rams have scored a total of nine points in two games, and true freshman quarterback
Pete Thomas
has been sacked eight times. The defense hasn't played much better, either. The RedHawks haven't exactly torn up the field but have shown much more improvement this season than the Rams.
Army 24, North Texas 17
. Things went from bad to worse for the Mean Green this week when they found out starting quarterback
Nathan Tune
would be out for the season with a dislocated hip. Five starters have gone down with season-ending injuries now, and coach Todd Dodge is trying to cope. It's going to be tough against a much-improved Army team.
September, 13, 2010
9/13/10
2:16
PM ET
Time once again to vote for your favorite Capital One Impact Performance of the week. Be sure to
vote right here
.
Your candidates:
Michigan's Denard Robinson's 502 yards of total offense.
Ohio State's Cameron Heyward makes an interception to stop a Miami drive.
South Dakota's Dante Warren throws three touchdown passes, runs for two more in a win over Minnesota.
Oklahoma's Landry Jones throws for 380 yards and four touchdowns against Florida State.
September, 6, 2010
9/06/10
12:22
PM ET
Who had the Capital One Impact Performance of the week? Check out this
video and be sure to place your vote
.
Here are the nominees:
Jacksonville State's 30-yard touchdown pass on fourth down in the second overtime against Ole Miss.
TCU quarterback Andy Dalton's two touchdown runs against Oregon State.
Jamell Fleming's interception late to preserve Oklahoma's win over Utah State
Michigan's Obi Ezeh recovers a UConn fumble at the 3-yard line.
This is a new feature you will find each Monday, so remember to keep coming back to vote.
December, 10, 2008
12/10/08
11:01
AM ET
Posted by ESPN.com's Tim Griffin
Here are the choices for my All-Big 12 team for the 2008 season.
QB - Colt McCoy, Texas
RB - Kendall Hunter, Oklahoma State
RB - DeMarco Murray, Oklahoma
WR - Michael Crabtree, Texas Tech
WR - Dez Bryant, Oklahoma State
TE - Jermaine Gresham, Oklahoma
OL - Duke Robinson, Oklahoma
OL - Jason Smith, Baylor
OL - Rylan Reed, Texas Tech
OL - Russell Okung, Oklahoma State
C - Jon Cooper, Oklahoma
DL - Brian Orkapo, Texas
DL - Brandon Williams, Texas Tech
DL - Ndamukong Suh, Nebraska
DL - Jeremy Beal, Oklahoma
LB - Joe Pawelek, Baylor
LB - Sean Weatherspoon, Missouri
LB - Travis Lewis, Oklahoma
DB - Darcel McBath, Texas Tech
DB - Darrell Stuckey, Kansas
DB - Lendy Holmes, Oklahoma
DB - Daniel Charbonnet, Texas Tech
AP - Jeremy Maclin, Missouri
KR - Perrish Cox, Oklahoma State
PR - Dez Bryant, Oklahoma State
K- Jeff Wolfert, Missouri
P- Justin Brantley, Texas A&M