October, 1, 2013
10/01/13
12:00
PM ET
TUSCALOOSA, Ala. -- It's safe to assume that
Eddie Jackson
understands the opportunity ahead of him at Alabama. He can't say as much publicly because of the school's policy prohibiting freshmen from speaking to the media. But given all he's already gone through, it would be a wonder if he didn't look back on his road to Tuscaloosa and comprehend the enormous turnaround it took for him to get there.
It's a wonder he's wearing Alabama's signature crimson helmet in the first place. The fact that he's starting at cornerback for the defending national champions is something even more implausible considering where he was at this time last year.
Jackson needed a change of scenery before any of the chips fell into place. He likely learned the value of a fresh start from his brother, Demar Dorsey, a former blue-chip defensive back prospect who signed a letter of intent to play for Michigan in 2010 but never made it to Ann Arbor. Dorsey's past included poor grades and three felony charges that robbed him of the opportunity to play at a BCS-level football program. He failed to meet Michigan's standard for admission, announced he would transfer to Louisville, failed to make it there because of more issues and eventually landed at Grand Rapids Community College. Dorsey was supposed to transfer to Hawaii in 2012, but he never reached the Big Island and today is not listed on Hawaii's roster.
[+] Enlarge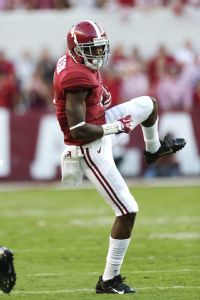 AP Photo/Dave MartinEddie Jackson was a virtual unknown in recruiting at this point last year. Now he's a key piece on defense for the No. 1 team in the country.
Wayne Blair knew of Dorsey's story when Jackson walked into his office at Boyd Anderson High in Lauderdale Lakes, Fla., looking to transfer after becoming academically ineligible at his previous school. Blair saw Dorsey's "pitfalls" up close at nearby University School, where he was an assistant in 2009. He took a chance on Jackson, who was then a junior with serious eligibility issues. His grades were "way below normal standards," said Blair, who helped get Jackson eligible just in time for spring football.
Blair's investment and Jackson's hard work paid off instantly.
"He played free safety for us at the time," Blair said of the spring game against University School, a national powerhouse. "He had an interception, he returned one for a touchdown and then had another interception. And I realized then that I had something really, really special on my hands."
Jackson, though, had no college offers at the start of his senior season. Blair worked the phones, calling contacts at all the major conferences looking for someone to take a flier on his wide receiver/defensive back, a tall kid with enormous raw potential. Blair said he told them, "I got a guy that if I can get him NCAA eligible, you might want to go ahead and put your vested interest into him." Of course, no one took him seriously.
What Jackson did on the football field as a senior caught their attention, though, making him an increasingly rare sight in college recruiting: a late-blossoming prospect.
"Every game he either did something extraordinary offensively or completely excellent defensively or on special teams," Blair said. "And the buzz started growing as we had ourselves a good year. We went into the playoffs and he went off."
Jackson's grandmother passed away early in Boyd Anderson's postseason run. Blair said that's when "he went from good to great within a two-week span."
Blair had to chuckle when he retold his "folklore of Eddie Jackson" by telephone this week. He remembered how Florida State offered Jackson as a wide receiver, LSU wanted him as a defensive back and Miami looked at him as a wide receiver. Alabama had him strictly as a cornerback, though, drawn to his raw athleticism and 6-foot-1 frame.
"We thought Eddie was a good player," Alabama coach Nick Saban said Monday. "There were some academic questions and some of those things. We're always looking for longer corners, guys that have got a little bit more size. We had
Maurice [Smith]
, who had committed to us. We were still looking for somebody else and we found Eddie. We'd known about Eddie, but we weren't sure we were going to be able to recruit him. As soon as we found out that he would be qualified and all that, we really jumped on him."
Being able to work closely with Saban, who coaches cornerbacks one-on-one at Alabama, was part of what swayed Jackson to sign with the Tide. The other factor was timing. With last season's top corner for Alabama, Dee Milliner, likely to enter the NFL draft and not much behind him in terms of depth, Jackson and Blair saw an opportunity to play right away.
"I knew he'd probably be jumping into the starting lineup; I just didn't know when," Blair said. "I was thinking by Week 6. Low and behold, here we are."
Blair's prediction was off by two weeks. Jackson accomplished the improbable, learning enough of Alabama's complicated defensive scheme by Week 4 that he was inserted into the starting lineup against Colorado State.
A week later he proved that his first start wasn't a fluke opportunity against a cupcake opponent, starting again against No. 21 Ole Miss. On Saturday, Jackson was fourth on the team in tackles, had two pass breakups and a key interception against the Rebels, prompting senior cornerback
Deion Belue
after the game to say, "We finally found a piece to our secondary so that we all can come together."
"He fit in perfectly," said safety
Vinnie Sunseri
. "Having
Jarrick [Williams]
and Deion [Belue] back was a huge part of it, too, but Eddie in there, and him getting comfortable and getting that one pick, kind of gave him that confidence booster that he needed. He played unbelievable. I was so proud of him."
Jackson's first-half interception was a defining moment. The rookie corner whiffed on
Donte Moncrief
, Ole Miss' veteran wideout, on the previous play, allowing a 36-yard gain and a first down. Coach Hugh Freeze then reached into his bag of tricks, calling for a backward pass to
Laquon Treadwell
, who looked toward Jackson's side of the field for a pass. But Jackson didn't bite on the fake, stuck to his assignment and secured the ball for the takeaway.
"He did everything perfect," Sunseri said. "He jammed the guy off the line, stayed, stepped in the divider, and he threw one right to him and he got the pick. It was a great momentum swing for us."
Saban, who covets long, aggressive corners such as Jackson, was pleased. He and his staff had been searching for an answer at the position after
John Fulton
and
Cyrus Jones
were torched by Texas A&M and
Mike Evans
, and in Jackson it appears they've found someone to work with. He's still just a freshman, but he's already done more in one game than all but Belue, Alabama's top on-ball defender.
"He played well," Saban said of Jackson. "Made a couple of mistakes, but I thought that most of those were because of communication, which is one of the things that we emphasize, where he wasn't sure about what the call was. But when it came to just his technique and what he was supposed to do and the way he competed in the game, I thought he did a really good job."
Blair, who talks to Jackson regularly, said it's now "his position to lose."
"Before it's all said and done, he could end up being the prototype defensive back like that guy over at Seattle, Richard Sherman," he said. "You have a tall, smart kid with good range, good hips. He can end up being the prototype Coach Saban has been looking for."
Reading into Blair's comments, it's clear he thinks that development could happen quickly. And why shouldn't it? It might seem improbable, but everything about Jackson's journey, going from academically ineligible with no college offers to a top prospect signing a letter of intent with Alabama, has been just that.
Jackson turned it around in a hurry in high school. What's to say he can't take the next step in just as timely a fashion? He's certainly showed he's no stranger to making the most of an opportunity.
November, 17, 2012
11/17/12
8:05
PM ET
BATON ROUGE, La. -- Regardless of their records, it's never a dull affair when LSU and Ole Miss get together in Tiger Stadium. LSU overcame a seven-point fourth quarter deficit to survive an Ole Miss upset bid and down the Rebels,
41-35
. The Tigers' last five home wins against Ole Miss have come by margins of one, three, three, seven and six.


Here's how it happened in Death Valley:
It was over when:
LSU running back
Jeremy Hill
dove over the goal line with 15 seconds remaining to put LSU on top for good. The Tigers bungled the ensuing extra point, which made the dying seconds slightly more tense for the home crowd, but the Rebels' desperation touchdown drive ended in a frantic hook and lateral attempt, which was ultimately stopped on their own 35-yard line.
Game ball goes to:
Even in a losing effort it's got to be Ole Miss wide receiver
Donte Moncrief
, who had a career outing in the Rebels' most high-profile game of the season. Moncrief picked on anyone and everyone in the LSU secondary, be it cornerbacks
Tharold Simon
and
Jalen Collins
or safety
Eric Reid
. He hauled in six receptions for 161 yards and two touchdowns -- the second of which gave Ole Miss a 35-28 fourth quarter lead.
Game ball, part II:
Hill led the Tigers' ground game for the fifth straight week, as he carried the ball 20 times for 86 yards and three touchdowns. The freshman plowed into the end zone on two different 1-yard carries, and he also broke a 27-yard scoring romp in the first quarter.
Key play:
Odell Beckham
finally made the big special teams play the Tigers have been waiting for, and it came at just the right time. Beckham fielded an Ole Miss punt at his own 11-yard line with nine minutes to play and proceeded to reverse field for an 89-yard touchdown return. The score knotted the game at 35-35, and LSU would not trail again.
Key stat:
After going 16 quarters without a turnover, the LSU offense coughed up the ball three times against Ole Miss. The Tigers and Rebels combined for seven turnovers on the day.
What it means for LSU:
Style points only matter when you're in the national title hunt. The Tigers are not, so they'll gladly take the win. The victory keeps alive a very slight chance that the Tigers could win the SEC West -- provided Alabama loses to a bad Auburn team next week. If that miracle doesn't work out, LSU at least kept pace in the race for an at-large BCS bowl bid.
What it means for Ole Miss:
The Rebels held the lead in the fourth quarter for a second straight week, and for a second straight week they failed to close out. First-year coach Hugh Freeze and his Ole Miss squad are still searching for an elusive sixth win to reach bowl eligibility, and they're down to their final game to find it. Next week's Egg Bowl against arch-rival Mississippi State will determine if the Rebels go bowling or not.
September, 22, 2012
9/22/12
3:35
PM ET
Saturday's early kickoff between Ole Miss and Tulane started with the classiest of gestures, as the Rebels sported a black helmet sticker in honor of injured Tulane safety
Devon Walker
.


What transpired next wasn't so nice, however. The Rebels cruised to a
39-0
shutout of the Green Wave behind a 26-point first quarter of play. Ole Miss reached the end zone on scoring drives of three, four and three plays in the opening 15 minutes, with help coming from a fumbled snap on a Tulane punt and an interception thrown by Green Wave quarterback
Devin Powell
.
The Rebels boast the No. 2 rushing offense in the SEC behind LSU, and they followed up on that success Saturday in the Superdome. Ole Miss rushed for 302 total yards and three touchdowns, paced by diminutive tailback
Jeff Scott
, who rushed for 67 on 14 carries with two touchdowns.
The Green Wave defense performed admirably in its first game back after Walker's terrifying spinal injury. Tulane held the Rebels scoreless in the second quarter and forced five fumbles, recovering three. But the Green Wave offense couldn't muster much against the Ole Miss pass rush. Tulane had managed just 52 total yards by halftime and finished with 191 for the afternoon -- many of those coming against backups.
The loss didn't mar a touching tribute to Walker during the game's pregame ceremonies, however. The Green Wave coaching staff wore Devon Walker t-shirts in honor of their injured senior, who fractured his spine in the loss to Tulsa two weeks ago. Tulane cornerback
Alex Lauricella
presented his fallen teammate's jersey to the crowd before kickoff, and the empty jersey was displayed prominently on the sideline during the game. The team also replaced the Tulane logo on the left side of its helmet with a decal reading "18," which is Walker's number.
The win boosts the Rebels' record to 3-1 -- already an improvement from last fall's dismal 2-10 campaign. It's the program's best record after four games since 2009, when the Rebels won the Cotton Bowl. But we'll see how that stacks up next week when the Ole Miss travels to face No. 1 Alabama in the SEC opener.
September, 24, 2010
9/24/10
10:15
AM ET
The Fresno State defense came into the season with a renewed determination. Tired of hearing about how it was the weak part of the Bulldogs, players committed themselves to working harder and getting better in the offseason.
[+] Enlarge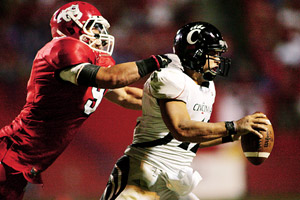 AP Photo/Gary KazanjianTravis Brown and the Fresno State defense have shown big improvement this season.
So far, that determination has showed big time on the field. The Fresno State defense is vastly improved going into its big game at Ole Miss on Saturday.
A defense that had 11 total sacks last season has already surpassed that number in two games, with 12.
Chris Carter
, who had five sacks all of last season, has three. Logan Harrell is tied for the national lead with 3.5.
"I consider myself a captain of defense, and I took last season personal because every time I picked up the paper, there was something about our offense saving us," Carter said in a phone interview. "Defensively, we really dropped the ball last year. This year, I wanted to turn it around. I got tired of doing the same old thing."
A defense that gave up an average of 430 yards a game has so far given up an average of 273. Fresno State ranks No. 20 in total defense, a far cry from its 98 ranking a year ago. Since 2000, the Bulldogs' best statistical defense came in 2004, when they ranked No. 36 in total D.
But what has been even better than expected this season is the way the Bulldogs have shut down two mobile quarterbacks, something they could not have said in 2009.
Last week against Utah State,
Diondre Borel
had 66 yards rushing and only 106 yards passing. Compare that to his game last season, in which he had 345 yards of total offense. The same Aggies team that rolled up 421 yards of offense against Oklahoma in the season opener had 311 at home against the Bulldogs.
"The biggest thing is maturity," Fresno State coach Pat Hill said. "Since they came back in January, they've worked very hard to improve themselves and worked hard against more spread looks and option looks. I feel really good about how we played on defense against our first two opponents."
Indeed, Fresno State started doing something new at practice. Every day, they have 10 minutes of full-speed option work, not against the scout team, but against the first-team offense. The Bulldogs are not an option team, mind you, but Hill felt it important for his defense to go full speed against his best players.
"We have a couple young quarterbacks, wide receivers who played quarterback in high school," Hill said. "If we can get that full speed look, that's improved us. Doing it against scouts is not the same as doing it full speed against each other. It forces you to make plays in the open field. Our tackling in open field has improved. We have to do those things to improve."
Carter praised his coaches for coming up with the idea, and said it has helped make them better.
"When you see it in games, you know this is nothing new," Carter said. "We didn't do that in years past. We didn't take that much time to work on it in practice, but it becomes routine now. It's nothing foreign to us."
The Bulldogs face another mobile quarterback in
Jeremiah Masoli
, who has yet to have a breakout game for the Rebels. Ole Miss is struggling, having lost two unexpected games, against FCS Jacksonville State and Vanderbilt.
Fresno State has never beaten an SEC team, and the players understand Ole Miss is going to be extra motivated going into this game. But the Bulldogs are motivated, too. They want to show that they have what it takes to beat a team from an automatic qualifying conference on the road.
And that defense has what it takes to be pretty good, too.
"Any opportunity to go outside your league, especially the ones rated higher than yours and get a victory, it's an opportunity well deserved through the work we've put in the past," Carter said. "But we're not going to make it too big. It's not bigger than our season. It's just another game."
September, 9, 2010
9/09/10
10:15
AM ET
Week 2 is almost here! With that, here are 10 storylines to watch among the non-AQ teams:
1. Can Air Force put pressure on BYU's two quarterbacks
? Part of the reason
Riley Nelson
and
Jake Heaps
were so successful last week against Washington was because their offensive line protected them so well, giving up no sacks. Air Force has experience up front, led by defensive end Rick Ricketts. If they can get to the young quarterbacks, the Falcons have a shot of breaking their six-game losing streak to BYU.
2. How does Wyoming handle the tragedy of this week against Texas
? The Cowboys were facing a hard enough game as it was, but now they go into Austin after the tragic death of a teammate. Ruben Narcisse was killed in a car accident and three players were injured. The team has tried to maintain its normal routine, but coach Dave Christensen has no idea what to expect at kickoff. They will wear decals on their helmets with Narcisse's initials.
[+] Enlarge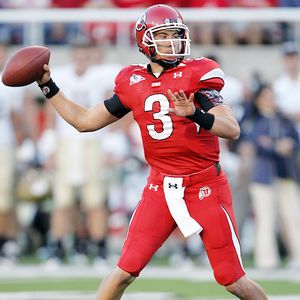 Paul Jasienski/US PresswireJordan Wynn's status for Saturday's remains uncertain.
3. Does Utah quarterback Jordan Wynn play against UNLV
? Wynn is listed as day to day with a sprained thumb on his throwing hand and could be a game-time decision for the Utes. He got hurt early in the opener last week against Pittsburgh but still threw for 283 yards. Backup
Terrance Cain
is capable, having started the first eight games of last season. Cain had a good day against UNLV last season, going 17-of-24 for 174 yards with two touchdown passes.
4. Can Tulane pull a Jacksonville State
? Ole Miss is going to go into its game against Tulane looking to make up for an embarrassing home loss to Jacksonville State last week. Tulane was one of the worst teams in Conference USA last season and was not overly impressive in its opener. Southeastern Louisiana had more total yards (266-252) and more first downs (17-15) and Tulane had three turnovers but still won. Chances for an upset are unlikely, but hey, there is always Jacksonville State for inspiration.
5. How is New Mexico going to respond after losing 72-0 to Oregon last week
? Coach Mike Locksley said his team isn't dwelling on the terrible loss in which New Mexico gave up 720 yards of total offense and had five turnovers. But it's not as if the Lobos get a break this week with a high-powered passing offense in Texas Tech coming to town.
6. Hawaii has a mighty looooong road trip
. Hawaii is playing in the Eastern time zone for just the sixth time when it faces Army on Saturday. How will the Warriors respond when the game kicks off at 6 a.m. Hawaii time? The Warriors have been on the mainland since Wednesday to get used to the time change. Though they gave USC fits last week, Army can run the ball, and Hawaii had a hard time slowing down the ground game against the Trojans. But will Army slow down a passing attack that will have
Bryant Moniz
behind center?
7. Will UTEP RB Donald Buckram play against Houston
? Buckram missed the season opener against Arkansas Pine-Bluff after bruising his knee in practice, and coach Mike Price doesn't know whether his starting running back will be available this week. Without him last week, UTEP used
Joe Banyard
and
Vernon Frazier
, who combined for 183 yards rushing. Buckram gashed Houston for 262 yards rushing last year in the upset win.
8. Can Colorado State beat Nevada for the second straight year
? The last time the Rams won a game was nearly a year ago, against Nevada last Sept. 19. They were able to slow down Nevada quarterback
Colin Kaepernick
, holding him to 24 yards on the ground, and forcing him into three turnovers. But this year, they go to Reno with freshman starting quarterback
Pete Thomas
. The Wolf Pack are improved, but it's unclear whether the Rams are after losing to Colorado last week.
9. Can Eastern Michigan win a road game
? The Eagles go to Miami (Ohio) this week looking for their first road win since Oct. 4, 2008, a 24-21 win at Bowling Green. They played a good game against Army, losing with 38 seconds to play. Running back
Dwayne Priest
and quarterback
Alex Gillett
both ran for more than 100 yards, the first time two Eagles backs went over 100 yards since 2005. Miami played it very close to the Gators last week and presents a more balanced attack than Army.
10. Are we in store for another close game between Arkansas State and Louisiana
? This is the first conference matchup in the Sun Belt between teams that have played it pretty close the past few years. Eight of the last 10 meetings have been decided by six points or fewer, including the last two. Last year, Arkansas State rallied to within three after trailing 21-3, but ended up losing in the final minutes. The Red Wolves haven't won at Louisiana in 18 years, but their new offense put up 26 points last week against Auburn, their second-highest point total against a Top-25 opponent since 2002.
September, 6, 2010
9/06/10
12:22
PM ET
Who had the Capital One Impact Performance of the week? Check out this
video and be sure to place your vote
.
Here are the nominees:
Jacksonville State's 30-yard touchdown pass on fourth down in the second overtime against Ole Miss.
TCU quarterback Andy Dalton's two touchdown runs against Oregon State.
Jamell Fleming's interception late to preserve Oklahoma's win over Utah State
Michigan's Obi Ezeh recovers a UConn fumble at the 3-yard line.
This is a new feature you will find each Monday, so remember to keep coming back to vote.
August, 16, 2008
8/16/08
5:35
PM ET
Posted by ESPN.com's Chris Low
| | |
| --- | --- |
| | |
| | Douglas Jones/Icon SMI |
| | After 10 years at the helm at Arkansas, Houston Nutt decided to begin anew with Ole Miss. |
OXFORD, Miss. -- To say Houston Nutt looks happy these days is quite the understatement. Always bubbling over with enthusiasm and can-do exuberance, Nutt is starting over at Ole Miss this year after a bitter divorce from the school he thought he'd never leave. Things got so nasty last year at Arkansas that fans were filing open records requests for Nutt's cell phone records, as well as e-mails that had been forwarded to people by Nutt's wife, Diana. Arkansas' administration made an attempt to keep Nutt following last season and offered him an extension. But after 10 years, he'd had enough of Arkansas and the Arkansas fans had apparently had enough of him. The rest is history. He walked away and landed at Ole Miss a few days later. Here's Part 1 of my Q&A with Nutt, who still brings it the way a Southern Baptist preacher does on Sunday mornings. Check back later for Part 2, where Nutt shares some of his feelings about the whole Arkansas situation:
One of your best players, defensive end Greg Hardy, had surgery earlier this week to repair a stress fracture in his foot. What's the latest on when he might be back?
Houston Nutt: I think we caught it in time where it was more of a hairline stress fracture, so we're thinking that by our first conference game [Vanderbilt on Sept. 20] he'll be ready. He'd snapped the other one in the 11th grade and was running great and practicing great the first five days. Then the first day in pads, he couldn't put weight on it. It was sore, and the doctor put his hand in there and it was really painful. They did the X-ray and there was a little bit of a stress fracture. They went ahead and put the screw in it. We're hoping four, five, six weeks at the most.
What's the latest on defensive tackle Ted Laurent's knee injury?
HN: Hopefully, by the second game, he'll be ready to go.
With all the newness on offense -- new system, new coordinator in Kent Austin and new quarterback in Jevan Snead -- how has everything progressed?
HN: We've gotten a lot better. Thank goodness Jevan Snead is here. I think he's improved. Kent's really taken him to another level. But, again, [Snead] hasn't played in a long time, under the pressure, the blitzing and all that staff. We've done a lot of good against good, first team against first team. Maybe we haven't done as much tackling, as far as taking people to the ground, but we're trying to match the speed of the game and get his mind going again. Boy, he's got a strong arm, though, and has been doing great.
What's your greatest challenge with this program?
HN: It's very simple, the mind of an 18, 19, 20-year-old that hasn't had much success. When you look at the last four years, not one young man in that meeting room raised his hand and said, "I've experienced a bowl game." And then last year, not one guy can say, "I won an SEC game." That's a very big hurdle.
What is coaching at Ole Miss like compared to how you viewed the program from afar the last 10 years?
HN: I've always had an awesome respect for Mississippi from the other sideline, all the great players and the tradition looking back. Once you get here, it's unique. It's a heck of a little town, and these people are hungry for football. They're starving for a winner. You feel that, and that motivates you. The location is awesome for recruiting. I'm familiar with the coaches and have recruited all the other states around Mississippi.
If you're going to win at Ole Miss, other than this state, where else do you have to go to get players?
HN: It's vital for us that you get a few out of Louisiana, a few out of Alabama and Georgia, too. We'll go into Florida some and then from Little Rock I-40 east all the way through West Memphis and Memphis, we're going to get two a year.
What have been your impressions of freshman tailback Enrique Davis?
HN: He's had a really good camp. The grind of it has hit him a little bit and the speed of the game. But, boy, they just fall off of him. There were a couple of scrimmages where you were, "Wow." He has a very strong lower body.
You've coached a bunch of good running backs. Two weeks into camp, has Davis demonstrated some of the qualities that all the great ones have?
HN: No doubt about it. He doesn't look like a freshman. His body is very mature. Now he's got to bring the mental part of it to the practice field.
How much has this league evolved over the last 10 years, and do you think we'll see many more unbeaten league champions?
HN: If we do, it will be every so often. You might have a run like Auburn [in 2004] and Tennessee [in 1998], but I think it's going to be one out of every five years or one out of 10 years, something like that.
July, 22, 2008
7/22/08
12:16
PM ET
Posted by ESPN.com's Ted Miller
Got a note from the ESPN Magazine marketing department this week about its "Gridiron Blowout special advertising section for the 8/25 college football preview edition."
Better known as the GBSASFT825CFPE.
They were running a Q&A survey of various college football folks at the WWL. Here are the questions and my answers.
First, though, a qualifier. This is the Pac-10 blog. This is where we enjoy tweaking other conferences, particularly the SEC.
But, as a former SEC writer, I had to be honest about the merits of a Southern tailgate. Hope I don't offend any of you. I've certainly enjoyed -- more often longingly observed -- fantastic tailgates across the Pac-10.
And feel free, of course, to try to change my mind.
Q: What's the best tailgating campus in the country and why?
Me: There are so many variables here -- even what constitutes "best." Food? Party atmosphere? The social scene? The surrounding beauty and landscape? When I was single, I had one overriding priority that was completely different than today. But if forced to choose, I'd go with the one and only: The Grove at Ole Miss. The Rebels don't often win the game, but they almost always win the tailgate. A single guy could fall in love 20 different times here, too. I mean, come on. Great Southern food, too. And Southern booze, which often advances beyond a keg of Bud.
I must admit I started thinking about LSU. And the food. And the all-day affair before a night game... but I'll stick with The Grove.
Q: What's the best tailgating conference?
Me: SEC. Period. Anyone who suggests otherwise either is lying or doesn't know what he's talking about. It's a combination of passion, weather and lifestyle.
Q: What's your must-have tailgating dish?
Me: Saw fresh lobster at Michigan. Perfect steaks at many places. Some folks go full-on French Laundry. But the best tailgate is the one with a whole pig that's been roasting overnight... got to have a good sauce, too. And Jack Daniels or his friend Mark Makers also should be present.

Q: Which do you prefer: Warm weather or cold weather tailgating?
Me: How warm and how cold? That's a tough one. There's something about coeds in jean shorts in Gainesville or Tempe, but it's also fun to see your breath over a cup of joe while the food is cooking. Sunburn and heat stroke aren't fun, but neither are chapped lips and blowing your nose every two minutes. I'll split the difference: How about a nice fall crispness -- 60 at kickoff.
Q: Burgers or dogs?
Me: Burgers... and don't skimp on the beef or offend the tailgating gods by using premade patties. And if you're going dogs... got to be a Johnsonville Brat.
Q: Better pregame activity -- football toss or horseshoes (or anything else)?
Me: Horseshoes?... throw the football! Of course, I prefer finding a comfortable chair.
Q: One must-have tailgating accessory is....
Me: Other than optimism, creativity and space? Charcoal. If you don't use charcoal, you're not grilling. An RV with a bathroom isn't a bad thing, either.