NCF Nation:

Olivier Vernon
October, 26, 2011
10/26/11
10:00
AM ET
On Sunday, a day after Miami defensive tackle Micanor Regis had served his one-game suspension against Maryland for punching a North Carolina player below the belt the previous week, coach Al Golden said his top interior lineman had "paid a price."
So has Miami -- until now.
A series of NCAA-related suspensions that began in the season opener against Maryland helped derail Miami's championship hopes, and just as the Hurricanes thought their off-field troubles were finally over last week, the misconduct by Regis was captured on video and brought to Golden's attention. Now, finally, as the Hurricanes prepare this week to face Virginia on Thursday night, they do so with the most complete roster they have had since the preseason. For the first game this season, all of Miami's players are eligible.
[+] Enlarge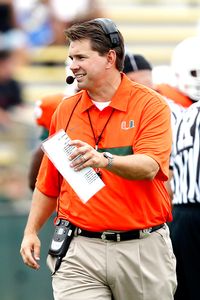 Joel Auerbach/Getty Images"There's been a lot of transition, there's been a lot of inconsistency, and now we're starting to get some traction," Miami coach Al Golden said.
While several injuries still remain concerns, Golden said this week that he doesn't anticipate any more players missing time this year for disciplinary reasons. At the closest to full strength it's probably going to be this year, Miami has the potential to finish the season strong. It will need some help from Virginia Tech's remaining opponents to have a meaningful stake in the Coastal Division race, though. Regardless of whether or not the Canes actually make it to Charlotte, there has been noticeable improvement in back-to-back wins that indicates Miami is a contender in the ACC when all of its starters are in the lineup on a consistent basis.
"We've played a tough schedule amidst a transition year, amidst a lot of adversity that we could not foresee coming," Golden said. "There's been a lot of transition, there's been a lot of inconsistency, and now we're starting to get some traction. They're starting to understand the process, they're starting to understand what it means to be consistent and to take care of your business every day. They're starting to see results."
Those results added up to wins against North Carolina and No. 22 Georgia Tech in each of the past two weeks. Both wins kept the Canes alive in the Coastal Division race, and Miami faces two more divisional opponents in Virginia and Duke before traveling to rival Florida State on Nov. 12. Defensive end Olivier Vernon served a six-game suspension as a result of the NCAA investigation and didn't return until last weekend against Georgia Tech. Standout safety Ray-Ray Armstrong was suspended until the Virginia Tech game. And there were a total of eight players suspended for the season-opening loss to Maryland.
"I think we all know they were a big factor," Golden said. "I don't think there's any question when you look at the players involved and of course the impact they've made. To say that
Jacory Harris
, or
Travis Benjamin
or Sean Spence or Ray Armstrong -- any of those guys -- wouldn't have made a difference early in the season, I think it's fair for us to say they would have made a difference."
Over the past few weeks, they have made a difference. Spence played in the middle against Georgia Tech and led the team with10 tackles. He also had six solo stops and a tackle for a loss of 2 yards. Against UNC, he led all defensive players with 14 tackles, including a crucial sack late in the fourth quarter for a loss of 7 yards. Harris has improved dramatically, throwing 12 touchdown passes to four interceptions. He threw three touchdown passes in the road win at North Carolina.
"I feel like we're pretty good right now," Harris said. "We've got everybody back and I feel like the guys who were missing after the one-game suspension were a big part in helping us move forward. Now that everyone is back, we do have a complete team, but at the same time we have to take care of the little things in order for us to be where we want to be."
Of course, it's hard not to wonder where they could have been this year had there not been so many suspensions.
"Of course we could say it would have been a different season, but at the same time, if we would've just taken care of business we'd be in a great position right now," Harris said. "Obviously we didn't do that, but having these guys back, we can still have a good season moving forward."
A win against Virginia would guarantee the Canes of a winning record in the ACC in Golden's first season. Miami is undefeated against Virginia in Sun Life Stadium, but was ranked No. 22 last year when it lost to the Cavaliers on the road. Virginia coach Mike London said he has noticed a change in Miami in recent weeks.
"You see a lot of things that Al has got going that can add up to where they play hard on defense, run around," London said. "The quarterback is throwing the ball down the field to some of the skilled receivers; their special teams has become a weapon for them also. I can imagine that with having guys back they will just add to the fact that they are getting better."
They had little choice but to get better. A 2-3 start at Miami is a big price to pay.
September, 14, 2011
9/14/11
9:00
AM ET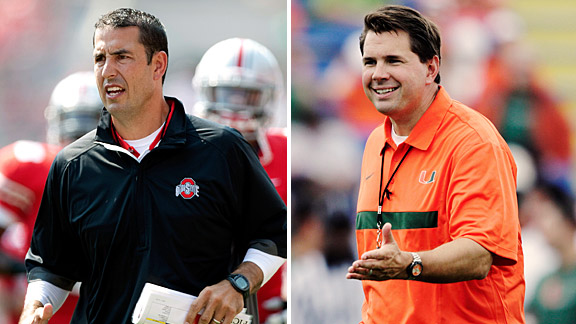 US Presswire, Icon SMIOhio State's Luke Fickell, left, and Miami's Al Golden have had challenging starts to their new jobs.
As college football suffered through an offseason of scandal, two programs found themselves squarely in the crosshairs.
Ohio State made headlines for the wrong reasons throughout much of the spring and summer, especially during an eight-day stretch when coach Jim Tressel resigned and starting quarterback Terrelle Pryor left the program. The notoriety then shifted to Miami after a Yahoo! Sports investigation revealed damaging allegations by former booster Nevin Shapiro.
It brings us to Saturday night, when the Buckeyes and Hurricanes will meet on the field.
Some folks are calling it the Ineligi-Bowl.
Both teams are short-handed -- Ohio State more than Miami -- and both are dealing with change and intense scrutiny. Both are facing potential NCAA penalties and uncertain futures, but first-year coaches Luke Fickell and Al Golden are trying to keep the focus on the field.
Bloggers Heather Dinich (ACC) and Adam Rittenberg (Big Ten) break down a unique matchup at Sun Life Stadium.
Adam Rittenberg:
HD, hope you had a better summer than the Canes or Buckeyes. Both programs have dealt with a lot of recent distractions. Miami dropped its opener to Maryland but regains the services of quarterback
Jacory Harris
and others from suspension. Ohio State still will be without three offensive starters and looked very shaky Saturday against Toledo. Before getting between the lines, let's look between the ears. How do you think these teams are approaching this game from a mental standpoint? Does one squad have an edge?
Heather Dinich:
The only edge I see, Ritt, is the fact that Miami had a bye week to move on from its loss to Maryland, while that scare from Toledo is pretty fresh in the Buckeyes' heads. Then again, it could have been just the wake-up call Ohio State needed. Plus, Miami has to be recharged a bit and excited about getting several of its players back from the opening-game suspension. Miami was without eight players against the Terps, and now five of those players return, including Harris. Most notably, the defense should get a boost up front from the return of linebacker Sean Spence, defensive end Adewale Ojomo, and defensive tackle Marcus Forston. The Canes were beat up front by Maryland, but the return of those guys should give them some more confidence heading into the Ohio State game. What about the Buckeyes? Two wins over teams they should beat. Are they ready for their first real test of the season?
AR:
Ohio State's first real test actually came Saturday against Toledo, although few thought the Rockets would challenge the Buckeyes. Toledo found gaps in Ohio State's secondary and held the Buckeyes to just six points in the second half. Ohio State will have to play better in all three phases against Miami, especially in the kicking game, after the Canes recorded two returns for touchdowns last year in Columbus. The first road game always presents challenges, especially for an Ohio State team dealing with significant personnel losses on both sides of the ball. Line play is an area the Buckeyes must lean on Saturday night, as Ohio State has proven veterans on both sides like center Mike Brewster and defensive lineman John Simon. But with so many key players out, the Buckeyes will be challenged.
Speaking of getting key players back, what's your take on the short suspensions for Harris and the others? Ohio State fans are livid that the Tat-4 remains out, while Shapiro's pals are back on the field this week.
HD:
Well, fortunately for the sport, there really is no precedent for this, so it seems like the only thing you can really compare in these two cases is the monetary value of their infractions. In Miami's cases, the harshest punishments (six games and four games), were reserved for violations that occurred when Olivier Vernon and Ray-Ray Armstrong were still recruits. Vernon has to repay more than $1,200; Armstrong (four games) and
Dyron Dye
(four games) were both less than $800. The one-game suspensions correlate to players whose violations all amounted to less than $500. Correct me if I'm wrong, but I think the Buckeyes are working on repaying between $1,000-2,500. I think it's safe to say the Buckeyes' violations were more costly in more ways than one, as they should be.
All that aside, though, there's only one thing that will matter Saturday, and that's who wins. Miami hasn't started out 0-2 since 1978. Who, in your opinion, needs this win more?
AR:
Yeah, I think the folks in Columbus are more upset that three players who took money at a charity function -- running back
Jordan Hall
and defensive backs Travis Howard and Corey Brown -- are serving longer suspensions than those who took benefits from Shapiro. But whatever. Both teams really need this win, but I'll make the case for Ohio State. Unlike Golden, who shouldn't have to worry about his job security (whether he wants to stay at Miami is another question), Fickell and his staff have no guarantees beyond this season. While coaches need the players to perform well in the Big Ten no matter what, this is the type of game that can build confidence or reduce it. Any road win boosts a team's morale, but beating Miami without so many key pieces would increase the Buckeyes' belief that they can continue to achieve their top goals despite all the turmoil. I certainly see the urgency for Miami, too.
Let's talk about Jacory Harris. I'll be kind and say he was very bad last year at The Shoe. If not for his interceptions, Miami could have made things very interesting. How do you think Harris fares against an Ohio State defense with a bunch of new starters, particularly in the secondary?
HD:
Four turnovers was the reason Miami lost this game last year. I would be surprised if Jacory doesn't play better. I spent some time down at Miami this summer and could sense some genuine confidence in Harris from first-year offensive coordinator Jedd Fisch and from Golden. They backed that up when they named him the starter after the loss to Maryland. I know
Stephen Morris
is the fan favorite, but Jacory's experience alone will help alleviate some of the mistakes and confusion that came in the loss to the Terps. This is Jacory's last season to go out a winner and redeem himself. I believe he is truly a more confident player, but how that translates in his first start since a dreadful performance in the Sun Bowl last year remains to be seen. He still has a lot to prove. Of the four ACC teams lining up against ranked opponents this weekend, though, I give the Canes the best chance to win. I'll save the score for Thursday's picks, but I'm sticking with the ACC in this one. I'll give you the last word, though, since I know you'll need it to defend the Buckeyes.
AR:
Thank you, ma'am. Defending Ohio State after last week's performance isn't easy, but Toledo looks like a pretty solid team, and coach Tim Beckman definitely had the Rockets ready to play. Given the players missing on offense, Ohio State will have to win this game by playing TresselBall -- ironically without Tressel. It'll be all about defense, the run game, controlling field position on special teams and limiting mistakes. The Buckeyes need a much sharper defensive performance and I think they'll get one, especially against Harris, whom I don't trust at all to limit mistakes. The kick and punt coverage teams have to be sharper than they were last year and against Toledo. It will be tough for Fickell's crew, but there are enough leaders on that team who know how to win tough games. I'll also wait to reveal my score Thursday, but I'm going with the Scarlet and Gray.
September, 6, 2011
9/06/11
2:54
PM ET
With all of the hoopla surrounding Miami's NCAA investigation, and all of the talk about the eight suspended players for the season opener against Maryland, in the end, it was a familiar foe that helped bring Miami down: turnovers. All four of them added up to points for the Terps in the form of three touchdowns and one field goal.
Yes, Miami's young and inexperienced defensive linemen got pushed around by Maryland's mediocre offensive line. The loss of Marcus Forston, Adewale Ojomo and Olivier Vernon up front absolutely had an impact on this game. But so did the two lost fumbles and two interceptions. The shadow that Miami has been trying so hard to shake this offseason crept back over the shoulders of quarterback
Stephen Morris
on fourth down in the final minute, when Maryland cornerback Cameron Chism made an interception and ran it back 54 yards to end Miami's hopes of a comeback. A turnover late in the second half was equally as devastating, as Chism stripped the ball from tailback
Mike James
and Joe Vellano recovered it for a 30-yard touchdown return. The play gave the Terps a 20-14 lead.
The shorthanded Miami team that showed up in College Park with just 63 players on its travel squad instead of the ACC's usual 72 was good enough to beat Maryland -- especially considering that Maryland only scored one touchdown in seven trips inside the red zone.
"We had enough on this trip to win this game and we didn't make the plays," Miami coach Al Golden said after the game. "Maryland did, give them credit. And again, [Maryland] did a better job in the penalty/turnover department and won the game."
Penalties and turnovers are an all-too familiar storyline for Miami.
So is the quarterback competition, which will continue through the bye week and leading up to the Ohio State game. For the majority of the game, Morris performed well and looked more than capable of being Miami's starting quarterback this season. Morris accounted for three of the turnovers, though, including two picks that were returned for touchdowns and one fumble that occurred when he was sacked. (The second interception came on the last play of the game).
"[The turnovers] are unacceptable," he said. "That's the only word I can say from an offensive standpoint as the quarterback. It's just not supposed to happen. We've got to be on top of that and we just need to work on that in practice and we'll be fine in two weeks."
Five of the eight suspended players will return in time for the Ohio State game. But it won't matter if the Canes can't hang onto the ball. The reason they lost last year?
Four turnovers.
August, 30, 2011
8/30/11
8:17
PM ET
Miami can finally move on.
The biggest question of the offseason in the ACC -- who will play for the Hurricanes and who will not when Miami lines up against Maryland on Labor Day --
has been answered
.

The NCAA has mandated that defensive lineman Olivier Vernon will sit out six games, while Ray-Ray Armstrong and tight end
Dyron Dye
will miss four games apiece. Quarterback
Jacory Harris
, Sean Spence,
Travis Benjamin
, Marcus Forston and Adewale Ojomo all must sit out one game.
Cornerbacks Brandon McGee and JoJo Nicolas, defensive tackle Micanor Regis, safety Vaughn Telemaque and linebacker Marcus Robinson have been cleared by the NCAA to play.
There are your 13 players whose eligibility was in question.
Now, not only can Miami prepare for Maryland this week confident in its starting lineup, it can also move forward knowing the majority of its roster will be intact for the most critical games of the season. This could have been a lot worse for the Canes, but they've got a capable starting quarterback in
Stephen Morris
, and the majority of top players will miss no more than the season opener. Maryland is Miami's lone conference opponent in the first four weeks, so the Canes will almost be at full strength when they need to be the most -- for the Oct. 8 game at Virginia Tech.
Miami is still very much in the Coastal Division race.
The Canes' season could have been over before it started, but this is a very manageable punishment for a team loaded with talent. It's not over yet -- the Hurricanes could still face more sanctions as the NCAA continues to investigate. There's no reason to believe this will be fully resolved faster than any of the other NCAA investigations, but as far as the impact will have on the field this season, Labor Day will be the worst of it.
The biggest hits will obviously come against the Terps, but mainly on the defensive side, as the offense will only be missing two starters. Defensively, Andrew Smith steps in for Vernon. It's not NFL talent, but Smith is experienced and more than capable of handling the job. He played in 11 games last season and had three sacks. Marcus Robinson, a senior who played in 10 games last season, is another veteran who fills in at the other end spot. Nicolas moved from corner to safety to take over for Armstrong, but Nicolas has played safety the majority of his career anyway -- including 10 starts at the position last season.
The biggest drop off will be at linebacker, where Jordan Futch replaces Spence, but we're only talking about one game.
No, this is not an ideal way for Al Golden to start his career at Miami, but so far, these suspensions don't look like they'll stand in the way of him making a case to finish his first season strong.
August, 12, 2011
8/12/11
1:00
PM ET
Heading into the 2010 season, there was an abundance of talent at the running back position in the ACC, as five 1,000-yard rushers returned for the first time in league history. This season, the ACC is deep and talented at several positions, but not so much so that there is one overwhelming strength. Offensively, the receivers are probably the deepest, most proven group, and defensively, the defensive ends could be the most fearsome group.

Which one, though, will be the position of power in the ACC this fall?

Defensive ends:The ACC has earned a reputation as a defensive conference, and these players will do their best to uphold that tradition. Brandon Jenkins at Florida State and Quinton Coples at North Carolina should be two of the best in the country, but they're hardly alone in their pass rushing abilities. Izaan Cross at Georgia Tech is a name ACC fans will know by the end of the season. He's underrated and has a chance to finish the season with all-conference accolades. His teammate, Jason Peters, can do the same. Together they should help bring noticeable improvement to the Jackets' defense this year.

North Carolina also has Donte Paige-Moss at the other end position, another player who has already caught the attention of NFL scouts. Adewale Ojomo and Olivier Vernon at Miami are two veteran standouts, and NC State's Jeff Rieskamp and Virginia's Cam Johnson are also among the best in the league. Andre Branch at Clemson should get more recognition this fall, especially with the early departure of Da'Quan Bowers, and Max Holloway at Boston College hasn't reached his potential yet but began to make a name for himself last season.

There aren't a lot of veteran quarterbacks in the ACC this year, but there are plenty of defensive ends ready to give the rookies a not-so-warm welcome.
June, 23, 2011
6/23/11
9:00
AM ET
The quarterbacks in the ACC are not strong this year. They're not weak, either.
They're a complete unknown.
With more than half of the ACC introducing first-year starting quarterbacks, there's not enough on tape yet to determine how this group will fare. There is enough evidence, though, to pinpoint which position groups -- based on past performances and future potential -- enter this fall as the strongest and weakest in the ACC:
STRONGEST/OFFENSE
[+] Enlarge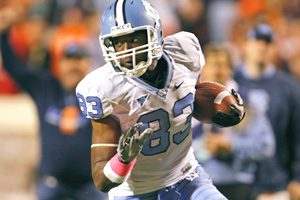 AP Photo/Steve HelberDwight Jones had 62 receptions for 946 yards last season, both good for fourth in the ACC.
Wide receivers:
The ACC overfloweth this year with veteran receivers. Virginia Tech, Florida State and Duke come to mind first, but don't forget about North Carolina. The Tar Heels didn't lose any receivers from last year, and
Dwight Jones
had 946 yards last year. Colin Larmond Jr. at Boston College, who is making his way back from a season-ending knee injury,
Kris Burd
at Virginia and Miami's fast and talented group will also highlight ACC passing games. With Leonard Hankerson gone at Miami, somebody is going to have to emerge as the go-to receiver, and
Tommy Streeter
gets my vote, but he must be more consistent.
WEAKEST/OFFENSE
Center:
There are three above-average centers in the league this year: Cam Holland at North Carolina, Tyler Horn at Miami, and Dalton Freeman at Clemson. Beyond that, it's a thankless yet vital position that's in transition throughout the conference. Brian Moore is replacing a three-year starter at Duke, Florida State loses one of its best players in center Ryan McMahon, the same with Georgia Tech and Sean Bedford, Virginia Tech and Beau Warren, and Wake Forest and Russell Nenon. With the exception of Freeman (22), and Holland (20), no returning starter at center in the league has more than 13 career starts.
STRONGEST/DEFENSE
[+] Enlarge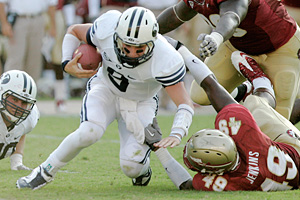 AP Photo/Steve CannonFlorida State's Brandon Jenkins had 13.5 sacks as a true sophomore.
Defensive ends:
The ACC has had a reputation as a defensive conference, and this year shouldn't be any different. Conference fans should be excited about the talent up front. Brandon Jenkins at Florida State and Quinton Coples at North Carolina should be two of the best pass-rushers in the country, but they're not the only players with all-league potential. Andre Branch at Clemson, UNC's Donte Paige-Moss, Virginia's Cam Johnson, and Miami's Adewale Ojomo and Olivier Vernon are all going to cause opposing quarterbacks some pain.
WEAKEST/DEFENSE
Cornerbacks:
Unless, of course, you're Florida State, where Greg Reid and Xavier Rhodes should be one of the best duos in the country. Chase Minnifield at Virginia and Jayron Hosley should also be candidates for national honors, but that's about where the confidence in corners comes to a halt. North Carolina has to replace its entire secondary, and so does Georgia Tech. Clemson also lost two starting corners in Marcus Gilchrist and Byron Maxwell, and Miami lost two starters in Brandon Harris and Ryan Hill.
September, 2, 2010
9/02/10
10:25
PM ET
MIAMI GARDENS, Fla. -- Now for some quick post-game analysis from Miami's
45-0 win
over Florida A&M on Thursday night.


How the game was won:
This was never really a game. The Rattlers play in the FCS and were totally overmatched.
Jacory Harris
looked good, going 12-of-15 for 210 yards with three touchdown passes. Only one of the incompletions was a really awful pass. It probably should have been intercepted. Despite the good showing, it is hard to get a good gauge for how Miami is going to look against Ohio State given the level of competition. One thing that should be heartening for Hurricanes' fans -- it looked like Harris' surgically repaired right thumb was just fine.
Player of the game:
Harris gets the nod here, though he had great chemistry with
Leonard Hankerson
, who caught six passes for 115 yards.
Unsung hero of the game:
Watch for redshirt freshman running back
Lamar Miller
. The Hurricanes are loaded at running back, with
Damien Berry
,
Mike James
and
Graig Cooper
ahead of him on the depth chart. But Miller can move. He predominantly played in the second half and ended up as the team's leading rusher with 65 yards on 11 carries and a touchdown.
Bright spots:
Cooper did get into the game, as Randy Shannon promised, but he only had a handful of carries. Right tackle Seantrel Henderson got into the game in the second half, and towered over the competition with his 6-foot-8, 355-pound body. He appeared to block very well. Defensive end Olivier Vernon had a monster game, with 3.5 sacks. Allen Bailey, who has gotten more of the preseason hype, was relatively quiet.
What Miami learned:
It's tough to learn much in a game where you are the clear favorite. But at least it knows Harris is OK, and Berry is pretty solid as a starter.
Spencer Whipple
appeared to outplay
Alonzo Highsmith
as the two played quarterback behind Harris. There was also was some shoddy tackling early on in the game that is going to have to get tightened up before the Buckeyes game. One other area to note: FAMU had early success with swing passes out of the backfield, so Miami will need to clamp down before next week.
Injury report:
Defensive lineman Jeremy Lewis left the game on crutches, unable to put weight on his right leg.
What it means:
It's time to start talking about Ohio State.
March, 30, 2009
3/30/09
2:00
PM ET
Posted by ESPN.com's Heather Dinich

Virginia Tech hasn't even started spring practices yet (Wednesday is the Hokies' first) and Miami has already wrapped things up. What's next in Coral Gables? The Canes will get back in the weight room for six more weeks, but coach Randy Shannon said the staff won't push them too hard physically. They'll meet for 45 minutes twice a week to help the players retain everything they learned from their new coordinators. The staff will now use the mornings to watch practice tape and the afternoons to watch recruiting tape.
Shannon said both coordinators, Mark Whipple and John Lovett, brought a lot of excitement, enthusiasm and confidence with them, and the staff is on the same page. They kept some of the same terminology. The two areas they'd like to see more improvement in summer camp are building the depth on the offensive line and at linebacker. Colin McCarthy will be back in the fall, but Shannon is looking for four or five linebackers that are interchangeable.
As expected, there were a few bumps in the road, but overall the players picked things up quickly.
"Are we better than we were last spring? Definitely," Shannon said. "Are we better than we were at the end of the season last year? Definitely."
Here were a few highlights from spring ball at Miami:
• Taylor Cook finished the spring with a bit of an edge over Cannon Smith at backup quarterback.
• C.J. Holton's move from safety to linebacker should give him a better chance to get on the field and was a step in helping the depth. Sean Spence and Arthur Brown played well this spring and Shannon said Jordan Futch came around the last two weeks.
• Brandon Washington became an offensive lineman the staff can depend on. They've got seven guys they're comfortable with up front, but Shannon said he is still looking for the eighth guy. That could be Ben Jones, Jermaine Johnson or Tyler Horn.
• Tight end Richard Gordon did a great job while all of the other scholarship tight ends were out with injuries. Shannon said the staff put a lot of pressure on him, and he got a lot of reps. "He should be in great shape," Shannon said. "He responded. When those guys come back, there will be a great competition to see which guy is going to step to the forefront and be that guy."
• Shannon said the media is making too much of Miami's lack of interceptions last year (they had four, the fewest of all 119 FBS schools). Shannon said their priority is to stop the run first, which they got better at this spring as a result of depth and maturity. He also said the Canes had about eight to 10 interceptions minimum this spring. He was particularly impressed with the "unbelievable" transition Sam Shields made from wide receiver to the secondary and considers him a starter who can "step in and play right away."
• The players who made a big impression on Shannon this spring were: Shields, Brown, Washington, Mike James, and Olivier Vernon. He said Vaughn Telemaque and Kendal Thompkins "put their stamp on where they want to be." Also, running back Damien Berry did a "tremendous job."
"Those guys have really taken that next step," Shannon said. "That's the biggest improvement, when you see guys who didn't play last year, see if they can really take that next step and be a guy we can say wow, he's going to be a guy we can depend on. That group of guys has really taken that next step of doing what we want them to do."