November, 21, 2012
11/21/12
11:30
AM ET
You really have to dig deep to find the last time Florida-Florida State really meant something in the grand scheme of college football.
People were using MSN Messenger and thought Fred Durst was actually cool. TRL and trucker hats were all the craze.
It was the year 2000 and college football fans were probably carrying around a Ja Rule CD in their cars. (It's OK. We all have our faults.)
It was also the last time Florida and Florida State met as top-10 BCS opponents.
[+] Enlarge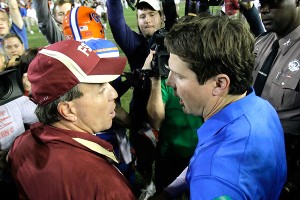 AP Photo/John RaouxIf Jimbo Fisher's or Will Muschamp's team loses on Saturday, it will be eliminated from consideration for the BCS title game.
This was one of college football's true gems. Thanks to Steve Spurrier and Bobby Bowden, from 1990 to 2000 these two teams met 13 times when both were ranked in the top 10, including the 1996 Sugar Bowl for the national championship. These two programs were mammoths and are Nos. 1 and 2 nationally when it comes to consecutive bowl streaks. Florida State is No. 1 (30) and Florida is second (21).
The rivalry took a bit of a nosedive when Bowden and his Noles teams fell off during the 2000s and Urban Meyer arrived at Florida. Under Meyer, the Gators won five straight, as they stayed nationally relevant, while FSU flirted with mediocrity until Jimbo Fisher took over in 2010.
But this rivalry is back, as No. 4 Florida (10-1, 7-1 SEC) heads to Tallahassee to face No. 10 Florida State (10-1) in a game that has major BCS implications on the line.
If Florida wins, the Gators are likely BCS-bound. With some help from USC, they could back their way into the national championship game. Florida State is very much on the outside when it comes to the BCS title game, but a win and a ton of help could move the Noles closer to Miami.
The magnitude of Saturday's matchup hit the Gators well before they returned to the locker room after beating Jacksonville State.
"As soon as that clock hit zero, you couldn't help but think about Florida State," fifth-year senior defensive tackle
Omar Hunter
said. "If you're a Gator, you grow up not liking Florida State. I'm sure it's the same way with them. That's just what you're taught. When you go to Florida State, you're anti-Gators. That's just what it is."
Outside of the BCS implications, major pride is on the line for both teams. There's real bad blood here. Players on both sides know each other, but they refuse to talk during the regular season and usually hurl barbs at each other when they do speak during the offseason.
The hatred is still there, even if the success isn't.
The Gators are also hurting after back-to-back losses to the Noles. After winning six straight over FSU, Florida dropped the last two, getting outscored 52-14. Florida enters this weekend with an offense going backward, and quarterback
Jeff Driskel
is hobbled. He sprained his ankle two weeks ago.
That's not good when you consider how good the Noles have been on defense, even without star defensive end
Brandon Jenkins
for basically the entire season. FSU ranks first nationally in total defense (236.3 yards per game) and rushing defense (70.6). The Noles are allowing 2.3 yards per rush and 3.7 yards per play.
In the past five games -- two of them against Louisiana-Lafayette and Jacksonville State -- Florida has averaged just 278.4 yards. The Gators are near the bottom of the SEC in total offense (332.9) and are last in passing (143.4).
That doesn't bode well for Florida, but as coach Will Muschamp continues to point out, it's all about wins, and somehow the Gators have 10 of those.
"Like I said Saturday, understand who you are and where you are, and it may not be where you want to be at times and it's frustrating at times, but at the end of the day, you've got to do what it takes to win football games and that's what we're judged on at the end of that," Muschamp said.
While the offense has sputtered, the defense has been terrific, ranking near the top with the Noles. It can be irritating to see the offense fail, but Florida's defenders love putting the game in their hands.
"That's how you go into every day if you're a great defense," Hunter said. "You want to put everything on your shoulders. You don't want to go into the game relying on the offense to score. You want to score on the defense. That's what we're taught here at Florida and that's what we try to win by -- defense and special teams."
Offensive issues aside, a lot is riding on Saturday. The BCS might be at the forefront of the conversation, but as far as the Gators are concerned, the only letters they're focused on are F-S-U.
"It's Florida-Florida State. It's more than what's just going on in the BCS," Hunter said. "It's bragging rights for the state of Florida. It's going to be a very big game and it's one of my favorite games to play in."
November, 16, 2012
11/16/12
2:17
PM ET
Florida redshirt senior defensive tackle
Omar Hunter
has seen it all with the Gators.
He was a part of a national championship squad during his freshman season back in 2008. He went to the Sugar Bowl in 2009. And he's a win away from seeing another 10-win season in Gainesville.
But he's also seen dark times, like 2010 and 2011, where the Gators won just 13 games combined and dropped into the category of mediocre. He also saw the coach who recruited him, Urban Meyer, retire, come back and retire again before taking a new job.
He was there for Will Muschamp's hiring and has now had three different defensive coordinators coaching him. He's been a real trooper for the Gators, and with 53 games under his belt, 103 tackles (10 for loss) and a blocked field goal to his name, Hunter and the rest of Florida's seniors will say goodbye to the Swamp Saturday against Jacksonville State.
The old man took some time from bingo to talk to ESPN.com about his career at Florida:
[+] Enlarge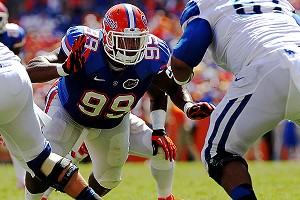 Kim Klement/US PresswireOmar Hunter has had a significant impact on Florida's resurgence this season.
You've been at Florida for probably 35 head coaches now, and with this being your last game in the Swamp, how does it feel to know this will be the last time you run onto Florida Field with your uniform on?
Omar Hunter:
Honestly, it hasn't even hit me yet, but it's been a long time coming, man. It's been an honor to play for the Florida Gators and be a part of this program. I've enjoyed every moment of it and I'm looking forward to my senior day.
Now Chris Rainey did a back flip during his senior day moment. Any chance we'll see that out of you?
OH:
I honestly don't know what I'm going to do, but I promise you I won't do a back flip. No back flips will be done by me, but I'll probably just run out and take the whole moment in. It's been a great few years that I've been here and I've enjoyed it. When senior day comes I'm sure I'll be very emotional and I'm just looking forward to it.
You've seen the highs and the lows during your time at Florida. What's it been like for you over these four-plus years?
OH:
It's been incredible -- to come in and win a national championship my freshman year and then make it to the Sugar Bowl after that. Then, the program kind of fell off for a little bit, but coming back with Coach Muschamp, he's really brought it back from the bottom. I've been happy to be a part of this process and get Florida back on top, back to the BCS level that it should always stay at. It's been an honor to be on this team. Just knowing that I had an affect on some of these guys' careers here at Florida has been an honor. That's just as good as winning a championship, being able to say I affected somebody else's life or helped this person who has done so much more for me.
When you look back at the start of your career, you had injury issues and weight issues. Do you ever sit there and wonder what could have been if you were as healthy as you are now or playing like you are now back then?
OH:
Yeah, man, but it's all a process of growing up and maturing. I don't take anything that happened back -- I enjoyed it all. It's been a great experience and a great ride.
What moment during your career sticks out the most in your mind outside of winning a national championship?
OH:
Probably the LSU game this year. With everything that I've been through, to be a part of a team that battles and pulls together to win as a team would probably be the highlight of my career -- beating LSU. The national championship my freshman year was great, but as far as a team win and being a part of this program, that memory (LSU) will always stick with me.
What were your emotions after that game?
OH:
Man, I was so emotional I couldn't even describe it. So much pressure was lifted off of me and myself. My teammates, my defensive line, my unit, being able to play physical with one of the country's top teams and coming out with the win was definitely big for us.
Now that you see the direction this program is going in, is there any chance you try to seek one more year of eligibility?
OH:
Absolutely not. My time at Florida is
done
. I've enjoyed every second of it, but I don't need to be back here. My time is up and it's time for a new generation to come along and make everyone forget about Omar.
So what's next for you?
OH:
I've had thoughts about playing at the next level, and if that comes I'd love to play at the next level. Hopefully I can. I think I can. I've proved a lot under Coach [Dan] Quinn and Coach Muschamp and with this program, and it's really benefited me in a good way. If the next level comes, I'd love to do that. But if not, just find a job and move on with my life.
What was your major and what would you do with it as a career?
OH:
It was psychology and I have no idea what I'd like to do.
Well, you're pretty personable and knowledgeable when it comes to football. What about coaching?
OH:
I've thought about it, but then I see what these grad assistants go through and all the work that Coach Muschamp and his staff puts in and I'm like, "Nope. Absolutely not." I like to be around my family too much, man, and with the amount of work these guys put in it's incredible.
So this has to be kind of an exciting time in your life with few games left and then an unknown future, right?
OH:
It is. It's fun and it's strange and it's scary. You mold all of those emotions into one. That's why your senior year is so special because the unknown factor is there. I just take it one day at a time and one game at a time. Hopefully, the NFL is the next step, but if that's not going to happen, I'm not going to worry or stress on that.
October, 24, 2012
10/24/12
10:30
AM ET
Success can be a tricky thing to handle.
Too much, and arrogance can set in. Too little, and depression follows.
For Florida's football team, success has seemingly come and gone like the tide the past few years. From 2008 to 2009, the Gators stood with the giants of college football with a 26-2 record, a national championship and an SEC title. Then, Florida dabbled in mediocrity for two years with a 15-11 record.
[+] Enlarge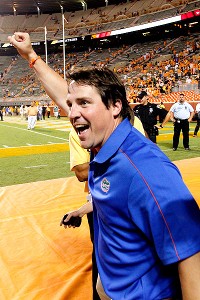 John Sommers II/Getty ImagesCoach Will Muschamp has Florida back in the top five of the national rankings.
Now, that wave of success has touched land in Gainesville again with the Gators undefeated and No. 2 in the BCS standings. A win against Georgia on Saturday, and Florida claims the SEC Eastern Division for the first time since 2009.
Florida's rise back to relevancy has been a pleasant surprise, but so much success so quickly can be crippling, especially when players aren't used to it.
Unlike the weeks -- and years, really -- prior, now all the pressure is on Florida. Win, and the Gators are headed to Atlanta. Lose, and the East is all but lost to one of its biggest rivals. All the work, the road comebacks and the top-10 victories will drift away.
That can be a lot for a team to digest, but senior defensive tackle
Omar Hunter
, one of the few Gators who has seen this sort of success before at the college level, doesn't see a change in approach. The same demeanor that got Florida to 7-0 hasn't disappeared before the season's biggest game.
"This team is pretty mature compared to where we were last year," Hunter said. "For the most part, those guys have been pretty focused on what we have to get done and not let stuff get to them."
What Florida has to do is win, but it faces a team that was expected to be in Florida's spot. The 10th-ranked Bulldogs (6-1) are almost limping into Saturday's showdown. They were routed by South Carolina this month and are having an internal war of words on defense.
For a team that had BCS aspirations before the season, the Bulldogs will quietly bus into Jacksonville with a lot to prove. And unlike the Gators, this is familiar territory for the Dawgs.
They climbed out of an 0-2 hole with 10 straight wins to get to Atlanta last season. Going against the odds was Georgia's specialty, and its hope is that last season's experience helps it Saturday.
"What we see is if we win out, there's no reason why we can't ... do all of the things that we dreamed at the beginning," senior linebacker
Christian Robinson
said. "That's the same as it was last year.
"Right now, we have our backs against the wall, and we have to decide what we need to do."
First, this team has to come together. On Monday, senior safety
Shawn Williams
called his defense out for playing "soft" and went on to discuss which players should be playing at linebacker. He left a few names off and hurt some feelings, as players acknowledged that they'd rather keep such talk in-house.
Whether that will motivate players or leave them sulking has yet to be seen, but when it comes to a game like this, Georgia can't let silly bickering hold it back. Not in do-or-die mode.
"That's where we're at right now, so I think the guys understand how important this thing is," coach Mark Richt said. "It's pretty obvious. So I don't think we're going to have to sit here and try to figure out a way to motivate anybody."
Just the Cocktail Party's existence should be motivation enough for both teams, but for the Gators, you have to wonder whether their surprising run leading up to Saturday's showdown has them feeling a little presumptuous. According to their head coach, that isn't the case.
"Nothing's changed for us. We're not working any longer, harder. Practice, it's all the same," Muschamp said. "We don't approach things differently based on the situation, because next week's important, too."
The de facto semifinal for the SEC championship could turn the tide for both programs -- one soaring and one stumbling. Pressure and rankings will mean little between those hash marks.
"Any given Saturday, anything can happen," Robinson said.
"You hope that you have that type of team that's not going to lay down and die."
April, 7, 2012
4/07/12
7:04
PM ET
GAINESVILLE, Fla. -- Four members of the media were chosen to be guest coaches and allowed to go behind the scenes of Florida's Orange and Blue Debut on Saturday. Brady Ackerman of Sun Sports, Pat Dooley of the Gainesville Sun, Andy Staples of SI.com and yours truly were granted access to join the Gators as they prepared for their spring game. We experienced the sights and sounds of the closest thing to a game day for a major college football program; this is what I saw ...
8:00 a.m.:
I arrive at Ben Hill Griffin Stadium with a Starbucks Doubleshot and a Snickers Marathon energy bar to start the day. The sun is up and there's a breeze in the air. It's almost the perfect setting to start a long day of running around Florida's football facility.
8:30:
We meet with coach Will Muschamp in his spacious office inside the stadium for a casual 15 minutes to talk shop. There are some laughs and some talk about the team, and he warns us that a poor performance by one of the two teams -- Orange or Blue -- will be followed by having the blame placed on the two media members coaching that side. Ackerman and I are placed on the Blue Team, while Dooley and Staples are assigned to the Orange Team.
9:05:
A true breakfast of champions. We walk over to one of the dinning halls across from the stadium. The first thing you notice is that the dining area couldn't be big enough to house all these football players, but somehow, it is. The Gators pile in and begin the feast. The basics are there: pancakes, bacon, eggs and grits. And at the end of the buffet line, steaks and grilled chicken breasts sat there ready to be devoured ... and they were. After sipping on some fine, freshly squeezed orange juice, we media members tried to blend in and snag some grub before the carnivores went back for seconds. Linebacker
Jelani Jenkins
stacked steaks on chicken, while fullback
Hunter Joyer
went with pretty much everything he could lay eyes on and added some pasta. The fruit was barely touched. I tried to mimic the players, throwing protein and starch together for a yummy, relatively healthy cornucopia of deliciousness. Grilled chicken and pancakes really do work.
[+] Enlarge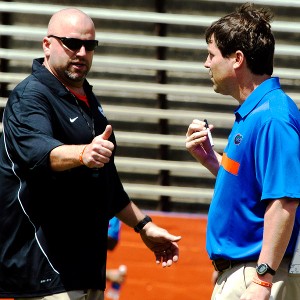 AP Photo/Phil SandlinStrength coach Jeff Dillman gives head coach Will Muschamp, right, a thumbs-up during Florida's spring game in April.
9:35:
After stuffing our faces, we head back over to the stadium and toward the locker room. We stand around as players, coaches, recruits and staff members wandered the halls. TV screens that surround a massive gator head in the middle of the room show highlights from the 2011 season, mixed with music videos featuring LMFAO, Will.i.am and Drake. Every player touches the gator before he runs out onto the field before games.
9:37:
Running backs coach Brian White, defensive coordinator Dan Quinn and offensive line coach Tim Davis gig us about coaching. We're asked what our game plan is, and we basically say not getting in the way. Dooley tells Quinn to blitz every down and I tell Davis that he should be glad I'm on his team because my PlayStation skills are unmatched. He laughs, realizing I'd be in over my head if this were real.
10:05:
After walking back and forth for a good 10 minutes, rising senior defensive tackle
Omar Hunter
embraces Quinn and yells "Last time, baby," signaling that his Gators career is coming to an end.
10:20:
We leave the locker room to go on the Gator Walk. Last year, the team bussed. This year, it walked, so we walked. The team is dressed in orange shirts and blue shorts -- nothing too flashy. Wide receiver
Quinton Dunbar
awkwardly raps the words to some song, while the freshmen converse about doing this for the first time.
10:26:
I finally hit the official start of the Gator Walk. It's spring break for Alachua County school districts, so the crowd is a little thin, but it's lively. Still, with the smaller crowd there to greet the Gators, kicker
Caleb Sturgis
utters this gem: "This is what happens when you go 7-6." Defensive lineman
Sharrif Floyd
looks at me and says that the Gator Walk never gets old, then counts the number of hugs he gave with the exact number of "a lot."
10:40:
As the team piles into the locker room, the offense stays on the field for a mini walk-through. Offensive coordinator Brent Pease goes over Xs and Os and formations ... lots of formations. He's pulling, pushing and quizzing guys along the way and even puts on player on the spot with a heap of questions about a certain play and formation. Luckily for the player, he passed Pease's test.
10:49:
The offense huddles up, with rising sophomore quarterback
Jeff Driskel
pushing to the middle, before breaking and heading to the locker room.
11:55:
After a lot of waiting and people watching, we finally head into the locker room with the players an hour before kickoff. Led by new strength coach Jeff Dillman, the players are going through dynamic stretching, with Dillman leading like a drill instructor with short, loud commands. Players isolate their cores, thoroughly stretch their legs and their backs; Dillman is very technical and very loud. "We're gonna have a great day today!" he yells. "Build that rage! One minute till we prime that engine!"
September, 4, 2011
9/04/11
1:33
AM ET
GAINESVILLE, Fla. -- The scene outside of Ben Hill Griffin Stadium two hours before Florida's season-opener with Florida Atlantic wasn't exactly electrifying.
Sure, you could tell it was game day, but there wasn't much buzz. You weren't consumed by the anticipation of the start of the season.
It was even more evident when only 88,708 showed up inside the stadium, ending Florida's streak of 137 consecutive sellouts.
[+] Enlarge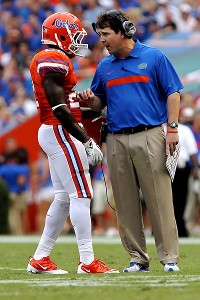 Kim Klement/US PRESSWIREWill Muschamp got a win in his debut as Florida's head coach.
But with a team like Florida that has so many question marks, it's expected for fans to be a little hesitant and skeptical about a new year and a new coach.
Will Muschamp made his head-coaching debut inside The Swamp and his team generated all the buzz he needed in
a 41-3 win
over the Owls.
Muschamp, who grew up going to Gator games with his family, was the man in charge of his childhood team and while he was asked about his feelings concerning his move from coordinator to head coach, Muschamp made it all about his team.
"It's about players to me," Muschamp said. "It's really about seeing those guys fulfilling a lot of their work and see their work come to a conclusion as far as going through the game time and playing the game."
What also thrilled Muschamp about Saturday was the fast start his team had. Unlike last season, the Gators marched down the field and scored on their opening drive. It wasn't a touchdown, but it was points. In fact, it was a pretty impressive three points as Caleb Sturgis connected on a 51-yard field goal. This is the same Caleb Sturgis who missed most of last season with a back injury.
The game almost got off to an even faster start when
Jeff Demps
returned the opening kick for a touchdown. However, the play was called back because of holding.
And the penalty didn't slow the Gators. After their initial scoring drive, quarterback
John Brantley
, who had an awful 2010 season, stood tall in the pocket, and led Florida on a 12-play, 67-yard drive that ended with a 14-yard touchdown pass to
Chris Rainey
.
A 35-yard run by Jeff Demps and a 14-yarder by Rainey on consecutive possessions in the second quarter and the Gators had 24 points at halftime. Florida's offense also had 264 total yards, 52 more than the Gators had total in last year's opener.
"We were so ready for this game so we could erase the memories from last year, but at the same time, we keep it fresh in our heads because it's motivation to get better," junior defensive tackle Omar Hunter said.
This was a coming out party for Muschamp and reinvention for his team. Gators fans had yet to truly embrace Muschamp, but you could see them warm to him when he went off on a ref in the third quarter. It was the "Coach Boom" moment fans had waited for it and it signaled Muschamp's true arrival.
Muschamp praised his team for its attitude and work ethic. He lauded its improvement from spring, and while there were still plenty of hiccups and procedural issues all around, he was happy with the 1-0 start.
And his players felt relived by the one-sided affair.
"It was exciting and it was very important because we had a lot to prove and I think we showed a lot of people around the world what we had to prove," said linebacker Jelani Jenkins, who was a part of a defense that surrendered just 137 offensive yards, totaled two sacks and stopped 11-of-13 third down.
The Gators are rejoicing in their opening win, but they understand there is work to be done. The buzz is starting to generate, but this team still has a long way to go.
"We need to be realistic here. We'll face better opponents through the season," Muschamp said. "But for the first ball game, we need to make some improvements, we need to make some adjustments from a personnel standpoint.
"As we roll through this season, we're going to get to know our team a lot better.
"We've got to continue to improve and get better because we've got a long way to go. We have a long season ahead of us."
August, 11, 2011
8/11/11
1:30
PM ET
Florida's Jaye Howard has seen the evidence on tape. He's also seen the blank stares on the faces of his coaches.

How could a guy be so dominant on one play, or a series of plays, and then go the rest of the quarter and be non-existent?

It's a question that has hounded Howard for much of his career, and it's a question he plans to put to rest once and for all this season.

"That was one of my biggest drawbacks last year, and I admit that," said Howard, the Gators' 6-3, 303-pound senior defensive tackle. "I'd have sparks where it was like, 'Man, this guy is an All-American.' But then I'd take plays off.

"That's the biggest thing coming back for my senior year, proving to everyone that I can play every down as hard as I can 100 percent."

Howard was slowed by an ankle injury toward the end of last season. He underwent ankle surgery and was kept out of spring practice.

But healthy again and moving well on his surgically repaired right ankle, Howard is committed to establishing himself as one of the top interior defensive linemen in the SEC.

"With the help of my coaches, coach [Dan] Quinn and coach [Bryant] Young, I'm going to get there this year. There's no doubt in my mind," said Howard, who had 10 tackles for loss last season. "They've pushed me probably harder than anyone, every practice and every play. Effort won't be the problem this year."

The Gators could sure use an All-SEC season from Howard. Sophomore tackles Sharrif Floyd and Dominique Easley also have a world of talent, but the only other scholarship defensive tackle on the roster who's played in a game is junior Omar Hunter.

"It's not about how talented you are. It's about how productive you are," Howard said. "If you take plays off with these coaches, you're not going to be playing."
June, 20, 2011
6/20/11
9:55
AM ET
Today we look at the big uglies that cause all the mayhem in the trenches. The SEC consistently spits out nasty defensive linemen and this year has more of an athletic feel.
Here's how the teams stacked up:
1. South Carolina:
The Gamecocks return a defensive line that would make any offensive line shutter. Plus, incoming freshman Jadeveon Clowney comes in as the top high school player in the country and could be one of the best ends in the league this fall. Devin Taylor leads the group at end and was second on the team with 7.5 sacks as a sophomore. Helping on the outside is Melvin Ingram, who plays inside on passing downs, and led South Carolina with nine sacks a year ago. Senior Travian Robertson, who came off injury to get four sacks last year, is solid in the middle as well.
[+] Enlarge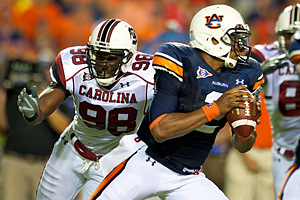 Dale Zanine/US PresswireDevin Taylor made a habit of harassing quarterbacks last season.
2. Arkansas:
The Razorbacks might have the best pass-rushing group Arkansas has seen in a while. Things revolve around defensive end Jake Bequette, who was one of the more unheralded players in the league last year, despite having seven sacks. On the other side of the line is Tenarius Wright, who will make up the second part of a formidable outside duo in Fayetteville with his speed and athleticism. In the middle, there are plenty of options. Byran Jones and DeQuinta Jones missed spring due to injury, but will be back this fall and there's a wealth of depth behind them. Junior college transfer Robert Thomas might be the best and most athletic option in the middle is primed to break out.
3. LSU:
There are some questions about the experience the Tigers bring back, but no one will question the talent and athleticism in Baton Rouge. Sam Montgomery is back at defensive end, after suffering a serious knee injury. He hasn't played much, but the coaches believe he's got what it takes to be a top end in this league. Kendrick Adams started 11 games last year at end, while Lavar Edwards filled in for Montgomery. Ego Ferguson redshirted last year, but should get a ton of playing time in the middle this fall. He is already one of the most athletic tackles in the SEC. Don't forget about five-star early enrollee Anthony Johnson, who made very strong impressions on his coaches this spring and will be in the rotation inside.
4. Florida:
This unit was criticized for lacking toughness last season, but will be full of that and even more athleticism in 2011. Jaye Howard is returning from spring ankle surgery and is already considered a top defensive tackle prospect in next year's NFL draft. Alongside him are youngsters Sharrif Floyd and Dominique Easley. Floyd was the most consistent of the much-ballyhooed freshman class last fall, while Easley struggled with attitude problems. Easley has rebounded and both excelled this spring. Omar Hunter is finally healthy and will share time with Floyd at noseguard and senior William Green will occupy an end spot. This group is even better when Ronald Powell lines up at end in the 4-3.
5. Alabama:
On paper, there are a few questions with this group, but it's hard to drop Alabama very far on this list. The 3-4 scheme will have senior Josh Chapman at noseguard. Chapman started 12 games in the middle last fall, totaling 31 tackles, including 3.5 for loss. Damion Square will compete for time on the outside, and since returning from his ACL injury, he's gained a lot more playing confidence and could be a budding star in the league. Junior college transfers Quinton Dial and Jesse Williams will compete for time on the line as well, while sophomore Ed Stinson will stay at end after starting last season at Jack linebacker.
6. Mississippi State:
The Bulldogs have arguably the top returning tackle tandem in the SEC. Fletcher Cox and Josh Boyd are the behemoths in the middle who combined for 53 tackles, 13 for loss and five sacks last year. Finding any sort of inside running game against Mississippi State will be extremely tough. Developing a pass-rusher is the next step for the Bulldogs' staff. Sean Ferguson occupies one side, but the other is still up for grabs. Trevor Stigers and Shane McCardell battled for the spot this spring, but neither has really pushed ahead.
7. Georgia:
There is a lot of talent in Athens, but there could be a lot of movement on the line. JUCO transfer John Jenkins is the big -- and we mean big -- name up front and he's yet to play a down in the SEC. He arrives with a ton of hype, but is perfect at noseguard in Todd Grantham's 3-4. DeAngelo Tyson moves to his natural position outside after playing noseguard last year. Kwame Geathers played in the middle this spring, but could be usurped for Jenkins this fall and move outside. Abry Jones is still maturing after moving to end and recording 34 tackles including 3.5 for loss last season and had a 16-tackle performance against Georgia Tech.
8. Auburn:
The Tigers must replace three starters this season. Inside, Auburn is talented but inexperienced with Kenneth Carter and Jeffrey Whitaker having 13 combined tackles from a year ago. There's less concern on the outside with lone returning starter Nosa Eguae on one side and sophomore Corey Lemonier on the other. Eguae might have more experience with 11 starts, but Lemonier appears to be more athletic and should be near the top of the defensive end pool this year. After that, the Tigers are young across the board.
9. Tennessee:
The Volunteers' line will grow with senior Malik Jackson running things in the middle. He had 48 tackles and five sacks a year ago and some think he'll be even better this fall. A lot will also be expected from incoming JUCO transfer Maurice Couch. He's pretty athletic at 6-foot-4, 327 pounds and he'll be greatly needed, considering the dismissal of Montori Hughes. Jacques Smith has All-SEC potential and will hold one of the end spots. After that, Tennessee has some young, but encouragingly talented bodies at each position.
10. Ole Miss:
Some of the best news of the spring coming out of Oxford was the return of Kentrell Lockett at defensive end. Lockett was granted an extra year of eligibility by the NCAA and will not only be the Rebels' top lineman but possibly their best defensive player. After that, the questions roll in with four tackles gone and youth coming in. Tackle Justin Smith has yet to really emerge as the All-SEC talent he was expected to be and Ole Miss is smaller up front. JUCO transfer Gilbert Pena could add some size in the middle. Gerald Rivers returns to get time at end, but has played in just 15 career games in two years.
11. Vanderbilt:
This was supposed to be a strength for the Commodores last year until injuries hit. Still, Vanderbilt returns three starters. Experience is there, but this unit has to continue to improve, especially in the pass-rushing department where the Commodores had just 20 sacks in 2010. Rob Lohr led Vanderbilt with four sacks a year ago and had 35 tackles. T.J. Greenstone is coming off of injury and will line up inside. Tim Fugger was one of the Commodores' most consistent players at end, playing in every game and registering three sacks and four forced fumbles.
12. Kentucky:
End Collins Ukwu and tackle Luke McDermott return with the most experience on Kentucky's line. Ukwu improved not only on the field but in the weight room this spring and is expected to be a more consistent pass-rusher. McDermott is a walk-on currently ahead of Donte Rumph, who has the talent to be one of Kentucky's top defenders, but has yet to fully buy in to the program. The coaches are also waiting for tackle Mister Cobble to finally break out of his funk and be a regular contributor. The rest of Kentucky's linemen have some developing to do and are inexperienced.
May, 27, 2011
5/27/11
2:30
PM ET
Omar Hunter knows his time is running out.
Florida's redshirt junior defensive lineman fought early hype and nagging injuries during his first three years with the Gators and now sees that he's got to step up or sit and watch.
Hunter doesn't want to do the latter. He had all the right to that this spring when a nagging injury returned. While he was listed as limited on Florida's pre-spring depth chart, he pushed through the pain and competed as much as he could with a new coaching staff watching.
"It was tough, but they [the coaches] realized that I was injured and I was still trying to fight through some things," Hunter said. "They let me off a few times on some things that they could have easily gotten on me for, but they understood I had an injury and took it easy on me a little bit."
[+] Enlarge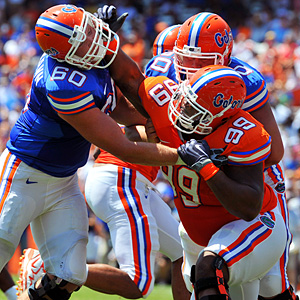 Al Messerschmidt/Getty ImagesJunior Omar Hunter (99) fought through injuries this spring and is looking forward to making an impact in the fall.
Hunter, who is down to 300 pounds after working at 307 this spring, decided that participating would help him learn defensive coordinator Dan Quinn's new system and get him more familiar with defensive line coach Bryant Young's new philosophy. If he was going to show the new staff he was ready to take his game to a new level, he had to do it -- hurt or not.
Hunter's ability to stay on the practice field this spring also helped him gain more respect from his teammates. With depth issues and a gang of youngsters pushing for time on Florida's line, Hunter wanted to not only show he wasn't going to just hand his spot over, he wanted to prove that he was going to be a leader for the line.
"The message I tried to send was that I was going to be there whether I was hurt or not," he said. "I'm always going to have their backs and I'm always going to push through injuries for them."
The young talent certainly motivated Hunter. Regardless of how he felt physically, Hunter knew he'd have to fight off some pups this spring.
Leading the underclassmen charge is sophomore Sharrif Floyd, who will compete with Hunter for time at nose tackle when the Gators go into the 3-4. Dominique Easley, who blossomed this spring, and Leon Orr are also pushing for time on the interior.
Hunter is looking over his shoulder at those players, but he's also helping them. While his goal is to be the disruptor in the middle, he wants what's best for the team, and development of the younger players will be key to keeping Florida's line fresh.
"I keep pushing them, they push me," Hunter said. "We're all getting better because of that.
"Last year, we were a close group, but we could have been closer. If we would have been closer, we would have been even better."
The unit could be special, really. There is talent oozing at each position. Senior Jaye Howard, who ESPN NFL draft analyst Mel Kiper ranked as the fourth-best draft-eligible returner at defensive tackle, missed all of the spring because of surgery on his ankle, but is expected to be full-go for two-a-days. Senior William Green will maintain one of the end spots, and while he hasn't truly broken out, he'll fit nicely into Florida's multiple defense.
Sophomore Ronald Powell will play the hybrid defensive end/linebacker position known as the Buck. He's got all the athleticism and speed to be a menace in the pass rush, but he's got to continue to mature. Cal transfer Chris Martin and junior Lerentee McCray will also get time at end.
Florida's line is young, but the ceiling appears high for the unit. Barring injuries, this could be the strength of Florida's defense in the fall.
August, 20, 2010
8/20/10
11:12
AM ET
Florida's Omar Hunter plans on making up for lost time this season.
Sure, he played in all 14 games a year ago as a redshirt freshman and finished with 17 total tackles from his defensive tackle position.
But it wasn't the version of Hunter that he expects to see, the version that the Florida fans are dying to see or the version that Florida coach Urban Meyer was telling everybody they would see when the Gators signed the highly recruited Hunter out of Buford, Ga., two years ago.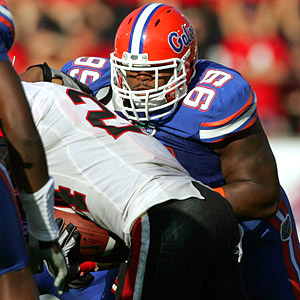 Cliff Welch/Icon SMIRising senior defensive tackle Omar Hunter came on late in the season.
"This is the best shape I've been in since my senior year of high school," Hunter said. "I'm moving 10 times better and using my ability. I'm making plays now I always should have been making, but couldn't because of my back and because I was too heavy."
Hunter injured his back in the Under Armour All-America football game as a high school senior.
And then as a freshman at Florida, and with Meyer hyping Hunter as one of the guys who would come in and bolster the middle of the Gators' defensive line, he was barely able to get onto the field.
"I couldn't exercise and condition the way I wanted to and the way I needed to to play here and help this team out," Hunter said. "I got too big, and that didn't help the situation, either."
Hunter was around 310 pounds when he arrived at Florida, but got up to 330. He's 298 right now and showing the same explosion off the ball that made him one of the top defensive tackle prospects in the country.
"It felt great just to get on the field last year and play," Hunter said. "I started some games and at least felt like I was a part of the team. But now I'm in the best shape of my life and playing the best I ever have. This is the way it was supposed to be from the start."
The worst part for Hunter was that he felt like he let Meyer and his teammates down as a freshman.
"My freshman year was one of the worst times of my life," Hunter said. "I disappointed Coach Meyer after he put so much into me and did the same thing to my teammates, who were counting on me. That's what hurt the most, letting all those people down."
And with so much hype coming in, Hunter had to endure the typical chatter that maybe he was overrated, even though the reality was that he was simply injured and too heavy to be effective.
"I heard a lot of people saying, 'He's not any good. He can't play here,'" Hunter recalled. "I just want to get back and prove those people wrong. I knew what it was and just tried to tune it all out and support my teammates the best way I could.
"Now, I have the opportunity to go out and play and support them that way, and that's what I'm going to do."
Hunter is part of a deep and veteran rotation for the Gators at tackle. He said freshman tackles Sharrif Floyd and Dominique Easley have also been as advertised during camp.
"Being able to rotate and keep guys fresh is going to be a great advantage for us," Hunter said. "The thing about our inside guys is that every one of us could be a starter. I don't even look at myself as a starter right now. Last year, I got a chance because guys around me were getting injured. Everybody is healthy now and everybody is competing for jobs, and that's only going to make us better."
April, 9, 2009
4/09/09
12:06
PM ET
Posted by ESPN.com's Chris Low
A tour around the SEC to see what's out there:
March, 25, 2009
3/25/09
11:42
AM ET
Posted by ESPN.com's Chris Low
Defense in the SEC is a lot like snow skiing at Squaw Valley.
It's the best of the best.
The same goes for defensive coordinators in the SEC. They're some of the best in all of college football, and Florida's Charlie Strong belongs near the top.
He's put together defensive game plans that have held Ohio State and Oklahoma to a combined 21 offensive points in the Gators' two BCS National Championship Game wins the past three years.
| | |
| --- | --- |
| | |
| | Kim Klement/US Presswire |
| | Charlie Strong's defense has plenty of experience returning from last year's team. |
The high-powered Sooners swooped into Miami last season having scored 58 or more points in six straight games, but were held to 14 by Strong's Florida defense.
It's a defense that listed 14 of the 22 players on its two-deep as freshmen or sophomores, and all but one are back.
Strong, one of the most unassuming coaches you'll ever meet, is long overdue to get a shot at a head coaching job. He's not bitter, and he's not consumed by it.
His stance on the whole issue: If it's to be, it will be. In the meantime, he's focused on doing what it takes to win another title at Florida.
The Gators open spring practice later today, and Strong took some time to share his thoughts on the challenges ahead for a Florida program that really has it rolling right now.
What are your most pressing priorities on defense this spring?
Charlie Strong: We need to establish some depth. We have a number of guys coming back, and with the number of guys we do have coming back, it's going to be good that we get a lot of competition. So if we get some injuries, we know we're going to have guys ready to replace them.
Defensive tackle was a big question mark last season. Those guys came through for you, though. How does that position look for next season?
CS: I think we'll be even better there. With a lot of those guys last year, there were questions. But they were able to go out and give us some really critical plays and some critical minutes for us. There's always room for improvement. What we need there is a dominating guy. We didn't have that last season. [Lawrence] Marsh and [Terron] Sanders started for us, but let's see if they can kind of separate themselves from the pack.