NCF Nation:

Orlando Franklin
February, 4, 2011
2/04/11
9:00
AM ET
The
official list for the NFL combine
has been released. A total of 48 players from the ACC have been invited to audition for the NFL from February 23 – March 1. When categorized by school, it's somewhat of a reality check to see how many of the best players in the conference are moving on, and which programs will take the biggest hit. It's impossible not to wonder how good North Carolina could have been had all of the following players remained eligible. The Tar Heels will send the most players to the combine with 11.
Here are the players who will represent the ACC:
BOSTON COLLEGE (3)
Anthony Castonzo
Rich Lapham
Mark Herzlich
CLEMSON (7)
Da'Quan Bowers
Marcus Gilchrist
Chris Hairston
Jarvis Jenkins
Byron Maxwell
DeAndre McDaniel
FLORIDA STATE (3)
Rodney Hudson
Markus White
GEORGIA TECH (3)
Mario Butler
Jerrard Tarrant
MARYLAND (3)
MIAMI (9)
Allen Bailey
Matt Bosher
Orlando Franklin
Brandon Harris
Colin McCarthy
DeMarcus Van Dyke
NORTH CAROLINA (11)
Marvin Austin
Kendric Burney
Bruce Carter
Robert Quinn
Da'Norris Searcy
Quan Sturdivant
Deunta Williams
NC STATE (2)
VIRGINIA (2)
Danny Aiken
Ras-I Dowling
VIRGINIA TECH (5)
Rashad Carmichael
John Graves
September, 24, 2010
9/24/10
12:39
AM ET
PITTSBURGH -- Miami linebacker Sean Spence didn't hesitate to say yes when asked after the Hurricanes'
31-3 win
over Pittsburgh if he was playing on a championship defense. Spence, of course, was one of the main reasons it looked like one.
The problem?
Miami offensive lineman Orlando Franklin said the Hurricanes are "real far away" from being a championship-caliber offense.
Miami got exactly what it needed on Thursday night -- a throwback defensive performance in a nationally-televised road win against a respectable BCS opponent. It helped the Hurricanes move past their loss at No. 2 Ohio State and should give them a boost of confidence heading into next weekend's game at Clemson.
[+] Enlarge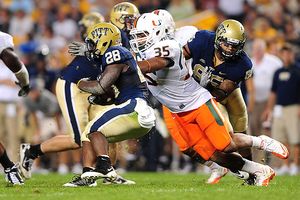 Andrew Weber/US PresswireThe Miami defense kept Pitt from getting a first down until its final drive of the first half. They forced three turnovers and had five sacks.
But Miami also got a double dose of the one thing it's been trying to eliminate -- turnovers. Quarterback
Jacory Harris
has now thrown six interceptions in two games, and while not all of them have been his fault, it's a trend that has to stop if Miami is going to take the next step under coach Randy Shannon and play for an ACC title this year.
Miami has proved so far to be a good team, not a great team -- one that can afford to make mistakes against average teams like Pitt, but isn't ready to beat the elite teams like Ohio State.
"We're real far away," Franklin said. "We need to get better each and every week and we have to do the little things. We have to concentrate on the little things and execute more and just do our job. That's the real importance of this thing -- we have to be able to do our jobs and not worry about what the other person is going to do. Trust the other person is going to do the right thing."
The defense already has that trust.
"I believe in the guy next to me, and the guy next to me he believes in me," said Spence, who finished with a game-high nine tackles, 1.5 sacks and 2.5 tackles for loss. "That's all you need. We have a lot of great players on defense. We're great in depth and execute, so I think we're a championship defense."
It looked like it against Pittsburgh. The Panthers had three turnovers, converted just 4 of 15 third downs, were 1-of-3 in the red zone and were sacked five times for a loss of 45 yards. Pitt punted eight times.
Miami's defenders spent most of the game in Pitt's backfield, stifling the run and chasing quarterback
Tino Sunseri
out of the pocket if he wasn't already flat on his back. The Canes had nine tackles for losses, and looked much more fundamentally sound in their tackling than they did against Ohio State.
"As a defense we played great, executed," said
Andrew Smith
, who had two sacks for a loss of 14 yards. "We gang tackled, all 11 hats on the ball. At practice we kept emphasizing everybody wrap up, everybody drive back, and tonight it showed up on the field."
Miami did show improvement in the red zone, where it struggled at Ohio State. This time the Canes were successful in all four trips inside the 20-yard line. Harris also had a much better second half, completing 8 of 10 passes for 87 yards and two touchdowns.
Shannon said the mistakes on offense are correctable, and said the offense isn't that far away from playing at the level it needs to.
"We're not that far away at all," he said. "You can see that we have playmakers. I think that
LaRon Byrd
made some key catches in the game. I think the more we focus on getting things done on offense, the more we can be crisp and we'll be OK."
Until then, it can count on the defense.
September, 2, 2010
9/02/10
10:53
AM ET
Anytime Miami coach Randy Shannon needs to remind his players about the importance of consistency, he points to last season.
The Hurricanes had a similarly unforgiving start to September -- facing rival Florida State, Coastal Division foe Georgia Tech, and then a road trip to Virginia Tech. Miami had played surprisingly well in a 2-0 start and had once again captured the nation's attention.
[+] Enlarge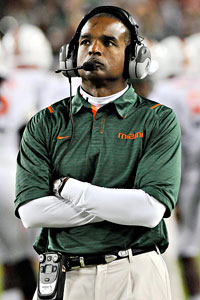 Fernando Medina/US PresswireRandy Shannon has worked on keeping his team focused on the next obstacle ahead.
And then it poured in Blacksburg, and Miami's name was mud in a
31-7 loss
to the Hokies.
Shannon said his team is mature enough this year to avoid similar mental pitfalls, including overlooking his first opponent, Florida A&M. The Canes can't afford a letdown in what should be little more than a dress rehearsal as they travel to Ohio State in Week 2. The Hurricanes
defeated the Rattlers 48-16
last season and have combined to outscore FAMU 355 to 49, dating back to 1980.
"From a lot of things we learned last season, I always refer back to last season," Shannon said. "Our first three games I think we were very, very focused as a football team last season. Going and playing Virginia Tech, we kind of got away from where we needed to be at. I reminded the guys of that situation happening, that the more you are staying focused on what's ahead of you, don't look down the future, then you'll be OK."
Shannon said the team has had "an unbelievable practice" in August, and he intentionally put the players in adverse situations to make sure he had their focus each day. He didn't want them looking ahead to scrimmages or time off.
Receiver
Travis Benjamin
and other team leaders -- particularly offensive lineman Orlando Franklin, quarterback
Jacory Harris
, cornerback
Brandon Harris
and defensive end Allen Bailey -- have helped everyone take a one-game-at-a-time approach.
"If you don't get past this game with a win, the next game won't really be that important," Brandon Harris said. "It won't be nationally publicized and it won't help your football team if you have a letdown and lose a game like this, so that's big motivation. This team (Florida A&M) hung in there and gave it all they had for the first half of the football game (last year). They feel like they have a lot to prove. They feel like they should be wearing the uniform we're wearing. They obviously want to go out and show everybody they're just as capable of playing college football as we are."
The question this year is whether or not Miami is capable of playing at a high level through the entire season.
December, 28, 2009
12/28/09
9:00
AM ET
Here's a quick breakdown of Tuesday night's matchup between Miami and Wisconsin in the Champs Sports Bowl:


WHO TO WATCH:
Miami left tackle Orlando Franklin versus Wisconsin defensive end O'Brien Schofield. Without injured veteran starter Jason Fox, Miami will turn to Franklin to help contain Schofield, who is leading the Badgers in sacks (10.0), tackles for a loss (22.5 for 116 yards) and quarterback hurries (8). Franklin, who moved from guard to tackle, played well in the season finale against South Florida, when he replaced Fox who was out with an illness.
WHAT TO WATCH:
Miami's run defense. The key to the Canes' chances at a win will be slowing down Wisconsin's top option,
John Clay
, whose 1,396 yards and 16 touchdowns on the ground this year led the Big Ten. The Badgers are committed to the run, so it will be up to Miami's leading linebackers, Colin McCarthy and Darryl Sharpton, to shed their blocks and make the stops. Miami is allowing 118.33 rushing yards per game, while Wisconsin averages 206.67 rushing yards.
WHY WATCH:
A win over Wisconsin would give Miami its first double-digit win season since finishing 11-2 in 2003, and solidify a three-win improvement from last year under coach Randy Shannon. Earlier this season, Miami was in a position to earn an at-large BCS bid, and the Canes were able to defeat all of their nonconference opponents. This could be an important stepping stone for a young program looking to work its way back into national title contention.
PREDICTION:
Miami's speed, athleticism and multiple offensive options will be too much for Wisconsin to overcome. Clay will get his yards, and Wisconsin's defense will force
Jacory Harris
to hang on to the ball longer than he would like at times, but Harris will have one of his calm-under-pressure fourth-quarter performances and lead Miami to a 31-28 win.
February, 25, 2009
2/25/09
9:29
AM ET
Posted by ESPN.com's Heather Dinich
The Miami Hurricanes were one of the first teams in the country to start spring practice on Tuesday. I spoke with coach Randy Shannon Tuesday morning about his expectations for the program heading into his third season. Here are the highlights of our conversation:
To start, what are some of your top priorities this spring?
| | |
| --- | --- |
| | |
| | Gary Rothstein/Icon SMI |
| | Miami coach Randy Shannon is putting a positive spin on his team's difficult 2009 schedule. |
RS: Building depth on the offensive line. The two positions we've got to get some depth at are offensive line and linebacker. We have your so-called first units, but you don't want to get caught in a situation without depth at those positions and that's the one thing we have to develop. We've got a lot of guys back -- (Jason) Fox was a starter, (Joel) Figueroa played a lot, Orlando (Franklin) played a lot, (A.J.) Trump played a lot, (Matt) Pipho played -- but that next batch, we need to develop that sixth, seventh guy.
How many early enrollees do you have?
RS: Six. The last two years we've had seven or eight.
How much will it help you to have those guys for the spring?
RS: It helped us a lot last year because we played so many of those young guys. Of the eight guys that came in, seven helped us last year. These guys come in and they may have an opportunity to help us also. They get ahead.
Do you think the fact that last year's class did that and played so much helped you guys recruit this year because people saw they do have a chance to play as true freshmen at Miami?
RS: I think it did. People understand we're not afraid to play young guys coming in, and that if they're better than the guys we have on the football team they'll definitely get an opportunity to play.
With that said, how big of a step does this sophomore class now have to take and grow up a little bit more?
RS: They have to grow up a lot. Those guys played a lot last year and we have to now move forward. The seniors we do have, they're going to be very key to being leaders now. These guys have played two or three years under the new staff and we look for big things from them.
How did you wind up with such a brutal schedule?
RS: It is what it is, Heather. We have to look at it from the standpoint of, after the first four games you have an opportunity to be in the top 10 in the country. That's how you've gotta look at it. You can't look at it like the world is coming to an end, how are we going to get through this? You can't.
How far back did you schedule Oklahoma?
RS: That was before I was the coach. That was some years ago.