June, 5, 2012
6/05/12
5:22
PM ET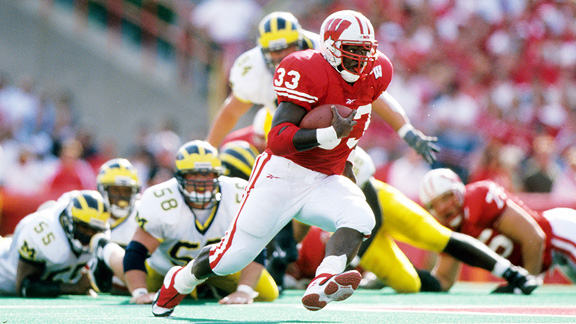 US PresswireWisconsin's Ron Dayne capped off his senior season in 1999 earning several national awards.
On Monday we revealed our list of
top five individual seasons by a Big Ten player in the past 50 years
, and as Brian Bennett explained, the choices weren't easy. We omitted several incredible individual performances, and some of you let us hear about it.
Here's a list of 10 outstanding individual seasons that just missed the cut. As a reminder, these are performances from the
past 50 seasons only
(1962-2011). Although Nebraska has played only one season as a Big Ten member, we considered Huskers' performances from the time span, as well as those by Penn State players before the 1993 season, when Penn State joined the Big Ten. Again, this is a list of outstanding individual seasons, not individual careers.
Even with this list, we're leaving out many great performances.
Here's the rundown, in alphabetical order:
Brad Banks, QB, Iowa, 2002:
Banks played only two seasons in Iowa City, but he left quite an impression in 2002. He led the nation in pass efficiency with a 157.1 rating and had 26 touchdown passes and just five interceptions, to go along with 423 rush yards and five touchdowns on 83 carries. Banks finished second for the Heisman Trophy but took home plenty of awards, including AP Player of the Year, Davey O'Brien and Big Ten MVP.
Kerry Collins, QB, Penn State, 1994:
Penn State is known for producing star running backs, but Collins broke the mold in the team's second Big Ten season with an outstanding performance. He set team records for total offense (2,660), completions (176), passing yardage (2,679), completion percentage (66.7), yards per attempt (10.15) and passing efficiency (172.86). His efficiency mark ranks third in Big Ten history. Collins won the Maxwell and O'Brien awards and finished fourth in Heisman Trophy voting. He led Penn State to an undefeated season and a Rose Bowl title.
Ron Dayne, RB, Wisconsin, 1999:
It was a tough call between Dayne's 1999 campaign and his historic freshman year in 1996, but he capped his Badgers career by sweeping the major national awards (Heisman, Walter Camp, Maxwell, Doak Walker). Dayne rumbled for 1,834 yards and 19 touchdowns, averaging 6.1 yards per carry, as Wisconsin repeated as Big Ten and Rose Bowl champions.
Eddie George, RB, Ohio State, 1995:
Like Wisconsin's Montee Ball, who made our top five list from Monday, George was a model of consistency at the running back spot. He eclipsed 100 rush yards in 11 consecutive games despite often playing sparingly in the fourth quarter, and he finished the season with 1,927 rush yards and 23 touchdowns. He edged Nebraska's Tommie Frazier for the Heisman Trophy and also won the Maxwell, Walter Camp and Doak Walker.
Desmond Howard, WR, Michigan, 1991:
He's the only Big Ten wide receiver to win the Heisman Trophy (Nebraska's Johnny Rodgers played in the Big Eight), and his
Heisman pose
after a punt return touchdown against Ohio State remains an iconic image. Howard had 62 receptions for 985 yards and 19 touchdowns that year. He averaged 27.5 yards per kick return with a touchdown, 15.7 yards per punt return with a touchdown and had 13 carries for 180 yards and two scores. He still holds the single-season record for receiving touchdowns in Big Ten games (13).
Larry Johnson, RB, Penn State, 2002:
Johnson's numbers from 2002 are simply insane, as he averaged 183.1 yards per game and 7.7 yards per carry en route to leading the nation in rushing (2,087 yards). His yards total is the second highest in Big Ten history, and he had 54 fewer attempts than Dayne in 1996. Johnson won the Walter Camp, Maxwell and Doak Walker awards and finished third in Heisman Trophy voting.
Orlando Pace, OT, Ohio State, 1996:
Offensive linemen shouldn't be excluded from a list like this, and Pace was one of the best in recent college football history. He capped his career with an outstanding senior season, finishing fourth in Heisman Trophy voting, the best total for a lineman (offense or defense) since 1980. He popularized the term "pancake block" and earned his first Outland Trophy and his second Lombardi Award that year. Pace also earned Big Ten MVP honors.
Ndamukong Suh, DT, Nebraska, 2009:
Everyone around the country learned the name and the "Suuuuuuuh!" calls from Huskers fans. Suh turned into one of the more dominant seasons by a defender in college football history, racking up 12 sacks, 24 tackles for loss, 26 quarterback hurries, 10 pass breakups, three blocked kicks, a forced fumble and an interception. Suh won several national awards (Bednarik, Rotary Lombardi, Nagurski, Outland) and finished fourth in Heisman voting.
Anthony Thompson, RB, Indiana, 1989:
Thompson capped a brilliant career with a flourish, winning the Walter Camp and Maxwell Awards in 1989 and earning his second consecutive Big Ten MVP honor. The Hoosiers star rushed for 1,793 yards and 24 touchdowns, and added 35 receptions for 201 yards. He recorded the top single-game rushing total (377 at Wisconsin) and set the Big Ten's career scoring record, which Dayne eclipsed a decade later.
Lorenzo White, RB, Michigan State, 1985:
There are several work-horse efforts that could be included in this list, but none is more impressive than White's 1985 campaign. The Walter Camp Award winner set a Big Ten record with 419 carries and became the first Big Ten ball-carrier to eclipse 2,000 yards, piling up 2,066. He also ranks second in Big Ten Conference games in both rushing yards (1,470) and rushing average (183.7 yards per game).
May, 15, 2012
5/15/12
5:35
PM ET
Had colleague Ivan Maisel not spelled out a little-known rule about the College Football Hall of Fame's induction procedures, there would likely be some righteous outrage in Lincoln, Neb., and Columbus, Ohio, today.
Maisel
wrote this morning
that the Hall has a rule preventing the selection of players from the same school in back-to-back years. That must have been the only thing keeping Nebraska's Tommie Frazier and Ohio State's Orlando Pace from being elected this year.
Frazier is simply one of the greatest college football players of all time, leading the Cornhuskers to two national titles. Pace is the only player ever to win the Lombardi Award twice as one of the best offensive linemen in the history of the sport.
But Nebraska and Ohio State both had inductees last year in Will Shields and Eddie George, respectively. So it was no dice for Frazier and Pace. What makes no sense, though, is that both players were on the ballot for induction this year, even though they apparently weren't eligible.
Sometimes it's an honor just to be nominated. But in the case of these two legends, it will be a miscarriage of justice if they're not enshrined. Certainly, you can't say that Syracuse's Art Monk -- who had 102 catches in his college career and never more than 40 in a season for the Orange -- is more deserving than Pace or Frazier when it comes to college achievements.
The rule does not seem necessary, given how many great players come from major schools. But the voters should do the right thing and elect Frazier and Pace next year -- unanimously.
February, 28, 2012
2/28/12
3:00
PM ET
The official 2012 FBS ballot for the College Football Hall of Fame selection is out, and it includes 15 former Big Ten players, one former Big Ten coach as well as five former Nebraska and Penn State players who didn't compete in the league.

Let's take a look at the group:
Trev Alberts, LB, Nebraska, 1990-93*
Erick Anderson, LB, Michigan, 1988-91
Otis Armstrong, RB, Purdue, 1970-72
Larry Burton, SE, Purdue, 1973-74
Dave Butz, DT, Purdue, 1970-72
Marv Cook, TE, Iowa, 1985-88
Eric Crouch, QB, Nebraska, 1998-2001*
D.J. Dozier, RB, Penn State, 1983-86*
Jumbo Elliott, OT, Michigan, 1984-87
Dave Foley, OT, Ohio State, 1966-68
Tommie Frazier, QB, Nebraska, 1992-95*
Kirk Gibson, WR, Michigan State, 1975-78
Tim Krumrie, DL, Wisconsin, 1979-83
Robert Lytle, RB, Michigan, 1974-76
Tom Nowatzke, FB, Indiana, 1961-64
Jim Otis, FB, Ohio State, 1967-69
Orlando Pace, OT, Ohio State, 1994-96
Percy Snow, LB, Michigan State, 1986-89
Lorenzo White, RB, Michigan State, 1984-87
Steve Wisniewski, G, Penn State, 1985-88*
Darryl Rogers, coach, Michigan State, 1976-79 (also coached at Cal-State Hayward, Fresno State, San Jose State and Arizona State)
*-played for team not in Big Ten
The 2012 Hall of Fame class will be announced May 15 and inducted Dec. 4.
Selection criteria:
To be eligible for the ballot, players must have been named a First Team All-America by a major/national selector as recognized and utilized by the NCAA for their consensus All-America teams; played their last year of intercollegiate football at least ten years prior; played within the last 50 years and cannot be currently playing professional football. Coaches must have coached a minimum of 10 years and 100 games as a head coach; won at least 60 percent of their games; and be retired from coaching for at least three years. If a coach is retired and over the age of 70, there is no waiting period. If he is over the age of 75, he is eligible as an active coach. In both cases, the candidate's post-football record as a citizen may also be weighed.
It's a strong group from the Big Ten, and you can definitely expect to see some names announced May 15. It's interesting to see several clusters of nominees from certain eras, like the three Purdue players from the early 1970s, the two Penn State players from the mid 1980s, the two Ohio State players from the late 1960s and the two Michigan State players from the mid to late 1980s.
May, 12, 2010
5/12/10
12:00
PM ET
Two rounds are in the books and four teams are left in ESPN.com's playoff to determine
college football's best NFL pipeline
.
Clemson, Oklahoma State, Nebraska, Florida, Tennessee, Michigan, Arizona State and Penn State were eliminated in Round 2.
Georgia, Notre Dame, UCLA and Ohio State were pushed aside in Round 1.
Only Florida State, Pittsburgh, Miami and the University of Southern California are left.
Based on recent history, it's a surprise the Panthers are still standing.
Next to college football's teams of the 1980s (Miami), 1990s (FSU) and 2000s (USC), the Panthers stick out as much as Lane Kiffin sitting at a table of Hall of Fame coaches.
But here's a brief history lesson to bring you up to speed on Pittsburgh football:
In the early 1980s, there probably wasn't a better NFL factory than the Steel City's university. Quarterback
Dan Marino
played there, along with fellow Pro Football Hall of Famers Russ Grimm and
Rickey Jackson
.
Who can forget Pitt's stellar offensive linemen like
Mark May
, Jimbo Covert,
Ruben Brown
and
Bill Fralic
or its menacing defensive linemen such as Hugh Green,
Chris Doleman
and
Sean Gilbert
? Former NFL running backs
Curtis Martin
and Craig "Iron Head" Heyward played for the Panthers. More recently,
Arizona Cardinals
receiver
Larry Fitzgerald
and cornerback
Darrelle Revis
starred at Pitt.
But if the survey were based on the last 10 to 15 years -- instead of the last three decades -- the Panthers wouldn't have a seat at the front table.
FSU, Miami and USC are far and away college football's best NFL factories during the last two decades.
The Hurricanes blessed us with alumni who won five NFL Most Valuable Player awards and made 100 Pro Bowl appearances. An alumni game at "The U." would include a defense led by safety
Ed Reed
, linebacker
Ray Lewis
, and defensive linemen
Warren Sapp
and
Cortez Kennedy
. Try scoring against that unit.
The Miami offense would include quarterback
Jim Kelly
, tailbacks
Edgerrin James
and
Clinton Portis
, receiver
Michael Irvin
, tight end
Jeremy Shockey
, and tackle
Bryant McKinnie
.
Only USC can match that kind of star power. Four of the former Trojans drafted by NFL teams since 1979 are already in the Pro Football Hall of Fame: safety
Ronnie Lott
, tailback
Marcus Allen
, and offensive linemen Anthony Munoz and
Bruce Matthews
.
It's probably only a matter of time before former Trojans
Junior Seau
joins his fellow USC alumni in Canton, Ohio.
Florida State, which won 10 games or more every season from 1987-2000 and won national championships in 1993 and '99, produced NFL stars such as
Deion Sanders
,
Derrick Brooks
,
Walter Jones
and
Warrick Dunn
.
But many of FSU's best players during the 1980s and '90s never found as much success in the NFL.
Brad Johnson
, the only former Noles quarterback to have sustained success in the NFL, didn't even start during his senior season at FSU. Quarterbacks like
Peter Tom Willis
, Danny McManus,
Danny Kanell
and
Casey Weldon
had a cup of coffee in the NFL, but not much more.
What was the biggest surprise in the first round? No. 12 seed Ohio State over No. 5 seed Tennessee.
Ohio State's lineup of
Orlando Pace
,
Cris Carter
,
Chris Spielman
,
Eddie George
and
Robert Smith
is as good as anybody's, but Tennessee's roster of NFL talent is arguably just as solid.
Besides, who doesn't know the Buckeyes are going to lose to an SEC team every time?