NCF Nation:

OU-UT-2010-RRR
October, 1, 2010
10/01/10
10:15
AM ET
Oklahoma running back
DeMarco Murray
has carried the ball 12 times in the past two Red River Rivalry games. Those 12 carries have gone for a total of 3 yards.
Oklahoma lost both games.
As a freshman, Murray ran for 128 yards on 17 carries, picking up a big block of yardage on a 65-yard go-ahead touchdown in the third quarter.
Oklahoma won that game.
[+] Enlarge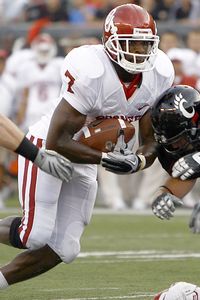 Jim Owens/Icon SMIDeMarco Murray already has seven rushing touchdowns this season.
Maybe it's not that simple. Or maybe it is. Either way, a big day from Murray certainly helps the chances of a big day for Oklahoma, especially in the Red River Rivalry, where the team with more rushing yards has won the Golden Hat on 11 consecutive occasions.
That looked more likely in the season opener against Utah State, when Murray handled a heavy load of 35 carries and turned them into 208 yards, both career highs.
"DeMarco, he honestly looks like he did as a freshman, now that he's fully healthy," said Oklahoma center Ben Habern.
But Murray's nearly six-yard average per carry in the season opener has dwindled to just 3.2 in his last three games, dipping to a season low of 2.4 on his 28 carries last week against Cincinnati. Texas entered last week as the nation's No. 1 rush defense, but when the Longhorns faced a team in UCLA that intended to run at the center of their defense, they gave up over 300 yards on the ground.
"That's irrelevant," Murray said. "I know they had a little hiccup last week, but I know they'll be fired up to play this game just like we will. They could be 0-5 and we could be 0-5 and we'd both be ready to play our best game of the year this week. It doesn't matter, last week."
Texas has shut down Murray the last two seasons with a handful of would-be NFL draft picks on its defensive line, such as Sergio Kindle, Lamarr Houston, Brian Orakpo, Roy Miller and Henry Melton, along with linebackers such as Roddrick Muckelroy.
"They've definitely had good players, but we've had pretty good guys, too, NFL guys like Trent [Williams], Phil [Loadholt] and Duke [Robinson]," Habern said.
Murray also suffered an ankle injury in last year's game that kept him out of the following week's game against Kansas.
"It hurt really bad, but I had to be a man and step up," Murray said. "That's one game you definitely don't want to miss."
He's not asking for excuses. All he wants is the ball, and Oklahoma feels its struggles running the ball the past few weeks are about to end.
"The last few weeks, we were only a few holes away from breaking DeMarco and Mossis [Madu] free for big runs," said quarterback
Landry Jones
.
On Saturday, the Sooners will work toward making sure those holes are there. Otherwise, Texas may leave the Cotton Bowl with a fifth Red River victory in six years.
September, 30, 2010
9/30/10
1:10
PM ET
For the past three seasons, much of the focus surrounding the Red River Rivalry has been the strength of each team's quarterback, and for good reason. Texas quarterback Colt McCoy finished second in the Heisman voting twice, and Oklahoma's Sam Bradford won it in 2008 before returning to start last year's game.
This year, quarterbacks may not be the biggest factor in deciding who hops back on I-35 as the Red River Rivalry winners.
Texas rode its defense to a win in its conference opener against Texas Tech, and if it wins on Saturday, it'll probably have its defense to thank again with its offense struggling to pin down an identity.
Even though the defense struggled in the second half against UCLA, defensive tackle Sam Acho says there's little reason to believe those struggles will carry over to this week.
"It was a little disappointing because we know we didn't give our full effort out there, that goes back to me needing to be a better leader," he said. "Our mistakes were on us; we had, I think, 16 busted assignments. That's when we gave up those big runs. When we did well, it was a 2-yard loss or short gain, so that's encouraging."
Oklahoma's
Landry Jones
has played well as a sophomore, but the bulk of the Sooners' offensive production may not have been possible without receiver
Ryan Broyles
and
DeMarco Murray
. The receiver and running back have played in a combined seven Red River Rivalry games to Jones' one -- a game he was forced into on Oklahoma's second drive after Bradford re-injured his throwing shoulder.
"Having someone like Ryan out there, who's one of the best receivers in the country is good, going up against one of the best secondaries in the country," Jones said, adding that he'd feel good about throwing a ball up to Broyles in one-on-one coverage against a secondary full of NFL talent. "Ryan's probably an NFL future first-rounder, too. He's a great player and they've got great players. It's going to be a great matchup."
September, 29, 2010
9/29/10
11:31
AM ET
Ryan Broyles
hadn't had a chance to scan the résumés of his competition on Saturday. Three Texas defensive backs made the
preseason watch list for the Thorpe Award
, and all three should have futures in the NFL.
[+] Enlarge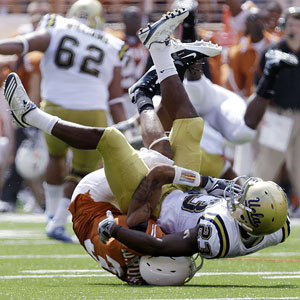 AP Photo/Eric GayRyan Broyles will have to contend with Curtis Brown and a talented Texas secondary.
"Hopefully, one day I'll be playing on Sunday, too," said the Oklahoma receiver, a member of
the Biletnikoff Award watch list
himself, with a laugh. "I'm looking forward to this challenge and so is this team."
Want to watch a high-stakes matchup in Saturday's Red River Rivalry? Keep an eye on Broyles as he navigates the Texas secondary, featuring three award listers at corner in Aaron Williams, Curtis Brown and Chykie Brown, alongside safeties Christian Scott and Blake Gideon.
"Our coach calls plays and you've got to make plays, it doesn't matter who you're going against or our team's going against," Broyles said. "You've just got to go out there and compete."
They'll be plenty of competition there against a Texas secondary hungry to make big plays. After intercepting a national high of 25 passes a year ago, it has just three through four games this season. Texas coach Mack Brown chalks that up, in part, to not playing any teams with the explicit goal of throwing against the Longhorns. The one team that tried, Texas Tech, left with 158 yards on 36 attempts with two interceptions. For their lack of interceptions, the Longhorns have given up just three passing touchdowns. Only 10 teams in college football have allowed fewer.
"They've done really well," Brown said. "We still have to get our hands on the ball more."
Texas may get plenty of chances on Saturday against Oklahoma, who has thrown the ball at least 36 times in every outing this season. Rest assured, plenty of those will come Broyles' way. He's got at least nine catches in every game this season and he leads the nation in receptions with 41.
"He does such a great job after he catches the ball. He can get open, he'll catch it, but he's a guy that can beat you when he gets the ball in his hands," Brown said. "All you can do is try to keep the ball out of his hands because when he gets it, he's real good."
How to do that is something few have figured out. Broyles has topped 100 yards in each of his past seven games.
"You try to change it up, obviously. But if I knew [how] on Monday, I wouldn't tell you," Brown said.
Meanwhile, Oklahoma coach Bob Stoops is busy making sure limiting Broyles doesn't mean beating Oklahoma. Broyles played Texas last year two weeks after suffering a hairline fracture in his shoulder blade and wasn't 100 percent. He still managed to catch a short pass, make a defender miss and race into the end zone for a go-ahead touchdown in the second half of Oklahoma's 16-13 loss.
He'll be at full strength this week, but quarterback
Landry Jones
obviously won't be looking his way every play.
"It isn't just Ryan. You're not going to get it done with one guy," Stoops said, complimenting the early play of his other receivers,
Cameron Kenney
and freshman
Kenny Stills
, among others. "If each of them makes 2-3 plays, it's harder to focus on just one guy and we plan to spread it around and use them all."
September, 28, 2010
9/28/10
4:56
PM ET
NORMAN, Okla. -- A year ago, Oklahoma entered the Red River Rivalry as a solid underdog with two losses and a handful of injuries. It lost Sam Bradford a second time -- this time for good -- early on and left as 16-13 losers.
[+] Enlarge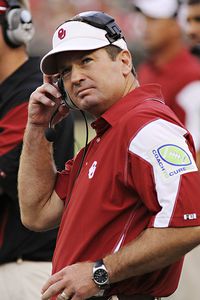 AP Photo/Tom UhlmanOklahoma coach Bob Stoops' Sooners have lost four of the past five Red River Rivalry games.
"We were not in a good place," said Oklahoma coach Bob Stoops. "Though, our guys were competitive, we played hard, we prepared for the week, and went in with the idea of winning and played quite a good game."
It wasn't enough. Oklahoma left with a 3-3 record through six games and watched Texas streak through its Big 12 schedule undefeated on the way to the national title game.
This time, it's Texas fighting for a much needed win, especially with Nebraska looming in two weeks. The Longhorns' 16-game home winning streak ended with a lopsided 34-12 loss to unranked, 2-2 UCLA on Saturday.
"Saturday night we were I think a little bit shell-shocked, very disappointed in the outcome and how we had played as a team," said Texas quarterback
Garrett Gilbert
. "I think coach and we all talked to each other about the 24-hour rule, being able to have thick skin and take coaching on Sunday. Take it and apply it to improve."
The Longhorns turned the ball over four times in the first half, and when the defense stopped looking dominant in the second half, the Longhorns 10-point halftime deficit grew to three touchdowns by the start of the fourth quarter.
"When you get beat 34-12, you've got a lot of concerns, and not just with offensive play calling. We've got a lot of things we need to fix," Brown said. "The biggest thing was they lined up and blocked us and we missed about 18 tackles and had as many mistakes when we lined up. UCLA was more ready to play than we were. They outcoached us, outhit us and outfought us.... I was disappointed that we didn't really give them a fight that was worthy."
If Texas doesn't give Oklahoma a fight on Saturday, the Longhorns can expect the same result. Oklahoma won five consecutive Red River games to begin the decade. Texas has closed it by winning four of five and two of the last three. A Texas loss on Saturday could swing a streaky rivalry with Stoops and Brown at the helm.
"Streaks are however you want to look at them, it doesn't much matter to me. In the end, sometimes one team is better than the other at different times," Stoops said. "Each game, to me, in my eyes, even when we had the five in a row, all that matters is what you do this year. Each of them are their own body of work and they're all different."
September, 28, 2010
9/28/10
2:42
PM ET
There will be plenty of young talent on display in the Cotton Bowl on Saturday when Texas and Oklahoma suit up for the 2010 edition of the Red River Rivalry. Both quarterbacks will be sophomores. Two true freshmen Oklahoma defenders, cornerback Aaron Colvin and safety Tony Jefferson should make significant contributions, as will fullback
Trey Millard
, another freshman.
Texas freshman receiver
Mike Davis
is battling a knee injury, but will be a factor in the passing game for the Longhorns after catching 16 passes for 183 yards and a pair of touchdowns in his last three games. Oklahoma's Kenny Stills has been a solid option for the Sooners passing game, too, with career highs of four catches and 72 yards in his last outing, a road game against Cincinnati.
[+] Enlarge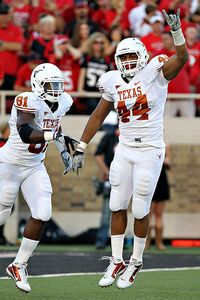 Ronald Martinez/Getty ImagesTexas' Jackson Jeffcoat (44) is "doing so much better than we anticipated in his freshman year," coach Mack Brown said."He's playing tough, he's smart."
But perhaps no player has been as impactful as early as Texas freshman defensive end Jackson Jeffcoat. Through four games, he's cracked the rotation at one of the best and deepest positions in the conference, making 1.5 sacks and having three tackles for loss among his 10 total tackles. He's listed as the Longhorns' No. 2 defensive end, but saw plenty of time against Texas Tech's pass-happy offense in Texas' conference opener, when he had a hand in two more sacks and applied constant pressure to quarterback
Taylor Potts
.
"Jackson's doing so much better than we anticipated in his freshman year. He's playing tough, he's smart," said Texas coach Mack Brown.
He later added: "We're been really amazed at how hard he's played, how well he's played and how consistently well he's played."
And there might also be no player on the field Saturday with more Red River intrigue. His twin sister, Jacqueline Jeffcoat, plays basketball for Oklahoma. Jeffcoat, a native of the Dallas suburb Plano, Texas, was recruited heavily by both the Sooners and Texas. He chose the Longhorns when he signed his letter of intent in February. A little more than seven months later, he'll take the field every bit the prized recruit Texas thought it was getting. ESPNU ranked him No. 2 on its list of the top 150 prospects in the 2010 class.
"He's one of the best pass rushers we've got," said fellow defensive lineman Sam Acho, a senior with six tackles for loss and three sacks of his own. "He's doing a great job on the edge, he's learned the position well and he's been doing a great job, I'm proud of him."
For Jeffcoat, the pass rushing gene was passed down directly from his father, Jim Jeffcoat, who played more than a decade in the NFL, mostly with the Dallas Cowboys.
"Dad's NFL background has had Jackson in those NFL dressing rooms all the time," Brown said. "So very much like
Garrett Gilbert
. They're not impressed by celebrity, he just wants to go out there and play and puts tremendous pressure on himself to play well."
Jeffcoat won two Super Bowls in Dallas and had 102.5 career sacks before retiring. He's now the defensive line coach at Houston.
"He's very mature on the field, has a lot of football knowledge, football savvy, and you see it translate on the field," Acho said.
Now, he'll take it to the field for one of Texas' premier games, hoping to give Oklahoma quarterback
Landry Jones
a front-row seat to his Red River debut.