NCF Nation:

Outland Trophy
December, 6, 2012
12/06/12
9:27
AM ET

Heather Dinich speaks with North Carolina guard and Outland Trophy finalist Jonathan Cooper at the "Home Depot College Football Awards" in Orlando.
June, 30, 2011
6/30/11
9:00
AM ET
The term "unblockable" probably gets thrown around too much, but Steve Emtman was unblockable at Washington, and he led the Huskies to consecutive Rose Bowl victories and a national championship.
A 290-pound defensive tackle with 9 percent body fat -- he once shocked teammates with a spontaneous back flip before a spring practice -- Emtman was a unanimous All-American, finished fourth in Heisman Trophy voting and won both the Lombardi Award and Outland Trophy in 1991. He was the frontman for one of the best defenses in college football history, one that gave up just 9.2 points and 67.1 rushing yards per game. He was elected to the College Football Hall of Fame in 2007.
[+] Enlarge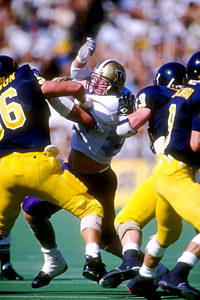 Otto Greule Jr/Getty ImagesSteve Emtman won both the Lombardi Award and Outland Trophy at Washington as well as two straight Rose Bowls.
His NFL career didn't go as planned after he entered the draft as a junior in 1992 and was taken No. 1 overall by the Indianapolis Colts. Injuries derailed his career: He blew out both knees and ruptured a disc in his neck. At age 27, he retired with just 134 tackles, eight sacks and a memorable 90-yard interception return. When the Chicago Bears tried to lure him back into the league, he took score of his body and declined.
"I said, 'I think I can play, but I don't think I can put the product on the field that I'd be proud of,'" Emtman said. "That was my end, if you will. I had a chance to come into camp in Chicago, but I just didn't want to do it. I didn't want to put something on the field that I didn't feel like was me."
Today, he lives in Spokane, Wash., where he's in real estate development and construction. He takes particular pride in a recent project, a master planned community at Eastern Washington University of over 1,300 units.
We decided to check in with Emtman as part of ESPN.com's
Simply Saturday
feature on college greats who didn't pan out in the NFL.
What would you say is your best memory at Washington?
Steve Emtman
: Probably winning the national championship at Washington would rate up there, going undefeated. That whole season, that whole year was probably the highlight, being a part of great team.
Are you still involved with Washington? Do you keep up with their progress?
SE
: Since I stopped coaching there a few years back [2005], I moved over to Eastern Washington and started developing full-time now. I haven't really had the time to be involved.
What's your take on why things didn't work out in the NFL?
SE
: I would say 12 surgeries. I didn't quit. I came back from ACL, MCL and patella tendon [tears] in 11 months. I busted my ass to do the best I could. I really honestly don't look back at it. I did everything in my power, everything I could to try to earn my money, if you will. I think even the owner of the Colts would tell you that.
Does it frustrate you that when people make lists of NFL busts, you're on them?
SE
: The reality is the reality. The only thing that really bothers you is I had a teammate of mine pop off about me being a bust. That irritated me a lot because he knew the situation that I was in. Like I said, I don't know many people who came back as fast as I did from the injuries I had. I know people had the same surgery and never played again. To me, getting back on the field was a feat. It's kind of that I really only answer to myself and God. I don't have to answer to everybody else. But, yeah, I'm a competitor and I wish things would have been different. I wish I had stayed healthy. When I was healthy, I think I did OK. It wasn't like I didn't perform at all. Yeah, there's frustration. Any athlete who sets out to set a higher standard, if you don't reach, it's frustrating. As you get older, though, you look back on it and you go, 'I don't question my work ethic or my effort to be good.' I just didn't achieve everything I wished to achieve.
How do you feel today -- do the injuries still bother you?
SE
: You know, all and all, I feel pretty good. I'm not crippled or anything. I definitely feel the aches and pains. But as an athlete looking back, you can only deal with it and move on. I feel like I'm somewhat normal at 41.
June, 29, 2011
6/29/11
4:00
PM ET
On Friday, the Pac-10 becomes the Pac-12, and life as we all have known it ends.
Kaboom!
Before we start looking forward -- oh, well, guess that's all we've been doing this offseason -- let's take a look back at the 10-team conference that started in 1978 when Arizona and Arizona State joined the Pac-8 (and Pac-8 purist grumbled about life ending as they knew it).
Today, we compile an all-time, All-Pac-10 team (No player who graduated before 1978 was considered). Thursday, we'll rank the best Pac-10 teams.
As for picking the players, you might imagine this wasn't easy. Lots of great players over the past 33 years. This list doesn't include many consensus All-Americans, national award winners and players who won multiple All-Pac-10 honors.
[+] Enlarge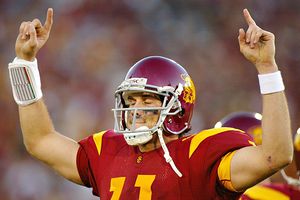 Christian Petersen/Getty ImagesUSC's Matt Leinart is the conference's all-time leader touchdown passes.
I struggled with receiver and offensive line the most. And kicker (UCLA fans will slap their foreheads at my pick). Ten selected players already are in the College Football Hall of Fame.
NFL success wasn't a part of this measure -- just look at the QB. But there were a couple of moments -- tight end and kicker -- when it waved at me from a distance.
As for the per school tally, it should be no surprise that USC led the way with seven players. It might be a surprise that Arizona, with no Rose Bowl berths, was second with four. Neither Oregon nor Stanford have a player on the team.
Feel free to disagree. Or to post your own team.
Offense
QB Matt Leinart, USC (2005):
2004 Heisman Trophy winner. Finished third in 2005. Won two national titles; played for a third. 99 career touchdown passes is 14 more than any other quarterback in conference history.
RB Charles White, USC (1979):
1979 Heisman Trophy winner. Fourth in 1978. Pac-10's all-time leading rusher. College Football Hall of Fame.
RB Marcus Allen, USC (1981):
1981 Heisman Trophy winner. 2,427 yards rushing in 1981 is conference single-season record. College Football Hall of Fame.
WR Dwayne Jarrett, USC (2006):
A two-time consensus All-American. Ninth in Heisman Trophy balloting. 41 career touchdown receptions is nine more than any wide receiver in conference history.
WR Mike Hass, Oregon State (2005):
Biletnikoff winner. Consensus All-American. His 1,532 yards receiving is a conference single-season record. He also holds the single-game receiving yards record (293).
OL Jonathan Ogden, UCLA (1995):
1995 Outland Trophy winner and consensus All-American. Two-time first-team All-Pac-10.
OL Randall McDaniel, Arizona State (1987):
Consensus All-American, two-time first-team All-Pac-10. College Football Hall of Fame.
OL Brad Budde, USC (1979):
Lombardi Trophy winner. Three-time first-team All-Pac-10. College Football Hall of Fame
OL Alex Mack, California (2008):
Three-time first-team All-Pac-10. Two-time Morris Trophy winner.
OL Lincoln Kennedy, Washington (1992):
Consensus All-American. Two-time first-team All-Pac-10. Two-time Morris Trophy winner.
TE Tony Gonzalez, California (1996):
Consensus All-American. First-team All-Pac-10.
Defense
DE Terrell Suggs, Arizona State (2002):
Bronko Nagurski, Lombardi Trophy and Ted Hendricks Award winner. Consensus All-American. Two-time first-team All-Pac-10. Set NCAA single-season sack record (24).
DT Steve Emtman, Washington (1991):
Outland and Lombardi winner. Finished fourth for Heisman Trophy. Consensus All-American. College Football Hall of Fame.
DT Rob Waldrop, Arizona (1993):
Outland and Bronko Nagurski winner. UPI lineman of the Year. Two-time consensus All-American. College Football Hall of Fame.
DE Tedy Bruschi, Arizona (1995):
Two-time consensus All-American. Three-time first-team All-Pac-10. Morris Trophy winner.
LB Chris Clairborne, USC (1998):
Butkus Award. Consensus All-American. Two-time first-team All-Pac-10.
LB Ricky Hundley, Arizona (1983):
Two-time consensus All-American. Three-time first-team All-Pac-10. College Football Hall of Fame.
LB Jerry Robinson, UCLA (1978):
Two-time consensus All-American. Three-time first-team All-Conference. College Football Hall of Fame.
S Kenny Easley, UCLA (1980):
Four-time first-team All-Conference. Three-time consensus All-American. College Football Hall of Fame.
S Ronnie Lott, USC (1980):
Consensus All-American. Two-time first-team All-Pac-10. College Football Hall of Fame.
CB Antoine Cason, Arizona (2007):
Thorpe Award winner. Consensus All-American. Two-time first-team All-Pac-10.
CB Mike Richardson, Arizona State (1982):
Two-time consensus All-American. Two-time first-team All-Pac-10.
Specialists
P Nick Harris, California (2000):
A consensus All-American in 2000, he punted a lot and was very good at it. He set NCAA records for most career punts and punting yardage.
K Jason Hansen, Washington State (1991):
Consensus All-American (1989). Two-time first-team All-Pac-10. 39 career field goals of 40 or more yards and 20 of 50 or more; both Pac-10 records.
January, 20, 2010
1/20/10
12:03
PM ET
Lots of extraordinary games to choose from, as well as many ways to ascribe greatness: the size of the stage, the competitiveness of the game and the overall strangeness.

And we made the executive decision not to make this a list of USC upset losses -- other than the biggest one of those.

10. Oregon 56, Arizona State 55 (2 OT), 2000: Many of you are drawing a blank, but the ones who saw this one are jumping out of their chairs and going, "Oh man. That one was nuts." Both teams scored 21 points in the fourth quarter. The teams combined for 1,228 yards, 663 of those for the Sun Devils. Ducks quarterback Joey Harrington threw six -- SIX! -- touchdown passes, including three in the fourth quarter, the last of which tied the score with 27 seconds left after the Sun Devils gave away a critical fumble. Arizona State freshman QB Jeff Krohn threw five TD passes, by the way. ASU lost the game when coach Bruce Snyder decided to fake the extra point and go for the two-point conversion in the second overtime. It failed, leaving fans in Tempe stunned.

9. Washington State 30, USC 27 (OT), 2002: Any of you Cougars fans able to muster the memory of kicker Drew Dunning's slide on his knees at Martin Stadium? Dunning sent the game into overtime with a 35-yard field goal and then made the game-winner from the same distance in a victory that was critical to the Cougars' run to the Rose Bowl. The game featured a brilliant quarterback duel between Carson Palmer and Jason Gesser -- Gesser passed for 315 yards, Palmer for 381 -- and a dominant performance from Cougars defensive tackle Rien Long, who went on to win the Outland Trophy. Between this game and the 2006 Rose Bowl, USC lost just once.

8. Oregon 44, Arizona 41 (2 OT), 2009: If Arizona had won this game, we now know the Wildcats would have played in their first Rose Bowl. The Wildcats led 24-14 early in the fourth quarter, but then the game went crazy. With red-clad Arizona fans encircling the field, Ducks quarterback Jeremiah Masoli tied the game in regulation with six seconds left with a touchdown pass to Ed Dickson. Masoli then won it in the second overtime with a 1-yard run. Masoli ran for three TDs and passed for three more.

7. Stanford 24, USC 23, 2007: Greatest upset in Pac-10 history? Maybe. Stanford was a 41-point underdog playing its backup quarterback at No. 2 USC, which had won 35 in a row at home. But Trojans quarterback John David Booty, who foolishly played -- and was allowed to play -- with an injured throwing hand, threw four interceptions, while Stanford's Tavita Pritchard led a clutch, game-winning drive, throwing a 10-yard touchdown pass to Mark Bradford on fourth-and-goal with 49 seconds remaining.

6. Oregon 37, Oregon State 33, 2009: It was the Civil War for the Roses, with the Ducks earning a berth in the Rose Bowl. While the return of Ducks running back LeGarrette Blount was significant -- he scored a critical touchdown -- the game belonged to redshirt freshman running back LaMichael James, who scored three touchdowns and rushed for 166 yards, and quarterback Jeremiah Masoli, who ran over Beavers safety Lance Mitchell to convert a fourth-and-3 play from the Beavers' 33 with 3:41 left, as Oregon ran out the final six minutes with its final drive.

5. California 31, Oregon 24, 2007: Sixth-ranked California, featuring a stellar performance from receiver DeSean Jackson, outlasted No. 11 Oregon in a game between two teams that would at one point rise to No. 2 during the season, though both ultimately crumbled. The game turned on a strange play as the Ducks were on the cusp of tying the score. With 22 seconds to go, Dennis Dixon found Cameron Colvin near the goal line, but Colvin fumbled trying to reach the ball into the end zone when he was hit by Marcus Ezeff. The loose ball went through the end zone and was ruled a touchback and possession for Cal.

4. Washington 33, Oregon State 30, 2000: It was the greatest game no one saw because of the late, West Coast kickoff at Husky Stadium. And at the time, its magnitude wasn't clear. The critical play of the back-and-forth affair happened when Washington defensive tackle Larry Tripplett caught Ken Simonton for a three-yard loss on second-and-1 from the Huskies 26-yard line with 42 seconds left. The Beavers panicked and mistakenly spiked the ball -- they had a timeout left -- and then Ryan Cesca missed a 46-yard field goal to tie. It was the Beavers' only loss of the season; they crushed Notre Dame in the Fiesta Bowl. They would have played Oklahoma for the national title if they had prevailed. And the win helped the Huskies win the Rose Bowl tiebreaker.

3. USC 23, California 17, 2004: No. 7 California had a first-and-goal on top-ranked USC's 9-yard line with under two minutes left. At that point, Cal quarterback Aaron Rodgers had completed 29 of 31 passes for 267 yards and a touchdown. But the Bears couldn't punch it in, with USC registering a sack and forcing three incompletions. It was the closest call of the season for the best team of the USC dynasty.

2. USC 34, Notre Dame 31, 2005: The infamous "Bush Push" game. No. 9 Notre Dame was about to knock off top-ranked rival USC and make Irish coach Charlie Weis a national sensation, but Matt Leinart led a drive for the ages in the waning moments as the Trojans prevailed, scoring the winning points when Leinart got a little extra help from Bush on his second effort on a quarterback sneak.

1. Texas 41, USC 38, 2006 Rose Bowl: Perhaps the great game in college football history, particularly considering that the stakes were a national title for two unbeaten teams and the field was packed with talent and future high draft choices. Vince Young almost single-handedly willed his team to the victory -- he ran for 200 yards and passed for 267 more -- and denied the Trojans a third consecutive national title. USC walked away with a laundry list of "what ifs," but the ultimate result was a 34-game winning streak coming to an end.
January, 15, 2010
1/15/10
10:47
AM ET
By
Tim Griffin
| ESPN.com
OMAHA, Neb. -- The magnitude finally hit him, shortly after he grasped the microphone and realized that he was listening to the Nebraska crowd chant his name one final time.
[+] Enlarge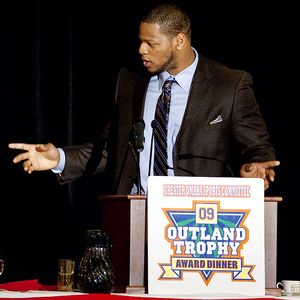 AP Photo/Nati HarnikNdamukong Suh is the ninth Nebraska player to win the Outland Trophy.
Ndamukong Suh picked up his Outland Trophy award at a banquet Thursday night. But he was just as touched by the reaction from an overflow crowd of Nebraska fans and well-wishers who wanted to toast his legendary career again.
During the middle of his acceptance speech, the 6-foot-4, 305-pound defensive tackle began crying as he thanked his coaches and teammates.
"For some reason, it hit me when I watched that video," Suh said, dabbing at his eyes after watching a series of the top plays of his career on the big screen. "It's the last time I'll ever be at Nebraska ... and be a Cornhusker ... and be on that field. It's hard."
Suh's mother, Bernadette, told the Omaha World-Herald she couldn't remember the last time her son cried for any occasion.
"I haven't seen him cry for, gosh, I don't know how long. It's been quite a while. It's been years.
"I think it finally has hit him that this is the end of the college part. An end of an era. It's just been wonderful to be part of this Big Red family. I'm sure he's going to miss it."
The Nebraska fans are going to miss it, too.
Fans interrupted the program on several occasions to break out the familiar "Suuuuuuh" chant.
"I'll definitely miss hearing that chant you guys do," Suh said.
Others waited for more than an hour in hopes of getting an autograph from the most decorated Blackshirt in the history of the program. Earlier this week, more than 400 fans paid $50 to have an item signed by Suh at an Omaha shopping mall.
Suh won the Lombardi, Nagurski and Bednarik awards and was the Associated Press National Player of the Year -- the first time that a defensive player has won that award. He also finished fourth in the Heisman.
But it was clear that collecting the Outland Trophy -- the ninth time a Nebraska player has won it -- meant something special to him.
Coach Bo Pelini presented Suh with the award. Pelini recalled traveling to Suh's hometown of Portland, Ore., early last year to talk to him about coming back to Nebraska for his senior season.
Although Suh was a likely first-round draft pick in the NFL draft last season, Pelini told him that other goals could be accomplished if he returned to school.
"I can't be more proud of one person as I am of him," Pelini said. "Last year he told me, 'I want to have an impact on the University of Nebraska forever. I came here to make an impact and to go down in history as somebody to have a long-lasting impact on the program that they're going to be talking about forever.'"
As he looked at his former player, Pelini understood the significance of perhaps the most popular Cornhusker player of all time.
"I think you accomplished that goal, Ndamukong," Pelini said.
And so much more.
December, 10, 2009
12/10/09
9:32
PM ET
By
Tim Griffin
| ESPN.com
There was a decided Big 12 influence Thursday night as
Colt McCoy
and Ndamukong Suh accounted for seven awards during the Home Depot ESPNU College Football Awards show Thursday night.
McCoy capped the festivities by earning the Maxwell Award. Earlier, he earned the Walter Camp Football Foundation's Player of the Year and the Davey O'Brien Award.
Suh claimed the Outland Trophy and the Chuck Bednarik Award and had earlier been presented with the Bronko Nagurski Award and the Vince Lombardi/Rotary Award.
McCoy beat out Alabama running back
Mark Ingram
and Florida quarterback
Tim Tebow
for the Maxwell Award -- the final award presented during Thursday's awards show.
"Tim and Mark are two great candidates and are well deserving of this award," McCoy said. "I'm very humble."
McCoy talked about how excited he is to play in the Citi Bowl Championship Series National Championship on Jan. 7.
"That's something very special, something me and our seniors have worked for four years," McCoy said. "Obviously, we know we have our hands full with Alabama and their offense, defense and special teams. They are very well-coached and are a tremendous football team. But we're really excited about it."
December, 10, 2009
12/10/09
8:40
PM ET
By
Tim Griffin
| ESPN.com
Nebraska defensive tackle Ndamukong Suh picked up back-to back-awards in a five-minute period as he claimed the Outland Trophy as the nation's best interior lineman and the Chuck Bednarik Award as the nation's best defensive player.

Suh continued a Nebraska tradition, becoming the eighth Cornhusker and first since Aaron Taylor in 1997 to earn the Outland Trophy, beating out Russell Okung of Oklahoma State and Idaho's Mike Iupati.

In the process, Suh has been a part of a stunning turnaround in the Nebraska defense.

"It's been a tough ride but got some strong guys back there. My class especially has been through some kind of hell," Suh said. "But having a great coaching staff and great defensive gurus like (Nebraska coach) Coach Bo (Pelini) and (Nebraska defensive coordinator) Carl Pelini. We learned the best from them. We want to continue to improve and get better as we do through the year."

Suh said he hopes to represent all of the offensive and defensive linemen as a finalist for the Heisman Trophy on Saturday night in New York City. He becomes the first interior lineman since Warren Sapp of Miami in 1994 to be nominated.

"That's a crazy feeling. I never expected it," Suh said. "After the Missouri game there was some Heisman talk. But I never expected to be there. I'm very proud of it. I talked to a couple of guys when I was at the Lombardi Award and hopefully want to represent those guys in the right way.

"All the guys up front -- the offensive linemen and defensive linemen -- I definitely want to be that person to represent them and happy to do it."

Earlier, Suh overcame Alabama defensive tackle Terrence Cody and Florida linebacker Brandon Spikes to become first Cornhusker and third Big 12 player to win the Bednarik Award.
November, 24, 2009
11/24/09
9:11
AM ET
By
Tim Griffin
| ESPN.com
Oklahoma State tackle Russell Okung and Nebraska defensive tackle Ndamukong Suh have been named among three finalists for the Outland Trophy, which is awarded to college football's best interior lineman by the Football Writers Association of Amerca.

The other finalist named was Idaho guard Mike Iupati.

The finalists will attend the announcement of the award, which will come on Dec. 10 during The Home Depot ESPNU College Football Awards Show at the Walt Disney World Resort in Lake Buena Vista, Fla. The show will begin at 7 p.m. ET.

Okung, a 6-5, 300-pound senior from Houston, has been rated as the top offensive tackle NFL prospect in college football. Heading into the regular-season finale against Oklahoma on Saturday, the durable Okung is slated for his 46th consecutive start for the Cowboys. He's a big reason why the 9-2 Cowboys' offense produces 203.5 yards a game on the ground. Twice during his career he has not allowed a sack against the nation's leader at the time -- including an effort against Texas A&M end Von Miller this season.

Suh, a 6-4, 300-pound senior defensive tackle from Portland, Ore., leads Nebraska in tackles with 35 unassisted tackles and 30 assisted stops. He has 15 tackles for 52 yards in losses (6.5 sacks), 10 pass break-ups, 20 quarterback hurries, one interception, one forced fumble and three blocked kicks. A top NFL prospect, Suh heads up the nation's third-ranked scoring defense that has propelled the Cornhuskers to an 8-3 regular-season record heading into the regular-season finale at Colorado on Friday.

The Big 12 has featured two previous winners in its history. Aaron Taylor of Nebraska claimed the award in 1997 and Jammal Brown of Oklahoma in 2004.

Including its previous history, Nebraska has claimed the award previous a record eight times by seven different players. Previous Nebraska winners include Dave Rimington (twice), Larry Jacobson, Rich Glover, Dean Steinkuhler, Will Shields, Zach Wiegert and Taylor.

An Oklahoma State player has never won the Outland Trophy.

The official 2009 award presentation will be Jan. 14, 2010, in Omaha, Neb., at a banquet sponsored by the Greater Omaha Sports Committee.
August, 12, 2009
8/12/09
12:00
PM ET
Posted by ESPN.com's Graham Watson
The Outland Trophy honored seven players from the nonautomatic qualifying schools on its watch list this week.
The Outland Trophy is award by the Football Writers Association of America annually to the nation's best interior linemen -- tackles, guards and centers -- on either side of the ball.
Since the award began in 1946, five players from the current nonautomatic qualifying schools have won -- Army's Joe Steffy (1947), Utah State's Merlin Olsen (1961), BYU's Jason Buck (1986), Air Force's Chad Hennings (1987) and BYU's Mohammed Elewonibi (1989).
The last non-AQ to appear as a finalist was Utah's Jordan Gross in 2002.
The Outland Trophy also will consider adding players to the watch list in early October.
The Outland Trophy is the third oldest award in major college football. The winner will be announced on the Home Depot ESPNU College Football Awards Show on Dec. 10.
2009 OUTLAND TROPHY WATCH LIST
Zane Beadles, Utah, OL
Nick Charles, Air Force, G
Chris Fisher, Louisiana-Lafayette, C
D'Anthony Smith, Louisiana Tech, DT
Mike Iupati, Idaho, OL
Torrell Troup, UCF, DT
Andre Neblett, Temple, NT
August, 11, 2009
8/11/09
4:29
PM ET
Posted by ESPN.com staff
Check out the interior linemen on the watch list for the 2009 Outland Trophy:
Jon Asamoah, Illinois
Geno Atkins, Georgia
Zane Beadles, Utah
Ciron Black, LSU
Bryan Bulaga, Iowa
Jeff Byers, USC
Brandon Carter, Texas Tech
Nick Charles, Air Force
Terrence Cody, Alabama
Anthony Davis, Rutgers
Chris Fisher, Louisiana-Lafayette
Kurtis Gregory, Missouri
Chris Hall, Texas
Mike Iupati, Idaho
John Jerry, Ole Miss
Mike Johnson, Alabama
Arthur Jones, Syracuse
Gerald McCoy, Oklahoma
Josh McNeil, Tennessee
Andre Neblett, Temple
Kristofer O'Dowd, USC
Jared Odrick, Penn State
Vince Oghobaase, Duke
Russell Okung, Oklahoma State
Jeff Owens, Georgia
Mike Pouncey, Florida
Maurkice Pouncey, Florida
Brian Price, UCLA
Sergio Render, Virginia Tech
Boo Robinson, Wake Forest
Malcolm Sheppard, Arkansas
D'Anthony Smith, Louisiana Tech
Ndamukong Suh, Nebraska
Matt Tennant, Boston College
Torrell Troup, Central Florida
Adam Ulatoski, Texas
J.D. Walton, Baylor
Trent Williams, Oklahoma
Stefen Wisniewski, Penn State
Sam Young, Notre Dame