NCF Nation:

Panthers-Eers-111125
November, 26, 2011
11/26/11
1:16
AM ET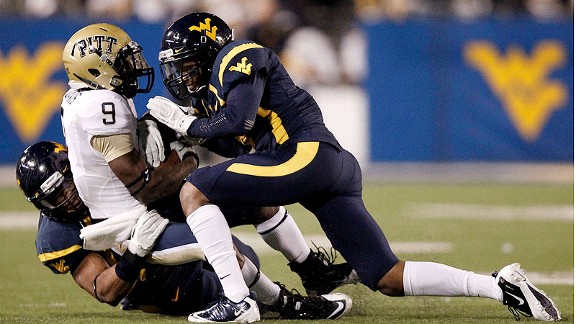 Jared Wickerham/Getty ImagesWest Virginia's defense was all the difference in the Mountaineer's win over Pitt.
MORGANTOWN, W.Va. -- Julian Miller showed up for interviews barefoot, with his left ankle wrapped heavily in ice. You could understand why the West Virginia defensive end needed to give his feet a break.
Miller had the most dominating performance of his career, in the final home game of his career, on his birthday no less, keying a stifling defensive effort to help the Mountaineers beat Pitt
21-20
on Friday night. West Virginia kept its Big East title hopes alive with the victory, although the Mountaineers will need some help from Cincinnati to keep their BCS dream from dying.
All West Virginia can do to help itself is win. It appeared that might not happen for a good chunk of what could end up being the final Backyard Brawl between the two longtime rivals. West Virginia could not get out of its way for a good portion of the contest, gift-wrapping just about all the scoring opportunities the Panthers had. The Mountaineers had three turnovers -- including two muffed punts deep in their own territory.
But the defense came up with one gigantic stop after another in its best performance of the season.
[+] Enlarge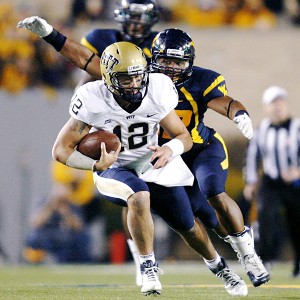 Charles LeClaire/US PresswirePittsburgh coach Paul Chryst has hinted that Tino Sunseri will be his starting quarterback in the fall.
Miller tied a single-game record with four sacks. West Virginia had 10 on the night, nine in the second half. That second half was absolutely huge for this defense, a unit that has struggled to stop its opponents this season. That it came against the worst offensive line in the Big East hardly was a surprise.
"We knew that was a weakness of theirs, and we wanted to go out there and take advantage of it," Miller said.
The Panthers now have given up 52 sacks on the season, approaching numbers put up by the Rutgers offensive line last season. When Pitt quarterback
Tino Sunseri
needed to make a play on the final two possessions of the game, he reverted to form and took one sack after another. The final possession ended with three sacks in seven plays.
"I'm puzzled," Pitt coach Todd Graham said. "I don't understand it. You can't take sacks. We sat there and took one right after another. It is our job as coaches to get our guys to execute the system, and we absolutely did not. That was the difference."
Pitt was able to jump out to a 20-7 lead based mostly on West Virginia (8-3, 4-2) mistakes. A personal foul penalty on a missed Pitt field goal gave the Panthers new life, and they converted the opportunity into a touchdown. The two muffed punts deep in the Mountaineers' own territory were damaging, too.
But they would have been more so had the defense not held the Panthers (5-6, 4-3) to field goals in both instances. You never got the feeling the Panthers were in control of the game. They could hardly move the ball after the first half and were severely hampered when starting running back
Zach Brown
was unable to play in the second half because of a bruised sternum.
Where West Virginia might have hung its head at the deficit early in the season, the Mountaineers refused to get themselves down Friday night.
"I always tell the guys, 'How are we going to get back in it? What are we going to predict?'" linebacker Najee Goode said. "Me and Keith [Tandy] were like, 'We're going to get the ball and we're going to score and we're going get the ball back and we're going to score again and we're going to win 21-20.' I said, 'That sounds like a plan to me.'"
Indeed, after falling behind by 13 points, West Virginia put together a quick seven-play drive that ended when
Shawne Alston
ran in from 8 yards out. It took a while longer for the Mountaineers to get their game-winning drive together.
That came in the fourth quarter, and it happened thanks to a pretty gutsy play call. After a personal foul penalty on Aaron Donald gave West Virginia the ball at the Pitt 28, West Virginia spoiled a third-and-short when
Geno Smith
threw a pass that lost 5 yards. Coach Dana Holgorsen decided to go for it on fourth-and-6 from the Pitt 24.
"We felt like we needed to roll the dice," Holgorsen said. "We were down there and felt like we should go for it. I'm glad we did."
Smith was perfectly happy with the call, too. He converted when he threw a 9-yard pass to
Tavon Austin
. Alston rumbled in from a yard out to give West Virginia a 21-20 lead. It was the first lead of the game for the Mountaineers. That was all they needed to close out the win.
West Virginia held Pitt to 80 total yards in the second half -- 30 yards rushing -- and just five first downs.
"We pretty much battled every kind of adversity you can think about," Smith said. "The defense did a great job keeping us in the game throughout. They played probably the best game of the season if you ask me. Those guys have been battling all year. They're coming along, they're getting better and they really kept us in this one, and we pulled it out late."
They need to pull another one out next week in the finale at South Florida to have any shot at winning a conference title. Pitt has been eliminated from contention and needs to win next week against Syracuse to become bowl eligible.
As for whether this is the final Backyard Brawl, none of the players want to see it end.
"It's pretty much a classic every time," Smith said.
November, 25, 2011
11/25/11
10:30
PM ET
MORGANTOWN, W.Va. -- Well, West Virginia certainly made what could be the final Backyard Brawl quite dramatic.


The Mountaineers erased a 13-point second-half deficit behind a stifling defense and some gutsy play calling, overcoming their own share of mistakes to beat Pitt
21-20
Friday night and stay alive for a possible Big East title and BCS berth.
Pitt took a 20-7 lead less than four minutes into the third quarter after getting a field goal off a second muffed punt on the night. But among the several keys to this game, one big one was the West Virginia defense holding the Panthers to field goals inside the 20 off those two miscues.
The Panthers played very well on defense for most of the night, but the game-winning drive was an absolute killer. Pitt defensive tackle Aaron Donald was flagged for a personal foul on a late hit that gave the ball to West Virginia at the Pitt 28. West Virginia decided to go for it on fourth-and-6 from the Pitt 24, and
Geno Smith
made the decision to pay off when he got the first-down completion to
Tavon Austin
. Earlier in the half, coach Dana Holgorsen had decided to go for it on fourth-and-4 from the Pitt 30, but the Mountaineers failed to convert.
After the Mountaineers converted on fourth down,
Shawne Alston
got the game-winning touchdown on a 1-yard run with 6:10 to go. Alston had two touchdown runs in the game, and the Mountaineers were worlds better on the ground in the second half -- another huge reason they came back.
Pitt had several chances to get into field-goal range, but the same old story line haunted the Panthers --
Tino Sunseri
simply could not connect with receivers — and was sacked numerous times because he just wouldn't get rid of the football. The game ended when Sunseri fumbled on a sack; Panthers offensive lineman Ryan Schlieper recovered and rumbled ahead before being tackled.
Sunseri was sacked three times in seven plays on the final drive.
Much of that is because the West Virginia defensive line exerted itself after Pitt dominated in the first half. The Panthers were also ineffective once starting running back
Zach Brown
went down with a bruised sternum. After gaining 123 yards in the first quarter alone, Pitt was essentially stifled.
West Virginia turned the ball over three times but still found a way to win. Special teams was an Achilles' heel, again. But a win is a win, especially in this rivalry game.
Now, the Mountaineers need Cincinnati to win out to have any shot at a BCS game. If the season ends in a three-way tie among West Virginia, Louisville and Rutgers, the Cardinals get the BCS bid based on their 2-0 record against those schools.
November, 25, 2011
11/25/11
9:44
PM ET
MORGANTOWN, W.Va. -- West Virginia showed it can run the ball, but special teams hurt the Mountaineers once again in the third quarter against Pitt.
Tavon Austin
muffed a punt deep in Pitt territory, and the Panthers converted that into a 27-yard field goal by Kevin Harper. It was the second muffed punt of the game for the Mountaineers. But perhaps lucky for them, the defense has been able to hold Pitt to field goals both times it was pinned deep.
Still, Pitt took a 20-7 lead on that field goal. West Virginia answered with a touchdown to close the gap to 20-14, on a powerful run by
Shawne Alston
. That seven-play, 60-yard touchdown drive had 44 yards of rushing. In fact, West Virginia ran for 75 yards in the third quarter after having minus-2 yards on the ground at the half.
The Mountaineers had a chance late in the third quarter to seize momentum, but failed to convert a fourth-and-4 from their 30. Somehow Pitt is holding on without doing much on offense in the third quarter. The Panthers also are without starting running back
Zach Brown
, out with a bruised sternum. Pitt has lost its top two backs to injury this season, after
Ray Graham
was lost for the season with a torn ACL earlier in the year.
November, 25, 2011
11/25/11
8:48
PM ET
MORGANTOWN, W.Va. -- Pitt leads West Virginia 17-7 at halftime of the Backyard Brawl. Here is a quick analysis:


Turning point:
It appeared momentum was on West Virginia's side after closing the gap to 14-7 and forcing Pitt to punt for the third consecutive series. But Ishmael Banks muffed a punt, and Andrew Taglianetti recovered for Pitt. The Panthers converted the mistake into a 30-yard field goal and built its lead to 10 points. West Virginia tried to take advantage of an interception by
Tino Sunseri
late in the second quarter, but
Geno Smith
was sacked on back-to-back plays and Pitt takes momentum into halftime. The Panthers get the ball to start the second half.
Stat of the half:
0-for-6. West Virginia has failed to convert a third down in the game, and that is a big reason why the Mountaineers only have seven points in the first half. The Pitt defense has been excellent all season on third down, going into the game allowing opponents to convert just 32 percent of the time.
What Pitt needs to do:
Keep running. The run game has worked for a good portion of the game, so the Panthers need to keep going with that.
Zach Brown
got shaken up at the end of the second quarter, so we will see whether he comes out for the second half. True freshman
Isaac Bennett
has proven perfectly capable of shouldering the load. Pitt has 129 yards rushing in the first half, after totalling 200 against Louisville in its last game.
What West Virginia needs to do:
Protect Geno Smith. The Panthers have harassed him throughout the game, and already have three sacks. The Pitt defensive line has been among the best in the Big East, and now you see why. West Virginia needs to get better blocking from its backs in this area, and from the offensive linemen as well. That would give the Mountaineers a shot at getting their passing game going.
November, 25, 2011
11/25/11
7:55
PM ET
MORGANTOWN, W.Va. -- Pitt has dominated West Virginia up front, and that is a big reason why the Panthers are up 14-0 after the first quarter.
Special mistakes haven't helped West Virginia, either. Jorge Wright was called for a personal foul on a missed 38-yard field goal by Kevin Harper, giving the Panthers new life. They ended up scoring their first touchdown on that drive, after successfully converting a fourth down.
Pitt scored its second touchdown after a Michael Molinari punt traveled 22 yards and gave the Panthers the ball at their own 48. Still, the Panthers have pushed West Virginia around on both lines, opening up running lanes for the offense and harassing
Geno Smith
on defense.
Both Pittsburgh touchdowns have come on the ground. Pitt has 62 yards rushing in the early going. The success on the ground has enabled the play-action to work well, and Pitt already has 123 total yards. West Virginia has failed to convert on third down (0-for-4). Aaron Donald notched his 10th sack of the season, and the Panthers have several other hurries and tackles for loss.
West Virginia is generally a slow-starting team, so we shall see how the Mountaineers respond.
November, 25, 2011
11/25/11
6:55
PM ET
MORGANTOWN, W.Va. -- We are approaching kickoff between Pitt and West Virginia. Here are a few final thoughts before the game starts:


Pitt might get a boost on the offensive line, which has struggled mightily this season. Right guard Lucas Nix is expected to play Friday night for the first time since injuring his knee against USF in September. He has missed five straight games, and Pitt has started three different players in his place. Nix was dressed and participated in pregame warmups.
A bunch of West Virginia records could be falling Friday. Among them:
Quarterback Geno Smith is 111 yards away from passing Marc Bulger for the most single-season passing yards in school history. Smith has 3,497 yards; Bulger had 3,607 in 1998.
Smith also is 291 yards shy of 7,000 for his career. He would become the fifth player in school history with 7,000 total yards of offense, joining Pat White, Bulger, Rasheed Marshall and Major Harris.
Receiver Stedman Bailey needs just 7 yards to break the single-season record for receiving yards, set by David Saunders in 1996.
Bailey also has an opportunity to match the school record for touchdown catches in a season. He currently has 10; the record is 12, held by Darius Reynaud (2007) and Chris Henry (2004).
Receiver Tavon Austin needs six receptions to break the single-season record of 77, set by Saunders in 1998.
West Virginia has won two straight in this series. Pitt leads overall 61-39-3. In West Virginia's last 15 wins in the series, the Mountaineers have scored 581 points -- an average of 38.7 per game.
November, 25, 2011
11/25/11
6:00
PM ET
MORGANTOWN, W.Va. -- It is a beautiful night for football, with clear skies and mild temperatures for the 104th edition of the Backyard Brawl between Pittsburgh and West Virginia.
Here are a few keys for each team.
Pitt

1. Run baby, run
. Plenty on this in the pregame video, but the Panthers want to have some balance to help
Tino Sunseri
. They slowed down the tempo just a touch in their last win against Louisville, and could try to do that again against the Mountaineers, especially if it means keeping West Virginia off the field. Since the 2000 season, Pittsburgh is 41-13 when it has a 100-yard rusher.
2. Pressure.
Pitt has gotten much better on the defensive front, and a big reason has been the development of sophomore defensive end Aaron Donald, who leads the Big East with nine sacks. The key to any game plan against the Mountaineers is to pressure quarterback
Geno Smith
. Since 2000, only three Pitt players have 10 or more sacks in a season.
3. Convert in the red zone.
Pitt has been excellent in the red zone this season, ranking first in the Big East and tied for seventh nationally in red zone efficiency. Pitt has converted 32 of 35 trips inside the 20 this year -- with 26 touchdowns. The three failed attempts were missed field goals.
West Virginia

1. Put the game in the hands of Tino Sunseri.
West Virginia knows the Panthers might want to establish the run game, and West Virginia would love nothing more than for Sunseri to beat him. He has played better of late, but Sunseri also has a tendency to make way too many mistakes and take sacks he shouldn't take.
2. Convert third downs.
West Virginia ranks No. 2 in the Big East in third-down conversions (42 percent). In five of 10 games, the Mountaineers have converted on third downs 45 percent of the time or better. Pitt has been great on defense on third down, leading the Big East and ranking 10th nationally in third-down efficiency defense (32 percent). The Mountaineers have to win the third down battle to have a great shot at winning.
3. Win up front.
West Virginia has struggled getting pressure on the passer this season, but this could be the perfect opportunity to change that. Pitt has struggled big time on the offensive line this season, so Bruce Irvin and Julian Miller could have a big game.