NCF Nation:

Panthers-Irish-100910
October, 9, 2010
10/09/10
8:57
PM ET
SOUTH BEND, Ind. -- The pop group OK Go performed with the Notre Dame marching band at halftime of Saturday's game against Pittsburgh. They became famous for a video of their song "Here It Goes Again" in which they performed a choreographed dance on treadmills.
OK Go provides the perfect imagery for the Fighting Irish, who are on a seemingly continual loop. Every game, even victories like the
23-17
one over Pitt, are full of starts and stops, streaks and reversals.
[+] Enlarge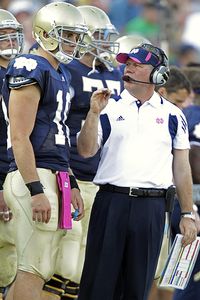 AP Photo/Michael ConroyBrian Kelly's team almost gave up another early lead in its close win over Pittsburgh.
The one constant is inconsistency. Against the Panthers, Notre Dame led 20-3 in the third quarter after one of its best offensive stretches of the season early on. Yet the game turned into a typical heart-stopper, with the defense having to twice stonewall Pitt in the final minutes to avoid another stupefying loss. Here it goes again, indeed.
"We are really good at stubbing our toe," head coach Brian Kelly said. "But that's us. So you're going to have to get used to it. I'm trying to get used to it or it's going to make me look really old, really quick."
Legions of little mistakes conspired to keep the Irish from running away with this one in the second half. Quarterback
Dayne Crist
looked as sharp as he had all year in completing 12 straight passes in the first half, leading a super-speed, no-huddle attack on a pair of touchdown marches.
But Crist, who has run hot and cold all year, was just 12-of-27 outside of that dandy dozen. The offense managed only 36 yards of offense in the third quarter and failed to score a touchdown in the second half. Crist missed a wide-open (though literally hamstrung by injury)
Kyle Rudolph
after a Pitt linebacker Greg Williams misplayed and then cramped up in coverage. Tight end
Mike Ragone
dropped a pass with nothing but green around him when a first down would have all but ended the game. Another potential clincher vanished when a long
Michael Floyd
touchdown was called back for an illegal pick on
Theo Riddick
.
All the errors are fixable, but the biggest issue -- still -- is a lack of killer instinct to put wobbly opponents away.
"That's something everyone is very cognizant of, and something we all want to achieve on offense," Crist said of landing a knockout blow. "It's just experience. And experience together."
The offense can look devastatingly effective at times, as it did in a 21-point first quarter last week at Boston College, and completely pedestrian in others. Kelly admits he is "micromanaging" Crist and the play calling right now while players figure everything out. That's one reason why the Irish used a lot of short passes and un-Kelly-esque clock-burning drives against Pitt.
"It's not a beauty contest yet for us," Kelly said. "It's certainly not that. But my job is to get Notre Dame to win football games, and we're starting to do that."
The Irish may seem like they're running in place with a 3-3 record, but simple survival in the opening six-game stretch was key. Things had a way of evening out; Michigan, Michigan State and Stanford were all a little feistier than most expected in the preseason, while Purdue, Boston College and Pittsburgh have all struggled more than predicted.
Notre Dame beat the teams it should have beaten, and now comes a welcome stretch of games with Western Michigan, Navy and Tulsa lined up. The Irish have a chance to get some momentum going before the Nov. 13 showdown at home against Utah.
[+] Enlarge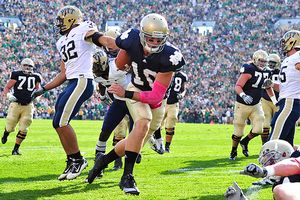 Matt Cashore/US PresswireQuarterback Dayne Crist had another inconsistent performance Saturday.
"We feel like we're progressing in a positive way," Floyd said. "We're feeling good having these [last] two games under our belt as victories. We feel we can do anything right now."
Offensive hiccups aside, several positives came out of the Pitt win.
Special teams shined, as David Ruffer continued his record streak of perfection. He's now 16-for-16 on career field goals after drilling three more Saturday, including a no-doubt 50-yarder after a bobbled hold. The punt team pinned Pitt deep in its own territory repeatedly, most importantly on the final two possessions with the game on the line. The defense held the Panthers without a first down on those two tense drives. And the Irish did not commit a turnover.
"We did some good things today and some things we'd like to correct," Crist said. "But the best thing was, we got a win while doing it."
Kelly says Notre Dame can continue to win while learning on the fly, and the rest of the schedule surely helps in that regard. He said the team is developing a belief that it will win close games. He sees a time coming when everything starts to click and the treadmill dance stops.
"All things will be OK," he said, smiling.
And maybe that's when the Irish will really be on the go.
October, 9, 2010
10/09/10
6:57
PM ET
SOUTH BEND, Ind. -- There were many anxious moments for Notre Dame at the end of its
23-17 win
over Pittsburgh.
Twice in the final five minutes, Pitt got the ball with a chance to score the go-ahead touchdown. But both times, the Panthers had to start deep in their own territory, and they couldn't gain a first down either time.
So the Irish held on, barely, and even their record to 3-3. That's good news because the next three games look very winnable.
Pitt needed a big nonconference win but instead went 0-3 against Utah, Miami and Notre Dame. The Panthers are going to think long and hard about missing two field goals and failing on a fake punt that turned into three Irish points.
But they can't think about it too long, because a suddenly-dangerous game at Syracuse loom next Saturday.
More to come after postgame interviews.
October, 9, 2010
10/09/10
6:29
PM ET
SOUTH BEND, Ind. -- Notre Dame has had several chances to put this game away, but Pitt is still hanging around, down only 23-17 with 7:23 left.
The Irish had only 36 yards in the third quarter as the Panthers climbed back to within 20-10. They just completed a nice drive that ended with another David Ruffer field goal, when a touchdown would have all but sealed it.
It's a familiar feeling for Notre Dame fans, who have watched their team fail to close out opponents convincingly for what seems like years now.
As for Pitt, quarterback
Tino Sunseri
has quieted his critics. He's 26-of-34 for 263 yards, a touchdown pass and a touchdown run. He just completed a beautiful 56-yard scoring strike to
Jon Baldwin
on what looked like a bootleg run. The Irish defense bit, and Sunseri threw to an open Baldwin on the run.
And for the
Ray Graham
versus
Dion Lewis
debate, Graham has carried eight times for 44 yards, while Lewis has toted it 11 times for 59 yards so far. It's basically a wash, though most of Lewis's yards came on a 30-yard jaunt. The Panthers have not had a dominant rushing game Saturday, however, and they've had to rely on Sunseri's arm.
October, 9, 2010
10/09/10
5:48
PM ET
SOUTH BEND, Ind. -- Pittsburgh went into the half trailing by 14 but at least could say it moved the ball well on offense.
That's no longer the case. Two possessions into the second half, the Panthers have done nothing against Notre Dame. Coach Dave Wannstedt called for a fake punt after the opening series resulted in a three-and-out, but Dan Hutchins didn't even come close to converting the fake. Notre Dame cashed in with a 50-yard field goal by David Ruffer to
make it 20-3
.
Ruffer is now 15-for-15 for his career, an Irish record. He made the first 50-yarder by a Notre Dame kicker since 2003 -- and the holder bobbled the snap.
The Pitt defense has looked better in the second half. But if the Panthers aren't going to move the ball, Notre Dame will be happy to sit on its 17-point lead.
October, 9, 2010
10/09/10
5:12
PM ET
SOUTH BEND, Ind. -- Quick halftime review from Notre Dame Stadium, where Notre Dame leads Pittsburgh 17-3:
Turning point:
Pittsburgh's inability to get points in the red zone is the reason why Notre Dame has a two-touchdown lead. Twice, the Panthers marched to the Irish 10-yard line. They came away with three points and one missed field goal. At the end of the half, Pitt marched to the red zone again but botched a field goal try when holder
Andrew Janocko
fumbled the snap. Pittsburgh never punted but has only three points.
Stat of the half:
Pitt has 10 more total yards and only one fewer first down but has 14 fewer points.
Best player in the half:
Irish quarterback
Dayne Crist
is running the spread offense with efficiency and expertise, delivering the ball quickly and utilizing short route to neutralize the Pitt pass rush. Crist completed 12 straight passes at one point and hit six different receivers.
Best call:
One play after Notre Dame's Harrison Smith intercepted
Tino Sunseri
-- thanks in large part to receiver
Mike Shanahan
falling down on his route -- the Irish went deep. T.J. Jones made a brilliant diving catch to set up Notre Dame at the Pittsburgh 8. The Irish wound up with a field goal.
October, 9, 2010
10/09/10
4:35
PM ET
SOUTH BEND, Ind. -- This is how the Notre Dame offense under Brian Kelly is supposed to look. In fact, it looks a lot like the way Cincinnati used to slice through Pittsburgh.
The Irish have put together two long touchdown drives in a row and they have the Panthers' defense on its heels. Kelly has neutralized the pass rush by the Pitt front four with quick throws and inside handoffs from the shotgun. Everybody knows the soft underbelly of the Pitt defense is over the middle, and that's exactly where
Dayne Crist
is going with the ball.
Crist has 11 straight completions and looks as sharp as he has all year. He's making the right reads, getting the ball out of his hand quickly and doing all the things a Kelly-coached quarterback has to do.
Notre Dame leads 14-3, but Pitt has only itself to blame for not being tied. The Panthers twice drove to the Irish 10-yard line but had to settle for two field goal tries, missing one of the chip shots. Dave Wannstedt's team can't leave points on the field with the way Kelly's offense is humming so far.
October, 9, 2010
10/09/10
4:21
PM ET
SOUTH BEND, Ind. -- We're probably not headed for 45-44 game like the last time Brian Kelly and Dave Wannstedt met, but both Pitt and Notre Dame are moving the ball well early in this game.
The best news for Pittsburgh is that
Tino Sunseri
is putting together his best game of the season thus far. He started 8 for 8 and his first incompletion was wisely thrown out of bounds as
Jon Baldwin
was well covered. Speaking of Baldwin, he and Sunseri have formed a connection finally, including a 32-yard hookup over the middle. That kind of play has been sorely lacking ths year.
Ray Graham
also came in and gave an immediate spark late in the first quarter, which ended with Notre Dame leading 7-3 but Pitt at the 10-yard line. Graham needs to play more than
Dion Lewis
today.
The Irish, after a opening three-and-out, marched down the field on an impressive drive for the game's lone touchdown. Armando Allen and the offensive line moved the pile on the ground, and
Dayne Crist
exploited the Pitt defense for quick, short throws, including a touchdown to
Michael Floyd
.
Neither defense is distinguishing itself yet, but both offenses are playing at a fast pace and with confidence.
October, 9, 2010
10/09/10
3:08
PM ET
SOUTH BEND, Ind. -- Pittsburgh's
Dion Lewis
looked good during warmups and should start despite his tender shoulder. Expect
Ray Graham
to get plenty of carries, too, however.
Even in warm-ups, the chemistry appears off between
Tino Sunseri
and
Jon Baldwin
, as Sunseri delivered a couple of low and off-target throws to the Pitt star receiver. Baldwin has to have a big day for the Panthers to win today, I think.
With Baldwin,
Mike Shanahan
,
Devin Street
,
Kyle Rudolph
and
Michael Floyd
, this has to be one of the better collection of tall receivers in college football today.
There is some pink under the Golden Dome, as Notre Dame's players are wearing pink wristbands and towels in support of breast cancer awareness.
October, 9, 2010
10/09/10
2:21
PM ET
SOUTH BEND, Ind. -- Greetings from Notre Dame Stadium, where the weather is postcard perfect: 80 degrees without a cloud in the sky.


This should be a good matchup between two teams who appear fairly even. I want to see if Pittsburgh's revamped offensive line can handle a step up in competition from last week's win over FIU. In particularly, I'm wondering if new starting right tackle Jordan Gibbs can stave off the pass rush from Kapron Lewis-Moore, Kerry Neal and perhaps Darius Fleming. I bet Notre Dame will test him early.
Obviously,
Tino Sunseri
has to play his best game of the year for Pitt to win. On the flip side,
Dayne Crist
needs to be more consistent for the Irish, and opportunities should be there for
Theo Riddick
and
Kyle Rudolph
against the Panthers linebackers.
For Notre Dame coach Brian Kelly, he needs to get the Irish over the hump against teams from his former league. The Big East has won four straight over the Irish, including Pitt twice, UConn last year and Syracuse two years ago.
Lots and lots of interesting battles today, and I haven't even gotten to the
Dion Lewis
/
Ray Graham
situation and Notre Dame's improved rush defense.