NCF Nation:

Papajohns.com Bowl 2009 bowls
January, 2, 2010
1/02/10
6:39
PM ET
A quick look at Connecticut's
20-7
victory over South Carolina on Saturday in the Papajohns.com Bowl:


How the game was won:
It was eerily similar to last year's Outback Bowl debacle for the Gamecocks, who again were manhandled at the line of scrimmage offensively and barely put up a fight. So much for being more focused for this bowl game, huh? In their past two postseason affairs, the Gamecocks have scored a total of 17 points, and all of those have come when the game had already been decided. South Carolina was held to 205 yards of total offense and didn't even gain a first down until its sixth offensive series.
Turning point:
Trailing 7-0, South Carolina coach Steve Spurrier gambled and elected to go for it on fourth-and-1 from his own 32. The Gamecocks had gone three-and-out on their first two possessions. Quarterback
Stephen Garcia
was stuffed up the middle about a foot short of the first-down marker, and the Huskies took over in South Carolina territory. They turned the short field into a 33-yard field goal for a 10-0 lead and never looked back.
Stat of the game:
The Gamecocks were 3-of-15 on third-down conversions and had five three-and-outs for the game.
Second guessing:
Stephon Gilmore is only a freshman, and his plate is already full as a cornerback and punt returner. But when you're struggling as much as the Gamecocks were offensively Saturday, don't you have to give him a few more shots in the Wildcat package?
What it means:
In short, the Gamecocks (7-6) still aren't ready for primetime. Not even close. And anybody who's followed the South Carolina program over the years has seen this movie more than a few times. The script goes something like this: The Gamecocks show signs of hope – maybe even signs of breaking through – with that big win over arch-rival Clemson in the regular-season finale and then fall flat on their faces in the bowl game against a team they were at least as good as, and probably more talented than. There's some promising young talent in this program, but six-loss seasons are starting to get old. If Spurrier doesn't make a move in the East next season, his next move might be to the golf course full time.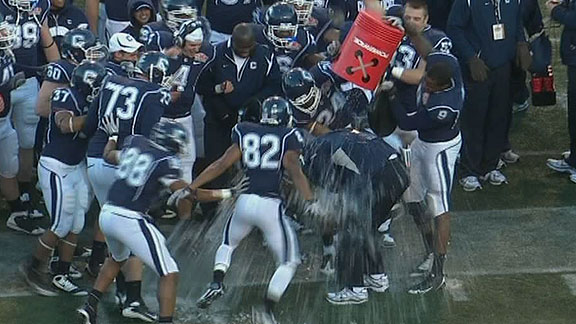 January, 2, 2010
1/02/10
5:28
PM ET
Instant analysis of the Papajohns.com Bowl, which Connecticut won 20-7 over South Carolina:


How the game was won: The Huskies were brutalized defensively in the final month of the regular season, but they played like an iron curtain against the offensively suspect Gamecocks. They shut down the run and got heavy pressure on South Carolina quarterback Stephen Garcia. UConn took advantage of the Gamecocks' many mistakes, controlled field position and did what it does best on offense: Run the ball and add a few shots downfield in the passing game.
Turning point: Garcia scrambled for a short gain but then coughed the football up while being hit late in the fourth quarter. UConn's Scott Lutrus recovered the loose ball. Eight Andre Dixon rushes later and the Huskies were in the end zone for an insurmountable 20-0 lead.
Stat of the game: While the Gamecocks kept shooting themselves in the foot with dropped passes and turnovers, Connecticut did not commit a penalty.


Player of the game: Dixon had 33 carries for 125 yards and a score. It's not a great per-carry average, but the senior went over 1,000 yards for the season (joining teammate Jordan Todman) and helped UConn control the clock against a pretty stout defense.
Unsung hero: Kendall Reyes. The defensive tackle was dominant up front against the South Carolina offensive line, leading the charge for a Huskies pass rush that overwhelmed Garcia and compared favorably to anything the Gamecocks saw in the SEC.
What it means: In the last Big East game of bowl season, UConn turned in the league's best performance. What a finish for a team that went through so much heartache throughout the middle of the season. The Huskies won their last four games and should go into 2010 receiving heavy consideration for the Top 25 since they return the bulk of their roster. After Cincinnati's terrible showing against Florida, UConn saved a little league face by beating an SEC team for the first time ever, albeit a mediocre one at best.
January, 1, 2010
1/01/10
10:01
AM ET
A brief primer on Saturday's Papajohns.com Bowl battle between Connecticut (7-5) and South Carolina (7-5):


WHO TO WATCH:
Jordan Todman
and
Andre Dixon
. The UConn running backs combined for more than 2,100 yards and 27 touchdowns this season. The Huskies' passing game greatly improved in the second half of the year, but the game plan still begins with running the ball. Todman and Dixon will have to get it down against a stout SEC defense that ranked in the top 15 nationally in yards allowed this season. South Carolina has played some excellent running backs in the SEC this year but might not have faced a tandem this good.
WHAT TO WATCH:
Forget about strength against strength. The real question in this game is weakness versus weakness. UConn couldn't stop anybody late in the year and turned most of its games into shootouts. The Gamecocks, despite Steve Spurrier calling plays, had one of the most impotent offenses in the SEC and the country this season, though they dropped 34 points on Clemson in a season-ending win. Which team can get the most out of its disappointing side of the ball?
WHY TO WATCH:
UConn is one of the best stories in college football this season, rebounding from the tragic death of cornerback Jasper Howard in October to make the postseason. There will be a lot of nonpartisan fans rooting for the Huskies. Beyond that, Randy Edsall has a strong young nucleus returning next year and could use this game as a springboard. It's another chance for the Big East to prove itself against the SEC, and with these teams featuring a clash of styles, it should be an interesting matchup.
PREDICTION:
Todman and Dixon should find some running room, but I don't know if
Zach Frazer
and the passing game can solve the South Carolina secondary. UConn should play with a lot of emotion, but give the ol' Ball Coach this much time to prepare and you're asking for trouble. South Carolina wins 34-28.
January, 1, 2010
1/01/10
9:06
AM ET
Breaking down the Papajohns.com Bowl on Saturday (ESPN, 2 p.m. ET) between Connecticut (7-5) and South Carolina (7-5):


WHO TO WATCH:
South Carolina senior outside linebacker Eric Norwood has been one of the best defensive players in the SEC for the last three seasons. He's a three-time All-SEC selection and will leave South Carolina as the school's all-time leader in sacks and tackles for loss. He has seven sacks this season, tying him for third in the league, and he was the catalyst for so many of the Gamecocks' game-changing plays on defense. He's not just a pass-rusher, either. He had an interception return for a touchdown this season and also blocked three kicks.
WHAT TO WATCH:
The Gamecocks looked like they were limping to the finish for the third straight year until the regular-season finale. They'd lost three in a row, but pounded arch-rival Clemson 34-17 in their most complete performance of the season. Granted, it's been more than a month since that game, but can the Gamecocks build off that momentum and get back to that level against the Huskies? Steve Spurrier has promised that the Gamecocks will be more focused for this bowl game than they were a year ago in the Outback Bowl when they played miserably.
WHY TO WATCH:
A lot can happen between now and next season. But you get the feeling that if Spurrier is ever going to make a move in the Eastern Division at South Carolina, he better do it next season. The Gamecocks have a lot of young talent in the program, and beating Connecticut in the bowl game and getting to eight wins would set up what would certainly be an offseason of great anticipation in Columbia.
PREDICTION:
One of the most underrated stories in the SEC this season was how much South Carolina quarterback
Stephen Garcia
improved. He still has to take that next step to be the kind of quarterback the Head Ball Coach wants him to be, but he played winning football most of the season. As bad as Garcia was in last year's bowl game, he'll be just as good in this one. That and another solid performance from Ellis Johnson's defense will be enough to send the Gamecocks to only their fifth bowl win in school history. South Carolina 24, Connecticut 17.