NCF Nation:

Parker Graham
November, 21, 2013
11/21/13
11:00
AM ET
The only reason Hart Lee Dykes even knew who Mike Gundy was in 1986 was because Gundy's dad would come to watch practice wearing overalls.
Soon, Dykes would get to know the skinny true freshman quarterback from Midwest City, Okla., a whole lot better.
At halftime of Oklahoma State's third game, then-coach Pat Jones hollered in front of the team, "Gundy, you're in!"
The Cowboys had lost at Tulsa the week before, and found themselves struggling to move the ball against Houston. But nobody, especially the team's star players, expected this.
"Thurman Thomas and I looked at each other and were like, 'Gundy?'" Dykes recalled. "But after that, we never looked back.
"He got us rolling and the rest was history."
[+] Enlarge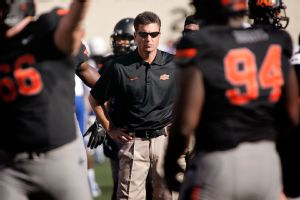 Brett Deering/Getty ImagesMike Gundy has Oklahoma State two wins from a Big 12 title.
Now in his ninth season as the head coach in Stillwater, Gundy has the Cowboys rolling once again.
After drilling Texas last weekend for a third straight win in Austin, Oklahoma State faces fourth-ranked Baylor in a Saturday night showdown with the Big 12 title on the line.
Before 2011, the Cowboys had exactly one conference championship -- a three-way split in 1976 -- dating back to the early 1950s.
With a victory over the Bears, Oklahoma State will be well on its way to a second in three years.
"It wasn't that long ago you could hang your hat here on just beating Oklahoma," Cowboys offensive lineman
Parker Graham
said. "That was a good season here back in the day.
"But Coach Gundy has brought the attitude here that we can compete with anybody."
Before Gundy took over in 2005, Oklahoma State had only one 9-1 start in its 102-year football history. Now, the Cowboys are 9-1 again for the third time in the past four years.
Mega-booster T. Boone Pickens has played a major part in Oklahoma State's rise, spearheading a facilities overhaul that has become the envy of the Big 12.
But Gundy's steady hand has played a major part, too.
"That's Mike," Dykes said. "He never seems to get phased. Never seems to get nervous or uptight. He's the same way now as a coach he was then as a quarterback.
"He still has the same poker face."
Gundy needed that poker face in 1986.
That halftime against Houston, Gundy unseated Ronnie Williams, who had led the Cowboys to an 8-4 record and a Gator Bowl appearance the previous year.
Oklahoma State had a future All-American running back in Thomas and a future first-round wide receiver in Dykes. But against the immense pressure of replacing an incumbent starter, Gundy quickly proved the Cowboys had their quarterback of the future, too.
Gundy completed 138 consecutive passes without an interception, which was an NCAA record until Baylor's Robert Griffin III broke it in 2008. After tough losses to Nebraska and Oklahoma, Gundy quarterbacked the Cowboys to wins in four of their final five games to close out the season.
Over the next two years, Oklahoma State went 20-4, and Gundy finished his career as the Big Eight's all-time leading passer.
"If he threw a pick, I'd be jumping him, the coaches would be jumping him, but he never seemed rattled," Dykes said. "He just kept playing."
That poise has served Gundy well as a coach. And served the Cowboys well, too.
Earlier this season, Oklahoma State suffered a baffling 30-21 loss in its conference opener at West Virginia, seemingly axing the Cowboys' Big 12 title hopes off the bat.
"But he never let us lose our confidence," nickelback
Lyndell Johnson
said.
Instead of panicking after such a distressing performance, Gundy's Pokes kept playing. They struggled to home wins over Kansas State and TCU. Then, after a backfield change with
Clint Chelf
taking over at quarterback and
Desmond Roland
at running back, Oklahoma State finally began to click.
"After West Virginia, the season could have gone one of two ways," Graham said. "We could have gone down and lost a couple more games and got down on ourselves."
The same could have happened in Oklahoma State's first Big 12 title season. In 2011, the Cowboys were unbeaten and two games away from playing for a national championship, but were stunned by Iowa State in a double-overtime upset.
The final game against Oklahoma two weeks later also could have gone one of two ways. The Cowboys, however, put the crushing loss behind them, and destroyed the Sooners 44-10 to capture the conference championship and advance to their first BCS bowl game.
[+] Enlarge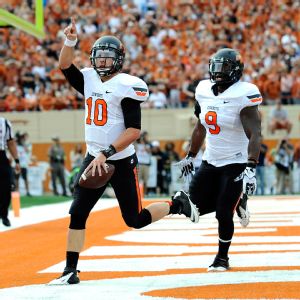 Brendan Maloney/USA TODAY SportsAfter early struggles, Gundy went with Clint Chelf (10) and Desmond Roland and OSU has won six straight games.
"Afterward, you could see how proud a coach he was to coach us," said safety
Zack Craig
, now a senior. "How proud he was that we bounced back after what happened at Iowa State. That's a moment I won't forget."
The Cowboys have bounced back again this season.
The past four games, Oklahoma State has outscored the opposition by an average of four touchdowns, including a convincing 38-13 drubbing of the Longhorns that lifted the Cowboys back into the top 10.
As he did after that Bedlam win two years ago, Gundy ditched the poker face and showed another side in Austin that Dykes also remembers well. A side his former teammates used to relish. A side his players relish now.
"We were so excited about the win," Craig said. "As soon as we heard the door open and him come in the locker room, we started rallying up in a big circle and immediately began clapping."
With the players surrounding him, Gundy unleashed his signature bending-back dance to the floor.
"That showed just how much he cares," Johnson said.
"That's the Gundy I know," Dykes said. "He was always one of us as a player. One of the guys. That's why he's become such a player's coach now."
Oklahoma State is on the cusp of another Big 12 championship, and if the Cowboys win Saturday, Dykes' poker-faced quarterback will surely be dancing again.
"If you were a betting man," Craig said, "that would be a pretty good bet."
August, 29, 2013
8/29/13
9:00
AM ET
STARKVILLE, Miss. -- An iPhone App said that it was 84 degrees on Mississippi State's campus Tuesday afternoon, which could only be true if Starkville was located at the bottom of a lake. It's only a few minutes into the start of practice and you can see the players struggling with the humid, sapping conditions. Coaches shout at the medical staff to "Water the O-line!" as if the assembly of 300-pound men were a patch of wilting dandelions.
One of the team doctors takes issue with the readout. Robert Collins, a white-haired holdover from the Jackie Sherrill era, says it's at least 5-6 degrees warmer on the practice field most days, and that's not counting the radiant heat, a measurement he argues is a much more accurate gauge of how hot it actually feels. Inside the players helmets, it's a good 20 degrees warmer, he says.
[+] Enlarge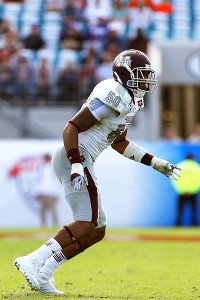 AP Photo/Don Juan MooreThe Mississippi State defensive coaches hope to see more "juice" out of Benardick McKinney and the rest of the Bulldogs defenders.
It
feels
hot watching the Bulldogs run through individual and team drills. There's no shade for onlookers and even less relief for the players trying to catch their breath. Rick Ray, the school's basketball coach, wears a oversized bucket hat to keep from burning. He's here to watch 6-foot-5 freshman wideout
De'Runnya Wilson
, who came to school this summer with intentions of playing both sports, though it looks like football will keep him from doing so.
"They're killing the sled," said Ray, craning his neck to the far side of the field where the defensive linemen are working. "You can hear it all the way over here."
A few minutes later, players break from their position groups and begin to practice live action. What happened next should have looked familiar to Ray. It wasn't basketball, but the tempo sure looked like it. All that was missing was the high pitch of sneakers screeching on hardwood floor.
Mississippi State has long been a team that likes to run the football and control the clock, but today both sides of the ball are working at a full sprint. The NASCAR offense, as coaches call it, is in full effect. There's almost no break between plays. The first series is over before there's even time to measure it by hand. Ready for the second series, the average time between the blow of the whistle and the snap clocks in at roughly 19 seconds.
Players aren't the only ones running. Coaches are, too. Defensive coordinator Geoff Collins waves his hands like a man possessed and screams at his cornerback to, "Crank your a-- up!" before he's dropped to the scout team.
Time, you see, is of the essence.
Oklahoma State and its high-octane offense await Mississippi State on Saturday. The Cowboys, who finished seventh nationally in passing a year ago, averaged one play every 20.3 seconds. Fifty-eight of their 69 offensive touchdowns came on drives that lasted 3 minutes or less. Under the direction of coach Mike Gundy, they scored 19 touchdowns in under 60 seconds, good enough for third in the country.
"Once their tempo gets started, it's like a train rolling downhill," Collins said earlier in the day, "it's kind of hard to stop it."
For more than seven months, Mississippi State has been preparing for Oklahoma State and its no-huddle offense. Collins has stressed to his players that the best way to stop it is to never let it get going in the first place. Negative plays and pass breakups, he says, put the offense at a disadvantage. Throwing off the tempo is the only real option, because once the Cowboys have a defense on its heels, it's lights out.