April, 18, 2012
4/18/12
11:44
AM ET
Want to see many of the names that will be featured on Colorado's defensive depth chart next fall?
Go here
.
The Buffaloes are going to be young next fall on both sides of the ball, but particularly on defense. Lots of freshmen will play -- guaranteed. And that is by design. Defensive coordinator Greg Brown and head coach Jon Embree made something clear during spring practices to the returning players: "Impress us now, or get replaced by incoming freshmen."
[+] Enlarge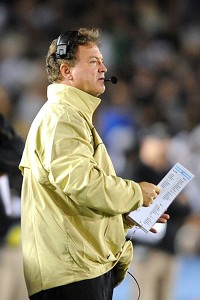 Chris Williams/Icon SMIDefensive coordinator Greg Brown will be working with a lot of freshmen this fall, including eight on the defensive line.
There's a reason for the likely youth movement: The Buffs were lousy on defense in 2011, ranking last in the Pac-12 in scoring (36.5 points per game) and 10th in total defense (439.3 yards per game). Further, Pac-12 quarterbacks feasted on the secondary, which yielded not only the most touchdown passes (34) -- six more than anyone else -- but also grabbed the fewest interceptions (seven) in the conference.
If Colorado is going to move up in the South Division pecking order during the program's second year in the conference, those numbers need to improve.
Colorado finished spring drills last weekend, so it seemed like a good time to check in with Brown to look back and look ahead to the fall.
First off, last year your official depth chart was a 3-4 scheme. This spring, you guys started out with a 4-3. Can you give me a Cliffs Notes version of your base scheme?
Greg Brown
: It's really still the same. We're like last year but like most teams can play either, kind of multiple up front.
When you went over film from last year, what stood out to you as issues with the defense?
GB
: Too many big plays were given up. Too many points were scored. We had a laundry list of a lot of things. Too many injuries. The roster was thin. It was one of those years we'd like to see not repeated.
The Big 12 is hardly an offense-poor conference. You've coached there and the Pac-12. Were there any adjustments for your players moving from the Big 12 to Pac-12?
GB
: Absolutely. Not to take anything away from the Big 12. That's a terrific league that stands on its own merits, that's for sure. But you just have some unique offensive minds in the Pac-12, different styles of attack that we had not seen in the Big 12. There's nobody in the Big 12 that plays the same style as Oregon. Nobody plays the same style as Stanford or Washington. They are all unique and were tough styles to contend with. We've got a lot of offensive-minded head coaches and very innovated offensive coordinators.
You guys were heavy on D-linemen in the recruiting class. How many first-year players do you anticipate playing next fall?
GB
: We brought eight (defensive linemen) in. We're thinking at least half that amount, probably higher. Between the defensive line, which is eight-slash-nine because we've got a guy who could go either way, and we've got five cornerbacks, and the great majority of those guys are going to play. They won't redshirt. We're not counting on anybody redshirting. We'll see if they can't do it yet, then they'll have to. But other than that, we have no numbers. Spring ball was a feat to get accomplished. Because of our lack of numbers, we ended up doing so much seven-on-seven because we didn't have the D-line to do it [full scrimmage]. We really didn't have the secondary to do much seven-on-seven,either. It was largely a battle of walk-ons this spring at Colorado. We're welcoming with open arms all the incoming troops because they are going to play.
Give me a couple of names of standouts this spring? Who impressed you?
[+] Enlarge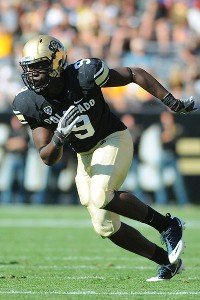 Dustin Bradford/Icon SMI Defensive end Chidera Uzo-Diribe has made an impression on coaches this spring.
GB
: [Defensive end]
Chidera Uzo-Diribe
, he had a very good spring. He's got skill. He's got speed. He's got size. And he's tenacious. He's a good player. He played last year for us and was fine but he stepped up this spring and filled a void -- we had two defensive ends graduate. He stepped up and really became a guy. He would be the top dog in the D-line. If there is one other defensive lineman who can play, it's
Will Pericak
. He's a good player -- steady, consistent. He's been around the block. Has size. He's played for a long time here. Good player. You've got those two up front. After that, there's really nobody to write about [on the defensive line]. We're just waiting on the young kids to get here.
How about linebacker?
GB
: Linebacker-wise, our best player is
Doug Rippy
. He's our captain, a team leader. He ended up missing, from the Washington game on last year, missing the season. He tore his ACL in that game and he was held out of spring ball and can't do anything yet. But we're looking to get him back.
Jon Major
is another 'backer who is back, has a lot of experience. He's a jack of all trades for us, can do a lot of things. Smart, can rush the passer, cover. He makes plays. He's good. Linebacker is where the most numbers are back. After that, you've got some guys who have played.
Derrick Webb
has played. He can run and hit. Then there's a smattering of younger kids who have some ability. They just haven't proven anything yet. They're up and coming.
And then the secondary?
GB
: We've got one returning guy. That's
Ray Polk
; he's a safety. Good player. Big kid who can run and hit. Been starting here a long time. Good future in front of him. Ray's issue was he could only do non-contact stuff during spring. He had surgery on a torn ligament in his wrist. So he did seven-on-seven and that was probably it. The next one to talk about back there would be [cornerback]
Greg Henderson
. He came in as a true freshman and won a starting job. He took advantage of the opportunity and won a job and he kept it all year. He continually progressed every week. This spring, he got better as you'd expect. They come in as freshmen and just look to survive, which he did more than ably. But we're looking for improvement this year and looking for him to be a guy. He's athletic. He can run, he's smart. And he's tough. And as much as anything, he stayed healthy. After him, a guy who is a good player for us, is
Parker Orms
. He plays nickel, safety and corner. He plays all three. Good athlete, tough kid. He missed quite a bit of the year. He only played five games for us. And he got hurt this spring, which is unfortunate. He tore his hamstring. He played three days of spring then tore that thing. In the five games he played for us last year, we either won or had a chance to win because he allowed us to do things on defense we could not do when he was not in there.
So the freshmen will be in the mix pretty quickly in the secondary, too?
GB
: Oh, no question. We told all the kids on defense this spring, particularly on the D-line and in the secondary, "OK, all you guys, here is your chance. This is your chance. We don't want to hear anything in the fall about, 'Hey, I'm not getting any reps.' Here is your chance now! Because believe it or not, in the fall with those kids coming in, they are going to get all those reps. We'll see what you guys can do now.' And here come the new kids. We know who has helped us in the past. For the rest of the spots? Hey, we're plugging in brand new kids and let's go.
How much can this defense improve in 2012?
GB
: You can. All these 15 defensive players who are coming in that we're looking to help us, you wish you could snap your fingers and be two years in the future, matured and bigger, strong, faster, eating on the training table, learning how to play. That would be nice. But the reality of it is there are going to be growing pains. These guys have some talent, but they also are going to be true freshmen and will make their share of mistakes. But, sure, we can improve. We have to manage what we're doing. We have an outstanding coaching staff on that side of the ball with Kanavis McGhee and Mike Tuiasosopo. They are great tacticians. As is linebackers coach Brian Cabral. We're looking for improvement.
October, 6, 2011
10/06/11
11:18
AM ET
You've got to break some eggs to make an omelet. And sometimes a coach gives players the boot to establish the culture he wants.
It appears that Colorado coach Jon Embree is willing to sacrifice his team's present for its future, as he has
indefinitely suspended five players
from a defense that is already thin, particularly in the secondary, where four of the five play.
And that secondary faces Stanford quarterback
Andrew Luck
on Saturday. Luck is generally considered a capable passer.
The five suspended players, according to the Boulder Daily Camera: CB Parker Orms, CB Ayodeji Olatoye, CB Paul Vigo, CB Josh Moten and LB Liloa Nobriga. None of the players were listed as starters on this week's depth chart.
According to the Daily Camera, all five were notified of the decision Wednesday and the entire team was told during a post-practice team meeting. Further:
None of the problems that led to the suspensions involved the police, but the rules violations were serious enough that CU is expected to announce today that none of the five will play again this season.

Whether the players remain with the program beyond this season remains to be seen.
It will be interesting to see how the Buffaloes react at Stanford. While these suspensions aren't devastating in terms of starting personnel, you'd guess each of these guys have relationships in the locker room with the guys left behind. That means there will be plenty of chatter, either for or against Embree's "my way or the end of my boot" methods.
The Daily Camera article is worth a read because it does a nice job of recalling Embree's prescient prediction of significant attrition last spring. I particularly like this quote:
"It's going to be hard because you have to go to class every day," [Embree] said in that spring interview. "It's going to be hard because you have to sit in the first three rows. I don't want your iPod on or your iPad or your laptop. I want you there, I want you prepared. I want you to have a pen, paper, book. I want you prepared and I want you to engage.

"It's going to be hard because of what you're going to do in the weight room and what's going to be demanded of you as a football player, how we expect you to study and prepare for the game. That's going to be hard for the guys because that requires consistency and discipline and they don't have that."
While it's purely speculative to try to figure out what these five may have done to fall out of favor, if the police or NCAA isn't involved, then it's likely that they fell afoul of Embree's specific demands that perhaps didn't exist during the Dan Hawkins era. And Embree wants his players to know he takes those demands seriously.
August, 10, 2011
8/10/11
11:00
AM ET
Every season true freshman make an impact and underclassmen become stars. Who might those guys be in the Pac-12 in 2011?
(Note: With "underclassmen to watch," we mostly stayed away from guys who made a significant impact in 2010, such as Arizona State defensive end Junior Onyeali, Colorado receiver
Paul Richardson
or California receiver
Keenan Allen
).
Underclassmen to watch
[+] Enlarge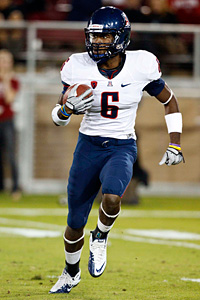 Jason O. Watson/US PresswireArizona cornerback Jonathan McKnight has a bright future.
Jonathan McKnight, CB, So, Arizona
: McKnight, younger brother of former USC running back Joe McKnight, might already be the best cover guy in an already good secondary.
Davon Coleman, DE, So, Arizona State
: The junior college transfer -- a late signing for the 2011 recruiting class -- might already be the Sun Devils' No. 3 defensive end, and ASU needs him to step up after returning starter James Brooks quit the team.
David Wilkerson, OLB, RFr., California
: While fellow outside linebacker Cecil Whiteside might be more heralded, Wilkerson was listed as a starter on on the post-spring depth chart.
Parker Orms, CB, So., Colorado
: Orms was the starting nickel back in 2010 before he blew out his knee on the third play of the season-opener against Colorado State. He's now No. 1 at cornerback -- the Buffs more worrisome position -- despite sitting out spring practices.
Scott Crichton, DE, RFr., Oregon State
: The Beavers have major questions at defensive end -- a traditionally strong position for their defense. While he didn't come from nowhere, it was a bit of a surprise to see Crichton atop the depth chart after spring practices.
Dietrich Riley, So, SS, UCLA
: By the end of the season Riley and Tony Dye might be widely viewed as the best safety combo in the conference. Heck, they might already be.
Dres Anderson, RFr, WR, Utah
: Anderson already looks like the Utes' No. 2 option after junior
DeVonte Christopher
.
Josh Shirley, RFr., LB, Washington
: Shirley was such a force as a pass-rusher this past spring, they created a position for him: "Rush" linebacker.
Rickey Galvin, RFr, RB, Washington State
: Galvin broke his arm at Oklahoma State on the first play of his college career, which ended his debut season. He's speedy and shifty and the Cougars really need him to provide a running threat to help out quarterback
Jeff Tuel
.
Impact freshmen
Hank Hobson, LB, Arizona
: The Wildcats have major depth issues at linebacker. Hobson looks like the most ready-made guy in the incoming class. He might not start, but he's a good bet to be the No. 4 guy behind the starting three.
Stefan McClure, CB, California
: While many Cal fans are more eager to see 325-pound nose tackle Viliami Moala, the Bears have depth issues at cornerback, and McClure is almost certain to be in the mix.
Colt Lyerla, TE, Oregon
: While Oregon needs help at receiver, and at least one one of the incoming guys is almost certain to climb into a prime spot in the rotation, we don't know who that will be. We feel pretty good projecting Lyerla as the Ducks' No. 2 tight end behind
David Paulson
.
James Vaughters, ILB, Stanford
: The word most often used to describe Vaughters? "Beast." Stanford is solid at linebacker, but this guy is going to play, and and might well end up suggesting a second-coming of Vontaze Burfict by season's end.
George Farmer, WR, USC
: There might be somebody who doesn't believe Farmer is a budding star but I have yet to speak with him. Even USC super-soph
Robert Woods
talks about Farmer's freakish skills.
Austin Seferian-Jenkins, TE, Washington
: Seferian-Jenkins showed this past spring that he's ready for prime time. He's likely to be the Huskies' starting tight end. A runner-up for the Huskies, by the way, is receiver Kasen Williams, but he will join a deep, veteran crew of receivers.