June, 21, 2013
Jun 21
3:00
PM ET
Part of the surprise about Bret Bielema's sudden departure from Wisconsin to Arkansas in December stemmed from the fact that Bielema seemed like such a Big Ten guy.
Other than perhaps Northwestern's Pat Fitzgerald, Bielema was the most "Big Ten" of the 2012 Big Ten head coaches. Born in Illinois, played at Iowa, spent his first eight years as a coach at his alma mater, left Big Ten country for two years to coordinate Kansas State's defense, returned as Wisconsin's defensive coordinator and then was elevated to head coach after the 2005 season.
But three days after coaching Wisconsin to a Big Ten championship game victory, Bielema bolted for the spotlight and scrutiny of the SEC. And he's not alone.
From today's
Grantland story on Bielema at Arkansas
:
Although SEC football has long been a vessel for expressions of Southern exceptionalism, many of the conference's most successful coaches come from the Midwest. Les Miles, Nick Saban, and Urban Meyer all have roots in Ohio. Mark Richt is from Nebraska. In fact, among the league's 14 current coaches, eight were born in states with Big Ten programs, while only five hail from SEC country.
I've joked that if you don't know where a college football coach grew up, just say Ohio and you'll probably be right. But the percentage of SEC coaches with Big Ten roots is notable. The SEC coaching ranks used to be filled with homegrown coaches like Vince Dooley, Pat Dye, Johnny Majors, Paul Bryant and Phillip Fulmer. Former Florida quarterback and head coach Steve Spurrier is still in SEC territory at South Carolina, but he's no longer the norm.
Here's a quick look at SEC coaches with roots in the Big Ten footprint:
Bret Bielema, Arkansas: Born in Illinois, played and coached at Iowa, assistant coach and head coach at Wisconsin
James Franklin, Vanderbilt: Born in Pennsylvania, played college ball in Pennsylvania at East Stroudsburg
Butch Jones, Tennessee: Born in Michigan, played college ball in Michigan at Ferris State, head coach at Central Michigan and Cincinnati
Les Miles, LSU: Born in Ohio, played at Michigan and served as an assistant coach at Michigan from 1987-94
Dan Mullen, Mississippi State: Born in Pennsylvania (attended high school in New Hampshire)
Gary Pinkel, Missouri: Born in Ohio, played college ball in Ohio at Kent State, coached at two MAC schools (Kent State and Bowling Green)
Mark Richt, Georgia: Born in Nebraska (attended high school in Florida)
Nick Saban, Alabama: Played in Ohio at Kent State, assistant at Ohio State and Michigan State, head coach at Michigan State from 1995-99
Mark Stoops, Kentucky: Born and raised in Ohio, played at Iowa
Kevin Sumlin, Texas A&M: Played high school football in Indiana, played college football at Purdue, assistant at Minnesota and Purdue
The Big Ten has more of a homegrown flavor in its current coaching ranks, as seven leading men grew up in Big Ten states: Illinois' Tim Beckman (Ohio), Iowa's Kirk Ferentz (Pennsylvania, born in Michigan), Michigan's Brady Hoke (Ohio), Michigan State's Mark Dantonio (Ohio), Nebraska's Bo Pelini (Ohio), Northwestern's Pat Fitzgerald (Illinois) and Ohio State's Urban Meyer (Ohio). Purdue coach Darrell Hazell hails from a future Big Ten state (New Jersey).
Although homegrown players are the biggest reason for the SEC's run of dominance, coaches from Big Ten country also have played a role.
June, 6, 2013
Jun 6
2:00
PM ET
South Carolina coach Steve Spurrier looked around the room recently at a meeting of SEC head football coaches and couldn't help but notice he was in the minority.
No, it had nothing to do with his customary visor, and he wasn't drawing up ball plays on a napkin or looking at his watch and wondering if he'd make his tee time.
"I got to thinking, 'Where are all the guys who played football in this league over the last 30-some years?'" Spurrier recounted. "You don't see many former players from the league coming back [to the SEC] to be head coaches anymore."
Over the past decade, there have been a few such as former Mississippi State coach Sylvester Croom (Alabama), former Kentucky coach Joker Phillips (Kentucky) and former Auburn coach Gene Chizik (Florida). And before Nick Saban took over at Alabama, former Alabama quarterback Mike Shula headed up the Crimson Tide's program.
Currently, though, Spurrier and Florida's Will Muschamp are the only two. Matter of fact, more of the current SEC head coaches played their football in the Big Ten -- Arkansas' Bret Bielema and Kentucky's Mark Stoops at Iowa, LSU's Les Miles at Michigan and Texas A&M's Kevin Sumlin at Purdue.
An SEC pedigree was once a must for becoming a head coach in the SEC, but times have changed.
Click
here
to read my entire column on the changing guard in the SEC.
March, 28, 2013
Mar 28
3:05
PM ET
In honor of Florida Gulf Coast's stunning run in the NCAA basketball tournament, I started thinking back to some of the biggest SEC football upsets of my lifetime.
The mid- to late-1970s is about as far back as I go, but I've gone back and picked out some of the more memorable ones over the past 30 or 35 years.
These are all SEC vs. SEC matchups, and I'll rank the top 5 as well as five more that just missed the cut. I'll come back later Thursday with a few more, including some upsets in non-conference and bowl games.
Here goes:
1. Mississippi State 6, Alabama 3 (1980):
The No. 1-ranked Crimson Tide had won 28 straight (and an SEC-record 27 straight conference games) and were heavily favored against the unranked Bulldogs. But Mississippi State played suffocating defense that day in Jackson, Miss., and snuffed out a late Alabama drive. The Crimson Tide had moved to the Bulldogs' 4, but were out of timeouts. Alabama quarterback Don Jacobs took the snap and started down the line of scrimmage to the right side. Mississippi State's Tyrone Keys shot through and tackled Jacobs, forcing a fumble that Billy Jackson recovered to seal one of the greatest wins in Mississippi State history. Alabama's wishbone attack, which had been averaging more than 300 yards per game, mustered just 116 rushing yards against the Mississippi State defense. The Crimson Tide lost four fumbles in the game. And in a classy gesture afterward, Alabama coach Paul "Bear" Bryant visited the Mississippi State locker room to congratulate the Bulldogs on the win.
2. LSU 17, Alabama 13 (1993):
The No. 5 Crimson Tide had gone 31 straight games without a loss and were coming off an unbeaten national championship season. Inexplicably, they lost at home to an unranked LSU team that had lost five of its first seven games that season and finished 5-6. The Tigers were a 24-point underdog that day and in the midst of their fifth straight losing season. Alabama starting quarterback Jay Barker was out with an injured shoulder, and the Tide -- using three different quarterbacks -- threw four second-half interceptions. Coach Gene Stallings finally went to David Palmer at quarterback late in the third quarter, and "The Deuce" directed the Tide on a pair of scoring drives. But LSU held on for the win, and Stallings said afterward that he waited too long to go to Palmer, who was normally a receiver.
[+] Enlarge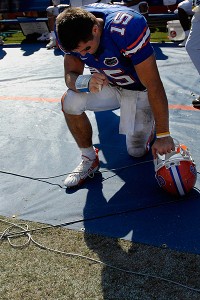 AP Photo/Phil SandlinTim Tebow bows his head in dejection after his No. 4 Gators lost 31-30 at home against Mississippi on Sept. 27, 2008.
3. Ole Miss 31, Florida 30 (2008):
The Rebels would go on to have a very good season, but ventured into the Swamp that day as a 22-point underdog with losses to Wake Forest and Vanderbilt during the first month of the season. Nobody gave them a chance. The Gators were ranked No. 4 and riding high with Tim Tebow running the show. But the Rebels stuffed him on fourth-and-short late to pull off an improbable road win. The game is best remembered for Tebow's emotional speech afterward, when he promised that nobody would work harder than him and his teammates the rest of the season. The Gators would go on to win their next 22 games in a row, including the 2008 national championship.
4. Auburn 23, Georgia 23 (1994):
Even though it wasn't a loss, it sure felt like one for No. 3 Auburn, which had its 20-game winning streak under Terry Bowden stopped. The Bulldogs were unranked and had lost at home to Vanderbilt a few weeks earlier. But they rallied from 14 points down on the road thanks to a couple of Eric Zeier touchdown passes and survived a missed 44-yard field goal attempt by Auburn's Matt Hawkins with 13 seconds to play. That was Ray Goff's next-to-last season at Georgia, which finished 6-4-1 and didn't play in a bowl game. It didn't get any better the next week for Auburn. The Tigers, who were on NCAA probation, lost to Alabama.
5. Alabama 9, Tennessee 6 (1990):
The Vols were ranked No. 3, coming off a 45-3 demolition of Florida and very much in the national title picture. Alabama had started the season with three straight losses, the first season with Stallings as coach, and was unranked entering the game. But Alabama's defense stole the show that day before a stunned crowd at Neyland Stadium and shut down Tennessee's high-powered offense. With the game tied at 6-6, the Vols were able to get into a position for a 50-yard field goal attempt with 1:35 to play, but Alabama's Stacy Harrison blocked it. The ball scooted more than 20 yards the other way to the Tennessee 37, and Phillip Doyle won it for the Crimson Tide with a 47-yard field goal on the last play of the game to make it five in a row against the Vols.
The five that just missed the cut:
Ole Miss 22, Alabama 12 (1988):
Yep, it's the infamous brick through the window game. An irate fan tossed a brick through the office window of Alabama coach Bill Curry after the Rebels stunned the No. 12-ranked Tide in Tuscaloosa. It was Ole Miss' first win ever against Alabama in the state of Alabama, and spoiled the dedication of the new Paul "Bear" Bryant Museum. Alabama didn't complete a pass that day.
Alabama 17, Auburn 15 (1984):
The Alabama fans refer to it as the "Wrong Way Bo" Iron Bowl. Auburn coach Pat Dye elected to go for it on fourth-and-goal from the 1 late in the fourth quarter, but Bo Jackson went the wrong way on the play. Alabama's Rory Turner forced Brent Fullwood out of bounds on the sweep, and the Tide held on to beat the No. 11-ranked Tigers and knock them out of the Sugar Bowl. It was a sweet end for Alabama to its first losing season since 1957.
LSU 31, Tennessee 20 (2001):
The No. 2-ranked Vols were coming off a huge win at Florida and poised to go to the Rose Bowl to face Miami for the national championship, but backup quarterback Matt Mauck rallied the Tigers in the second half after filling in for the injured Rohan Davey and gave Nick Saban his first of two SEC titles in Baton Rouge.
Georgia 24, Florida 3 (1985):
The Bulldogs romped past the No. 1-ranked Gators with freshman running back backs Keith Henderson and Tim Worley both rushing for 100 yards. It was the only game Florida lost all season. The Gators were ineligible to play in the Sugar Bowl because of NCAA sanctions, but finished No. 5 in the final Associated Press poll.
Arkansas 25, Tennessee 24 (1992):
The Vols were ranked No. 4 and had already beaten Florida, Georgia and LSU. The Hogs opened that season, their first in the SEC, by losing to The Citadel, resulting in the firing of Jack Crowe as coach. Joe Kines took over as interim coach and guided a 1-4 Arkansas team to a stunning comeback win against the heavily favored Vols in Knoxville. Todd Wright won it for the Hogs with a 41-yard field goal with two seconds left.
October, 8, 2012
10/08/12
4:53
PM ET
The hot-seat question has become as much a part of the SEC football experience as festive tailgate parties, fierce recruiting battles and national championship hardware.
This just in: If you coach in this league, you're always on the hot seat.
[+] Enlarge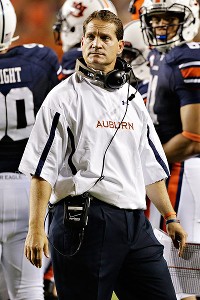 AP Photo/Dave MartinGene Chizik's season hasn't started out the way he and Auburn fans had hoped, as the Tigers are 1-4.
What matters is the here and now.
There is no such thing as equity. There is no such thing as enduring loyalty. There is no such thing as patience.
Remember when coaches used to talk about five-year plans?
Heck, a four-year plan in this league is about as obsolete as leather helmets.
That's what happens when more than half of your head coaches are making in excess of $2.5 million per year.
And when you do win in this league, you better keep on winning.
This is all a long-winded way of saying that I'm not the least bit surprised by all the unrest at Auburn right now. The Tigers are 1-4 and looking like a long shot to finish with a winning season. All the while, there's a growing faction among the Auburn fan base that wants Gene Chizik out and wants him out now.
Yes, this is the same Gene Chizik that led Auburn to a national championship two years ago, the school's first in 53 years.
But it's also the same Gene Chizik that just lost to a reeling Arkansas team last week at home and has now lost six of his last seven SEC games dating back to last season. Those six defeats were by an average margin of 23 points.
On the surface, it's ridiculous that a coach two years removed from winning a national championship would even be in the conversation of coaches around the country who're in real trouble.
Let's be honest. Only a handful of people on the Plains really know whether Chizik is genuinely in trouble.
One of those people is former Auburn coach Pat Dye, who's still a major player when it comes to matters involving the Auburn football team.
Dye went on an Arkansas radio show last week and said Chizik wouldn't be in trouble if he didn't win another game this season and maintained that Chizik would "absolutely" be back next season no matter what.
For what it's worth, Dye also said former Arkansas coach Bobby Petrino (who was once an assistant at Auburn) would never get hired at Auburn.
Of course, Dye made his comments before Auburn went out and stunk up Jordan-Hare Stadium against Arkansas, a loss so ugly that Chizik apologized to the Auburn fans.
In theory, I'm with Dye on this one. I don't see Auburn sending Chizik packing after this season. But if things don't get better in a hurry, he's going to have one foot out the door entering the 2013 season.
Some may say he already does. Chizik brought in two new coordinators prior to this season. It's been a disaster on offense, and at this rate, the person whose seat may be the hottest is offensive coordinator Scot Loeffler.
Still, Chizik's issues run much deeper than simply trying to salvage this season.
That "other" school in the state of Alabama is dominating college football right now and has a head coach that is driven beyond belief. The Crimson Tide aren't recruiting players under Nick Saban. They're selecting them.
Not only that, but Saban has a pretty fair track record of developing those players, which explains why Alabama has won two of the last three national championships and is ranked No. 1 again this season.
Saban casts a long shadow across that state, which even for a coach like Chizik who won a national championship of his own two years ago, can create impossible odds.
The recruiting rankings are starting to work against Chizik, too. Auburn's class last year was ranked No. 17 nationally by ESPN, but was No. 3 in 2011 and No. 4 in 2010.
The problem is that a lot of those players who helped Auburn attain those lofty rankings are either no longer in the program or haven't panned out to this point.
To name a few: Michael Dyer,
Trovon Reed
,
DeAngelo Benton
, Shaun Kitchens, Antonio Goodwin,
LaDarius Owens
and
Eric Mack
.
What's more, sophomore quarterback
Kiehl Frazier
-- ranked among the top high school quarterbacks in the country two years ago -- has struggled mightily this season and was pulled last week in favor of
Clint Moseley
.
The Tigers are ranked 12th in the SEC in total defense. That's after finishing 11th in total defense last season.
Simply, there's not a lot that Auburn can hang its hat on right now, making it difficult for anybody on the Plains to see a rosy future.
That's not to say it won't get rosier down the road, but the future is surely how Chizik will be judged.
Whether he gets one more year, two more years or no more years, you can bet the Auburn brass will base that decision on how much confidence it has in Chizik being able to dig the program out of this funk going forward, and probably most importantly, being able to steer the program out of that giant crimson shadow.
Anything he's done in the past ... is just the past.
Welcome to life in the SEC.
May, 25, 2012
5/25/12
9:59
AM ET
We asked you on Tuesday to vote for the most hated coach in SEC history -- past or present.

We're all about the love here on the SEC blog, but this is after all "Hate Week" at ESPN.com. Seriously, this is all done in fun, and some of your responses were priceless.

Here's a sampling:

Drew in Greenville, S.C., writes: I don't think there is any doubt that Lane Kiffin is the clear winner (loser). The two glaring differences between Kiffin and all the other candidates is that he left the program in shambles and he didn't win anything. All the other coaches had success at their respective schools and Kiffin never sniffed success. With Kiffin at the helm, if felt like I was always having to defend my school's decision to hire that clown. Currently, Dooley may not be winning much, but at least I don't have to defend him for his lack of honor.

Darth Tripous writes: The most hated SEC coach has to be Lane Kiffin. My hope is that one day Alshon Jeffery will say to Kiffin, "Fill 'er up please."

Mike in Mandeville, La., writes: I'm down on Nick Saban, but not for the reasons most LSU dislike him. I just need to look at the last play of his tenure at LSU, the Iowa "Hail Mary." Saban was DB coach and that garbage could happen? Nicky was always pulling boneheaded stunts, only saved by the awesome talent he recruited. Anyone remember his annual inability to pick a starting QB? How about UAB 13 LSU 10? The 2000 Arkansas game he failed to use a time out to punt with the wind and ended up with a 3-yarder to start the 2nd quarter? How about 4th & inches at his own 27 during the 2001 SEC title game? The dog show from 2002 that started in Auburn and culminated in the Cotton Bowl loss to Texas? 2003 Florida? UGa 2004? Nick seems to have learned a great deal from the NFL, but the poor in-game calls that cost LSU from 2000-2004 will always have Lil' Nicky No. 1 on my dog list!

R.J. in Portland, Ore., writes: The biggest SEC villain is no doubt Nick (the dictator) Saban. He oversigns, ruthlessly cuts players, has hissy fits in front of the media and undermines them. Not to mention he compares losses to horrific tragedies such as Pearl Harbor and has a terrible personality. The guy is everything that is wrong with college football.

Jason in Athens, Ga., writes: By far, it's the "Evil Genius" now at South Carolina. Being a lifelong DAWG fan, I despised him when he was at Florida, when we could only pull out one win in the 90's (1997: behind Bobo and Edwards running the show). And now he has gotten the best of us the past few years for sure. But as much as I wish he would leave, I have respect for him because he is without a question one of the best college football coaches in history. Anyone who can win an ACC championship with Duke is a helluva ball coach.

Sam in Athens, Ga., writes: Spurrier is still the most hated coach in the SEC for his snide comments. Saban may be despised by Auburn fans, but the rest of the league recognizes he is simply the best coach in college football today.

Byrd in Houston, Texas writes: How can anyone beat out Tommy Tuberville for the most hated coach? Ole Miss hates him for leaving. Bama hates him for beating them more often than not. Auburn hates him for "losing" toward the end of his tenure. The rest of the SEC hates him. Close second: Jackie Sherrill.

Chris in Tampa, Fla., writes: It's Gene Chizik. He has a terrible record and a bought national title. But, somehow, he has the puppet Auburn fans dancing on his string.

Barry in Charleston, Tenn., writes: James Franklin is the coach I despise most. Dirty on the field and talks too much off it, especially for a program that has always been awful. I hope Candy's fans realize he won't be there once he gets a better offer from somewhere else.

Brian in Washington, D.C., writes: Saban. Period. Petrino would make the discussion if he still met the employment requirement. Without him, there is no argument.

Trevor writes: Gotta be Derek Dooley. He makes horrible remarks about Vanderbilt, has no originality, and let's face it, who really does like the orange pants? Even Johnny Majors still cringes at the thought of orange pants. Spurrier would be a close second.

Michael in Eden Prairie, Minn., writes: Pat Dye for sure. He was the one who turned my Gators into the NCAA in the early 1980s for paying players while the whole time doing it himself. Remember Eric Ramsey?

Realdawgsnocowbell writes: Does it have to be a head coach? How about Willie Martinez?

John in Baton Rouge, La., writes: There have been many coaches in the SEC that are so much fun to hate. For me, though it's none other than Phil Fulmer. Of all his accomplishments and successes, the first thing that comes to my mind is a particular game played Sept. 26, 2005. It was an extremely hot Monday night after Hurricane Rita. It was my freshman year at LSU and my first time in the student section. With the community recently rocked by two hurricanes, everyone was excited to have a game to watch in Tiger Stadium. Sadly, we squandered a 21-point lead and fell in overtime. I remember clearly the sight of Gerald Riggs scoring the winning touchdown and the moment of dead silence that came over the crowd as we realized what had just happened. Tennessee then planted their flag at midfield and Coach Fulmer in his post game interview said that Rick Clausen was now the greatest story in America . It wasn't the greatest story in America. The greatest story in America at the moment had just been ruined. Ever since, Fulmer has been the coach that I loved to root against!

Jordan in Birmingham, Ala., writes: Without a doubt, the most hated coach to ever come through the SEC is Phillip Fulmer! Roll Tide!
January, 11, 2012
1/11/12
3:30
PM ET
The system of checks and balances is working in Los Angeles. Just consider new UCLA coach Jim Mora's recent hiring of a new new strength and conditioning coach.
The media in Los Angeles is
calling attention to a horrible
— and infamous — mistake Sal Alosi made when he worked for the New York Jets. It is opining on the
riskiness of Mora's hire
.
[+] Enlarge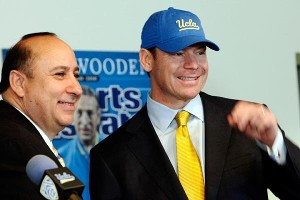 Nick Ut/AP PhotoUCLA athletic director Dan Guerrero, left, poses with new head football coach Jim Mora on Dec. 13, 2011.
That is good. That is the media doing its job, holding public figures accountable for their actions.
And Mora and Alosi are talking about the hiring. They are not hiding.
"I understand the criticism, I expect the criticism, it's completely warranted," Mora told LA Times columnist Bill Plaschke. "But I know the fiber of this man."
That is good: Public figures stepping forward to explain themselves in a controversial situation.
And, by the way, well said, Jim.
I love Mora's hire here all the more, even without knowing a whole lot about Alosi as a strength coach, other than that he seems highly respected by a number of NFL players.
As you long-time readers know, I am a big second-chance guy. I believed LeGarrette Blount deserved a second chance. I believed Rick Neuheisel deserved a second chance. I think the ranting and raving of absolutists who act like everything is black-and-white is a pose, one that my life experience has often found to be situational and hypocritical.
But this isn't about praising Mora for giving a guy a second chance. It's about Mora doing what he wants to do with his team and not fretting the PR angles. This is a revealing moment that Bruins fans should feel good about.
Here's a secret of all good head coaches: They insist on autonomy. They hire who they want to hire. They don't allow administrators to dictate whom they hire. Sure, there are obvious parameters -- felonies and NCAA violations tend to disqualify assistant coaching candidates. But the quickest and surest path to failure is a new head coach taking a job and then being steered to hire assistants he doesn't know.
Perhaps the most important quality for a head coach is being a good CEO, and the first thing a good CEO does is hire the right people. He needs to build a cohesive unit that functions on efficiency. To do that, he needs to know whom he's hiring. How he works. How he takes suggestions and criticism. How he teaches and motivates. His work ethic, both on the field and in recruiting.
Further, it's also about loyalty. An assistant who isn't connected to a head coach often feels little reason not to undermine him "off-the-record" if things get tough.
The worst case I can think of was Terry Bowden at Auburn back in the 1990s. His fatal mistake was retaining assistants who worked for Pat Dye. That became a train wreck of epic proportions.
UCLA fans are well-aware of another: Neuheisel's second chance was a dream — coaching his alma mater — that turned into a nightmare, in large part because he agreed to hire Norm Chow as his offensive coordinator and retain DeWayne Walker as his defensive coordinator. Chow and Walker are outstanding coaches, no doubt. But they weren't Neuheisel's guys. A major part of the problem in Westwood the past four years was a lack of cohesion on the Bruins coaching staff.
Obviously, this isn't the same thing. We're talking about a strength coach, not a coordinator. But I am choosing to freight the hiring of Alosi with meaning, meaning that speaks well of Mora and the early — early! — trajectory of his tenure.
Mora wanted to hire Alosi. He knew there would be some negative blowback, and not without justification. But he met that blowback head-on, and now he's got a the strength coach he wanted.
And he's got a strength coach who probably feels pretty darn obligated to bust his rear end and repay Mora's faith in him with a finely conditioned football team.
June, 28, 2010
6/28/10
6:05
PM ET
In keeping with the spirit of the World Cup, my ESPN.com colleague, Ivan Maisel, has a piece on
famous ties in college football history
.
Hard to believe that it's been 15 years since the tie was replaced by overtime in college football. It's certainly changed strategy at the end of games. Coaches typically play for overtime now and kick the extra point instead of going for the two-point conversion and the win.
Ties involving a pair of SEC teams are featured in Maisel's piece -- Auburn's 16-16 tie with Syracuse in the 1988 Sugar Bowl and Florida's 31-31 tie with Florida State in 1994.
A few more come to mind:
In fact, in that same season Auburn played Syracuse to a 16-16 tie in the bowl game, the Tigers tied Tennessee 20-20 earlier that year in Knoxville.
The only blemish on Ole Miss' 1960 record was a 6-6 tie with LSU in late October in Oxford. The Rebels finished 10-0-1, winning the SEC championship, and were also voted national champions by the Football Writers Association of America.
Auburn tied Georgia Tech 7-7 in 1958, which was the only blemish on the Tigers' record that season. The Tigers went into that game ranked No. 2 nationally and had won 17 straight games.
Alabama and David "Deuce" Palmer rallied to tie Tennessee 17-17 in 1993 in a battle of Top-10 teams. Palmer scored on a two-point conversion in the final seconds to forge the tie, which was later forfeited because of NCAA sanctions against the Crimson Tide.
Alabama went unbeaten in conference play to win the 1981 SEC championship, but lost two games that season and tied one. The tie was to Southern Miss, 13-13, at Legion Field in Birmingham. That next season, Bear Bryant's last at Alabama, Southern Miss beat Alabama 38-29 in Bryant's final game at Bryant-Denny Stadium.
LSU and Alabama played to a 14-14 tie in 1985 in Baton Rouge, which cost the Tigers a share of the SEC championship. LSU had a chance to win the game, but missed a 24-yard field goal with five seconds to play.
Colorado and Tennessee played to a 31-31 tie to open the 1990 season in the Pigskin Classic in Anaheim, Calif. The Buffaloes went on to win the Associated Press national championship that season.
In 1979, Charlie Pell's first season at Florida, the Gators played Georgia Tech to a 7-7 tie in Gainesville. The reason that tie was significant was that it marked the only game all season the Gators didn't lose. They finished 0-10-1.
Georgia and Clemson battled to a 16-16 tie the second game of the season in 1983. The Bulldogs rallied from a 16-6 deficit and tied the game with 38 seconds to play on Kevin Butler's 31-yard field goal. The game ended in bizarre fashion. Clemson's Donald Igwebuike tried a 68-yard field goal in the final seconds that was no good, leaving a second on the clock. Butler then tried one from 66 yards for the Bulldogs that was also short.
November, 27, 2009
11/27/09
2:34
PM ET
AUBURN, Ala. -- Jonathan Evans will start at right linebacker in place of Eltoro Freeman for Auburn.
Alabama doesn't have any lineup changes, but running back
Terry Grant
didn't make the trip.
The 1989 Auburn team was introduced before the game, and many of the players from that SEC championship team were in attendance. But it was former Auburn coach Pat Dye who received the loudest ovation -- by far.
July, 21, 2009
7/21/09
11:25
AM ET
Posted by ESPN.com's Tim Griffin
Texas Tech defensive coordinator Ruffin McNeill has been tangling with Mike Leach's spread offense in practice since his arrival in Lubbock with Leach's original staff before the 2000 season.
McNeill says the challenge of competing against the Red Raiders' potent offensive attack makes his defense more acclimated to the travails it faces in the Big 12, where spread offenses have become predominant.
Here are some of McNeill's thoughts on the challenges he faces on a daily basis from trying to stop Leach's offense.
Do you feel like your defense is better able to defend some of the Big 12's spreads because of what you face in your daily team practices against Texas Tech's offense?
Ruffin McNeill: There's still a different part of each team's offense you have to prepare for each week that you can do only by working specifically for them. Each team has its own identity and something you have to get ready for. So there's still some aspects and concepts that another team prefers that you try to make not sound. But as far as the scheme, we do get tested daily.
When you arrived in Lubbock in 2000, Leach was the only coach in the conference running the spread. Now, seven of the teams run the offense as a base set. Did you ever expect it to be this widespread?
RM: I've definitely seen things evolve. The yards per game and points all have increased. I think it's because we've seen a development in the training of quarterbacks and offensive players through seven-on-seven camps and the like -- particularly here in Texas. Now, everybody is trying to get their wide receivers and running backs into space. And we're trying to do what we can to stop them.
December, 16, 2008
12/16/08
1:02
PM ET
Posted by ESPN.com's Chris Low
We make the rounds to see what's making headlines in the SEC:
TOP 25 SCOREBOARD
Thursday, 12/5
Friday, 12/6
Saturday, 12/7
TOP PERFORMERS