December, 14, 2012
12/14/12
6:30
PM ET
The bowl season starts tomorrow. Sweet!
Follow the Pac-12 blog on Twitter
. Please.
J.McAndrew, San Jose, Calif., writes:
From your perspective Mr. Miller, why would MacIntyre take the job at Colorado and not California. Or to put reversely, why would Cal AD Barbour hire Sonny Dykes and not MacIntyre. Cal was in better position to win immediatley and Colorado is going to be a major building job. Colorado must have had questions about loyalty after firing an Alum with only two seasons to work with. From my standpoint, of reading Jon Wilner and the SJ Mercury news, Cal had a major issue with academics which made SJSU's Coach more suitable for righting the ship. So what gives? Does it all fall back on Sandy Barbour or was there some other incentive/issue why the coaches went where they went?
Ted Miller:
I think California athletic director Sandy Barbour had her choice between San Jose State's Mike MacIntyre and Louisiana Tech's Sonny Dykes, and she simply preferred Dykes.
You can review her comments here
.
Then Colorado jumped in and grabbed MacIntyre, a guy who seems like a perfect fit in Boulder after rebuilding a woebegone Spartans program.
If things don't work out with Dykes at Cal, and MacIntyre leads a football renaissance at Colorado, well, that won't go over well with the Old Blues. Or the young ones. Some
view Dykes as a risky hire
, and you are not the first with a MacIntyre query.
From our present perspective, my ever optimistic self sees both as good hires, though neither is the sort of blockbuster announcement that causes new-found enthusiasm to immediately boil over, as, say, Ohio State inspired when it hired Urban Meyer. But neither program is Ohio State, either.
As for why Barbour preferred Dykes specifically over MacIntyre, you'd be hard-pressed to get a detailed answer from Barbour that digs at MacIntyre.
It could have been a connection of personalities. It certainly seems Dykes made a strong impression during a three-hour interview that separated himself from the five other candidates who sat down with Barbour.
It could have been a preference for an offensive-minded guy over a defensive-minded guy, as MacIntyre is. It could have been Dykes' Pac-12 knowledge, having served three years as the offensive coordinator at Arizona from 2007-09.
Maybe there's some minor, obscure and unreported red flag that gave Barbour pause of MacIntyre. Or just Barbour's own hunch/instincts on the decision.
If you've ever hired someone, you know that after reviewing a number of strong resumes and conducting interviews, your ultimate decision is often based on a personal quirk. For example, I would never hire someone who smacks when he eats. Drives me freaking crazy. It should be legal to punch someone who smacks when he eats ... anyone with me on that?
Or someone who eats steak well-done. I heard a guy the other day order a ribeye well-done and I wanted to cry.
As for Dykes and Barbour: What we can say for certain is there is now more pressure on Barbour for Dykes to be successful than there is on Dykes himself.
---
Chris from Penticton, B.C., writes
: Mike Riley to Wisconsin? Say it ain't so, Mike!
Ted Miller
: It ain't so.
---
Lou from Tempe, Ariz., writes
: Ted,
In response to your response post criticizing
Mike Leach's effort this year - I agree with you that Leach should have done better with what he had, this seasons was dismal. However I find your comparison of him to Graham, Mora, and Rich-Rod to be way off-base. There are so many internal things that go on with each specific program that no fan, or the media are aware of. To say that Leach failed because new coaches in the conference did better than him is ridiculous. Each football team is dynamically different. With that said, I think your article blasting Leach may have come from personal disappointment due to your desire to see Leach's high-octane offense excel immediately, not that you really think he is that big of a failure.
Ted Miller
: I don't agree. Comparing the conduct and results of Leach and the other three new coaches is certainly valid. It's not about asking why Leach didn't win nine games, as Jim Mora did, it's about asking why his team did worst than it should have while Mora, Todd Graham and Rich Rodriguez produced teams that overachieved in year one.
I think Mike Leach is a good football coach.
I effused when he was hired
. I've spent a lot of time over the past couple of months actually trying to talk some of my Coug fan friends back from the ledge of despair. I still think he's going to win in Pullman.
But I think he did a bad job this season. I'm certainly
not alone in thinking that
. And I think a lot of Washington State fans agree with me. In fact, that column was basically a condensed version of what I've heard -- over and over and over -- from Washington State fans this fall.
The most common observation: Leach's
repeated and harsh calling out of his players achieved nothing positive
. Nothing.
The obvious negative of colorfully ripping your players, of course, is that a game with no national interest, such as the 49-6 loss to Utah, suddenly
becomes negative national news
for your program and
a multi-day story
. Probably doesn't help recruiting, either.
Leach is going to be himself. He's not much for filtering his thoughts as they flow from his brain to his mouth.
Perhaps he should reconsider that, at least in some part. Perhaps his New Year's resolution should be that, going forward, when things go wrong with his football team, he will first blame the guy who makes $2.25 million a year for them not to go wrong before he lays into unpaid college students.
---
Craig from Seattle writes
: This past season . . . which was the better division . . . . SEC West or Pac-12 North?
Ted Miller
: SEC West.
The SEC West was a little bit better at the top (12-1 Alabama, 10-2 LSU and 10-2 Texas A&M vs. 11-1 Oregon, 11-2 Stanford and 9-3 Oregon State) and bottom (4-8 Arkansas and 3-9 Auburn vs. 3-9 California and 3-9 Washington State).
But it's closer than a lot of folks in the Southeast would admit.
---
Richard from Phoenix writes
: [
Picked from my chat
]
Tim (ATL) Conventional wisdom is that Helfrich is the guy if CK leaves Oregon... how surprised would you be if someone else is hired? Obviously Christ Petersen always gets talked about, but do you think it is as open/shut helfrich's job as the rumors suggest?

Ted Miller (3:38 PM) If Phil Knight & Pat Kilkenny want Helfrich, then he'll be the guy... I think Petersen comes up a lot because it makes sense, and there's always been scuttlebutt that Petersen has long held Eugene in high esteem. I never think something like this is simply open and shut, but I do know that Helfrich has good backing and is highly thought of.
---
Ted-I don't know if you have been corrected yet, but Pat Kilkenny no longer is the AD at Oregon. It's Rob Mullens. Otherwise keep up the good work.
Ted Miller
: I do know that, and Mullen is a very good athletic director, one who is going to consult the athletic department's two most influential boosters before he picks the next Oregon football coach (should he have to pick the next Oregon football coach).
You do know why they call the baseball field "
PK Park,
" right?
I hear the second choice was "Pac-12 Blog Field."
December, 31, 2011
12/31/11
11:00
AM ET
The ink was barely dry on Rob Mullens' new contract to become Oregon's athletic director when he faced what perhaps will be considered the most important task of his tenure, even a decade down the road: Make football coach Chip Kelly happy.
It was the summer of 2010, and there was a general feeling among the pooh-bahs of Oregon sports -- most notably Nike founder Phil Knight and millionaire former AD Pat Kilkenny -- that Kelly sticking around for the long term in Eugene was the best chance for the football program to experience long-term success, a condition that keeps a department with an $80 million budget afloat.
[+] Enlarge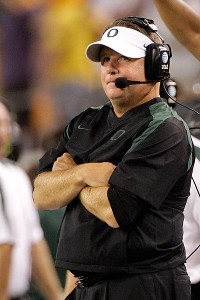 AP Photo/Tony GutierrezOregon doesn't want coach Chip Kelly -- who is in the midst of a 6-year, $20.5 million deal -- going anywhere.
So within 48 hours of his hiring, Mullens -- who was hired away from Kentucky in large part because of his skills with dollars and sense (no cents involved here) -- was on the phone with Kelly's agent working on a new contract.
The endgame was a six-year deal worth $20.5 million. Kelly made $2.4 million last year. He's making $2.8 million this year and will make $3.5 million the next. In 2014 and 2015, he'll pocket $4 million, which is roughly what the
nation's highest-paid coaches made this year
.
"People can look at the numbers and say it's high, but it fits within the marketplace," Mullens said. "It fits with the results. We have the person we want at the helm of our football program."
No other team in the nation is riding a streak of three consecutive BCS bowl games. That's a big reason Oregon merchandising sales went up from $1.5 million in 2007 -- the year Kelly left New Hampshire to become the Ducks' offensive coordinator -- to $2.25 million in 2010.
While it's difficult to quantify the entire picture financially, Mullens points out that the unprecedented success Kelly has produced over the past three years has more than paid for his big-dollar contract, mostly notably in exposure and increased donations. That revenue flow has been particularly important in a tough economy that has many athletic programs struggling, including many in the Pac-12.
Or at least it did. When the conference signed a $3 billion, 12-year TV contract with ESPN and Fox, athletic directors across the Pac-12 leaped into the air and clicked their heels. They also started to spend that money. Some on new coaches.
Sure, Kelly will make $3.5 million next year. But new UCLA coach Jim Mora, with no college coaching experience, will pocket $2.4 million. Washington State will pay Mike Leach $2.25 million.
In a lot of ways, Kelly's compensation pencils out pretty well for Oregon on the cash-for-accomplishment curve.
"It pays [for Oregon] because, one, he's a great coach," Mullens said. "Two, he's a perfect fit. That combination, you can never guarantee that. He has delivered the results."
In addition, Oregon is paying extra for stability. When the school committed to Kelly with SEC-like money, Kelly also committed to Oregon. His buyout dropped from $4 million last year to $3.75 million this year, but that number is almost prohibitive for even the richest athletic departments. In 2015-16, it will be $2 million, which is still pretty large by industry standards.
What does that buyout mean? Well, it means Kelly doesn't have wandering eyeballs. Further, it mutes all but the most uninformed rumor mills: Despite chatter to the contrary, Mullens said he has not been contacted this year by any college or NFL team that wanted to talk to Kelly about a job.
Further -- as Ken Goe of
The Oregonian pointed out
when there were rumors in December 2010 that Florida might come after Kelly after Urban Meyer resigned -- Kelly's contract has clauses that will make it a pain in the rear for a team to pursue him.
And a clause in the contract stipulates that Kelly must give Oregon 15 days' written notice before leaving, and further stipulates that he cannot leave during the regular season or before a postseason bowl game in which Oregon is a participant.
The sum total of all this suggests that Kelly wants to remain in Eugene, and Oregon wants him to stick around. There are no guarantees, of course, but the feeling at the administrative level -- and among key boosters -- is that Kelly is the right guy at the nexus of an athletic department that has ambitious, expansionist visions for itself.
No FBS athletic program thrives without football success, and Kelly's presence provides a sense of security for Oregon's cash cow. And as of today, it appears the marriage remains strong.
March, 14, 2009
3/14/09
5:13
PM ET
Posted by ESPN.com's Ted Miller
| | |
| --- | --- |
| | |
| | Donald Miralle/Getty Images |
| | After spending time mentoring offensive coordinator Chip Kelly, Oregon's Mike Bellotti is turning over the head coaching duties to Kelly. |
Mike Bellotti gathered his Oregon players for a 10 a.m. meeting Friday. He talked to them about their upcoming exams. He talked about their off-season workouts. He talked about spring practice starting on March 30.
Then he said, "Now's the time for me."
And Bellotti, the most successful coach in Oregon history, proceeded to tell them that he would not return for a 15th season and that he was yielding the job to offensive coordinator Chip Kelly.
There was no planned speech. He spoke to his players spontaneously and from the heart.
"I sort of broke down a little bit," he said.
A day after a transition from Bellotti to Kelly that was first described in theory on Dec. 2 was made concrete, Bellotti said he was "at peace and calm in my soul about this decision."
Bellotti said there was no pressure from anywhere for him to step aside, adding that he felt more pressure to stay. He said he had no pressing health issues. He said the timing of the announcement was based on the exigencies of his players upcoming school and football schedules and that Oregon didn't hold a press conference Friday because it was concurrently announcing the hiring of a new university president.
"My timing was really guided by my instincts for football," he said.
He said he first thought about giving up the job after the 2006 season when the Ducks, after a 7-2 start, lost their final four games, including a humiliating 38-8 defeat to BYU in the Las Vegas Bowl.
The word he chose to describe how he felt about his program at that time? "Disgusted."
"I felt like walking away, but walking away was not the answer," he said.
Instead, he hired Kelly to run his offense.
In the 26 games since that decision, the Ducks averaged 40 points per game.
So, in just two years, Bellotti, who will replace Pat Kilkenny as the Ducks athletic director this summer, realized that Kelly was the guy who could make it easy to walk away.
Well, not easy.
"When you've done something for 36 years, it's pretty daunting to think about doing anything else," Bellotti said.
March, 13, 2009
3/13/09
8:06
PM ET
Posted by ESPN.com's Ted Miller
A month ago, Eugene Register-Guard columnist George Schroeder did a wide-ranging Q&A with Oregon athletic director Pat Kilkenny.
This is what Kilkenny said of the plan, announced in December, for offensive coordinator Chip Kelly to take over for head coach Mike Bellotti when Bellotti decided to step down.
That's my proudest accomplishment, the succession plan. That was really my proudest accomplishment.

I just think the guy (Kelly) is a moon shot. And it's not because he's just a brilliant offensive guy. He's this leading-edge thinker who has this football toughness. And it doesn't come in the same package very often. Most of those mad scientists aren't tough.

Chip's no-nonsense, and he sees a different game than almost anybody sees. You watch how that Oklahoma State game worked? They had 12 plays scripted and they went really fast, but then they went really slow. We went really fast the whole game. It's hard to do that on your feet.
"A moon shot."
"A leading-edge thinker."
"Football toughness."
"No-nonsense."
I am no pom-pom waver for Kilkenny, who unnecessarily killed the Oregon wrestling program, but it's not up for debate whether he's a sharp guy. He is.
And how he chose to describe Kelly here should indicate that he's seeing critical head coaching qualities in Kelly. Or believes he sees them.
Kelly, 45, without question, is one of the sharpest offensive minds in the country. His spread-option at Oregon has been a thing of beauty.
That offense has established 24 school records, including scoring, rushing yards and total offense, over the two seasons since Kelly bolted New Hampshire for Eugene. The Ducks have scored 50 or more points in 10 games since he arrived.
Kelly knows his Xs and Os. That made him a hot head coaching candidate that Kilkenny and company didn't want to lose.
But being a great head coach isn't about Xs and Os.
It's about managing a program. It's about leading and motivating -- not to mention choosing -- staff and players.
It's about commanding a locker room. It's about connecting with young men. And scaring the hell out of them with one cross glance.
It's about authority. It's about making decisions. It's about building unbreakable loyalty and trust within a program.
Kilkenny was telling Oregon fans that Kelly isn't just a big-brained football nerd -- a "mad scientist" or a "leading-edge thinker."
He's telling them that the locker room will hush when Kelly walks in. He's telling them that players will think twice about cutting class or hitting the town because they'll be convinced that the moment they do, Kelly will know and then, well, things will get real uncomfortable.
It's fair to wonder, however, if Kelly is ready. He's only been a BCS conference coach two seasons.
Even if he is "a moon shot," it's inevitable that lack of experience will lead to mistakes.
You've got to learn by doing, and we all know we learn the most from mistakes, so Duck fans need to be prepared for fits and starts and a moment or two when it's impossible not to slap your forehead.
Still, some of the best coaching hires of the past 10 years were guys with no head coaching experience: Bob Stoops, Jeff Tedford, Chris Petersen and Kyle Whittingham come immediately to mind.
Of course, there also have been plenty of coordinators who failed after getting promoted.
It's impossible to tell for sure if Kelly is the next Stoops or if he's closer to Tom Holmoe or Mike DuBose.
But it's clear he's got the mind for the job.
And Kilkenny believes he's got the leadership skills for it.
Oh, and it's worthwhile noting that Kilkenny figures to be risk-averse. Know how he made his millions?
Insurance.
March, 13, 2009
3/13/09
4:28
PM ET
Posted by ESPN.com's Ted Miller
There will be no last hurrah for Mike Bellotti at Oregon in 2009.
The school announced Friday that Bellotti would step down as the Ducks head coach before spring practices begin on March 30, and, as per the succession plan described on Dec. 2, 2008, offensive coordinator Chip Kelly will take over.
| | |
| --- | --- |
| | |
| | Kirby Lee/Image of Sport/US Presswire |
| | Mike Bellotti is stepping down as Oregon's football coach to become the school's athletic director. |
Bellotti will replace athletic director Pat Kilkenny on July 1.
A news conference is scheduled for Saturday.
Just this past weekend, Bellotti had intimated to the Portland Tribune that he was torn between stepping down or returning for the 2009 season.
This seems to be a decision that will help alleviate the growing pains that surely will accompany a sudden administration change, and lessen the potential who's-in-charge confusion that might have complicated the 2009 season.
That said, spring will certainly feel a little strange with 14 years of head coaching continuity ending.
The Ducks are expected to earn a high preseason ranking, and with USC rebuilding its defense and potentially vulnerable, challenge for the Pac-10 title.
Those high expectations now fall on Kelly's plate, as the architect of the Ducks' often dominant spread-option offense transforms from an X's and O's guy to team CEO.
Bellotti, the dean of Pac-10 coaches, finishes his career with a 116-55 record. His 72 Pac-10 victories ranks sixth in conference history
November, 4, 2008
11/04/08
2:30
PM ET
Posted by ESPN.com's Ted Miller
Apparently Arizona's invasion of Washington on Saturday is serious business -- see below.