January, 11, 2010
1/11/10
7:51
PM ET
In a sprawling 20-minute, stream-of-consciousness monologue, Pete Carroll was full of "thank yous" and nostalgia as he said goodbye to USC during a Monday evening press conference at the school.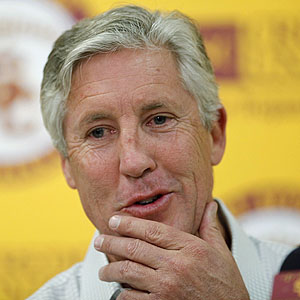 AP Photo/Damian DovarganesPete Carroll called his years at USC "gorgeous times" during a press conference announcing that he will take a job with the Seattle Seahawks.
Carroll said he's breaking up with USC not because of anything the Trojans did -- or because of the NCAA or athletic director Mike Garrett, for that matter -- but because the Seattle Seahawks made him an offer he couldn't refuse.
"Why can't it keep going?" Carroll rhetorically asked. "It can't keep going because I can't pass up this opportunity that has come up."
What exactly the "opportunity" the Seahawks are giving Carroll is presently vague.
Carroll repeatedly has said he'd never give the NFL another try unless he received total control of the franchise. Early reports were the Seahawks planned to give him that. Then there were conflicting stories as to how much power Carroll would have that arose due to
questions about
the Seahawks compliance with the "Rooney Rule," which requires NFL teams to interview minority candidates for coaching jobs. To this point, all the Seahawks have said is Carroll will have "a collaborative capacity on football matters."
Carroll, who has had a number of previous chances to return to the NFL, described that "collaborative capacity" as a "unique opportunity."
"I thought I would be here forever and then this came along," he said.
Hmm.
But that's the NFL side of things, which Carroll mostly refused to talk about, including which members of the USC staff he plans to take to Seattle. At present, he's expected to bring along offensive coordinator Jeremy Bates, linebackers coach Ken Norton and offensive line coach Pat Ruel.
Instead, Carroll, who talked to his now-former players before his press conference, reviewed his nine years at USC and thanked everyone -- really, everyone -- around the program, from players, to administrators, to fans, to people who work for his charity, to police officers, to his beat reporters, etc.
He called his years at USC "gorgeous times" "a marvelous run."
"It hurts to separate right now," he said.
He said he's separating, however, because his competitive fire won't let him pass up "the challenge of a lifetime."
Carroll denied that he is leaving because of the football program's NCAA issues, as well as his widely reported schism with Garrett.
"If you say something else, you are not telling the truth," he said.
He didn't provide many details about his meeting with the Trojans players.
"For the guys that are here right now, it's a bit of a shock that this is happening," he said. "But they're strong. They're tough. They'll compete to take the next step."
Now the next step for USC is hiring a new coach coach to replace a man who produced one of the greatest runs in college football history.
For Carroll, it's about taking his competitive fire to the "highest and most intense level."
It wasn't an easy decision to make.
"There's nothing easy about it," he said. "My body is in shock. My emotional side is in shock. I haven't slept in days."
August, 30, 2008
8/30/08
9:22
PM ET
Posted by ESPN.com's Heather Dinich
| | |
| --- | --- |
| | |
| | AP Photo |
| | USC quarterback Mark Sanchez led the Trojans in a convincing 52-7 win over Virginia on Saturday. |
CHARLOTTESVILLE, Va. -- The soft black Bio Slim brace protecting USC quarterback Mark Sanchez's left kneecap looked more like an accessory on Saturday than it did a necessity.
It certainly didn't prevent him from completing 26-of-35 passes for 338 yards, three touchdowns and one interception.
Sanchez , who dislocated his kneecap earlier this month, he felt "100 percent" following the Trojans' 52-7 drubbing of Virginia.
He looked it, too. Sanchez was able to move around in the pocket, get the ball downfield, and manage the offense.
"That was the big question mark coming into the game," Sanchez said. "... When the first news came out four weeks, (the doctors and trainers) didn't want to hear it. That's the kind of attitude I like and I'm glad they got me back out. I moved when I needed to and was really happy out there."
USC coach Pete Carroll said Sanchez has been ready since he was cleared to play on Tuesday.
"He was fine," Carroll said. "The recovery was extraordinary. The guys working with him ... those guys did a great job. Every step of the way they knew what they were doing, they took care of him. Mark was diligent about working and it wasn't a factor. It just wasn't. Once he was back, he was back. He had to prove it to himself as well. He moved around beautifully in the pocket. His resourcefulness back there is what gives you that second chance."
Not that USC needed one.
"USC was a big, powerful, fast team with superior quarterback play today," Virginia coach Al Groh said. "We were anything but big and fast and our quarterback turned the ball over too many times."
So much for Groh's surprise element at quarterback.
Peter Lalich completed 18-of-35 passes for 155 yards and one interception and he was sacked twice -- something Sanchez didn't have to worry about.
The Trojans dominated every phase of the game, and it all started up front, where USC's offensive line had no problem blocking against a defensive line that struggled to replace Chris Long and defensive end Jeffrey Fitzgerald.
"These guys played beautifully," Carroll said of his offensive linemen. " There were a number of times in this game when Mark had forever back there."
How much time?
"A lot," Sanchez said, laughing. "A lot. That's good. Coach (Pat) Ruel always calls it, in practice he says, 'We're cooking steaks back there because we've got that much time,' and that's the way it felt. The whole line takes pride in that, not letting me get hit and me having ample time to make the right decision and get the ball out of my hands. It felt good. I love that feeling."

Sanchez played conservatively against Virginia, and will speed up the offense in coming weeks. Odds are, he'll have less time to think against the Ohio State defense. But yes, how smoothly everything went for Sanchez and his knee today will only help with his confidence and preparation for the Buckeyes.
"I can keep doing my rehab, that rehab stuff never stops it's going to go all season long," he said. "The doctors and I wouldn't have it any other way. It's exciting to know I've got one under my belt with this whole knee deal and I'm back to 100 percent. I feel good and we're ready to start preparing for Ohio State."
July, 18, 2008
7/18/08
4:22
PM ET
Posted by ESPN.com's Ted Miller
There's two things you can say about offensive lines: 1) Every good team has a good one; 2) People tend to notice offensive lines more when they are bad.
There aren't any "Oh my gosh, those guys are terrifying" crews this season. Only UCLA and, to a lesser extent, Arizona State, have significant issues up front.
A couple of the lines also need qualifiers: If Washington center Juan Garcia wasn't going to start the season on the injured list, the Huskies would rank No. 2. And Oregon State would rank higher if guard Jeremy Perry's health wasn't an issue, not to mention that tackle Tavita Thompson isn't expected back from suspension until Nov. 1.
USC only welcomes back one official "starter," but three of the new faces topping the depth chart started at least two games last season. Plus, with four incoming prep All-Americans at the position, and highly respected line coach Pat Ruel calling the shots, it's hard to believe the Trojans line will be a milquetoast.
| | |
| --- | --- |
| | |
| | Tom Hauck/Getty Images |
| | Alex Mack earned All-American honors a year ago. |
So here are the hogs... (returning starters)
Oregon (3): Center Max Unger and tackle Fenuki Tupou were All-Pac-10 for the best conference's best rushing team in 2007. The two new starters are experienced seniors.
California (3): All-American center Alex Mack leads three returning starters from a group that surrendered only 11 sacks last season.
Washington (3): Even without center Juan Garcia for a few games, Mike Denbrock's well-coached unit led the conference's second-best rushing attack and was above average in pass protection.
USC (1): The Trojans, with only guard Jeff Byers back, get the benefit of the doubt that the 2007 backups would start for most teams.
Washington State (4): Four starters back from a unit that only gave up 22 sacks.
Arizona (4): Among the four returning starters is tackle Eben Britton, who will play on Sundays. Run blocking shaky.
Oregon State (3): With mauling guard Jeremy Perry, this is a top-flight unit, but without Perry it's easy to remember 36 sacks in 2007.
Stanford (3): Alex Fletcher, who has converted from guard to center, is outstanding, but the unit still ranked ninth in rushing and gave up 48 sacks (ninth also).
Arizona State (2): The Sun Devils' season may hang on how much the line improves. Just two starters are back from a unit that gave up a stunning 55 sacks in 2007.
UCLA (2): Injuries, attrition and lack of talent are the problems. Just two starters and little depth return from group that gave up 36 sacks and was mediocre at run blocking.