November, 25, 2013
11/25/13
11:00
AM ET
Let's begin the rewind with a little chop talk.
Players and coaches from Wisconsin and Minnesota nearly brawled following the Badgers' 20-7 win at TCF Bank Stadium on Saturday. The brief altercation happened when Wisconsin brought Paul Bunyan's Axe to the Gophers' home end zone for the traditional "chopping" of the opponent's goal post. But Minnesota guarded the post and wouldn't let the Badgers through.
[+] Enlarge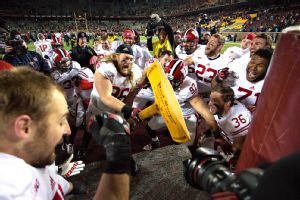 Jesse Johnson/USA TODAY SportsMinnesota didn't like Wisconsin celebrating after winning their rivalry game.
The Wisconsin side claims that the Gophers were being sore losers by not allowing the annual tradition to continue. Minnesota would counter by saying it gathers in that end zone after every game to sing the alma mater in front of its student section, and the Badgers were rude to invade that area (politely asking, "Pardon me, would you mind if we took this giant axe to your uprights?" might not work, either).
"It's just a pride thing," Minnesota defensive back
Brock Vereen
told reporters. "This is our stadium, and even after the clock hits zero, we still feel the need to protect it. So I don't think there's any love lost or anything like that. I think they'd do the same thing."
A small skirmish broke out in the same spot in 2011, when Wisconsin interrupted the singing of the alma mater. The Badgers tried to wait until the song ended on Saturday, but the Gophers still formed a resistance.
Wisconsin defensive tackle
Beau Allen
told reporters, I think jokingly, that teams have chopped both goal posts in all 123 years of the rivalry. (Which, of course, is impossible, since the Axe didn't arrive on the scene until 1948). But Allen was right that the chopping is an annual tradition, so the Gophers can't feign surprise that the axe came their way.
At the same time, if Minnesota wants to make such a stand on its home field, so be it. While Saturday's game showed they're getting a little closer to Wisconsin's level, the Gophers have lost 10 straight in this series. Guarding the post could just have been their way of saying they're tired of being pushed around.
With players and coaches exchanging curse words and shoves and Wisconsin head coach Gary Andersen getting upset about a security officer he said put a finger in his face, the good news is both teams showed restraint in not letting things escalate. The axe celebration is one of the best in sports, but with so many people on the field, these postgame displays are axing -- I mean, asking -- for trouble. Something to keep in mind when this weekend's rivalry games roll around.
Saturday's altercation just added a little more spice to the series. And maybe a new set of rules for the axe tradition.
Take that and rewind it back …
Team of the week:
Iowa. The Hawkeyes did everything they could to let Michigan win the game in the first half, throwing a pick-six and falling behind 21-7 at intermission. But this team has shown resiliency in bouncing back from last year's failures, and it owned the second half for a 24-21 win. Beating Nebraska this week would complete the symbolic turnaround from 4-8 to 8-4.
[+] Enlarge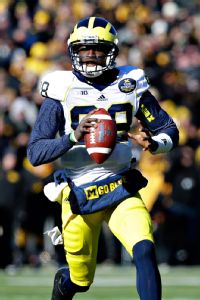 AP Photo/Charlie NeibergallThings haven't gone as planned for Devin Gardner and Michigan.
Worst hangover:
Michigan. You had to feel bad for
Devin Gardner
, who was near tears after the game while regretting his late fumble. He's giving it everything he has got, but the Wolverines just don't have much right now. They've gone from 5-0 to 7-4, with an almost certain fifth loss coming next week against Ohio State.
Best call:
Loved Iowa's decision to have
Jake Rudock
roll out with a run/pass option on third-and-10 late in that game. It was far bolder than just running the ball and punting or throwing a screen, yet it didn't carry a lot of risk. It also showed a lot of confidence in Rudock who had thrown three interceptions. He completed a 12-yard pass to
C.J. Fiedorowicz
for the first down, allowing the Hawkeyes to go into victory formation.
Weirdest call:
Wisconsin's Andersen called for a bizarre-looking fake field goal in the fourth quarter at Minnesota. Holder
Drew Meyer
lined up behind the center in the middle of the field while everyone else split out wide. Meyer threw a lateral to tight end
Sam Arneson
, who had several blockers in front of him but nowhere to go. Arneson was supposed to pass the ball but never had time and wound up losing seven yards. "That one will be scratched off the play list for quite a while," Andersen said.
Best play:
Michigan State receiver
Bennie Fowler
, who has had a great bounce-back season, summed up the season for his team and Northwestern on an
87-yard touchdown catch
. Why are Northwestern defensive backs always involved in such wild plays?
Big Man on Campus (offense):
Raise your arms and yell, "
Steve Hull
!" His late-career receiving renaissance continued with 10 catches for 169 yards and two scores as Illinois finally broke its Big Ten losing streak.
Big Men on Campus (defense):
It's a tie between Ohio State's
Ryan Shazier
, who had a ridiculous 20 tackles and five tackles for loss against Indiana, and Wisconsin's
Chris Borland
, who made 12 stops with two fumble recoveries and a forced fumble. Do we really have to choose between these two for Big Ten defensive player of the year and linebacker of the year?
Big Man on Campus (Special teams):
Nebraska's
Pat Smith
went 3-for-3 on field goals and drilled the 42-yard game-winner in overtime at Penn State.
Best failed effort:
Penn State kicker
Sam Ficken
tried his best to stop Nebraska's
Kenny Bell
on Bell's 99-yard touchdown return. But Bell treated Ficken like a kicker while leaping over him at the 30-yard line on his way toward the end zone. The
photo of that
is delightful. "You will never live it down if you get tackled by the kicker," Bell said.
Best quote:
From Northwestern coach Pat Fitzgerald, whose nightmare season can't end soon enough: "The year '13 -- good riddance. Something about that number I don't like a whole lot. I like those hotels who don't put it on their floors."
November, 24, 2013
11/24/13
9:00
AM ET
Recognizing the best and the brightest around the Big Ten in Week 13. Big day for the linebackers.

November, 23, 2013
11/23/13
10:05
PM ET
STATE COLLEGE, Pa. --
Ameer Abdullah
nervously chewed on his mouthpiece like a stick of gum, seconds before Nebraska's kicker would attempt the game-winning field goal in overtime.
The Cornhuskers I-back watched from the sideline, backtracking to a space heater when PSU called a timeout to ice the kicker as flurries swirled around. Then Abdullah inched closer to the sideline, again backtracking -- shaking his head and rolling his eyes -- when his team was flagged for a false start.
But the Huskers' short-term frustration -- and the long-term questions -- gave way to players leaping in the air when
Pat Smith
booted the game-winning 42-yard field goal. Some players turned toward hecklers in the crowd and waved. Others sprinted on the field and embraced after the 23-20 overtime victory.
Nebraska fell short of expectations early this season and rumors about Bo Pelini's job security have swirled around the coach more often than the squalls around Happy Valley. But this win, this comeback, offered the Huskers a few days of relief.
It allowed fans to back away from the panic button, at least for now, and for the Huskers to inch closer to a better bowl.
[+] Enlarge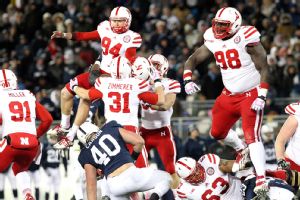 Matthew O'Haren/USA TODAY SportsPat Smith and his teammates celebrate his game-winning kick in overtime.
"I'm proud of our team. Our kids, once again, they showed a lot of heart," Pelini said. "There's a lot of things we had to overcome."
For Nebraska, this contest was more of the same. It hasn't quite experienced the season it envisioned, but it won yet another close game. It's the eighth straight game decided by seven points or fewer that Nebraska's won. And it now has won three of four -- all three by four points or less.
First came the Hail Mary vs. Northwestern then a game-winning TD with 2 minutes left against Michigan -- and then this.
Tommy Armstrong Jr
. injured his ankle early, and an energized
Ron Kellogg III
entered the game and threw an unordinarily high 34 passes. The Huskers escaped a near-safety in the closing minutes and then converted a third-and-long play from its own 1, thanks to a PSU pass interference. Then they watched as Penn State kicker
Sam Ficken
, who missed a PAT earlier in the contest, booted a 37-yard overtime field-goal attempt wide right. It was a bizarre game with plenty of miscues -- and opportunities -- for both teams.
But, once again, the Huskers overcame themselves and triumphed. And Penn State's seniors were forced to jog past the victory bell in their final home game without giving it one final tug.
"What's amazing about our team," said Smith, who went 3-for-3 on field goals in the game of his career, "is our ability to keep fighting no matter how much negativity comes our way."
For much of the season, the Nittany Lions have been able to say the same. PSU outlasted Michigan in a quadruple-overtime thriller and then sneaked past Illinois, 24-17, in overtime earlier in the month. This was the third overtime in the last six weeks for Penn State.
But, like Nebraska, PSU has come up short of expectations this season. And the Nittany Lions were unable to give their frost-bitten fans a victory for the long drives home.
This isn't the end for either team. PSU needs to win one next week, against Wisconsin, to have a winning season. And the Cornhuskers have to beat Iowa next week to continue keeping that negativity at bay.
Those questions aren't ending just because of this game. But this was an important step for Nebraska.
"It was a big victory for us on the road, especially at Penn State," Kellogg said. "It's a loud crowd, there's a lot of emotions, but we stuck together as a team and we came through. Even though it was overtime, we came through with a victory.
"I think it's a good kick-start for us to get ready for Iowa."
October, 28, 2013
10/28/13
11:00
AM ET
You know the old adage about offense selling tickets and defense winning championships? Forget about it.
If that were true, how could you explain that four of the top five scoring teams in the country are Baylor, Oregon, Florida State and Ohio State? And that all four are undefeated, ranked in the top five in the major polls and in the BCS title chase? (No. 4 on that list, by the way, is Texas A&M, which has a reigning Heisman Trophy winner and is 12th in the BCS standings). Even Alabama is averaging 41.2 points per game, 13th best in FBS.
[+] Enlarge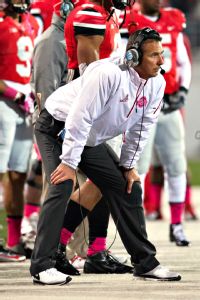 Greg Bartram/USA TODAY SportsUrban Meyer and Ohio State were on the offensive against Penn State.
The only team in the Top 25 nationally in points per game that doesn't have a winning record? Indiana, which is tied for eighth at 42.4 PPG -- but also is No. 119 in total defense.
You've got to score a lot to win big in college football these days, and you've got to do the same to stand out in the BCS crowd. So no wonder Urban Meyer and Ohio State put their foot on the gas pedal Saturday against Penn State, scoring 42 points in the first half en route to a 63-14 rout.
The Buckeyes' 686 total yards were their most ever against a Big Ten opponent. Meyer, in classic step-on-your-neck fashion, challenged a spot on a Penn State fourth-down play late in the third quarter. Ohio State led 56-7 at the time -- and got the call reversal to go its way. Nittany Lions coach Bill O'Brien just stared ahead for several seconds when a a reporter later asked about that challenge, then declined to comment. But O'Brien did say of the game, "We'll remember some things."
Still, it's hard to blame the Buckeyes for doing everything they could to put up an impressive score after they've heard about their lack of style points all year long. The scary thing for the rest of the Big Ten is that Ohio State and
Braxton Miller
appear to be just now finding their stride on offense. Yes, that's a funny thing to say for a team scoring 47.2 points per contest and that has seven 50-point games since 2012, or one more than the program managed in the entire Jim Tressel era. But it's true.
This is an offense that appears to be steamrolling toward a championship. Wouldn't it be fun if Michigan State's equally dominating defense got a chance to test that old adage in Indianapolis?
Take that and rewind it back:
Team of the week:
For the second straight week, it's Minnesota. Of course it is, after the Gophers knocked off Nebraska for the first time since 1960, got their signature Big Ten win and clinched bowl eligibility. What the team has been doing while head coach Jerry Kill is on a leave of absence is incredible.
Worst hangover:
There have been some ugly losses in the Bo Pelini era at Nebraska, but maybe none as dispiriting as Saturday's defeat at Minnesota. The 9-7 home loss to Iowa State might be the only one to trump it. Tommie Frazier, who publicly criticized Pelini and his staff after the UCLA debacle, tweeted out "Do I need to say anymore?" right after the game ended. It will be another uncomfortable week in Lincoln.
Best play:
Facing third-and-7 from the Northwestern 8-yard line in overtime,
Iowa's
Jake Rudock
dropped back to pass and almost immediately had blitzing safety
Ibraheim Campbell
in his grille. When Rudock released the ball, it looked in live action as though he was merely throwing it away. Instead, the ball sailed perfectly to tight end
C.J. Fiedorowicz
for the touchdown that proved to be the game winner.
[+] Enlarge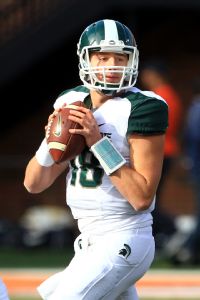 Pat Lovell/USA TODAY SportsConnor Cook won't soon forget Saturday's win.
Craziest play:
Speaking of surprising touchdown passes,
Connor Cook
must be living right. The Michigan State
quarterback scrambled to his right late in the first half
on a third-and-25 from the Illinois 29-yard line. He then threw toward the end zone into double coverage, and a pair of Illini defensive backs,
Jaylen Dunlap
and
Eaton Spence
, were in front of Bennie Fowler for the underthrown pass, and Dunlap tipped it twice before it fell in the hands of Fowler for a TD. The score was 7-3 before that play, and it was the start of 35 unanswered points for Michigan State. "I was a little afraid," Cook said of his throw. But he finished with just one incompletion in 16 attempts.
Big Man on Campus (Offense):
Braxton Miller is getting hot. Scorching hot, in fact. He went 18-of-24 for 252 yards and three touchdowns through the air while rushing for 68 yards and two scores in the 63-14 trouncing of Penn State. If he plays like that, nobody in this league is beating the Buckeyes.
Big Man on Campus (Defense):
Iowa linebacker
Anthony Hitchens
had nine tackles, a sack and a key forced fumble in the win over Northwestern.
Big Man on Campus (Special teams):
His team lost, but
Pat Smith
did all he could for Nebraska. Smith went 3-for-3 on field goals, connecting from 37, 42 and 45 yards on a windy day. Say this for the Huskers: They keep churning out excellent kickers.
Got a plane to catch?
This might be the craziest number of the week: 2:50. That's how long the Northwestern-Iowa game lasted. Yes, the two teams somehow managed to play an overtime game in less than three hours, or about the time it takes for two David Ortiz at-bats. Of course, it might have taken a bit longer had Pat Fitzgerald elected to use his timeouts at the end of the game.
After a
Mike Trumpy
fumble, Iowa took over at midfield with 3:14 remaining. The Hawkeyes struck on an 18-yard Fiedorowicz pass reception to get near field goal range and then started going conservative as the clock drained. Fitzgerald, who had two timeouts in his pocket, did not call either of them to save some potential time for the Northwestern offense. He finally called one after Iowa had used its own timeout on fourth-and-11 with 15 seconds left. The Wildcats then intercepted the pass but had no time to do anything but take a knee.
Fitzgerald said later that he thought the wind would make it tough on Iowa to kick a field goal and that "we were playing to win the game." It sure seemed instead that he was playing for overtime, and we saw in the Michigan game that playing not to lose often leads to exactly the thing you're trying to avoid.
September, 1, 2013
9/01/13
12:03
AM ET
LINCOLN, Neb. -- Nebraska came back from a pair of first-half deficits and survived a late Wyoming rally to win its NCAA-record 28th straight season opener, 37-34 on Saturday night.
The Cowboys, of the Mountain West Conference, showed surprising resolve, gaining 602 yards before a Nebraska school-record crowd of 91,185 in the 326th consecutive sellout at Memorial Stadium.


The 18th-ranked Huskers rebounded from a sluggish start to score 21 consecutive points in the second and third quarters.
But Wyoming never went away as quarterback Brett Smith hurt the Huskers with both his arms and feet. Smith threw for 383 yards and rushed for 92. He fired a pair of late touchdown passes to nearly erase a 16-point deficit. His 29-yard strike to Jalen Claiborne with 6:02 to play made it 37-27, and a 47-yard dart to Robert Herron with 1:32 left sliced the lead to three points.
Nebraska cornerback Josh Mitchell sacked Smith on a two-point conversion attempt after the first of Wyoming's fourth-quarter TDs, and the Cowboys failed to recover an onside kick after the second.
Wyoming stopped the Huskers quickly in the final two minutes to regain possession, but its final drive ended short of midfield.
A recap:
It was over when: Smith scrambled wildly, using all of the final 11 seconds to throw across midfield as time expired at the end of a frantic fourth quarter. A pair of holding calls stymied Wyoming's last possession, but it converted a fourth-and-11 to its 31-yard on a 14-yard strike to Claiborne before the errant heave fell to the turf, allowing the Huskers and their record crowd to sigh deeply.
Game ball goes to: Senior cornerback Stanley Jean-Baptiste came up big several times -- none more important than an interception of Smith late in the first quarter. With the Cowboys already up 7-3, the 6-foot-3 Jean-Baptiste outwrestled freshman Tanner Gentry at the goal line, ending Smith's streak of passes without a pick at 183. On the next Wyoming possession after Nebraska went up 10-7, Jean-Baptiste delivered a big hit on Gentry. Jean-Baptiste then fought through a block to corral receiver Claiborne for no gain on a third-and-2 reception to force the Cowboys' only three-and-out series of the first half.
Stat of the game: Eight. The number of consecutive running plays Nebraska called on scoring drives midway through the second quarter and early in the third. The eight runs totaled 144 yards and two touchdowns, turning a 14-10 Wyoming lead into a 24-14 Nebraska edge. Against a rush defense that ranked 117th nationally a year ago, the Huskers, before turning to the run, called passes on six of seven plays in the first half, resulting in two incompletions, three receptions for 14 yards, a 3-yard Taylor Martinez scramble and two punts. The turnaround began with Ameer Abdullah's 62-yard scamper and ended with a bruising 31-yard TD burst by Imani Cross.
Unsung hero: One man cannot replace the excellence in the kicking game provided over the past seven years by Alex Henery and Brett Maher, both of whom handled place-kicking and punting duties. So Nebraska went with three guys, and they all showed well. Sophomore Mauro Bondi consistently blasted kickoffs deep; senior Pat Smith, despite missing an extra point, connected on his lone field goal try from 24 yards; and redshirt freshman Sam Foltz boomed four punts for an average of 49.2 yards.
Best improvisation: It was a bit early to say Wyoming had Nebraska on the ropes, but the Huskers, down 7-0, had already muddled through one unproductive possession when, on the third play of their second series, Martinez fumbled the snap on third-and-5. The senior QB chased it down, bought some time with his legs and threw downfield. His pass sailed long, but tight end Jake Long caught the deflection to extend the drive with a 26-yard gain. The drive ended with Pat Smith's field goal.

What Nebraska learned: The Huskers aren't ready for UCLA, who will visit Lincoln on Sept. 14 with QB Brett Hundley, a better version of Brett Smith. Wyoming's third-year starter tormented the Blackshirts for much of Saturday. He ran effectively and used his feet to avoid pressure in the pocket. Hundley will inflict more pain if the front seven can't dial up additional pressure. When the Huskers got to Smith, defensive end Randy Gregory was called for roughing the passer to negate a sack. Offensively, it went about as expected until the final minutes. Martinez showed nice composure. The backs ran well, and the receivers were sure-handed.
What Wyoming learned: If it can find a way to slow opponents' running games, the Cowboys ought to improve significantly on their 4-8 finish of a year ago. Wyoming unexpectedly controlled this game for much of the first half and simply ran out of time at the end. It features a nice group on offense, with the multitalented Smith, running back Shaun Wick and several capable receivers.