NCF Nation:

Patrick Larimore
August, 23, 2013
8/23/13
12:00
PM ET
Larry Scott had already put check marks to a pair of major to-dos: getting the new network up and running and putting a conference championship game in place.
All the while, he also knew there was an underlying issue that will eventually change the way football is played in this country: head injuries. And Scott wanted his league out in front of it. But he didn't know the best tack. Then at a meeting with NFL Commissioner Roger Goodell last December, Scott started hearing about the studies they were doing in the league and their involvement with USA Football and the "Heads Up Football" initiative.
"I think that meeting really caused me to reflect on whether we were doing enough as a conference and whether we could be doing more," Scott said. "There had been so much discussion nationally, but when myself and a few other commissioners met with Roger Goodell, that was really a pivotal moment."
[+] Enlarge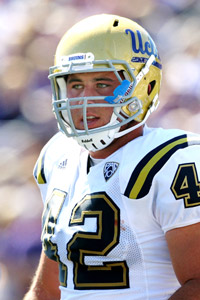 Scott Sewell/Icon SMIUCLA LB Patrick Larimore retired from football after suffering at least seven concussions.
It was also the genesis for
the league's new limited-contact policy in practice
, which is officially in effect for the 2013 season. Following that December meeting, Scott consulted with Pac-12 the school presidents, athletic directors and coaches and they began to hammer out ideas for how they could reduce head trauma.
"There was no resistance from coaches on the idea," Scott said. "They all believe it's the right thing to do. We had a lot of debate and discussion on what the policy should be. They are all doing less than they're entitled to do anyway and they are all very consciences. They supported the idea of us taking the lead on this."
One of the biggest supporters of the new policy no longer plays football. Former UCLA linebacker Patrick Larimore,
who retired before the 2012 season
, says if the policy was in place four years ago, he might still be in the game.
"In practice, this is where you see the majority of the damage occur," said Larimore, who suffered at least seven concussions that he knows about. "There were definitely numerous occasions throughout my career where you start practice with a hitting drill or a circuit of hitting drills. When you do that throughout the course of a year, you can really add to the toll and the wear on the head."
Larimore, UCLA's 2011 defensive MVP who probably would have gotten some NFL looks, is instead getting ready to launch an online platform where anyone who has suffered head injuries can come and share their stories. His site,
myheadhurts.co
[sic] is scheduled to launch next week.
Other conferences have concussions on their radar. The Big Ten
joined up with the Ivy League
last year for a joint study and earlier this week
threw its support
behind Heads Up Football. But the Pac-12 is the only league to have an actual mandate that limits the amount of hitting that can be done during practice.
"I think a lot of schools and conferences are going to look at what we're doing," Scott said. "I'd be surprised if a year from now, before the 2014 season, you don't see other conferences adopt a similar policy."
It's been noted since Scott announced the policy at the Pac-12 Media Day that most schools across the country are already following similar practices. The Pac-12 is just the first to make it an official mandate.
"I think everybody is a winner in this because this is about player safety and educating our players and we are taking the proper steps so that player safety is No. 1," USC coach Lane Kiffin said. "We have seen the NFL take the lead and we see the Pac-12 lead that in college football."
All this comes too late for Larimore, who took a medical retirement during training camp a year ago and graduated from UCLA in the fall. He continues to suffer from the effects of his head injuries -- though he didn't want to get into specifics. He's taking part in symposiums and hopes to spread the word and encourage others to share their stories through his site.
"Having left football, it's hard to turn around and point the finger at football," Larimore said. "I loved it. I still do. It was a big part of my life. I want to help focus on education and spread awareness so others will know."
There will always be critics who say players know the risk and the dangers of playing football. In so many words, they know what they are getting into. And Larimore concedes that he accepted those risks. But there are also unknowns which the Pac-12's new policy might help alleviate.
"For a long time there were huge gaps in knowledge. A huge lack of information," he said. "In some cases, there is no way you know what you're getting into. I don't think anybody can point out and plan out every little hit. But every hit matters. It's cumulative. After one (concussion), you're more likely to get another one. What about one practice where your trainer forgets to properly put air in your helmet? That's not knowing what you signed up for.
"What has been known as a concussion and what is currently known as a concussion has dramatically changed within the last few years. A lot of those sub-concussive hits may be real concussions. And I think a lot of time hitting in practice contributes to the damage."
October, 31, 2012
10/31/12
2:00
PM ET
By
ESPN.com staff
| ESPN.com
April, 23, 2012
4/23/12
12:00
PM ET
LOS ANGELES -- Last season, a group of players on the UCLA defense got together to watch the BCS national championship game. One Bruin in particular -- defensive end
Datone Jones
-- watched with a keener eye and sense of purpose.
"I was watching Alabama's defense and they were fearless," said Jones, who is heading into his fifth season at UCLA. "I'm a fan of good defense. Those guys aren't that much more special than we are. We are all 6-4 and strong. They just have a different mentality than we do. They found out who they were early and they weren't going to be anything else but that.
"That's how we have to be. I feel like we lost our way as a defense. When I got here, guys like Reggie Carter and Brian Price were taking control of the defense and making plays. We were known as a defensive team. We lost our way and now we're trying to find it. If we do, we've got eight fifth-year seniors on this defense, and we could be something special."
UCLA's numbers from last season suggest anything but special.
[+] Enlarge

Ric Tapia/Icon SMIDatone Jones says UCLA's defense underperformed last season and this year's unit will be improved.

8th in the conference in scoring defense

8th in total defense

11th in rush defense

6th in pass efficiency defense

11th in sacks

12th in opponent first downs

11th in opponent third-down conversion

9th in red zone defense
"That's not us," Jones said. "We left too many plays on the field last year and got exposed and didn't look very good. That's not who we are. We're going hard on each other and the coaches are putting us in tough situations. We're being asked to man up and that's what we have to do."
Jones, in particular. After missing all of the 2010 season with a fractured foot, the 6-foot-5, 280-pounder from Compton, Calif., was heavy on the hype, but not so much on the results. Some of that wasn't his fault. Teams knew his reputation and either ran away from his side or double and triple teamed him. Tough to make a play with three offensive linemen on you.
Still he led the Bruins defensive line with 41 tackles, three sacks and 6.5 tackles for a loss. But that's not good enough in his mind.
"I know I had a lot of hype last year -- teams know UCLA has a potential All-American defensive end -- so they aren't running the ball or they are double-or-triple teaming me, but other guys weren't there to make the plays. If I'm getting double-downed, that means someone is free. But it works both ways. There were times when I was freed up and didn't make the play. That's what it comes down to. As a defense, we need to start making plays."
Jones is very encouraged by UCLA's switch to a mostly 3-4 defensive front. His responsibility changes a bit. The defensive linemen aren't asked to get as much penetration as they were in the 4-3. Rather their focus is on gap control and controlling the man in front of them. The new system means less double teams for Jones and more of an opportunity to showcase his skills as a run-stopper.
"I'm very excited about this defense," he said. "It's taking some getting used to. But I think at the next level this is what I'm probably going to have to do so it's good preparation.
"And I probably won't see as many double teams. Because if you double the end, [linebacker]
Patrick Larimore
is going to come free and I would not want to get hit by that man. Or
Eric Kendricks
or
Keenan Graham
. I feel like we're going to be loaded this year."
New defensive coordinator Lou Spanos said he and defensive line coach Angus McClure -- the only holdover from the previous coaching staff -- are spending the spring trying to change the mentality of the group. And Jones is going to be a big part of that.
"Right now he's doing a very good job adjusting," Spanos said. "He's focusing on the details and that's what we need and we drill these guys and install the ideas we think you need to be a successful defensive line."
With a renewed sense of excitement around the program and the scheme, Jones feels like he's ready to better handle the expectations this season.
"I'm definitely ready for the hype," he said. "I'm not drinking the Kool-Aid. I know it's there. There are always going to be assumptions that I can't do this or I can't do that. I'm ready to prove everyone wrong and I'm ready to start winning with my teammates."
December, 3, 2011
12/03/11
2:30
AM ET
EUGENE, Ore. -- It would be unfair and perhaps even inaccurate to describe Oregon's celebration after winning the first Pac-12 championship game as subdued or distracted or somehow lacking that unfettered euphoric frenzy that erupts after landmark success. The Ducks partied after
whipping overmatched UCLA 49-31
. The grins were ear-to-ear. The emotions were authentically proud and in the moment.
Winning three consecutive conference championships is a special achievement for any program, but especially a program whose older fans can remember times when such results seemed unattainable.
But you know the "but" is coming. The but is this: After the Ducks finish celebrating, they need to get down to business. And that business is winning their final game, the one that would unmistakably announce the program's arrival as an elite program.
The Ducks have reached the Rose Bowl before. They have played for a national title. But they have walked away from that final game both times with the confetti falling on their triumphant opponents.
It won't surprise anyone that Ducks coach Chip Kelly didn't even sniff the bait when asked if he felt like the program needed to win a BCS bowl game after losing the past two seasons.
"Not based on the two previous losses," Kelly said. "I think our guys are going to go out there and compete, but not based upon anything that happened in the past. I've said this a lot, we're a forward-thinking operation."
Sure, fair enough. But not every Ducks fan or even Ducks player is so completely enmeshed in "The Tao of Chip." They know the simple fact that Oregon in just three seasons under Kelly has accomplished everything a program can in the Pac-12, other than winning a Rose Bowl or winning a national title.
"We really need to finish this season right," said tight end
David Paulson
, who caught one of three touchdown passes from quarterback
Darron Thomas
.
[+] Enlarge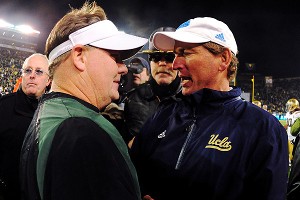 Kyle Terada/US PresswireChip Kelly is on to the Rose Bowl with his Ducks, while Rick Neuheisel, right, is out of a job.
"The last two seasons, we had great years but we didn't finish on a good note. I think for this program to keep growing, we need to finish the season. This year, we need to finish in the Rose Bowl."
The dispatch of UCLA takes second billing. It played out as expected. The Bruins fought hard but were overwhelmed by the Ducks' speed and relentlessness, even with do-everything back
De'Anthony Thomas
knocked out in the first quarter with an apparent concussion.
Oregon led 21-7 after a quarter, 35-17 at halftime and 49-24 entering the final frame. The result was never in doubt. Game MVP
LaMichael James
produced three touchdowns and 219 of the Ducks' 352 yards rushing. The Ducks outgained the Bruins 571 yards to 337.
The loss even took second billing for the Bruins. For them, it was more about Rick Neuheisel coaching his final game. He was fired this week and finishes his ill-fated career at his alma mater with a 21-28 record.
"There was a lot of heart and there was a lot of work," Neuheisel said. "We made it a game, at least for a time. I was thrilled we got that kind of effort, given the events of last week."
There was an abundance of graciousness when Neuheisel and his players met with reporters. They paid tribute to Oregon, Neuheisel paid tribute to his players and they, in turn, thanked him.
Said linebacker Patrick Larimore, "Being able to play under him has been truly a blessing for me and I know it has been for the rest of the team."
The Bruins had to play a clean game to have any chance and they did not. They lost three fumbles and threw an interception. They also were 1-for-3 on fourth down, while Oregon was 4-of-7. The Ducks, in fact, scored a pair of long touchdowns -- a 30-yard James run in the first quarter and a 25-yard pass to
Daryle Hawkins
-- on fourth-and-short plays.
Oregon, meanwhile, piled up a bunch of notable numbers. James, a redshirt junior, became the first back in conference history to produce three consecutive seasons with more than 1,500 yards rushing. That's a major achievement when you consider the history of Heisman Trophy winners and Pro Football Hall of Fame running backs the conference has produced. James' 52 career rushing touchdowns is tied with former USC running back LenDale White for second in conference history, and he passed Marcus Allen for third place on the conference's all-time career rushing list with 4,923 yards.
Thomas set a school record with his 63rd career touchdown pass.
As for getting to the Rose Bowl -- again -- it remains special, without question. It's certainly a source of jealousy among 11 other Pac-12 teams. Even Kelly admitted, "It means a lot."
"The Rose Bowl in this conference is the pinnacle," Kelly said. "If you don't have a chance to play -- obviously because of our two losses -- in the national championship game, there's no other game you'd rather play in than the Rose Bowl."
But the playing is not the thing to catch the consequence of becoming a college football king. And Kelly and Oregon, of all coaches and teams, should know that. After all, it's written all over the stadium and even has a special "WTD" shield.
Win the day.
Oregon needs to win the day on Jan. 2.
December, 2, 2011
12/02/11
9:17
PM ET
EUGENE, Ore. -- It's been sloppy -- four turnovers -- but the Pac-12 championship game is playing out as expected after a quarter.
Oregon leads 21-7. UCLA's points came on a pick-6 from linebacker Patrick Larimore.
Both teams have two turnovers, but Oregon has a dominant offense and UCLA doesn't. The Ducks outgained the Bruins 177 yards to 50.
Ducks running back
LaMichael James
had 71 yards rushing in the quarter, including a 30-yard touchdown.
If both teams play sloppy, Oregon wins big. If both teams play clean, Oregon wins. The Bruins only hope is to clean themselves up and hope Oregon continues to turn the ball over twice per quarter.
August, 30, 2011
8/30/11
5:34
PM ET
UCLA coach Rick Neuheisel was asked at Pac-12 media day how he and the Bruins could restore sagging confidence in the program this season and get fans to return to the Rose Bowl. His answer was surprisingly straight-forward.
"Beat Houston," he said of the Bruins opening game.
[+] Enlarge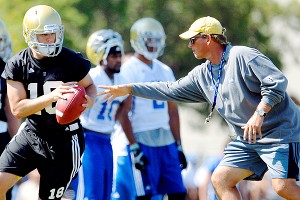 AP Photo/Damian DovarganesRick Neuheisel's Bruins are looking for a fast start against Houston in Week 1.
"Because we play the next week against San Jose State. So if we can go on the road and beat Houston and do so in an impressive way, look like we're a well-coached, sound, fundamental football team, I think they'll come out the next week and be excited. If we can find a way to win that one, the next one's against Texas. It can happen that fast. It doesn't take long to win back your constituency. They just want to know there is reason for your optimism. So, we just got to come out of the gate ready to play."
The solution: A fast start, starting with a road trip to Houston.
Of course, the Bruins blew Houston out 31-13 last season. Sure, the Cougars lost quarterback
Case Keenum
in the second quarter, but UCLA led 21-3 at that point and was dominating the action. So the Bruins have, and probably should, beat Houston on Saturday, though playing on the road is never easy.
Further, one of the oddities during Neuheisel's three years back in Westwood, where he won a Rose Bowl as the Bruins quarterback, is the program's infuriating fits and starts. Just when one is ready to write them off and throw a handful of dirt on the Neuheisel tenure, a run of success appears. And just when folks want to theorize about a turned corner, Neuheisel and the Bruins go rear-end-over-tea-kettle.
Recall Neuheisel's debut: A thrilling home victory over Tennessee. What happened next? A 59-zip humiliation at BYU became the first of three consecutive losses.
In 2009, UCLA started 3-0. Then it lost five in a row. Then it won three of four to become bowl eligible and won a bowl game, albeit over Temple in the EagleBank Bowl.
And last fall, after an 0-2 start that included a humiliating 35-0 home loss to Stanford, the Bruins not only beat Houston, they then won at Texas and extended their winning streak to three games with a comeback victory against Washington State. A turnaround, perhaps? Nope. They lost six of seven to finish 4-8 for a second time under Neuheisel.
So what's the larger meaning of the opener at Houston when Neuheisel sits atop many lists of coaches on the hot seat?
"It's an important game for us," Neuheisel said. "Will it make or break our season? Absolutely not. But it will help get us on the right track believing things are going our way."
What UCLA needs to rekindle fan support is consistency -- a feeling that the Bruins are playing up to their potential on a regular basis. While this doesn't look like a 10-win team, it certainly has the talent to earn bowl eligibility, maybe even work its way into the South Division race.
If you look over the depth chart, there is a decided sense of "maybe."
Start with the Bruins leaving preseason camp a mostly healthy team for the first time under Neuheisel. Then there's a defense that looks sneaky good on all three levels (a healthy Datone Jones at end and Patrick Larimore at MLB could prove transformative for a unit that couldn't stop the run last fall). On offense, the Bruins have a solid offensive line, particularly when Jeff Baca returns this month, and plenty of speed and depth at the skill positions.
Quarterback? That's the big question, and not just because Neuheisel has opted not to name his starter until late Tuesday (it's likely to be
Kevin Prince
over
Richard Brehaut
).
As for the hot seat talk, Neuheisel said it hasn't been a distraction.
"If you are asking if I am feeling it from outside, the answer is 'no,'" he said.
While Houston won't provide a definitive answer on Saturday, it is fair to say this. Neuheisel will take a step toward saving his job with a victory. And he'll go the opposite way with a defeat.
March, 28, 2011
3/28/11
9:00
AM ET
On Friday, we looked at offensive three-headed monsters --
the best quarterback, running back, wide receiver troikas
-- so it also makes sense to also look at their defensive counterparts, the best threesomes from each of the three levels of defense: defensive line, linebacker and defensive back.
Here's the
tally from last season
, if you are interested.

1.
Arizona State
DE Junior Onyeali, LB Vontaze Burfict, CB Omar Bolden
The Skinny:
No question on No. 1 here. Onyeali was the Pac-10 Defensive Freshman of the Year. Burfict is the nation's best inside linebacker. Bolden was unanimous first-team All-Pac-10.

2.
Stanford
DE Matt Masifilo, LB Shayne Skov, SS Delano Howell
The Skinny:
Masifilo, the lone returning starter on the Cardinal defensive line, was honorable mention All-Pac-10, as was Skov, who was playing as well as any linebacker in the conference over the final third of the season. Howell was second-team All-Pac-10.

3.
California
DE Trevor Guyton, LB Mychal Kendricks, S Sean Cattouse
The Skinny:
Guyton had 8.5 tackles for a loss and 4.5 sacks despite being a part-time starter. Kendricks was second-team All-Pac-10. Cattouse earned honorable mention.

4.
Oregon
DE Terrell Turner, LB Josh Kaddu, CB Cliff Harris
The Skinny:
Two solid returning starters and a second-team All-Pac-10 cornerback who figures to be a preseason All-American after earning second-team honors from the Associated Press and Walter Camp Football Foundation in 2010.

5.
Washington
:
DT Alameda Ta'amu, LB Cort Dennison, FS Nate Fellner
The Skinny:
Ta'amu earned honorable mention All-Conference honors and seemed to find himself over the latter half of the season. Dennison had 93 tackles, 8.5 tackles for a loss and two interceptions. Fellner tied for second in the conference with five interceptions.

6.
Arizona
DT Justin Washington, LB Paul Vassallo, CB Trevin Wade
The Skinny:
Washington's numbers fell off when he got banged up, but he still had 11.5 tackles for a loss and six sacks as a redshirt freshman. Vassallo was honorable mention All-Conference. Wade had an off year last fall, but was second-team All-Pac-10 in 2009.

7.
USC
DE Armond Armstead, LB Chris Galippo, FS T.J. McDonald
The Skinny:
This actually could be one of the best threesomes in the conference, but Armstead and Galippo have injury issues and only put up middling numbers last fall. McDonald was second-team All-Pac-10 in 2010.

8.
Washington State
DE Travis Long, LB Alex Hoffman-Ellis, SS Deone Bucannon
The Skinny:
Long was honorable mention All-Conference, Bucannon, who started as a true freshman, and Hoffman-Ellis were the Cougars' top two tackles in 2010.

9.
UCLA
DE Datone Jones, LB Patrick Larimore, SS Tony Dye
The Skinny:
A solid threesome that is down here more because it gets an "incomplete." Jones missed all of last season with a foot injury, but, if healthy, he's an All-Conference sort. Larimore was solid in seven games before suffering a shoulder injury. Dye led the Bruins in tackles and earned honorable mention All-Pac-10.

10.
Colorado
NG Will Pericak, LB Jon Major, FS Ray Polk
The Skinny:
Pericak earned honorable mention All-Big 12. Major was the Buffaloes leading tackler before he blew out his knee in Game 7 (a knee injury also killed the junior's true freshman season). Polk was the second-leading tackler.

11.
Utah
DE Derrick Shelby, LB Chaz Walker, CB Conroy Black
The Skinny:
Honestly don't know how to rank the Utes here. Shelby and Walker are returning starters -- Walker earned second-team All-Mountain West honors. Black was the top backup cornerback last season.
But
Star Lotulelei might be the Utes' best defensive lineman, and Brian Blechen has moved from strong safety, where he was very good, to linebacker. How highly do the Utes think of him? They list him as an All-American candidate.

12.
Oregon State
DE Dominic Glover, LB Rueben Robinson, S Lance Mitchell
The Skinny:
Three returning starters, but none of them even earned honorable mention All-Pac-10 honors. Mitchell was the Beavers' third-leading tackler, Glover had 2.5 sacks, and Robinson split time with Tony Wilson.
October, 25, 2010
10/25/10
9:43
PM ET
The
hits keep coming for UCLA
.
After losing 60-13 at Oregon on Thursday, UCLA announced the suspensions of receiver
Ricky Marvray
and offensive tackle Sean Sheller for the Arizona game on Saturday due to violations of team rules.
Both are starters. Micah Kia likely will replace Sheller at left tackle, while junior
Josh Smith
-- a Colorado transfer -- figures to replace Marvray.
Smith was one of two players suspended from the Oregon game. The other was F-back
Morrell Presley
.
The
LA Times
and
Orange County Register
both reported that all four failed a drug test.
Losing a starting tackle isn't a good thing before playing Arizona, which has the best defensive end tandem in the Pac-10. Also, the Bruins anemic passing game might struggle to get better without it's leading receiver. On the plus side, the Bruins might get receiver
Nelson Rosario
back. Rosario, the team's best receiver, has missed the past two games with a sprained ankle.
Another issue: Middle linebacker Patrick Larimore, the
UCLA Bruins
middle linebacker, is going to miss three weeks with a dislocated left shoulder. His replacement, Steve Sloan, will be playing with loose bone fragments in his right new. After Sloan, there's freshman Jordan Zumwalt, who's moved over from strong side linebacker.
September, 20, 2010
9/20/10
2:31
PM ET
The aftermath of "Measuring Stick Saturday."
Team of the week
: Arizona looked like it might blow out Iowa when it led 27-7 in the third quarter, but it actually might be more meaningful that the Wildcats held on to win 34-27 after major adversity struck. The Wildcats showed heart. And poise. Moreover, by giving up their own pick-six and a horrible special-teams miscue, the Wildcats' victory can't be written off with the, "Well, Iowa played a sloppy game" excuse.
Best game
: Arizona State-'s 20-19 loss at Wisconsin was a back-and-forth affair that was far more entertaining than most thought it would be going in. And, even though it was a dispiriting defeat, the Sun Devils seemed to announce that they will be a factor instead of an afterthought in the Pac-10 this season.
[+] Enlarge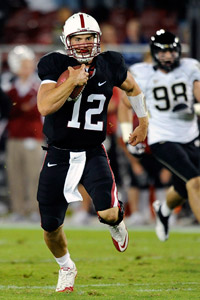 Bob Stanton/Icon SMIIn addition to throwing four touchdown passes, Andrew Luck also rushed for a score in Saturday's win.
Biggest play
: Just after Iowa tied Arizona 27-27, and all the momentum going the Hawkeyes' way, quarterback
Nick Foles
hit
David Roberts
for 38 yards on first down to the Iowa 34. Eight plays later, the Wildcats scored the winning points. After the game, offensive tackle Adam Grant said he knew Arizona would win after that completion.
Offensive standout(s)
: Foles and Stanford's
Andrew Luck
share the honor. Foles completed 28 of 39 passes for 303 yards with two TDs and an interception. For the season, the nation's 14th-rated QB has completed 79 percent of his passes. Luck completed 17-of-23 for 207 yards with four TDs. He also rushed three times for 69 yards, with a 52-yard TD run. For the season, the nation's third-rated passer has 10 TD passes and no interceptions.
Defensive standout(s)
: Lots of possibilities from Arizona, but in the interest of diversity: Arizona State LB Vontaze Burfict and UCLA linebacker Patrick Larimore. Burfict looked like the best defensive player on the field at Wisconsin, rolling up 10 tackles, two for a loss, with two pass breakups. Larimore had 11 tackles, three for a loss, a forced fumble and two pass breakups against Houston.
Special teams star (s)
: This is a hard one because the conference produced a bunch of big plays on special teams. Arizona's
Travis Cobb
went 100 yards for a TD on a kickoff return against Iowa. Arizona State's Omar Bolden went 97 yards for a TD on a kickoff return versus Wisconsin. USC's
Robert Woods
went 97 yards for a TD on a kickoff return at Minnesota. We may have left someone out.
Smiley face
: After two bad losses that had UCLA fans turning away in disgust, the Bruins got off the canvas and whipped No. 23 Houston 31-13. It was a good effort on both sides of the ball, and it indicated that the Bruins can't be counted out in the conference.
Frowny face
:
Jake Locker
and Washington wilted on a big stage against Nebraska. They were overmatched on both sides of the ball, and the Nebraska coaches clearly had a better plan and had their team better prepared.
Thought of the week
: Notre Dame, at 1-2, isn't an elite team, but both of the Fighting Irish's losses came against now-ranked Big Ten teams in tight games. If Stanford goes into Notre Dame and delivers a whipping, the Cardinal will be taken seriously by the rest of the nation.
Thought of the week II
: The eyes of the college football nation will be on Boise State-Oregon State on Saturday, and many AQ conference fans without a horse in the race will be rooting for the Beavers to knock the Broncos out of BCS bowl -- and national championship game -- contention. Conversely, all of the non-AQ fans (other than TCU and Utah), will be rooting on the Broncos. Oh, and all the BCS haters will be rooting against the Beavers, too, because they favor chaos in the system.
Quote of the week
: "You know what's funny? Nobody gave us a chance. They said the defense couldn't make plays. They were giving us all kinds of letter grades that were bad, and we took it personal."
-- UCLA safety Rahim Moore
Quote of the week II
: "I know they lost their running back, Toby Gerhart, but that's a more veteran team than we saw last year. That's a veteran offensive line and they are impressive."
-- Wake Forest coach Jim Grobe after losing at Stanford 68-24
Quote of the week III
: "I didn't really hook up with anybody." --
Locker after he completed 4 of 20 passes with two interceptions against Nebraska
Big games this weekend
: While Stanford is at Notre Dame and Oregon State is at No. 3 Boise State, the rest of the Pac-10 gets started with the conference schedule (though Washington has a bye). The two red-letter games: California at Arizona and Oregon at Arizona State. Will the Bears bounce back against a Wildcats team still drunk on its win over Iowa? And can a clearly improved Sun Devils squad keep up with the high-powered Ducks.