NCF Nation:

Patrick Nicely
November, 29, 2010
11/29/10
2:00
PM ET
Let's take a look at the good and the bad for the non-AQs in Week 13.
The good:
TCU completed its second straight undefeated regular season and is the flag bearer for non-AQS everywhere as the top team remaining in the BCS standings. Meanwhile, Nevada beat a Top 10 team for the first time in program history with its huge 34-31 overtime win over Boise State. But this weekend rewind would not be complete without a major hand clap for Akron and coach Rob Ianello, waiting until the very last game of the season for its first win, a 22-14 victory over Buffalo last Friday.
Alex Allen
posted his third straight 100-yard game, and
Patrick Nicely
threw for three touchdowns. The season will end without a winless team. ... FIU also made history with its first Sun Belt title and first bowl berth.
[+] Enlarge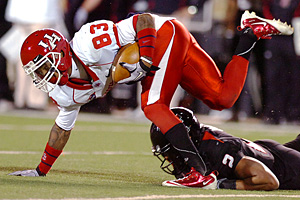 AP Photo/Zach LongPatrick Edwards and the Cougars ended the season on a four-game losing streak. The losses mean Houston will miss a bowl game for the first time in six years.
The bad:
Houston, a preseason favorite to win Conference USA, ended the season on a four game losing streak and will miss a bowl game for the first time since 2004. The Cougars gave it a valiant effort, but in the end, the loss of
Case Keenum
was too much to overcome. The running game was never consistent, mainly because teams loaded the box and dared Houston to throw. When they did, true freshman
David Piland
put up a lot of yards, but also threw too many interceptions. During the four-game skid, he had 13 touchdowns to 11 interceptions. … Ohio (8-4) managed a season-low six points in a loss to Kent State with a berth in the MAC title game on the line. The Bobcats had four turnovers, 11 first downs and just 183 total yards. They had won seven straight going into the game and now await their bowl fate.
The offensive:
Nine non-AQ teams scored 40 points or more this weekend, including five that scored 50-plus. Two of the wildest games were Tulsa beating Southern Miss 56-50 and Louisiana Tech beating San Jose State 45-38. In the Tulsa game,
G.J. Kinne
threw for 406 yards, while Southern Miss quarterback
Austin Davis
had 371. The two teams combined for 1,197 yards and 56 first downs. In San Jose, the two teams combined for 1,001 yards and 50 first downs. San Jose State quarterback
Jordan La Secla
threw for 496 yards, five touchdowns and three interceptions while Louisiana Tech running back
Lennon Creer
ran for 252 yards and three touchdowns.
The heartache:
Boise State may be 10-1, but it's hard to imagine anybody is more heartbroken than the Broncos today. Their dreams of playing for a national championship have been dashed, and so has any hope of playing in a BCS game. You have to feel for kicker Kyle Brotzman, who missed two field goals, including one that would have won the game.
BYU also had its hearts broken on a missed kick in the Holy War against Utah. It was a wild game in Salt Lake City, featuring seven combined turnovers. The most costly for BYU came late in the game. Leading 16-10, Brandon Bradley intercepted
Jordan Wynn
with about five minutes to play. But he fumbled during the return and Utah recovered. Though TV replays showed his knee was down, the ruling on the field stood.
Matt Asiata
ended up scoring on a 3-yard touchdown run to put the Utes ahead 17-16. BYU had a chance to win it, but Mitch Payne's 42-yard attempt was blocked by Brandon Burton. Interestingly, BYU was involved in a highly publicized instant replay error against San Diego State earlier this season. After finding a BYU employee and alumni were working the booth in that game, the Mountain West changed its rules and no longer allows alums or school employees to work instant replay during games involving their teams.
A few more helmet stickers:
UNLV freshman kick returner
Marcus Sullivan
set a new UNLV single-game record for kick return yards with 224 yards in a loss to San Diego State. That ranks second in conference history. … North Texas running back
Lance Dunbar
set a career-high and had the sixth-best rushing performance in the nation this season with 270 yards and three touchdowns in a loss to Kansas State. He scored a fourth touchdown on a 17-yard pass reception. Also in the Sun Belt, Western Kentucky running back
Bobby Rainey
now leads the nation in rushing with 1,649 total yards rushing.
Week 14 look ahead:
Two conference championship games to look forward to: Miami (Ohio) versus Northern Illinois on Friday in the MAC and SMU versus UCF on Saturday in Conference USA. No. 17 Nevada plays Louisiana Tech, No. 11 Boise State plays Utah State and Hawaii plays UNLV. If all three win out, they share the WAC championship.
November, 18, 2010
11/18/10
3:00
PM ET
Akron has had its chances to get its first win of the season the past two weeks. But when you are winless, nothing ever seems to go your way.
This time, a fumble deep inside Miami (Ohio) territory did the Zips in and they lost 19-14 on Wednesday night. Akron was able to mount a nice drive that started at its 28 with a little less than five minutes to go in the game and got down to the Miami 12.
Patrick Nicely
threw a pass to
Jeremy LaFrance
, who was hit by defensive tackle Jordain Brown. Jordan Gafford recovered at the 8 and Miami ran out the clock.
"We fought our butts off right until the very end," coach Rob Ianello said afterward. "I don't think anybody can look at our team and say we haven't improved. We've gotten good, we just haven't gotten good enough. We had our chances, we just didn't get it done, especially with the ball in our hands at the end of the game."
The loss means Akron will post its worst record since joining FBS in 1987. The team went 1-10 in 1994.
It also was the second straight week that a turnover cost the Zips late. Last week in a 37-30 overtime loss to Ball State, Nicely threw an interception on third down to end the game. In its only other close game of the season, the Zips had an extra point blocked in overtime in a 38-37 loss to FCS Gardner-Webb.
"I know it's very difficult the season we're going through right now," Ianello said. "But as I told our team, I'm proud of them. I know we're going to be a good program. I know we're going to be a good team. By the way they've battled and competed and practiced during this difficult time, that is why."
Among the bright spots for Akron:
Alex Allen
ran for over 100 yards for the second straight game, gaining 126 yards with two touchdowns. The defense held Miami to just 19 points, even though the RedHawks made six trips inside the red zone.
Ianello does not need to look far for inspiration or motivation. He and Miami coach Mike Haywood served as Notre Dame assistants together. Haywood went 1-11 in his first season at Miami in 2009, but this season the RedHawks have had the best turnaround in college football. Miami is now 7-4 and bowl-eligible for the first time since 2004. Earlier in the week, Ianello said what Haywood has done would hopefully "serve as a blueprint" for the Zips.
The two still talk during the season, and Haywood has given his friend some advice.
"One of the things I say ... is whatever you believe in, stick to it and good things will come,'' Haywood said. "It's the same advice [Texas coach] Mack Brown gave me. He told me that whatever course you choose to take, you're the only man sitting in that seat, so follow your gut instinct and your heart, and you will make the right decisions."
The Zips have one more shot to notch their first one at home next Friday against Buffalo (2-8), a team that has had its own share of struggles this season.
November, 17, 2010
11/17/10
11:00
AM ET
Welcome to the Winless Watch, where just one team is left looking for that first win of the season.
Akron (0-10)
. Streak: L 10. The Zips come off their bye week to host one of the most improved teams in the country in Miami (Ohio) in a nationally televised game tonight. The RedHawks have won three straight on the road, and Akron will have its hands full trying to stop receivers
Nick Harwell
and
Armand Robinson
, along with
Thomas Merriweather
. Miami quarterback
Zac Dysert
is a game-time decision with bruised ribs. Coach Rob Ianello said it was good for his team to have a mini break headed into this game.
"We are now a little fresher, I feel, since we had some extra time to get injuries healed up and we are looking forward to playing," he said.
Akron is coming off a tough 37-30 double overtime loss to Ball State, but is hoping to build on some performances. Quarterback
Patrick Nicely
threw four touchdown passes (plus three interceptions), and
Alex Allen
had a season-high 165 yards rushing, his first 100-yard game of the season against an FBS opponent.
If Akron loses, the Zips have a winnable game to close the season at home Nov. 26 against Buffalo (2-8), which just lost starting quarterback
Alex Zordich
for the season.
November, 10, 2010
11/10/10
9:00
AM ET
Welcome to the Winless Watch, where we take a look at the teams still waiting on that first victory of the year, and their odds of getting it this week.
And then there was one. New Mexico has left Akron all by its lonesome at the bottom of the college football world:
Akron (0-10). Streak: L 10
. Good news, Zips. No game this week means no loss. Bad news: the next game is against a much-improved Miami (Ohio) team on national television Nov. 17. Good news: The final game is at home against Buffalo (2-7). And Akron did come close against Ball State last week, losing a heartbreaker 37-30 in double overtime. It was the Zips closest game of the season against an FBS opponent, and one that had a few bright spots. Quarterback
Patrick Nicely
threw his first touchdown pass since the fourth quarter of the Indiana game on Sept. 25. His four touchdown passes against the Cardinals was a career high, but he also threw three interceptions -- including one in the second overtime to end the game. Another bright spot: running back
Alex Allen
had a season-high 165 yards rushing, his first 100-yard game of the season against an FBS opponent.
"I was proud of the way our team played against Ball State," said first-year coach Rob Ianello. "For a team that hasn't had much success this year, we really came out and played with fight, passion, and great effort, and enjoyed playing with each other."
November, 8, 2010
11/08/10
2:00
PM ET
Let's take a look at the good and the bad for the non-AQs in Week 10.
The good:
Boise State and TCU remained in the national title hunt with big wins this weekend. Though their offenses made headlines -- the Broncos racked up a school-record 737 yards and TCU had more than 500 yards -- both defenses played something fierce. They both held their opponents to fewer than 200 yards of total offense. Now they are the top two teams in the country in total defense and scoring defense. TCU is No. 1 in both categories. … Meanwhile, New Mexico won its first game of the season, 34-31 over Wyoming. Quarterback
Stump Godfrey
made his first career start as
B.R. Holbrook
sat out because of an injury and went 16-of-20 for 211 yards with two touchdowns. The Lobos, which had been giving the ball away as if it was a Christmas present, forced four turnovers. It was just the second time all season they won the turnover battle in a game. … How about Nevada racking up 844 yards of total offense? Not only did
Colin Kaepernick
have 300 yards passing, the Wolf Pack had three 100-yard rushers: Mark Lampford,
Mike Ball
and
Vai Taua
.
The bad:
Western Michigan controlled its own bowl destiny heading into its game against Central Michigan. None of the four opponents left on its schedule had a winning record, so finishing up 7-5 or 6-6 seemed realistic. But the Broncos lost for the fifth straight time to their in-state rivals -- even though the Chippewas went into the game with just two wins. Backup RB
Brian Fields
fumbled 2 yards from the end zone with 1:37 remaining, the fourth lost fumble of the game for Western Michigan and the Chippewas held on 26-22.
The heartache:
The
Akron Zips
are now the only winless team in the country, but missed out on a great opportunity in a 37-30 double-overtime loss to Ball State. After tying the score late to send the game into overtime, the Zips and Cardinals traded touchdowns in the first overtime. Ball State went ahead in overtime No. 2. But all hopes were lost for Akron when
Patrick Nicely
was intercepted on third down by Joshua Howard to end the game. Akron had more first downs and more rushing yards than Ball State and won the turnover battle as well. … Tulane had Southern Miss on the ropes heading into the fourth quarter. The two teams were tied at 30, but the Golden Eagles scored 16 unanswered points in the fourth quarter to win 46-30. Tulane (402) outgained Southern Miss (358) and had 11 more first downs.
[+] Enlarge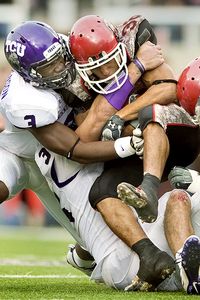 Douglas C. Pizac/US PresswireTCU shut down the high-powered Utah offense.
The off-balance:
Utah and Hawaii went into their respective games as some of the highest-scoring teams in the country. But each were held to just a touchdown. Utah had been averaging 45.2 points a game, tied for No. 3 in the nation. Hawaii had been averaging 39. 2 points a game. … Meanwhile, BYU exploded offensively for the first time all season, posting more than 300 yards passing and 200 yards rushing and a season-high 55 points against UNLV. The Cougars are 39-0 since 1972 and 5-0 under current head coach Bronco Mendenhall when passing for 300 and running for 200.
A few more helmet stickers:
FIU WR
T.Y. Hilton
had 291 all-purpose yards and four touchdowns in a 42-35 double-overtime win over ULM. He became the first Panther to score a touchdown three different ways in the same game, as he caught two touchdowns, ran for one and returned a kick for a score. … Central Michigan LB Armond Staten had 11 tackles, 1.5 tackles for loss, one sack and three forced fumbles in an upset win over Western Michigan. … San Diego State LB Miles Burris had a career-high 10 tackles, four tackles for loss (minus-39 yards), two sacks and two forced fumbles in a 24-19 victory over Colorado State.
A few injury items to note:
Ohio quarterback
Boo Jackson
is questionable for the Nov. 16 game against Temple after reportedly getting into a
fight outside a bar and sustaining serious injuries to his face
. Coach Frank Solich would only say that Jackson is questionable for the game. Backup
Phil Bates
has been slowed by a shoulder injury, leaving the possibility that Ohio could burn the redshirt of true freshman
Kyle Snyder
. "We're going to have to talk about it some more and look at it from different angles and make a decision about a player being brought out of redshirt if he needs to be," Solich said. … Kent State star LB Cobrani Mixon is doubtful for Saturday's game against Army with a shoulder injury, and starting quarterback
Spencer Keith
injured his thumb and is day-to-day. … BYU TE
Marcus Mathews
is out for the season with a lacerated spleen.
Week 11 look ahead:
TCU plays San Diego State (7-2) in a classic letdown game. Will the Horned Frogs suffer an emotional low after an emotional high over Utah? Boise State has a big rivalry game against Idaho, perhaps made even bigger after comments during the offseason where school president Bob Kustra slammed Vandal culture as "nasty" and "inebriated." Southern Miss travels to UCF in a big East Division game. The Knights, ranked for the first time in school history, control their destiny. We can't forget about the big Tuesday night game between MAC West Division leaders Toledo and Northern Illinois.
August, 26, 2010
8/26/10
10:35
AM ET
We told you about quarterback battles still going on among the non-AQ schools in a two part series yesterday:
Part I
and
Part II
.
Here is a look at the quarterback battles that have already been decided as we close in on the start of the season:
Akron
Winner:
Patrick Nicely
.
Buzz: Nicely and
Matt Rodgers
played pretty evenly throughout fall camp and split the reps evenly. But Nicely emerged thanks to his play throughout the spring and camp. He started seven games as a true freshman in 2009, completing 120 of 222 passes for 1,349 yards and six touchdowns.
Bowling Green
Winner:
Matt Schilz
.
Buzz: With Tyler Sheehan gone, Bowling Green turns to the redshirt freshman, who has never thrown a pass in a collegiate game. The Falcons have had much stability at the quarterback position, so it will be interesting to see how Schilz does this season.
Colorado State
Winner: Pete Thomas.
Buzz: The highly touted true freshman enrolled in school early and beat out redshirt freshman
Nico Ranieri
. The last time a freshman started at quarterback for Colorado State was Caleb Hanie in 2004.
[+] Enlarge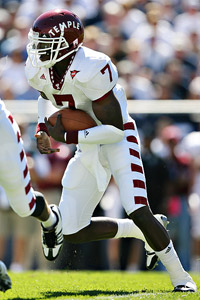 Hunter Martin/Getty ImagesTemple's Chester Stewart needs to improve his completion percentage for the Owls to succeed this season.
Louisiana Tech
Winner:
Steven Ensminger
.
Buzz: The Auburn transfer found new life under new coach Sonny Dykes' spread offense. After playing tight end last spring under former coach Derek Dooley, Ensminger was able to beat out
Ross Jenkins
, who started parts of the past two seasons.
Marshall
Winner:
Brian Anderson
.
Buzz: The incumbent survived a challenge from
A.J. Graham
, Eddie Sullivan and former Clemson player Willie Korn to emerge as the starter once again. Korn ended up transferring. Important to note: Anderson is learning his third different offense, now that new coach Doc Holliday is there.
New Mexico
Winner:
B.R. Holbrook
.
Buzz: Holbrook won the job over freshman Tarean Austin and
Brad Gruner
, and coach Mike Locksley cited his knowledge of the offense, the way he moved the team during scrimmages and his mostly error-free play.
New Mexico State
Winner: Matt Christian.
Buzz: Coach DeWayne Walker went with the junior college transfer over
Jeff Fleming
, who was 1-7 as a starter last season. Christian had been nursing a sore elbow during camp. Watch for Andrew Manley, a freshman from Hawaii, in case Walker decides not to redshirt him.
North Texas
Winner:
Nathan Tune
.
Buzz: Tune got the opportunity to compete for the starting job with
Derek Thompson
after last season's starter,
Riley Dodge
, moved to wide receiver because of the accumulation of injuries to his arm. Tune, a former walk-on, has served as the backup the past two seasons.
Temple
Winner:
Chester Stewart
.
Buzz: Stewart emerged as the leader for the job during the spring when
Vaughn Charlton
moved from quarterback to tight end. Stewart played last season but had his struggles, completing 40 percent of his passes, throwing for three touchdowns and three interceptions.
UAB
Winner:
David Isabelle
.
Buzz: Isabelle won the job over
Bryan Ellis
to replace Joe Webb. Coach Neil Callaway cited Isabelle's athleticism, but also said Ellis would play this season. Isabelle has played in spot duty behind Webb.
Western Kentucky
Winner:
Kawaun Jakes
.
Buzz: The sophomore started eight games last season, and coach Willie Taggart says Jakes has shown potential to be a very good quarterback in the new West Coast offense that is being installed. Jakes missed nearly all of spring after injuring his ankle during a pickup basketball game and had to work his way back into Taggart's good graces.
August, 25, 2010
8/25/10
1:22
PM ET
Akron coach Rob Ianello announced Wednesday
that
Patrick Nicely
would be his starting quarterback in the season opener Sept. 4 against Syracuse.
Nicely, a sophomore, won the job over junior
Matt Rodgers
. The two split the reps evenly throughout fall camp. Nicely was supposed to have redshirted last season, but he ended up making seven starts after Rodgers went down with a season-ending knee injury. He threw for 1,349 yards, six touchdowns and six interceptions.
Nicely started the final scrimmage of camp Saturday only because it was his turn to start. He went 4-of-10 for 47 yards and a TD. Rodgers went 5-of-10 for 37 yards.