April, 16, 2013
4/16/13
11:00
AM ET
Oregon and the NCAA agree: The football program
committed major violations
in connection to the Willie Lyles case, The Oregonian and Portland, Ore., television station KATU reported Monday.

The disagreement, however, that prevented Oregon and the NCAA from reaching a summary judgment is this, from The Oregonian:
Oregon and the NCAA, however, reached an impasse late in 2012 while attempting to agree on the severity of one violation concerning the Ducks' $25,000 payment to Texas-based talent scout Willie Lyles. The Ducks believe the impermissible "oral reports" delivered from Lyles constitute a secondary violation; NCAA enforcement officials believe them to be another "major violation."
It makes sense that's at issue, although the Pac-12 blog is of the mind that this impasse was more about the NCAA's committee on infractions (COI), which demanded a hearing, than the NCAA's enforcement staff, which seemed to be in accord with Oregon.
The strength of Oregon's position is the way the NCAA reacted to other recent cases, as well as the gray area with NCAA rules on recruiting services.
The strength of the NCAA's position is that it can do what it wants, then justify it after the fact, such as when
former Miami athletic director
Paul Dee said about USC's Reggie Bush, "High-profile athletes require high-profile compliance," which he just spun together for reporters because it doesn't exist in the NCAA rulebook.
Still, there is good news for Oregon from these reports, and it might be more important than what led the story:
However, the documents also state NCAA enforcement staff said they had "no finding of lack of institutional control and no finding of unethical conduct," key points when it comes time for punishment to be considered, KATU reported. Oregon is expected to appear before the NCAA's committee on infractions sometime this year.
"Lack of institutional control" and "unethical conduct" are the killers when it comes to penalties. Those quash postseasons and handfuls of scholarships. Of course, these documents are dated, so it's possible, if unlikely, the COI could up the ante.
Further, Oregon's case is probably helped by the program's big news this year: The departure of coach Chip Kelly to the Philadelphia Eagles.
Violations connected to Lyles came on Kelly's watch. He's gone. That should soften the eventual blow to some extent.
To show you the university's thinking, it "proposed to self-impose a two-year probation for the football program and a reduction of one scholarship for each of the next three seasons."
It wanted to be whipped by a wet noodle three times.
Yet even if you doubled that -- four years of probation and two scholarships for each of the next three seasons -- you're not talking about a major hit to the program. Signing just 23 and maxing out at 83 scholarships for the next three years won't knock the Ducks out of the nation's top 10.
February, 13, 2013
2/13/13
10:00
AM ET
Virginia Tech, Boston College and Miami did the dirty work. They're the ones who made the Big East angry -- so angry that BC and Connecticut
still
haven't played each other
since the Eagles left to join the ACC. They're the ones who were mired in acrimony, tangled up in lawsuits, and portrayed as the Big East's Benedict Arnold (who, ironically, was born in Connecticut).
Pitt and Syracuse?
They're practically tap-dancing out of the Big East.
"It was a tumultuous time for everybody," said one ACC source who was involved in the first expansion. "People didn't know there was going to be this much turmoil and griping. It was unprecedented in that time. Everybody has changed now. In 2003, it was new. Three teams were leaving. You go back and look at the newspapers, it was all anyone talked about for the months of May, June, July. It was huge. No conference had ever done anything like that.
"It's easier for Pitt and Syracuse because they're coming into a league where three other teams have already broken it in."
Having gone through expansion before, with the additions of Miami, Virginia Tech and Boston College, the ACC had a blueprint for Round 2, and Pittsburgh and Syracuse had footsteps to follow. This time, though, was vastly different. Ten years ago, the news of three teams leaving the Big East was shocking. Now, it's more surprising to hear of anyone who's staying in the Big East. The ACC's first round of expansion was a messy trio of divorces with enough lawsuits to fill TruTV. This time, Pitt and Cuse were just following the national trend. The ACC's first round of expansion was a dramatic, shocking blow to the Big East. This time, the Big East was already doubled over.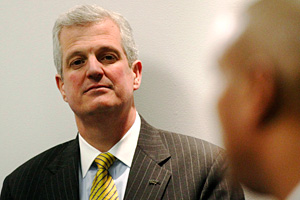 AP Photo/Keith Srakocic"We haven't gone to environments where the kids were put in a tough spot, or were uncomfortable," Pittsburgh AD Steve Pederson said leaving the Big East for the ACC. "Everyone has been good."
The change in circumstances both within the conferences and within the entire national college football landscape has made for a much smoother transition. The ACC has since changed its bylaws and no longer requires campus visits to approve potential expansion candidates; the conference turned to a committee comprised of presidents, athletic directors and faculty representatives to discuss the pros and cons of further expansion and possible candidates.
"Certainly there were things we learned from the first time around that made the next time more fluid and more efficient," ACC commissioner John Swofford said. "It did happen very smoothly. It was internally unanimous, and that always contributes to a smooth transition internally, and I think, too, the landscape nationally changed a great deal from when we expanded the first time to the more recent expansions."
Pittsburgh athletic director Steve Pederson said there has been no animosity from the Big East.
"The institutions of the Big East have been very good in their dealings with us," he said. "We haven't gone to environments where the kids were put in a tough spot, or were uncomfortable. Everyone has been good. Of course, everyone is going their own way a little bit. It's hard to be too judgmental when you're leaving, too."
When the ACC announced it would add Pittsburgh and Syracuse to the league on July 1, 2013, the first person to call Pederson was the late, former Miami athletic director Paul Dee, a good friend who had once successfully led his athletic department through the same move almost a decade earlier.
As the transition began, Pederson continued to seek advice from Dee and Virginia Tech athletic director Jim Weaver, also a very good friend.
"It was kind of interesting to talk to somebody who now wasn't in the heart of it," Pederson said of Dee. "He was hearkening back to the transitional period of time. He was very helpful in that way. We talked a lot about just about every issue you could think of. Those two were very helpful, and to some extent, they were very helpful in navigating the remaining time in the league, too."
That time is quickly coming to an end, as Pittsburgh will join the ACC's Coastal Division and Syracuse will join the Atlantic Division this summer. Both schools have been attending conference meetings for two years. Pederson said he was at the ACC's winter meetings in January 2012, and last month. He raved about the reception they have gotten from the league office and its members, calling them "organized," "professional" and "first-rate."
"There's probably not an athletic director in the ACC I haven't been able to ask a little advice and counsel of as we do this," Pederson said. "We're joining their league. I think we bring value and unique things to the league, but this has been a long-term, successful league. We're joining them. We want to make sure we're doing this the right way."
This time, both the ACC and Big East have found a way to do it better.
October, 11, 2012
10/11/12
11:00
AM ET
For 25 years, Miami had an inordinate amount of stability at the top of its athletic department.
But that all ended when Paul Dee announced he would retire in 2008. Now Miami is conducting a national search for another athletic director, following the
surprise resignation
of Shawn Eichorst last week. So the grand tally is three athletic directors in the past four years -- compared to three athletic directors in the previous 25.
Is this cause for alarm at a program that has prided itself on being a national leader?
"No, it's not concerning at all," football coach Al Golden said. "Shawn is a good friend and a great AD. He did what he thought was best for his family, and clearly that's different from how I feel or how [women's basketball coach] Katie Meier feels or how [men's basketball coach] Jim Larranaga feels. We want to be here at Miami, and we want to build this program."
Golden brings up an excellent point. Miami must find somebody truly committed to the athletic department, somebody who has a firm grasp on the cultural dynamics in Miami, who realizes that he must roll up his sleeves and work hard to gain the attention of the community. Miami is no college town. Donation dollars do not pour in the way they do at places like Ohio State, Nebraska and Wisconsin.
Unfortunately, the need for somebody truly committed to both the university and the community flies in the face of the actual perception about the position. Miami is currently viewed as a steppingstone job, an image that has been fostered with the recent defections and its inability to pay on a grand scale. Eichorst, who left for Nebraska, will earn close to $1 million in his first year with the Cornhuskers -- believed to be a significant upgrade over what he made at Miami.
[+] Enlarge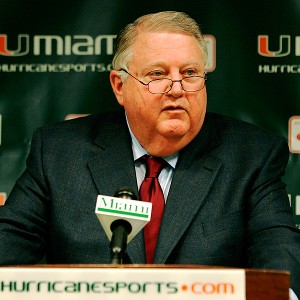 AP Photo/J. Pat CarterAn athletic director in the mold of the late Paul Dee could bring needed stability at Miami.
Factor in the cloud of potential NCAA sanctions, and Miami president Donna Shalala is in a tough spot. But former athletic director Sam Jankovich believes Miami can find the right person despite the questions.
Jankovich was at Miami from 1983 to '90, and oversaw the rise of the football program to national prominence. He also brought the basketball program back, and did it by working countless hours raising enough money to make his dream a reality.
"Miami is a great institution, South Florida is a great place to live and I don't think the University of Miami has to be a steppingstone for anybody," Jankovich said in a telephone interview with ESPN.com. "I think what has happened with the transition not only of ADs but coaches, they just have not had any consistency from the time Butch (Davis) left to when they hired Larry Coker, then they hired Randy (Shannon), then they hired now hopefully Al Golden will stay and do a good job. They've had a roller coaster."
Jankovich has lived through scandals, and with the difficulty of making yourself stand out in a major metropolitan area. His successor, Dave Maggard, only lasted two years. After Maggard left, Jankovich urged school leaders to look at somebody with a deep understanding of Miami -- the program and the city. They found the late Dee, a Florida graduate-turned-passionate Miami supporter with ties to the program.
Dee oversaw the athletic department from 1993 to 2008. Never once did you get the sense he would rather be somewhere else. When he retired, it was only because he felt it was time. He stayed on as a professor at the university until his death in May.
The past two Miami athletic directors did not fit the profile Dee fit all those years ago. Kirby Hocutt came to Miami after stints at Oklahoma and Ohio University and spent 2½ years with the Hurricanes before leaving for Texas Tech. Eichorst came from Wisconsin and lasted 18 months.
"Miami is a different place and you need somebody to understand the community and the university," Jankovich said. "They've hired people from other places, but I surely would encourage them if there is somebody good, has roots as far as Miami is concerned and would appreciate the opportunity to be there, hire somebody like that."
For now, Miami has appointed Blake James as interim athletic director. He has not made it expressly clear that he is interested in the permanent job, saying in an interview that Miami "is a great institution, it's a great program. So when you look out there in college athletics, it's a very attractive job. As long as I'm in this position, I'm going to continue to do the best that I can and carry the baton forward and help us achieve our goals as a program."
Goal No. 1 must be stability.
"Yeah, we need that," Golden said. "I don't think there is any question. "One of the characteristics we should be looking for is someone that wants to be a part of the South Florida community and be part of the Miami community and be here for a long time. It's important to all of the coaches, not just me. It's critical that we find someone that wants to be here."
Someone, in a nutshell, who truly gets Miami.
October, 4, 2012
10/04/12
1:49
PM ET
Well, this is getting awfully familiar for Miami.
The Hurricanes are searching for their third athletic director since 2008, now that
Shawn Eichorst has resigned
to take the same position at Nebraska. The ACC also now has its third program without an athletic director as Miami, Clemson and Boston College have hires to make.
The truth is, we hardly knew Eichorst. Terry Don Phillips and Gene DeFilippo made their marks at their respective schools. Eichorst? He was only around Miami for 18 months, and leaves no real stamp on a program that is in desperate need of some sort of stability.
Having an opportunity to return to the Big Ten must have been appealing, with an NCAA investigation hanging over the program he inherited.
It was his predecessor, Kirby Hocutt, who has been implicated in the Nevin Shapiro scandal that has sent NCAA investigators to Miami asking questions. Hocutt
reportedly gave Shapiro carte blanche
to Miami and its players, an
allegation Hocutt denies
.
It is not as if Hocutt hung around Miami for long, either. He resigned in February 2011 for the same job at Texas Tech, after spending only 2 1/2 years with the Hurricanes. It was enough time for him to fire Randy Shannon and hire Al Golden, who remains the head coach. The
allegations against Miami
surfaced in an explosive Yahoo! Sports report six months after Hocutt resigned.
So where does Miami go from here? Its last two athletic directors have left for jobs in bigger conferences, so you have to wonder whether the Miami position is now viewed as a stepping stone job.
That was not the case previously with Sam Jankovich and Paul Dee working long, hard years to build Miami into a major powerhouse program. There are issues to deal with to be sure, with a small booster base and an inability to shell out salaries in the highest area of the stratosphere.
Finding somebody who wants to stay for the long-term has got to be the No. 1 priority, particularly with NCAA sanctions down the road. The last thing Miami needs is somebody to cut and run for the third successive time. Who wants to roll up his or her sleeves and work hard to build on the integrity of the program? Who understands that Miami will always have the potential to be a national power despite some of the down times that may come?
Miami remains a special program, given its history, tradition and location. Now president Donna Shalala needs to find a special person to shepherd this athletic department into the unknown, with the promise that sunnier times remain ahead.
February, 6, 2012
2/06/12
9:00
AM ET
We like doing Power Rankings at ESPN.com. These are the post-signing day Power Rankings.
If you want to see where your team stood on Jan. 10,
go here
.
The schedule does not factor into these. This is a projected pecking order based on where a team stands right now.

And if you don't like where your team is in the post-signing day Power Rankings, then I'd suggest whining about it until your team plays better.
1.
USC
: The Trojans ranked 13th in the final recruiting rankings with just 12 signees. They will be ranked in the preseason top five, perhaps even No. 1. If things go according to plan, USC will blow a big raspberry at Paul Dee next January.
2.
Oregon
: The Ducks surprisingly lost QB Darron Thomas to the NFL, but the far more important news is not losing coach Chip Kelly to the Tampa Bay Buccaneers. A strong recruiting class and another likely top-five preseason ranking sets the Ducks up nicely to enter the national title chase.
3.
Stanford
: Stanford signed the best recruiting class in the Pac-12. It was ranked 12th by ESPN Recruiting and much higher by just about every other recruiting service. While the Cardinal have big holes to fill -- most notably behind center -- a glance through the roster suggests those rooting for the program to topple after a grand rise will be disappointed.
4.
Washington
: Much of the recruiting season had been disappointing for the Huskies, particularly losing almost all of the top in-state prospects, including a pair of A-list linemen who would have addressed major needs. But Steve Sarkisian made a series of aggressive moves rebuilding his coaching staff, most notably with the hiring of defensive coordinator Justin Wilcox and ace recruiter Tosh Lupoi. That supplies much of the positive momentum here.
5.
Utah
: The Utes signed a strong recruiting class and welcome back a wealth of starters from a team that won eight games without much production at QB. The promotion of 24-year-old Brian Johnson to offensive coordinator was a surprising move, particularly with fans rooting for a "celebrity" hire. It could prove to be a stroke of genius, but the onus is now on Johnson to make it become so.
6.
UCLA
: The Bruins are the big climbers from our Jan. 10 power rankings -- moving up from No. 10 -- but that's what happens when new coach Jim Mora punches back at skepticism with an outstanding recruiting class. A team that looked like a "meh" is moving closer to a "maybe."
7.
California:
Despite all the hand-wringing over the loss of Lupoi and receivers coach Eric Kiesau to Washington, the Bears still signed a top-25 recruiting class that addresses needs. Still, perception matters, and at present, Bears fans seem more worried than optimistic. Nothing, of course, that a few wins in a shiny remodeled stadium can't change.
8.
Arizona
: Rich Rodriguez's recruiting class finished at or near the bottom of the Pac-12, according to most rankings. That said, Rodriguez got his man at defensive coordinator, Jeff Casteel, which is significant because most trace the problems at Michigan to his failure to do so for the Wolverines.
9.
Washington State
: The Cougars didn't soar in the recruiting rankings just because of the hiring of coach Mike Leach. Still, that doesn't appear to be dampening the enthusiasm in Pullman.
10.
Arizona State
: New coach Todd Graham did a solid job salvaging the Sun Devils' recruiting class. But the loss of QB Brock Osweiler to the NFL and the NCAA's rejection of receiver T.J. Simpson's bid for a sixth year of eligibility leave the program with plenty of questions on offense. And just as many on defense.
11.
Oregon State
: The Beavers were victimized by a handful of late recruiting flips that put dents in what was shaping up to be a strong class. And the loss of secondary coach Keith Heyward to Washington also was a blow. On the plus side, the Beavers will see 17 returning starters during spring practices.
12.
Colorado
: The Buffaloes remain at the bottom because the bottom line is this: They welcome back 13 starters from a team that went 3-10 and ranked last in both scoring offense and scoring defense. Still, coach Jon Embree put together a solid recruiting class, one that could become the foundation of his substantial rebuilding project.
December, 20, 2011
12/20/11
6:04
PM ET
Breathe, USC fans, breathe.
In fact, I'd suggest you ignore
what happened Tuesday
with Ohio State and its slap on the wrist from the NCAA for a massive systemic breakdown and a coverup by head coach, Jim Tressel.
Yes, when you hold up the Ohio State case and the USC case, it's impossible not to conclude the Ohio State case was
far more severe
. It was, of course, without question. No informed, objective person believes differently.
[+] Enlarge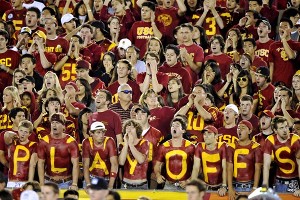 Kirby Lee/US PresswireTrojans fans spell out the word playoffs, but there won't be any postseason play for USC this season.
But here's the thing: Being outraged will accomplish nothing. You will be unhappy and your team will still be docked 30 scholarships over the next three years for what one player secretly did while Ohio State will be down just nine scholarships over the same time period for the rule-breaking of five with full knowledge of their head coach. And your unhappiness will provide great joy to folks who don't like your team.
Adopting a placid pose — at least as best as you can — will be good practice for handling potentially more infuriation ahead. The NCAA also likely will give even worst upcoming cases — North Carolina and the
University of Miami at Paul Dee
— less severe penalties than it gave USC.
Why? Because the NCAA treated USC unfairly — everybody in college sports knows this — and it likely won't revisit such irrational harshness. In the end, the justification for such severe penalties, meted out in contrast to past precedent, was little more than "just because."
But the NCAA, an organization not endowed with a sense of self-awareness, failed to foresee when it curb-stomped USC that among the lawbreakers in college football, the Trojans were jaywalkers amid a mob of bank robbers. Ohio State's sanctions, in fact, represent a return to NCAA normalcy: Mostly toothless penalties that will have little effect on the program's prospects, other than a single-season bowl ban.
There we go again: Fretting the particulars and the injustice of it all.
The point is USC fans have been quite reasonably been shaking their fists at the heavens or, more accurately, the NCAA home office in Indianapolis for two years. That anger has accomplished nothing, other than emboldening taunts from opposing fans.
You know: Fans whose teams didn't finish 10-2 and ranked No. 5 in the nation.
And therein lies the ultimate revenge: Winning.
It's hard to imagine the next five years won't see a USC downturn. Losing 30 scholarships is a tough burden. Things could be particularly difficult in 2014 and 2015, when the true cumulative impact arrives. And it could be even more galling if Ohio State is back in the national title hunt those years. Maybe playing Miami in a Fiesta Bowl rematch!
But if the Trojans can somehow remain in the picture, perhaps playing in a Rose Bowl -- or two -- along the way that would be a heck of a panacea, wouldn't it?
It's a longshot, sure. But other than that, we've got nothing for you USC. Sorry.
Easy, now. Breathe, breathe. Happy place. Happy place.
Oh, no.
That's exactly what we were trying to avoid
.
August, 23, 2011
8/23/11
6:50
PM ET
It appears USC coach Lane Kiffin will learn his NCAA sanctions fate on Wednesday.

ESPN.com's Andy Katz reported Tuesday that former Tennessee men's basketball coach Bruce Pearl will receive a
multiple-year show-cause penalty
from the NCAA's committee on infractions, information that will be made public Wednesday.
Kiffin, Tennessee's coach in 2009, participated in the same hearing in front of the Committee on Infractions as Pearl. It would be
highly unusual for the NCAA to provide a ruling on one program and not the other
.
As to your first two questions: 1. No, former Miami AD Paul Dee was not the committee chair during the Tennessee hearings; 2. No, it's unlikely the NCAA will go light on Kiffin just because its sanctions in the Reggie Bush case are now almost universally considered a travesty of unfairness.
Tennessee's defense boiled down to blaming everything on Kiffin, and its efforts seemed mostly successful. The NCAA charged Kiffin with failing to "promote an atmosphere for compliance within the football program," while Tennessee avoided any serious charges.
Kiffin could face some sort of suspension or recruiting restrictions. The Trojans program is not exposed, though obviously any penalties for Kiffin will affect the program.
November, 4, 2010
11/04/10
5:06
PM ET
Michigan coach Rich Rodriguez needs wins right about now, and he got one Thursday.
The
NCAA's Committee on Infractions penalized Michigan
for major violations, a first in the program's proud history, but it didn't find Rodriguez guilty of failing to promote an atmosphere of compliance. The charge against Rodriguez was the only one out of five that Michigan contested in its report to the NCAA this spring and at its appearance before the Committee on Infractions in August.
The committee instead reduced the charge against Rodriguez from "failure to promote an atmosphere of compliance" to "failure to monitor."
"The committee, in considering all the facts that came before it, determined Bylaw 2 [failure to monitor] was more appropriate than Bylaw 11 [failure to promote an atmosphere of compliance]," Committee on Infractions chairman Paul Dee said.
[+] Enlarge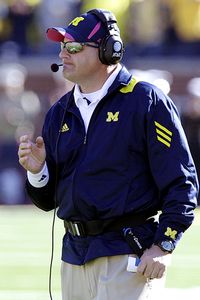 AP Photo/Carlos OsorioThe NCAA did not find Rich Rodriguez guilty of failing to promote an atmosphere of compliance.
Neither Dee nor Michigan athletic director Dave Brandon spelled out the difference between the two charges, instead inviting reporters to read the NCAA bylaws (ugh). But there's a BIG difference: essentially it's a felony vs. a misdemeanor.
"We are certainly guilty of failure to monitor," Brandon said.
He later added, regarding the reduced charge, "There must be some meaning associated with that because the Committee on Infraction listened to our argument and changed their position."
The NCAA accepted most of Michigan's self-imposed penalties, although it added a year of probation to the school's recommendation, meaning Michigan will be on probation for three years (Nov. 4, 2010, to Nov. 3, 2013). Rodriguez also is required to attend the NCAA Regional Rules Seminar in 2011.
Michigan avoided penalties as a repeat violator for the Ed Martin scandal because, as
the NCAA report
reads, "It has been an unusually long time since the violations in the previous case occurred. The violations were not uncovered and processed until 2003, even though they occurred from 1992 to 1999."
The football team already has cut 32 training hours -- insert joke about the defense here -- and Rodriguez expects to reduce the entire 130 training hours outlined in the program's self-imposed sanctions by the end of next summer. Michigan won't appeal the NCAA ruling because, as Brandon said, "There's nothing to appeal."
As I've written from the beginning of this, while Michigan technically committed major violations, exceeding time limits for football-related activities and the number of allowable coaches for football isn't in the same category as agents paying players or academic fraud. Similar issues could be found in dozens of other programs, especially with the proliferation of quality control coaches and other support staff.
"There was nothing found that even remotely suggested our players' welfare, safety or well-being was at all at risk," Brandon said.
What does this mean for Rodriguez?
His fate will be decided on the field, quite possibly in the next four games. Rodriguez's contract states that Michigan can fire him with cause and avoid paying a buyout if he commits a major NCAA rules violation. While Michigan technically could go that route because of Thursday's announcement, things certainly would have been worse for Rodriguez had he been found guilty of failing to promote an atmosphere of compliance.
Brandon reiterated that Rodriguez won't be fired because of the NCAA's ruling and said he will continue to evaluate all factors of the program at the end of the season.
"Wins and losses matter," Brandon said. "So does the management of your staff, so does the pipeline of your recruits ... There's a lot of statistical measures in athletics."
Rodriguez expressed relief Thursday and noted that the NCAA investigation had been used by other programs to recruit negatively against Michigan. The coach accepted responsibility for the infractions, saying, "The bigger, most important thing is accepting responsibility and fixing it. The miscommunication, the processes that were flawed, are no longer there."
What remains flawed is Michigan's defense and Rodriguez's record in Big Ten games (4-16).
The coach scored a victory of sorts Thursday, but he needs more on the field, beginning Saturday against Illinois. One win ensures bowl eligibility and two wins probably means Rodriguez is safe to return in 2011, but Michigan's remaining schedule isn't easy: surging Illinois, No. 9 Wisconsin, No. 11 Ohio State and a trip to Purdue.
Rodriguez was excused from Thursday's news conference a little early so he could trade his suit for sweats and get back to the practice field.
"We still have a season to play, we still have several important games to play," Brandon said. "Let's just go play the games."
Rodriguez had better start winning them.
August, 13, 2010
8/13/10
12:47
PM ET
New USC athletic director Pat Haden told USA Today that he talked to Reggie Bush and
Reggie Bush is sorry
.
"He's really contrite," Haden told the newspaper. "He knows he made a series of mistakes. It wasn't just one mistake. It was a series of mistakes."
Well, that settles everything. Maybe the NCAA will give the Trojans back their scholarships and release a short statement: "Let bygones be bygones."
Or not.
Basically, after four-plus years, in which Bush mostly used a series of lawyers to avoid being accountable, which forced his alma mater to remain in the news in a negative way throughout the lengthy process that ended with major sanctions, the severity of which cannot be justified by the violations themselves but more likely are rooted in the "catch-me-if-you-can" attitude Bush, and subsequently USC, adopted. Bush says, "Whoops. Sorry."
Let's quickly look at the lines of Bush culpability.
He took extra benefits -- cash and gifts. He knew that was against NCAA rules.
Bush then refused to pay back money to the agents/marketers when he opted to sign with someone else. Perhaps this all could have ended quietly if Bush and his family weren't greedy and weren't so willing to double-cross an associate.
Bush then refused to pay back money to the agents/marketers when he opted to sign with someone else.
Bush said in 2006: "We have nothing to hide. When all is said and done ... everyone will see we have done absolutely nothing wrong." So add lying to his list of transgressions.
Even after Yahoo! broke the story of Denise and LaMar Griffin living in a $750,000 home in 2006, Bush could have realized at any point in the months -- years -- before Lloyd Lake sat down with the NCAA, "Hey, this might hurt USC. I'm a multimillionaire. What's a check for $300,000 to me?" And USC might not be missing 30 scholarships today.
You'll note, by the way, that Bush hasn't publicly come clean. I wonder how in depth he went with Haden about his "series of mistakes?"
Moreover, does Bush understand the depth of his damage to USC? Rival fans are enjoying acting like USC was a rogue football program under Pete Carroll. But that isn't a fair assessment based on the NCAA's own report. After a four-year investigation, the list of major violations for the football team included ... Reggie Bush.
The NCAA wrote: "There was relatively little effective monitoring of, among others, football locker rooms and sidelines, and there existed a general postgame locker room environment that made compliance efforts difficult."
Having been in the USC locker room many times, I won't dispute that. But, er, can you give us examples of major compliance failures, other than Bush, of course?
NCAA report: Crickets.
We write all of this not to relaunch the "USC got screwed" stuff, but merely to point at Bush and say what all USC fans should say to him: "Hey, dude, just about all of this is your fault. From your first taking extra benefits to how you handled yourself afterward. USC's weakened state falls on you first and foremost before it stains the institution and officials who could have done their jobs better."
Only after he becomes persona non grata at USC does Bush say "The whole situation is terrible and nobody feels worse about it than I do."
Actually, my guess is tens of thousands USC fans, alumni, administrators, players and coaches feel a whole lot worse than you do.
And their bad feelings are because of you.
June, 10, 2010
6/10/10
4:36
PM ET
There weren't many revelations on the teleconference concerning the NCAA's ruling on USC's case, at least until the end.
Here's what Paul Dee, chair of the committee on infractions, had to say about whether violations surrounding a star player are worse than violations surrounding a scrub: "High profile players demand high profile compliance."
So Dee is saying that Bush's status -- he won the 2005 Heisman Trophy -- which was described in detail in the NCAA report without the use of his name (he's referred to as Student-Athlete 1), provoked a harsher penalty.
Also, one other notable point: The NCAA report didn't cite former coach Pete Carroll for any violations.
So, if Carroll washes out with the Seattle Seahawks, he's free to return to college football.
You can
read the entire report here
.
June, 2, 2010
6/02/10
8:55
PM ET
Here's a nice column from Pat Forde on the myth of the NCAA taking it easy on
premier programs
.
Examine the NCAA's track record and you'll see that selective enforcement is every bit as real as the Loch Ness Monster or Heidi Montag's chest. It's mythology. Or, in the words of former NCAA Committee on Infractions member Tom Yeager, "it's baloney."
(Forde just worked the Loch Ness Monster and Heidi Montag's chest into a single sentence. You must respect that.)
This is relevant because USC's fate -- after more than four years, three days of NCAA hearings and an infractions committee review of nearly 15 weeks -- is
expected to be revealed
on Friday.
What should you expect? A punishment that is probably close to fair, but one that will make no one happy.
USC fans don't want any major penalties. That's not likely to happen.
Fans of other teams -- most particularly UCLA and SEC fans -- want USC to be hammered into oblivion. That's not going to happen either.
In anticipation of the latter, let's, please, deal with an issue.
More than a few fans and, unfortunately, a few journalist have written or talked about this case being a litmus test for NCAA enforcement equity: USC must get hit as hard as Alabama in 2002.
Utter rubbish.
Alabama received five years' probation, a two-year bowl ban and the loss of 21 scholarships over three years after it was found that Crimson Tide boosters paid players.
Boosters paid players. Again,
boosters paid players
. That's the ultimate sin in college sports because it provides a competitive advantage. Preventing pay-for-play is the chief reason the NCAA exists.
Which means, even in the worst-case scenario for the Trojans, the NCAA sanctions should -- and almost certainly will -- fall under the penalties Alabama earned.
Of the Alabama case then-infractions committee chair Thomas Yeager said: "They were absolutely staring down the barrel of a gun [i.e., death penalty] ... These violations are some of the worst, most serious that have ever occurred."
Here's a guess that present infractions committee chair Paul Dee won't say the same about USC.
Now, I can already hear some of the outrage -- my family and I spend Christmas Eve in Alabama annually, so I know this is a sore subject among the Crimson Tide faithful -- which is nearly always followed by misinformation.
So, before heads explode, let's just quickly list the major findings from the Alabama case,
courtesy of USA Today
.
A recruit, identified in news reports as Kenny Smith, and his parents were given $20,000 in cash, lodging and entertainment by two Crimson Tide boosters beginning in 1995. The first payment of $10,000 was made in $100 bills delivered in a grocery bag. Smith signed with Alabama but couldn't meet academic requirements.
An Alabama booster previously identified as Logan Young of Memphis, Tenn., gave cash to a high school coach who was seeking $100,000 cash and two sport-utility vehicles in exchange for directing star recruit Albert Means to Alabama.
An assistant coach, former recruiting coordinator Ronnie Cottrell, received two loans totaling $56,600 from Young in violation of NCAA rules. The loan was not repaid until the case became known.
Two boosters involved in repeated rules violations were known to the Alabama staff, coaches and fans and often were seen at the team hotel during road games.
A recruit, identified previously as Travis Carroll, was given the use of a car in 1999 for agreeing to attend Alabama. The car was repossessed when Carroll transferred to Florida.
Let all that swirl in your head for a bit. That's old-school cheating in its purest form. Reading it almost makes you crave a jar of moonshine.
Then compare that list to allegations from the USC case which you can review
here
and
here
and
here
.
Yep. No comparison by any objective measure.
Of course, college football is not about objective measures, which is part of its appeal.
But, in the interest of finding at least some common ground, all parties probably can agree they share two feelings as we await the NCAA: First, who isn't curious about the ruling? And, second, who isn't ready for the darn thing to be over with?
February, 18, 2010
2/18/10
8:58
PM ET
TEMPE, Ariz. -- They shuffled by at 5:30 p.m. local time, sharing a message for those who might wonder how things went during USC's meeting with the NCAA infractions committee on Thursday.
"No comment."
Said USC athletic director Mike Garrett, "I can say hello. I can say goodbye."
Pac-10 commissioner Larry Scott was amused by a reporter's attempt to chat about how things might be going for USC as it defended itself against alleged
NCAA rules violations
for its football and basketball teams. "Thanks for asking," he said.
USC president Steven B. Sample enjoyed a cookie and used a pregnant pause to support his quip that he wasn't even going to say no comment.
The silence wasn't terribly surprising.
"We have been instructed by the
chair of the proceedings
not to discuss the proceedings," USC spokesperson James Grant said.
That would be former Miami athletic director Paul Dee, who slipped by before a reporter collecting various forms of "no comment" could acquire his.
So what can we say about Day 1 of USC's hearing, which will continue Friday and Saturday?
Former USC coach Pete Carroll was in attendance. He said he was leaving Thursday night and headed to LA for a charity event.
That, paired with the apparent absence of former Trojans basketball coach Tim Floyd as well as the presence of running backs coach Todd McNair, would suggest strongly that football was the focus of the first day. And that Carroll and McNair answered question about their knowledge of extra benefits former running back Reggie Bush allegedly received from a pair of would-be agents, among other things.
New football coach Lane Kiffin, sporting an impressive suit that Carroll took a moment to admire, also was on hand. He provided the day's best -- only -- analysis when he called the interaction inside the meeting "interesting" but the expressions of most folks' faces when they left the meeting room suggested that even James Cameron couldn't make the proceedings lively.
The big question for Day 2?
Will Floyd and the basketball program take the stage? Or will football still lead the agenda?
According to a source with knowledge of the proceedings.
"No comment."