February, 13, 2012
2/13/12
10:19
AM ET
SOUTH BEND, Ind. -- Bob Diaco met Bob Elliott, one of his soon-to-be coaches at Iowa, in 1990. In the 22 years since, Elliott has been, in Diaco's words, a friend, a co-worker, almost a brother.

Now Elliott, Notre Dame's new safeties coach, technically works for Diaco, the Irish's defensive coordinator. It's a twist that suits both coaches and their fellow Notre Dame assistants -- some of whom also worked with or for Elliott themselves -- just fine.

"I was excited," Elliott said. "I love those guys. Bob and Kerry [Cooks] and Tony [Alford], I worked with Tony at Iowa State. He's a good friend. And Paul Longo, Paul's a guy, he was our strength coach at Iowa, I've known him forever, and he's a close friend as well. So there's a lot of close ties on this staff, so it was very, very comfortable for me to come here and get a chance to start working with these guys."

Longo is now Notre Dame's director of strength and conditioning. Cooks is the Irish's co-defensive coordinator and cornerbacks coach, and Alford is the running backs/slot receivers coach. Cooks was one of Iowa's co-MVPs in 1997, when Elliott was the Hawkeyes' secondary coach. When Elliott held the same position at Iowa State three years later, Alford was the Cyclones' running backs coach.

In the spring game before the 2000 season, Elliott coached the White team, made up of second- and third-stringers, against Alford's Cardinal squad, comprised of first-teamers. Spotted 16 points, Elliott's team did not score in a 48-16 loss.

"Oh man, Bobby Elliott's big time, in every sense of the word," Alford said. "Big-time coach. Big-time mentor. Teacher. Recruiter. Bigger than all: big-time person. And Joey, his wife, they are phenomenal people. We got better. We got better as a football family with Bobby Elliott, in my opinion."

Irish head coach Brian Kelly said Elliott's relationships with Cooks and Diaco made him an easy fit. Elliott wanted to make sure his former players were OK with the reunion.

"You have to be self-confident, you have to be sure of yourself to be able to sometimes work with somebody that was a mentor early in your career," Elliott said. "Some guys can't do that. You have to be pretty secure. Bob and Kerry are confident, secure guys. That's not an issue, a role reversal for them. And it isn't for me.

"I'm at a stage in my career where I really don't need a title, I don't have an ego. It's not about advancement for me. I'm not looking for that, that's not what I'm after. I wanna contribute, have a great experience here and win at the highest level and continue to have great relationships with players, and that's why I'm still in this."

Elliott's 33-year coaching career has featured stints as defensive coordinator at Iowa, Kansas State and San Diego State. With the Hawkeyes and Wildcats, his units finished fourth and second, respectively, in scoring defense.

"It's great," Diaco said of the addition of Elliott. "And I said this before: Void of our relationship, including the NFL, college institutions and the NFL, you're really hard-pressed to find someone that has a higher level of knowledge, and knowledge at a high level, for a secondary player, all phases. And when you factor in his knowledge of coordinating defense, he's had top-five defenses at two different institutions: Iowa and Kansas State."
September, 22, 2011
9/22/11
1:00
PM ET
SOUTH BEND, Ind. -- Previously in his coaching career, until around his early days at Cincinnati, Brian Kelly would see multiple freshmen take the field at once on Saturdays and almost cringe.
This past Saturday, he saw seven different first-year players take the field at times for Notre Dame, and what they did reminded him how college football has changed in just a short period of time.
"I don't know that you ever want to play as many freshman that we're playing, but times are changing," Kelly said. "College football is such that these kids are coming in physically so much more mature that they can come in and physically handle the rigors of playing major college football."
Freshman
George Atkinson III
stood out by returning a first-quarter kickoff 89 yards for a touchdown. That came one Michigan State possession after rookie Aaron Lynch forced a fumble by sacking
Kirk Cousins
.
[+] Enlarge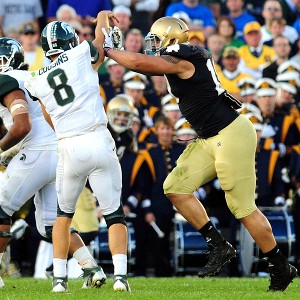 Chris Williams/Icon SMINotre Dame's Aaron Lynch proved that he can put pressure on opposing quarterbacks during his freshman season.
"As soon as I hit him, just like a surge of energy went through my body," Lynch said of the sack. "Just set the tone for the rest of the game."
Lynch finished the game with six quarterback hurries, one week after not even seeing the field against
Denard Robinson
and Michigan.
The 6-foot-6, 265-pound Lynch acknowledged how much different it was going against Big Ten offensive linemen Saturday, especially since his high school opponents were at times 100 pounds lighter.
Not being able to simply bull rush someone at this level was a rude awakening.
"He gets better with playing more with his technique and then building confidence," defensive line coach Mike Elston said. "Buying into what we're coaching hasn't been easy because it hasn't worked for him in practice, because he's not doing it right. So he's back and forth on using the proper technique and not using it. And then in a game he used it and it worked out well and he built confidence on it."
The give and take was fairly simple.
"They told me I wasn't gonna play if I didn't do it right," Lynch said.
As one of five Fighting Irish freshmen who enrolled in the spring, Lynch had a longer time to earn the trust of his coaches.
Kelly credited the strength and conditioning director, Paul Longo, for getting the freshmen physically ready to shorten the learning curve.
"You're looking at Aaron Lynch going against four- and five-year players, and you worry about their physical ability to get in there and mix it up," Kelly said. "But the last four or five years, these guys are weight training all year, nutrition is important to 'em, they're taking care of their bodies, and they're coming in. And Coach Longo said this -- I didn't -- he said this was physically the most impressive group relative to their conditioning level when they came here.
"Usually they come in a few weeks after the veterans are here. They come in and they're lost. They're so far behind. This group was not. They were physically ready to compete right away."
Even then, however, there is an adjustment period.
Lynch could only go roughly six plays at a time on Saturday, something he acknowledged was difficult, but a feat that also showed how far he had come with one offseason.
"I know before the season started I wouldn't have been able to go six straight plays," he said. "It's kind of hard to do six straight plays now, just going into my first game and actually having to put that pressure on my back. But I feel like just work hard during practice and go to the ball every time you see it, you'll be straight. You won't be really tired, because you got the energy going and adrenaline rushing and stuff like that, so you'll be straight."
Sophomore noseguard Louis Nix, who didn't play last season, had to drop more than 40 pounds before he could take the field for the first time this season.
This past spring, Kelly told him to expect 12-15 snaps per game, and Nix said that wouldn't be good enough. With fellow noseguard Sean Cwynar dealing with a broken right hand, Nix has lived up to his word, playing 30-40 snaps per game and starting twice so far, surprising even himself with his stamina.
"Last year or the year before, I probably could have did two snaps," the now-326-pounder said with a laugh.
Such contrast between the early development of Lynch and Nix helps explain why defensive coordinator Bob Diaco has a blanket philosophy on playing freshmen.
"I don't think at this point in time that there's any timetable," Diaco said. "Just, when you're ready, we're ready. When you're ready, we're ready. That's it. And when you're ready to do the jobs, whatever they are, you don't have to do be able to do all the jobs, if you can do some of the jobs. You're ready, we're ready.
"When you're ready to go in and you're better than everybody else at that spot, when you're ready to go in and whip your individual matchup, when you're ready, we're ready."
August, 5, 2011
8/05/11
3:22
PM ET
SOUTH BEND, Ind. -- Notre Dame has a boatload of returning starters, talented newcomers adding depth and momentum from last year's finish going for it as the team opens fall camp on Saturday. Head coach Brian Kelly sees one major strength for the Irish, however: Familiarity.
Now in his second season in South Bend, Kelly knows the players' strengths and weaknesses, and they understand the message and expectations from the staff. That should hopefully lead to better, more intense preseason practices and, Kelly hopes, a strong start to the season.
"It allows us to get to football," he said. "It allows us to get to the fundamentals of the game. It allows you to start to look at schemes. Those are things I couldn't talk about at this time last year. I was talking about learning the names of our players."
[+] Enlarge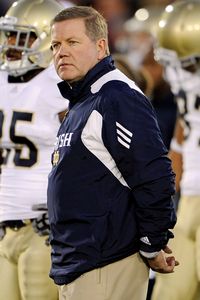 Chris Williams/Icon SMICoach Brian Kelly insisted he still doesn't know who his No. 1 quarterback is going to be.
Kelly previewed Notre Dame's preseason camp on Friday in a 35-minute news conference that hit on a lot of topics. The subject that came up most often was, not surprisingly, the quarterback situation.
Dayne Crist
is expected to get the first snaps at starter on Saturday and probably has the inside edge for the job when the Irish open against South Florida. But it's still technically an open competition between Crist, sophomore
Tommy Rees
and freshmen
Andrew Hendrix
and Everett Golson.
Kelly insisted he didn't know who would win that battle.
"I'm going through it just like you guys are," he said. "I'm going, 'All right, is it Dayne? Is it Tommy?' You could make the case for any one of them. So we have to, in camp, really do a great job of giving them the appropriate reps necessary for us to make these kinds of decisions."
The starting quarterback will be determined by Aug. 22, Kelly said, so the team can prepare for USF with its No. 1 quarterback. Whatever decision he ends up making, he doesn't think it will become a controversy inside the team.
"I think they've got a great deal of confidence in whomever we choose," Kelly said. "Our team will not be talking in the locker room about who the quarterback is. They'll get behind whoever it is. That maybe would have happened last year when they didn't know everybody. But they know what we're about now and they know we're here to win."
Crist and Rees will not face live contact in training camp, but Golson will because he has some problems with fumbles in the spring. Hendrix will also have to take on some tacklers this month because the team expects him to provide a running threat.
Some other highlights from Kelly's news conference:
Notre Dame is ranked by most preseason publications and checked in at No. 18 in the first coaches' poll this week. Kelly said he's not worried about expectations getting the best of his players.
"Right now, we're being recognized maybe a little bit for what we did at the end of the year and because we're Notre Dame," he said. "The way we go to work and the way they practice for me, I don't walk around with my Top 25 T-shirt on."
Kelly said he wants to be in Oklahoma coach Bob Stoops' position, where he's talking about being ranked No. 1.
-- When asked for his main concerns about this year's team, Kelly settled on the third running back. Freshmen Cam McDaniel and George Atkinson III will be relied upon to provide depth in a thin backfield behind starter
Cierre Wood
. Senior
Jonas Gray
must become more consistent and develop into the power back.
"The real key to that is Jonas Gray," Kelly said. "He's going to really be the deciding factor there for us. If he can give us the kind of play there we think he can, it's going to lighten the load on those two freshmen."
-- The Irish are in excellent overall health entering camp. Kelly announced that running back Cam Roberson (knee) and lineman Lane Clelland (knee, back) would miss the season with injuries. Otherwise, he said, everyone will go full speed.
Kelly is also excited about the freshmen who arrived this summer. Strength coach Paul Longo told him they were the best conditioned freshmen class he had ever seen. Kelly said the new wide receivers and defensive linemen will be given a long look as potential contributors during camp.
"All those guys got the thumbs up from coach Longo," he said.
-- In the most amusing part of the news conference, Kelly caught himself when he talked about offensive linemen Christian Lombard getting a redshirt year last season.
"Not a redshirt year; we don't redshirt at Notre Dame," he said. "God, I can't wait for this email I'm going to get."
August, 19, 2010
8/19/10
8:45
AM ET
When it comes to Notre Dame, every play, issue, statement and other morsel is dissected and put under the microscope. But here are five big things to watch in 2010:
1. Faith in Crist:
Dayne Crist
is not only the best option at quarterback, he's pretty much the only one at this point. No one behind him has ever taken a college snap. Of course, Crist is just in his second year of playing and didn't see much time last year before tearing his ACL against Washington State. Not only does he have to manage Brian Kelly's intricate offense, but he needs to stay healthy. He's a talented and heady player, though, and he could put up dazzling numbers as most of Kelly's quarterbacks seem to do.
2. 3-4, better close the door:
The Irish defense has been a mess for several years, and unless coordinator Bob Diaco can figure out how to stop somebody, Kelly's results won't differ too much from those of Charlie Weis. Diaco isn't going to try to blitz every down with players who aren't fast enough to get to the quarterback like Jon Tenuta did; he's going back to a 3-4 base that better suits the personnel. "We feel like the guys we have definitely fit this kind of defense," outside linebacker Darius Fleming says. "It's what most of us were recruited for. We're excited to play it and see how it works out."
3. Michael Floyd and Kyle Rudolph:
You could make a case that in Floyd and Rudolph, the Irish have the best wide receiver and the best tight end in America. Neither player has justified that with a full season of production, thanks largely to injuries, but their talent and physical superiority are unquestioned. Look for Kelly and Crist to ride these stars as much as possible in the passing game, and both could challenge for postseason awards and first-round NFL slots.
4. Gone in November?
Late-season fades became a troubling trend under Weis. The Irish lost their final four games in 2009 and four of their last five regular-season contests in 2008. Notre Dame hopes the addition of a football-only training table for the first time will help players keep their weight as the season wears on, and strength and conditioning coach Paul Longo might be the second-most valuable staff member behind Kelly. The Irish say they're much better conditioned this year. We'll see about that in November.
5. Manti Te'o:
As a true freshman, Te'o was mostly running around without a clue. Yet he still managed 57 tackles in the final eight games. Maturing rapidly, he's moving to middle linebacker and will be the anchor of the defense. Te'o has always been a special talent. Now he is acclimated to the college game and playing in a system tailored for him to make big plays. Anything other than a huge season from Te'o would register as a surprise at this point.