April, 2, 2014
Apr 2
5:30
PM ET
One of the ways a football team transitions from a group of wishful maybes to a sense of near-ontological certainty is when its collection of spring practice questions becomes mostly an array of appealing potential options.
So we have
UCLA
as it transitions from an underachieving program (1999-2011) to a good one (2012-2013) to one that has the makings of a national contender in 2014.
[+] Enlarge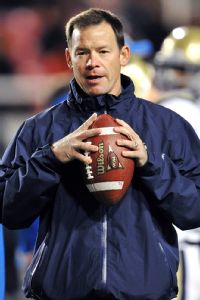 Gene Sweeney Jr/Getty ImagesWith few questions to answer this spring, Jim Mora has the makings of a special 2014 season with UCLA.
While the Bruins have questions on their depth chart, there isn't any particular area of vexing concern. The five positions where starters need to be replaced seem likely to be filled by promising athletes with playing experience. If those more veteran players don't rise to the fore during spring practices, that mostly speaks to the program's strong recruiting under Jim Mora.
Further, it's reasonable to project that those 20 or so freshmen and sophomores who saw significant playing time last year will physically and mentally mature into their primes.
There simply aren't any worrisome voids on this team.
As in:
There are, of course, important questions.
Is defensive end
Owamagbe Odighizuwa
fully healthy? He told reporters Tuesday that he is. So then is the former A-list recruit ready to break through as a senior?
What does LB/RB
Myles Jack
do for an encore after one of the best true freshman seasons in recent memory?
And speaking of what's next, is it reasonable to project Hundley taking a strong step forward as a third-year starter? Of course, that's why the program has already launched a Heisman Trophy campaign.
A lot of variables beyond personnel go into a special season -- a Rose Bowl-, College Football Playoff-type season. A team needs a great offseason. It needs positive chemistry and leadership. It needs to avoid injuries. It needs to stay hungry. It needs laser-like focus every week.
Returning starters do not guarantee anything. National champion Florida State only had 11 of them last year.
But on paper, UCLA appears to be the most likely candidate to break the five-year Stanford-Oregon Pac-12 hegemony atop the Pac-12. The Bruins might even be a team that catches the notice of the CFP selection committee in December.
February, 28, 2014
Feb 28
9:00
AM ET
On Thursday,
we looked at the Pac-12 North Division
. Today, we turn to the South:
ARIZONA

Spring start:
March 3
Spring game:
April 20
What to watch:
QB competition: Coach Rich Rodriguez has used first-year starters in his first two seasons at Arizona and will make it three-for-three in 2014. For the most part, things worked with both Matt Scott and more recently B.J. Denker, which should make Wildcats fans optimistic about what should be a wide-open competition.
Replacing Carey: As intriguing as the quarterback competition will be, the battle to replace all-time great Ka'Deem Carey at running back could be more important. None of the returning running backs had a carry last year, which led to this comment from Rodriguez: "Now it's a mystery. That's going to be one of the positions, like quarterback, that will be kind of open to see if we can get guys to get better."
Keep Austin healthy: After tearing his ACL last spring following a breakout season in which he caught 81 passes for 1,364 yards and 11 touchdowns, receiver Austin Hill has been given a clean bill of health. Said Rodriguez: "He is still wearing the knee brace but I think it is a little bit more precautionary. He is 100 percent doing everything. He's even a bit bigger and stronger so he should have a big spring. I know he's hungry to get out there, too."
ARIZONA STATE

Spring start:
March 18
Spring game:
April 19
What to watch:
OL changes: Auburn transfer Christian Westerman, a prototypical guard, could be the Sun Devils' best offensive lineman, which makes things interesting considering both starting guards -- Jamil Douglas and Vi Teofilo -- will be back next year. Douglas, a second-team All-Pac-12 selection, has worked at tackle in the past and could shift outside to replace first-team All-Pac-12 left tackle Evan Finkenberg.
Getting defensive: Coach Todd Graham's college roommate, Keith Patterson, has arrived as the defensive coordinator, but Graham will remain the play-caller and Chris Ball's title will still read co-defensive coordinator. Got all that? New coaching dynamics get sorted out in the spring, too.
Looking for replacements: On defense, ASU needs to replace seven starters, highlighted by DT Will Sutton, LB Carl Bradford and CBs Robert Nelson and Alden Darby. If ASU is to build off its impressive 2013 season, those holes need to be filled quickly. They'll benefit from a schedule that starts with Weber State, New Mexico, Colorado and a bye, but after that the Sun Devils have UCLA, USC and Stanford in a span of four weeks.
COLORADO

Spring start:
March 3
Spring game:
April 26
What to watch:
QB development: Sefo Liufau's development will be interesting if for nothing else than because the jump from Year 1 starter to Year 2 starter is always intriguing with quarterbacks. It's tempting to assume a big statistical jump is coming, but it's not always that simple (see: Hogan, Kevin; Mannion, Sean; Hundley, Brett). Liufau will need to get on the same page with his receivers as they combine to …
… Replace Paul Richardson: Look for Nelson Spruce, D.D Goodson and Tyler McCulloch to lead what will be a much more balanced receiving corps following Richardson's early departure for the NFL. Spruce was the Buffs' second-leading receiver last year, but Goodson, going into his second season at receiver, figures to make the biggest jump.
Rising expectations: It took MacIntyre three years to turn San Jose State into a winner, but there was a four-win improvement in the second year. He won't match that with the Buffs, but a two-win improvement gets Colorado bowl eligible. Colorado has a chance to match last year's win total (4) in the first five games next year: vs. Colorado State, at Massachusetts, Arizona State, Hawaii, at Cal. In fact, it's probably the internal expectation.
UCLA

Spring start:
April 1
Spring game:
April 26
What to watch:
Manage expectations: The Bruins are in new territory this offseason with expectations through the roof. They'll likely be a preseason top-10 team, which will drum up chatter about a potential national championship run. Likely message from coach Jim Mora: "Tune out the noise."
The #Hundley4Heisman campaign: It's a real thing and Mora threw his weight behind it when he tweeted the hashtag on Jan. 26 with a picture of the Heisman Trophy. Get used to reading "Heisman candidate" next to "Brett Hundley" a lot between now and September. At times, it might feel unavoidable.
Leading rusher? They're set at quarterback and bring a lot of talent back at both receiver and on the offensive line, but the running back situation isn't as clear. Hundley was the team's leading rusher in 2013, but someone needs to step up to take pressure off him and LB/RB Myles Jack. It's an important spring for both Jordan James and Paul Perkins, who had varying degrees of success last year.
USC

Spring start:
March 11
Spring game:
April 19
What to watch:
Under center? Cody Kessler is back, but coach Steve Sarkisian immediately made it known there would be an open competition for the quarterback job. Max Wittek is no longer around, but Kessler should get a serious challenge from redshirt freshman Max Browne. With a new offense to learn, spring will essentially serve as preparation period for the real competition during fall camp.
Catch your breath: The most noticeable change in USC during the first game will be how much faster it's playing offensively. Sarkisian installed a high-tempo offense at Washington last year and, pleased with the results, will continue to press the tempo with the Trojans. Goodbye, huddles.
Change it up: As is the case when new coaching staffs arrive, there will likely be a higher percentage of position changes than usual and a more fluid depth chart. It's hard to peg exactly where that'll occur with USC, but it'll be worth monitoring throughout the spring.
UTAH

Spring start:
March 18
Spring game:
April 26
What to watch:
Wilson's road back: Travis Wilson is expected to be the Utes' starting quarterback next season, but he'll be limited to non-contact drills during the spring. That's about the best news Wilson could have received following an early November discovery that he had an undiagnosed injury to an intracranial artery -- a condition that threatened his career. Oklahoma transfer Kendal Thompson will not join the team until after he graduates in May, but he'll be immediately eligible to play.
Revolving OC door: Dave Christensen moves in, Dennis Erickson moves over and Brian Johnson moves out. Kyle Whittingham introduced the Utes' seventh offensive coordinator is seven years in early January. Christensen believes in similar philosophies to what the Utes had under Erickson/Johnson, but the terminology will change and the tempo will increase.
Pressure building? Utah was used to winning big before it got to the Pac-12 in 2011. Whittingham lost just 20 games in his six full seasons as the school's head coach while a member of the Mountain West Conference. In the three years since, Utah's dropped 19 and qualified for just one bowl. No one should doubt Whittingham's ability as a coach -- he's a good one -- but the jump in competition has been difficult.
November, 24, 2013
11/24/13
1:20
AM ET
PASADENA, Calif. -- There was a good chance history was going to repeat itself. You give UCLA quarterback
Brett Hundley
3 minutes and 21 seconds -- at home -- to move his team 65 yards and negate a five-point deficit and more often than not you'd probably take those odds.
Faced with a similar situation last year, the ASU defense played on its heels and watched Hundley march the Bruins 60 yards in the final 1:33 to set up
Ka'imi Fairbairn
's game winner as time expired, giving UCLA a 45-43 victory in Tempe.
But that's the thing about history. That's all it is. This time around, the Sun Devils were determined not to make the same mistakes. So when Hundley got the ball with 3:21 left and his team trailing 38-33, ASU coach Todd Graham made a declaration to his defense: We're going to bring it.
"We had some regrets last year down the stretch in that last minute of that game," Graham said. "We talked about it as a team. I talked to the seniors ... we had some regrets last year that we defended instead of attacked. We sent it every play that last drive. Even on the last play, because we came to win."
The end result was two sacks on Hundley, who could move his team only 11 yards on eight plays after penalties and the losses stalled the come-from-behind effort. The 38-33 margin held, and the Sun Devils celebrated as the Pac-12 South Division champs.
[+] Enlarge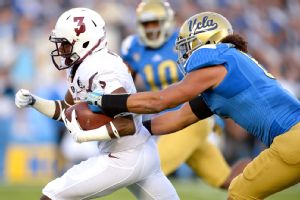 Robert Hanashiro/USA TODAY SportsArizona State built a large first-half lead and then hung on to win the Pac-12 South.
"Everything felt different this time around," ASU safety
Alden Darby
said. "We're a different team. The mindset was different. We know we have a championship defense. There was a different vibe this year on the sideline and on the field."
Those two sacks on the final drive were part of a nine-sack effort from the Sun Devils, who pressured Hundley and UCLA's young offensive line. Hundley rushed for 66 yards, but when you factor in the sacks, he netted only 5.
"The main concern was tackling Hundley," ASU defensive line coach Jackie Shipp said. "He's very good with the ball. He reminds me of Vince Young from when I was in the Big 12. The main thing was getting him down. We knew they were hurting on the offensive line. I knew we could get there. We just had to make sure we got him on the ground."
Through the first 30 minutes, a game-winning drive seemed like a long shot for the Bruins. Behind an efficient and calculated performance from ASU quarterback
Taylor Kelly
, the Sun Devils built a 35-13 halftime lead. Kelly was elusive on the ground, rushing for 99 yards and a touchdown, and accurate through the air, completing 20 of 27 passes for 225 yards and a touchdown. Rushing scores from
D.J. Foster
and
Michael Eubank
, along with a 19-yard touchdown from Kelly to
Jaelen Strong
and a pick-six from
Carl Bradford
gave the Sun Devils a 22-point advantage at the break.
But as UCLA tends to do, it exploded in the second half, outscoring the Sun Devils 20-3 behind a pair of touchdown runs from
Myles Jack
and
Paul Perkins
and a 27-yard touchdown strike from Hundley to
Shaq Evans
. That set the stage for some last-minute drama that ultimately ended with the Sun Devils' defense making the plays it failed to make last season.
"We got ourselves into a hole in the first half and were not able to recover," UCLA coach Jim Mora said. "They fought tooth and nail for that thing, and it was just a little too much to overcome. The loss is bitterly disappointing."
What Mora laments most was his team's inability to control Kelly on the ground. ASU's quarterback rushed for 84 yards in the first half alone.
"He kept plays alive, he frustrated us, we couldn't find the ball," Mora said. "We got caught out of position on some things. That's what was frustrating me -- not being able to handle the quarterback defensively."
ASU offensive coordinator Mike Norvell said getting Kelly involved in the running game was by design. They wanted to force the Bruins into making decisions on zone reads. From there, Kelly was making all the right calls.
"We were able to present some different looks to make sure he'd get a good pull-read and he made some great reads," Norvell said. "... When you've got the defending Pac-12 South champs the last two years, you're coming into their place, you knew it was going to be a battle. I was really proud of our guys and the way they played. That really showed the character of our team."
The Sun Devils will represent the South Division in the Pac-12 championship game against Stanford, which claimed the North by virtue of Arizona's win over Oregon. The only question is whether it's in Tempe or Palo Alto. If Arizona State tops rival Arizona next week, it will host the Cardinal. If the Wildcats win, the title game will be at Stanford for the second straight year.
September, 2, 2013
9/02/13
9:00
AM ET
So this is what life without Johnathan Franklin looks like for UCLA: 345 rushing yards and five touchdowns.

"I'll take that," said UCLA head coach Jim Mora.
Uh, yeah.
Granted, Nevada's rush defense wasn't exactly the '85 Bears. But for a UCLA team looking to replace its all-time leading rusher in Franklin, its running backs, who accounted for 288 of those yards and three of the touchdowns, performed probably as well as could be expected in their by-committee debut.
"It was a heck of a performance," Mora said. "The first thing they'll tell you was the blocking was outstanding."
As a matter of fact, they did. The backs and quarterback
Brett Hundley
alike (seven carries, 63 yards, two touchdowns) praised the big fellas up front for helping the Bruins roll up 647 yards of total offense in their 58-20 win over Nevada on Saturday.
Jordon James
had distanced himself from the committee during fall camp, and he rewarded his coaches for their confidence with a 21-carry performance for 155 yards and a touchdown.
"He is our No. 1 back," Mora said. "He's our starter right now, but we would like to be able to play
Steven Manfro
(5-32). It was great to see Malcolm [Jones, 2-14-1] in there and Rosie [
Roosevelt Davis
, 2-30] … but he's our No. 1 back. But you know how we play offense. We're going to roll those guys through. We have to. To play the tempo we play at, we're going to have to use multiple backs. The credit has to start with offensive line and the way they blocked and I think it has to start with the receivers and the way they got down the field and blocked."
Paul Perkins
had UCLA's fifth rushing touchdown, carrying five times for 55 yards.
With the Bruins holding a 17-13 lead at the half, the game plan was keep to pounding away. And the Bruins were consistent with 172 rushing yards in the first half and 173 in the second.
"I was happy with the way they came out in the second half," said offensive coordinator Noel Mazzone. "The running backs kept believing in the game plan, which was a shocker cause they think I throw too much anyway. It was a good effort by those kids. I was proud of them."
Obviously, there is much to watch on the film. And the Bruins will have an extra week to clean things up before making the trip to Nebraska for a showdown with the Huskers -- a team UCLA topped last year at the Rose Bowl.
And while the staff had praise for all of the backs, Mora and Mazzone both noted that they liked how James was a more confident runner.
"I thought he was really into it," Mazzone said. "He's worked hard to become a one-cut runner. I want him to one-cut and then get north and south for me and he did that a few times. And I have to watch the film, but it looked to me like all of them did a nice job in pass protection."
August, 28, 2013
8/28/13
10:00
AM ET
Across the ESPN blogosphere on Wednesday, we're looking at players/coaches/position groups with something to prove in each conference. In the Pac-12, the answers should be fairly obvious. Here are 10 from the league in no particular order.
1. Lane Kiffin
: OK, maybe this one is in particular order. USC's head coach is on the hottest seat in America after a disastrous 2012. There were embarrassments for the program on and off the field. That has led to plenty of speculation about what he needs to do to keep his job. Win 10 games? Nine? Win nine and beat UCLA or Notre Dame? Or both? This is a storyline that will no doubt carry deep into the season.
[+] Enlarge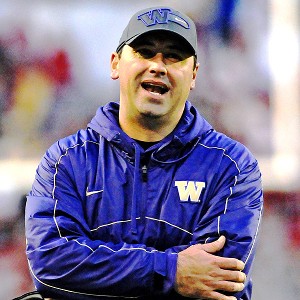 James Snook/US PresswireLane Kiffin isn't the only Pac-12 coach feeling growing pressure for a successful season.
2. Steve Sarkisian:
His seat isn't as hot as Kiffin's. But the heat index has certainly risen in the wake of another seven-win season. The Huskies have a lot of returning talent – including a quarterback with potential, a healthy offensive line, an outstanding running back and receivers (including TE), and a fairly veteran defensive core. The pieces are in place for Washington to, at the very least, get over the seven-win hump. Seven wins or fewer will be met with harsh criticism and questions about whether Sarkisian is the right guy for the job.
3. Oregon's linebackers
: This appears to be the only question mark for the Ducks, at least on paper, because they have a solid front and an outstanding secondary. Losing Michael Clay, Kiko Alonso and Dion Jordan is a big hit in terms of production, talent and leadership.
Boseko Lokombo
is a veteran presence, and
Tony Washington
,
Derrick Malone
and
Rodney Hardrick
have all been in the system for a few years. If they can match the production of their predecessors, the Ducks should be fine defensively.
4. Stanford's wide receivers:
Ty Montgomery
headlines this list. At the end of 2011, he showed explosive playmaking ability and his future looked sparkling. But injuries slowed him in 2012. With the Cardinal doing some overhauling after losing their top two tight ends, the receiver spot will likely take on more emphasis in 2013. Players such as
Devon Cajuste
,
Michael Rector
and
Kelsey Young
will need to be productive as well.
5. Paul Richardson
: The Colorado receiver missed all of last season with a knee injury and had to sit and watch his team fall apart around him. The Buffaloes went 1-11 and their coach was fired. A new coach, a new offense and a new enthusiasm in Boulder is motivating Richardson
to make up for lost time.
He is Colorado's most explosive player and knows he has the potential, and responsibility, to carry the offense. Now he just has to go out and prove he can do it.
6. Oregon State's receivers
: We know what we're getting with
Brandin Cooks
. He proved last season that he's an outstanding player. How much of that, however, was a product of the guy across the field, Markus Wheaton? With Wheaton gone, either
Richard Mullaney
or
Obum Gwacham
will have to step up as a complementary threat to Cooks -- along with
Kevin Cummings
in the slot.
7. QBs, old and new
: Not all the quarterback competitions are completed. But whoever wins the job at Arizona and USC will likely be looking over his shoulder for the bulk of the season.
Connor Wood
is back in the starting role for Colorado, true freshman
Jared Goff
gets the start for Cal, and
Sean Mannion
finally won Oregon State's job after a grueling seven-month competition with
Cody Vaz
. Nothing is set in stone at Washington State, so
Connor Halliday
will need consistent play to hold the job (we're assuming, for now, that it's Halliday). Expect these players to be under the microscope all season.
8. UCLA's running backs:
There are big shoes to fill with the departure of running back Johnathan Franklin, the school's all-time leading rusher and a Doak Walker finalist last year. Jim Mora has said that he'll likely use five backs throughout the season.
Jordon James
is the front-runner of the committee and has the best opportunity to distance himself. But expect
Paul Perkins
,
Malcolm Jones
,
Steven Manfro
and
Damien Thigpen
(health pending) to all fight for time and carries.
9. Utah's secondary
: It's not necessarily young. Just inexperienced. And in a pass-happy league, that could spell trouble. Free safety
Eric Rowe
has the most playing time among the group. Cornerback
Davion Orphey
is a juco transfer and opposite him is
Keith McGill
, a former safety and juco transfer who appeared in five games in 2011 but suffered a season-ending injury and then missed all of 2012. There is talent there. It's just mostly untested.
10. Arizona State:
Yep, the whole team. This is what you wanted, ASU fans … for the sleeping giant to be awoken. The alarm clock just went off. Now it's time to prove all the hype is worth it. A challenging schedule early -- including Wisconsin, Stanford, USC and Notre Dame in consecutive weeks -- will be a good measuring stick. Though the USC game is really the one that has South title implications. Still, the other three will go a long way toward determining how ASU is viewed nationally. Going 1-3 and beating USC wouldn't be disastrous. Going 0-4 will draw the requisite "same old ASU" criticisms.