NCF Nation:

Penn State football
August, 8, 2013
8/08/13
5:51
PM ET
STATE COLLEGE, Pa. --
Jesse James
shook his head when asked about the quarterback competition.
He offered a blanket statement of "they're both doing good" before attempting to move on to the next question.
"What's the question you're most tired of today?" asked one reporter.
"The quarterback situation," the tight end said with a slight smile.
[+] Enlarge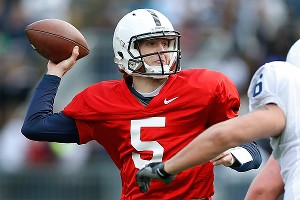 AP Photo/Keith SrakocicTyler Ferguson has the edge in Penn State's QB battle, but will he hold off Christian Hackenberg?
Defensive backs, offensive linemen, wide receivers -- everyone was posed questions about
Christian Hackenberg
and
Tyler Ferguson
, the fresh-faced signal-callers who are battling for a starting job. No quarterback was made available to the media on a cool Thursday morning, so their teammates took the brunt of the prodding.
Did players prefer one quarterback to another? What was it like catching a Hackenberg pass compared to a Ferguson one? Who's harder to read? Who's the better leader? Better yet, who's going to start?
Bill O'Brien had an answer for fans and media alike after three practices: "Just hold your horses."
"They're both talented guys and I just want them to continue to grasp what we're trying to do and play the next play," O'Brien continued, adding he might -- or might not -- name a starter in about two weeks. "You're going to make mistakes. Matt McGloin made mistakes, but he's tough. He was resilient -- and that's what these guys need to do."
No position this season is more important than quarterback. McGloin helped lead a seemingly patchwork offense that averaged 29 points a game last season, a touchdown and field goal better than the previous season with such stars as Justin Brown and
Silas Redd
.
And with nearly the entire offense returning this season, big things are expected out of the new quarterback, whoever it is. So, not surprisingly, quarterback was the big storyline Thursday -- and it'll continue to be the big story until O'Brien does finally name the starter.
A pack of reporters followed the red jerseys like ants to a picnic basket during an afternoon practice. Neither appeared to throw a pass longer than 15 yards during the 45-minute open portion of practice, and few observations could really be made.
Hackenberg showed a strong arm during the short passes and made a nice roll-out throw at one point, garnering praise from O'Brien. But both quarterbacks also drew the ire of the head coach at different times.
"This is a review!" O'Brien yelled after one miscue.
The most surprising moment from Thursday's media day likely came from O'Brien himself. Last season's ESPN coach of the year acknowledged, after three practices, that Ferguson held the edge. That in itself wasn't surprising -- after all, Ferguson enrolled early while Hackenberg did not -- but it came as a slight shock that O'Brien chose to share that tidbit.
Ferguson could use the confidence boost after missing about a month of voluntary workouts and leaving the door a bit more open for Hackenberg.
Cornerback
Jordan Lucas
didn't pretend Ferguson had no cobwebs to shake off.
"That's with anything, though," Lucas added. "Like if you're coming back from a month of not interviewing anybody, you need to get your questions right and juice yourself back up a little bit. So, coming from a month off, you need to shake a bit off.
"But it's just like riding a bike. It never leaves."
Hopefully, for Ferguson, that comes back within the next two weeks. O'Brien said he's been impressed with just how quickly Hackenberg has improved from one practice to the next so, although Ferguson holds the edge, that definitely doesn't mean he's a lock to become the starter.
O'Brien will face questions about his quarterbacks every time he speaks with fans or the media. Ditto for any Penn State players. But, for now, the quarterbacks need to show one characteristic: resilience.
And for everybody else? Patience.
November, 17, 2012
11/17/12
3:57
PM ET
STATE COLLEGE, Pa. -- It was a record-breaking day for Penn State.
Allen Robinson
set the Nittany Lions' single-season receptions record in the first quarter, and
Matt McGloin
set a school record for yards in a single season and career touchdowns.
Behind a strong offensive effort -- highlighted by performances from Robinson and McGloin -- the Nittany Lions overcame a slow start to
throttle Indiana 45-22
Saturday.
Robinson now has 73 receptions, surpassing the record of 63 set by former PSU greats
Bobby Engram
and
O.J. McDuffie
. McGloin boasts 3,071 passing yards this season and 45 career passing touchdowns.


With the win, Penn State's record improves to 7-4 (5-2 Big Ten), while Indiana falls to 4-7 (2-5 Big Ten).
It was over when
:
Zach Zwinak
crossed the goal line for a 1-yard touchdown late in the third quarter. The Hoosiers were building momentum, but that score put an end to it. PSU led 35-22 at that point, and Indiana wouldn't threaten again.
Game ball goes to
: Robinson. Not only did he set the single-season receptions record on his first catch of the game, but he caused problems for Indiana all day. He was responsible for the Nittany Lions' first three touchdowns and finished with 10 catches for 197 yards.
Stat of the game
: 482 -- Penn State's offensive yardage in the first three quarters, when the game was still in doubt. Indiana couldn't stop the Nittany Lions on the ground or through the air.
Turning point
: In the third quarter, with Indiana trailing by only six, Bill O'Brien found his team facing fourth-and-10 on his opponent's 33. He decided to go for it -- surprise, surprise -- and McGloin found
Brandon Moseby-Felder
for a 12-yard gain. That key play set up a touchdown.
Unsung hero
:
Gerald Hodges
. With the
injury to Michael Mauti
, Penn State's other outside linebacker stepped up. He showed just why he's a Butkus Award candidate with 12 tackles and an interception. Hodges was this defense's playmaker Saturday.
Unsung hero, part deux
:
Cameron Coffman
. With no help from the running game, Coffman was forced to throw often -- and he did a pretty good job. He threw two interceptions, but one came when he pressed while trailing by three touchdowns. He finished with 454 passing yards.
September, 22, 2012
9/22/12
8:57
PM ET
STATE COLLEGE, Pa. --
Allen Robinson
could sense his quarterback's confidence in the huddle Saturday.
So whenever
Matt McGloin
told him they were going to score, Robinson believed him. He broke from the huddle, jogged to his spot as the outside wideout and reflected on McGloin's tenacity.
Even on second-and-long and third-and-forevers, Robinson's faith in the offense didn't waver -- because McGloin's belief never did.
"He comes in the huddle and makes everyone believe that we can score," Robinson said. "He brings a lot of fire."
[+] Enlarge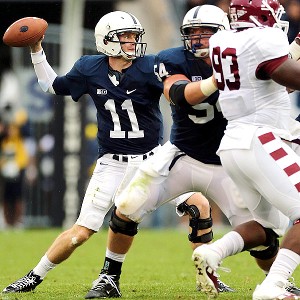 Rob Christy/US PresswireMatt McGloin threw for 318 yards and a touchdown and ran for two more.
McGloin smiled and joked underneath a blue ball cap after Saturday's
24-13 win
against Temple. He passed for 318 yards and had a hand in every Penn State touchdown -- so he had cause for satisfaction.
He passed for one score and peeled himself off the ground following two rushing TDs. Bill O'Brien praised his signal caller and, after thanking the offensive line and remarking about his tailbacks, McGloin admitted this performance was special.
"I definitely think it was one of the better games of my career," McGloin said.
The fifth-year senior has now thrown for a trio of 300-yard games in his career. That puts him second overall in PSU history, behind only former NFL first-rounder Kerry Collins, who boasts four.
McGloin's first big play Saturday may have been his most memorable. On fourth-and-5 from the Temple 41, the Nittany Lions arguably shouldn't have gone for it. They probably shouldn't have converted. And they most certainly shouldn't have scored a touchdown.
But McGloin was confident he could convert. And Robinson was confident in his quarterback.
The red-headed quarterback scrambled inside the pocket, avoided a sack and tossed a long ball to Robinson -- who adjusted on a backpedal between two DBs -- for a 41-yard strike that set the tone and gave PSU the lead.
"He kept his poise today better than I did," O'Brien said with a smile.
On a busted play late in the second quarter, McGloin carried two Temple defenders over the goal line for a hard-earned 1-yard touchdown. He was supposed to hand off, but he wound up with Penn State's first rushing touchdown of the season.
A quarter later, he rushed for another touchdown.
"We watch a lot of (Tom) Brady, and in 12 years, he's never been stopped on a (goal-line) quarterback sneak," McGloin said. "So that's something we watch, that's something I watch."
McGloin never had a doubt he'd make up those yards. And his team never doubted him -- or that he'd lead PSU to its second win of the year.
September, 22, 2012
9/22/12
7:49
PM ET
STATE COLLEGE, Pa. -- Twelve different Owls coaches have barked orders from the sideline and more than 1,500 players have graduated from the two schools since Temple last beat PSU in 1941.
After Saturday's
24-13 Penn state victory
, the Owls will have to wait two years for another shot to break that 71-year streak.
Penn State dominated a Temple team that struggled with the passing game and couldn't bottle up the Lions' young offense. Temple was outmatched and couldn't rebound even as Penn State struggled finishing its drives in the first half.
Penn State improves to 2-2 with the win, while Temple drops to 1-2.


It was over when
: Quarterback
Matt McGloin
topped an 11-play, 80-yard drive with his second rushing touchdown of the day in the third quarter. Penn State led 21-3 at that point, and that TD put the game away over a Temple team that struggled moving the ball upfield.
The game ball goes to
: McGloin. He had another strong first half and finished 24-of-36 for 318 yards, one passing touchdown and two rushing TDs. He spread the ball around to nine receivers so Temple couldn't key in on just one guy.
Stat of the game
: 254. That's the yardage difference between Penn State's offense and Temple's.
What it means
: Temple has an experienced secondary, and some PSU players believed this would be the stiffest test yet for the Lions' young offense. This showed McGloin & Co. will be a threat all season. And it showed Temple still needs some seasoning before it competes with the bigger teams.
What we learned
:
Chris Coyer
can definitely run the ball ... but passing appears like another story. He twice missed wide-open targets for sure touchdowns, and he couldn't take advantage of the soft spot in Penn State's defense.
Best call
: On fourth-and-5 from Temple's 41-yard line, coach Bill O'Brien decided to go for it in the first quarter -- and his play call paid off. McGloin managed to avoid a sack and found
Allen Robinson
for a 41-yard touchdown. The play put Penn State ahead 7-0.
September, 6, 2012
9/06/12
9:44
PM ET
Tailback
Derek Day
will start over an injured
Bill Belton
against Virginia, Bill O'Brien said Thursday night on his weekly radio show.

O'Brien said Belton remained "day-to-day," but Day will now get the nod even if the sophomore's ankle improves. Belton was sidelined in the third quarter against Ohio, and an ice pack was wrapped around that left ankle.
Belton did not practice Wednesday when the media arrived during an open 30-minute session, and Day took reps with the first team.
Day, a fifth-year senior, has just 15 career carries and was listed as the No. 3 tailback in the spring. With
Silas Redd
's departure and Belton's injury, he now climbs to No. 1.
"He always gives his best effort and I'm real excited to watch him play and for him to get that opportunity," linebacker
Michael Mauti
said earlier this week. "I know he's going to make the most of it."