December, 28, 2013
12/28/13
9:00
AM ET
LOS ANGELES -- As Lorenzo White watched the confetti fall at Lucas Oil Stadium and Michigan State raise the Big Ten championship trophy Dec. 7, one thought came to mind.
"It's been a long time coming," he said.


White starred at running back for Michigan State's last Rose Bowl team, 26 long years ago. Fueled by a stifling defense and a run-heavy offense -- sound familiar? -- the Spartans blitzed through the Big Ten to earn their first trip to Pasadena since the 1965 season.
It looked like the start of a surge for a team featuring four future first-round NFL draft picks -- White, wide receiver Andre Rison, offensive tackle Tony Mandarich and linebacker Percy Snow -- and a strong coaching staff led by George Perles. But Michigan State once again went more than two decades before its next Rose Bowl berth.
"It's great to have them back," said Perles, who coached Michigan State from 1983 to '94. "It brings back some great old memories."
MSU's latest Rose Bowl run in many way mirrors the path taken in 1987. Both squads faced adversity in nonleague play, regrouped after a loss to Notre Dame, began their ascent with a win at Iowa's Kinnick Stadium in the Big Ten opener and never looked back.
[+] Enlarge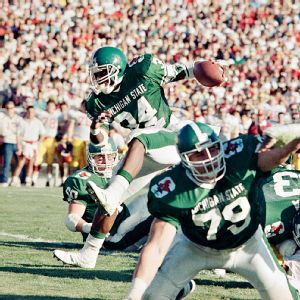 AP Photo/Lennox McLendonLorenzo White carried 35 times for 113 yards and two touchdowns in the 1988 Rose Bowl.
Both leaned heavily on talented defenses guided by coordinators (Pat Narduzzi now, Nick Saban then) pegged for big things. Both offenses struggled before Big Ten play but eventually settled down. Running back
Jeremy Langford
's workload isn't as heavy as White's in 1987 -- White logged 357 carries for 1,572 yards and 16 touchdowns, and backup Blake Ezor added 617 yards -- but he has been just as valuable in closing out Big Ten wins.
The 1987 "Gang Green" defense surrendered an average of just 37.6 rush yards in Big Ten play, the second-lowest average in league history behind the 1965 Spartans (34.6), and forced 35 turnovers. The current "Spartan Dawgs" lead the nation in rush defense (80.8 YPG) and thrive on takeaways, recording a league-leading 27, tied for 17th nationally.
"The [current] defense reminds me of our defense 26 years ago," Perles said. "That proves again you win championships with defense."
MSU defensive backs coach Harlon Barnett, a boundary cornerback on the 1987 squad, notes that the schemes were different -- the 1987 team primarily used a Cover 3 defense that Perles brought over from the Pittsburgh Steelers; the current defense mainly lines up in Cover 4, often leaving the corners isolated on opposing receivers. But both defenses keyed on stopping the run and had fiery coordinators with uncompromising standards.
Saban, who turned 37 that October, oversaw a secondary that recorded 28 interceptions. Safeties Todd Krumm and John Miller combined for 17 picks.
"Nick had a lot of, as he would say, piss and vinegar in him," Barnett said. "He was on us about every little thing and demanded excellence and perfection. So in turn, we got turnovers, we stopped the run, we tackled well and played with toughness, similar to our current defense."
[+] Enlarge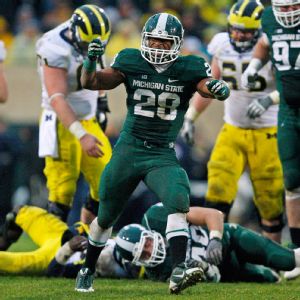 Raj Mehta/USA TODAY SportsLinebacker Denicos Allen had nine tackles, three for a loss, and two sacks against Michigan.
This year's defense recorded its signature performance Nov. 2 against Michigan, holding the Wolverines to minus-48 net rush yards, the lowest total in Michigan history, while racking up seven sacks. It surely reminded some of MSU's 1987 visit to Ohio Stadium, where the Spartans held Ohio State to 2 net rush yards (minus-14 in the second half) and had seven sacks in a 13-7 win.
"That's when we realized how dominant our defense was," said Dan Enos, then a freshman reserve quarterback for MSU who later became an assistant coach at his alma mater. "After that game, we thought, 'Man, we've got a really, really good shot here.'"
There wasn't as much optimism when MSU entered Big Ten play at 1-2. After beating eventual Rose Bowl opponent USC on Labor Day -- in the first night game at Spartan Stadium -- MSU fell to eventual No. 2 Florida State and to Notre Dame, scoring a combined 11 points in the losses.
"That was our nonconference: Southern Cal, Notre Dame and Florida State," Enos said. "Who does that these days? Nobody."
Things didn't get much easier against Iowa, which led 14-7 at halftime. Perles didn't hold back as he addressed his team in the infamous pink locker room at Kinnick. The Spartans rallied to win 19-14.
"He came in, gave us a few choice words," White said with a laugh. "From that point on, we never looked back. The whole season changed."
The next week, MSU beat Michigan in East Lansing for the first time since 1969, thanks to seven interceptions. Despite a tie at Illinois, the Spartans faced Indiana on Nov. 14 with a Rose Bowl berth on the line for both teams.
White carried 56 times, one shy of the Big Ten/NCAA record, for 292 yards as MSU crushed Indiana 27-3. The postgame celebration included a surprise visit from Indiana coach Bill Mallory, who briefly addressed the team.
He congratulated the Spartans and, mindful of the Big Ten's six-game Rose Bowl slide, told players to "go out to the coast and kick [USC's] ass."
"That fired us up," White said. "For another coach to show how much class he had to come over to us and tell us that we had a fine football team, and for us to go out there and kick some butt, that was great."
Mallory, who received Perles' permission before speaking, doesn't recall going into any other opposing locker room after a game in his long career.
"I just had that gut feel," Mallory said. "I didn't want to get carried away, but I wanted to make sure they got our support."
The Spartans' 20-17 Rose Bowl win in many ways typified the 1987 team. They attempted only seven passes but connected for some big gains to Rison, and White had 113 rush yards and two touchdowns.
Snow, who recorded 17 tackles and earned game MVP honors, led a defense that forced five takeaways.
"It was a team loaded with toughness," Perles said.
Barnett, just a redshirt sophomore, expected the Rose Bowl to become an annual trip.
"Little did I know it was going to take 26 years," he said. "I'm really excited for our players to get a chance to experience the granddaddy of them all."
February, 28, 2012
2/28/12
3:00
PM ET
The official 2012 FBS ballot for the College Football Hall of Fame selection is out, and it includes 15 former Big Ten players, one former Big Ten coach as well as five former Nebraska and Penn State players who didn't compete in the league.

Let's take a look at the group:
Trev Alberts, LB, Nebraska, 1990-93*
Erick Anderson, LB, Michigan, 1988-91
Otis Armstrong, RB, Purdue, 1970-72
Larry Burton, SE, Purdue, 1973-74
Dave Butz, DT, Purdue, 1970-72
Marv Cook, TE, Iowa, 1985-88
Eric Crouch, QB, Nebraska, 1998-2001*
D.J. Dozier, RB, Penn State, 1983-86*
Jumbo Elliott, OT, Michigan, 1984-87
Dave Foley, OT, Ohio State, 1966-68
Tommie Frazier, QB, Nebraska, 1992-95*
Kirk Gibson, WR, Michigan State, 1975-78
Tim Krumrie, DL, Wisconsin, 1979-83
Robert Lytle, RB, Michigan, 1974-76
Tom Nowatzke, FB, Indiana, 1961-64
Jim Otis, FB, Ohio State, 1967-69
Orlando Pace, OT, Ohio State, 1994-96
Percy Snow, LB, Michigan State, 1986-89
Lorenzo White, RB, Michigan State, 1984-87
Steve Wisniewski, G, Penn State, 1985-88*
Darryl Rogers, coach, Michigan State, 1976-79 (also coached at Cal-State Hayward, Fresno State, San Jose State and Arizona State)
*-played for team not in Big Ten
The 2012 Hall of Fame class will be announced May 15 and inducted Dec. 4.
Selection criteria:
To be eligible for the ballot, players must have been named a First Team All-America by a major/national selector as recognized and utilized by the NCAA for their consensus All-America teams; played their last year of intercollegiate football at least ten years prior; played within the last 50 years and cannot be currently playing professional football. Coaches must have coached a minimum of 10 years and 100 games as a head coach; won at least 60 percent of their games; and be retired from coaching for at least three years. If a coach is retired and over the age of 70, there is no waiting period. If he is over the age of 75, he is eligible as an active coach. In both cases, the candidate's post-football record as a citizen may also be weighed.
It's a strong group from the Big Ten, and you can definitely expect to see some names announced May 15. It's interesting to see several clusters of nominees from certain eras, like the three Purdue players from the early 1970s, the two Penn State players from the mid 1980s, the two Ohio State players from the late 1960s and the two Michigan State players from the mid to late 1980s.
March, 3, 2009
3/03/09
4:27
PM ET
Posted by ESPN.com's Adam Rittenberg
The National Football Foundation announced its 2009 ballot for the College Football Hall of Fame Tuesday, and the list includes 16 players from the Big Ten and two coaches who spent time in the league.
Former Michigan wide receiver Desmond Howard, the 1991 Heisman Trophy winner, leads the Big Ten contingent on the ballot, which includes 76 players and six coaches.
Ohio State, Michigan and Purdue each have three players on the list, while both Penn State and Michigan State have two players. Wisconsin, Iowa and Indiana each have one candidate.
Here's the list of Big Ten players eligible for induction, along with some information on each candidate provided by the NFF:
Otis Armstrong, Purdue, running back (1970-72) -- Named consensus All-America in 1972 after accumulating 3,315 career rushing yards, a school and Big Ten record. Named Big Ten MVP in 1972.
Dave Butz, Purdue, defensive tackle (1970-72) -- Consensus first team All-America. Finalist for the Lombardi Award in 1972 and named first team All-Conference. Named Defensive MVP of the Senior Bowl.

D.J. Dozier, Penn State, running back (1983-86) -- Named 1986 consensus first team All-America and led Penn State to perfect 12-0 season and national championship (1986). Finished eighth in 1986 Heisman voting. First Penn State running back to lead the team in rushing for four consecutive seasons.
Dave Foley, Ohio State, offensive tackle (1966-68) -- Named consensus first team All-America in 1968. Led Buckeyes to the 1968 national championship and an undefeated season. National Football Foundation National Scholar-Athlete in 1968.

Kirk Gibson, Michigan State, wide receiver (1975-78) -- Named first team All-America, led Big Ten in receiving in league play and helped the Spartans to a Big Ten co-championship and a No. 12 national ranking in 1978. Played Major League Baseball for 17 seasons and won National League MVP honors in 1988.

Curtis Greer, Michigan, defensive tackle (1976-79) -- First team All-America selection. Set school record for tackles for loss in a season (23) and career (48). Two-time first team All-Big Ten selection (1978-79). Led Wolverines to three conference championships and four bowls.
Mark Herrman, Purdue, quarterback (1977-80) -- Named unanimous first team All-America, Big Ten MVP and finished fourth in the Heisman Trophy voting in 1980. A first team All-Conference selection, he broke NCAA career records for passing yards (9,188) and completions (707).
Desmond Howard, Michigan, wide receiver (1989-91) -- Consensus first team All-America and Heisman Trophy winner in 1991. Led Wolverines to three Big Ten titles and two Rose Bowls. Led the nation in scoring (11.5 points per game) and kickoff returns (27.5 avg.) in 1991.

Tim Krumrie, Wisconsin, defensive line (1979-83) -- Named a consensus first team All-America in 1981. Led Badgers to 1981 Garden State Bowl and earned Defensive MVP honors in 1982 Independence Bowl. Three-time first team All-Conference selection, recording 444 career tackles.
Robert Lytle, Michigan, running back (1974-76) -- Named consensus first team All-America in 1976. Finished third in the 1976 Heisman Trophy voting. Named Big Ten MVP in 1976 and led Michigan to two conference championships.
Tom Nowatzke, Indiana, fullback (1961-64) -- Named first team All-America in 1964. A two-time All-Conference selection (1963-64), he led the Big Ten in rushing in 1963. Played in the East/West Shrine Game, Senior Bowl and Coaches All-American Game.

Jim Otis, Ohio State, fullback (1967-69) -- Named consensus first team All-America in 1969. Member of the 1968 national championship team. Named First Team All-Big Ten in 1969 and led the Buckeyes to two conference titles. Led the team in rushing three times.

Percy Snow, Michigan State, linebacker (1986-89) -- Unanimous First Team All-America in 1989 and Butkus Award winner. Led MSU to 1987 Big Ten title and Rose Bowl win. Ranks second all-time in career tackles (473).

Chris Spielman, Ohio State, linebacker (1984-87) -- Two-time first team All-America selection (1986-87) -- unanimous in 1987, consensus in 1986. The recipient of the 1987 Lombardi Award, he is a three-time first team all-conference selection and a member of two Big Ten title teams.

Larry Station, Iowa, linebacker (1982-85) -- Two-time first team All-America selection (1984-85) -- unanimous in 1985, consensus in 1984. A three-time first team all-conference selection, he was named team captain and MVP in 1985. Iowa's all-time leader in tackles with 492.
Curt Warner, Penn State, running back (1979-82) -- Named first team All-America in 1981 and led Penn State to 1982 national championship. Most outstanding offensive player in 1980 and 1982 Fiesta Bowls. Finished career with 11 season, 10 career, 14 bowl and 42 school records.
Howard and Dave Foley are on the ballot for the first time.
Two coaches with Big Ten ties also are on the ballot. Darryl Rogers coached Michigan State from 1976-79, going 24-18. William "Lone Star" Dietz coached Purdue in 1921, going 1-6.
The 2009 class will be announced on April 30 and inducted at the National Football Foundation's annual awards dinner on Dec. 8 in New York.